At the end of a long day at work it can be hard to find the creativity, or energy, to get inspired in the kitchen.
This is where home meal delivery services can really upgrade your kitchen repertoire, giving you a whole new set of recipes—and some cooking tips—that can make vegetarian home cooking more exciting. When you sign up for a plan, you pick your meals each week, and a kit is sent to your house on the day you selected. Inside you'll find all the ingredients and step-by-step instructions for a delicious vegetarian meal.
It's really that easy, so let's take a look at which companies do it best.
1. Home Chef
Price - $6.99, per serving
Shipping - Free, for orders over $49, or $10
Great for - Eco-conscious eaters
Pros
Personal "taste profile" suggests veggie dishes that are right for your taste
Easy to follow vegetarian recipes for all levels of expertise
Flexible—skip a week or change a delivery date at any time
Cons
Shipping not included on orders under $45
Shipping costs higher than average

Home Chef vegetarian meals
Home Chef is all about helping you make tastier, more nutritious meals at home, for as low as $7.99 per serving. Home Chef helps customize the meals by setting up a "taste profile" that learns your likes and dislikes and sends you meals you're more likely to love.
You get to pick from 18 meals per week, and each week 3 or 4 of the options are vegetarian. Meals include dishes like Avocado and Tofu Sushi Bowl, Mexican Street Corn Salad, and Artichoke and Tomato Flatbread.
You can also add on vegetarian fruit baskets and smoothies, with new, exotic smoothie offerings each week like cranberry orange dream and groovy ruby.
One concern many people have about meal kits is the wasteful packaging. With Home Chef, the packaging is 100% recyclable.
Get 10 Free Meals - $100 Value

Home Chef View Plan
Read the full Home Chef review
2. Sun Basket
Price - $6.61, per serving
Shipping - $6.99
Great for - Healthy eaters with refined palates
Pros
Fresh, organic fruits and vegetables
Veggie recipes developed by award-winning chefs and nutritionists
100% recyclable and compostable packaging
Cons
Does not ship to every US state
Shipping not included

Sun Basket vegetarian meals
Sun Basket is a meal delivery service that offers vegetarian-friendly recipes developed by chefs and nutritionists, focused on delicious pairings that are also good for you.
The company states that its vegetarian options include vibrant, creative recipes starring fresh, organic produce, responsibly sourced dairy, and organic pasture-raised eggs. The soy the company uses is also non-GMO.
The vegetarian meals are between 550-800 calories per serving, include at least 20 grams of protein, and have 5 grams of fiber. The fats are heavy on the omega-4s and come from olives, avocados, nuts, and seeds.
With Sun Basket you can choose between 18 different meals each week on the classic menu, and 6 per week on the family menu. On any given week around a third or more of the meals are vegetarian, with some vegan options as well.

Sunbasket View Plan
Read the full Sun Basket review
3. HelloFresh
Price - $2.74, per serving
Shipping - $7.99
Great for - Food lovers with minimal cooking skills
Pros
Easy to make, 30-minute, 6-step veggie recipes
Flexible plans, easy to cancel or pause
Diverse recipes and global cuisines
Cons
No desserts
Shipping not included

HelloFresh vegetarian meals
HelloFresh has a deep portfolio of healthy, delicious recipes, and the company's mission statement is to help customers "make those first steps towards cooking well-balanced meals at home."
HelloFresh doesn't use only 100% organic ingredients and you only get 8 meal options per week. That said, there are 3 veggie options every week, including such tantalizing options as Veggie Chorizo Tacos with Kiwi Salsa and Lime Crema, Caramelized Shallot Risotto, and Sweet Potato Sunshine Bowl.
If you're a bit nervous about your culinary skills, then HelloFresh could be your best bet. All of the recipes take around 30 minutes and have only 6 steps. The service is also flexible—you can pause or cancel at any time.

HelloFresh View Plan
Read the full Hello Fresh review
4. Green Chef
Price - $9.99, per serving
Shipping - $5.99
Great for - Organic eaters
Pros
Certified-organic ingredients
Great for vegetarians and vegans
Globally inspired dishes
Cons
Meals are not as robust as other services
Smaller weekly menu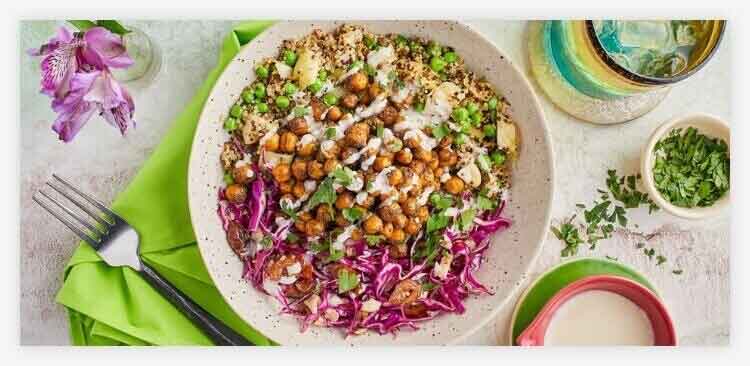 The first certified-organic meal delivery company, Green Chef emphasizes the quality of each ingredient in a dish as well as the whole. Take a look at any vegetarian entrée under the plant-powered plan for evidence.
The 100%-meatless plant-powered menu offers a diverse tour of cuisines each week. You might find veggie pad thai, grilled Mediterranean veggies, or pimiento and pesto flatbread. But the one constant running through them all is the quality of the ingredients; all produce is non-GMO and USDA-certified organic.
Green Chef's plant-powered meal plan is vegetarian and vegan, so dairy lovers should take that into account. The company offers numerous additional plans, such as a paleo plan, keto-diet plan, and plans for meat eaters and families.

Green Chef View Plan
Read the full Green Chef review
5. Freshly
Price - $12.50 per serving
Shipping - Free
Great for - Gluten-free customers
Pros
Personal "taste profile" suggests veggie dishes that are right for your taste
Easy to follow vegetarian recipes for all levels of expertise
Flexible—skip a week or change a delivery date at any time
Cons
Shipping not included on orders under $45
Freshly's objective is more paleo-focused than vegetarian-focused, and it's important to note that only about 3-4 of their weekly dishes are vegetarian. That being said, they present a case for themselves as being a viable option for those looking for the benefits of a vegetarian and paleo diet.
Meals such as Korean-style veggie bibimbap and super pesto and veggie fusilli are robust meatless dishes packed with thoughtfully chosen ingredients like sauteed bok choy for vitamins, scrambled egg for protein, and toasted almonds for healthy fats. Though the vegetarian options are sparse, the attention to detail in every dish and the emphasis on vitamin-rich ingredients, such as kale and flaxseed, make Freshly an option worthy of vegetarians' consideration.

Freshly View Plan
6. Veestro
Price - $9.90, per serving
Shipping - Free, for repeating orders
Great for - Plant-based diets
Pros
100% vegetarian, plant-based meals
Gluten-free, nut-free, and kosher options
Globally inspired menu
Cons
Meals are delivered frozen
Limited kid-friendly options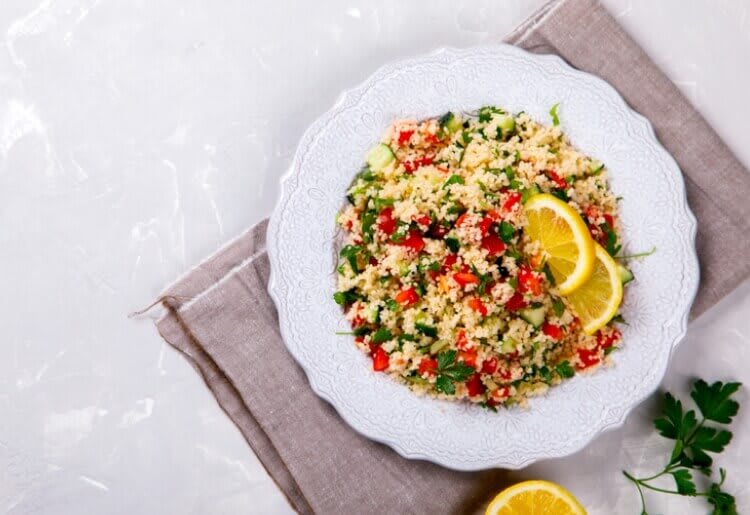 Every meal Veestro offers is 100% vegetarian, vegan, and plant-based. So right off the bat, you'll find the entire menu open to vegetarians. That includes a globally inspired mix of southwestern, Asian, Mediterranean, and Indian meals, all of them made with organic and non-GMO ingredients.
There's still plenty of room for customization, though. Veestro offers meals that cater to a number of dietary restrictions, including high-protein, gluten-free, and even kosher meals. You can click on any meal on the menu for a full description, ingredient list, and nutritional table, making it easy to make a meal plan based on your flavor preferences or health and nutritional goals.
Meals are delivered frozen and simply need to be heated in a microwave or oven before eating. The menu itself features a diverse roster of entrees such as carrot osso bucco, Mediterranean falafel, and Asian noodle salad, offering a wide range of flavors that will have you eating something new and tasty every night of the week.

Veestro View Plan
Veggie Variety
Meal kits can help any vegetarian add new, tantalizing recipes to their repertoire, and learn about new and exciting ingredients they may have never tried before. For the kitchen-averse among us, these meal delivery services offer paths to living healthy, vegetarian lifestyles without having to delve into cookbooks and scour grocery store aisles. Health-conscious eaters, meanwhile, can get their fill of vitamins, nutrients, and energy-packed foods that will not only save them time, but give them more energy for the activities they love.
Vegetarian meal kits bring together the expertise of nutritionists, chefs, and local farmers to provide meals that are as healthy as they are tasty. They run the gamut from specific gluten-free and organic diets to general menus that provide culinary tours of the world all from the comfort of your dining room table.
Take the plunge and try a meal kit delivery service, and see for yourself what all the fuss is about.