In a Nutshell
For prep-free, gluten-free, reheat-and-eat meals delivered to your door, Freshly has you covered. Nutritious recipes customized to common dietary restrictions are developed by chefs and nutritionists, crafted from fresh ingredients, and delivered to your door so that your next meal is as simple as popping a Freshly box in the microwave or oven. Freshly is one of the best choices for gluten-free eaters who need good-for-you options in a hurry.
pros
Fully gluten-free menu that caters to multiple other restrictions
Meals ready in 3 minutes
Minimally processed options high in protein and fiber
cons
Not available everywhere in the U.S.

Freshly Visit Site
As of December 2022, Freshly has ceased its operations and is currently out of business.
Freshly Video Review - Convenient and Tasty Meal Delivery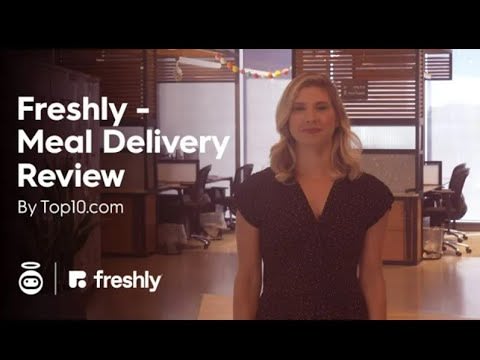 Best For
Anyone on a health-conscious diet
Certified gluten-free or dairy-free meals

Single-serving portions ready in under 3 minutes
Freshly Meal Plans
Freshly offers five different options for meal plans, where you pick between 4 to 12 meals a week, with discounts available based on how many meals you order.
Meals are cooked using real, fresh ingredients and are delivered ready to reheat and serve. Most of Freshly's appetizing options follow a formula of combining antioxidant-rich vegetables, whole grains, and high-quality proteins. Prepared by chefs, designed by nutritionists, and delivered to your door, Freshly is an excellent option to make healthy choices easier.
All three of Freshly's main dietary programs — Signature Collection, FreshlyFit, and Purely Plant — are gluten-free. You can also find options that are dairy-free, meals that have less than 20 grams of carbs, and options covering multiple dietary restrictions (including soy-free and vegan). Freshly is definitely one of the most flexible meal delivery services in the U.S.
There is almost no overlap between the FreshlyFit and the Purely Plant menus. So, if you are interested in a low-carb or low-calorie vegetarian meal plan, you will have to search elsewhere.
Carb-smart and dairy-free are categories within the primary dietary plans. Carb-smart meals are generally in the FreshlyFit line, whereas the dairy-free category includes all PurelyPlant recipes and a few recipes from the other menus.
Freshly Dietary Options and Programs
With 40 meals to choose from weekly, there is something fresh available to please any palate or diet with Freshly.
Freshly meets most dietary requirements. Being able to select your meal options based on foods you want to avoid, such as soy or shellfish, is also great.
Gluten Free Signature Collection
All Freshly meals are made without wheat or gluten-containing ingredients, making them an excellent choice for people with a gluten intolerance.
However, note that some Freshly meals are made in kitchens that may have cross-contact with any of the 8 major food allergens (milk, eggs, fish, shellfish, tree nuts, soy, peanuts, and wheat).
If you have an allergic reaction to gluten or wheat, always check Freshly meals for the gluten-free stamp of approval from the Gluten Intolerance Group. Freshly's certified gluten free options are also peanut-free, but Freshly is not certified peanut-free by a third party. Freshly recommends that people with severe food allergies consult their doctor.
Purely Plant
The entire Freshly Purely Plant menu is dairy-free and 100% vegetarian. No additives, no preservatives; just healthy and fresh plant-based meals.
Most of the vegetarian options offer complete protein sources by combining grains, legumes, nuts, and/or seeds. Some of the meals are also vegan but you may want to check the ingredients list for honey or egg.
The Freshly "Cheeze" sauce — a delectable dairy-free cheese alternative made of nutritional yeast, cashew butter, coconut milk, and butternut squash puree — is rich in vitamins, including B-12 which isn't always easy to find on a vegan diet.
FreshlyFit
FreshlyFit options average less than 500 calories, making them helpful for people trying to lose weight. The menu is rich with high fiber vegetables, high-quality protein, and whole grains.
You can also choose meals that have less than 20 total grams of carbs, which may help with regulating glucose. Since many of Freshly's low-carb meals work for a ketogenic diet, the FreshlyFit line is one of the best on the market for healthy low-carb meal delivery.
The average sodium content of all Freshly meals comes in at 700mg, making it great for people watching their heart health, too. This is just low enough to fit within the Dietary Guidelines for Americans and significantly lower in sodium than many other meal kits.
Our Favorite Freshly Meals
With so many options to choose from, picking favorites wasn't easy. But, for vegetarians out there, we definitely have to go with the Indian-Spiced Chickpea Curry Bowl. The hint of turmeric, ginger, lime and cilantro in the chickpeas, combined amazingly with the cauliflower, tomatoes and celery.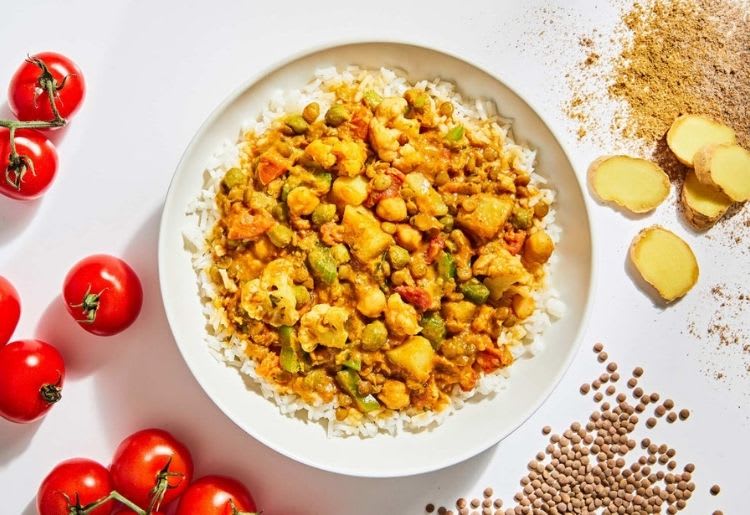 How Much Does Freshly Cost?
Freshly has a similar price tag to comparable meal delivery services. There is no membership fee and you'll end up paying between $11.79 (4 weekly meals) and $8.99 per serving (12 weekly meals), excluding shipping fees.
As you add more items to your order, the price per meal goes down. Shipping depends on the size of the order and where it's going.
How Does Freshly Work?
Freshly offers a rotating menu of over 40 pre-made heat-and-serve meals every week, covering breakfast, lunch, dinner, and additional side orders. All options are completely gluten-free, high in protein, and low in carbs, without any added sugar and minimally processed ingredients.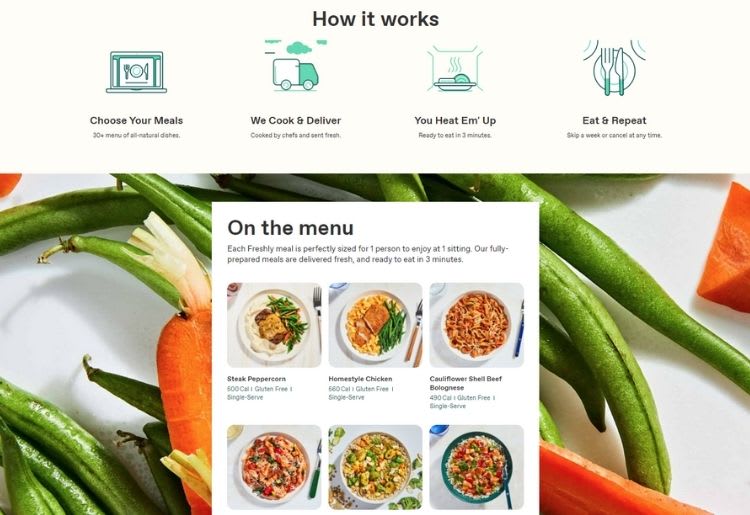 Placing an Order With Freshly
There are five simple steps to signing up for a Freshly account and getting your food. First you need to fill out the sign-up box on the Freshly homepage with your email address and zip code, to make sure your area is covered.
Then you simply choose a meal plan - either 4-5 meals, 6-7 meals, 8-9 meals, 10-11 meals, or 12 meals per week. The next step is picking which day of the week you want meals sent to you.
Continue by selecting your meals, and finally - enter in your shipping and payment information and sit tight for your meals to be delivered.
How to Choose Meals with Freshly
You can customize your menu by choosing from a rotating list of over 35 meals every week, that fall into Freshly's Signature Collection, FreshlyFit, or Purely Plant meal plan menus.
Freshly also makes it easy to pick your meals, thanks to convenient labels that provide nutritional information and a list of ingredients. However, unfortunately you can't filter meals based on ingredients or dietary needs, but you can choose which meals you want based on one of the three Freshly meal plan menus.
There are also a limited number of vegan, vegetarian, ketogenic, paleo or pescatarian options.
Does Freshly Come With Cooking Instructions?
Since there is no prep work with Freshly, there are no recipe cards or complex instructions. Your meals come with the information you need — nutritional facts, allergens, ingredients, and reheat instructions — nothing more.
When your insulated box arrives with your premade meals, make sure to transfer them to your refrigerator as soon as you can. Be sure to contact customer service if you are concerned about the temperature of the food you received.
What Makes Freshly Stand Out?
What makes Freshly unique is that the meals are ready to eat and freshly made and delivered. They do not arrive frozen, like other meal delivery services. When meals are fresh and not frozen, this improves the quality and taste,
Additionally, their focus on an entirely gluten-free menu paired with other dietary options like vegetarian or low-calorie is unique to Freshly. This makes it easier for those with specific dietary requirements to enjoy their fresh food options.
Freshly's website is also full of interesting reading, divided into three sections: Healthy Eating, Better Living, and Inside Freshly. The Healthy Eating category is full of tips and informative articles on how to eat a healthier diet, like baking with alternative grains and what makes a balanced meal.
The Better Living section consists of articles with the same emphasis on a healthy diet, but instead of articles on specific foods, these are articles on specific health-related questions that can be addressed with foods.
Inside Freshly offers a closer glimpse into the lives of the Freshly team, the organizations and small businesses they partner with, and Freshly's ethics and stance on timely issues on health and the food system. Bigger picture articles here show that Freshly is in the industry for the right reasons: helping you live healthier each day.
How Are Freshly Meals Packaged and Shipped?
To keep the meals fresh during the delivery process Freshly uses what they call "atmospheric packaging" that helps improve the shelf life of the food by 200%. They do so by controlling the amount of oxygen inside the package, which prevents the growth of certain bacteria that make food go bad.
Freshly's commitment to minimizing its environmental impact is seen in its packaging. Your meals come in a recyclable cardboard box. The outer packaging is made from biodegradable recycled denim insulation, never styrofoam. The gel ice packs are non-toxic and designed to keep the meals cool. The food can last inside the packaging for 2 full days plus 12 hours sitting at your front door.
The meals come in plastic containers that are microwave-safe and don't release BPA into the food when heated. Inner containers (including all paper, plastic, and cardboard) are fully recyclable.
Is There a Freshly App?
It's not often that a meal delivery service is known for a sleek app, so Freshly stands out here. The Freshly app is an easy way to set up and manage your orders.
Not only is it easy to use, but it comes with the full functionality of the website. You can view all of the meals for the week, select your preferences, and make any necessary changes to your order directly from the app.
How to Contact Freshly Customer Service
Customers can call 1-844-373-7459 to speak to a Freshly representative Monday – Friday, 8am – 4pm Pacific Time. You can also use the contact form on the website, or send a direct email which will be answered during working hours. Live chat and an in-depth FAQ page are available on the Freshly website, and Freshly's social media accounts are another option for getting in touch.
How to Cancel or Pause Freshly
To cancel or pause your subscription, navigate to your account settings. You'll see a "Cancel Subscription" link under "My Subscription", just above "Account Details." After a couple of questions, you're all set.
To reactivate your subscription, simply click the "reactivate button".
How Freshly Compares to Other Meal Delivery Services
What makes Freshly different from other meal kit services?
Gluten-free, low carb, low calorie, vegetarian, vegan, dairy-free, allergies
Vegetarian, gluten-free, dairy-free, nut-free
Low calorie, low carb, plant-based, keto, paleo
Milk-free, carb-conscious, soy-free, wheat-free, nut-free, vegetarian
Go-Green plastic containers in partially recycled insulation and packaging
Partially recycled cardboard
Insulated boxes with gel packs
Partially recycled cardboard and plastic
Freshly vs HelloFresh
Freshly and HelloFresh are quite different meal delivery services. HelloFresh's number one concern is cost and convenience — they want to make healthier options available to busy families. Freshly may be a bit more expensive, but most customers find the value to be worth it. Freshly does better with quality, convenience, customization, and overall healthiness, but HelloFresh has more down-home options at a more affordable price.
Freshly vs Factor_
Freshly and Factor_ have a lot in common. Both offer ready-to-heat options similarly catered to health-conscious individuals using real foods and minimal processing. Factor_ emphasizes metabolic health, weight loss, and fitness and has allergen-friendly options as an add-on feature, whereas Freshly centers on dietary restrictions first.
Notably, Freshly and Factor_ are two of the lowest carbohydrate meal delivery plans available, making both suitable for people following a ketogenic diet. Price is the main difference between the two: Factor_ is pricier than Freshly but may be worth it for the quality.
Freshly vs Home Chef
Freshly and Home Chef both put an emphasis on customizable and healthy meal plans. But where Home Chef emphasizes customizing your preference for flavors, Freshly's first focus is dietary restrictions (not just preferences).
Freshly also uses fewer processed ingredients than Home Chef, and doesn't use too much added sodium — Freshly's quality speaks for itself. Home Chef has meal kits as well as an entire menu of heat-and-eat meals, so Home Chef can cater to more types of occasions but Freshly wins when just looking at time savings.
Is Freshly Worth It?
Freshly is a fully gluten-free meal plan featuring healthy, fresh meals up to three times per day that can be customized to fit within your dietary requirements. With tasty, pre-portioned, real food meals delivered straight to your door, Freshly eliminates grocery shopping, meal preparation, and clean up, making this a convenient gluten-free service we'd go back to.