Whether you have celiac disease, gluten sensitivity, or simply prefer to avoid gluten, gluten-free meal delivery services have revolutionized how we approach nutrition. These services take the hassle out of meal planning, grocery shopping, and cooking, providing ready-to-eat or easy-to-prepare gluten-free meals.
To help you choose from the wide range of options available, here are our 10 best gluten-free meal delivery services. Say goodbye to kitchen stress and hello to the convenience of gluten-free meals delivered right to your doorstep.
Our Top 10 Best Gluten-Free Meal Delivery Services in 2023:
How We Reviewed the Best Gluten-Free Meal Delivery Services - Our Methodology
To choose the best gluten-free meal delivery service, we conducted thorough research. These evaluations involved exploring meal delivery websites, utilizing trusted third-party platforms, and analyzing customer reviews. Our assessment criteria focused on aspects specific to the gluten-free diet, including:
Certification and safety

Reasonable pricing

Variety of gluten-free meals

Customization options

Delivery areas

Quality of ingredients
A Closer Look at the Best Gluten-Free Meal Delivery Services in 2023 - Reviews:
1. HelloFresh
Customizable, gluten-friendly meals with high-quality ingredients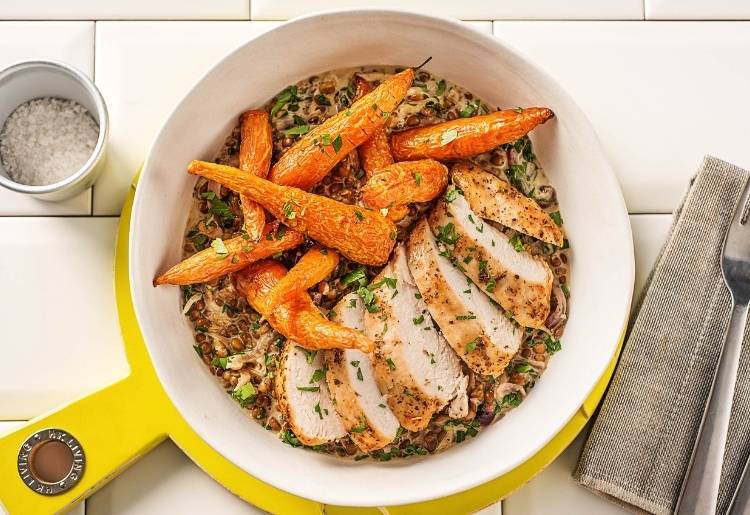 Price: From $8.99/serving
Shipping: $10.99/box
HelloFresh delivers meals that seamlessly fit into a weekly gluten-free diet. Each recipe card clearly indicates if it contains gluten or other allergens, making it easy to identify which meals to avoid. Plus, with the service's easy-to-manage subscription plan, you can skip a week's delivery without hassle.
Aside from high-quality ingredients, HelloFresh recipes offer excellent nutritional value, with a particular emphasis on high-protein content. Research by Richard Hellman, MD, highlights the importance of this, as gluten-free diets can sometimes lead to protein deficiencies.
Why we chose HelloFresh: With HelloFresh, you can select meals and adjust the recipes to avoid gluten products. In addition, they deliver several fresh ingredients, such as spinach or salmon, which offer potent benefits to manage gluten-induced inflammation.
Our experience: We could easily customize our meals by swapping out proteins and sides to suit our dietary needs. Additionally, we liked using HelloFresh's detailed recipe cards because they mark gluten-free options and provide images of each ingredient. The cooking steps (outlined on the cards) were also easy to follow.
Pros
Customizable plans

Accommodates family-size (four-person) meals

Detailed recipe cards
Cons
Not certified allergen-free

Must submit credit card information to see full meal options
Read the full HelloFresh review

HelloFresh View Plans
2. Home Chef
A large selection of affordable wheat-free meals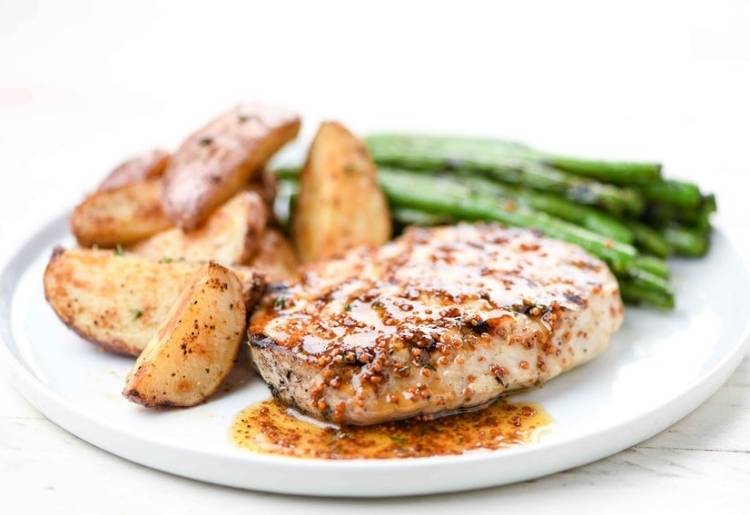 Price: From $9.99/serving
Shipping: $10.99/box
Home Chef presents an extensive selection of over 30 wheat-free meal options each week, which helps you avoid monotony and allows you to follow a nutritious meal plan. You can indulge in mouthwatering dishes like steak au poivre, chili-lime salmon, Tex-Mex taco salad, and many more.
You can also browse the gluten-free recipes to gather additional details about each meal, including the total prep and cook time, difficulty level, spice level, and nutritional facts. This service also lets you experience a range of flavors, including savory, sweet, and spicy, so you can find the perfect recipe to satisfy your current cravings.
This variety can be advantageous for maintaining a high-quality, healthy diet. In fact, a study by Maya Vadiveloo suggests that incorporating a variety of nutrient-dense foods into your meals not only enhances the quality of your diet but also boosts your overall metabolic health.
Why we chose Home Chef: Home Chef's "Customize It" feature allows you to modify your meals by adjusting serving sizes and adding or removing ingredients so they suit your unique needs and tastes. This plan also delivers meal options for up to six people, making it ideal for families.
Our experience: We appreciate Home Chef's detailed labeling of food allergens, which proves invaluable, particularly when following a strict wheat- or gluten-free diet. We also liked the convenience of changing our weekly order based on quantity or recipes through our account's settings.
Pros
Meal suggestions based on your preferences
Made for all levels of cooking skills
Customize your meals—swap or double protein portions
Cons
Limited options for vegans

Does not deliver to Alaska and Hawaii
Read the full Home Chef review

Home Chef View Plans
3. Fresh and Easy
Convenient, ready-to-cook gluten-free meals with seasonal ingredients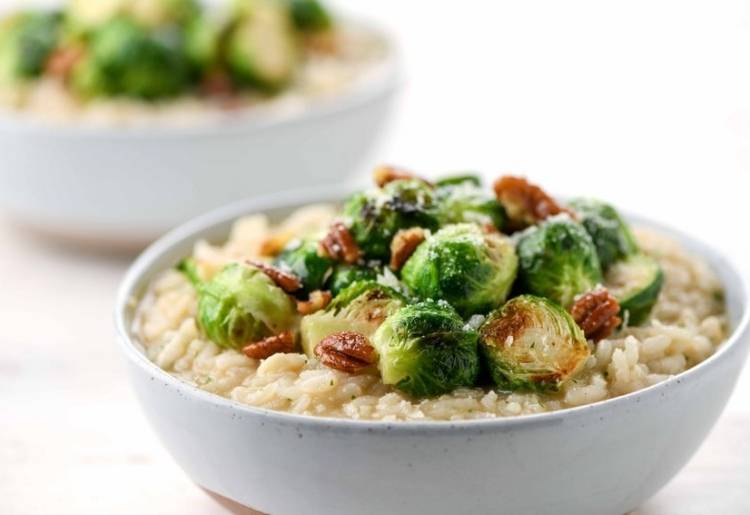 Price: From $9.99/serving
Shipping: $10.99/box
Fresh and Easy, a service offered by Home Chef, brings the convenience of ready-to-cook meals straight to your doorstep. These meals require minimal to no preparation on your part since they are oven-ready or microwavable. Fresh and Easy also packages its fresh food with insulated, water-soluble cool gel packs to maintain optimal temperature during delivery.
While exploring the express meal kits and oven-ready options, it may be helpful to review each recipe individually since Fresh and Easy doesn't cater to specific diets. However, you can compile a convenient list of all the gluten-free choices available to simplify your meal-planning process. To access the recipe categories page, navigate to "Our Menu" at the top of the home page.
Why we chose Fresh and Easy: Fresh and Easy carefully sources ingredients from trusted suppliers to ensure that you receive meals made with high-quality produce. Moreover, they frequently provide detailed nutritional information for their meals, helping you to make informed choices that align with your dietary goals.
Our experience: We liked that the app shows previews of upcoming meals and found that it made meal planning easier. The app and website are both easy to navigate, allowing seamless purchasing and delivery. Plus, each recipe lists a spice level, allowing you to experiment with flavors according to your preferences.
Pros
Straightforward registration process

Low-carb and low-calorie meals

Meals that require zero preparation
Cons
Doesn't have a specific gluten-free meal plan

No plans for singles
Read the full Fresh and Easy review

Fresh and Easy View Plans
4. Green Chef
Certified gluten-free meal kits with organic, pre-prepped ingredients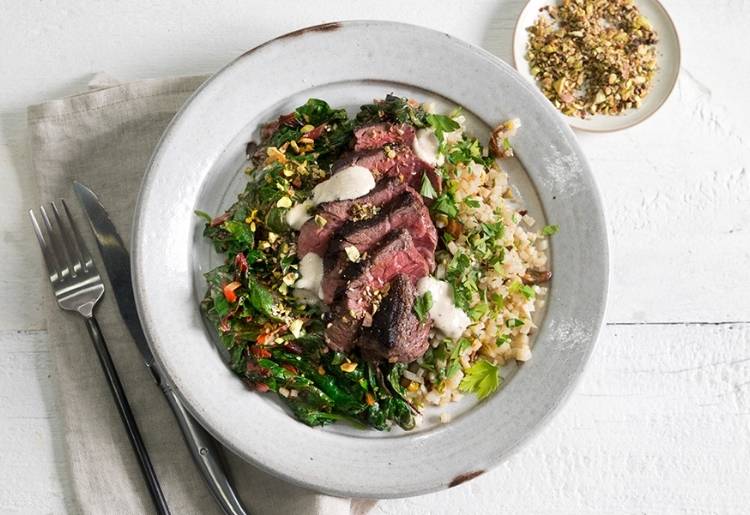 Price: From $11.99 per meal
Shipping: $10.99
Green Chef offers a specific gluten-free meal plan, which mixes together flavors from all over the globe before landing at your door. These gluten-friendly plans will ease the difficulty of finding suitable meal options, particularly if you need or choose to live gluten-free.
With a changing menu each week, you can expect variety, from Monterey Jack smothered chicken to teriyaki pork fried rice and Middle Eastern beef and sweet potato bowls. This service also sources sustainable and USDA-certified organic ingredients for its boxes, which include pre-prepped sauces, spice blends, and dressings.
In addition, the recipe cards accompanying each meal come with step-by-step instructions and visual cues. With an average cooking time of around 30 minutes, these meals fit nicely into a busy schedule.
Why we chose Green Chef: We chose Green Chef due to its commitment to providing a diverse range of delicious gluten-free options. They prioritize quality and freshness, sourcing high-quality ingredients for their meals. The convenience factor is also noteworthy, with pre-portioned, color-coded ingredients for easy-to-follow recipes.
Our experience: We appreciated the freshness of the ingredients in our GreenFesh meals. The prepackaged sauces were both convenient and flavorful, which cut down on cooking time and made things a lot easier when cooking for a busy household. The meals also offered a variety of high-quality protein options however we did find the need to supplement the meal with more vegetables since the ones provided were often sparse.
Pros
Add-ons have a one-three-minute prep time
Offers many promotional discounts

Ingredients have no GMOs, pesticides, or antibiotics
Cons
Unreliable cancellation process
Poor technical support for the app
Read the full Green Chef review

Green Chef View Plans
5. Factor
Pre-cooked gluten-free meals for low-carb diets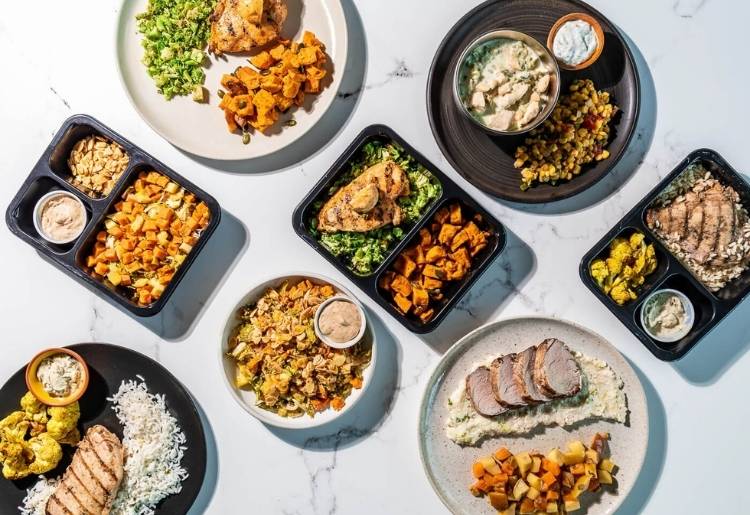 Price: From $10.99/serving
Shipping: $10.99/box
Factor_ doesn't curate specific allergen-free plans, but it does an excellent job of labeling allergens in their meals. With five meal plans to choose from—low carb ("keto"), calorie smart, protein plus, vegan & veggie, and chef's choice—you have various options to suit your health goals.
Factor_ provides an impressive selection of 35 pre-cooked gluten-free meal options. Just pick the meals you like, wait for the delivery, and pop them in the microwave for a convenient and tasty gluten-free meal.
Why we chose Factor_: Factor_'s focus centers around using high-quality ingredients such as antibiotic-free meats, cage-free eggs, and organic produce. They also offer a free consultation with a nutritionist to help you map out the perfect meal plan. This is particularly beneficial if you're new to the gluten-free diet and require assistance with adjusting to your eating plan.
Our experience: We think Factor_'s heat-and-serve meals are perfect for busy days when you need a healthy and convenient gluten-free option. These meals are fresh, customizable to dietary preferences, and offer additional add-ons, like snacks, desserts, and smoothies or milkshakes, that cater to your health concerns.
Pros
Option to create a personalized meal plan based on your dietary needs

Ethical and humane chicken sourcing

Can purchase more meals per week than competitors
Cons
No certified gluten-free facility

No customization based on specific ingredients

Factor View Plans
6. EveryPlate
Affordable gluten-free options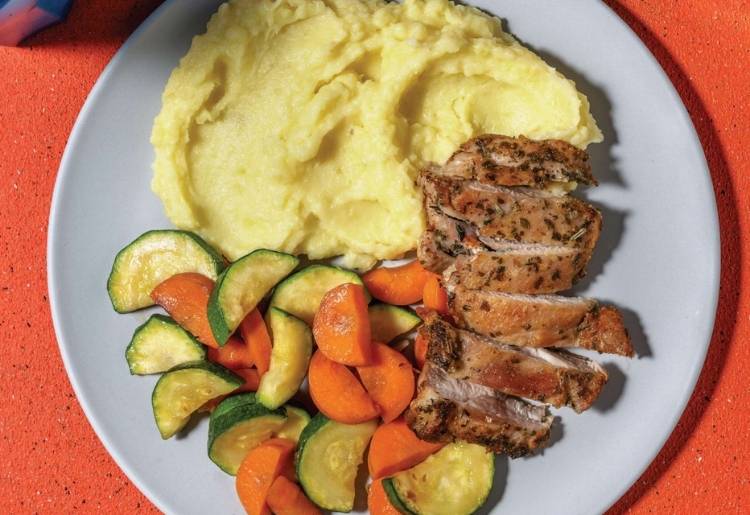 Price: From $4.99/serving
Shipping: $10.99/box
EveryPlate focuses on cost-effective ingredients (without compromising on quality or taste) and offers 26 easy-to-make meals weekly. While they don't have specific gluten-free options, many of their meals prioritize whole foods and minimal processing. Additionally, about half of their recipes are gluten-free or can be easily modified to be gluten-free.
When choosing EveryPlate meals, it's important to check the ingredients of the sauces as they may contain hidden sources of gluten. For example, the chicken, bacon, and gouda sandwiches contain wheat, so leave it out for a gluten-friendly meal. You can also explore the "customer faves" section to see popular meal choices.
Why we chose EveryPlate: EveryPlate's affordable meals are ideal if you're on a budget. They're also committed to using quality ingredients, ensuring you can enjoy delicious meals that cater to your dietary needs. Additionally, the service provides pre-portioned ingredients and simple, step-by-step instructions for each recipe.
Our experience: With EveryPlate's six-step recipes, we were able to quickly prepare meals, with many of our dishes being ready in just over 20 minutes. We also liked their premium meal option, which offered higher-quality proteins and ingredients.
Pros
Recyclable packaging

Whole foods ingredients, meaning less processed foods

Affordable
Cons
Produced in a facility that handles gluten

No organic options
Read the full EveryPlate review

EveryPlate View Plans
7. Nutrisystem
Tailored gluten-free options for healthy weight loss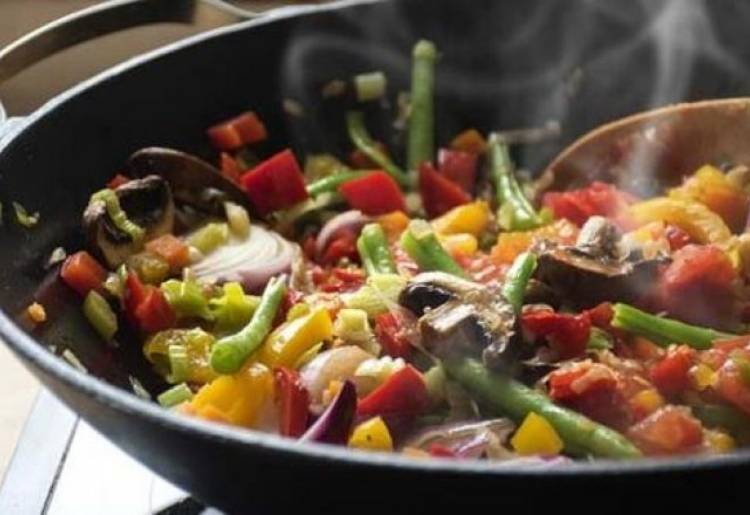 Price: From $9.99/day
Shipping: From $7.99/box
Nutrisystem's weight-loss solution offers a completely premade line of heat-and-eat meals. Each meal is also carefully tailored to meet your specific nutritional needs. Moreover, their meal plans can be adapted to accommodate allergies or dietary restrictions, although it's crucial to discuss this with your healthcare practitioner.
Nutrisystem makes finding gluten-free options easy. Once you've selected a mealtime (e.g., dinner), simply filter your search and exclude all meals that contain wheat. However, Nutrisystem does not operate in a certified gluten-free facility and recognizes that people diagnosed with celiac disease shouldn't follow their program.
Why we chose Nutrisystem: Nutrisystem delivers a comprehensive four-week guided plan that incorporates gluten-free meals. Additionally, their kits typically include snacks to help ensure you have food options throughout your day while still eating healthily to meet your weight-loss goals.
Our experience: We liked using Nutrisystem's intuitive app, NuMi. We think it's a valuable tool if you want to lose weight, as it provides both dietary guidance and fitness support. In addition, they offer over 130 meal options, giving you a more extensive selection to find what suits you.
Pros
Meals are customized according to your dietary needs
Makes weight loss easy with plans tailored to your individual calorie needs
Customer support to help you find the meals that work for you
Cons
Less suitable for people with celiac

Cancellation only available via phone
Read the full Nutrisystem review

Nutrisystem View Plans
8. Purple Carrot
Wide selection of plant-based, gluten-free meals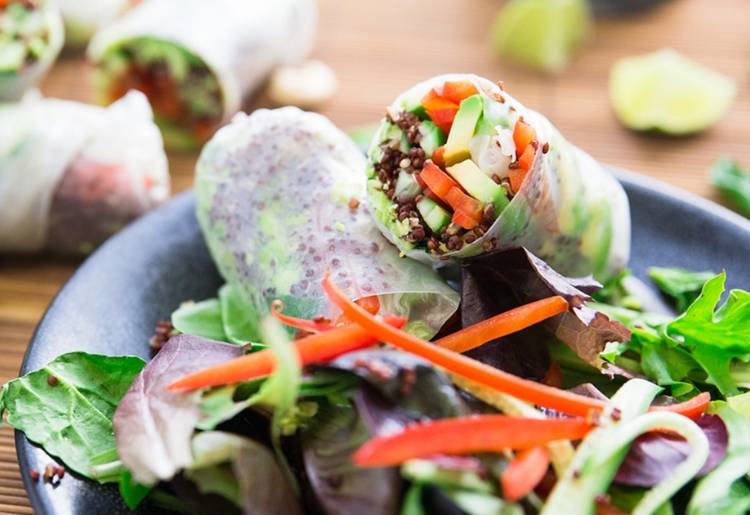 Price: From $11.00/serving
Shipping: $10/box
Purple Carrot caters to a health-conscious audience who follow a plant-based diet. Each meal is tagged with dietary preferences, making it incredibly easy to spot gluten-free options. They also offer popular gluten-free dishes, like gochujang tofu bowls. However, these meals are only available with the two-serving plans.
Purple Carrot doesn't use a certified gluten-free facility, so people with celiac disease should use discretion. Their meal plans are predominantly organic, made from whole, fresh ingredients, and feature unique flavor combinations from around the world.
Why we chose Purple Carrot: Purple Carrot stands out for providing plant-based meals with high-quality ingredients that cater to your gluten sensitivities or allergies. Moreover, they deliver meal kits, prepared meals, or a combination of both, which can significantly streamline meal preparation.
Our experience: We were impressed with the vast collection of gluten-free recipes available. In addition, we liked mixing and matching items from their breakfast, lunch, dinner, and prepared meals menus in one order. This flexibility allowed us to tailor our orders to our unique needs. It also freed us from mealtime norms, letting us enjoy dinner items for breakfast.
Pros
Extensive line of healthy, whole foods, gluten-free options
Also adaptable to other allergens
Diverse array of recipes that can be completed in less than 30 minutes



Cons
No single-serving meals option
Can't customize delivery dates
Read the full Purple Carrot review

Purple Carrot View Plans
9. Sunbasket
Organic certified gluten-free meals & kits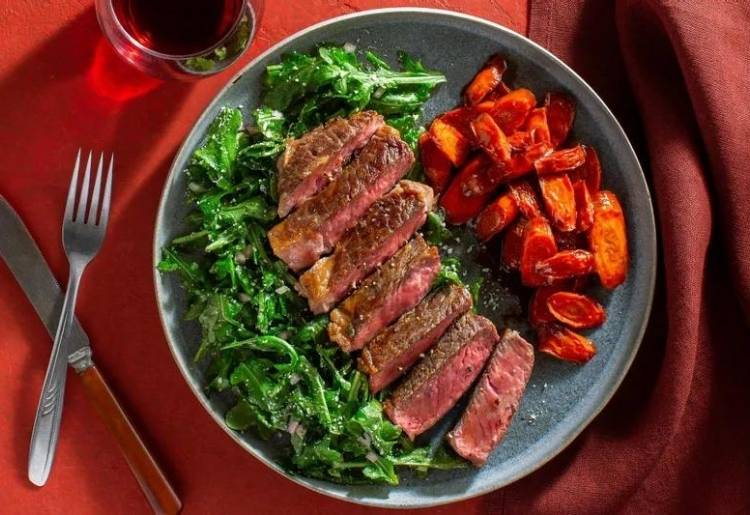 Price: From $9.99/serving
Shipping: $9.99/box
Sunbasket's gluten-free meals combine fresh organic ingredients, ethically sourced meat, and wild-caught or sustainably raised seafood. Their range also includes gluten-free products like pasta and flour made from alternative grains to increase variety.
Sunbasket also caters to other dietary requirements, such as paleo (which is gluten-free by default) and keto (which is primarily gluten-free). This means you can enjoy nutritious and delicious meals regardless of your dietary restrictions.
With their USDA-organic certification, chef-curated recipes, and focus on nutritional balance, Sunbasket provides a convenient solution if you're seeking healthy gluten-free meals. This service also caters to both the convenience of meal kits and the ease of ready-to-eat options.
Why we chose Sunbasket: Sunbasket meal kits come with clear, step-by-step instructions, allowing even novice cooks to confidently prepare their meals. Additionally, Sunbasket lets you customize your meal plans. You can choose the number of meals per week, serving sizes, and specific dishes to suit your needs.
Our experience: We liked that Sunbasket considers the varying needs of a wide range of consumers, offering one-serving, two-serving, and four-serving meals to suit singles, couples, and even families seeking gluten-free options. Additionally, we appreciated the flexibility of changing our delivery address or canceling our subscription at any time.
Pros
Lots of menu options
Meal kits and ready-made meals
Certified organic
Cons
Kits can take up to 40 min to prepare
Meals are packaged in a facility that handles gluten
Read the full Sunbasket review

Sunbasket View Plans
10. Eat Clean To Go
Completely gluten-free paleo and keto plans
Price: From $8.15/serving
Shipping: $7.99/box
Eat Clean To Go might not feature a specific gluten-free plan, but their keto meal options are entirely free from gluten and grains. Moreover, these meals are designed for quick and convenient preparation—simply heat them in the microwave or oven for two minutes and enjoy.
This service's kits are packed with all-natural and fresh ingredients, which enhance their nutritional value and make them ideal for those who prioritize clean eating. Additionally, Eat Clean To Go features a variety of vegetable-based recipes that boost daily vegetable intake for gluten-free diets and can enhance the overall nutritional profile of your meals.
Why we chose Eat Clean To Go: Eat Clean To Go provides meals made with high-quality ingredients. These chef-prepared dishes are also delicious and strictly adhere to gluten-free guidelines. They also offer traditional, paleo, keto, and plant-based options. In addition, this service ships throughout the continental US.
Our experience: The fact that dietitians approve Eat Clean To Go's recipes gave us the peace of mind that we were making healthy choices for our gluten-free diet. We also appreciated that the service offers larger portions for a slightly higher cost, especially since we like to have leftovers for lunch.
Pros:
Meals are fresh and fully prepped

Delivers on a weekly basis

User-friendly platform
Cons:
Users have reported poor customer support

No customization options
Read the full Eat Clean To Go review

Eat Clean To Go View Plans
Compare the Best Gluten-Free Meal Delivery Services:
Best Organic Meal Kit Delivery Services
Customizable, gluten-friendly meals
Clear allergen indications; high-protein content.
A large selection of affordable wheat-free meals
Over 30 wheat-free options; customizable meals.
Convenient, ready-to-cook gluten-free meals
Ready-to-cook meals from trusted suppliers; detailed nutrition info.
Certified gluten-free meal kits
Specific gluten-free plan; sustainable, organic ingredients; pre-prepped items.
Pre-cooked gluten-free meals for low-carb diets
High-quality ingredients, antibiotic-free meats, cage-free eggs, organic produce; free consultation with a nutritionist.
Affordable gluten-free options
Cost-effective ingredients; many meals are or can be made gluten-free; prioritizes whole foods.
Tailored gluten-free options for healthy weight loss
Comprehensive four-week guided plan with gluten-free meals; includes snacks; over 130 meal options.
Wide selection of plant-based, gluten-free meals
Plant-based meals tagged for dietary preferences; organic, fresh ingredients; unique global flavors.
Organic certified gluten-free meals & kits
Organic ingredients; ethically sourced meat/seafood; meal kits and ready-to-eat options.
Completely gluten-free paleo and keto plans
Keto gluten-free options; quick preparation; diverse meal choices.
What Are the Benefits of Gluten-Free Meal Delivery Services?
Gluten-free meal delivery services provide a range of advantages that can significantly enhance your experience if you can't eat gluten or wheat, including:
Convenience: These services make it easier to find gluten-free meals. Everything on the menu is either designed to be or marked as gluten-free, eliminating the need to scrutinize every ingredient.

Time-saving: Meal delivery kits contain pre-measured ingredients that are completely gluten-free, so you don't have to spend extra time to make your meals safe. Additionally, the long-term cost of these services is also lower when considering the time saved in planning, shopping for, and preparing gluten-free meals.

Portion control: Gluten-free meal delivery services' pre-packaged ingredients can assist you in managing portion sizes and monitoring your calorie intake. This focus on portion control is crucial for effective weight management.

Support with gluten-free diet: Some services offer additional resources to assist you on your gluten-free diet. This may include access to professional dietitian support, educational materials, and flexible, tailored meal plans.

New food experiences: If you suddenly need to adopt a gluten-free diet, the change can mean parting ways with some of your favorite foods, like pizza and pasta. However, these services let you explore and try out new gluten-free recipes every week. This variety allows you to discover and savor different flavors, ingredients, and cooking techniques, easing the transition and fulfilling your cravings in a safe way.
How to Choose the Best Gluten-Free Meal Delivery Service for You
With numerous delivery services offering gluten-free meals, you'll need to select the best one based on your dietary requirements and preferences. When making your choice, consider the following factors to enjoy satisfying and convenient dining experiences:
Certification and safety: While not all meal delivery services may be gluten-free certified, ensure that they clearly label their gluten-free options and have measures in place to prevent cross-contamination. This is particularly important if you have celiac disease or severe gluten sensitivities.

Menu variety: Check if the service offers a diverse range of cuisines, meal types (breakfast, lunch, dinner), and a rotating menu to keep your meals varied. Also, look for dishes that could serve as gluten-free alternatives to your favorite gluten meals. This will keep familiar flavors on your plate while adhering to your dietary needs.

Dietary considerations: Consider whether your chosen meal delivery services offer dedicated gluten-free plans. If you have other dietary restrictions or preferences—vegan, vegetarian, paleo, or dairy-free—verify that the service can accommodate those needs as well.

Ingredient quality: Assess the quality of ingredients used in the meals. Look for services that prioritize organic, locally sourced, and sustainably produced ingredients to ensure a high standard of quality and taste.

Pricing and plans: Compare different services' pricing structures and subscription plans. Take into account the cost per serving, additional fees, and the flexibility to skip or modify deliveries according to your schedule and preferences.
How Gluten-Free Meal Delivery Services Can Save You Time and Money
Gluten-free meal delivery services make it simple to enjoy a variety of gluten-free options. They negate the hassle and cost of hunting for gluten-free ingredients across stores or dining at pricey specialty restaurants.
By offering meals in perfectly controlled portions, these services help avoid overspending on bulk ingredients that might not be fully used. For instance, meal kits can have as few as nine ingredients.
Plus, they add convenience to your routine. You get a diverse selection of delicious, nutritious gluten-free meals delivered to your doorstep, saving you precious time and energy.
How Much Do Gluten-Free Meal Delivery Services Cost?
Gluten-free meal delivery services cost between $4.99 to around $15/serving. This price range depends on factors such as the quality of ingredients, the amount of food you order, and your location (whether in the US or internationally).
For example, some gluten-free meal delivery services offer bulk-order discounts, significantly reducing your per-serving cost. Other services offer discounts, including welcome offers and limited coupons sent to your inbox. Many gluten-free menus will also give you a discount if you set up recurring deliveries. This is a convenient way to ensure you never run out of your healthy meals.
When comparing costs between services, be sure to factor in shipping fees along with the meal prices. Some charge a flat fee, like Green Chef or EveryPlate (both $10.99), whereas others offer free shipping for orders exceeding a certain amount, like Purple Carrot's free shipping for orders over $100.
Summary - Gluten-Free Meals Delivered to Your Doorstep
Gluten-free diets are quite popular. Reportedly, over 22% of people have been gluten-free for over 10 years. As people realize the health benefits of cutting out those carbs and wheat, the trend continues to gain traction.

Today, it seems that gluten-free has taken up permanent residence at restaurants, grocery stores, and households across the world.
In the meal delivery industry as well, there are plenty of gluten-free options to choose from.

So check out our top choices, see which one works best for your needs, and enjoy the convenience and health benefits of ready-made gluten-free meals whenever you want them.
Our picks for the top 10 best gluten-free meal delivery services are HelloFresh, Home Chef, Fresh and Easy, Green Chef, Factor, EveryPlate, Nutrisystem, Purple Carrot, Sunbasket, and Eat Clean To Go.
Our Gluten-Free Meal Delivery Related Articles: