Fresh and Easy Visit site
Overview
Best For
Quick and easy recipes
Meals with customizable proteins
Fresh and Easy Meal Plans
Fresh and Easy's chef-prepared meals make getting dinner on the table a snap. To cater to busy families Fresh and Easy offers meal plans for two, four, or six people. There are five Meal options to choose from when building your box.
Fast & Fresh meals
The Fast & Fresh meals are ready to go when they arrive. Just heat them in the microwave or oven and dinner is served.
Oven-Ready
Oven-Ready meals arrive in an oven-safe aluminum tray, ready for you to pop them straight in the oven with minimal preparation required.
Grill-Ready
Fresh and Easy also offers meals that are ideal for grilling. Their grill-ready meals require simple assembly of the ingredients in a grill-safe bag. Just throw it on the grill for a quick, flavorful meal.
15 Minute Meal Kits
For those who prefer to do a little bit of work themselves, the 15 Minute Meal Kits are slightly more hands-on, but still, make dinner easy to get on the table in a short period of time.
Entrée Salad
This is a nice option from Fresh and Easy for those days you want to eat something light. You get fresh vegetables that are pre-portioned (and pre-cooked if they include roasted veggies) - just toss everything together and you're good to go.
Fresh and Easy Dietary Options and Programs
Unlike other meal delivery services, Fresh and Easy doesn't offer dietary plans that fit a variety of eating patterns, but you can customize their existing plans to suit your needs.
There are two dietary options to choose from, Calorie-Conscious and Carb-Conscious.
Calorie-Conscious meals are designed to support weight loss.
Carb-Conscious meals are made to help with weight loss and/or blood sugar management.
You can also exclude common allergens from your menu, such as fish, shellfish, peanuts, and tree nuts. Dairy-free and gluten-free meals can be chosen as well.
The Calorie-Conscious or Carb-Conscious options can be made vegetarian by choosing "no beef, no pork, no poultry, no fish, no shellfish". A dairy-free meal option is not available, though dairy could be avoided depending on your meal choice.
Our Favorite Fresh and Easy Meals
A great selection from the Calorie-Conscious menu is the Honey Cashew Shrimp, a delicious and calorie smart shrimp dish, served with savory broccoli fried rice.
The Carb-Conscious menu also has some tasty dishes to offer, including a Peruvian-inspired steak, a Basil-Parmesan crusted salmon, and a sherry glazed roasted chicken.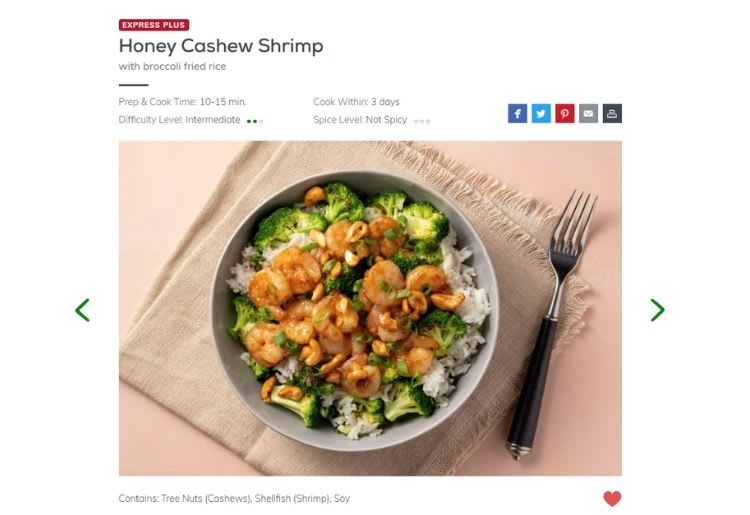 How Fresh and Easy Works
How to Get Started With Fresh and Easy
The first thing you need to do is press the Get Started button on the Fresh and Easy website. You'll then choose between the Calorie-Conscious or Carb-Conscious options, and flag the foods you'd like to avoid.
Next, you'll be asked to sign up, after which you'll be asked a few questions such as how many people you're cooking for, and how many recipes you'd like to receive each week. Next, you'll provide your shipping information and enter the date you'd like to schedule your first delivery.
After the delivery date is confirmed, you'll need to enter your payment information. Once you're done with all that, you can make your meal selections for the first delivery.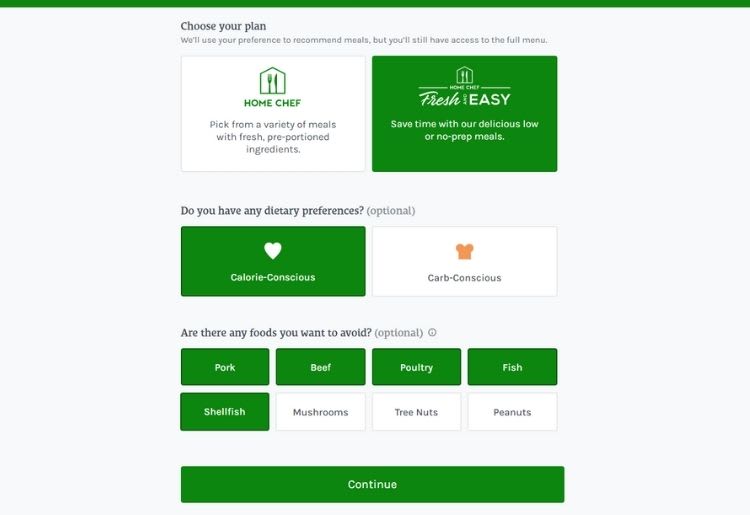 How to Choose Meals with Fresh and Easy
Within the dietary option you've selected (Calorie-Conscious and Carb-Conscious), there will be five options to choose from: Fast & Fresh, Oven-Ready, Grill-Ready, 15 Minute Meal Kits, and Entrée Salads.
These customizable meal plans allow you to choose which foods to avoid. You can also tailor your meals to your dietary needs by selecting vegetarian or dairy-free options.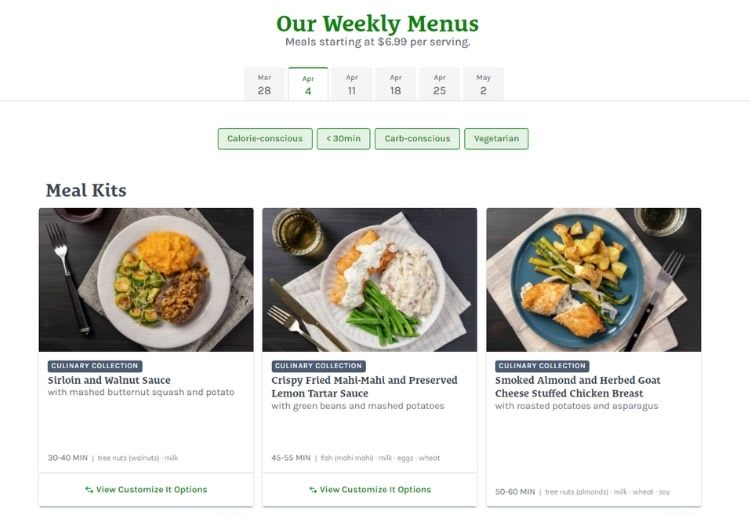 Does Fresh and Easy Come With Cooking Instructions?
Recipe cards are provided with each order and are easy to follow step-by-step instructions and images. In addition, if you lose or misplace your cards, images of meal components and the finished product are provided on the Fresh and Easy website.
Nutritional information is also provided per serving of each meal, so you can always keep tabs on the nutritious value of what you're eating.
Additional ingredients like cooking oil, salt, and pepper may be required. Recipes may be modified at home with the addition or deletion of ingredients.
What Makes Fresh and Easy Stand Out?
Fresh and Easy uses fresh, seasonal ingredients are used in every meal and may vary by location. They also offer a variety of heat and eat options that can be popped in the microwave, making it very quick to get dinner on the table.
Fresh and Easy also offers a collection of high-end meals. These are offered at a higher price and can be used for occasions (or just a fancy Tuesday night) and contain a selection of premium ingredients. For example, high-end protein options such as Ahi tuna, salmon, and shrimp are offered regularly.
As part of the Home Chef collection, Fresh and Easy meals may be available at the Kroger family stores including Fred Meyer, Harris Teeter, King, and Smith's.
Home Chef supports Doctors, Nurses, Hospital Employees, First Responders, and Teachers. Verify with ID.me at checkout to receive an exclusive discount.
How Are Fresh and Easy Meals Packaged and Shipped?
Fresh and Easy meals are delivered in a recyclable box on your chosen day of delivery. The delivery day options are usually Monday through Friday but will depend on where you live. The boxes are designed to keep the food refrigerated for up to 8 hours, but it is always best to put it in the fridge right away.
Since the meals are designed to be easy to prepare, they arrive in individual bags organized by recipe. Oven or grill-ready meals arrive in individual containers that can be used to cook in.
The protein is packaged at the bottom of the box to prevent cross-contamination with other ingredients. Protein is also packaged with additional ice packs to keep it at the right temperature.
Much of the packaging and liners are made of biodegradable material or can be recycled after use.
How to Contact Fresh and Easy Customer Service
Methods of contact 872-225-2433 or 855-949-3049 Toll-Free, via web site: Submit a request – Home Chef
A chat "bot" is available on the site for basic FAQs.
Getting refunds: For help regarding in-store purchases, contact Kroger Customer Care at 1-800-632-6900
Supporting documentation and additional reading can be found here.
Hours of operation Monday-Friday, 9 am-6 pm CST, Saturdays 10 am-2 pm CST, Sunday Closed
How to Pause or Cancel Your Fresh and Easy Account
You can cancel or pause Fresh and Easy at any time by clicking Account in the upper right corner of your dashboard. Go to Account Settings, then Pause Subscription at the bottom of the options on the left. There is no cancellation fee.
Is There a Fresh and Easy App?
Fresh and easy has an app that's easy to use and includes all the features available on their regular website including meal selection, shipping, and payment processing. In the app, you can modify your meals and look ahead for what meals will be offered in the future.
Fresh and Easy Pricing
How Much Does Fresh and Easy Cost?
There is no membership cost for Fresh and Easy. Prices are estimated based on the per-serving price of $8.99. Actual prices may vary depending on meal selections. Shipping is $8.99 for orders $50 and up and $13.99 if under $50.
2 people for 2-6 meals per week
4 people for 2-6 meals per week
6 people for 2-6 meals per week
Fresh and Easy offers numerous options depending on how many people you want meals for and how many meals per week you'd like. The 2-person box is perfect for couples while the 4- and 6-serving boxes are great for families.
Fresh and Easy Alternatives
How Does Fresh and Easy Compare to Other Meal Delivery Services?
Fresh and Easy is unique because of their low to no-prep ingredients with reusable pans and grill bags included. Calorie-Conscious meals designed by Skinnytaste - Delicious Healthy Recipes Made with Real Food are available. Other services are similar in price but may offer different meal plans, dietary restrictions, and shipping fees.
Calorie-conscious, Carb-conscious
Gluten-free, Low carb, Low calorie, Vegetarian, Vegan
Vegetarian, Pescatarian, Low carb
Partially recycled cardboard
Go-Green plastic containers
Partially recycled cardboard


Fresh and Easy vs Blue Apron
Fresh and Easy is different from Blue Apron in that it offers 6 different dietary restrictions compared to Blue Apron's 2 options. Fresh and Easy is slightly less expensive and meals are prepped and ready to eat in less time.
Fresh and Easy vs Freshly
Fresh and Easy varies from Freshly in that meals are more convenient to make and also less expensive. Freshly offers free shipping. Both Fresh and Easy and Freshly companies use eco-friendly packaging for their meals. Both offer pre-cooked and pre-portioned meals for busy people.
Fresh and Easy vs HelloFresh
Fresh and Easy is similar to HelloFresh in that both have oven-ready options. HelloFresh is known for their sheet pan dinners, which require more clean up than Fresh and Easy. Fresh and Easy offers less prep time overall.

Fresh and Easy Visit site
Bottom Line
Fresh and Easy draws from Home Chef's experience in meal delivery including easy ordering, reliable deliveries, and chef and dietitian-approved meals.
Fresh and Easy is best for singles, couples, or busy families that want quick, home-cooked meals without all the fuss of chopping and prepping ingredients. Meals are easy to fix and come with pans or grill bags, to make cleanup a snap.