In a Nutshell
Fresh and Easy, the newest offering from Home Chef, is the company's next step in catering to those big on health but short on time. Fresh and Easy sends chef-prepared meals straight to your door with all of the ingredients washed, portioned, and packaged in heatable pans and grillable bags. All you have to do is pop them in the oven or onto the grill to enjoy.
pros
No cutting or prep work necessary
Meals served in oven- and grill-ready dishes
Streamlined order and delivery process
cons
Limited menu options
Still a new service
Fresh and Easy Visit Site
Ideal For
Busy professionals without time to cook
Singles trying to save money on eating out
What's Unique About Home Chef Fresh and Easy?
In one word: pans. Fresh and Easy's meals not only come with the ingredients chopped, divvied out, portioned, and ready to coo, they also come with the pan.
Unlike Home Chef's signature service, which requires some kitchen prep, Fresh and Easy streamlines the process to save you time on cooking and cleaning without sacrificing on taste.
How It Works
Fresh and Easy is simple to use. Home Chef subscribers will feel right at home, but even if you're new to the service, the process is simple and intuitive.
After signing up, you'll be asked a few questions:
How many people are you cooking for?
How many times a week do you want to cook?
Which do you prefer to eat? (choose from meat, seafood, vegetables)
Do you have dietary preferences or foods you want to avoid?
Next you'll enter your shipping information and the date you want to schedule your first delivery. After entering your payment information, you'll be able to choose your meals for your first delivery. Every week a different menu will appear with about 9 meals from which to choose. Mix and match until you've chosen your allotment of meals and then enjoy.
Meal Options
The Fresh and Easy menu will change every week and feature about 9 different items. Meals fall into 3 categories: Oven-fresh meals, Grill-bag meals, and no-cook salads. Though the menu is still being determined, a sample menu includes items such as pretzel-crusted chicken with carrots, grilled salmon with salsa, and a Thai peanut steak salad. Below is a closer look at the first Fresh and Easy dish on the menu.
Favorite Fresh and Easy Dish
Chicken Parmesan Penne
This is one of the oven-ready meals that's part of the new Fresh and Easy menu. As pictured below, meals come fully portioned and pre-cut with a heatable pan.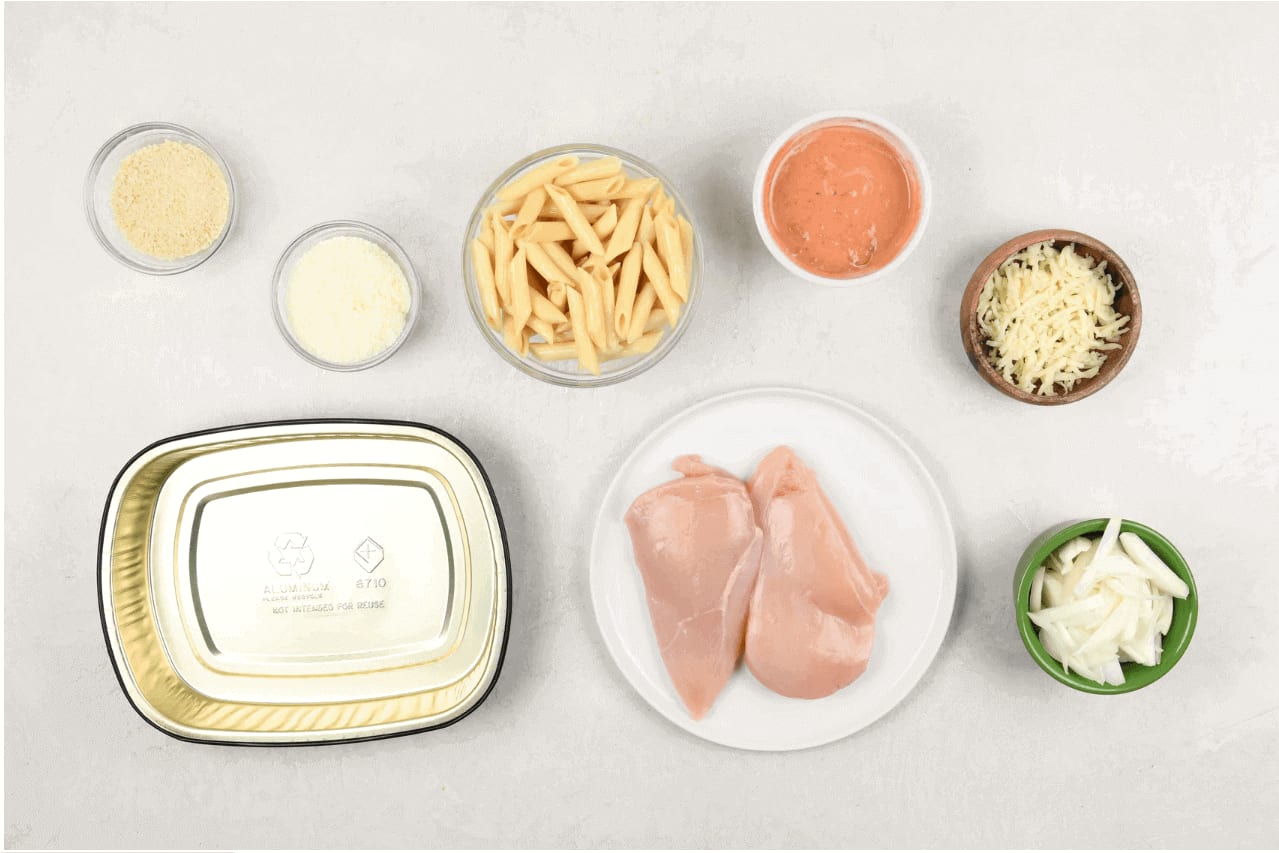 The chicken parmesan penne features boneless and skinless chicken breasts for 2 as well as penne noodles, shredded mozzarella and grated parmesan, rosee sauce, sliced yellow onion, and panko breadcrumbs. Place it all in the included oven pan, heat for 50 minutes, and eat.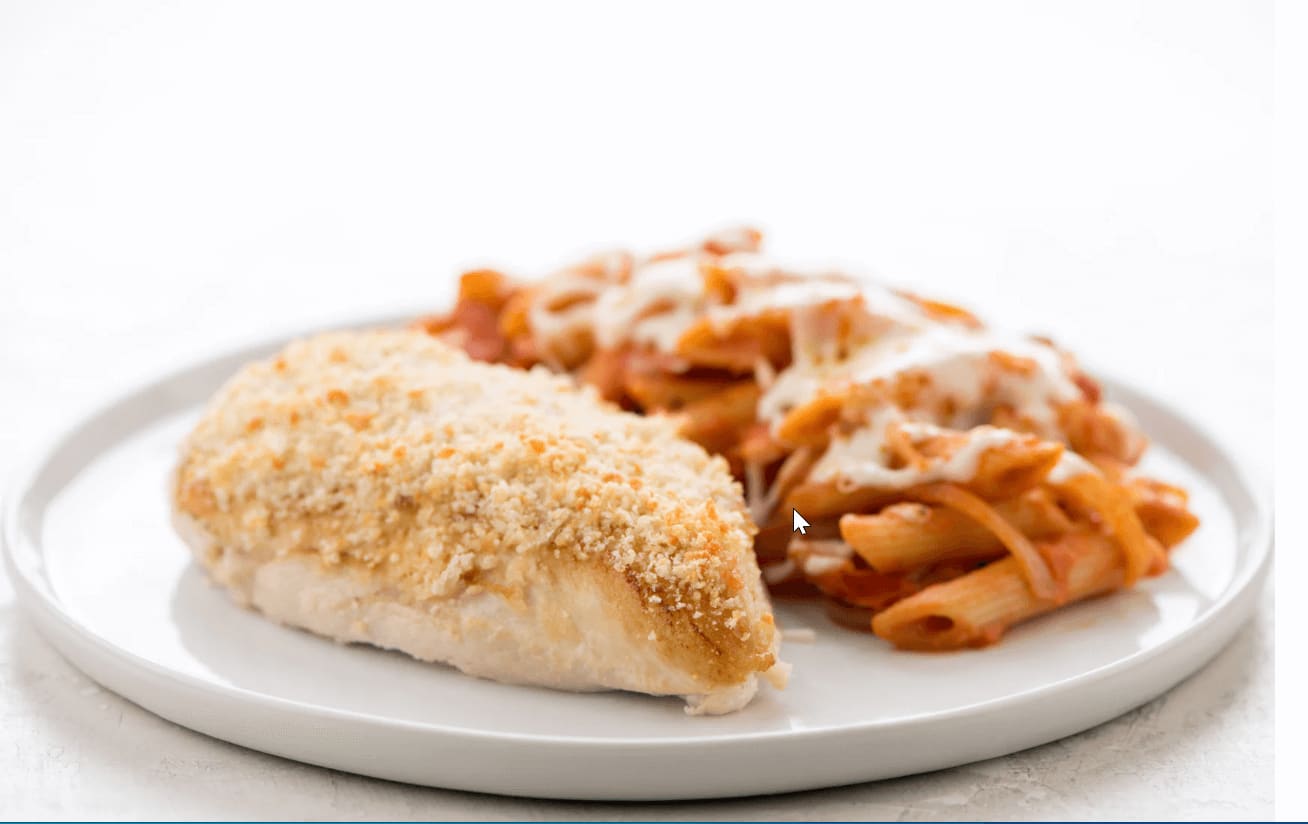 Calories: 865
Carbs: 86g
Fat: 29g
Protein: 63g
Pricing
For 2 people:
For 4 people:
For 6 people:
Fresh and Easy offers numerous options depending on how many people you want meals for and how many meals per week you'd like. The 2-person box is ideal for couples while the 4- and 6-serving boxes are great for families. Shipping is free on all orders over $49.
With Fresh and Easy, you can skip a delivery or cancel your membership at anytime.
Fresh and Easy Visit Site
Help & Support
Home Chef's website has a fairly detailed FAQ page, as well as a message portal if you need to reach out with further questions. You can also contact them by phone during working hours or reach out through Facebook.
Bottom Line
Fresh and Easy benefits from Home Chef's experience in meal delivery. They've already got the system down, which means easy ordering, reliable deliveries, and chef-approved meals. The new service is an attractive option for anybody straddling the line between eating out and cooking. The menu is not as diverse as it could be, but it does offer a robust and healthy selection. Most importantly, the service is accessible for those who may lack time or cooking skills but still want to eat healthier, save money, or spend family dinners at their own table.