In a Nutshell
Blue Apron brings fresh, seasonal ingredients to your door so you can cook delicious meals, simply. Food comes uncooked and pre-portioned, so all you have to do to make a stand-out meal is follow the simple step-by-step recipes. In addition to cooking instructions, Blue Apron gives you the history and background of each dish you make, so you'll learn all there is to know about the food you're enjoying.
pros
Fresh produce and ingredients
Shipping is always free
cons
No options for lunches, snacks or desserts
No options for more than 4 person families

Blue Apron Visit Site
Pricing
So how much does Blue Apron cost?
Blue Apron offers 2 meal plans, one for couples and one for a family of 4. The family plan can be modified so that customers receive either 2, 3 or 4 meals per week, depending on what they prefer.
2-person plan, 2 recipes/week
2-person plan, 3 recipies/week
2-person plan, 4 recipes/week
4-person family plan, 2 recipes/week
4-person family plan, 3 recipes/week
4-person family plan, 4 recipes/week
*Last updated: April 2021
Shipping is free with most Blue Apron meal plans. It costs $7.99 if you purchase the 2-person plan with 2 recipes per week. You can skip weeks or cancel your subscription at any point.
Blue Apron has a Freshness Guarantee which helps ensure value for money. Simply let the company know of any problems or missing products within 7 days, and the customer care team will sort it out.

Ideal For
Busy families who need some extra help planning and shopping
Couples who want to try some fun new ideas and recipes
Those who prefer a managed approach to eating fresh/healthy food
What's Unique About Blue Apron?
Keep It Fresh
While food may often sit in warehouses for weeks or months, or travel across many countries until it arrives at its final destination, Blue Apron eliminates wholesalers, grocery warehouses, and even grocery stores. By working directly with farmers, Blue Apron delivers fresh produce and ingredients to your door.
Gain Knowledge
With Blue Apron, you'll gain knowledge about the food you love. Pick up food prepping skills, new recipes, nutritional knowledge, and a love for new cuisine. Blue Apron also sends you the history and background of each dish, so you can build a passion for cooking and a love of eating, in the freshest and most exciting way.
Keep Track on the Move
Blue Apron has a mobile app for iOS users. There isn't currently an app for Android or Windows Phones. Using the iOS app, customers can:
Check account information
Look at unique hand-picked seasonal recipes
Watch how-to videos and tutorials
Get cooking tips
Understand more about where and how your food arrives at your door
Update and modify your subscription information, including deliveries

Quality, Eco-Friendly Food
Blue Apron is taking huge strides to improve our world and the imprint we leave on it via what we consume.
Better standards: Food is high quality and sustainable. This includes hormone-free meat, sustainable seafood, and non GMO produce.
Regenerative farming: Put more into the land than we take out. Blue Apron builds menus around crop rotations, working with farmers to ensure the least impact on the soil.
Eliminating the middleman: Blue Apron takes ingredients from farm to kitchen to you, eliminating the storage, wholesalers and retailers. Food is fresher, riper and on your table quicker.
Reducing food waste: Perfectly portioned delivery means no wasted food rotting in your fridge.
In 2016, Blue Apron saved 2,800,000 pounds of food, and reduced food waste by 62%.
How It Works
Blue Apron offers a simple service to get people cooking quality, nutritious food without having to think about meal prep or shopping. Simply choose between the couple or family plan, and select the meals you want from the weekly menu.
Delivery boxes are sent entirely insulated and with frozen gel packs, so your food stays fresh. The food is sent with information on nutrition, the amount of servings it will make, the cook time, some background on the history of the food, step-by-step recipes, and even information on the cookware you will need.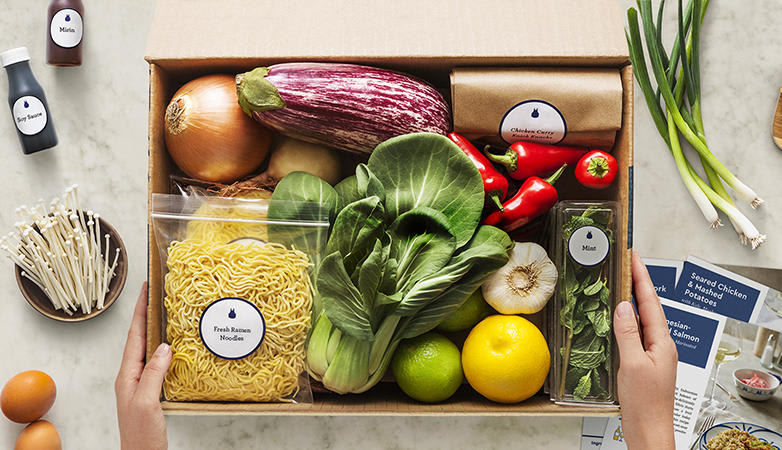 Meal Options
While the back catalogue of recipes is extensive and covers a lot of cuisine, Blue Apron's weekly menu consists of 6 choices for the 2-person plan, and 4 options for the family plan. This means that if customers order the 4-meal family plan, there is no meal choice.
Within the recipe bank, and among the weekly meals created by the chefs are a number of different types of cuisine, including Asian, Indian, Italian, Mediterranean, and Mexican.
Browse recipes by season, or by main ingredient. This includes an option to browse meals for vegetarians. Speciality diets such as gluten-free, low-carb or diabetic are harder to search. Blue Apron does allow you to mark which main ingredients you cannot eat, and then sends out appropriate meal choices.
Weight Loss Collaboration with WW (formerly Weight Watchers)
With its new collaboration with WW (formerly Weight Watchers), Blue Apron has opened up its tasty and accessible meal delivery service to anyone who's serious about losing weight. The partnership with WW means that Blue Apron's weekly menu will also feature meals that are approved by the celebrated weight-loss program and are in accordance with its well-known SmartPoints® system.
Every week, the Blue Apron menu will feature at least 3 meals bearing the WW logo. When you spot a WW meal, you can be assured that the recipe has been designed in strict accordance with the nutritional and weight-loss standards that have made WW a household name. Those already participating in WWs, or those interested in starting their path to weight loss, can simply scan the barcode of Blue Apron's WW-approved meals and track their SmartPoints® in their personal myWW+ plans.
Favorite Blue Apron Meals
1. Seared steaks with lemon-parmesan kale & roasted potatoes
760 calories/serving
Prep & cook time: 35-45 minutes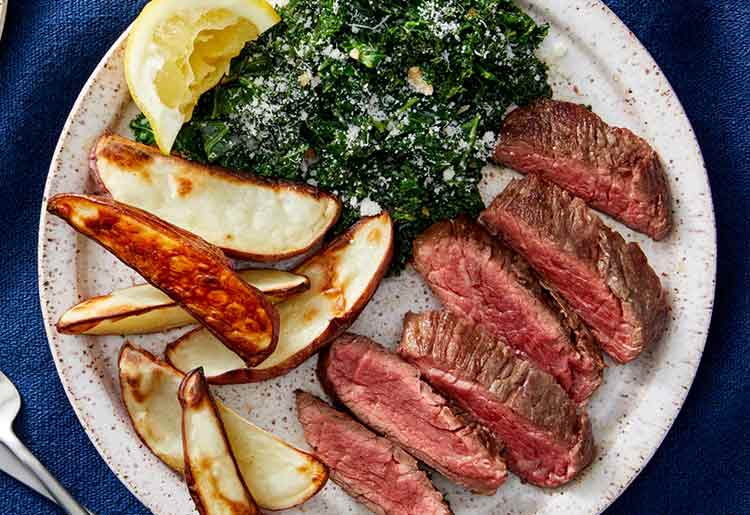 2. Pizza with mozzarella, fontina, and grana padano cheese
870 calories/serving
Prep & cook time: 45-55 minutes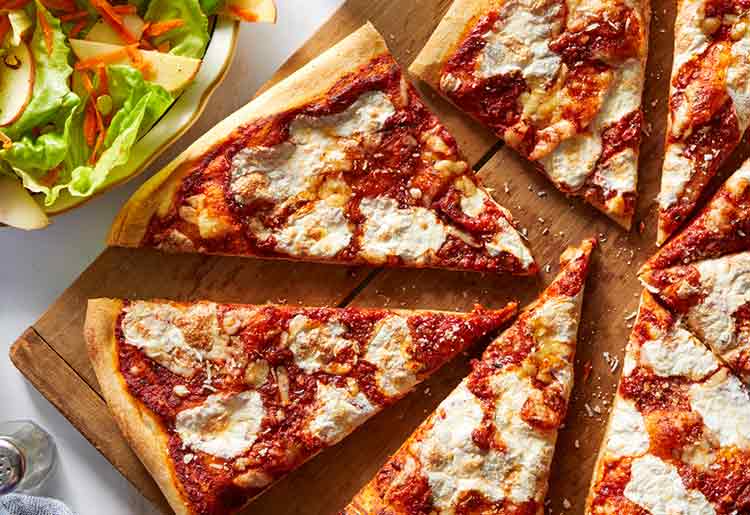 3. Togarashi popcorn chicken with sweet chili cabbage slaw
660 calories/serving
Prep & cook time: 20-30 minutes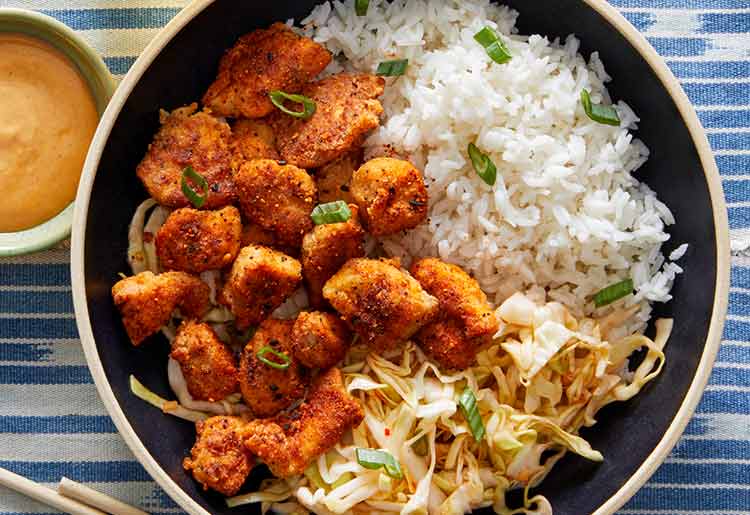 Blue Apron Visit Site
Help & Support
Help Center with 24/7 support
Detailed FAQ page
Email support - contact@blueapron.com
Blue Apron - It's What's for Dinner
Blue Apron is the originator of home meal delivery kits and the company's commitment to environmentally-friendly practices and eliminating food waste is admirable. While Blue Apron's ingredients are high-quality and its recipes are interesting, there are not as many weekly menu choices or meals for those with dietary restrictions, compared to the competition. Blue Apron still provides good value, with meals for about $10 per serving, and no shipping charges for most plans.
Blue Apron Alternatives: How They Compare
$7.99 or $9.95 per serving
Vegetarian, gluten-free, low carb, diabetic
Vegetarian, Vegan, quick and easy, lean and clean

Vegetarian, soy-free, dairy-free, calorie-conscious

Vegetarian, gluten-free, dairy-free, nut-free

Choose from 4-8 recipes per week
Choose from 6-18 recipes per week
Choose from 12 dinners and 3 lunches per week
Choose from 5-8 recipes per week
Blue Apron vs Sun Basket
Blue Apron charges around the same price per serving as Sun Basket, so a savvy shopper will have to look at other factors when comparing the two. If you're looking for variety, Sun Basket easily comes out on top and is an alternative to Blue Apron that's worth considering: while Sun Basket customers can choose from up to 16 recipes per week, Blue Apron's menu tops out at around 8. The flipside is that Blue Apron's more generalized menu makes it approachable and features kid-friendly and family-friendly recipes.
Blue Apron vs Home Chef
Home Chef's prices fall just below Blue Apron's, making it the more affordable option, if just barely. This Blue Apron alternative also has more variety on its menu--compare Home Chef's 15 recipes per week to Blue Apron's 8--including lunch-specific entrees. Home Chef also offers more options for vegetarian, food-sensitive, and dieting customers. However, Blue Apron's low-carb and diabetic meals mean that those with medical diets or health concerns may find it more accomodating.
Blue Apron vs Hello Fresh
Hello Fresh stacks up in a number of ways and is one of the most logical alternatives to Blue Apron. Hello Fresh's meals are cheaper, but both offer around the same amount of specialty diets. Both companies feature around 8 recipes per week, though if you're looking for more sophisticated meals, Blue Apron may be the better bet. Blue Apron also puts more emphasis on the quality of its ingredients, so if you're devoted to eating sustainable foods from family-owned farms, for example, or non-GMO and certified organic produce, then Blue Apron is the clear winner.
*The information on this site is based on research, but should not be treated as medical advice. Before beginning any new diet plan, we recommend consulting with a physician or other professional healthcare provider. Results may vary based on various health factors, individual weight loss plans and adherence to the meal plan.