Blue Apron Visit site
Overview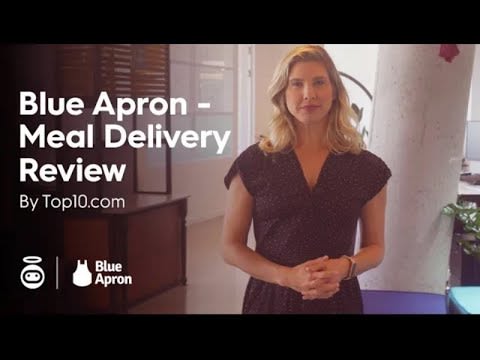 Best For
Ingredients sourced directly from farmers.
People looking for premium ingredients and next-level recipes.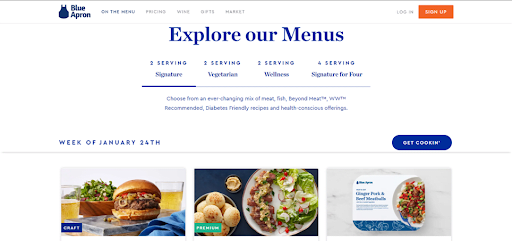 Blue Apron Meal Plans
Blue Apron's Signature menu has the most variety, with options for meat, fish, or Beyond Meat ™. The Signature recipes include diabetes-friendly meals, WW (formerly Weight Watchers) Recommended Meals, and other health-conscious offerings. Some meals you may find on this plan include a pancetta and onion jam cheeseburger with smokey fingerlings or beef enchiladas rojas.
The Wellness Blue Arpron meal plan consists of balanced and nutritionist-approved recipes, including recipes that are carb-conscious and WW Recommended. Some menu items include seared tilapia and creamy cilantro sauce with vegetable barley and pepitas and seared chicken and dijon pan sauce with buttermilk mashed potatoes and green beans.
Blue Apron's Vegetarian meal plan includes meat-free dishes that highlight seasonal produce. Some vegetarian meals include the mushroom grilled cheese sandwich with pear salad, lentil and farrow stuffed peppers, and peanut lentil curry with fried eggs and garlic naan.
Blue Apron Dietary Options and Programs
Blue Apron is somewhat limited in its ability to help figure out how their recipes fit with dietary needs. You can filter meals based on preferred protein sources in the Dietary Selections area, but there aren't any gluten-free designations when looking through the available menus, so you do have to check individual recipes to see if they are gluten-free. The same goes for any major allergens – you have to check the recipe.
How Blue Apron Works
Blue Apron has three main menus – Signature, Wellness, and Vegetarian, each with 5-15 available recipes. The Signature menu has the greatest variety because it showcases recipes from both the Wellness and Vegetarian menus. You can also find recipes that let you add or change proteins.
Getting Started With Blue Apron
The sign-up and ordering process for Blue Apron is straightforward. First, you choose your meal preference, the number of people being fed (2 or 4), and the number of recipes you want each week. You'll then add your account and billing information, and confirm your plan and pricing.
The next step is to choose meals that fall into the Signature, Wellness, or Vegetarian menu items, and once you're done, pick a time you want your meals delivered.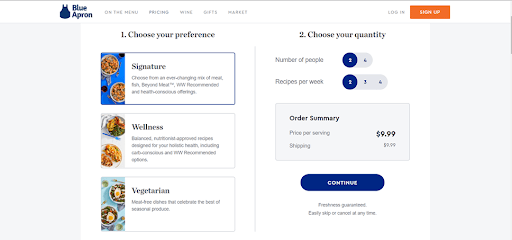 How to Choose Meals with Blue Apron
In the Dietary Selections section of your account settings, you can pick protein sources you want, and filter out those you don't - but not all recipes come with this option. Blue Apron has three main menus – Signature, Wellness, and Vegetarian, each with 5-15 available recipes. The Signature menu has the greatest variety because it showcases recipes from both the Wellness and Vegetarian menus.
We found the fact you can browse recipes by season, or by the main ingredient, convenient and a big time-saver. For exmaple, you can browse only meals for vegetarians. But, finding meals for sepcial diets like gluten-free, low-carb, or diabetic is a bit harder.
Does Blue Apron Come With Cooking Instructions?
Blue Apron offers comprehensive instructions and information about your chosen meal.
Each Blue Apron meal kit comes with recipe cards for each Blue Apron menu item in the box. The BlueApron instructino cards clearly detail nutrition information, number of servings, cooking time, a bit of background on the history of the meal, as well as step-by-step recipes, and even information on the cookware you'll need.
What Makes Blue Apron Stand Out?
Blue Apron eliminates wholesalers, grocery warehouses, and even grocery stores by working directly with farmers. This means you're getting fresh produce that hasn't been sitting in a warehose for weeks, and hasn't beeing travelling across countries.
Blue Apron also offers Craft and Premium meals, two higher-priced menu options that use unique proteins, flavors, while testing your culinary skills.
When it comes to coroporate social responsibility, with its collaboration with WW, Blue Apron has opened its tasty and accessible meal delivery service to anyone who's serious about losing weight. Every week, the Blue Apron menu features at least 3 meals bearing the WW logo.The WW logo means the recipe strictly complies with the nutritional and weight-loss standards that have made WW a household name.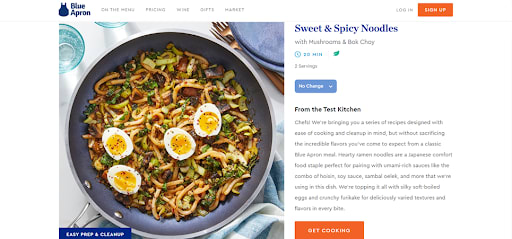 How Are Blue Apron Meals Packaged and Shipped?
Blue Apron has a handy tracking feature in the Blue Apron app that lets you know when your delivery is on the way, and when your Blue Apron box has been delivered. If you're not home for your delivery, your order will likely be left at your doorstep for no-contact delivery.
To make sure your ingredients stay fresh and in one piece, Blue Apron delivery boxes are packed with insulated thermal liners and refrigerants. Ingredients are individually packaged, and measured to make things even more convenient - abd packacking packaging recyclable and partnering with How2Recycle® to implement easy-to-identify recycling labels.
How to Contact Blue Apron Customer Service
Blue Apron's Customer Experience representatives can be contacted through phone, email, or through submitting a request on their online form.
By Phone: (646) 891-4349 or (888) 278-4349; Mon-Fri from 9am-9pm EST; Sat-Sun from 11am-6pm EST.
By Email: For general inquiries, send an email to contact@blueapron.com; For cancellations, email: cancellations@blueapron.com
Refunds: Refunds are available under certain conditions.
Blue Apron has a Freshness Guarantee, meaning that all ingredients included in your meal kit should arrive ready to cook. If ingredients are not up to Blue Apron quality, you can contact the Customer Experience team within 7 days of receiving your delivery and get a credit or refund on your purchase.
How to Pause or Cancel You Blue Apron Account
You can skip weeks of your Blue Apron meal delivery or cancel your subscription at any time. If you need to skip a week of meal delivery or more, Blue Apron allows you to skip upcoming deliveries up to 5 weeks in advance.
In the Upcoming section of your account, you can select and skip specific deliveries. Deliveries must be skipped before your order is processed, which is approximately 3-5 days before your delivery date.
To cancel your account, you have to email Blue Apron's Customer Experience team at cancellations@blueapron.com. Blue Apron will email you instructions on how to complete the cancellation process.
Is There a Blue Apron App?
Blue Apron has a mobile app available for iOS users and Android users. The app includes many of the features of the Blue Apron website, making it a convenient choice staying on top of your meal plans.
Using the iOS or Android app, you can:
Check account information
Look at unique, chef-created seasonal recipes
Watch cooking how-to videos and tutorials
Learn cooking tips
Enjoy unlimited access to over 1,400 Blue Apron recipes
Pair Blue Apron meals with a monthly wine delivery service
Update and modify your subscription information, including deliveries and menus
Blue Apron Pricing
How Much Does Blue Apron Cost?
Blue Apron offers 2 meal plans, one for couples and one for a family of 4. Both the couple and family plan can be modified so that customers receive either 2, 3 or 4 meals per week, depending on what they prefer. Meals start at $7.99 per serving and go up to $9.99 per serving.
Price Per Week (+shipping)
2-person plan, 2 recipes/week
2-person plan, 3 recipes/week
2-person plan, 4 recipes/week
4-person plan, 2 recipes/week
4-person plan, 3 recipes/week
4-person plan, 4 recipes/week
Blue Apron offers free shipping on orders of $50, but this discount does not apply to Blue Apron subscriptions, Blue Apron gift boxes, taxes, and prior purchases. Shipping is only available in the 48 contiguous United States, and items are unable to be shipped to P.O. Box addresses.
Blue Apron also has an online market where you can order one-time meal kits, kitchen tools, pantry items, and wine bundles.
Blue Apron Alternatives
How Does Blue Apron Compare to Other Meal Delivery Services?
Number of dietary restrictions available
Vegetarian, low carb, diabetic, protein preferences
Vegetarian, gluten-free, dairy-free, nut-free
Milk-free, carb-conscious, soy-free, wheat-free, nut-free, vegetarian
Paleo, carb-conscious, gluten-free, vegetarian, pescatarian
Amount of prep work required
Uses recyclable or reusable materials
Uses recyclable or reusable materials
Packaging is reusable, recyclable or compostable


Blue Apron vs HelloFresh
Hello Fresh stacks up in a number of ways and is one of the most logical alternatives to Blue Apron. Hello Fresh's meals are cheaper, but both offer around the same amount of specialty diets. Both companies feature around 8 recipes per week, though if you're looking for more sophisticated meals, Blue Apron may be the better bet. Blue Apron also puts more emphasis on the quality of its ingredients, so if you're devoted to eating sustainable foods from family-owned farms, for example, or non-GMO and certified organic produce, then Blue Apron is the clear winner.
Blue Apron vs Home Chef
Home Chef's prices fall just below Blue Apron's, making it the more affordable option, if just barely. This Blue Apron alternative also has more variety on its menu, including lunch-specific entrees, breakfast options, and other extras. Home Chef also offers more options for vegetarian, food-sensitive, and dieting customers. However, Blue Apron's low-carb and diabetic meals mean that those with medical diets or health concerns may find it more accommodating.
Blue Apron vs Sunbasket
Sun Basket is a more expensive meal kit delivery service than Blue Apron, with its meal kits starting at $11.49 per serving compared to $7.49 per serving. If you're looking for variety, Sun Basket easily comes out on top and is an alternative to Blue Apron that's worth considering: Sun Basket customers can choose to add on breakfast and lunch delivery to their dinner plan, Blue Apron's menu only focuses on dinner. The flipside is that Blue Apron's more generalized menu makes it approachable and features kid-friendly and family-friendly recipes.

Blue Apron Visit site
Bottom Line
Blue Apron is a meal delivery kit that has been delivering delicious, easy-to-cook meals to doorsteps since 2012. As one of the leading meal delivery kits, Blue Apron is affordable, varied in its extensive recipe catalog, and not overwhelming to new users of meal kits.
Best for families, couples looking for new meal ideas, and people who need a simple way to start eating healthier, with the variety and ease of this meal delivery service kit, Blue Apron is worth its price.