HelloFresh Visit Site
Overview
HelloFresh Video Review - Delicious and Responsibly Sourced Meals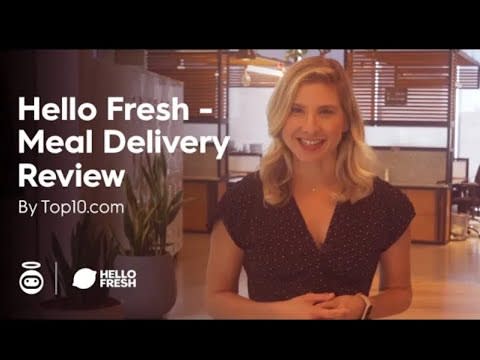 How HelloFresh Works
HelloFresh recipes fall into six categories. When building your plan, you can choose your preferences so HelloFresh can show you menu items you'll like best. Then you pick how many recipes you want on a weekly basis, which can be from two recipes per week for two people, up to six recipes per week for four. Simply put, you'll get between four and 24 servings per week of the food you like.
HelloFresh Dietary Options and Programs
The main protein sources used in all HelloFresh meals are chicken, fish, shrimp, beef, or beans.
HelloFresh Meat plans feature a wide variety of recipes that include meat, fish, and seasonal produce. The Veggie plan from HelloFresh highlights seasonal produce and includes dishes like Soy-Glazed Carrot & Miso Edamame Bowls, and Black Bean & Blue Corn Crunch Burritos.
HelloFresh also offers a Family-Friendly plan made up of kid-tested recipes for households with multiple age groups and picky eaters. Our favorites include the Caramelized Onion Swiss Burgers and Sun-Dried Tomato Spaghetti. If you're always running out of time or simply lead a busy lifestyle, we recommend Quick & Easy meals from HelloFresh, which involve minimal prep and clean-up, yet still taste great.
For those counting calories, HelloFresh Fit & Wholesome meals are nutritionally balanced meals that include Taqueria Chicken Cauliflower Rice Bowls, Creamy Dill Steak, and Mushroom & Herb Shepherd's Pie. And if you're a pescatarian, HelloFresh has plenty of seafood paired with seasonal veggies, like Middle Eastern Salmon & Chickpea Bowls and Smoky Barramundi with Brown Butter.
Our Favorite HelloFresh Meals
The Sweet Corn and Poblano Chowder from HelloFresh was a delicious vegetarian recipe highlighting potatoes, corn, and poblano pepper, flavored with Old Bay Seasoning for an added savory kick. It came with a baguette to toast in the oven and serve on the side. I was able to substitute most of the dairy for non-dairy alternatives I had on hand, and this was my favorite recipe of the week.
I also liked the ciabatta sandwiches layered with a thick piece of grillable mozzarella cheese, tomato slices, and pesto. It came with a side of potatoes to slice, season, and roast in the oven as steak fries. These were super easy to make and kid-friendly.
All of these meals required fewer than 30 minutes of prep time. The clean-up was easy, as the majority of the waste and recyclables could be disposed of while I was cooking, which included the plastic ingredient bags and unusable parts of produce left after chopping. Every recipe I received was minimally labor-intensive, only requiring some chopping, sauteeing, or baking in the oven, the last of which took the most time.
How To Get Started with HelloFresh?
Setting up your HelloFresh subscription and choosing your box is simple. All you have to do is decide which preference categories are most important to you and then choose the number of people you're feeding and how many recipes you'd like to receive for the week.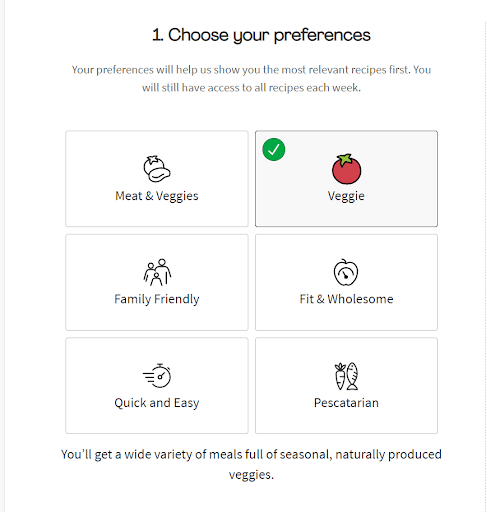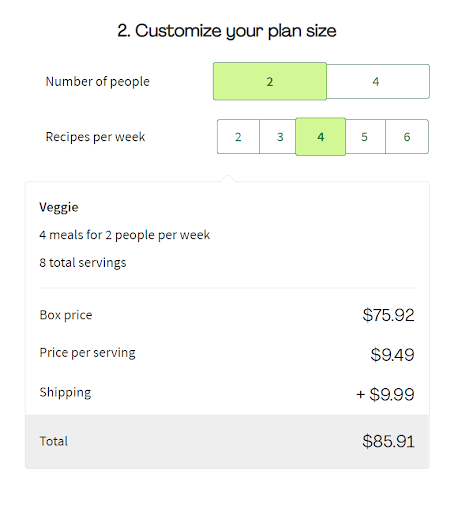 Placing an Order With HelloFresh
Next, you'll create a login for your HelloFresh account, including a username and password. After that, you input your shipping address and payment information for your subscription. Your credit card will be charged 4 days prior to your delivery.
Your upcoming box will be packed with pre-determined recipes for the week that fit your preferences. You can also view all available recipes for that week and swap out recipes for others. You can even look several weeks ahead to start planning your future delivery menus.
You'll receive a confirmation email of your order, followed by reminders that your delivery is coming and when to expect it. If you agree to receive text messages, you will also get a text when your box has been delivered.
How to Choose Meals with HelloFresh
The main protein sources used in all HelloFresh meals are chicken, fish, shrimp, beef, or beans. There are limited dietary options with HelloFresh. HelloFresh is clear that they don't offer dairy-free, nut-free, or gluten-free options and instead leave it up to you to look at the recipe cards ahead of time.
There are limited dietary options with HelloFresh. They state in multiple places on their site that they do not offer dairy-free, nut-free, or gluten-free options and instead leave it up to the customer to look at the recipe cards ahead of time and decide what works best for their diet. They do offer a low-carb plan, as well as a pescatarian plan and a vegetarian plan, although I would note that the vegetarian plan is dairy-heavy.
Does HelloFresh Come with Cooking Instructions?
Every delivery box contains individually packaged recipes, which include all of the pre-measured ingredients you need for the meal (with the exception of olive oil, salt, pepper, and butter) and a detailed recipe card. The recipe card lists the ingredients and amounts, has a photo of the finished product, and easy, step-by-step directions for how to make the meal.
What Makes HelloFresh Stand Out?
If you're looking some something out of the ordinary, HelloFresh has a few elevated menu items that you can try every week for a premium charge. These meals are made with higher-quality ingredients, have bolder flavors, and may have larger portions. Look for menu items labeled Gourmet, Gourmet Plus, Surf & Turf, Taste Tours, or Craft Burger, which include dishes like Lobster-Filled Ravioli and Shimp with Zucchini Ribbons or Squash Agnolotti with Bacon & Scallops.
HelloFresh is also very socially conscious. The company's Beyond the Box initiatives make sure healthy, fresh food is available to people who need it most. HelloFresh's Meals with Meaning is another great program, started in 2020 to provide free meal kits, including recipe cards and ingredients, to people experiencing food insecurity within the United States.
HelloFresh Packaging, Shipping, and Delivery
When you sign up for HelloFresh and enter your zip code, you can select a delivery day based on the days available in your area. HelloFresh delivers your meals via UPS, FedEx, and regional couriers. You can also choose no-contact delivery.
Prior to delivery, you'll get a text message confirming the delivery address and instructions and then a reminder that the box is going to be delivered that day. You'll also get a message when the box is delivered and a photo of it on your doorstep.
The box was medium-sized and packaged in recyclable, leak-proof materials to keep the food cold. The ingredients for each meal are divided into their own brown paper bag, clearly labeled with which recipe they are for. The bags neatly fit into the box, and the recipe cards for the week were stacked on top.
I was able to organize the six paper bags in my refrigerator for the week and easily dispose of the insulation materials. At the end of the week, the ingredients for the last meal I prepared were still in good condition.
It's also noteworthy that the two-person option had enough for leftover lunch the next day.
HelloFresh App
There is a HelloFresh app that you can download for iOS or Android phones. The app is easy to use, quick to load, and you can manage your account from there, order new plans, update your contact details, or contact customer service.
HelloFresh Customer Support
HelloFresh customer service hours of operation are not listed on the site, but the online chat with a virtual assistant is available 24/7. For more detailed questions, the assistant can connect you with a customer service agent, or you can call 646-846-3663.
If you are unhappy with any part of your HelloFresh box or a specific meal kit, you can reach out to the Customer Care line within 5 days of your delivery for a partial or full refund or credit for specific items. Refunds are issued back to your original payment method and may take up to 5-10 business days to process. If delivery of your meal box is unfeasible (due to weather or other circumstances), according to the HelloFresh terms and conditions, you can receive a refund or credit on your box.
The HelloFresh website has a blog that offers fun information about kitchen tips and tricks, recipes to try for every occasion, lifestyle tips, behind-the-scenes information about HelloFresh's partners and friends, and updates about their Beyond the Box initiatives. There is also a handy FAQ section with answers to topics around selecting meals, delivery protocol, payment and account details, and how to get started.
How to Pause or Cancel Your HelloFresh Account
HelloFresh is easy to cancel or pause online or through the app. You can access your account and make changes at any time. Skip one or multiple deliveries on the "My Menu" page, and deactivate your account with ease on your Account Settings page. If you are canceling an existing order, it has to be done by 11:59 PM PST, 5 days prior to your chosen delivery date.
HelloFresh Pricing
Pricing & Special Offers
HelloFresh offers a number of options depending on which meal subscription you choose. Individual meals cost between $7.99-$11.99/serving, with a standard $9.99 for shipping. There is no membership fee.
Dinner for 2 (2 meals per week)
Dinner for 2 (3 meals per week)
Dinner for 2 (4 meals per week)
Dinner for 2 (5 meals per week)
Dinner for 2 (6 meals per week)
Dinner for 4 (2 meals per week)
Dinner for 4 (3 meals per week)
Dinner for 4 (4 meals per week)
Dinner for 4 (5 meals per week)
Dinner for 4 (6 meals per week)
You can pick from two recipes per week to serve two people, up to six recipes per week to feed four people. There are at least 25 recipes to choose from each week if you don't have dietary restrictions. If you're vegetarian, however, there are a maximum of six recipes per week that don't contain meat or fish.
HelloFresh also offers unique discount programs. For students looking to eat healthy on a budget, students can get 15% off every box for a year. Healthcare workers, veterans, and active military personnel can receive 50% off their first box and a 10% discount on subsequent boxes for a year.
HelloFresh Alternatives
How HelloFresh Compares to Other Meal Delivery Services
Vegetarian, pescatarian, low carb
Pescatarian, vegetarian, vegan, low-carb, low-calorie
Paleo, low-carb, vegetarian, gluten-free, pescatarian, diabetes-friendly
Most packaging is recyclable
Most packaging is recyclable
Most packaging is recyclable
Most packaging is recyclable

HelloFresh Visit Site
HelloFresh vs. Home Chef
HelloFresh and Home Chef are both designed to offer healthy options that require little prep work. While HelloFresh offers a pescatarian and vegetarian option, Home Chef goes one step further to offer a fully vegan option. HelloFresh is slightly more expensive.
Read here for a full comparison of HelloFresh vs. Home Chef.
HelloFresh vs. Blue Apron
Blue Apron is slightly less expensive than HelloFresh, but it appears to offer more abundance in terms of vegetables. HelloFresh ingredients are individually packaged and wrapped, whereas Blue Apron ingredients are loosely packed in the box and may have a higher risk of rolling and spilling. While both services offer a few add-on options, like bread or salad, Blue Apron also offers a wine delivery service.
HelloFresh vs. Sunbasket
Both of these services attempt to offer customizability in their meal plans and recipes, but Sunbasket goes further, offering 6 dietary restrictions compared to 3 from HelloFresh. Additionally, HelloFresh recipes often use beans as their primarily plant-based protein, whereas Sunbasket also regularly offers tofu. Both services are similar in their price point as well as the recipe prep time.
Bottom Line
HelloFresh has plenty to offer for households looking to reduce meal prep time and increase meal variety, as long as there are no major dietary restrictions needed. However, they offer plenty of fresh, tasty options for people who don't mind consuming dairy and follow an overall flexible diet pattern. Most people will be able to find a great meal plan that fits within their budget and saves them time in the kitchen with HelloFresh.