Home Chef Visit site
Overview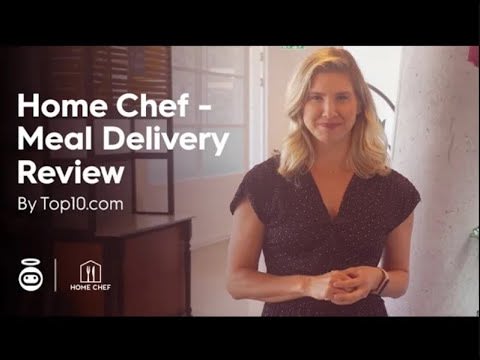 Best For
Flexible, weekly meal plans for carb- and calorie-conscious people
Menu items that may help with weight loss and blood sugar regulation
Home Chef Meal Plans
Home Chef only offers weekly meal plans, which gives you the flexibility to cancel, pause or customize your order with only a week's notice. Home Chef splits the meals they offer into the standard meal kit and the prep-free Fresh and Easy meals. The standard option gives you pre-portioned and partially prepared ingredients that you use to craft a meal from their recipe instructions. The Fresh and Easy meals come completely prepared, pre-cooked, and packaged so all you have to do is heat and serve.
They both cost the same, cater to the same dietary preferences, and use the same ingredients, so the difference comes down to time and convenience.
Home Chef's Family Menu
Home Chef has introduced a new menu specifically designed for families. The Family Menu offers 10 or more weekly meal options with 4-serving portions and family-friendly recipes. The meals are delivered directly to your door, making it easy to prepare and serve delicious meals to your family. Home Chef's 4-serving family meals are priced starting at $3.77 per serving. In addition, the Family menu offers convenient options such as easy-prep and no-cleanup Oven-Ready meals that save time and energy when cooking for the whole family.
Home Chef Dietary Options and Programs
Regardless of which type of meal kit you choose, when it comes to meal plans Home Chef offers their standard plan, a "Calorie-Conscious" plan, and a "Carb-Conscious" plan, each with more than 20 weekly options.
The calorie-conscious plan makes sure that each serving rings in under 625 calories. With flavorful options like Spanish-style stuffed poblanos and southern-style shrimp bake with rice and peppers, you won't be missing those calories!
The carb-conscious plan gives you options with less than 35 grams of carbohydrate per serving. That carb content may be low enough to help with glucose regulation, but it's not low enough to count as a low-carb ketogenic diet.
Each plan features healthy, real, pre-portioned foods with minimal processing that help you stay healthy without feeling like you're depriving yourself, but that's only scratching the surface.
If you have special dietary restrictions or preferences, this is where Home Chef shines. You can exclude any options that contain the following list of commonly avoided foods:
Pork
Beef
Poultry
Fish
Shellfish
Mushrooms
Tree Nuts
Peanuts
Our Favorite Home Chef Meals
A dazzling option in the standard meal kit is the sirloin steak with creamy goat cheese butter and herbs de Provence; a favorite from the Fresh and Easy line is the chicken taco dish with all the toppings you expect.
You won't be left wanting with the carb-conscious plan either. Jerk turkey lettuce cups and spinach artichoke chicken are great examples of conventional foods made low-carb so you can continue enjoying your favorites.
How Home Chef Works
Home Chef strives to be one of the easiest meal kit delivery services to order from and one of the most customizable ones too. From signing up to selecting your options and on to delivering your meals, Home Chef aims to do just about everything they can to make making dinner an enjoyable experience. Everything, that is, short of making it for you.
Getting your own Home Chef delivery plan takes a bit more work than others, but that's the tradeoff for having so much customization available at your fingertips. Starting on the main page, simply click "Pick your meals" to start.
Alternately, you can take Home Chef's "What kind of chef are you?" quiz. With four questions, Home Chef determines what plan they think you'll like best. If you don't agree with their choice, you can always go back and customize your plan!
How to Get Started With Home Chef
The first step is deciding if you want to make your own meals or have them made and delivered ready to eat. Choose the standard meal kit delivery if you have the time and interest in making fresh meals. Select Fresh and Easy if convenience and time-savings are top of mind for you.Then choose the meal plan that fits your diet and lifestyle.
If you don't have any nutrition-related health goals, you can skip the next step, or if you do, you need to pick between calorie-conscious or carb-conscious. You'll then be asked to enter your email address and zip code, so Home Chef can confirm they service your area.
Finally, pick which foods you want to avoid. The list includes pork, beef, poultry, fish, shellfish, mushrooms, tree nuts, and peanuts. It must be noted that Home Chef's meals are made in a facility that may be exposed to cross-contamination with other allergens.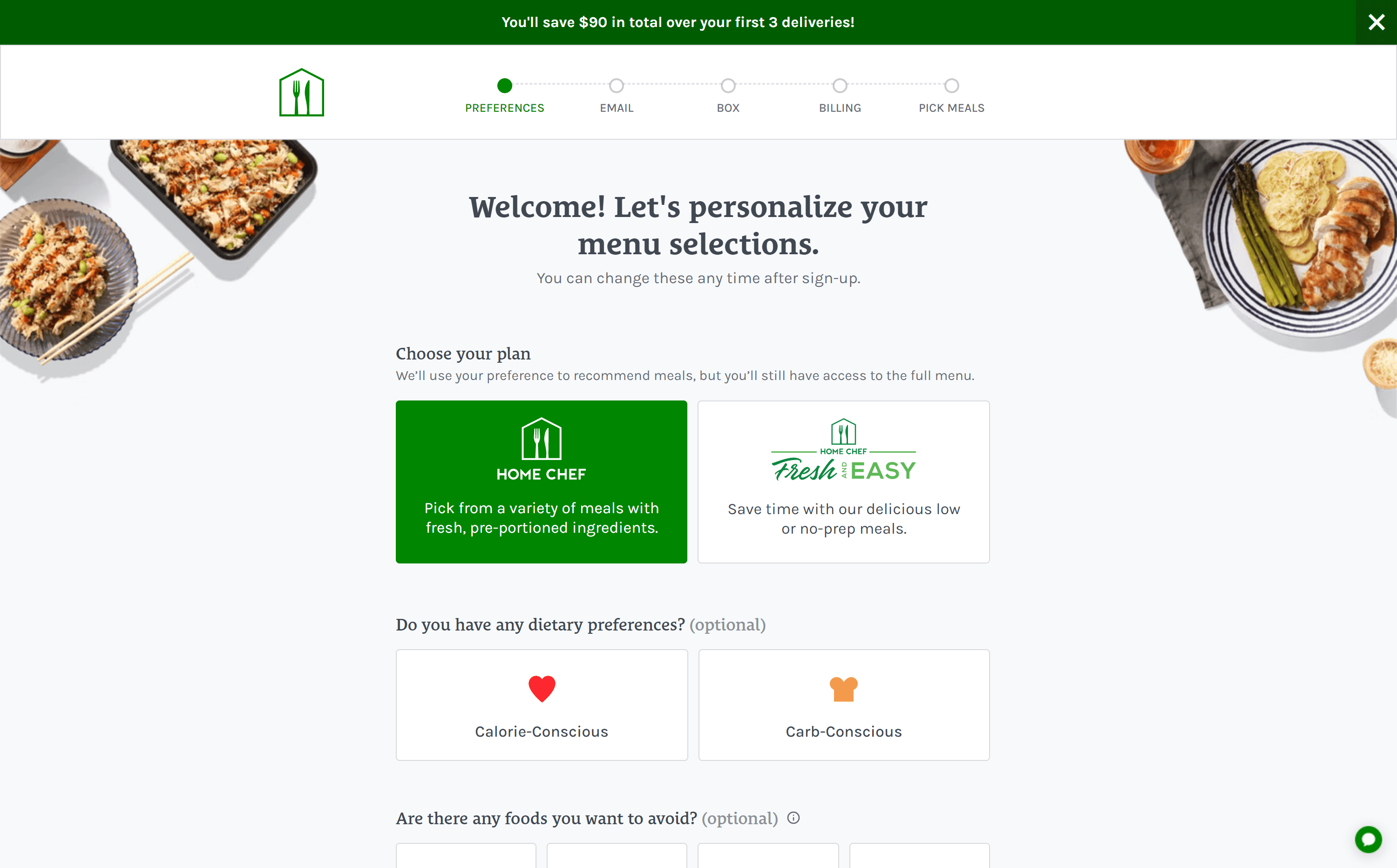 How to Choose Meals with Home Chef
You can search the Home Chef website for recipes by category, which makes picking meals really easy. Keep in mind that even though allergen-friendly meal plans can be ordered (ie. gluten-free, lactose-free), it is important to note that Home Chef cannot guarantee that their meals are free from cross-contamination with common allergens.
Beyond these options for dietary preferences, Home Chef also allows you to adapt your plan based on whether you're cooking for 2, 4, or 6 people, and how many meals per week you want to receive, ranging from 2 to 6 meals per week.
This is where the fun begins! It's finally time to pick your first batch of Home Chef meals. Select what you want to eat from the 18 tasty options offered every week.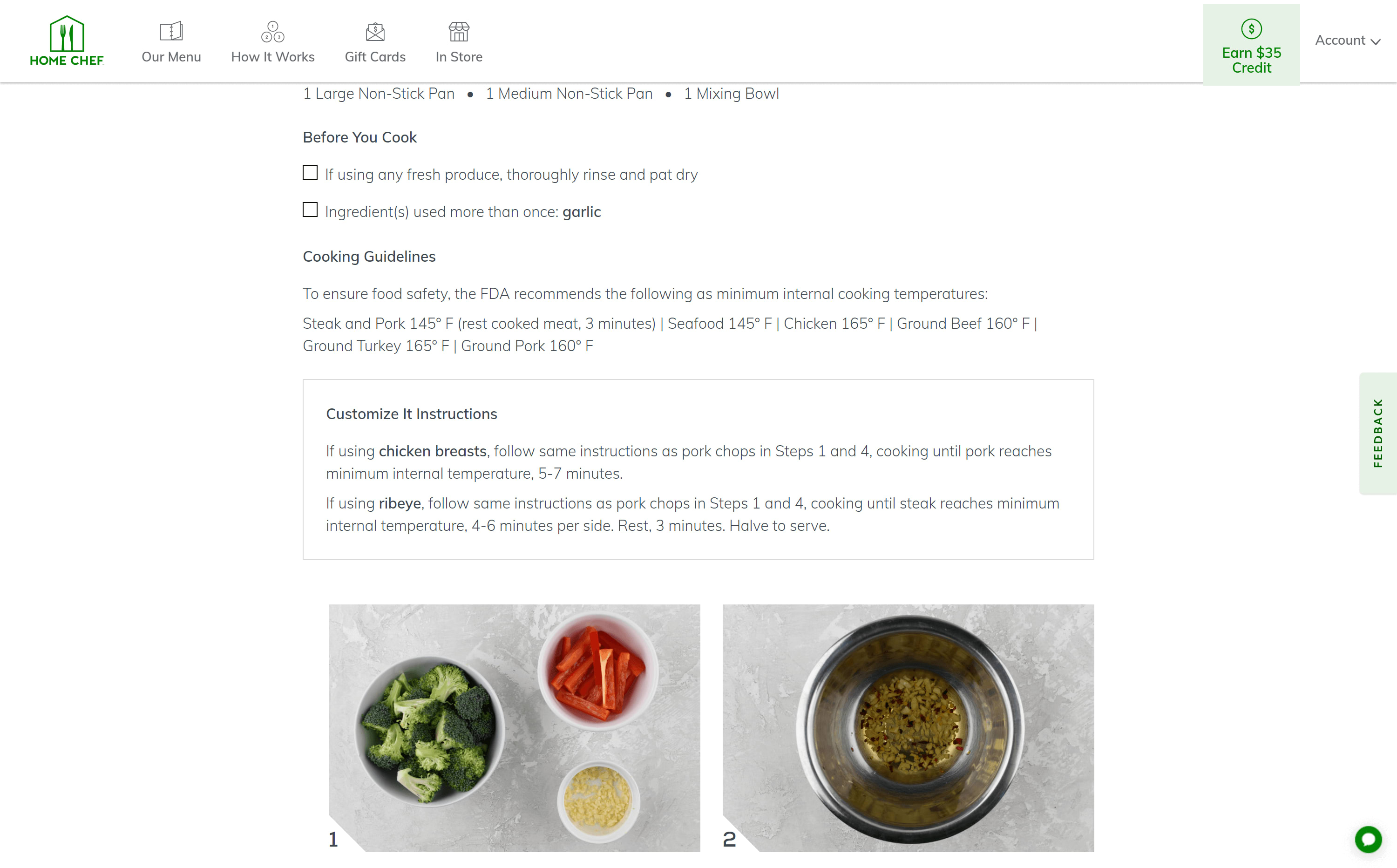 What Makes Home Chef Stand Out?
Home Chef meal plans are extremely flexible.
Home Chef's "customize it" feature on certain recipes lets you swap out one protein for another (ie choosing vegan Impossible Meat ® instead of beef), double your protein portion (ie. for an Atkin's or paleo-style diet), or choose premium cuts of animal protein. The "customize it" feature will cost you a small upcharge per individual meal, but can add up if you customize your entire plan.
You can also get seasonal meals, like the "Gobble Box" Thanksgiving meal that feeds a family, or harvest baskets full of fruit and vegetables.
If you want additional customization, there's a little-known trick for finding the recipes that fit your dietary preferences. Go to homechef.com/recipes, and you'll find everything Home Chef offers neatly categorized by dietary preference. With this hack you can make Home Chef work for a few other common dietary needs (soy-free, milk-free, nut-free, wheat-/gluten-free, vegetarian) or you can simply look at all their breakfast options or only their recipes that feature premium cuts of meat.
Does Home Chef Come With Cooking Instructions?
Each of the week's recipes you'll get as part of your Home Chef meal kit comes is printed on colorful, easy-to-follow recipe cards that you can even keep in a binder supplied by Home Chef.
The cards include descriptive information from the chef, any utensils and additional ingredients you may need (typically oil, salt, and pepper), foolproof food safety specifications, and individually pictured line-by-line preparation instructions.
The only hard part is getting your dinner to look like the beautifully presented photos on the recipe cards.
Home Chef Packaging, Shipping and Delivery
Inside the insulation-lined Home Chef box, you'll find all your meals kept cold with cooling packs. Always check to make sure your perishables are still cold when they're delivered. If your meat has been warmer than 41 degrees Fahrenheit for two hours, notify Home Chef's helpful customer support and discard the unsafe perishables.
The ingredients for each of the week's meals come in separate, clearly-labeled packages - Home Chef makes staying organized easy. The proteins for that week come in an additional package with extra cooling packs.
Home Chef's meal deliveries cut down on waste by making their packaging largely recyclable. The freezer packs can be drained in the sink and the packaging can be recycled, whereas most of the packaging is recyclable cardboard. Unfortunately, the convenience of individually-packaged ingredients makes for a considerable amount of plastic waste.
How to Contact Home Chef Customer Service
The customer service page starts you off with a neatly categorized frequently asked questions section. Although you won't find a Home Chef blog, the recipes are chock full of helpful hints and tips for getting the most out of your meals.
If you're looking for help with your order, Home Chef has a live chat function on their website, or you can call their phone line at 1-872-225-2433 during business hours, Monday-Friday: 9am-6pm CST, Saturday: 10am-2pm CST.
Home Chef's support team is usually accommodating if your delivery is not what you expected. They are known for providing refunds to dissatisfied customers, but fortunately, big mistakes are uncommon.
How to Pause or Cancel Your Home Chef Account
You can skip a delivery or cancel at any time. Just go to your profile's account settings and under "subscription", where you'll see the option to cancel your account, or set it to pause and resume on a specific date.
If you cancel and want back in, simply log in and you will be prompted to "reactivate" before placing your order. If you cancel, make sure to do so by the Friday before your next delivery at midday CST or you may still be charged.
Is There a Home Chef App?
The Home Chef app is great for managing your order but does not have the full functionality of the website. You can pause, reschedule, customize, and cancel your order, and you can even subscribe to your favorite presets for added convenience. On the flip side, customers complain that the app tends to be buggy and it only offers a limited selection of features.
Home Chef Pricing
How Much Does Home Chef Cost?
Compared to the cost of other meal delivery kits, Home Chef is somewhere in the middle price-wise. Standard meals start at $9.99 per meal. Shipping costs $7.99 per order if your order is under $45.Once you go over $45.00, shipping is free, so it may pay off to order an extra meal or a dessert. If you're a first responder, teacher, or healthcare worker, you're eligible for 50% savings on your first box (up to $60) and 10% on all future orders.
Home Chef Alternatives
How Does Home Chef Compare to Other Meal Delivery Services?
Calorie-conscious, Carb-conscious
Carb-conscious, Paleo, Gluten-free, Pescatarian, Mediterranean, Vegetarian, Diabetes-friendly
Vegetarian, Pescatarian, Low carb
Partially recycled cardboard and plastic
Compostable trays, recyclable cardboard and containers
Partially recycled cardboard


Home Chef vs Sunbasket
Home Chef shares with Sunbasket a driving value of making healthy eating from home easier. Whereas Home Chef focuses on customization, Sunbasket offers a cornucopia of sustainable plant-forward options. Sunbasket's meals start at roughly the same price but can go as high as $12.99 per serving, which makes sense with their almost fully-organic line of meals. Both offer an ample variety of recipes, but Sunbasket may win in the flavor department.
Home Chef vs HelloFresh
If price is one of your main concerns, HelloFresh is a bit more affordable than Home Chef. Home Chef does, however, excel when it comes to variety and customer reviews point to Home Chef as having better flavor. On the other hand, HelloFresh is the largest meal delivery service in the United States; that has to be worth something! Although both accommodate dietary restrictions, Home Chef has far more customizability.
Read here for a full comparison of Home Chef vs HelloFresh.
Home Chef vs Blue Apron
Home Chef and Blue Apron both aim to inject some zest into your dinner-time routine. Although both strike a nice balance between ease and variety, Blue Apron tends to favor finer dishes that take more advanced prep work, whereas Home Chef emphasizes the ease of making chef-developed meals at home. Home Chef offers more options for food restrictions, but Blue Apron isn't necessarily lacking in that department. Ultimately, the decision mostly comes down to ingredient quality, and you get what you pay for.

Home Chef Visit site
Bottom Line
Home Chef is an extraordinarily customizable meal delivery service that can accommodate most dietary preferences, especially if your health goals are tied to your diet plan. Home Chef emphasizes convenience, sometimes at the expense of quality, but the overall value of the service makes this kit one we'd order again!