In a Nutshell
At only $4.99 a meal, you can enjoy EveryPlate meal kits every night of the week. EveryPlate takes all of the hassle out of cooking, leaving you with minimal cleanup and a full stomach. With simple recipes and ingredients delivered to your doorstep, all you have to do is follow the recipes and enjoy your delicious homemade dinner.
pros
Always $4.99 per meal
Meal plans available for 2 or 4 people
No commitments: skip, swap recipes or cancel
cons
No allergy or dietary restriction-friendly plans
Menu could use more variety
EveryPlate Visit Site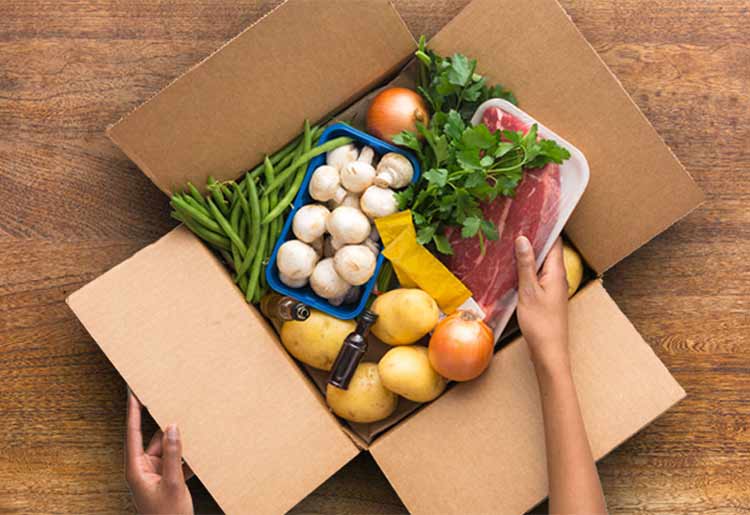 Ideal For
Busy, budget-conscious people
All levels of cooking experience
People looking for tasty meals with minimal (but some) effort
What's Unique About EveryPlate?
EveryPlate keeps prep time and cost down to a minimum, so everyone can enjoy it. The recipes are simple, take less than 30 minutes to prepare and are filling and delicious—so even the pickiest eaters can find meals they'll enjoy.
Earth friendly
In addition to caring about its customers, EveryPlate cares about the environment. That's why it packages all of your meal delivery kits in 100% recyclable materials. You can toss the boxes in the recycling bins at your curb. Empty the gel from the ice packs, and those can be recycled too. EveryPlate has also teamed up with Terrapass and pledged to offset 100% of its carbon emissions.
Flexibility
Most meal kit delivery services require you to lock in a specified number of weeks you're committed to ordering with them for. EveryPlate lets you skip a week (or 2, or a month, or whatever). There's no commitment and no penalties for not ordering consistently. You can also substitute proteins in your favorite EveryPlate recipes and customize the meals to your liking.
How It Works
EveryPlate offers 2 meal plans—dinner for 2 and dinner for 4. Both plans come with 3 meals per week, with 2 or 4 servings each night. Meanwhile, ordering from EveryPlate is broken down into the 3 D's, and it really is that simple.
Decide: EveryPlate offers 11 distinct recipes to choose from each week. Choose the meals you want to eat the following week off of the website or EveryPlate's new app, and then put them in your cart and order. If you are new to the EveryPlate site, you'll need to set up an account and provide your payment information, but once you place an order, EveryPlate will remember your details for faster future orders.
Deliver: Meals are delivered to your doorstep. Choose from several delivery dates for the most convenient time. You won't have to be home to receive the meal kit since it will be packaged with ice packs.
Devour: Once you get your meal kits, you can throw together a hearty meal in under 30 minutes. Bon appetit!
Delivery is generally Wednesday, Thursday, or Friday, but location can change that. EveryPlate tailors its packaging by climate and season, so your food will stay its freshest all year long.
Your meal kit will come with pretty much all of the ingredients you'll need to make a tasty meal (sans things like salt, sugar, and oil), a recipe that is broken down into ingredients, step-by-step instructions, and nutrition information about each dish. EveryPlate guarantees to keep meal preparation, cooking time, and cleanup down to a minimum. With 6 simple steps, you'll have your dinner cooked and ready to enjoy.
Meal Options
EveryPlate offers 11 new meal options to choose from every week. Look at the weekly menu to get a glimpse of which meals are available this week. For example, this week's delectable menu includes:
Herbed Chicken Cutlets with Roasted Mashed Potatoes and Zucchini
One-Pan Beef Tacos with Tomato-Jalapeño Salsa and Lime Sour Cream
Sausage and Bell Pepper Pasta with Cheesy Breadcrumbs
Steak Frites with Roasted Garlic Butter and Green Beans
Ginger Chicken Stir-Fry with Broccoli and Jasmine Rice
As you can see, the meals are jam-packed with nutrition, flavor, and variety. And you can now substitute proteins, opting for steak stir-fry instead of chicken or vice versa, giving you even more options and freedom to customize your meals.
Favorite EveryPlate Meals
1. Steak Frites with Roasted Garlic Butter and Green Beans
Cooking time: 40 minutes | 810 calories | 38 grams of protein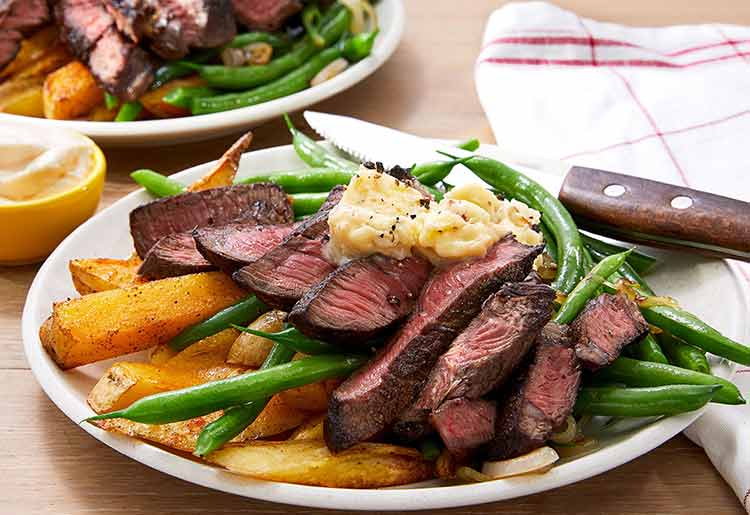 2. Mediterranean Chicken Grain Bowl with Cucumber-Tomato Salad
Cooking time: 30 minutes | 650 calories | 41 grams of protein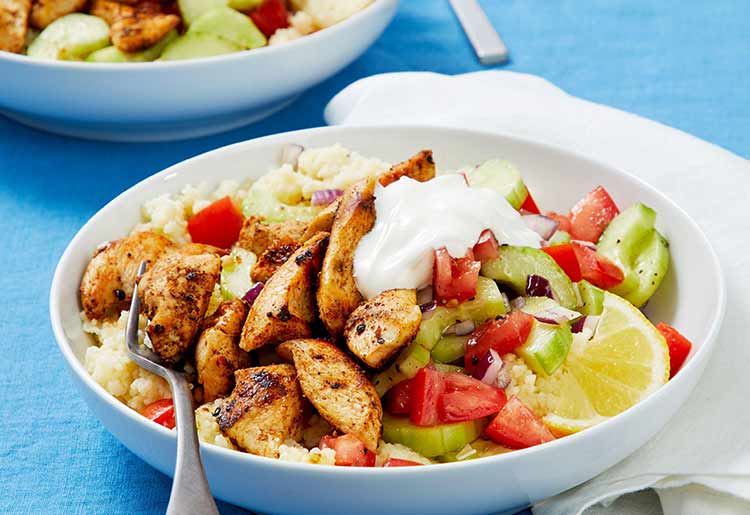 3. Honey-Glazed Pork Chops with Ranch Potatoes and Roasted Broccoli
Cooking time: 30 minutes | 560 calories | 39 grams of protein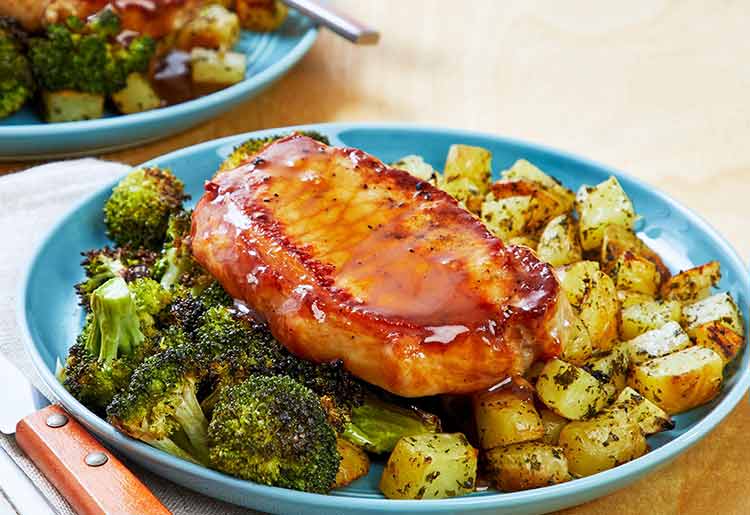 Pricing
EveryPlate pricing plans are as follows:
As you can see, EveryPlate offers 2 pricing plans:
Dinner for 2: You'll get 3 recipes per week with 2 servings of each recipe. This comes out to a total of 6 meals each week.
Dinner for 4: You'll get 3 recipes per week with 4 servings of each recipe. This comes out to a total of 12 meals each week.
If you want to have more meals each week, you can multiply your order. This is also a good option if you're having friends over for dinner or if your family is larger than 4.
At less than $40 a week for a couple, and $70 a week for a family of 4, EveryPlate is one of the most competitively priced meal kit delivery services out there. In fact, that's almost half the price that you'll find from other options that charge close to $10 per serving.
EveryPlate Visit Site
Help & Support
EveryPlate offers responsive customer support. You can reach someone at all hours of the day or night with the 24/7 online chat or over the phone Monday through Friday from 9am to 6:30pm ET.
Bottom Line
EveryPlate has a lot to offer anyone who wants to get home-cooked meals without the hassle of meal planning and meal prep. Its meal plans are budget-friendly and the options are both filling and delicious. With pre-measured ingredients, simple recipes, and dinner on the table in under 30 minutes, you'll want to cook with EveryPlate every night of the week.