In a Nutshell
EveryPlate is a budget-friendly meal kit delivery service offering classic comfort foods. Their simple recipes won't take longer than 30 minutes to make, and the portions are filling. While their 17-meal menu rotates weekly, it doesn't offer much variety and may feel repetitive over time.
pros
Budget-friendly at $4.99 per serving
Skip, swap recipes or cancel as needed
Several vegetarian options to choose from
cons
Shipping costs extra
Limited options for allergies or special dietary needs

EveryPlate Visit Site
EveryPlate Video Review - Home-Cooked Meals Without the Hassle
Best For
Filling comfort foods
Budget-conscious people
Easy-to-follow instructions for beginners
EveryPlate Meal Plans
The company provides a rotating menu of 17 meals per week that includes a variety of meat and fish, as well as around five vegetarian options. They also offer some Premium dishes that include fancier ingredients, like steak and fish, for an additional $3.99 per serving. You can choose between meals for 2 or 4 people, and 3-5 meals per week.
EveryPlate Dietary Options and Programs
The focus on budget-friendly meals means that EveryPlate is not able to offer meals for people with dietary restrictions or preferences. EveryPlate offers four meal plan options:
ClassicPlate: Full menu with meat, veggie, and seafood options.
VeggiePlate: Vegetable-forward meals for vegans and vegetarians.
FamilyPlate: Family-friendly recipes and kid-approved meals.
EasyPlate: Meals that are ready to serve in 30 minutes or less, for people who are cooking beginners.
Many of their meals are heavy on potatoes and don't provide an ideal amount of green vegetables. Additionally, EveryPlate's meals average around 732 calories per serving, which may not be suitable for people looking to lose weight. Many of their meal options also contain more saturated fat than the suggested limit of 13 grams that the American Heart Association (AHA) recommends.
People who are trying to manage their weight or have underlying health conditions would likely benefit from a meal delivery service that caters to specific dietary requirements.
Our Favorite EveryPlate Meals
While EveryPlate doesn't cater to some dietary needs, it has a selection of comfort foods that will leave you satisfied. One particularly delicious meal is the Turkish Chicken & Rice Bowl - a savory chicken dish, served with a refreshing tomato cucumber salad and the creamiest lemon sauce.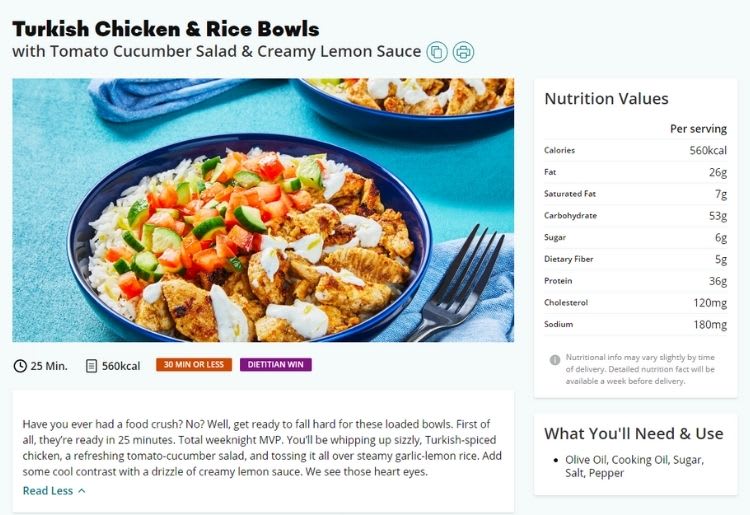 How Much Does EveryPlate Cost?
EveryPlate is one of the more affordable meal kit delivery services out there.
EveryPlate offers a variety of pricing plans. The two-person plan costs between $44.33-$61.89 per week depending on how many meals you select, while the 4-person plan costs between $68.87 and $108.79 per week. The 4-person plan is slightly more cost-effective as the meals for this plan are $4.99 versus $5.89-$5.29 for the 2-person plan.
Price Per Week (including shipping)
Dinner for 2: 3 meals per week
Dinner for 2: 4 meals per week
Dinner for 2: 5 meals per week
Dinner for 4: 3 meals per week
Dinner for 4: 4 meals per week
Dinner for 4: 5 meals per week
EveryPlate doesn't have a membership fee, so you only pay for what you order. EveryPlate's shipping fee is a flat rate of $8.99, regardless of the number of meals you order.
How Does EveryPlate Work?
EveryPlate is a simple meal plan, and that simplicity extends to their streamlined ordering process. Since EveryPlate is lacking in customization and personalization options, the sign up process could not be easier.
Placing an Order With EveryPlate
All you need to do is decide on whether you want dinner for 2 or dinner for 4 and then select how many meals you want each week: 3, 4, or 5.
Choosing your preferred options including the ClassicPlate, VeggiePlate, FamilyPlate, and EasyPlate will only provide suggestions with respect to your meals, but these options can be changed at any time.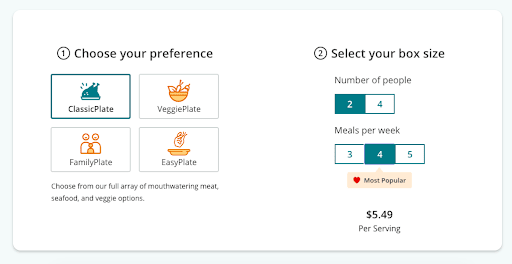 After selecting how many meals you would like, you'll be asked for your email and to create a password for your account.
Once you've created your account, you can add your delivery information. At this time, you'll also be asked which day you would like to receive your delivery.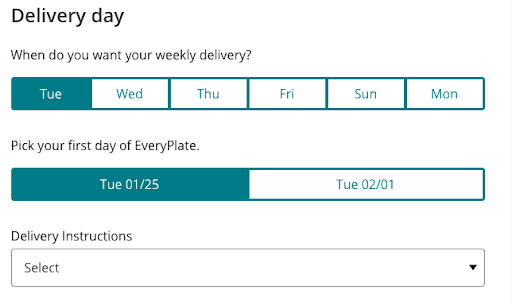 How to Choose Meals with EveryPlate
After you've set up your payment information, comes the fun part: choosing your meals. EveryPlate does not allow you to filter out allergens or ingredients you would prefer to avoid. Therefore, EveryPlate is best suited for people without dietary restrictions and strong food preferences.

Meals will be delivered right to your doorstep. Since your meal kit will be packed with ice, you don't need to be home to receive it.
Does EveryPlate Come With Cooking Instructions?
Your meal kit will come with pretty much all of the ingredients you'll need to make a tasty meal (sans things like salt, sugar, and oil), a recipe that is broken down into ingredients, step-by-step instructions with glossy images, and nutrition information about each dish.
EveryPlate guarantees to keep meal preparation, cooking time, and cleanup down to a minimum. With these easy steps, you'll have your dinner cooked and ready to enjoy.
What Makes EveryPlate Stand Out?
EveryPlate makes low cost a priority, and they are able to do this by keeping their menu very simple. They don't offer frills or add-ons. If you just want to get a budget-friendly meal on the table, this is a great option.
How Are EveryPlate Meals Packaged and Shipped?
EveryPlate offers at-home delivery straight to your door 7-days a week, depending on where you live. The food can stay fresh inside the box for up to 48 hours so you don't need to be home to accept the delivery. You should put the food in the fridge as soon as possible, especially on a warm day.
The delivery arrives inside a recyclable box with all the ingredients you need inside. The items are not separated by meal, as some other meal delivery services are, in order to reduce waste. EveryPlate is focused on eco-friendly packaging. The outer shell of the gel packs and box liners are also recyclable.
Is There an EveryPlate App?
EveryPlate offers an easy-to-use, comprehensive app that contains all of the features of their regular website. On the app, you can browse the menu and make meal selections, view full recipes and cooking instructions, skip or un-skip meals, and see when your deliveries are scheduled for.
How to Contact EveryPlate Customer Service
EveryPlate offers responsive customer support. You can reach someone at all hours of the day or night with the 24/7 online chat or over the phone Monday through Friday from 9am to 6:30pm ET by calling (973) 210-4915.
EveryPlate does not specify a refund policy on their website, however, if you are dissatisfied with the service and/or product you can always call and speak with a customer care agent.
How to Pause or Cancel Your EveryPlate Account
EveryPlate orders can be paused or skipped up to 5 days before your delivery is scheduled.
If using the EveryPlate website, to skip or pause a week go to "My Menu" and select "Skip Week" below the menu options. If using the EveryPlate app, go to the week you want to skip and click on "Make Changes" or "Select Meals", then click on "Change delivery" at the top right corner.
To cancel EveryPlate, you will need to go on the website and log into your account. You'll open the menu in the top right corner and choose "Settings". Scroll down to click on "Deactivate your Plan". Scroll down to the next screen and select "Cancel anyway". Enter the reason for cancellation and click on "Deactivate now".
If this is not done 5 days prior to your last delivery, then you will get one more box that you have already paid for.
How EveryPlate Compares to Other Meal Delivery Services
There are a seemingly endless amount of delivery meal kit options to choose from. Your choice may depend on pricing, dietary needs, amount of variety, or recipe simplicity.
Vegetarian with limited options
Dairy-free, no added gluten, low calorie, keto-friendly
Pescatarian, vegetarian, low carb, low calorie
Pescatarian, vegetarian, vegan, low-carb, low-calorie
All of the packaging is recyclable
All of the packaging is recyclable
Some of the packaging is recyclable
Most of the packaging is recyclable
EveryPlate vs Dinnerly
EveryPlate and Dinnerly are both budget-friendly meal kits that specialize in simple, easy to prepare meals for busy people. While Dinnerly is slightly more expensive than EveryPlate, the main difference between the two meal kit services is the number of dietary restrictions they offer. While EveryPlate offers a few vegetarian options, Dinnerly offers both vegetarian and vegan options along with dairy-free options and gluten-free offerings.
EveryPlate vs HelloFresh
While EveryPlate is a more affordable option than HelloFresh, HelloFresh offers a larger variety of foods to choose from and caters to a variety of dietary restrictions including pescatarians, vegetarians, and people following a low carb or low calorie diet. Additionally, HelloFresh offers more sophisticated meals, with more variety, and higher quality ingredients compared to EveryPlate.
EveryPlate vs Home Chef
One of the main differences between EveryPlate and Home Chef is price. Home Chef is a more expensive option but offers a more varied menu and a wider range of ingredients versus EveryPlate. Home Chef's weekly menus also cater to people with special dietary needs including omnivores, vegetarians, and those following a low-carb or low-calorie diet. Additionally, Home Chef menus can be made without major allergens including soy, nuts, dairy or shellfish.
Is EveryPlate Worth It?
EveryPlate has a lot to offer budget-conscious people with varying levels of cooking experience. With pre-measured ingredients, simple recipes, and dinner on the table in under 30 minutes, their affordable meal plans provide comfort foods that will leave you feeling satisfied with minimal effort.
EveryPlate provides a great no-frills meal kit option for non-fussy eaters that don't have allergies or any special dietary needs.