Nutrisystem Visit site
Overview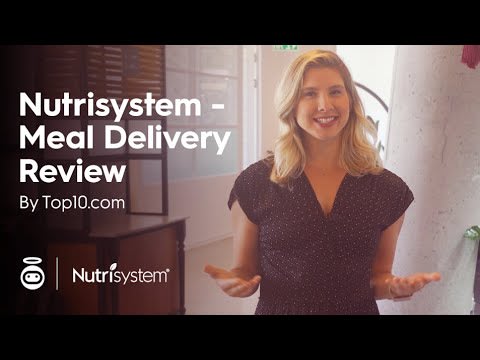 Best For
Losing weight without worrying about meal planning

People who prefer heat-and-eat with no prep
Nutrisystem Meal Plans
Nutrisystem's meal plans include 6 meals a day - breakfast, lunch, dinner, and snacks as well as optional protein shakes. Meals are fully prepared and just need to be reheated in a microwave.
Nutrisystem has dietary options for men, women, diabetics, and vegetarians (detailed in the next section). For each of these dietary needs, Nutrisystem offers four meal plans to choose from:
Basic: Nutrisystem's least expensive weight loss option offers over 100 menu choices, ready to eat in minutes. The plan includes a free "FreshStart kit" to kick start weight loss in the first week. This plan starts at $9.99 per day and includes snacks. Food is shipped every 4 weeks and weight loss coaching is also available. The basic plan provides meals for 5 days a week.
Uniquely Yours: This plan includes over 130 menu choices, ready to eat in minutes. The second-tier plan offers a greater variety of frozen and pantry-ready meals plus free diet shakes. It also comes with full access to dietitians and counselors for weight loss success. This plan starts at $11.79 per day and offers more meal choices, including new "Restaurant Favs" - meals inspired by popular restaurants. This plan also provides food for five days a week.
Uniquely Yours Max: This top-shelf plan features new premium meals, packed with up to 30 grams of protein with over 160 choices. You'll also receive free diet shakes as well as full access to Nutrisystem's counselor and dietitians for weight loss support. This option starts at $13.21 per day and features "Hearty inspirations" which are higher protein meals. "Restaurant favs" are available with this choice, too. This program provides meals for between five and seven days a week.
Partner: The Partner meal plan is similar to Uniquely Yours, but for two. It's for people who want to diet together, whether a couple, roommate, or family members. Its prices vary depending on whether the partners are men or women, due to the different portion sizes.
Nutrisystem Dietary Options and Programs
Nutrisystem offers four meal patterns based on your sex and dietary needs. Serving sizes vary depending on the choice of mens' or womens' plans and the tier chosen (basic, uniquely yours, uniquely yours plus).
Men's: Men's plans have three options including Men's Basic, Men's Uniquely Yours, and Uniquely Yours Max. You can choose from 100+ different meals with larger serving sizes for men's higher calorie needs.
Women's: This plan is similar to men's plans but with lower-calorie meals and snacks. Basic, Uniquely Yours, and Uniquely Yours Max are available.
Diabetes: Diabetes plans will limit carbohydrates and calories to aid in both weight control and blood sugar control. Meals are designed by registered dietitians for safe, effective weight loss. You can choose from over 100 delicious pantry perfect meals and snacks on this plan, and it also includes a grocery and dining out guide.
Vegetarian: The vegetarian plan offers primarily meatless meals, but does include eggs and dairy products. You can choose from up to 90 vegetarian meals and snacks, including frozen options within the same three meal plan categories. A womens' or mens' option is available and you can pick your meals or have the chefs choose them for you (an option called Chef's Choice). The plan provides the right balance of protein, fiber, vitamins, and minerals for vegetarians.
How Nutrisystem Works
How to Get Started With Nutrisystem
Nutrisystem is a 4-week program that can be repeated as many times as you like. It encourages you to eat six meals a day - breakfast, lunch, dinner, and three snacks.
As Nutrisystem is meant for weight loss, the first week of meals is a bit lower in calories than the remaining weeks to kick start weight loss. You get three meals, one snack, and one Nutrisystem shake per day.
The remaining three weeks, you should eat six meals a day. Keep in mind that not all snacks are provided by Nutrisystem, so you'll have to shop for some grocery items like fruits and vegetables, whole grains, low-fat dairy products, and some lean proteins. Nutrisystem will recommend the items you should purchase.
You're also allowed to eat a limited number of up to eight "Flex Meals'' each week. These are bigger meals meant to accommodate holidays and special occasions.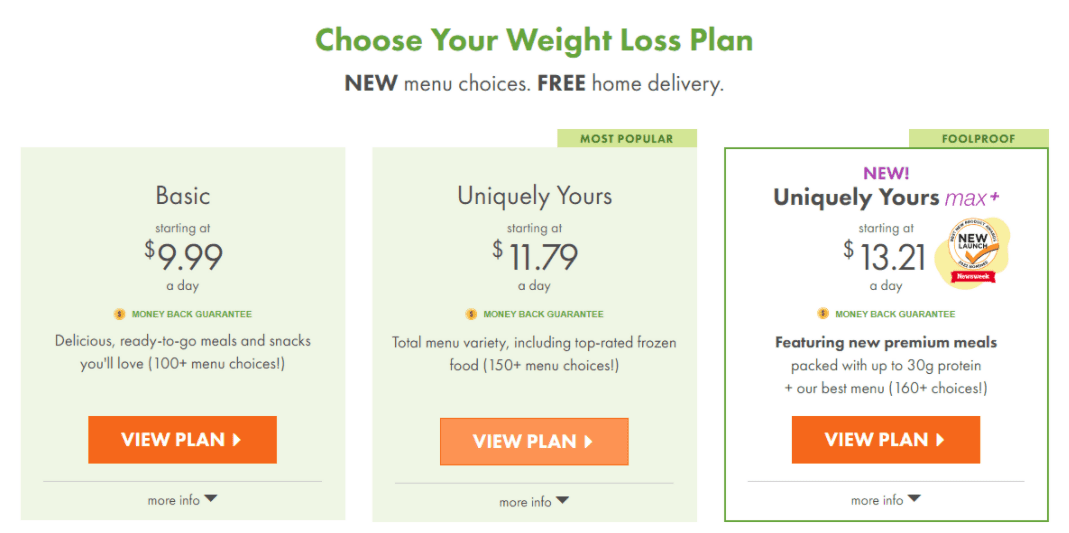 Placing an Order With Nutrisystem
The first step is signging up for an account, and filling out some personal information, as well as your weight-loss goals.
Then, choose which meal plan you'd like: Men's, Women's, Diabetic or Vegetarian. Then choose the tier you'd like: Basic, Uniquely Yours, Uniquely Yours Max or Partner Plan. Nutrisystem works by auto-delivery. You'll receive 4 weeks of meals each month that will auto-renew unless paused or canceled.
The Basic and Partner meal plans are the least expensive while Uniquely Yours Plus is the most expensive and has the most meal options. The Basic plan does not have frozen meal options while the others do.
You'll also be asked to build your menu based on the program you've selected. If you choose "Chef's Choice", the highest rated meals will be automatically selected for you.
Once you've chosen your plan, just make your order - it will arrive between one and five business days.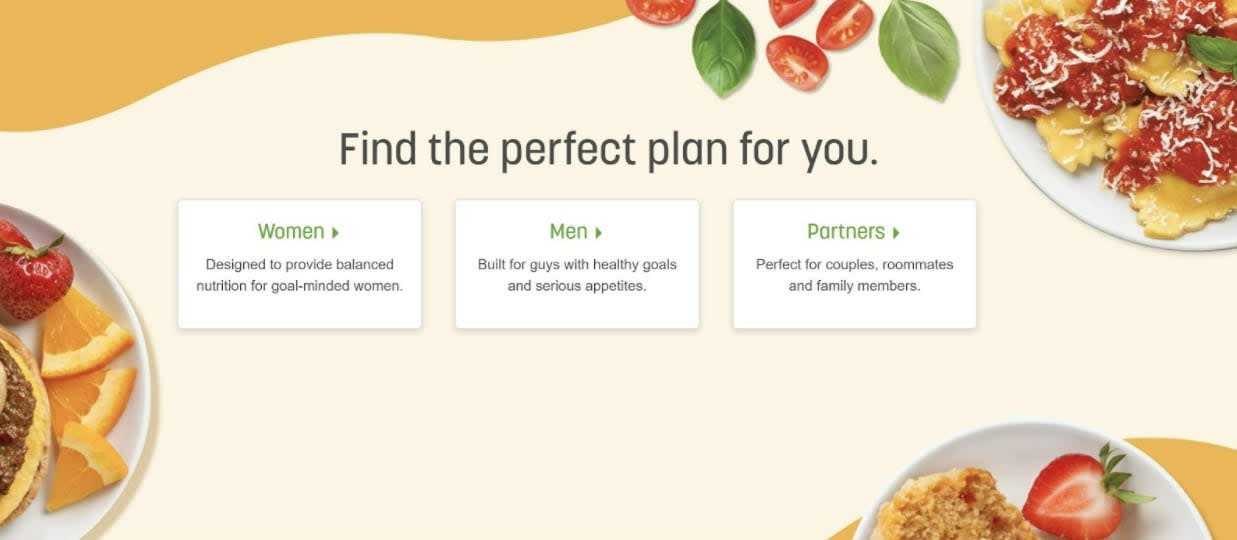 How to Choose Meals with Nutrisystem
Nutrisystem offers breakfast, lunch, dinner, and snacks as well as optional protein shakes. Meals are fully prepared and just need to be reheated in a microwave. Snacks even include items such as chocolate pretzel bars, lemon zest cake, white cheddar popcorn, and smoky BBQ crisps - items you wouldn't normally expect to appear on a diet program.
Flavor Options
A few Nutrisystem meal options include apple walnut oatmeal, buttermilk waffles, and homestyle pancakes. Some of the lunch and dinner options include mushroom parmesan soup with chicken, grilled chicken sandwich and red pepper chicken and pasta saute.
Does Nutrisystem Come With Cooking Instructions?
Nutrisystem's meals are fully cooked and need only be reheated in the microwave. Full instructions come with each item. Images of each meal are provided on the website.
How Are Nutrisystem Meals Packaged and Shipped?
Once you order your Nutrisystem meals, they will take between one and five business days to arrive. The meals are shipped via ground shipping straight to your door.
The shelf-stable and frozen meals are shipped separately to allow for the food to arrive at the right temperature. Frozen meals are shipped in a cooler to keep them frozen. It will remain frozen for four to six hours after delivery. You should put them in the freezer as soon as possible.
The Nutrisystem packaging is made from eco-friendly materials, which are 92% biodegradable. They encourage the coolers to be recycled after use and provide resources for how to do so appropriately. Many of these materials inside the coolers can also be recycled.
Nutrisystem Customer Support
How to Contact Nutrisystem Customer Service
Hours of operation 7am to 12am EST 7 days a week

Methods of contact: Phone: 1-800-435-4074 or Email: customerservice@nutrisystem.com. There is also an online chat for questions on the Nutrisystem website.

Getting refunds: All requests for refunds and returns must be made within 30 days of delivery of your package. Please call Customer Service at 1-800-585-5483 to obtain a Return
How to Cancel or Pause a Nutrisystem Subscription
To cancel or pause Nutrisystem, contact customer service by phone or email. You get a 14-day money-back guarantee.
Is There a Nutrisystem App?
Nutrisystem utilizes a new app called Numi to support customers' weight loss journey. The app allows you to track calories, receive on-demand 1:1 nutrition coaching, and manage your weight loss progress. Numi also includes recipes, contests, grocery guides, and dining out guides.
Numi easily integrates with many other health apps and devices such as Fitbit, Apple Health, and Jawbone. It's easy to use but is not meant for ordering Nutrisystem meals. The app is meant to support weight loss efforts, which is Nutrisystem's signature program.
Nutrisystem Pricing
The cost of Nutrisystem starts from $9.99 per day and can cost up to $14.28 per day. There is no additional membership fee to join Nutrisystem, and shipping is free. The total cost is based on the plan and tier chosen:
How Much Does Nutrisystem Cost?
Nutrisystem Uniquely Your
Nutrisystem Uniquely Your Max+
Nutrisystem Uniquely Your
Nutrisystem Uniquely Your Max+
Nutrisystem has four different meal patterns, with three different tiers within them. For example, you can choose the Men's Basic plan and pay $11.64 per day, or choose the Diabetic Uniquely Yours plan, and pay $11.79 per day.
The Partner Plan varies in cost depending on partners. A woman/man plan is less expensive than a man/man plan as portion sizes may be smaller for women to limit calories. A woman/woman plan is the least expensive.
Nutrisystem Alternatives
How Does Nutrisystem Compare to Other Meal Delivery Services?
What makes Nutrisystem different ? Here's a quick breakdown of how Nutrisystemt comparies to Jenny Craig, Optavia and Noom:
$59/month (does not include food)
Packaging used is water-soluble, 100% recyclable, and compostable


Nutrisystem vs Jenny Craig
Both Nutrisystem and Jenny Craig offer portion and calorie-controlled options, but Nutrisystem offers vegetarian meals as well as meals for individuals with diabetes. Both meal plans support weight loss and meals are heat and eat-ready.
Jenny Craig recently added activity plans to their system to further support weight loss. Nutrisystem and Jenny Craig's websites include a blog with various nutrition and weight loss topics. On the other hand, Nutrisystem's meal plans are designed by registered dietitians, who are also available for 1:1 coaching through the Numi app. Jenny Craig has an online community for member support.
Nutrisystem vs Optavia
Nutrisystem suggests 6 meals per day while Optivia advises 5 "fuelings". With Nutrisystem, you eat primarily their meals and snacks, while Optavia suggests one "lean and green" meal per day that participants must create themselves. Nutrisystem's plan has been well researched for weight loss while using their meals, whereas Optavia utilizes heat-and-eat meals as well as health coaches for weight loss support.
Nutrisystem vs Noom
Nutrisystem provides meals and snacks that are calorie and portion-controlled for weight loss. Nutrisystem's program takes the guesswork out of what to eat by sending meals and snacks directly to your home. Nutrisystem offers 1:1 coaching for weight loss through its Numi app. Noom is a behavioral coaching platform to help change the habits that prevent individuals from losing weight. Noom will provide a calorie plan but does not provide food or meals of any kind. Noom requires you to log your progress daily after each meal and after each workout.

Nutrisystem Visit site
Bottom Line
Nutrisystem is an ideal weight loss plan for anyone who can't imagine dieting without snacking. The method of eating several small meals a day, and the option to buy à la carte snacks, set Nutrisystem apart from other diet plans. Keep it basic, or choose one of Nutrisystem's more expensive plans to enjoy wider menu options and the support of weight loss professionals. If you're looking for quick weight loss results, the Basic Plan is a good place to start. On the downside, it may be hard to keep up your diet on your own once you've stopped the program.