In a Nutshell
Jenny Craig empowers you to lose weight and maintain a healthy lifestyle. Read our in-depth review of Jenny Craig's meal delivery to learn more about what you'll get when you subscribe to this diet plan, the pricing, and our overall impression.
pros
Science-backed weight loss programs
Personal weight loss consultant and weekly in-person sessions
100+ items to choose from
cons
Relatively expensive
No vegan or gluten-free plans

Jenny Craig Visit Site
Best For
Long term weight loss and overall wellness
Continued support with personal diet consultant and fitness plans
Jenny Craig Meal Plans
Jenny Craig has meal plan options for you whether you need a little weight-loss jumpstart or want individual coaching and group support. There is one main menu for all of the meal plans. From the main menu, you pick your individual plan based on how many meals you need per week.
Jenny Craig has three meal plans - The Simple Meal Plan, The Essential Meal Plan, and the Max Up Weight Loss Plan. All plans offer meals for seven days a week, and you can add your own fruit and veggies to the menu.
The Simple Meal Plan provides 7 days of breakfast and lunch meals. This plan gives you the flexibility to choose your own snacks and have a home-cooked meal for dinner. You can choose between the 1- or 2-week plans, based on whether you'd like deliveries every week or every other week.
The Essential Meal Plan offers 7 days of breakfast, lunch, and dinner meals. This is a good plan if you need more support getting a week's worth of nutritious meals. You can still enjoy your own snacks on this plan.
Max Up Weight Loss Plan is Jenny Craig's most comprehensive weight loss plan that includes 7 days of breakfast, lunch, dinner, bars, snacks, and desserts. This plan also includes personal coaching, in-person group meetings, and Activity and Quality of Life Plans.
On the Max Up Weight Loss Plan, you will meet weekly with a 1:1 weight loss coach for feedback and guidance. This plan provides all your meals and snacks along with additional support, coaching, and accountability.
Jenny Craig Dietary Options and Programs
On Jenny Craig, you can customize your meal plan according to the menu options that seem appealing to you. If you're a vegetarian, you'll be able to select meals that are plant-based.
There is also a separate specialized diet plan option for diabetes called Type 2 Diabetes Program. Meals on the Type 2 Diabetes program promote weight loss and improve blood sugar control.
Our Favorite Jenny Craig Meals
Here is an example menu from Jenny Craig with meals that are both delicious and satisfying:
Breakfast: Two whole wheat flour blueberry pancakes, a side of blueberries, and 2 chicken sausage links.
Lunch: Perfectly-cooked tender chicken, roasted potatoes, and green beans tossed in marsala sauce.
Dinner: Spaghetti with creamy parmesan and a beautiful romano cheese sauce.
Snacks: Cheddar cheese crisps and a delicious chocolate lava cake.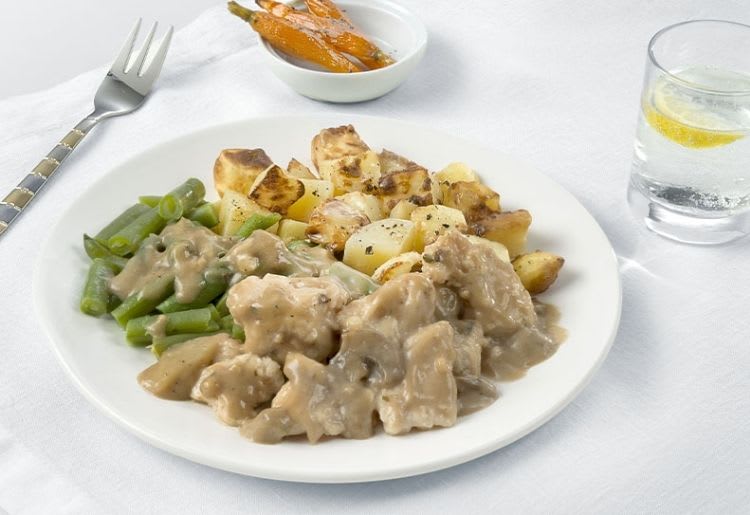 How Much Does Jenny Craig Cost?
Jenny Craig has three auto-ship plan options to provide you with as many meals as you need to achieve your weight loss goals.
The Simple Meal Plan starts at $12.99 per day for breakfast and lunch. An Essential Meal Plan costs $20.78 per day for breakfast, lunch, and dinner meals. And finally, the Max Up Weight Loss Plan costs $22.52 per day for breakfast, lunch, dinner, snacks, individual coaching, and a fitness plan.
Shipping is free for the first week of all the meal plans. Otherwise, shipping costs $14.99 for local deliveries and $29 for shipping outside the local area. If you live near a Jenny Craig center, you can pick up meals curbside for free and avoid delivery fees.
The Simple and Essential Meal Plans do not have a membership fee.
Price Per Week (before shipping)
How Does Jenny Craig Work?
Jenny Craig offers three different meal plans for weight-loss. Two of these plans offer more flexibility to make some of your own meals and snacks - The Simple Plan and The Essential Meal Plan. There is also a full support plan that covers everything from meals to individual coaching.
Placing an Order With Jenny Craig
Getting started is as easy as picking your Jenny Craig plan, and placing your order. You can also sign up for Jenny Craig at your local Jenny Craig center.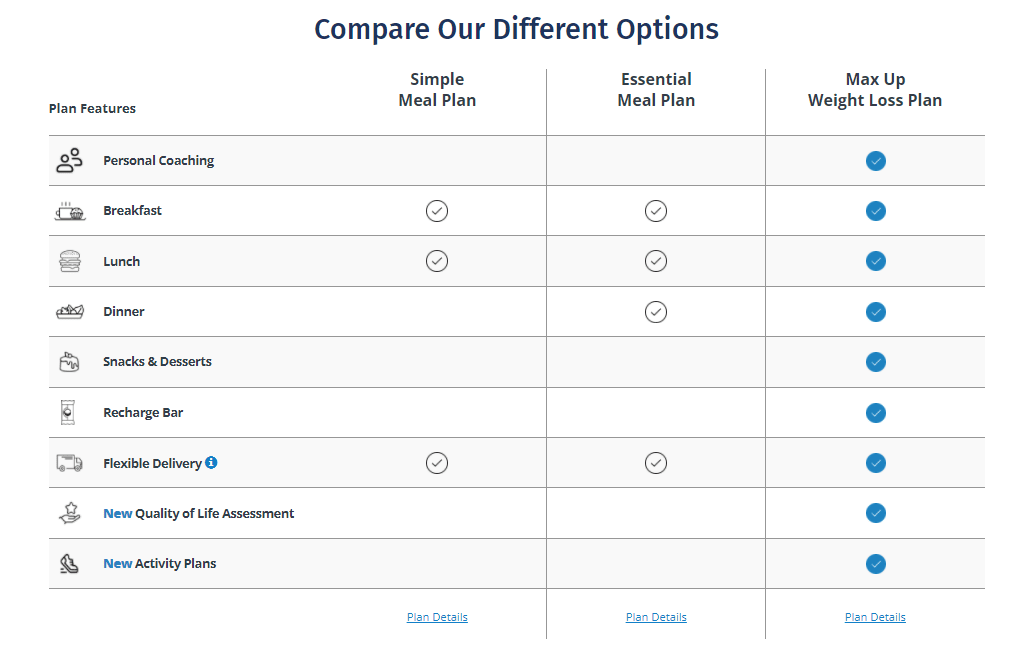 A Simple Meal Plan provides the greatest meal and snack flexibility for people who still enjoy snacking and preparing some meals at home.
The Essential Meal Plan includes nutritionally-based meals but leaves space for you to include your own healthy snacks.
The Max Up Weight Loss Plan is Jenny Craig's signature plan that provides a full day of balanced nutrition along with coaching and support.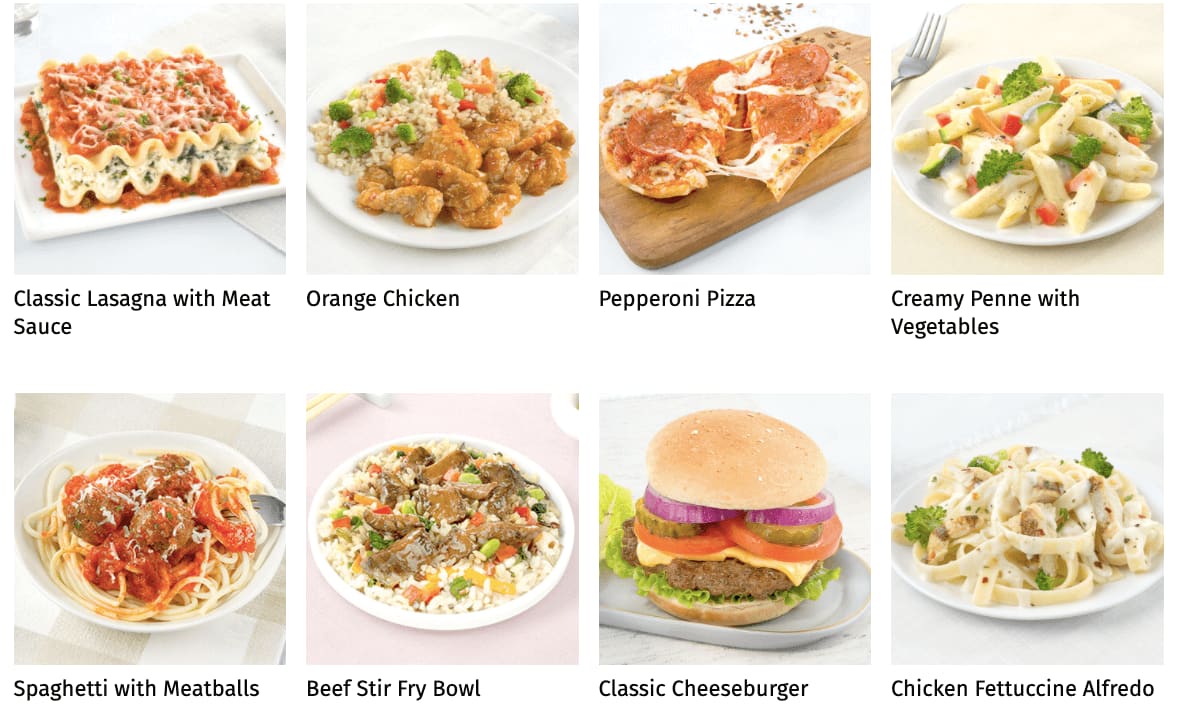 Does Jenny Craig Come With Cooking Instructions?
All Jenny Craig meals and snacks are fully prepared and ready to eat. Cooking instructions are available on each menu item. Most meals arrive frozen and should be heated in the microwave before enjoying.
Many snacks and bars can be stored and eaten at room temperature, no preparation is needed.
What Makes Jenny Craig Stand Out?
When you think of weight loss meal delivery, you think of Jenny Craig. Decades worth of weight loss success stories show Jenny Craig's proven track record to deliver the meals and snacks you need to start losing weight today.
Their meal plans allow you to choose the level of support you need from as little as two meals per day up to 3 meals plus snacks, along with individual and group support.
What stands out most about Jenny Craig is the individual and group support that participants receive. Working with a coach or in a group setting can help people meet their weight loss goals faster.
Jenny Craig uses intermittent fasting as a part of their weight loss strategy. Their new line of Recharge snack bars can be eaten as part of an intermittent fasting plan for weight loss. Recharge bars are high in fat, have no artificial flavors and sweeteners, and help your body burn fat without breaking your fast.
How Are Jenny Craig Meals Packaged and Shipped?
Jenny Craig Cares is a program advocating for more earth-friendly options with their product packaging. The insulation liners are 100% compostable and all cardboard used is 100% recyclable.
Deliveries typically arrive within 1 to 3 days via FedEx ground. There is an opportunity to pick up your meals with no delivery fee curbside if you live near a Jenny Craig Center.
Is There a Jenny Craig App?
Jenny Craig has an app available on App Store and Google Play. The app includes some, but not all the features of the website.
The app highlights include a food journal, meal and snack reminders, a timer for intermittent fasting, and other features that support the program. You can also sync with the Health app or Fitbit to track water intake and activities
Jenny Craig App Developers are quick to respond to customer feedback and are working through the functionality and capabilities of the app.
Jenny Craig Customer Service
There are the standard customer support options of phone, online contact form, or social media contacts. Call 877-260-4880, text 760-239-0029 or chat live for answers to questions or reach a customer service representative.
Unlike many meal delivery services, Jenny Craig offers a one-week satisfaction guarantee. If you don't like the food, you can get a full refund. After the first week, food purchases are non-returnable and non-refundable.
Additional support materials:
The Jenny Craig website features an FAQ section of most commonly asked questions. They also have a resource library with cookbooks, infographics, and newsletters to help you stay informed and lose weight.
If you are looking for additional inspiration along your weight loss journey, check out Jenny Craig's blog. They frequently feature articles in their Eat Well, Live Life, Move More, Recipes and Inspiration sections. Find helpful tips on How to Track Your Weight Loss and Benefits of Digital Tools, Tips for How to Use Flavored Water and Infusions for Hydration, or find recipe inspiration for warm winter salads.
At Jenny Craig, you also become a member of their supportive online community. You can post to their member board and receive feedback from other members and coaches to help you along your path.
How to Pause or Cancel Your Jenny Craig Account
The first order you place cannot be canceled, but all additional orders can be canceled any time before 6:00 PST the day before the order is processed. You can call 1-800-JENNYCARE or email jennycare@jennycraig.com to cancel an order.
There is not currently an option to pause Jenny Craig deliveries.
How Jenny Craig Compares to Other Meal Delivery Services
Jenny Craig weight loss plan has stood the test of time for weight loss. Here's how they compare with other meal delivery services designed for weight loss.
$3.59/serving, $18.95-$22.95/day
Vegetarian, diabetes, keto/low carb
Vegetarian, diabetes, gout, seniors, nursing mothers, teens
Sustainable packaging options, recyclable materials
Combination of recyclable and biodegradable materials
Styrofoam and recyclable plastic
Jenny Craig vs Nutrisystem
Jenny Craig and Nutrisystem are two meal delivery systems focused on weight loss and offer prepared meals. Both plans have specific menus for diabetes, but Nutrisystem also offers a vegetarian plan. Jenny Craig is unique in that it incorporates the science of intermittent fasting for effective weight loss into its program.
Jenny Craig vs Diet-to-Go
Diet-to-Go is a weight loss meal delivery kit with prepared meals, similar to Jenny Craig. Diet-to-Go does have a more diverse menu for dietary restrictions including gluten-free and ketogenic diets. Jenny Craig has greater member support with their blog, online support groups, and one-on-one coaching.
Jenny Craig vs Optavia
Optavia is a low-calorie weight loss plan from Medifast. Both Jenny Craig and Optavia offer plans that combine both prepared and homemade meals. If you need a plan that takes the guesswork out of snack and meal ideas for the day, Jenny Craig is the better choice.

Jenny Craig Visit Site
Bottom Line:
Jenny Craig's award-winning flexible meal delivery service is perfect to jumpstart weight loss or join you on your lifetime health journey. Personal meal plans, one-on-one coaching, and online support are what make Jenny Craig rated best diet 12 years in a row from U.S. News and World Report.