That means none of the cutting, chopping, measuring, and straining that leaves you with lost time and a sink full of dirty dishes. Most meal prep services offer kits that require just a few minutes in the oven or microwave before they're ready to eat. And with everything available from all-natural and vegetarian and vegan entrees to weight-loss-friendly plans, these alternatives make no sacrifices when it comes to the healtyness and flavor of your pre-made meals
Here is our round-up of the top 10 prepared meal delivery kits - fresh and frozen - worth checking out.
Vegan and vegetarian meals
Prepared weight-loss meals
Chef-designed weight loss plans
Globally inspired meat dishes
Simple hearty family meals
Organic plant-based diets
Ready to eat weight-loss meals
A Closer Look at Our Top 10 Best Meal Prep Delivery Services
1. Freshly: Best for Gluten-Free Diets
Fresh, never-frozen gluten-free delights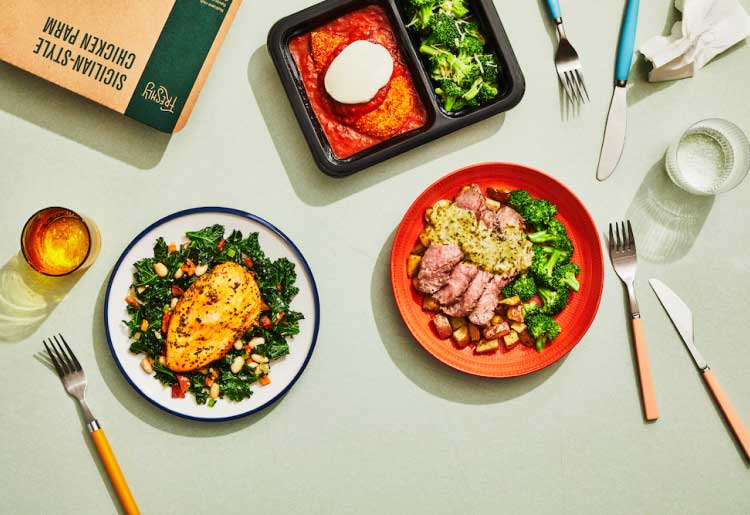 Freshly, as you may have guessed from the name, doesn't include any frozen food—all meals are prepared using fresh, all-natural ingredients (and thus, have a fridge shelf-life of about 4-5 days). You can choose from a rotating menu of 30 meals per week, so there's plenty of variety and little chance of getting bored with your food. Freshly is a premier gluten-free meal delivery service, and its meals are prepared in a peanut-free environment and contain no refined sugars. If there are other foods that you want to avoid, you can customize your meal plan to exclude dairy, eggs, pork, turkey, fish, soy, and more. All of this makes Freshly the leader of our pack of the best meal prep services.
✓ Price: $8.49 - $11.49 per serving
✓ Shipping: $3.99 - $12.11
Pros
Fresh, healthy meals delivered to your door
Rotating menu of 30 meals per week
All meals are gluten-free and peanut free
Cons
No desserts or snacks available
Doesn't offer paleo, keto, or other special meal plans

Freshly View Plan
2. Veestro: Best for Vegans and Vegetarians
Heat-and-eat vegan and vegetarian entrees
Veestro makes easy work of clean eating with its 100% plant-based vegan meal prep service. The service lets you stock up on bulk fresh-frozen meals that bring with them the added advantage of being organic, consciously sourced, and free of artificial ingredients. You can order 10 or 20 meals at a time and feel good knowing that you and your family are well-stocked with entrees such as breakfast burritos, pasta bolognese, and red curry with tofu. Especially those looking for healthy meal prep services will find the answer with Veestro.
✓ Price: $9.90 - $11.70 per serving
✓ Shipping: $9.99
Pros
Over 50 breakfasts, lunches, and dinners to choose from
100% plant-based meals
Free shipping for auto-delivery
Cons
One-time order option is expensive

Veestro View Plan
3. BistroMD: Best for Losing Weight
MD-approved, chef-prepared weight-loss meals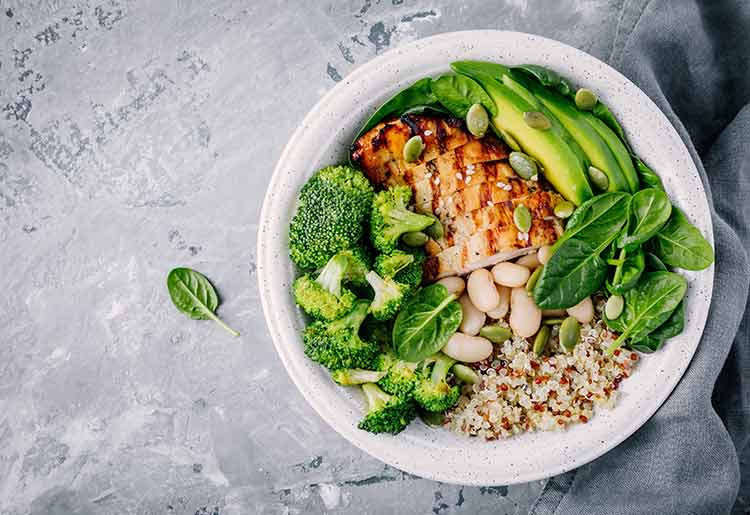 BistroMD's meals are designed by real doctors, and as such, they accommodate a number of specific diets not offered by other meal prep services for weight loss. These include diets for diabetes, menopause, as well as gluten-free eaters and vegetarians, making BistroMD a top contender for the title of the healthiest meal prep service.
With a menu packed with entrees like Jamaican-style black pepper shrimp and Italian omelets, even those without specific diets will find plenty to enjoy from across the globe. Despite the attention to health and flavor, BistroMD's meals are easy to enjoy: they arrive flash-frozen and can be prepared within a matter of minutes.
✓ Price: $8.57 - $10.70
✓ Shipping: $19.95
Pros
Physician-designed meals promote good health
Over 150 meal choices each week
Meal plans for heart-health, as well as diabetic and menopause diets
Cons
High shipping costs
5-day/week minimum meal program

Bistro MD View Plan
4. MagicKitchen: Best for Comfort Food
Healthy meals packed with flavor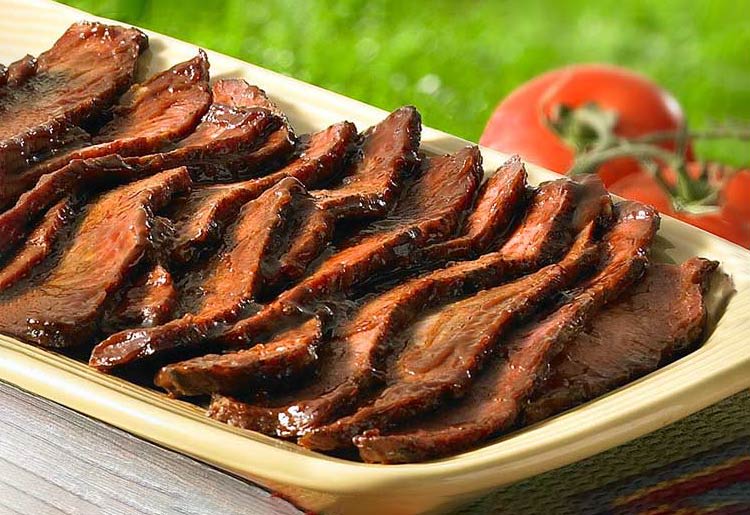 There is something satisfying about receiving healthy food delivered to your doorstep, especially when the meals come from MagicKitchen. For 15 years, this meal delivery service has been offering flash-frozen meals that are delivered to your door and can be ready to eat in minutes. The menu offers a slew of comfort foods such as cheese ravioli, barbeque beef ends, and chicken cordon bleu, making them especially good for kids and their parents. A great selection of chicken and meat dishes makes this a great choice if you're looking for a high-protein meal prep service. Additionally, Magic Kitchen offers meal plans and a la carte options, so you can opt to order in bulk or customize your shipments based on your needs.
✓ Price: $10.00 - $25.00 per serving
✓ Shipping: $18.95 and up
Pros
Plenty of kid-friendly meals
Options for single servings, full meals, and full meal programs
Huge variety of food options, including specialty meal plans
Cons
High shipping costs
Limited vegetarian options
Read the full MagicKitchen review

Magic Kitchen View Plan
5. Fresh & Easy: Best for Oven-Ready Classics
Oven-ready classics to save you time and money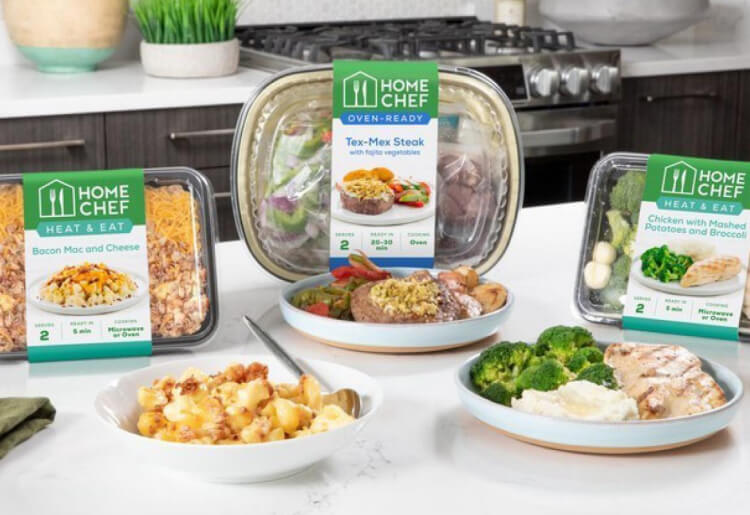 Fresh & Easy is a little different than the other services on this list. It delivers all of the ingredients you need washed, cut, and portioned as well as the pots and pans you need to cook them in, though, unlike other prepared meal services, cooking is still required. That's a cinch, however: meals are delivered complete with oven- and grill-ready dishes so that you can just pop the ingredients inside, heat up your meal, and enjoy the fruits of your own stove without having to deal with the aftermath of a dirty sink. A new service by meal-delivery veterans Home Chef, Fresh & Easy states its goal in its name: to make it even easier for people short on time but big on health to have access to fresh, home-cooked meals.
✓ Price: $9.95 per serving
✓ Shipping: $7.99 - $13.99
Pros
Oven- and grill-ready dishes included
No cutting or prep work necessary
New service from Home Chef
Cons
Limited menu options
Meals are not ready to eat
Read the full Fresh & Easy review

Fresh and Easy View Plan
6. Freshology: Best for Chef-Designed Weight Loss Plans
Healthy breakfast, lunch, and dinner in minutes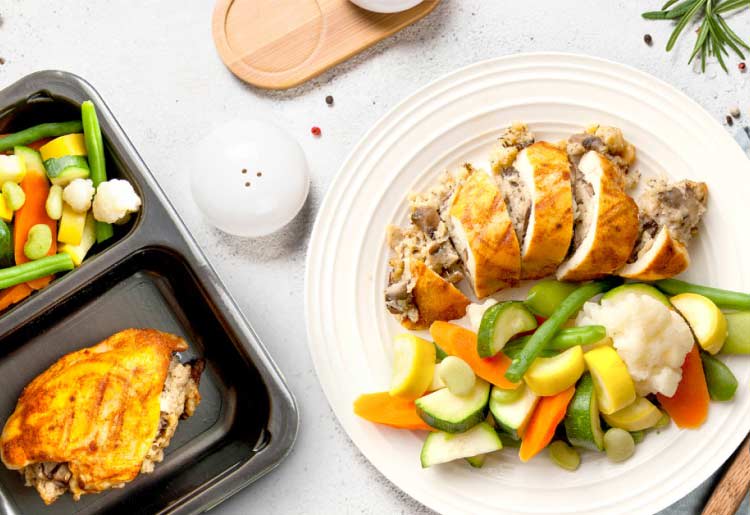 Freshology, a part of Diet-to-Go, has been offering weight-loss meal plans for more than 25 years, though it continues to find new ways to help its customers reach their health goals. Today, it's expanded its reach with meal plans that cater to vegetarians, diabetics, and is also a fantastic keto meal prep service. The meals themselves are designed and prepared by chefs with the help of in-house dieticians and nutritionists, making Freshology a fantastic fitness meal prep service.
Every week customers can choose from a wide variety of breakfast, lunch, and dinner options that range from kale and swiss frittatas to turkey burgers and chicken pesto salads. All meals are delivered straight to your door, ready to eat in 2-3 minutes. All this makes Freshology also one of the best meal prep services for athletes looking for healthy meals delivered to their doorstep.
✓ Price: $9.95 per serving
✓ Shipping: $7.99 - $13.99
Pros
Meals ready to eat in 2-3 minutes
Support from dieticians and health coaches
Veggie, diabetic, and keto menus available
Cons
No dessert options
Falls on the pricier side
Read the full Freshology review

Freshology View Plan
7. HomeBistro: Best for Globally Inspired Meat Dishes
Globally inspired meals ready to eat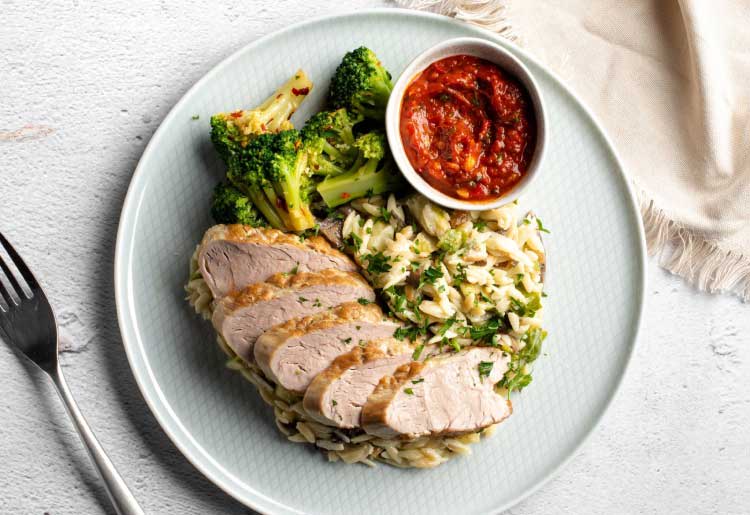 HomeBistro uses premium meats as the centerpieces for globally inspired, to-your-door meals that can be prepared in minutes. Entrees such as Mediterranean chicken with orange honey sauce, pecorino turkey kabobs, and Spanish cod with tapenade are thoughtfully sourced and flanked by Mediterranean sides such as Greek yogurt, Israeli couscous, and Tunisian cauliflower. HomeBistro offers a revolving menu that offers a wide variety of flavors and proteins from different regions.
✓ Price: Starting at $9.95 per serving
✓ Shipping: Free
Pros
No commitments necessary
Paleo, heart-healthy, and Mediterranean bundles available
Ready to eat in 10 minutes or less
Cons
Geared towards meat eaters
Single meals are expensive
8. Gobble: Best for Simple Hearty Family Meals
Homestyle entrees without the hassle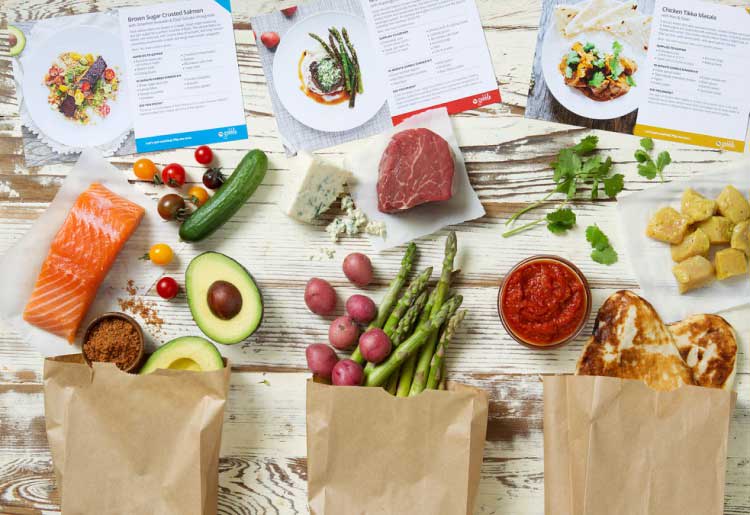 Gobble offers simple, hearty meals delivered straight to your door without much fuss. The menus are diverse enough to feed parents and children, and the flexible subscriptions make it easy to order when you need meals and skip when you don't. The menus rotate every week and feature a slate of globally inspired dishes that may include Tuscan-style meatballs, Thai stir fry with chicken, or miso-glazed salmon, all of which include tasty sides and are ready to eat in under 15 minutes.
✓ Price: Starting at $11.99 per serving
✓ Shipping: $6.99
Pros
Meals ready in 15 minutes
Veggie and gluten-free options
Add on sides, salads, breakfasts, and pastries
Cons
Shipping costs extra
Limited number of plans offered

Gobble View Plan
9. MamaSezz: Best for 100% Plant-Based Diets
Organic, plant-based comfort foods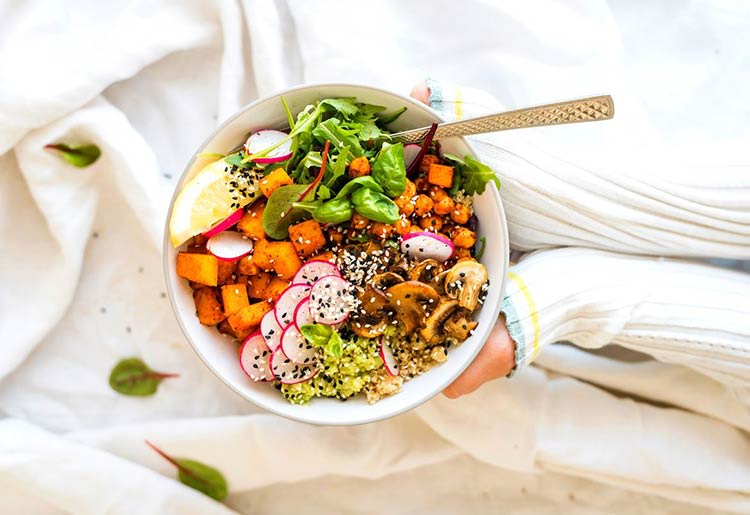 MamaSezz's prepared meals are all 100% vegetarian and plant-based, but don't let that fool you into thinking you'll be getting nothing but lettuce. The entrees are surprisingly hearty while still hewing to their mission of 100% plant-based ingredients. Dishes like the Lazy Lasagna, made from soft brown rice elbow noodles, or a vegetarian spin on meatloaf with BBQ sauce, are enough to satisfy even the heartiest eaters. These stews, pasta, and mac and cheese entrees resemble familiar comfort foods that kids and adults can enjoy.
✓ Price: Starting at $3.25 per serving
✓ Shipping: Free over $89.00
Pros
100% organic plant-based meals
Buy meals a la carte or in bundles
Breakfast, lunch, and dinner entrees
Cons
Menu could use more variety
Individual meals are expensive

MamaSezz View Plan
10. Diet-to-Go: Best for Ready to Eat Weight Loss Meals
Weight-loss meals ready in 3 minutes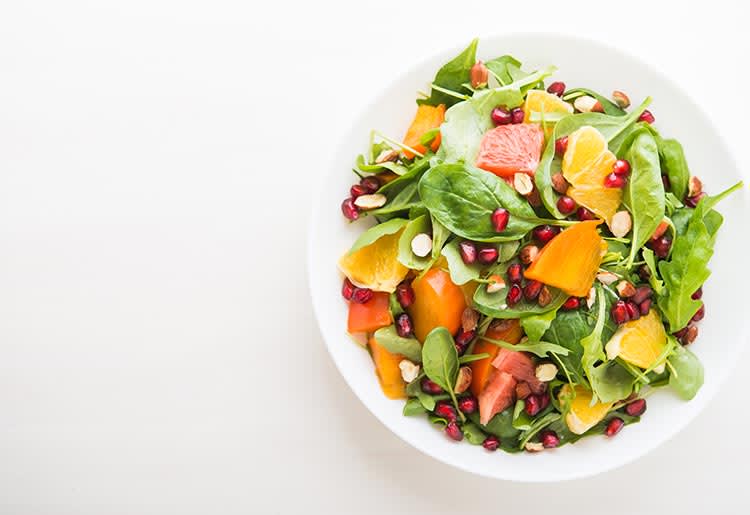 Diet-to-Go's meals are prepared by chefs with the help of in-house dieticians and nutritionists, making this one of the best meal prep services for weight loss. Every week customers can choose from a wide variety of breakfast, lunch, and dinner options that range from kale and swiss frittatas to turkey burgers and chicken pesto salads. All meals are cooked fresh and delivered straight to your door ready to eat in 2-3 minutes. Depending on how far away you live from a Diet-to-Go kitchen, your meals may arrive frozen or heavily cooled. As an added bonus, customers can consult with in-house registered dieticians, nutritionists, and certified health coaches with questions about their diets or for advice and motivation.
✓ Price: Starting at $12.20 per serving
✓ Shipping: Free over $9.99
Pros
Flexible meal plans
Meals ready in 2-3 minutes
Vegetarian, diabetic, and Keto menus available
Cons
High shipping costs
No desserts
Read the full Diet-to-Go review

Diet To Go View Plan
Why Should I Use a Meal Delivery Service?
You might be asking yourself: are meal prep services worth it? Meal delivery services save you time spent on shopping and cooking, without having to give up healthy eating. They're also a great way to make sure you always have backup meals stored in the freezer in case of emergencies.
It basically comes down to a combination of convenience, simplicity, and health that make meal delivery services a great choice if you lead a busy life.
Prepared Meal Delivery vs. Meal Kits: What's the Difference Anyway?
While prepared meal deliveries are shipped ready-to-eat, meal kits offer ingredients that need to be chopped, mixed, cooked, or prepared in some way. These ingredients are packaged with clear recipe cards and instructions to follow. Sometimes, they even include fun facts about the dish.
Meal kits are usually cheaper than ready-made meals. If you opt for meal kits, you'll get the chance to improve your cooking skills and try new dishes all for a fraction of the cost it would cost you at a restaurant or cooking school. On the other hand, preparing the meals requires a bit more time and effort on your part.
Choosing the Best Meal Prep Delivery Service for You
With so many top meal prep services to choose from, it can be hard to sit down and figure out which one is right for you. Some companies specialize in organic, plant-based frozen meals, some focus on specialty needs like diabetic and paleo diets, and others simply focus on taste and flavors that can appeal to everyone.
So when deciding on a healthy frozen meal delivery company, assess the needs of you and your family. Pay attention to what kinds of foods are on the menu, what kinds of diet the service is catering to, and how appealing the cuisine is.
A few other key details to look for:
Make sure the company delivers to your state
Make sure there's a meal plan that accommodates the number of people in your home
Keep an eye out for promotions and special offers
Pay attention to shipping costs
Should I Choose a Fresh or Frozen Meal Delivery Service?
Almost all meal delivery companies have a team of professional chefs on staff that prepare your meals fresh. The flash-freezing process allows kitchens to ship their freshly prepared meals across the country without sacrificing flavor, nutrients, or quality. This way, customers can enjoy chefs' creations and professionally made entrees at home without ordering in or cooking themselves.
Many services offer the option of delivering your meals unfrozen. Be sure to check how long the meals can be kept in the fridge before ordering in bulk if you don't like freezing your food.
If you keep all of this in mind, you should have no trouble finding a meal prep home delivery service that is right for you.