That means none of the cutting, chopping, measuring, and straining that leaves you with lost time and a sink full of dirty dishes. Most meal prep services offer kits that require just a few minutes in the oven or microwave before they're ready to eat.
You can find pre made meals for just about any type of diet, from all-natural, vegetarian and vegan meals to weight-loss-friendly plans, so you don't have to make any sacrifices when it comes to the healthiness and flavor of your meals.
Not sure which prepared meal delivery kit to go with? Our team of registered dietitians and nutritionists tried and tested the top services, and determined the best prepared meal delivery services in their professional opinion.
Here's a round-up of our top 10 best prepared meal delivery kits - oven-ready, fresh and frozen - worth checking out.
Our Top 10 Best Prepared Meal Delivery Services in 2023:
A Closer Look at Our Top 10 Best Prepared Meal Delivery Services - Quick Reviews:
1. Factor_
Complete line of pre-prepared to put your health goals in reach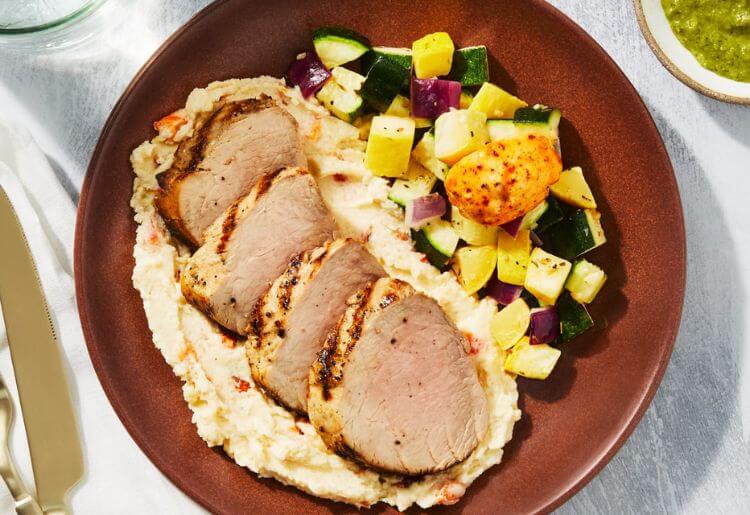 ✓ Price: From $11.00 per serving
✓ Delivery area: Continental US
✓ Shipping: $9.99 per delivery
✓ Number of meals: Four to 18 meals per week
Factor_ aims to provide a huge selection of keto, paleo, plant based, low-calorie, or just flavorful premade meals to suit your health goals. Pre-portioned and pre-packaged meals ready to cook, it doesn't get simpler than this. Most, if not all, of their meals come ready for you to pop in the microwave or oven and enjoy mere minutes later. The fact that all of their meals are always fresh, and never frozen, makes Factor_ one of the fresher prepared meal kits available.
The combination of diet-friendly options and heat-and-serve convenience makes Factor_ one of the most appealing meal delivery services for busy people who want to eat for better health.
Why we chose Factor_: Factor_ is committed to using high-quality ingredients in their chef-curated, dietitian-approved meals that cater to various dietary preferences.
Our experience: Factor_ provided us with well-balanced, nutritious meals that required no preparation. Consequently, they are a worthwhile choice for individuals with limited time who prioritize their health.
Pros
Suitable for a range of dietary preferences
Fresh meals, not frozen, whole foods options
A complete line of pre-made meals to help you achieve your health goals
Cons
No customization available in ingredients or meal size
Few breakfast options




Factor View Plans
2. HelloFresh
Sub-30 minute line of meals for busy night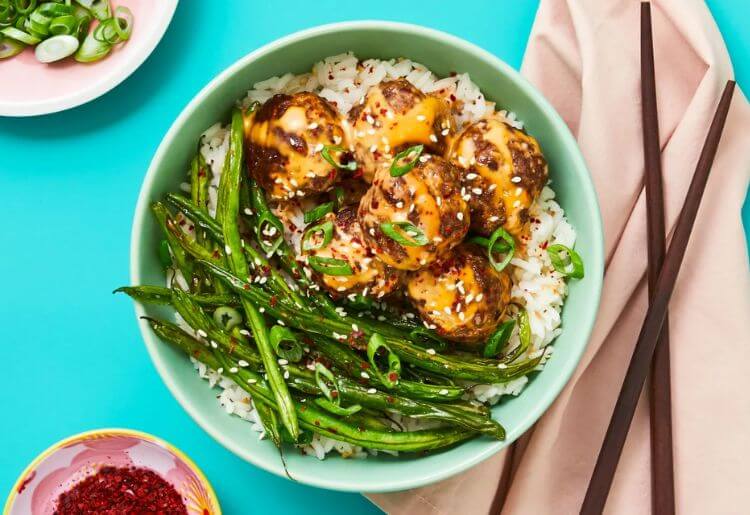 ✓ Price: From $8.99 per serving
✓ Delivery area: Continental US
✓ Shipping: Free
✓ Number of meals: Three to five meals per week
HelloFresh strikes a great balance between price, variety, and ease of preparation. By striking that balance, however, HelloFresh does not offer a line of fully prepared meals.
What HelloFresh does offer the convenience-minded home cook is their "Quick Meals'' line of dinners. Each of these recipes can be completed in 30 minutes or less, which makes them ideal for evenings when you're short on time, but not for when you literally have no time.
Generally, the quick and easy meals are a pasta dish, grain bowls, a grain plus protein recipe, or some form of tacos. Even though there are dozens of options, this pattern could get old after a while. Although much easier than making a fresh dinner from scratch, Hello Fresh still needs some work from you to complete the meal.
Why we chose HelloFresh: HelloFresh is perfect for those who love food from around the world. Their oven-ready meals that enable easy preparation without compromising adventurous flavors.
Our experience: We love the variety of vegan, vegetarian, and pescatarian meals that HelloFresh offers. It's easy to forgive HelloFresh for the shipping fees, which are on the higher end, due to the general affordability and variety of its offered meals.
Pros
Easier than cooking a meal from scratch
Numerous options in the 30-minutes or less category
Boxes include many pre-prepared ingredients
Cons
Not as easy as a heat-and-eat meal plan
No gluten-free, dairy-free, or nut-free meals
Read the full Hello Fresh review

HelloFresh View Plans
3. Nutrisystem
A veteran in the field of prepared meal delivery for weight loss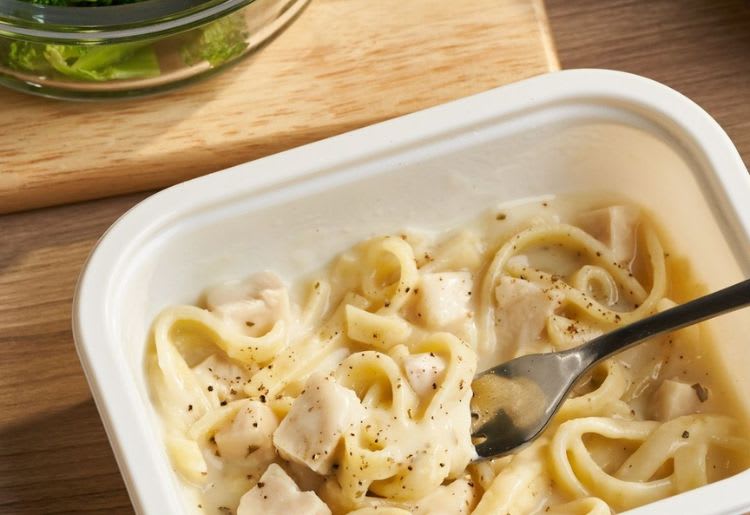 ✓ Price: From $9.99 per serving
✓ Delivery: Everywhere except, AK, HI, P.O. Boxes, military addresses
✓ Shipping: Free
✓ Number of meals: Four meals for five or seven days, weekly
As a long-standing provider of pre-prepared meals, Nutrisystem knows what they're doing when it comes to combining health and convenience.
Nutrisystem has two main preparation styles in their meals. Their "all-in-one" meals are completely frozen meals ready to be baked in the oven or microwaved. The "skillet-ready" options are one-pan meals that make a fresh dinner a snap. Both of these options make healthy eating just minutes away.
Aside from the heat-and-serve options, Nutrisystem is one of the few meal delivery services that also offer grab-and-go snacks. The calorie-controlled options for 3 snacks a day will keep you from feeling famished on your health journey. Nutrisystem takes all of the guesswork out of weight loss, and caters to multiple dietary needs, making it a great choice for people on the go who want to lose weight.
Why we chose Nutrisystem: Nutrisystem's meals are carefully designed with a combination of protein, fiber, and smart carbs, providing a satisfying and tasty way to maintain portion control for successful weight management.
Our experience: Nutrisystem's portions are pretty small. That being said, it's logical that a weight-loss oriented meal delivery service will not over do it when it comes to portion control. On the positive side, we liked that there are so many snack options that can help you feel full throughout the day.
Pros
Portion controlled options to make the healthy choice the easy choice at any time of the day
Meal prep is a thing of the past with grab-and-go, microwave-ready and skillet-ready options
Caters to a number of different healthy eating plans
Cons
Does not accommodate food allergies/intolerances
Few fresh options (most meals/snacks are frozen or packaged)
Read the full Nutrisystem review

Nutrisystem View Plans
4. Blue Apron
Convenient culinary delights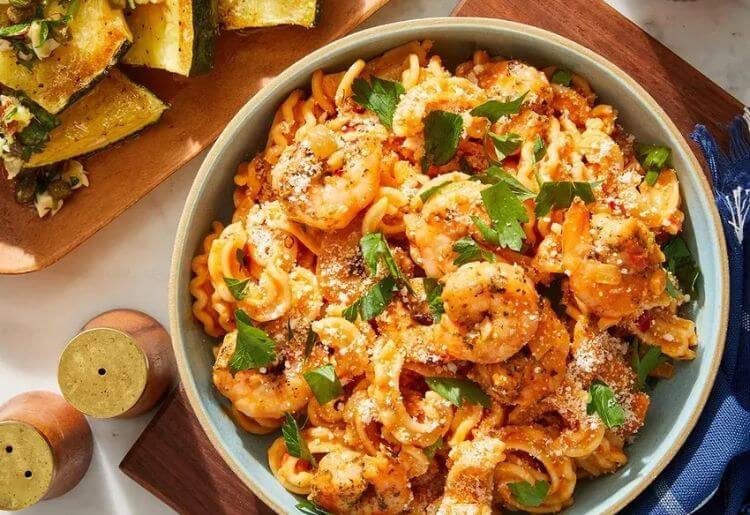 ✓ Price: From $7.99 per serving
✓ Delivery area: "Lower 48" states
✓ Shipping: First box for free
✓ Number of meals: Two to five meals per week
Blue Apron emphasizes enjoyable culinary experiences that cut some of the prep time out of making a balanced meal. You will not find any pre-prepared meals in Blue Apron's meal kits.
What Blue Apron does offer by way of convenience is a series of fresh ready meals that can be prepared in 30 minutes or less. They take some of the stress out of gourmet cooking by providing pre-portioned ingredients for every recipe, as well as step-by-step tutorials on how to best prepare items.
Although Blue Apron does not offer the convenience of a microwave- or oven-ready meal, this meal kit delivery service may be suitable if you don't have enough time to explore your culinary interests. Ultimately Blue Apron is a meal delivery service whose focal point is flavor and the cooking experience itself, not convenience.
Why we chose Blue Apron: Blue Apron oven-ready meals are basically restaurant-quality with pre-portioned ingredients.
Our experience: Blue Apron is a worthwhile choice if you're ordering for a big family with basic needs and are looking for free shipping on large orders. The thing is that Blue Apron poorly accommodates for food allergies. So, if you're allergy-free and want to be stress-free when it comes to preparing food for yourself, Blue Apron is solid.
Pros
Offers sub-30 and some 20-minute meal kits
Requires preparation, but takes the stress out of it
Provides step-by-step instructions to expedite prep-time
Cons
No ready-to-heat meal kits available
No lunches, snacks or desserts
Read the full Blue Apron review

Blue Apron View Plans
5. Eat Clean To Go
High-quality chef-prepared meals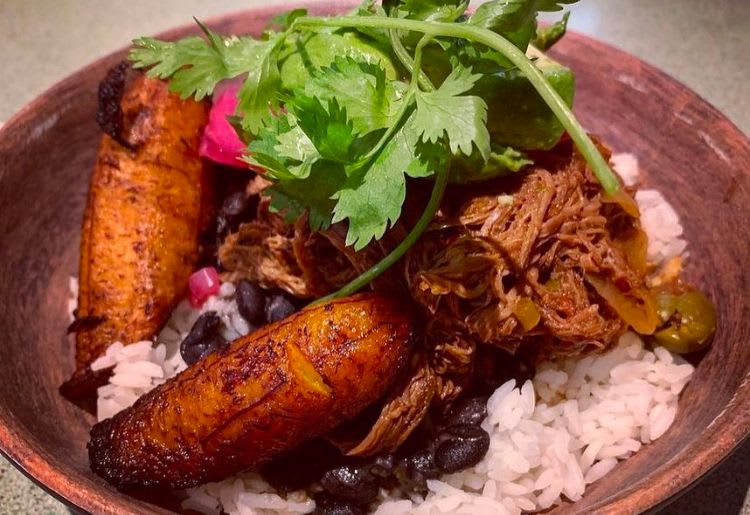 ✓ Price: From $9.60 per meal
✓ Delivery: Continental 48 states
✓ Shipping: Depends on location
✓ Number of meals: Four to 12 meals per week
All Eat Clean To Go prepared meals are made from scratch using fresh ingredients that give them their signature flavors. The prepared meals are made with natural ingredients such as fruits and vegetables which are grown organically without any use of synthetic pesticides or fertilizers. These dishes are then carefully packaged into vacuum sealed containers which ensures the meals stay fresh for days at a time before needing refrigeration.
There are multiple plans available depending on individual needs or tastes; from small meal plans ideal for individuals who only need one person's portion to additional meals per week as part of the large portion plan. Users have plenty of choice when selecting what suits them best.
Why we chose Eat Clean To Go: Eat Clean To Go prioritizes local sourcing by partnering with regional farmers and suppliers to obtain fresh, seasonal ingredients for their menu.
Our experience: We enjoyed how high-quality Eat Clean's products are, making for tasty meals, even if they are on the simpler side. The only bump in the road we encountered was reaching customer service which is difficult to get ahold of.
Pros
No food prep required. Just reheat and enjoy
New menu every week and you only have to commit weekly
All food containers are 100% recyclable
Cons
does not offer an app
All charges are non-refundable
Read the full Eat Clean To Go review

Eat Clean To Go View Plans
6. Home Chef
Full range of easy-to-make prepared meals to choose from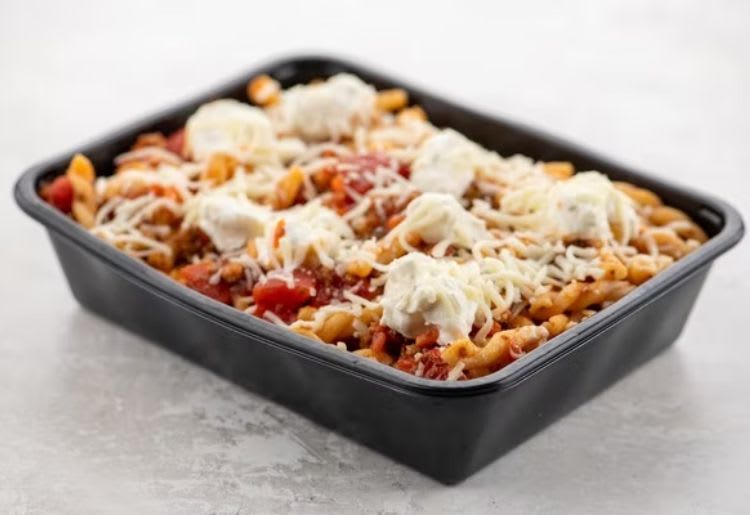 ✓ Price: From $9.99 per serving
✓ Delivery area: Continental US
✓ Shipping: $7.99-$13.99
✓ Number of meals: Two to six meals per week
Home Chef has multiple options for customers looking for minimal preparation, ranging from microwave-ready meals to meal kits completed in 15 minutes.
Home Chef's "oven-ready" line only requires you to unwrap, bake and enjoy. The "fast & fresh" meals are microwave meals with no prep work, or cleanup, required. Then there are the 15-minute meal kits, which are typically one-pan meals that you can whip up on your stovetop in a matter of minutes.
No matter what your time constraints are, Home Chef has a meal delivery option that works for you. If you want to save time above all else, this may be the meal delivery service for you.
Why we chose Home Chef: With both customizable meal plans and user-friendly recipes, Home Chef's oven-ready dishes offer variety and flexibility for home cooks of all skill levels.
Our experience: While there's a great variety of affordable prepared meals provided by Home Chef due to their rotating menu, we didn't like the high sodium content on many recipes.
Pros
Microwave-ready, oven-ready, and quick stovetop options give you all the choices you need for an easy dinner
3 health-related meal plans to suit your needs: calorie-conscious, carb-conscious, and vegetarian
Chef designed menu is as delicious as it is convenient
Cons
Limited pre-prepared options for people with dietary restrictions
No grab-and-go options
Read the full Home Chef review

Home Chef View Plans
7. EveryPlate
Well-priced and tasty 30-minute dinners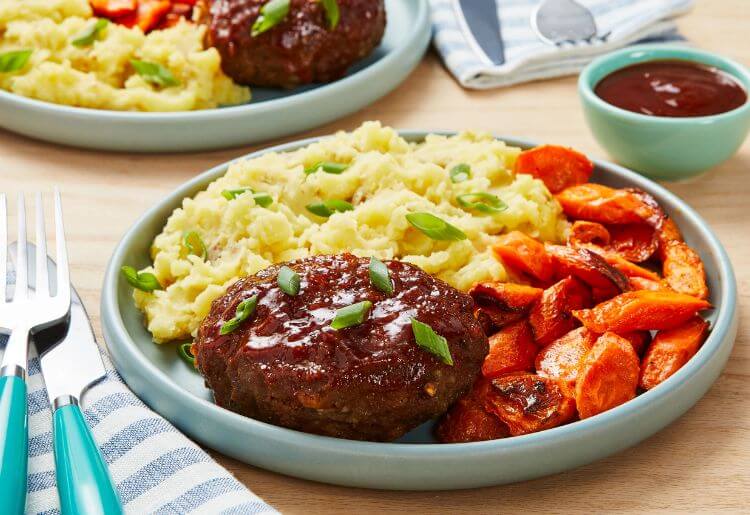 ✓ Price: From $4.99 per serving
✓ Delivery: "Lower 48" states
✓ Shipping: $9.99
✓ Number of meals: Three to five meals per week
EveryPlate strikes a middle ground. Although they do not deliver pre-made meals each week to your doorstep, the meals kits they provide emphasize simplicity and ease. Their 30-minute dinners are also very affordable compared to other meal delivery services on the market. EveryPlate provides step-by-step instructions to take the stress and guesswork out of meal prep - they're ready to cook.
By focusing on simple ingredients, simple cooking methods, and having you do what little meal-prep these meals entail, EveryPlate helps you to gain the skills to cook meals more quickly yourself. EveryPlate does not work well for busy people looking to optimize for convenience above all else. But, if you have 30-minutes a day to spare for dinner, then EveryPlate might be right for you.
Why we chose EveryPlate: Affordable and practical, EveryPlate's simple oven-ready classics require minimal effort, making them an excellent choice for budget-conscious consumers who value convenience.
Our experience: We loved how flexible EveryPlate is when it comes to setting up your order schedule, you can even easily cancel orders if you're out of town or just don't feel up to eating prepared meals.
Pros
Emphasizes simple preparation methods
Many recipes can be prepared in 30 minutes or less
Provides step-by-step instructions to make prep-time fast and easy
Cons
Shipping costs extra
Limited options for allergies
Read the full EveryPlate review

EveryPlate View Plans
8. Fresh and Easy
Oven-ready classics to save you time and money
Get your voucher for 16 free meals from Fresh and Easy

Claim Offer Now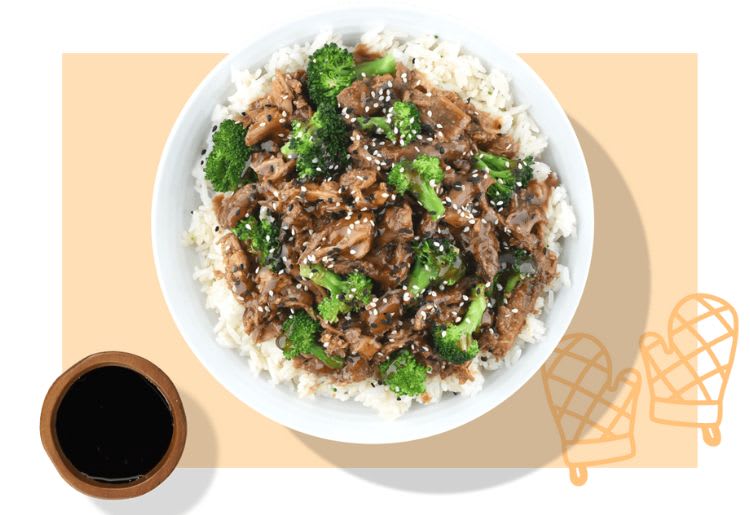 ✓ Price: From $9.99 per serving
✓ Delivery area: Continental US
✓ Shipping: $7.99-$13.99
✓ Number of meals: Two to six meals per week
Fresh and Easy delivers all of the ingredients you need washed, cut, and portioned as well as the pots and pans you need to cook them in, and preparing the meals is still required. However: meals are delivered home complete with oven- and grill-ready dishes so that you can just pop the ingredients inside, heat up your meal, and enjoy the fruits of your own stove without having to deal with the aftermath of a dirty sink.
A new service by meal-delivery veterans Home Chef, Fresh and Easy states its goal in its name: to make it even easier for people short on time but big on health to have access to fresh, home-cooked meals.
Why we chose Fresh and Easy: Fresh and Easy's pre-portioned, oven-ready meals require minimal prep while maintaining nutritional balance.
Our experience: Home Chef's customizable pre-portioned ingredients and versatile recipes made our home cooking experience enjoyable and hassle-free. Delicious meals were explored without the hassle of planning or shopping.
Pros
Oven- and grill-ready dishes included
No cutting or prep work necessary
New service from Home Chef
Cons
Limited menu options
No plans for singles
Read the full Fresh & Easy review

Fresh and Easy View Plans
9. Green Chef
Prepped organic delights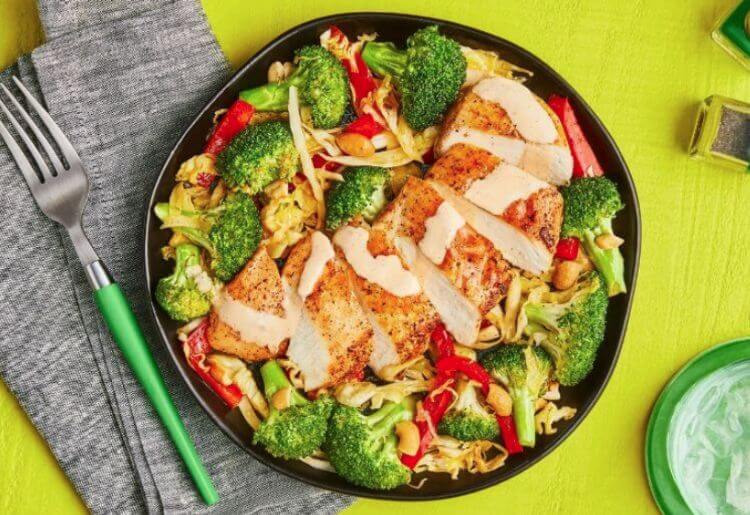 ✓ Price: From $11.99 per serving
✓ Delivery area: Everywhere except AK, HI, and some parts of LA
✓ Shipping: $7.99 after first box
✓ Number of meals: Three or four meals per week
Green Chef is distinguished by their almost completely organic line of meal kits.
Green Chef's line of meals does come with pre-made sauces, dressings, and spice blends in order to minimize some of the more advanced and time-consuming preparation. Chef's tips are provided when necessary in order to make prep work a little more convenient. Some ingredients may even come pre-chopped to expedite things further.
Green Chef may be the right choice if you have some time to spare for dinner prep, but if you need a plan that prioritizes convenience, you will have better luck with another service.
Why we chose Green Chef: We chose Green Chef for their focus on organic ingredients and eco-friendly practices, as Green Chef delivers oven-ready meals tailored for the environmentally conscious consumer.
Our experience: If you're strapped for time, unfortunately, the preparation required for the meals they offer averages at about 30 minutes. While Green Chef might be better for those who have a few minutes to spare before meals, it's true that the taste of organic products is almost incomparable to conventional food.
Pros
Emphasizes simple preparation methods
Most recipes can be prepared in 30 minutes or less
Offers keto/paleo, balanced, and plant-based meals to choose from
Cons
Meals are more expensive than non-organic meals
No pre-prepared options on the menu
Read the full Green Chef review

Green Chef View Plans
10. Sunbasket
Certified organic meals ready in minutes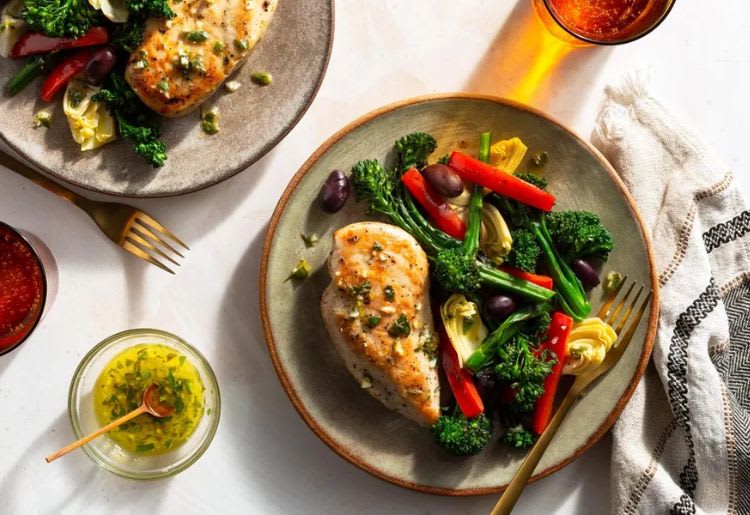 ✓ Price: From $9.99 per serving
✓ Delivery: Most states except for AK, HI, MT, ND, and parts of NM
✓ Shipping: $5.99-$7.99
✓ Number of meals: Four to 10 meals per week
Sunbasket may be the only meal delivery service that combines the convenience of zero-prep meals ready in minutes with the quality and flavor of an almost entirely organic collection of ingredients.
Their line of "speedy" meal kits are intended to be cooked in under 20 minutes. The "fresh & ready" meal options, on the other hand, can be popped in the microwave or oven for a hearty, healthy meals that's ready in minutes. Whatever you choose, Sunbasket makes healthy high-quality eating within reach, especially if you're too busy to cook.
Sunbasket offers a full day of meals — breakfast, lunch, and dinner — made with certified-organic ingredients that cater to every major health diet plan. Healthy eating doesn't get faster, easier, or more delicious than this.
Why we chose Sunbasket: Sunbasket's oven-ready options are nutritionist-backed and responsibly-sourced.
Our experience: Not only are Sunbasket's chefs nutritionist-backed, the recipes themselves were created by award-winning chefs. If you like restaurant-level dishes, Sunbasket can provide the right prepared meals for you.
Pros
Almost completely organic or sustainably sourced ingredients
Speedy meal kits are ready in less than 20 minutes with minimal preparation
Heat-and-serve microwave-/oven ready meals are perfect for a healthy meal plan for an on-the-go lifestyle
Cons
No single-meal option for people who live alone
Recipes are packed in a facility that handles all major food allergens, so they may not be right for someone with a severe food allergy
Read the full Sunbasket review
Compare The Top 10 Best Prepared Meal Delivery Services:
Requires cooking and meal preparation
Everywhere except AK, HI, P.O. Boxes, military addresses
Four meals for five or seven days, weekly
Frozen or skillet-ready options
Two to five meals per week
Requires cooking and meal preparation
Four to 12 meals per week
Two to six meals per week
Microwave-ready, oven-ready, and quick stovetop options
Three to five meals per week
Ready to cook, simple preparation methods
Two to six meals per week
Oven- and grill-ready dishes included
Everywhere except AK, HI, and some parts of LA
Three or four meals per week
Emphasizes simple preparation methods, pre-made sauces and dressings, chef's tips provided
Most states except AK, HI, MT, ND, and parts of NM
Four to 10 meals per week
Zero-prep meals ready in minutes, oven-ready and microwave-ready options available
Our Methodology for Choosing the Best Prepared Meal Delivery Services
There are many prepared meal delivery services to choose from, so we get why it can be confusing. To find the best prepared food services, we considered those that have been around for a while to establish themselves as a reputable business for pre cooked meals.
It was also important to include services which are available nationwide, as well as those that were transparent about their meals, the terms of subscriptions and their customer service accessibility. Our team of experienced dietitians and nutritionists tried and tested these services for the following:
Customer service and customer experience
Subscription flexibility
Quality of ingredients
How diverse and varied the meal plans are
How long it takes to prepare the meals
How well these services cater to people following gluten-free or other diets
Overall taste of their meals
What Are the Benefits of Meal Delivery Services?
The benefits of meal delivery services come down to a combination of convenience, simplicity, and health that makes meal delivery services a great choice if you lead a busy life. Meal delivery services offer a way to save time spent on shopping and cooking, without having to give up healthy eating.

They're also a great way to make sure you always have backup meals stored in the freezer in case of emergencies.
Choosing the Best Meal Prep Delivery Service for You
With so many top meal prep services to choose from, it can be hard to sit down and figure out which one is right for you. Some companies specialize in organic, plant-based frozen meals, some focus on specialty needs like diabetic friendly and paleo diets, and others simply focus on taste and flavors that can appeal to everyone.
So when deciding on a healthy frozen meal delivery company, assess the needs of you and your family. Pay attention to what kinds of foods are on the weekly menu, what kinds of diet the service is catering to, and how appealing the cuisine is.
A few other key details to look for:
Make sure the company delivers to your state
Make sure there's a meal plan that accommodates the number of people in your home
Keep an eye out for promotions and special offers
Pay attention to shipping costs
Prepared Meal Delivery vs. Meal Kits: What's the Difference Anyway?
While prepared meal deliveries are shipped ready-to-eat, meal kits offer ingredients that need to be chopped, mixed, cooked, or prepared in some way. These ingredients are packaged with clear recipe cards and instructions to follow. Sometimes, they even include fun facts about the dish.
Meal kits are usually cheaper than ready-made meals. If you opt for meal kits, you'll get the chance to improve your cooking skills and try new dishes all for a fraction of the cost it would cost you at a restaurant or cooking school. On the other hand, preparing the meals requires a bit more time and effort on your part.
Are Prepared Meal Delivery Services Cheaper Than Buying Groceries?
Meal delivery services may not be as affordable as making home cooked meals from scratch, but it can make sense for people who don't have time to cook or make visits to the grocery store.

When you order online, you can avoid spending time on shopping and wasting money on fuel or public transportation. Prepared meals are often cheaper than take-out food and healthier than eating out at restaurants.
More Prepared Meal Delivery Services We Tried
These services did not make it to our Top10 list, but they are definitely worth a mention here:
Are Prepared Meal Delivery Services Worth It?
The best prepared meal delivery services we tried were Factor, HelloFresh, Nutrisystem and 7 others. Each offers unique advantages like healthy choices, local ingredients, and customizable and affordable meal plans.
When reviewing these brands, we looked at customer experience, flexibility of subscriptions, ingredient quality, variety of meal plans, preparation time, dietary options, and overall taste.

By considering your own preferences and needs (like if you prefer to eat more prepared lunches instead of dinners, or if you need specifically allergy-friendly meals), you can make an informed decision among these reputable partners.