In a Nutshell
Fresh N Lean is as easy as it gets when it comes to having organic, fully prepared, whole food meals delivered to your doorstep. They offer low-carb diet plans like keto and paleo, which can be appealing to some. One shortfall is that customers can't opt for favorite meals and some of their meal plans average less than 300 calories per meal, meaning customers would need to supplement with extra side dishes and snacks.
pros
Uses whole, organic ingredients
Fully prepped meals delivered in ready-to-heat containers
Caters to some specialty diets including vegan, keto, and paleo
cons
Meal customization is very limited
Macronutrient breakdowns don't always meet recommendations

Fresh N' Lean Visit Site
Best For
Individual, one-person meals
People who want to eat healthier, whole foods
People with dietary restrictions like vegan, gluten free, or low carb
Fresh N Lean Meal Plans
Fresh N Lean sells their meal plans based on a weekly rate for a single person. The customer commits to buying at least one week of meals.
Customers can choose between buying 5 or 7 days of meals each week, and 1-3 meals each day (breakfast, lunch, and/or dinner) when they set up their plan. Generally, the more you buy the lower the cost per meal. Snack options are also available in addition to meals.
Fresh N Lean offers the option to choose from their six meal plans, or pick your own meals from their a la carte menu. Their meal plans include Proteine +, Keto, Paleo, Vegan Standard, Vegan Low Carb, and Whole 30 Approved. Customization of these meals is limited.
Fresh N Lean Dietary Options and Programs
Fresh N Lean states that all their meals and snacks are gluten-and GMO-free. Most of their meals are also dairy-free and soy-free.
For people interested in knowing the macronutrient breakdown of the meal plans, the website shows an average value on each meal plan page. Macronutrients are the protein, carbohydrates, and fat contents in each meal.
Be aware that the information is very general and there is no way to know how accurate it is. In fact, I found some calculations on their pages were incorrect.
Most of the plans offer different macronutrient breakdowns than what the Institutes of Medicine recommends, which is: 10-35% from proteins, 45-65% of calories from carbohydrates, 20-35% from fats.
There are six meal offered by Fresh N Lean:
Protein +
Fresh N Lean advertises a focus on protein for these meals. The macronutrient calorie breakdown for protein plus is about 31% from protein, 37% from carbohydrates, and 31% from fat, with an average of 490 calories per meal.
Keto
Keto, which is short for ketogenic, is a diet which is high in fat and very low in carbohydrates. The ketogenic diet has become very popular for weight loss; however, it may not be safe for everyone, so always check with your doctor first.
The foods in these meals are high in fatty foods like meat and very low in carbohydrate foods like starchy vegetables or whole grains. The macronutrient breakdown advertised for Fresh N Lean's keto plan is 27% protein, 9% carbohydrate, 65% fat, and an average of 460 calories per meal.
Paleo Plan
Paleo diets are based on the idea that humans are meant to eat foods that we can hunt and gather like meat, fish, seeds, fruits, and vegetables. Paleo plans generally avoid grains.
Removing whole food groups like grains from any diet will alter the macronutrient count. The macronutrient average provided for the Paleo Plan is 31% protein, 28% carbohydrates, 40% fat, and an average of 400 calories per meal.
Vegan Standard
Vegan diets can be heart healthy because they are generally low in saturated fats. It's best to consult your healthcare provider or dietitian before starting a vegan diet to make sure your diet is well-rounded and nutritionally adequate.
Fresh N Lean averages their vegan meal macronutrients at 20% of their calories from protein, 49% from carbohydrates, 32% from fat, and an average 400 calories per meal.
Vegan Low Carb
The vegan low carb plan is much higher in fat than their standard plan. The fat used in their meals is from plant sources like coconut and olive oils.
The average macronutrient breakdown for these meals is 13% protein, 11% carbohydrate, 76% fat and 295 calories per meal. Some customers commented that the vegan meals were oily.
Whole 30
Whole 30 is a popular diet plan that eliminates alcohol, sweeteners, legumes, dairy, and grains. The plan is generally followed for 30 days and is very restrictive. Fresh N Lean doesn't offer a macronutrient breakdown for their Whole 30 meals.
Our Favorite Fresh N Lean Meals
Fresh N Lean meal plans aren't customizable, but you can let them know if you have any allergies or food preferences. The A La Carte menu offers a variety of dishes, like the Protein+ salmon meal. This delicious option includes sustainable salmon, alongside organic veggies and gluten-free paste, whole grains, or legumes.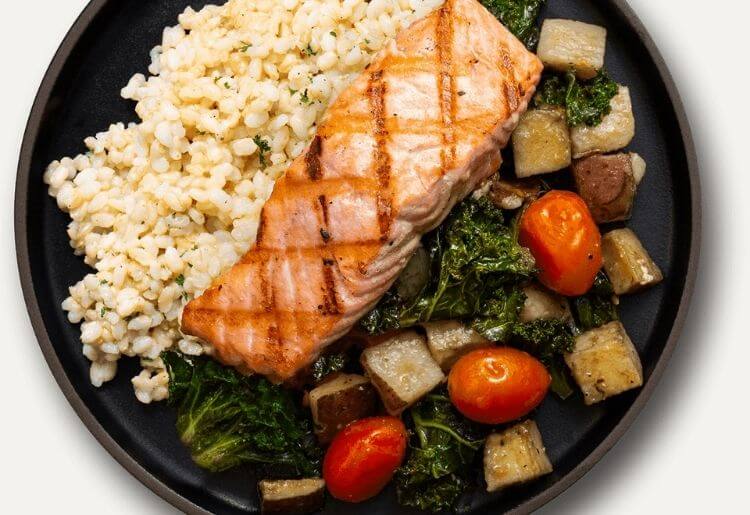 How Much Does Fresh N Lean Cost?
Fresh N Lean prices vary somewhat based on meal plans. For example, vegan meal plans tend to be lower in cost. Breakfast meals are usually less expensive than lunch and dinner. Each meal plan page has a cost calculator which shows the meals are $8-$15 each.
There are no membership costs for Fresh N Lean.
Lunch or Dinner Only, 5 days
Lunch or Dinner Only, 7 days
Breakfast and Lunch or Dinner, 5 days
Breakfast and Lunch or Dinner, 7 days
Breakfast, Lunch, and Dinner, 5 days
Breakfast, Lunch, and Dinner, 7 days
How Does Fresh N Lean Work?
Placing an Order With Fresh N Lean
You begin your Fresh N Lean order through their website on their Get Started page. Before committing to a purchase, you may find it helpful to browse through their website. Their frequently asked questions pages are especially helpful.
The customer will first choose one of the 6 weekly meal plans (detailed below) or from the a la carte menu. The customer can only choose a la carte with a minimum order of $85.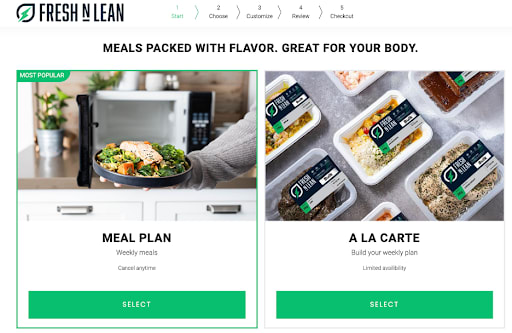 How to Choose Meals with Fresh N Lean
Selection is as easy as clicking on your a la carte items or choosing a weekly meal plan and deciding if you want to order breakfasts, lunches, and/or dinners for the week.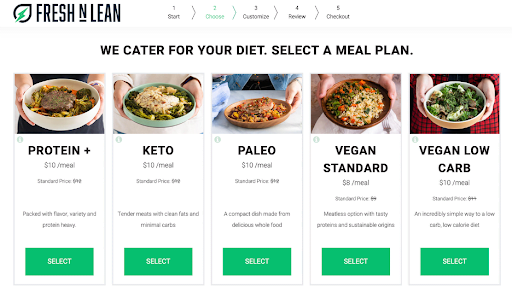 Fresh N Lean claims to use locally sourced, in-season foods, and they change their menu weekly based on available ingredients. For this reason, selecting individual meal preferences is limited, and there is a bit of mystery about what will arrive each week.
Once you decide on a meal plan, you have the option to exclude up to three unwanted ingredients from the plan, based on dislikes (like peppers, or onions). Fresh N Lean states that they will do their best to accommodate these preferences. There is a separate window to enter allergy restrictions.
You'll want to order meals by noon on Saturday to have them delivered to your door in cold-packed recyclable boxes on the following Friday or Saturday. For food safety, it's best to have someone home during delivery to refrigerate the foods on arrival.
Does Fresh N Lean Come With Cooking Instructions?
Cooking with Fresh N Lean couldn't be simpler. The company instructs customers to puncture holes in the film that seals each meal, and heat in the microwave for 2-3 minutes.
Fresh N Lean states that the containers are microwave-safe for heating, but customers may choose to remove the contents and heat in their own microwave-safe plate, or heat contents on the stove instead.
What Makes Fresh N Lean Stand Out?
What truly makes Fresh N Lean unique is all of their meals are stated to be gluten-free and GMO-free. They also have a meal plan that follows the Whole 30 diet.
Fresh N Lean meals are perfectly proportioned for one person, but you can also order bulk items like cooked proteins, rice, vegetables, or sweet potatoes to add to meals.
In addition to meals, you can also purchase accessories on the Fresh N Lean website, such as freezable lunch boxes.
How Are Fresh N Lean Meals Packaged and Shipped?
Meals are shipped via GLS, UPS, or FedEx for Friday delivery, but guaranteed on Saturday. Fresh N Lean provides a tracking number, so you will know when the emals will be delivered.
The meals are vacuum sealed in recyclable, BPA-free trays. The entire package is recyclable. The trays come delivered in cardboard boxes with ice packs to keep the food at the right temperature.
Is There a Fresh N Lean App?
Fresh N Lean does not have an app. There are some negative reviews regarding the website being dated and hard to navigate. Customer service responses to these comments state that the company is working on an app and updating their website to make it more user friendly.
How to Contact Fresh N Lean Customer Service
Customer service for Fresh N Lean seems to be very reasonable. Their website claims that their hours of operation are everyday 7am-7pm PST. There are thorough frequently asked questions pages that may be very helpful to customers during off-hours.
Customers can contact Fresh N Lean via phone or email:
Phone: (888) 420-4080
Email: hello@freshnlean.com
The company's website states that refunds are not guaranteed, and that decisions to offer refunds are made on a case-by-case basis. Customers are encouraged to call customer service if they are not satisfied.
Blog
The website includes blog and recipe pages. Blog posts tend to be exercise and nutrition based. Unfortunately, only one of the writers appears to be a registered dietitian or health care professional of any kind. I found basic nutrition information errors in the posts I read.
How to Pause or Cancel Your Fresh N Lean Account
Fresh N Lean customers can login to their dashboard for pauses or cancellations of the meal subscriptions. Pauses can be made for up to two weeks. All pauses and cancellations must be arranged by 12 noon PST on Saturday, six days prior to the following week's meal shipment.
How Fresh N Lean Compares to Other Meal Delivery Services
Fresh N Lean stands out as one of the lowest-prep, fastest cooking delivery services available. Simply poke holes in the wrapping and pop it in the microwave for a couple of minutes. It's that simple.
Dietary Restrictions Catered To
Vegan, Whole 30, Keto, Paleo, Gluten-Free
Vegan, Vegetarian, Carb-Conscious, Calorie-Restricted
Vegan, Gluten-Free, Dairy-Free, Soy-Free, Low-Carb
Vegetarian, Pescatarian, Low-Carb
Amount of prep work required
Recyclable BPA-Free plastic trays, recyclable cardboard boxes
Partially recycled cardboard
Go-Green plastic containers
Partially recycled cardboard
Fresh N Lean vs. Fresh and Easy
These two companies both offer the convenience of minimal preparation at competitive prices. Fresh and Easy is slightly more expensive but offers different choices for heating that may be preferable by the customer. For example, customers can choose oven-ready, microwavable, or grill-ready meals whereas Fresh N Lean is intended for microwave heating.
Fresh N Lean vs. Freshly
Fresh N Lean and Freshly both use very similar whole food ingredients. The basic differences are in the meal plans. Fresh N Lean tends to lean toward low-carb meals, with a focus on specific diets: keto, paleo, Whole 30, and vegan for example. This may help some customers eliminate confusion over what they're ordering. Unlike Fresh N Lean, Freshly does have a convenient app that may be helpful for people trying to order from their phones.
Fresh N Lean vs. HelloFresh
Fresh N Lean takes the lead over HelloFresh when it comes to prep work. HelloFresh delivers the ingredients needed for every meal, but they still have to be chopped and mixed in some cases which takes time. Cooking also takes longer with HelloFresh. However, because the meals are made from scratch and cooked in the oven vs the microwave, they may taste better to many people, making it worth the extra time.
Bottom Line:
Fresh N Lean offers preparation-free meals for busy people who want to eat simple, whole, organic meals. According to the thousands of customer reviews, most people find Fresh N Lean to be worth the cost. As a dietitian, I find the calorie count too light, and would recommend supplementing extra whole grains, fruits, and vegetables to offer complete nutrition each day.