I dislike cooking so much that I often come home super hungry, and will simply complain about my level of hunger and how weak I feel for hours, before forcing myself to take out a pan to actually cook something. And even then, I'll probably make either pasta or eggs—pretty much the only 2 dishes I have nailed down.
So why did I decide to try these meal kits? For me, the worst parts about cooking are figuring out what to make, buying all the ingredients, and then figuring out how the hell to make it. Meal kits are supposed to cut out those inconveniences.
I cooked meals with both Home Chef and Sun Basket, and while these meal kits aren't foolproof—I somehow managed to wipe sour cream in my hair at one point—they do make cooking dinner more manageable and much more delicious.
I Made Black Bean and Corn Tacos with Home Chef
Ordering
Ordering from Home Chef was super quick and easy. So many of the meals looked tempting, though the vegetarian choices were limited to 3. With a $30 off special offer I ended up paying just under $30 for 3 2-person vegetarian meals.
The email confirmation I received from Home Chef didn't match the amount I was charged on the site—it listed my total as $60. Reaching out to customer service was easy and I heard back the same day, confirming that the price listed on the site ($30) was in fact the correct price.
Unboxing
My Home Chef meal kit was waiting on my front steps on the morning of the delivery date, with everything packed neatly into a cardboard box. Inside the box were plastic bags containing the ingredients for each meal. The bottom of the box had a cardboard separator for protein, though none of my ingredients were stored down there.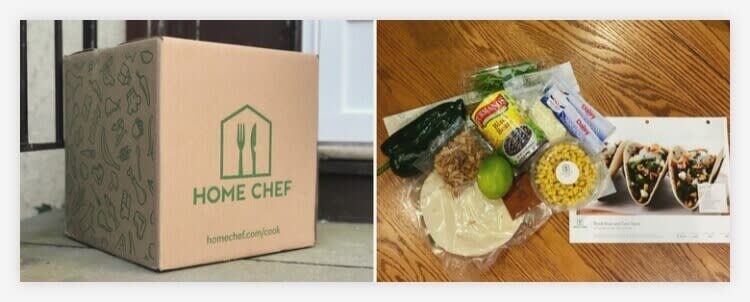 The recipe cards came on individual hole-punched pages and a I found a Home Chef recipe binder in the box for safe storing. I like the idea of saving the recipes for future use on my own—even if it is only an idea.
The recipe card was organized in a really simple way making it easy to follow the directions. The details on the card were extremely helpful and included details that an inexperienced cook like me could really appreciate—things like, "Mince cilantro (no need to remove stem)" and "Stem poblano pepper, seed, and cut into ¼ and dice."
Cooking
The Black Bean and Corn Tacos recipe was super easy. No measuring was involved whatsoever—just some bag opening and vegetable cutting. Knowing everything was the right amount removed another layer of stress from cooking.
I diced the cilantro and mixed it with the sour cream. Could I have diced the cilantro into smaller pieces? Probably. But again, I'm not your average cook.
I cut up the pepper with the help of the detailed instructions. When it comes to cutting produce, I seem to never know the most convenient cutting method, so having it spelled out for me was nice.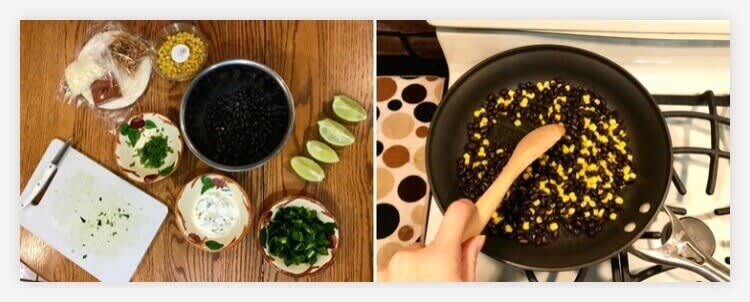 I added a few tablespoons of oil in a pan, then rinsed the black beans. Add to the list of things I learned while cooking—black beans are seriously stinky!
Next I was supposed to throw the corn and pepper in the pan but oops, started with the corn and black beans instead—nobody said this was foolproof. Once all 3 veggies were in the pan I added a chipotle powder mix and stirred. Things were starting to smell good.
I wrapped the tortillas in damp paper towels before microwaving them for about 30 seconds. Finally, I doled out the bean, corn and pepper mix onto the tortillas, topped with sour cream, cilantro, cheese and lemon, took a few pictures of my creations and took my first bite. Full of flavor, texture, yum!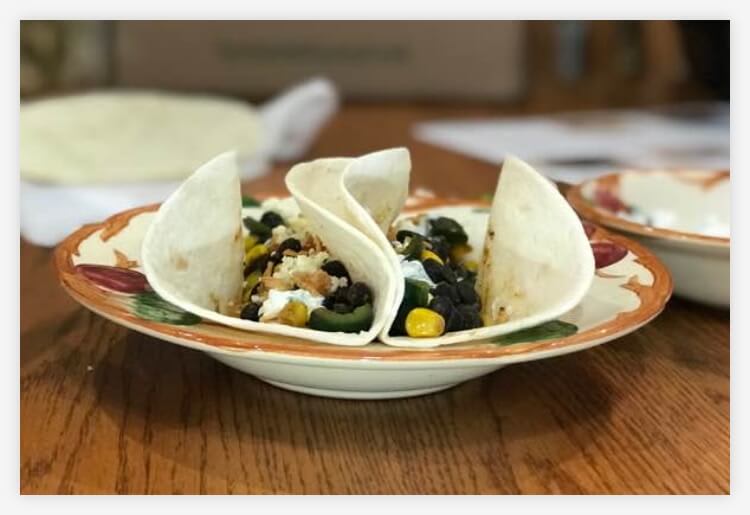 Black Bean and Corn Tacos with Poblano and Cilantro Crema
Prep and cook time: Home Chef says 20-30 minutes, took me 30
Level of difficulty: Home Chef says easy, I say so simple even I could do it

Home Chef Visit Home Chef
I Made Thai Green Curry with Cod, Spinach and Cauliflower "Rice" with Sun Basket
Ordering
Ordering my first Sun Basket meal kit was simple. I selected the vegetarian meal plan and had 7 recipes to choose from. I was basically drooling over my phone as I chose my meals for the week.
Options included dishes like Spaghetti with Chickpeas, Kale, and preserved lemon as well as Mu Shu Lettuce Cups with Braised Tofu and Wood Ear Mushrooms. Picking just 3 meals for the week was the toughest part of this whole process.
With a $35 off special offer, my 3 2-person meals cost a total of $36. The meal I cooked for this piece, Thai Green Curry with Cod, Spinach and Cauliflower "Rice" was marked vegetarian, paleo, soy-free, dairy-free and super speedy. Super speedy recipes can be cooked in around 15 minutes and in just 3 simple steps. It kind of feels like Sun Basket's super speedy meal options were made for cooking haters like me.
Unboxing
Everything arrived on time, in a large cardboard box packed with ice packs to keep things fresh—all of it recyclable. Every meal's ingredients came in a separate brown bag labeled by dish. The recipe book came like a mini magazine with all of the week's options including the meals I'd ordered.
The Thai Green Curry recipe was in the mini magazine, with a 2-page spread for the dish. The right-hand side of the page even had a section called, "Make It Leaner," with short instructions on what to cut out of the recipe if you want to cut 40 calories and 5 grams of fat from each serving.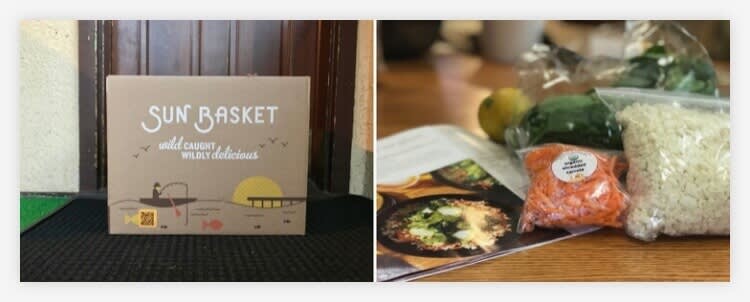 I unpacked the bag of cauliflower rice (already ground into rice form - thank goodness!), the slivers of carrots (pre-sliced), a small jar of green curry paste and fresh green spinach. At the bottom of the box, under a cardboard separator decorated cutely with fish punch outs, was a cooler section with the cod. All produce was organic and the cod sustainably caught. I wouldn't usually purchase this way but it is nice knowing I'm eating in a way that's good for the environment.
Cooking
It was a little intimidating getting started since fish seems like something for cooking pros—but once I got started I was shocked at how easy it was. The only thing I had to cut, chop or slice for this recipe was a lemon into 4 wedges.
I added 2 tablespoons of oil to a pan, mixed in the curry paste and added half a cup of water. Once the sauce reached a boil I turned down the fire and added the fish. In the meantime I added oil to a second pan, threw in the cauliflower rice and carrots, stirred and set a timer for 5 minutes.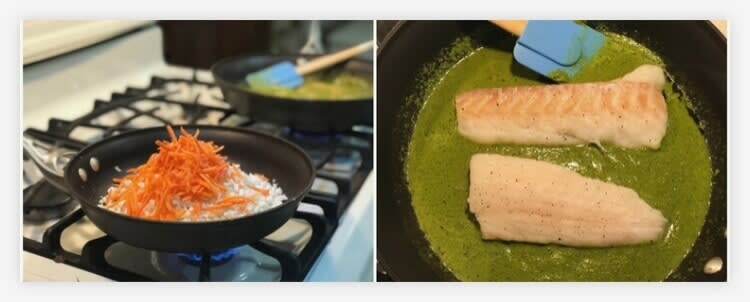 The fish only needed around 4 minutes to cook. The directions then had me add the spinach and stir. I realized pretty quickly that to really mix the spinach in to the curry sauce would mean breaking up the fish into little bits, so I took the fish out of the pan to stir in the spinach.
After that it was just portioning some cauliflower rice on a plate and topping it with the curry cod and spinach. I squeezed a little lemon on top and voila—it was seriously delicious. Like, I-can't-believe-I-really-just-made-that delicious.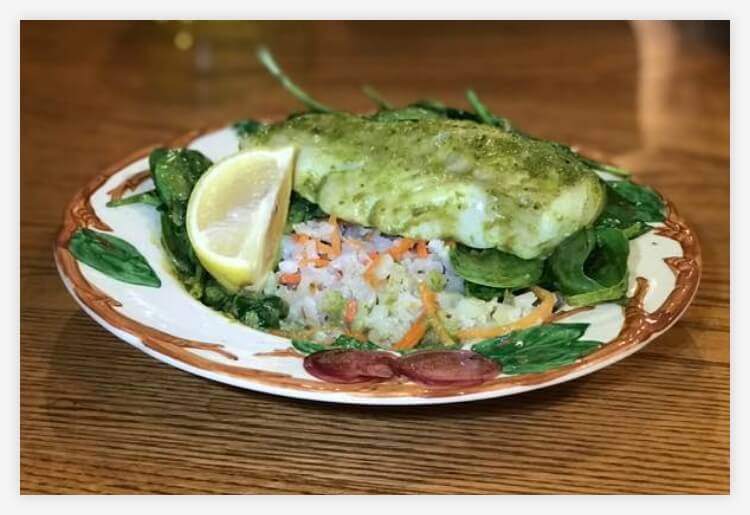 Thai Green Curry with Cod, Spinach and Cauliflower "Rice"
Prep and cook time: Sun Basket says 15-25 minutes, took me 25
Level of difficulty: Need no talent at all

Sunbasket Visit Sun Basket
Cooking Like a Pro
I'm not a great cook, I don't enjoy cooking, and it's likely I never will. Still, when I cooked with Home Chef and Sun Basket meal kits, the stress of the whole thing was removed and the results were absolutely delicious.
No grocery shopping, no planning, no measuring and not a lot of prep work. By doing (seriously) minimal work, I created amazing meals so full of flavor I couldn't believe I'd made them. I mean, I felt like a star when these meals were ready.
Did I enjoy cooking my meal kits? Not really. Will I do it again? Definitely.