In a Nutshell
Splendid Spoon is a health-driven meal delivery service that offers a selection of healthy, plant-based (vegan), GMO-free, soy-free, and gluten-free meals. Splendid Spoon is unique in that they emphasize breakfast and lunch options to make your wellness one less thing to worry about through each day. If your goal is to feel good about the food you eat on the go, Splendid Spoon is for you!
pros
All meals are vegan, GMO-free, soy-free, and gluten-free
Completely ready-to-eat or ready-to-reheat
Healthy nutritious options to help you on your wellness journey
cons
Some service area limitations
Only suitable for individuals, no multi-person options
Splendid Spoon Visit Site
Best For
People on a plant-based diet (especially vegan)
People who want to eat healthy, whole foods
People who want an entirely gluten-free and soy-free menu
People who have other dietary restrictions
Health goals (healthy weight loss)
One-person meals
Splendid Spoon Meal Plans
Splendid Spoon's ready-to‑eat and pre-portioned meal plans help you make healthier decisions throughout the day. They offer a week's worth of breakfasts, lunches, full-day "reset" options, and noodle bowls for dinners. Periodically Splendid Spoon launches new seasonal flavors, and the weekly menu selection regularly rotates based on customer ratings.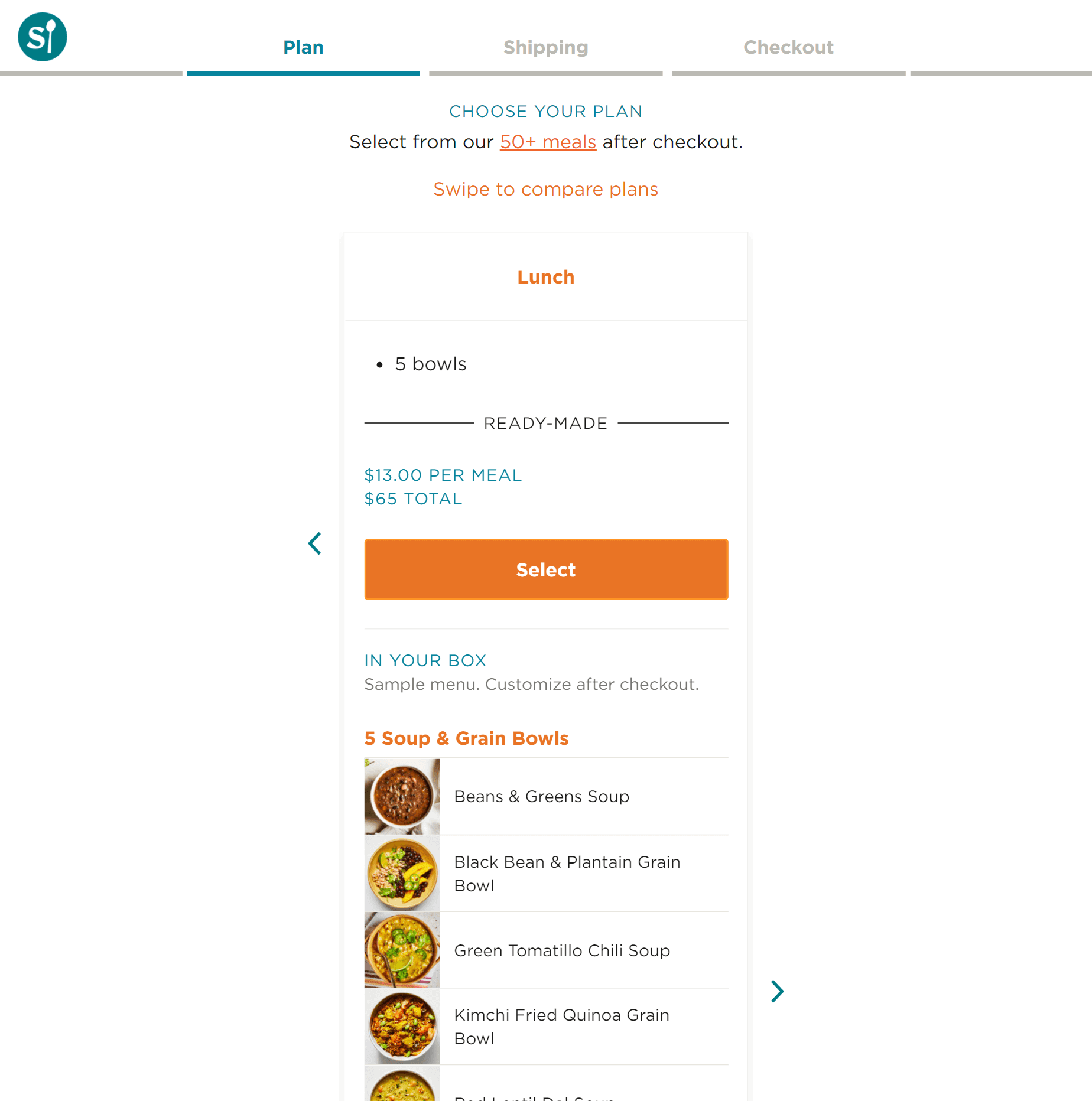 The four meal plans Splendid Spoon offers are:
Lunch: 5 bowls
Breakfast + Lunch: 5 smoothies, 5 bowls
Breakfast, Lunch, + reset: 5 smoothies, 5 bowls, 1 "full-day reset"
Breakfast, Lunch, Dinner, + reset: smoothies, 5 bowls, 5 noodle bowls, 1 "full-day reset"
Bowls include hearty soups and grain bowls. These are packed with fresh flavors and open up a world of possibilities for plant-based nutrition. Some top options are the kimchi-fired quinoa grain bowl and the broccoli and hemp seed soup, but most options look delectable.
The 16 oz. smoothies are fruit-based with nuts, seeds, and other superfood plant-based additions. There are 18 options, but some popular ones are the carrot ginger chia smoothie, the mango guava smoothie, the coffee frappe smoothie, and the power greens smoothie.
The one-day reset includes 5 light and flavorful soups like butternut turmeric and fennel consomme. These are advertised to give your digestive system a break and kickstart a lagging wellness journey, but as healthy soups made from fresh ingredients, they can really support a variety of health goals.
Dinner includes 5 noodle bowls per week. Most of these options adopt world flavors like Thai red curry, Chinese dan dan noodles, and classic Italian noodle and veggie dishes. This plan is the newest addition to their menu and growing in popularity.
Lastly, extras include cold-pressed juices, concentrated superfood shots, and a smattering of sweet energy-dense bars from Urban Remedy. The matcha energy bar, Chaga protein bar, and seed butter bar are your choices for satisfying a sweet tooth or when you need a midday snack.
You can also search for options based on dietary preferences and restrictions:
Higher fiber (3+ grams of fiber per serving)
Higher protein (6+ grams of protein per serving)
Lower calorie (<200 calories per serving)
Lower fat (5 grams or less per serving)
Lower sugar (<6 grams per serving)
Lower carb (<20 grams carbs per serving)
Lower sodium (12% of the daily value or less per serving)
Blood sugar friendly (less than 30 grams of carbs per meal)
Besides these, you can also add the following filters: no soy, no tree nuts, no cilantro, no coconuts, no spicy ingredients, no beets, no bananas, no mushrooms, or no caffeine.
Splendid Spoon is one of the most tailored pre-made meal delivery services out there.
Keep in mind that each meal is actually labeled as 2 servings. This means that if you eat the whole meal (and who wouldn't?), remember to double the nutrition facts.
How Much Does Splendid Spoon Cost?
Splendid Spoon is in the middle range of affordability, which makes sense for the premium ingredients and the wellness emphasis of each meal. Fortunately, the more meals you order, the less you pay per meal.
When it comes to value, Splendid Spoon is a little pricey since most meals are relatively small, but they make up for it with fresh, nutrient-dense, mostly organic ingredients.
There is no membership cost for Splendid Spoon.
Breakfast (5 smoothies/week)
Breakfast, Lunch, + Reset (5 smoothies, 5 bowls, 1 full-day reset)
Breakfast, Lunch, Dinner, + Reset (5 smoothies, 5 bowls, 5 noodle bowls, 1 full-day reset)
Splendid Spoon offers a loyalty program that allows you to accrue points tradable for more Splendid Spoon meals. For every $100 you spend, you earn 5 points. 1 point equals $1 in credit, which you can redeem when you reach 25 points. When you refer a friend to Splendid Spoon, you get 25 points.
You'll receive a pack of their best-selling wellness shots with your first order as well (a $15 value).
Splendid Spoon is also one of few meal delivery services that give you an option to just try one day's worth of meals to see if you like it. For people who are hesitant to buy something they haven't tried, the "On-demand-box" feature is a game-changer.
How Splendid Spoon Works
Ordering Experience
The ordering process starts with selecting which meal plan works best for your needs. Then, enter your zip code and email to see if there are any availability restrictions for your area.
Once confirmed, Splendid Spoon collects your delivery and payment information, including your preferred delivery dates. At this stage, you can also set your dietary restrictions and preferences so that your account always matches up with what you'd be able to eat.
Keep in mind that all foods are made in facilities that may have had cross-contact with any of the top 8 allergens set by the FDA.
Choosing Meals (Personalization)
Once you check out, choose from over 55 meals, and you can customize your order every week (as long as you do so before the weekly deadline). Then wait for your selections to arrive, ready to refrigerate, reheat, and eat at your convenience.
Conveniently, Splendid Spoon has a rating feature to help narrow in on what you eat on a regular basis. Rate a meal with a thumbs-down and it will be removed from your default menu. Splendid Spoon replaces any thumbs-downed meals with options you liked with a thumb's up.
Splendid Spoon Packaging, Shipping and Delivery
Meals are shipped either frozen or refrigerated and are packed in sustainably plant-derived insulation. Orders are shipped to most places in the continental U.S. via FedEx, Ontrac, CDL, and AxleHire and arrive on Wednesdays and Fridays.
Everything is sealed to ensure nothing leaks in transit and delivered on dry ice to prevent spoilage while minimizing the environmental impact of shipping. Boxes, plastic bottles, and bowls are 100% BPA-free and recyclable.
The grain and soup bowls can stay fresh in the fridge for up to 7 days and frozen for up to 1 month. Each smoothie comes with a use-by date for freshness.
Splendid Spoon App
Splendid Spoon does not have an app for smartphones and tablet devices.
Splendid Spoon Customer Service
Splendid Spoon's Help Center is full of useful information, including details about shipping, delivery, meal plans, billing, and more.
You can also contact Splendid Spoon customer support via live chat and email. Business hours are Monday-Friday, 10 AM to 8 PM, and weekends, 10 AM to 6 PM EST.
Customers say that Splendid Spoon does an admirable job at taking care of mistakes. They are known for friendly customer service and going above and beyond to ensure their customer satisfaction, refunds included!
Splendid Spoon's offering of blogs is extensive. Get to know the team through the years, or get to know a recipe as it's made before your eyes. Consider the perspective of a resident health coach, or refine your own with timely articles on foods for immune health, heart health, and even mental health.
How to Cancel or Pause Splendid Spoon
To cancel your Splendid Spoon account, log into your personal account page, click on "Edit plan" and then click "Cancel your plan". Select a reason for the cancellation and then finalize by clicking 'Finish canceling my account.'
Similarly, to skip a week of your subscription, just log into your account and navigate to Manage Upcoming Deliveries, and skip the week(s) you do not want to receive a delivery. In order for these changes to be applied to the week in question, for Wednesday deliveries you must make changes by 4 PM EST on Thursday, and for Friday deliveries you have to make changes by 4 PM EST on Sunday.
How Splendid Spoon Compares to Other Meal Delivery Services
Dietary Restrictions Catered To
Plant-Based, Gluten-Free, Low-Sodium, Dairy-Free, Soy-Free, non-GMO
Vegan, Gluten-Free, Low-Carb, Nut-Free, Soy-Free
Keto, Paleo, Mediterranean, Low-Calorie, Vegan, Vegetarian, Gluten-Free
Paleo, Vegetarian, Low-Calorie, Low-Carb, Mediterranean, Pescatarian, Diabetes-Friendly
Amount of prep work required
2 minutes for prepared meals, 25 – 45 minutes for dinners
5-10 minutes for prepared meals, 15-40 minutes for recipes
Eco-friendly packaging on dry ice
Recyclable liners and plastic containers
Compostable trays, recyclable containers
Delivers on promises (e.g., 15 minutes to cook)
Splendid Spoon vs Purple Carrot
Splendid Spoon and Purple Carrot are essentially two sides of the same coin. Both are health-conscious and plant-based meal services, but where Splendid Spoon provides fully vegan grab-and-go meals throughout the day, Purple Carrot wants to make meal prep easier around dinner time with premade heat-and-serve meals and easy to assemble meal kits.
Purple Carrot appears more expensive, but offers more calories per portion, so the price per serving may be similar. Splendid Spoon caters to many more dietary restrictions. Ultimately, the comparison is only partly fair since these services focus on different needs.
Splendid Spoon vs Green Chef
Green Chef and Splendid Spoon have similar goals of making healthy eating easy, but they go about it differently. Green Chef's purely organic line is split into 6 main menus based on dietary preferences. Although you have to do the cooking, the planning, groceries, and some prep work are taken out of the equation.
Splendid Spoon, on the other hand, takes all the prep work out of the process in their entirely non-GMO menu, making it the more convenient option by far. Another major difference is that Splendid Spoon only offers a meal plan for one, while Green Chef can accommodate a 6-person household.
Splendid Spoon vs Sunbasket
Splendid Spoon and Sunbasket both make healthy the easy choice. Sunbasket has a more diverse line of meal items, which includes animal products for people not ready to go completely vegetarian. Sunbasket accommodates individuals who want dinner a little easier and faster, but they also offer completely premade options.
Splendid Spoon, on the other hand, takes a different approach to the same end goal with even more convenient options and even more restrictions accommodated in their completely vegan line. The comparison is hard, but the difference comes down to how much time you want to save and whether you want or need a fully vegetarian line of foods to choose from.
Splendid Spoon Visit Site
Bottom Line:
Splendid Spoon is ideal for the needs of health-conscious people, with or without dietary restrictions, who want on-the-go meals for a busy lifestyle. The ever-expanding, diverse array of plant-based ingredients keeps your taste buds happy, and the healthy, portion-controlled meals keep you feeling your best without even thinking about it.