BistroMD Visit site
Overview
BistroMD Meal Plans
BistroMD lets you pick both your meal plan and your meals each week. The meals are created by chefs and feature high-quality fresh ingredients that are then frozen before being shipped.
Dietary Options at BistroMD
The BistroMD Standard Signature Program for Women is designed specifically for a woman's nutritional needs by Dr. Caroline Cederquist, with meals containing 1,200 calories.

The meals in the BistroMD Standard Signature Program for Men contain 1,600 calories and are tailored to meet men's unique calorie and nutrition requirements. Meals for both women and men are crafted to correct metabolic dysfunction.

The BistroMD Diabetic Program meals have a consistent amount of carbohydrates for blood sugar control. Entrees contain 25 grams or less of net carbohydrates to support good blood sugar control.

The Heart Healthy Program meals from BistroMD meet the American Heart Association's recommendations for calories, fat, and sodium. All meals contain less than 600 mg of sodium and less than 3.5 grams of saturated fat per serving to promote heart health.

BistroMD's Gluten-free Program features meals that can help if you suffer from Celiac disease or gluten sensitivities. All meals are tested to meet the FDA gluten-free standards and contain no wheat, rye, or barley. BistroMD is the only doctor-designed gluten-free meal delivery service.

The Menopause-Friendly BistroMD Program is designed to support weight loss during a time of changing hormones. All meals contain less than 25 grams of net carbohydrates to regulate blood sugar and keep insulin production low, which also helps with weight loss.

The Full Package Plan from BistroMD offers the most nutrition support during the week and features either 5- or 7-day delivery options. The seven-day plan provides for all your nutrient needs with 7 days of meals, including 7 breakfasts, 7 lunches, and 6 dinners. There is a "my night" planned into each week to allow you the flexibility to prepare a meal or go out to eat. The five-day plan provides more flexibility during the week with meal planning by providing 5 breakfasts, 5 lunches, and 5 dinners.

Lunches & Dinners Plan, as the name suggests, only provides lunch and dinner meals, it does not include breakfast. If you need meal support, but already have a good breakfast plan, this option will work for you. These can be customized to provide either 7 or 5 meals for lunch and dinner.
Our Favorite Meals from BistroMD
The Barramundi Sea Bass with Sweet Coconut Pineapple sauce was easy to pick as our favorite from BistroMD's Heart Healthy Program. The fluffy jasmine rice and whole green beans paired excellently with the barramundi which is sustainably-sourced: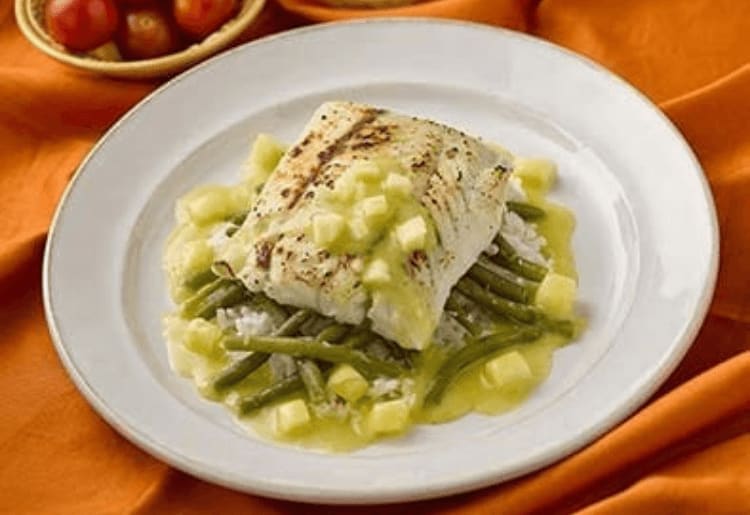 Barramundi Sea Bass with Sweet Coconut Pineapple Sauce
When it came to gluten-free options from BistroMD, the Pork Tenderloin with Mushroom Marsala was a clear winner, especially since the pork was accompanied by one of the tastiest sides of mashed potatoes we've ever tasted.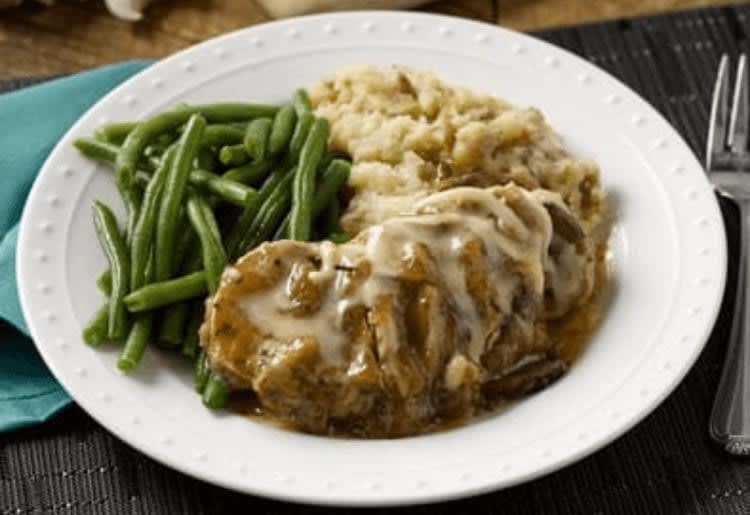 Pork Tenderloin with Mushroom Marsala
How BistroMD Works
BistroMD is one of the simplest diet meal delivery plans in the industry. Everything is taken care of from nutrition and shopping, to cooking and shipping. All you'll need to do is pick your plan and wait for the food to arrive.
How to Get Started With BistroMD
You'll need to create an account in order to place your order from BistroMD. Orders can be placed online or over the phone. First, you set your preferred plan. Choose from one of the five programs including Standard, Diabetic, Heart Healthy, Gluten-Free and Menopause. Your menu program is flexible and can be changed to suit your taste.
How to Choose Meals from BistroMD
After you've chosen one of the five BistroMD meal programs, you will be asked to set your taste preferences, and choose a plan that meets your dietary needs. You can choose either the 5- or 7-day plans. Then, select whether you'd like 2 or 3 meals delivered each day as part of your plan. You can customize your program further with dietary preferences such as low sodium, vegetarian, vegan, dairy free, and low carb. Once you've ordered, you can begin to customize your diet with the help of registered dietitians.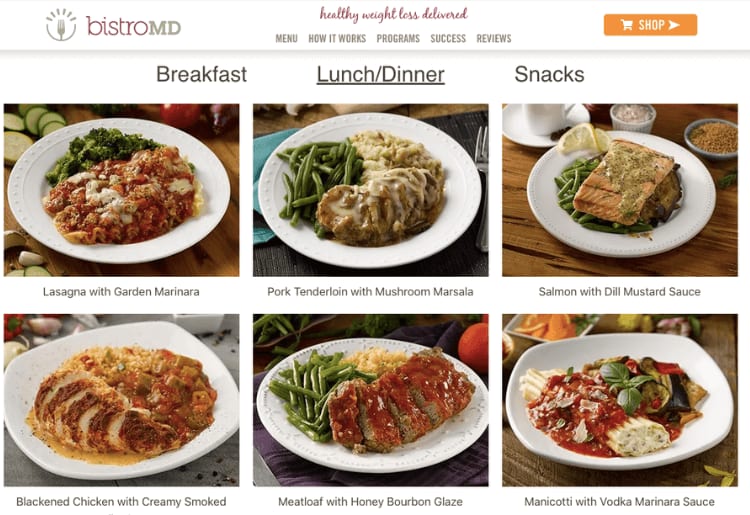 Does BistroMD Have Cooking Instructions?
BistroMD's pre-cooked meals arrive frozen and only need to be reheated in the microwave before eating. Heating instructions are provided on the packaging, and are usually ready in under five minutes.
What Makes BistroMD Stand Out?
Other programs may have meals designed by MDs or RDs, but what we love about BistroMD is the amount of professional support you get from the registered dietitians that work with the program, who can be reached over the phone or via Skype.
Another great feature is the BistroMD EATS - a snack program, featuring over 45 different snacks, including protein bars, shakes, granola, nuts, chips, and more. Snacks are sold separately and start at $2.00 each.
How are BistroMD Meals Packaged and Shipped?
BistroMD's weekly meal deliveries arrive in an insulated cooler, lined with 100% recyclable material made from post-consumer and post-industrial materials. Meals are individually wrapped in plastic trays that are BPA leak-proof. Paper packaging materials are all recyclable. The standard shipping rate is $19.95 for all orders. If you are a new customer, you will receive free shipping on your first order.
BistroMD uses FedEx for deliveries. You'll receive email notifications once your orders have been shipped so you can easily track your orders. Packages typically take between 5-6 days to arrive after being processed.
BistroMD Customer Support
Find answers to commonly asked questions about BistroMD in their in-depth FAQ section. In addition, you can contact the customer service team by phone at 1-866-401-3438 from Monday to Friday from 8am to 8pm ET, and from 9am to 6pm ET on Saturdays and Sundays. You can also send an email to customerservice@bistromd.com
If there is an issue of damaged or broken packages during delivery, BistroMD can issue a credit to your account, but BistroMD does not issue refunds or offer exchanges.
How to Cancel or Pause a BistroMD Subscription
Manage your MyBistro Subscription easily on the website. Your weekly subscription can be canceled or paused at any time, in the event you are going on a trip or need to take a break.
You are charged weekly for the program. If you want to pause or cancel your subscription, simply submit your request before Wednesday at 5pm EST.
Is There a BistroMD App?
BistroMD does not have an app, access all your meals directly from the BistroMD website.
BistroMD Pricing
How Much Does BistroMD Cost?
BistroMD offers meal plans that cover your meals for five or seven days a week, for as little as $9.99 per meal with no membership fee. The Full Program from BistroMD starts at $169.95 for 2 meals per day and $199.95 for 3 meals per day. The Lunch & Dinner Program's weekly price starts at $139.95 for two meals per day and $169.95 for 3 meals per day. Shipping costs $19.95 per order.
14 lunch/dinner meals for 7 days
10 lunch/dinner meals for 5 days
BistroMD Alternatives
How Does BistroMD Compare to Other Meal Delivery Services?
BistroMD offers more meal plans and special dietary options than their competitors at a minimal cost.
Vegetarian, vegan, low carb, heart-healthy, low sodium, dairy-free
Vegetarian, gluten-free, dairy-free, nut-free
Vegetarian, diabetes, keto/low carb
Insulated boxes made with recyclable materials
Partially recycled cardboard
Combination of recyclable and biodegradable materials
Styrofoam and recyclable plastic
BistroMD vs HelloFresh
BistroMD delivers prepared frozen meals to you, while HelloFresh delivers fresh ingredients for meals that you prepare at home. Both plans place an emphasis on nutritious foods featured in balanced meals. However, if you are looking to save time and money meal planning, BistroMD is a preferred choice.
BistroMD vs Nutrisystem
Both BistroMD and Nutrisystem are meal delivery services specifically designed for weight loss. Nutrisystem is more economical in that all meals, including snacks are provided for each of the plans. BistroMD has a snack program, but these are sold separately.
BistroMD vs Diet-to-Go
BistroMD and Diet-to-Go are two meal delivery systems designed to heat and eat. You can customize both plans to whether you want meals 5 or 7 days per week and choose between 2 and 3 meals per day. BistroMD offers more options for dietary restrictions than Diet-to-Go, making it a better meal plan if you have specific nutrition needs.

BistroMD Visit site
Bottom Line
If you're struggling to lose weight and need portion-controlled meals along with support and guidance, BistroMD can help you meet your weight loss goals. Meals arrive ready to heat and eat, eliminating the hassle of meal planning and preparation. Pricing is reasonable, especially considering the fact that you can choose from over 150 different menu items, and get personalized support and consultations from registered nutritionists and dieticians.