In a Nutshell
CookUnity is a meal delivery service offering easy chef-cooked meals—all you need to do is heat and serve. With its wide selection of dishes from global cuisines, you'll get to choose from nearly 100 meals every week. Better yet, you can filter out any meals that don't meet your requirements, preferences, or dietary restrictions. Subscriptions are completely flexible, allowing you to reschedule, pause, or cancel your deliveries at no extra cost.
pros
Free shipping
Compostable packaging
Meals prepared by a network of professional chefs
cons
Doesn't deliver to all states
Not suitable for individuals with food allergies
Best For
One-person meals

Vegans and vegetarians

Low-carb dieters
CookUnity Meal Plans
All CookUnity meals are delivered cooked and ready to eat. All you have to do is reheat the food in your oven or microwave for two to 20 minutes, depending on the food.
CookUnity gives you the choice to pick the number of meals you would like to receive per week. The available choices are four, six, eight, 12, and 16 meals per week. Each meal contains one serving of food, enough for a normal adult.
In addition to its meals, CookUnity offers a selection of cold-pressed juices, smoothies, treats, and nutritious breakfasts.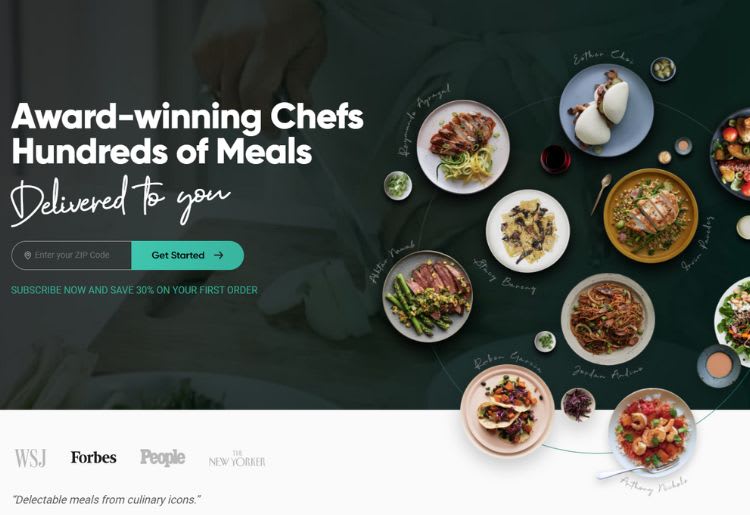 CookUnity Dietary Options and Programs
CookUnity offers a variety of dietary options for you to choose from. The website allows you to filter for each preference when selecting your meals for the week. Here are the dietary options available.
Vegetarian
These include meals that exclude meat products but include other animal products, such as butter and yogurt.
Vegan
For those who prefer to exclusively consume plant-based products, CookUnity's menu has a varied selection of meals made with no animal foods or products.
Low calorie
CookUnity has a selection of meals below 600 calories for those who want to limit their intake. These are wonderful for those trying to lose weight while still getting all the nutrients they need every day.
Low carb
This category includes meals that are suitable for a low-carbohydrate diet. In place of high-carb options like rice or bread, the meals use low-carb replacements like cauliflower rice.
Gluten free
If you're staying away from gluten, you'll have a variety of options for meals that don't include wheat.
Dairy free
This category contains both vegan meals and meals that have meat but no dairy. If you still consume animal foods but need to limit your dairy intake, this is the right option for you.
Low sodium
Watch your sodium intake with CookUnity's low-sodium selection. However, note that this group may only have few options, sometimes as few as three per week.
Keto
If the low-carb options still don't fit your macronutrient goals, you can opt for keto meals which often contain even fewer carbs than low-carb options.
Paleo
Even though most of CookUnity's meals don't contain a lot of processed ingredients, you can opt for paleo meals to ensure that you completely cut out overprocessed foods.
Seafood
Enjoy a rich selection of seafood such as lobster, cod, shrimp, and salmon. Not only are these meals loaded with wonderful flavors, but they are also rich in nutrients, particularly omega-3 fats, which are lacking in most people's diets.
Our Favorite CookUnity Meals
Due to the large network of CookUnity chefs, you'll have nearly 100 meals to choose from per week. Here are some of CookUnity's most popular menu items.
If you are looking for a dinner packed with healthy unsaturated fatty acids, look no further than the adobo grilled salmon. The meal contains a generous serving of salmon served with sweet potatoes and broccoli to amp up the nutrition.
Seafood enthusiasts will enjoy the shrimp and vegetable fried rice with daikon kimchi. Even though the meal is quite high in calories, it is even richer in a variety of nutrients that many people on a typical diet would be missing out on. Most notably are the probiotics that you'll get from eating the fermented kimchi and the healthy fats from the fish.
For a delicious and filling breakfast, the Be Well green breakfast is made with nutritious, filling foods such as almonds, blueberries, bananas, and coconut to keep you full and energized.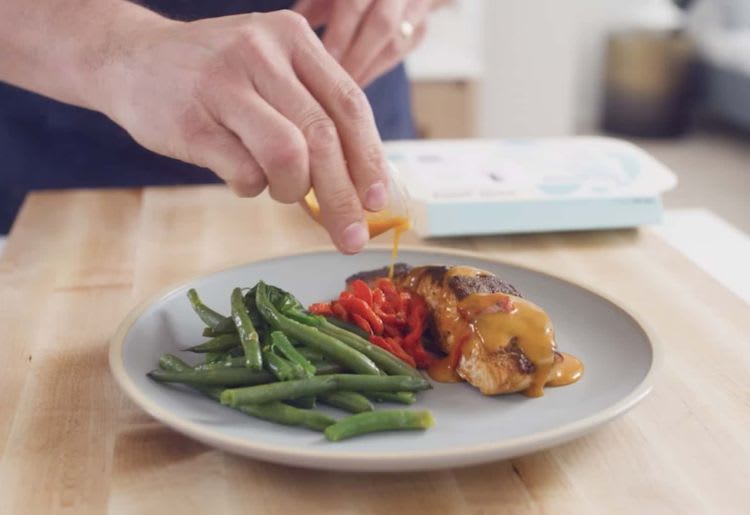 How Much Does CookUnity Cost?
CookUnity meals cost from $10.39 to $12.69. The more meals you order per week, the lower the cost. Some meals may have an additional cost of $1.99, $2.99, or $6.99, depending on the ingredients.
CookUnity offers free delivery, and new customers get 30% off their first week.
Meal Plan (Number of meals per week)
How CookUnity Works
How to place an order with CookUnity
To sign up for CookUnity, you'll need to enter your postcode first. After entering your postcode, you can choose the number of meals you would like to receive per week. If you have a promo code, you can apply it here before moving on to choose your preferred protein source and your first set of meals.
Finally, check out after entering your name, address, and delivery instructions.
How to choose meals with CookUnity
The first step in choosing meals with CookUnity is selecting your protein preference. You can choose three out of six options: meat, poultry, pork, seafood, vegetarian, and vegan. After this, you will be recommended meals that match your protein selection.
You'll initially be shown meals that match your selected preferences. If you have any dietary restrictions or would like to see meals outside your recommendations, you can click any of the filters at the top of the meals page. Available filters include seafood, vegetarian, meat, poultry, vegan, less than 600 calories, low carb, gluten free, dairy free, low sodium, keto diet, and paleo.
Does CookUnity Come with Cooking Instructions?
CookUnity meals come fully prepped and just need to be heated, so detailed instructions shouldn't be needed. You can scan the QR code on your meal to digitally view the heating instructions, expiry date, and nutritional information. For a more detailed breakdown of the heating instructions, you can visit the past deliveries page on your account.
What Makes CookUnity Stand Out?
CookUnity's most stand-out feature is that the food is prepared by a variety of chefs from various backgrounds. Unlike many other meal kit services, which provide about 30 options a week, CookUnity is able to offer nearly 100 high-quality options due to its extended chef network.
Another factor that stands out with CookUnity is the availability of higher-end meal items such as lobster, which are rarely provided by other services.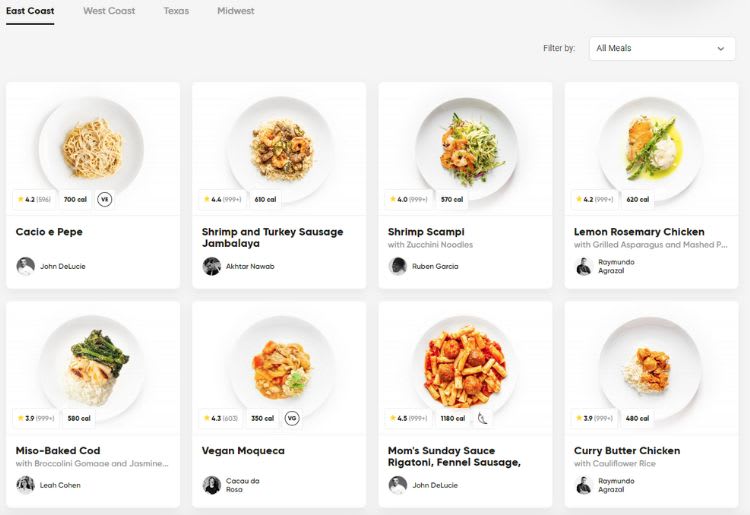 CookUnity Packaging, Shipping and Delivery
CookUnity delivers to all states in the US except Montana, Hawaii, North Dakota, South Dakota, West Virginia, Alaska, and some parts of Wyoming, Nebraska, and Colorado.
Note that CookUnity only delivers on Tuesday-Friday. You can choose to receive your delivery or have it left by the door. If you're not home, you don't have to worry, as the meals are packed with gel packs that keep the food cool.
The company makes an effort to use sustainable packaging options during delivery. The box, insulation, meal trays, and gel packs are all recyclable. You can choose to reuse the bag or give it back for recycling on your next delivery. To recycle the gel packs, you'll have to empty the non-toxic gel into a bin first.
Is There a CookUnity App?
The CookUnity app is available for both iOS and Android. The app works similarly to the website, with no outstanding additional features.
CookUnity Customer Service
If you need to get in touch with CookUnity's customer service team, you can use the chat assistant on the website, email the team at support@cookunity.com, or text +1 (347) 835-5020. However, if you have a simple question, you may find the answer on the detailed FAQs page on the CookUnity website.
In case of any problems with your delivery, you must take a photo and make a complaint as soon as possible. Refund requests must be made within two days of receiving your food, otherwise, they won't be accepted. CookUnity doesn't issue refunds without photographic evidence.
How to Cancel or Pause CookUnity
To cancel your CookUnity subscription, simply log in to the website or app and head to the My Account section, where you'll find the option to cancel your subscription.
If you simply need to pause your CookUnity deliveries, you'll still go to My Account and select the weeks you'd like to skip. You can pause your deliveries for up to eight weeks at a time, during which you won't be charged.
How CookUnity Compares to Other Meal Delivery Services
Reheating options + prep and cook yourself options
CookUnity vs Factor_
Both CookUnity and Factor_ offer pre-cooked meals to their subscribers. They are both well-reviewed services that offer a range of meal options and cater to different dietary restrictions and preferences. However, Factor_ has the slight advantage of delivering to all the states except Alaska and Hawaii.
CookUnity vs Home Chef
CookUnity and Home Chef differ in the type of meals they offer. While CookUnity provides pre-cooked meals, Home Chef offers both no-prep meals and meal kits that require cooking. While Home Chef is slightly more affordable than CookUnity, the difference could be worth it due to CookUnity's high-expertise network of chefs and free shipping.
CookUnity vs HelloFresh
HelloFresh provides meal kits that require cooking while CookUnity offers already-cooked meals. Those who love artisanal food or have no time to prepare their meals might prefer CookUnity, while those who love to cook, or want to learn, might prefer HelloFresh. However, HelloFresh is much more affordable than CookUnity.
Bottom Line
CookUnity is a unique meal delivery service that gives you access to chef-prepared meals every week. The service has a large network of chefs from different backgrounds, giving you access to a huge selection of up to 100 meals per week. The service is great for families, individuals, couples, and those with specific dietary preferences or restrictions. The wide selection of meals alone makes the service definitely worth a try. Take advantage of their first-time customer discount and get your order at 30% off.