In a Nutshell
RealEats is a fun and customer-friendly meal delivery service that offers world-class chef-prepared meals that come to your door fresh and ready to eat. With a huge selection of meals, varied and easy pricing plans, and next day delivery, RealEats sounds like a great way to get the freshest food that's good, and good for you. Is it, though? Let's find out.
pros
Free delivery on all orders
Fully prepared meals ready in 6 minutes
All meals are under 600 calories
cons
Not good for highly allergic eaters
Can't customize delivery dates
Doesn't deliver to all states
RealEats Visit Site
Ideal For
Anyone trying to lose weight and having difficulty
Busy people who still want to eat healthy and well
People living within the shipping zones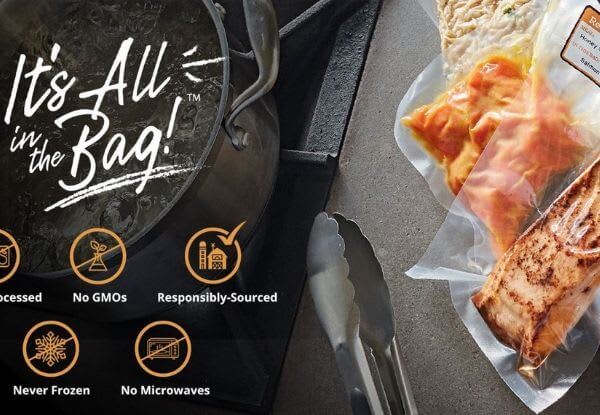 What's Unique About RealEats?
RealEats is in a competitive industry with a lot of opposition striving for the same buck. But there are several things that make this company stand out from the rest. Here are a few standout features we noticed when reviewing:
Fast and easy food
Gone are the days when the only available fast food was greasy, artery-clogging sandwiches that came out of a drive-thru window. RealEats offers delicious, healthy, and filling meals that are fully prepared and ready to eat in just 6 minutes. Take that, McDonald's! What's more, RealEats meals come vacuum-packed in BPA-free food-safe bags. You can just toss them into boiling water for a quick and easy heating process.
Low-calorie option
RealEats is also an excellent choice for people trying to lose weight. That's because all meals are under 600 calories. So, you can get a meal that will satisfy you and keep you under your daily calorie budget too.
Premium quality food
RealEats does fine dining right. It uses only locally-sourced ingredients and has each meal prepared by professionals. World-class chefs are cooking your food. You can't get that offer from a restaurant without paying big bucks for it. All meals are GMO-free, never processed, never frozen, and responsibly sourced. Your food doesn't have to touch a microwave either since it is packaged in those food bags we discussed. So, if you are worried about zapping away the nutrients in your meal, you can skip that concern.
Plus, RealEats lets you choose your meals before you put in payment information. We like that kind of transparency.
How It Works
Ordering from RealEats is simple.
Decide how many meals you'd like to order.
Choose from the scrumptious menu items. It's got a convenient meal countdown, so you know how many meals you have left to choose.
Submit your order by 11:59 pm EST on Wednesday to receive the following week's meals
Enter your shipping and billing information.
Wait for your food to arrive.
When your meals arrive, you can heat and eat immediately. RealEats meals can stay in your fridge for up to a week before the freshness and quality deteriorate. And while you can do what you like with your food, RealEats does not recommend freezing these meals. The whole design is meant to be enjoyed as a fresh, healthy alternative to ordinary frozen TV dinners—same advice for microwaving. If you do decide to throw caution to the wind and microwave your meal anyway, just make sure to take off any of the plastic packaging beforehand.
Before you get excited, though, there's a catch. RealEats doesn't deliver to every state in the US. The states that qualify for delivery include:
Connecticut
Delaware
Illinois
Indiana
Kentucky
Maine
Maryland
Massachusetts
Michigan
New Hampshire
New Jersey
New York
North Carolina
Ohio
Pennsylvania
Rhode Island
Vermont
Virginia
West Virginia
Additionally, RealEats only delivers to select areas in the following states. If you live in one of these states make sure to check that you're in the delivery radius:
Most of South Carolina
Most of Tennessee
Most of Wisconsin
Parts of Alabama
Parts of Georgia
Parts of Iowa
Parts of Minnesota
Parts of Missouri
That's a lot of locations, so there's a good chance that you're covered. Just check the list before you start planning dinner.
Meal Options
RealEats has a great selection of meals to choose from. Every week, you'll get to browse through roughly 15-20 different meal options. The choices are broken down into chef selections, featured best sellers, around a dozen delectable dinner options, and 4 hearty breakfast meals. You can mix and match, choose whichever looks the best to you, or decide based on the nutrition information or ingredients used in a dish. Dishes come as single-serving meals, so if you're cooking for more than one person, calculate accordingly.
RealEats has a nice combination of meal types, as well. You can find a combination of meat dishes, including beef, lamb, and chicken, as well as some mouth-watering seafood options. RealEats also caters to vegetarians, offering an impressive selection of vegetarian foods for a meal delivery service that isn't strictly vegetarian. Oh, and if you have specific allergies you are worried about, RealEats posts all allergen information on the nutrition information pages within the website. It is worth noting, however, that RealEats states clearly that it cannot guarantee cross contamination hasn't occurred within the kitchen.
Favorite RealEats Meals
While everything on the site looked amazing, here are the 3 meal options from RealEats we chose (and loved!)
1. Balsamic Glazed Steak w/ Sautéed Green Beans, Toasted Almonds, and New Potatoes
Cost per serving: $11.50-$13.50
Prep & cook time: 6 minutes
Difficulty level: Very easy
Calories per serving: 430 calories
Other available info: Grass-fed sirloin steaks are marinated in a balsamic glaze, paired with buttery green beans, toasted almonds, and roasted potatoes for a filling meal that's loaded with vitamins and under 500 calories.
2. Southwest Grilled Chicken Bowl w/ Black Bean and Corn, Whole Grains, and Creamy Cilantro Vinaigrette
Cost per serving: $11.50-$13.50
Prep & cook time: 6 minutes
Difficulty level: Very easy
Calories per serving: 540 calories
Other available info: Simple and elegant, this grilled chicken breast offers a hearty combination of whole grains, rich black beans, and tantalizing cilantro dressing for the ultimate meal in a bowl.
3. Hearty Roasted Breakfast Hash w/ Ginger and Sage Chicken Sausage, Shiitake Mushrooms, and Red Potatoes
Cost per serving: $5
Prep & cook time: 6 minutes
Difficulty level: Very easy
Calories per serving: 270 calories
Other available info: Mornings are better when they start with shiitake mushrooms, scallions, and big chunks of cheddar cheese tossed in ginger and sage.
RealEats Pricing
RealEats has reasonable pricing for a meal delivery service. That is, you can get cheaper options by going to a fast food place or ordering meal kits (instead of ready-made meals). But within this sector, RealEats is moderately priced. Here's a breakdown of the RealEats Dinner Plans:
RealEats also offers Breakfast plus Dinner plans. This gives you the option to have 2 healthy meals prepared for you each day, increasing your health and advancing your weight loss goals. Here are the Breakfast + Dinner plans available:
As you can see, the more meals you order, the cheaper each individual meal becomes.
Delivery for all meal plans is free and arrives via FedEx or UPS. You'll also receive 25% off your first order for signing up.
RealEats Visit Site
Help & Support
RealEats has customer support available through email at support@realeats.com, or phone at 1-855-695-6387. There's also a helpful FAQ section on the website that gives you most of the answers you are looking for.
Bottom Line
RealEats was really easy to work with, ordering went smoothly, and you have a ton of plans to choose from. This is great because it caters to a wide variety of people from singles to families with kids. RealEats also has a delicious selection of meals all under 600 calories for weight-conscious individuals. Add to that the freshness of eating food that was just recently prepared by talented chefs, and RealEats is really the only way to eat.