In a Nutshell
RealEats is a hidden gem in the meal delivery world that champions local farms, seasonal produce, and restaurant-quality meals. Their secret to maximizing flavor is sous-vide, a simple boiling method used by high-end restaurants to heat food in less than 6 minutes. RealEats is right for parents and professionals who don't have time to plan meals but are looking for nutritious, top quality dinner solutions.
pros
Fully prepared meals ready in 6 minutes
Seasonal, locally sourced protein and produce
Large variety of menu add ons
cons
Does not deliver to all US states
Limited choices for many dietary restrictions

RealEats Visit Site
Best For
Busy people who want to eat healthy and clean
People looking for local and seasonal menus
Anyone trying to lose weight
RealEats Meal Plans
Based in Geneva, NY, RealEats sources ingredients from local farms and their chefs create a seasonal menu. Each week, you'll get to browse through roughly 15 to 20 different meal options.
RealEats has one primary menu from which there are four meal plans based on how many meals you want delivered per week.
The Main Meal Plan allows you to choose whether you'd like 4, 6, 8, or 12 meals per week. The 12 meals per week plan offers the best value for as little as $9.83 per meal. The Main Meal Plan works for couples, busy parents, and professionals wanting nutritious individual meals.
Main Meal + Breakfast Plan is similar to the meal plan in that you choose between 4, 6, 8, or 12 meals, but you also get the same amount of breakfast meals with each plan. For example, the 4 Meal + Breakfast plan includes 4 main dishes and 4 breakfast meals. This plan is a great option if you need to save time with simple breakfast solutions.
The primary menu can work for a variety of nutrition needs, though it may require a little extra work on your part. Some meals are clearly labeled for meeting a specific dietary restriction such as Keto. If you have a particular dietary preference or food allergy, you will need to read through the meal description and ingredients to find what will work for you.
All of the RealEats entrees have less than 600 calories, making them good options for people looking for portion-controlled meals to support weight loss. Dishes come as single-serving meals, so if you're cooking for more than one person, calculate accordingly.
The menu features a diverse selection of meals influenced by flavors of Southwest cuisine, classic American favorites, Asian fusion, and Indian-inspired vegetarian meals. Curious about what a week's worth of meals looks like?
Here's a sample 4 meals plan weekly menu:
Citrus Miso Salmon with Honey Glazed Carrots and Quinoa with Lemon
Dijon Mustard Steak, Spring Veg Medley, Loaded Cauliflower Mash
Shredded Chicken Fajitas, Cuban Black Beans and Spanish Rice
Saag Paneer with Chana Masala and Saffron Basmati Rice
How much does RealEats cost
With no membership or hidden contract fees, you only pay for the meals you need with RealEats. The cost depends on how many meals you want to order per week.
Main Meal Plan Cost
4 meals per week $14.99/meal
6 meals per week $13.49/meal
8 meals per week $12.99/meal
12 meals per week $11.49/meal
Main Meal + Breakfast Plan Cost
4 meals + 4 breakfasts $11.49/meal
6 meals + 6 breakfasts $10.99/meal
8 meals + 8 breakfasts $9.99/meal
12 meals + 12 breakfasts $8.99/meal
Shipping costs depend on the size of the delivery and ranges from $5.16 for a 4-meal plan to $11.88 for a 12-meal plan.
Main Meal: $11.49 to $14.99
Main Meal + Breakfast: $8.99 to $11.49
Main Meal: $59.96 to $137.88
Main Meal + Breakfast: $91.92 to $215.76
$5.16 to $11.88, based on order size
How RealEats Works?
RealEats is a subscription meal delivery system. Placing your first order is as easy as picking your plan then choosing your meals. Once you place your order, you are automatically enrolled in their weekly subscription that can be canceled at any time. Here's everything you need to know to get started.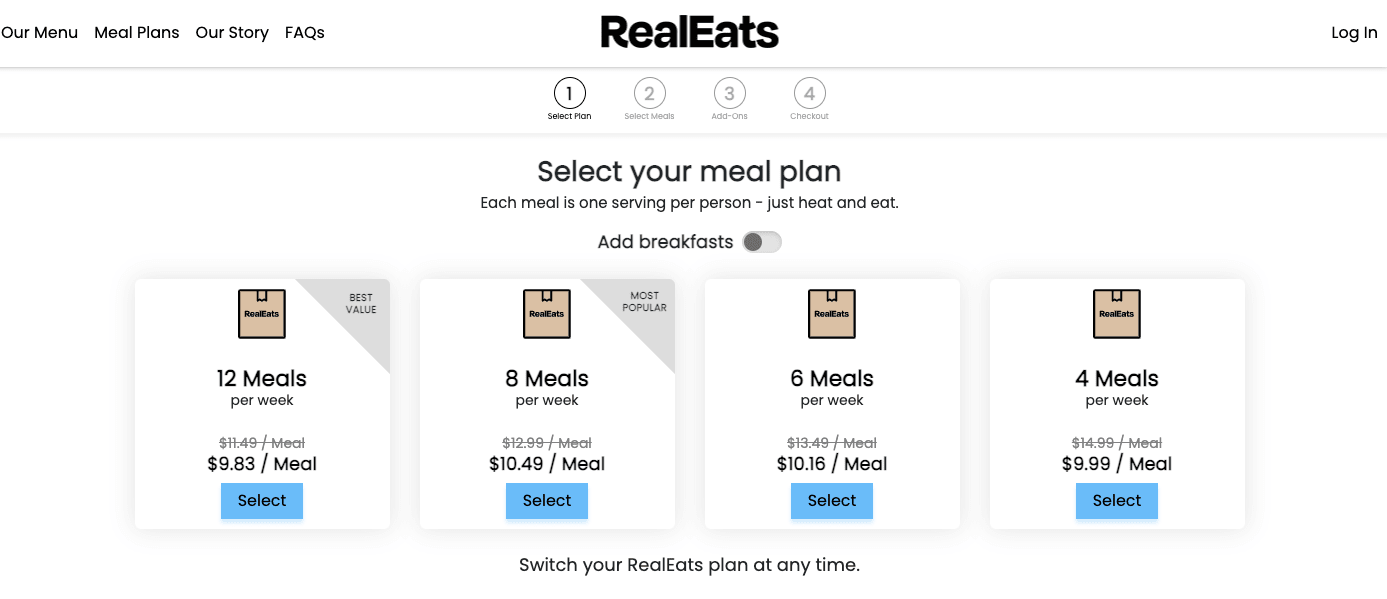 Ordering

Ordering from RealEats is simple.

First, decide how many meals you'd like to order per week–4, 6, 8, or 12 meals. Also, select whether you'd like to have breakfast included with your meal plan.
Make your meal choices from the scrumptious menu items. The website has a convenient meal countdown, so you know how many meals you have left to choose from.
Choose any add-ons like sides or extra veggies that you want to include with your order.
Enter your shipping and billing information.
Wait for your food to arrive.

Choosing Meals

There is a rotating weekly menu from which you can choose your meals. Each week features 15 to 20 menu options.
You can make meal choices based on your own personal preferences and nutrition needs.

Cooking instructions/recipe cards

When your meals arrive, you can heat and eat immediately. RealEats meals can stay in your fridge for up to a week before the freshness and quality deteriorate.
Meals are designed to use the sous-vide technique of boiling the packets in water for 6 minutes. Follow the sous-vide directions on the packaging to optimize the flavor of each dish.
You can choose to microwave these meals instead of sous-vide, but be sure to remove the plastic and follow the microwave instructions on the package.

Add-On

RealEats offers a large variety of menu add-ons allowing you to customize your order in many ways. You cannot order add-ons individually, but once you place your main meal order, you can add on any of the following menu items.

Breakfasts
Soups and Chilis
Proteins
Sides
Drinks and Smoothies
Snacks
RealEats Dietary Options

There is one main menu with a few dietary options available.

First, all meals are under 600 calories, which can be part of a weight loss plan.
There are also keto and vegetarian meals clearly labeled on the menu, which can work for low carb, ketogenic, and the full spectrum of vegetarian diets.
It is important to note that the menu is designed for an overall healthy eating experience, but not for specific dietary restrictions. That said, if you have a dietary restriction or food allergy, you can search the recipe descriptions and ingredients to find meals that will work for you.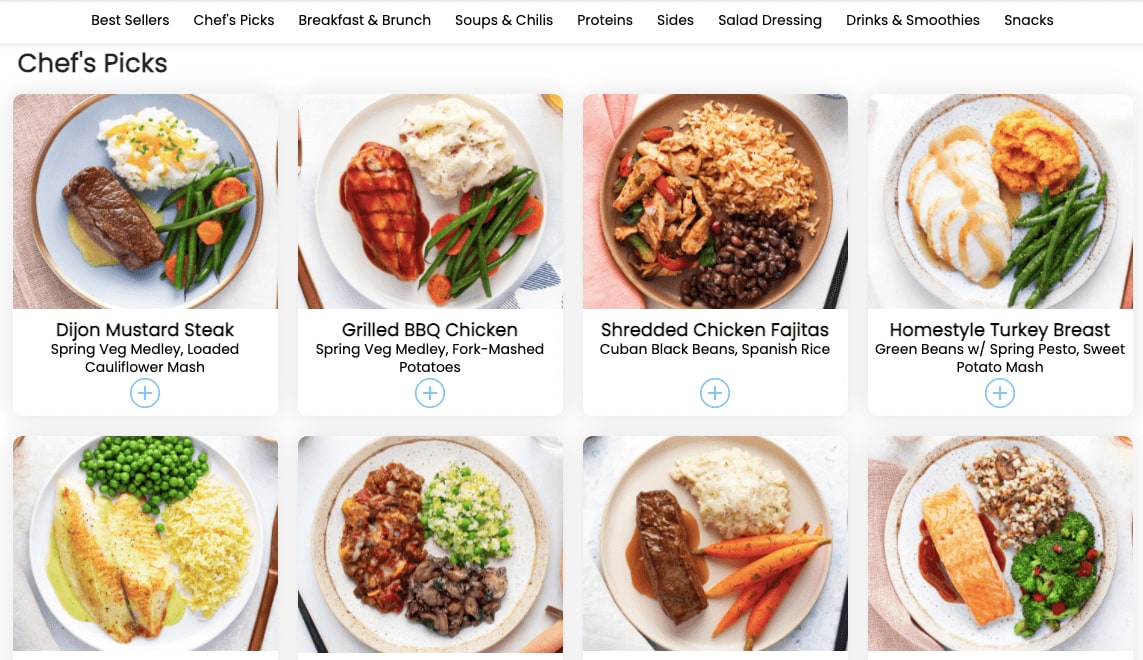 RealEats Packaging, Shipping, and Delivery
Meals arrive in vacuum-sealed bags that are specially designed for sous-vide cooking. The packs are 100% food-safe, BPA-free, and will not leach chemicals into your food.
Shipping boxes are made from recyclable cardboard and reusable gel packs help keep your food fresh and ready to heat.
The biggest downside to RealEats is that they do not currently ship to all US states. They deliver to 19 states and to areas within 8 additional states. You can easily check their website for delivery to your zip code.
RealEats App
RealEats does not have an app, place your orders and manage your subscription through the website.
RealEats Customer Service
RealEats has customer support available through email at support@realeats.com, or phone at 1-855-695-6387. The live chat option on their website connects you with a customer service representative who can answer many common questions. Contact customer service by phone or live chat Monday through Friday from 9 to 5 pm EST.
There's also a helpful FAQ section on the website addressing many topics from delivery to ingredients and subscriptions.
How to Cancel or Pause RealEats
RealEats is a subscription plan, but you can pause or cancel your subscription at any time before 11:59pm on Thursdays.
To cancel or pause your subscription, log into your account and find the week that you wish to change. Under edits, you can choose either to pause the subscription for the week or cancel your subscription completely.
It is important to note that orders already placed will not be canceled, but you can email customer service at support@realeats.com to work with them on this issue.
How RealEats Compares to Other Meal Delivery Services
RealEats delivers the farm-to-table feel with every fresh meal and is unique in it's sous-vide cooking process to provide maximum flavor.
Number of dietary restrictions available
Amount of prep work required
Insulated cardboard and ice gel packs
Go-Green plastic containers in partially recycled insulation and packaging
Partially recycled cardboard and plastic
Partially recycled cardboard
Delivers on promises (e.g., 15 minutes to cook)
RealEats vs Freshly
RealEats and Freshly offer fresh, single-serving packaged meals for health-minded people. Their meals have similar pricing but Freshly can easily accommodate more dietary restrictions than RealEats. RealEats has a greater emphasis on a menu highlighting local and seasonal foods.
RealEats vs Home Chef
Home Chef's line of Fast and Fresh meals are similar to RealEats in that they are both subscription services that offer fast, prepared meals. Home Chef can cater to a larger variety of nutrition needs, but RealEats has a larger selection of add ons like soups and sides.
RealEats vs Hello Fresh
Hello Fresh meals have a lower cost per serving than RealEats, but what you save in food cost, you make up for with time because you have to prepare the meals yourself. Hello Fresh has prepared ingredients and recipes, but most recipes take between 20 and 30 minutes, compared to RealEats 6 minute cooking time.

RealEats Visit Site
Bottom Line:
RealEats gives you the farm-to-table experience at home by highlighting seasonal and local produce in their rotating menu. Feel like you're eating at your favorite local restaurant with these chef-prepared meals perfect for the health-minded adult looking for quick and delicious dinners.