In a Nutshell
Daily Harvest is a plant-based meal delivery service offering pre-prepped meals. Only a few minutes of heating and you're ready to eat. The company is also famous for its delicious smoothies, which simply require you to add a liquid and blend. While servings can get pricey, you can find meals for a wide variety of intolerances and diets. Plus, subscriptions are very flexible, allowing you to pause or cancel at any time at no extra cost.
pros
Free shipping
Ideal for plant-based eaters
Sustainably sourced organic ingredients
cons
Doesn't deliver to all US states
Dry ice that comes in the packaging is hard to dispose of
Best For
Vegans and vegetarians

Those with gluten intolerance

Those with lactose intolerance
Daily Harvest Meal Plans
There are three box sizes to choose from. The small box allows you nine items, the medium 14 items, and the large 24 items.
Daily Harvest offers ten categories of meals, which you can mix and match in your box.
Smoothies
Daily Harvest smoothie packs come with pre-chopped produce that you blend into a finished smoothie. Each pack is a complete recipe—just add your liquid of choice.
Harvest Bowls
Bowls often contain two to three types of veggies and other nutritious ingredients such as beans and nuts. To prepare, you simply need to reheat for a couple of minutes depending on the bowl.
Harvest Bakes
These are a selection of frozen premixed recipes that only require baking at home. Baking time ranges from 22 to 27 minutes depending on the recipe and your oven.
Flatbreads
Instead of flour, delicious veggies such as broccoli and sweet potato make the crust of these flatbreads, which are topped with tasty options such as mushrooms, spinach, and pesto. These require baking for 20 to 25 minutes.
Soups
Daily Harvest's hearty soups will take you no more than six minutes to prepare. You'll get a variety of vegetables pre-chopped. All you have to do is add water or broth and heat on the stovetop or microwave.
Forager Bowls
These are a delicious mix of nutritious foods such as fruits, grains, veggies, and more. Both sweet and savory bowls are available. To prepare, all you need to do is add liquid, such as water or milk, and heat.
Scoops
Daily Harvest scoops are essentially a much healthier version of ice cream. Instead of dairy, sugar, and fillers, the scoops contain ingredients such as coconut, cashews, and pistachios. There are plenty of flavors to choose from.
Bites
These ready-to-eat chewy snacks are perfect for any time of day, especially when you don't have time to prepare something nourishing.
Lattes
Daily Harvest's all-natural lattes take less than five minutes to prepare at home and include flavors such as ginger, matcha, and latte. Customer reviews describe them as creamy, and for an extra-frothy finish, try blending your latte instead of mixing it.
Mylk
Daily Harvest offers fresh plain and vanilla almond milk in the form of crushed packed almonds, which you can blend yourself.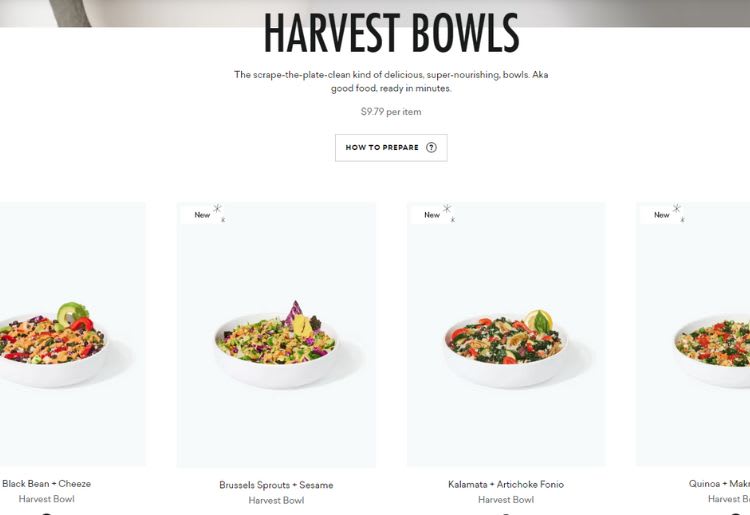 Daily Harvest Dietary Options and Programs
The Daily Harvest website allows you to filter meals according to your dietary needs, likes, and dislikes. The likes and dislikes you can filter for are avocado, banana, berries, caffeine, chocolate, cilantro, coconut, cucumber, garlic, greens, nuts, oats, onion, and spice.
The service caters to the following dietary needs.
AIP (Autoimmune Protocol)
This is a diet that aims to minimize inflammation triggered by autoimmune diseases. Applying this filter on daily Harvest allows you to eliminate pro-inflammatory foods such as beans and certain nuts.
FODMAP
Daily Harvest supports low-FODMAP eaters by allowing you to filter out high-FODMAP foods such as dairy, legumes, and fibrous vegetables.
Keto
Those on the ketogenic diet can enjoy Daily Harvest's selection of low-carb recipes.
Paleo
If you're following the Paleo diet, you'll love Daily Harvest, because Daily Harvest meals typically don't contain most of the foods not allowed on this diet, such as grains, processed sugars, and dairy products.
Filter by nutrition goal
Daily Harvest also includes many filters that enable you to find meals that fit specific restrictions. These include ≤10g Fat, ≤15g Net Carbs, ≤15g Sugar, ≤500 Calories, ≤250 Calories, ≤500mg Sodium, ≥10g Protein, ≥6g Fiber. If you're trying to keep a certain type of food out of your diet, these filters make it easy to customize your meals down to the specifics.
Our Favorite Daily Harvest Meals
The cacao and avocado smoothie is a fan favorite. Start your day with a wonderful chocolate flavor and even more wonderful health benefits. The main ingredients in this smoothie are both excellent sources of healthy fats and antioxidants.
For a healthy, filling lunch, choose the roasted eggplant and red pepper caponata harvest bowl, made with eggplant, pepper, zucchini, and almonds.
If you are in the mood for something Italian-inspired, opt for the tomato and basil flatbread. The flatbread comes with a broccoli crust topped with fresh tomatoes and basil, plus kale for an extra boost in vitamins, antioxidants, and fiber.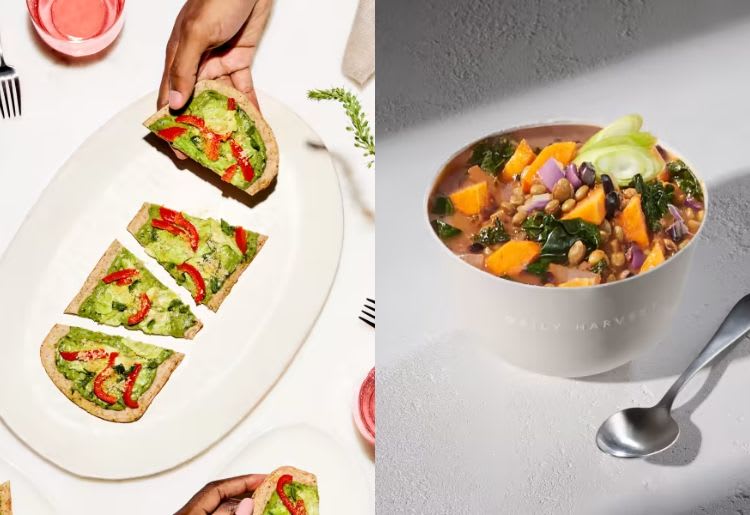 How Much Does Daily Harvest Cost?
The cost of your Daily Harvest delivery depends on the items you choose. For example, if you choose a small box, which allows you 9 items, and choose four smoothies and five Harvest Bakes, your total will be $93.91.
The prices of the meals are as follows.
$7.99 for ~1/2 gallon (Makes 8 x 7 oz servings)
At checkout, you'll get a discount on your box depending on which size you choose. Small boxes get $5 off, medium boxes get $10 off, and large boxes get $25 off. New customers get an additional discount—a small box gets $20 off, a medium box $25 off, and a large box $35 off. Shipping is free.
How Daily Harvest Works
Daily Harvest offers a flexible service that you can start, pause, or cancel any time. The service also allows you to make changes to your delivery until 6pm on the Sunday before your scheduled delivery.
How to Place an Order with Daily Harvest
To sign up for Daily Harvest, you'll need to enter your postcode and email address first.
Secondly, choose your box size from three options: small, medium, and large.
Depending on the size of the box you choose, you can select a certain number of meal items.
Finally, you'll check out, at which point you'll be told when your first delivery will arrive. Here, you can also choose when you'd prefer future deliveries to arrive and how often you want to receive meals (weekly or monthly).
How to Choose Meals with Daily Harvest
You can choose your Daily Harvest meals after selecting your box size. In case of any dietary preferences or restrictions, you can use one of Daily Harvest's filters to eliminate certain foods.
To select a meal, simply click the + sign below the meal you want to choose. If you'd like multiple servings of the same item, click the + sign again. To remove an item from your box, click the minus (-) sign next to the meal item.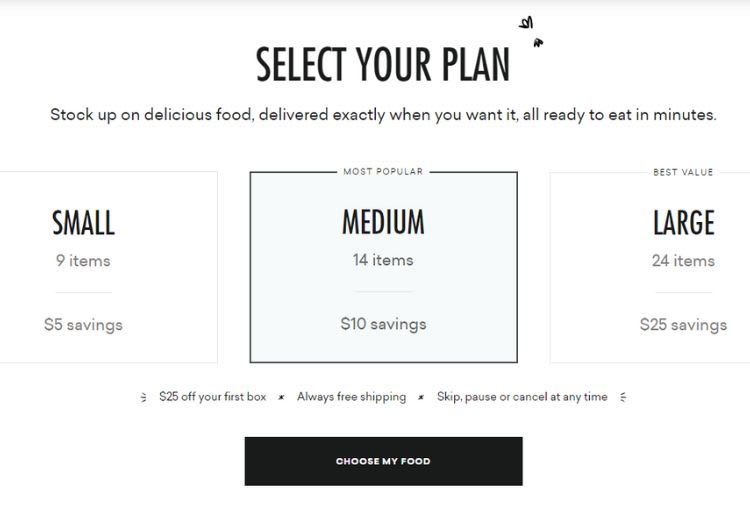 Does Daily Harvest Come With Cooking Instructions?
Yes, Daily Harvest meals come with cooking instructions on the packaging. The instructions are very easy to follow since most items come pre-cooked and require minimal preparation.
What Makes Daily Harvest Stand Out?
Daily Harvest sets itself apart from other meal kit providers with its wide selection of menu items. While some services provide both sweet and savory options, Daily Harvest surpasses all of them with its ten categories of low-prep foods.
Another unique feature is the fact that Daily Harvest only offers plant-based foods, making the service ideal for those following plant-based diets.
Daily Harvest Packaging, Shipping and Delivery
The majority of Daily Harvest packaging is compostable or recyclable. Each package states which parts you can recycle or compost. For a summary of how to handle the packaging, visit the packaging and recycling guide on the Daily Harvest website.
Daily Harvest delivers to 95% of the continental US. To find out if the service is available in your area, enter your postcode on the website and click 'Get Started.' You can also get Daily Harvest meals on demand through delivery services like Doordash if you live in Los Angeles, New York, Philadelphia, DC, and Baltimore.
You don't have to be home to receive your delivery. The meals are packed with enough dry ice to keep them frozen for one to two days, so they can easily be left at your door or with a neighbor.
It's important to note that you must take extra caution when handling dry ice. First, don't touch it without gloves. Secondly, don't place it on hard surfaces like tiles or in enclosed spaces like closets. Thirdly, keep it out of the reach of children or pets. To dispose of it, allow the ice to dissolve completely and recycle the bag.
Is There A Daily Harvest App?
Yes, there's a Daily Harvest app available for both iOS and Android. The app doesn't offer any additional features but it makes managing your orders more convenient. Customer reviews of the Daily Harvest app are generally positive, though some mention technical issues during sign-up.
Daily Harvest Customer Service
To get in touch with Daily Harvest's customer service team, send an email to hello@daily-harvest.com. In case you have any questions, visit the help page on the website. The site also includes a blog that contains educational content that is mostly nutrition-related.
How to Cancel or Pause Daily Harvest
To pause Daily Harvest, log in to your account, click on the menu in the top-left corner, select Manage Plan and click the Edit button beside Plan Status. Click Pause and then Next at the bottom of the page. Finally, select a reason from the dropdown menu for pausing and then click Pause Plan.
To cancel Daily Harvest, follow the same steps, but instead of clicking the Edit button beside Plan Status, click End Plan.
How Daily Harvest Compares to Other Meal Delivery Services
Daily Harvest stands out from other meal delivery services for its extensive plant-based menu options. However, other services also have their strengths, especially when it comes to pricing.
Reheating, or blending for smoothies
Reheating, or blending for smoothies
Daily Harvest vs HelloFresh
Daily Harvest differs from HelloFresh in the way food is prepared. While HelloFresh only delivers ingredients, Daily Harvest delivers ready-to-eat meals that require minimal preparation. While HelloFresh is significantly more affordable, the price of Daily Harvest could be justified if you want food that's ready to eat.
Daily Harvest vs Splendid Spoon
Among popular meal kits, Splendid Spoon shares the most similarities with Daily Harvest. Both services provide pre-cooked food, plus multiple classes of menu items, like smoothies, bowls, and soups. However, Daily Harvest is highly customizable, while Splendid Spoon is much less so.
Daily Harvest vs Factor_
Both Daily Harvest and Factor_ provide pre-cooked meals. However, Daily Harvest has a much wider selection of menu items. Factor_ also slightly costs more than Daily Harvest, but this could be offset by the fact that it serves animal-based foods, which could be important for some diets and preferences and is missing from Daily Harvest.
Bottom Line
Daily Harvest is certainly worth a try, particularly for those following a plant-based diet. The meals can be fairly pricey, but the quality of ingredients and minimal preparation could make it worth it if you want healthy, plant-based food that's ready in minutes.