In a Nutshell
Purple Carrot, a vegan meal kit delivery service, offers a wide variety of delicious recipes so you no longer have to settle for other services' limited plant-based options. Food packages are delivered right to your doorstep and contain fresh, healthful ingredients. There are 2 standard meal plans, plus a gluten-free option called TB12 Performance Meals. Plans are competitively priced and can be canceled or changed at any time.
pros
2 meal plans + gluten-free option
Free delivery
Change or cancel plan at any time
cons
No family plan
No option to choose your delivery day

Purple Carrot Visit Site
Ideal For
Vegans
People who are gluten-free
People who want to eat healthy but don't have time to shop
What's Unique About Purple Carrot?
A few years ago, vegans who wanted to order meal delivery kits or recipe boxes to their homes were stuck; while some typical meal delivery services do offer a vegan option, the meal selection isn't quite on the same level as their standard menus. Then came Purple Carrot and everything changed. Purple Carrot caters exclusively to a vegan audience and offers a delicious and varied meal selection, along with a choice of 2 meal plans that cater to customers' cooking levels and dietary preferences.
How It Works
To choose a meal plan, you'll need to create an account, which you can do on the website or via your Facebook account. After you've signed up, you can choose your meal plan and enter your payment information. You can change your meal plan at any time by clicking on My Profile and selecting the Change option next to Current Plan. Also, meals are available on each plan, so you don't necessarily need to change a plan in order to get the meal you want.
In terms of meal choice, you can allow Purple Carrot's chefs to choose your weekly meals for you, or you can choose them yourself by logging into your account and clicking on "Upcoming Menus." If you choose your own meals, make sure to do so by the Tuesday a week prior to your shipment before 11:59 PM EST.
Purple Carrot deliveries are made on Mondays, Tuesdays, and Wednesdays each week, and your delivery day will depend on where you live. Unfortunately, there's no option to choose your delivery day at this point. If you're not home when your box arrives, the delivery man will simply leave it on your doorstep. Boxes are insulated and packaged with cold packs to keep your food fresh for the afternoon. In fact, orders typically remain fresh for up to 72 hours, and even longer if stored properly once you take them out of the box.
How Much Does Purple Carrot Cost?
Purple Carrot offers two meal plans. The first includes 3 plant-based dinners per week for 2 people for a total of 6 meals at $11.99 per serving. The second includes 2 plant-based dinners a week for four people for a total of 8 meals at $9.99 per serving. Shipping is free on all orders.
Still hungry? You can add extra lunches, power-bowls, salads and breakfast plans. There's a $20 discount for signing up, so the price improves even further for new customers.
Favorite Purple Carrot Meals
Want to get an idea of the meals offered at Purple Carrot? Here are 3 of our favorites.
1. Jeweled Biryani with Apricots & Curry Roasted Butternut Squash
Prep & cook time: 35 minutes
Additional info: Gluten-free, soy-free, high protein, 710 calories per serving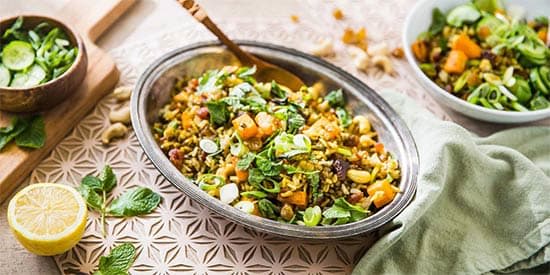 2. Fall Vegetable Ramen with Brussels Sprouts & Butternut Squash
Prep & cook time: 28 minutes
Additional info: Available with High Protein, Quick & Easy, and Chef's Choice plans; 570 calories per serving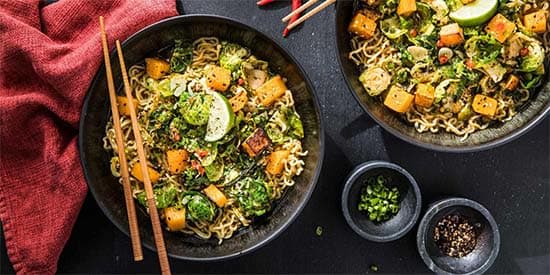 3. Black Bean Rice Bake with Scallion Cashew Cheese & Avocado
Prep & cook time: 35 minutes
Additional info: Gluten-free, high protein, 720 calories per serving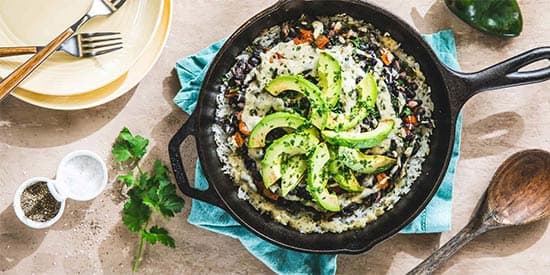 Purple Carrot Visit Site
Help & Support
Purple Carrot customer support is available via live chat between the hours of 9am and 5pm EST. You can also get in touch by email or call 1-857-703-8188. The site also has a fairly detailed Help Center which includes information about signing up, deliveries, and more.
Purple Carrot - It's What's for Dinner
Purple Carrot offers vegan meal delivery service that cater to different tastes, cooking levels, and dietary needs. You can choose the meals you receive each week or let Purple Carrot's chefs surprise you with their carefully curated menus. If you want to choose your meals, you can check out the nutrition info and prep time on the website before ordering, so you know exactly what you're getting. Prices are competitive and you can cancel or change your plan at any time. Last but not least, Purple Carrot meals are designed by professional vegan chefs, so you can enjoy plant-based and delicious food at the same time.