Purple Carrot Visit site
Overview
Purple Carrot at a Glance
Purple Carrot is a vegan meal delivery service with meals that are designed by professional vegan chefs. Their mission is to create foods that are good for your health and good for the environment.
In fact, Purple Carrot's meals have been shown in clinical research to help people lower their LDL cholesterol and lose weight in as little as 4 weeks.
Purple Carrot offers three different meal plans based on serving sizes (1, 2, and 4-serving meals). You can choose from multi-serving meal kits or single-serving prepared meals.
Meal Kits
Meal kits are available in 2-serving or 4-serving sizes. Every week you can choose from a variety of eight 2-serving meals or four 4-serving meals. Weekly meals can take between 30 to 45 minutes to prepare. Meal kit recipes include tropical grain bowls with pan-seared avocado, General Tso's tofu with quinoa and steamed broccoli, and herb sausages with caraway roasted potatoes.
Prepared Meals
The prepared meals are perfectly portioned single-sized meals that only take 2 minutes to heat. Each week, you can choose from 12 different meals to add to your order. Some meals you can choose from include Thai noodles with peanut sauce and ginger vegetable stir-fry, roasted vegetable pilaf and braised chickpeas, and fajita bowls with cumin-spiced seitan and roasted plantains.
Purple Carrot Dietary Options and Programs
All Purple Carrot meals are 100% vegan, which means that they can fit into any plant-based lifestyle.
The meal selection page does not have a filter to sort through additional dietary restrictions, but some meals are labeled as soy-free or gluten-free. Some meals offered are nut-free as well. You can also check the meal's recipe card for any additional allergens.
Purple Carrot has 100% gluten-free meals, but their processing facilities are not certified gluten-free.
Our Favorite Purple Carrot Meals
Some of the tastiest meal kit recipes include the tropical grain bowls with pan-seared avocado, General Tso's tofu with quinoa and steamed broccoli, and the herb sausages with caraway roasted potatoes.
As for prepared meals, there are also some great recipes from different cuisines available. Try the Thai noodles with peanut sauce and ginger vegetable stir-fry, or the fajita bowls with cumin-spiced seitan and roasted plantains.
How Purple Carrot Works
How to Get Started With Purple Carrot
Placing an Order With Purple Carrot
To sign up for Purple Carrot meal delivery, you first have to create an account using either your email address, or by using your Facebook, Google, or Apple account.
After you've signed up, you can choose your meal plan and enter your payment information. You can change your meal plan at any time by clicking on My Profile and selecting the Change option next to Current Plan.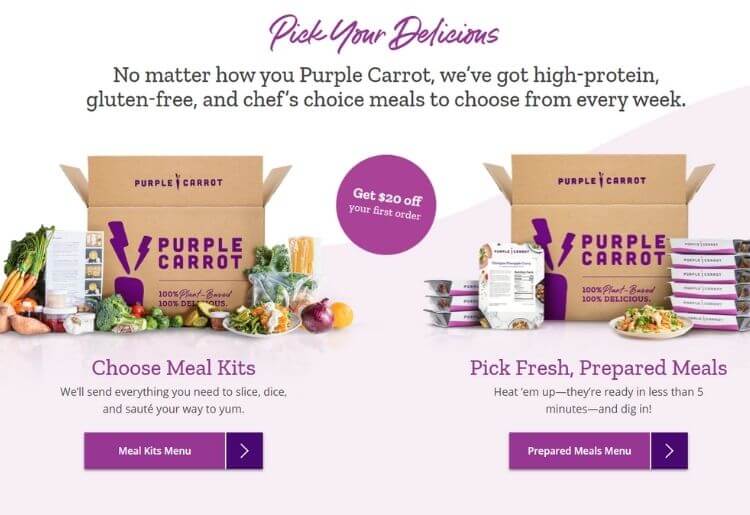 How to Choose Meals with Purple Carrot
Every week, you can choose the meals that go into your meal plan, or you can allow Purple Carrot to automatically send you a variety of meals curated by their chefs.
Additional meal preference selections are only available for Purple Carrot's 2-serving plan. You can choose from a Gluten-Free, High Protein, or Quick and Easy meal preference.
The Gluten-Free preference will contain only gluten-free meals. The High Protein preference will select meals that contain 20 g or more of protein per serving. The Quick and Easy meal preference is full of meals that are ready in 30 minutes or less.
Purple Carrot boasts a wide variety of flavors and plant-based recipes that come from around the world.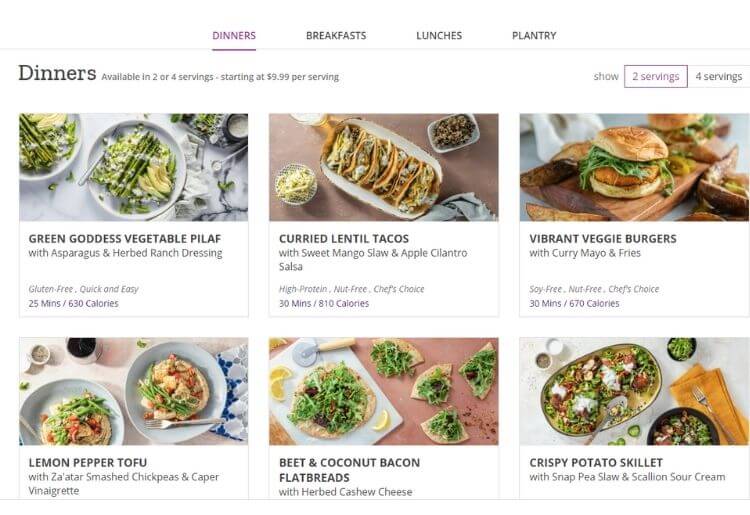 Does Purple Carrot Come With Cooking Instructions?
Each Purple Carrot delivery comes with a recipe booklet. In this booklet, you receive the recipes of all of the dinners offered that week and additional recipes for breakfast and lunch.
Recipe pages feature the ingredient list, nutrition per serving, allergen listings, cooking time, instructions, and pictures for the major steps of the recipe. All directions for recipes are simple and can be completed in 2-6 steps, depending on the recipe.
The booklet also features cooking tips, recommended cooking tools for recipes and any additional items (like salt, pepper, or oil) needed from your kitchen.
What Makes Purple Carrot Stand Out?
Purple Carrot is a plant-based meal delivery service that goes beyond delicious dinners. For an additional fee, you can get breakfasts and lunches added to your regular Purple Carrot delivery.
Purple Carrot also has a few Plantry™ items to help you stock your pantry with other plant-based foods. You can choose from items like miso paste, almond cashew butter, and hummus.
Purple Carrot Shipping and Packaging
Purple Carrot currently delivers to the contiguous US only. You can check whether Purple Carrot delivers to your specific zip code with one of Carrot Coaches through the website's live chat feature.
Purple Carrot boxes are delivered on Mondays, Tuesdays, and Wednesdays. Your delivery date will depend on your regional location and proximity to Purple Carrot facilities. Unfortunately, you cannot customize your delivery date or time.
Purple Carrot has no-contact delivery – you do not need to be home or provide a signature for the delivery of your order.
Packaging
Your order has proper insulation and is packaged with ice packs to keep your foods temperature-safe until you can properly store them. Orders typically remain fresh for up to 72 hours, and even longer if stored properly once you take them out of the box.
Ingredients are bagged according to the recipe they're used in, so you don't have to be confused about which ingredients you need. Purple Carrot is incredibly transparent about the materials they use in their packaging, and also shows how you can recycle each component on their website.
The box is recyclable cardboard, the liners are TemperPack Climacell (100% curbside recyclable) and TemperPack Fiber liners (a recyclable plastic wrap), and most other plastics in Purple Carrot's packaging can be recycled depending on your local recycling program.
Purple Carrot Customer Support
Purple Carrot has multiple ways that you can easily get in touch with their customer support team. Their business hours are Monday to Friday, from 9 AM to 5 PM EST.
Phone: You can reach the Customer Support team (the Carrot Coaches) at 1-857-703-8188.
Email: If you prefer email, you can send a message to hello@purplecarrot.com
Live Chat: Purple Carrot says on their website that the fastest way to get the answers you need is through their live chat feature. You can access the live chat and speak with the Carrot Coaches during business hours.
FAQs
Purple Carrot has a detailed FAQ section that can answer most customer questions. Their FAQ covers how to get started, managing your account and subscription, nutritional and dietary information about their products, and how to redeem gift cards and boxes from the Share A Box referral program.
Blog and Recipes
The Rooted blog by Purple Carrot is a source of additional information for plant-based eaters. The blog covers topics including cooking, culture, health, food, lifestyle, nutrition, recipes, and plant-based diets.
If you're looking for additional recipes, Purple has a database of recipes that come from their meal delivery service.
How to Cancel or Pause a Purple Carrot Subscription
Making changes to your Purple Carrot subscription is easy and can be done through your account menu. Purple Carrot shows deliveries 4 weeks in advance so that you have the freedom to skip whatever delivery you want.
The deadline to edit, skip, or cancel your meal shipment is the Tuesday one week prior to your next shipment, by 11:59 PM EST. You can check the Upcoming Deliveries page to see the weekly deadline next to each upcoming scheduled delivery.
To cancel your account, go to your Account page and navigate to the Account Settings. On the Account Settings page, you can change your subscription status. On this page, you can choose to cancel your account permanently by following the instructions provided, or you can pause your upcoming orders for up to ten weeks.
Is There a Purple Carrot App?
Purple Carrot does not currently have an app on any of the app stores.
Purple Carrot Pricing
How Much Does Purple Carrot Cost?
Purple Carrot offers 3 meal plans:
1-serving (6-10 meals/week)

2-serving (3-6 meals/week or 6-12 servings)

4-serving (2-3 meals/week or 8-12 servings)
For each meal plan, you can modify them for the number of meals that you need per week.
Meals cost between $9.99-$12.99/serving, depending on what plan you choose – the family plan gives the best deal. Weekly plans for Purple Carrot start as low as $71.94 per week.
There are no membership costs associated with using Purple Carrot, and shipping is free.
Purple Carrot Alternatives
How Does Purple Carrot Compare to Other Meal Delivery Services?
Purple Carrot stands out by being a plant-based meal delivery service that is backed by science and has a good selection of flavorful and filling meal prep kits and prepared foods.
Vegan, Gluten-Free, Low-Carb, Nut-Free, Soy-Free
Keto, Paleo, Mediterranean, Low-Calorie, Vegan, Vegetarian, Gluten-Free
Paleo, Vegetarian, Low-Calorie, Low-Carb, Mediterranean, Pescatarian, Diabetes-Friendly
Plant-Based, Gluten-Free, Low-Sodium, Dairy-Free, Soy-Free, non-GMO
Cardboard box, recyclable liners and plastic containers
Compostable trays, recyclable cardboard and containers
100% recyclable packaging
Purple Carrot vs Green Chef
While Purple Carrot can be great for families, Green Chef has meal plans that can provide up to 6 servings per meal. Purple Carrot is a 100% vegan meal delivery service and has more plant-based options than Green Chef. Green Chef has some vegetarian and vegan options, but has more recipes for keto, paleo, and omnivore diets.
Purple Carrot vs Sunbasket
Purple Carrot is a 100% plant-based and vegan-friendly meal delivery service that has both meal kits and prepackaged meals. Sunbasket has meals for nearly all popular dietary restrictions, but limited vegan options. Both Purple Carrot and Sunbasket have add-ons, but Sunbasket has a greater variety of breakfasts, lunches, and snacks.
Purple Carrot vs Splendid Spoon
Splendid Spoon is a great option for busy single people who want a meal plan that can cover the entire day. Their fare is light and includes a large variety of smoothies, noodle bowls, soups, and grain bowls. Purple Carrot, however, is a better option than Splendid Spoon for families and couples looking for plant-based dinner ideas. Both meal kit services are fully plant-based.

Purple Carrot Visit site
Bottom Line
Purple Carrot is a plant-based meal delivery service kit that is perfect for singles, couples, and families to have healthy and delicious plant-based meals. With a great variety of meals, add-ons, and great customer service, Purple Carrot is worth trying.