In a Nutshell
OPTAVIA brands itself as a lifestyle transformation because losing weight is not just about eating less. It is about living right. That is why OPTAVIA offers easy, progressive steps toward achieving better, healthier habits that will contribute to your weight loss goals. The program offers nutritious meal supplements, a fabulous support system, and an all-inclusive lifestyle plan, and it has helped millions of members achieve their goals.
pros
Scientifically-developed weight loss and health programs
Lots of meal options to choose from
cons
Have to buy OPTAVIA's foods for most plans
Can get pricey
Optavia See More
Our OPTAVIA Weight Loss Plans Video Review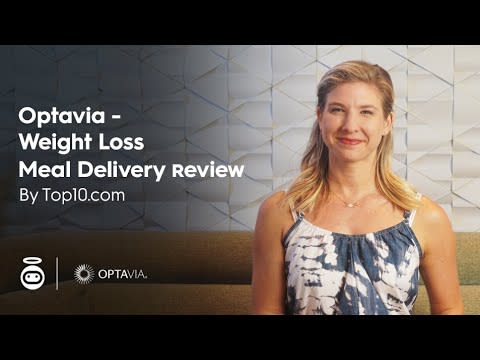 OPTAVIA Alternatives
OPTAVIA is one of the leading weight loss programs around, but before you consider signing up, it's worth checking out other top programs that might also be suitable. Here's our pick of the top 7 alternatives to OPTAVIA:
Best for: People who want to eat regularly throughout the day, dieters who like meal supplements
Weight loss goals: Varies
Pricing: Varies
What's Unique About OPTAVIA?
OPTAVIA is a great option for anyone who can't be in the kitchen all day. But here's where OPTAVIA really shines:
Habits of Health
Rather than a quick-fix program, OPTAVIA provides its members with real, actionable, and life-altering solutions that can help you achieve lifelong weight loss and health. But these aren't major lifestyle changes that are too daunting to consider. Instead, OPTAVIA changes micro-habits, baby steps as we like to call them. Small steps are achievable, maintainable, and not intimidating, but they produce massive results.
Pay it forward
OPTAVIA is a tight-knit community that supports one another through the journey of life. Along with the support groups (we'll cover that below), the OPTAVIA program has an innovative feature called Pay it Forward. When you reach a milestone, achieve your weight loss goal, or break through a fitness barrier, this company encourages you to share your story, reach out to others, and strengthen the general community, letting others gain encouragement and motivation through your successes.
Daily inspiration
Finally, staying motivated is important if you want to stay on track with your health goals. That's why OPTAVIA offers members daily inspiration. You can sign up for daily tips from registered dietitians and more, health reminders, and more sent directly to your phone or email.
How it Works
To get started with the OPTAVIA diet program, follow these steps:
Answer a series of questions like gender, age, and weight maintenance or loss goals.
OPTAVIA will tell you which program will work best for you based on your answers.
From there, you'll order your OPTAVIA fuelings, review the diet plan, and get started.
Of course, you can always choose a different plan or even tailor your own, but one of the benefits that you get OPTAVIA coaches to help you create a more personalized diet plan. The 3 ready-made weight loss plans are:
- 5&1 plan
You'll eat 6 times a day. Five of your meals will consist of low calorie OPTAVIA foods, plus one snack. This is a good way to kickstart your diet efforts if you are having trouble getting moving. It's also easier for people who don't have time to spend in the kitchen since meals come ready to eat, or ready to prepare in just minutes.
- 4&2&1 plan
This is a good plan if you are looking to lose just a few pounds or want to maintain a healthy lifestyle for more than just the short term. It's also good if you want to eat a wide range of foods. You'll eat 4 fuelings, 2 lean and green meals, and one healthy snack every day. The idea is to eat smaller quantities more frequently, so your body is always in burn mode.
- 3&3 plan
The 3&3 plan is best for maintenance and long-term health habits. You'll eat 3 OPTAVIA fuelings and 3 healthy balanced meals each day.
OPTAVIA also has several other more tailored plans, including ones for nursing mothers, people with diabetes, seniors, and teens. So, you can get a more customized plan to fit your lifestyle exactly if you want it.

What You'll Eat
OPTAVIA's goal is to get you eating 6 times a day, so your body is always in calorie-burning mode. This helps you burn more fat and maintain muscle mass, helping you losing weight and trim down from both ends. The various plans consist of some regular foods and some OPTAVIA fuelings.
- OPTAVIA fuelings
There are 60+ different fueling options, so you're not likely to get bored too fast. All food items are nutritionally-balanced, convenient to eat, and scientifically designed to help you stay satiated and lose weight. They're also loaded up with goodies like probiotic cultures and protein to keep your body burning fat and retaining muscle mass.
- Lean and green meals
The lean and green meals consist of 5-7 ounces of cooked lean protein and 3 servings of non-starchy veggies. You can also have up to 2 servings of healthy fats included in the meal. How many of these you have varies based on your diet plan.
Here's what a sample menu for the 4&2&1 plan might look like:
Breakfast: Chocolate mint cookie crisp bar
Mid-morning snack: Wild strawberry shake
Lunch: Grilled tilapia, cup of fresh spring mix, and broccoli (self-prepared)
After work snack: Decadent double chocolate brownie
Dinner: 6 oz spinach and chicken breast bake (self-prepared)
Post-dinner snack: Roasted garlic creamy mashed potatoes or creamy tomato bisque
You can also have another snack of apple slices if you'd like. Notice something? Nobody's going hungry on the OPTAVIA diet, which is one of the reasons it is so successful.
Meals can include:
Mac and cheese
Sweet potatoes
Muffins
Cheddar herb biscuit
Tomato herb penne
Soup
Mashed potatoes
Hot cereal
Pancakes
Chili
Cold cereal
Pizza bites
Snacks like:
Cinnamon pretzel sticks
Nacho puff cheese
There are lots more options to add to that list, so you really have a ton to choose from. OPTAVIA also offers desserts like chocolate chip cookies, chocolate pudding, and dessert bars in decadent flavors like chocolate fudge and drizzled berry.
Pricing
Optavia kits cost either $395.25 for 119 servings or $442.00 for 140 servings.
Essential Optimal 5 & 1 Kit
Essential On-The-Go 5 & 1 Kit
Essential Optimal 4 & 2 Kit
Optavia's most popular plan is the Optimal Weight 5 & 1 Plan, which involves enjoying six smaller meals a day. That means you will eat one of the 119 items provided every 2 to 3 hours. With that in mind, one kit should last you about 20 days. Some of the meals provided in this plan include roasted garlic mashed potatoes, rustic tomato herb penne, creamy vanilla shake mix, caramel delight crisp bar, smoky bbq crunchers, and much more.
Help & Support
OPTAVIA has both a professional nutrition support team and a community support group. These 2 options are the life of the program and really provide the kind of support, motivation, empathy, and answers people need to keep going and achieve success.
Take advantage of convenient support features like live and recorded video conferencing, phone calls, groups, online support, and nutritional guidance. You can also join the weekly coach-led group calls that let you ask questions, hear success stories from other members of the program, and learn more about your program. The nutrition support team is available during the week (Monday thru Friday) from 8am to 5pm ET.
Here's the Skinny
Bottom line, the OPTAVIA diet plan is a great option if you enjoy convenient, easy-to-use meal supplements. The variety is impressive, the prices are reasonable, and the taste is great. What's more, OPTAVIA's support is par excellence. You have both professional and community support to choose from. It's no wonder OPTAVIA has helped over a million people live happier, healthier lives. OPTAVIA reviews found online rave about the great food and fantastic support.
Optavia See More