Guess what? Even after a master's degree and 13 years of practice experience, I haven't discovered a secret to losing weight. The tried and true formula will always be: eat less, move more = lose weight.
But, if it's that simple, why do so many of us struggle with our weight (myself included)? What I've learned in my years of practice is that weight loss is a lot more about psychology than nutrition.
Until you fix your mindset, you will never be permanently successful. Mindset work includes things like managing your stress, how you reward yourself, and how you think of your ability to succeed.
I heard about the Noom diet in my dietitian circles (they do employ RDs!). I knew it was a top weight loss plan that approached diet from a different angle, with a bigger focus on mindset and stress management.
When I was given the opportunity to try it out, I was excited! Recently, I packed on about 10 pounds and my pants were starting to feel tight. Last year, I lost 25 pounds and didn't want to put it all back on.
The sign up process for Noom was super easy, they just asked a few questions about your goals and how much time you want to dedicate to the app daily. I chose 6 minutes a day. That's all it takes! You are also immediately contacted by a personal "coach" who is there to help you set goals and keep you on track.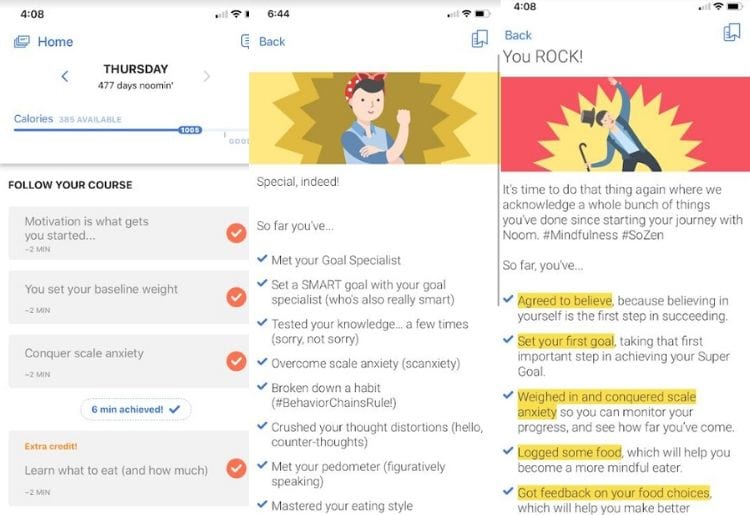 Over the next 10 weeks, I have set a goal to lose 10 pounds. I am excited to start addressing some of the mindset issues that have held me back! I'll be writing a regular blog that will track my progress.
To start with, here are my "Before" pictures: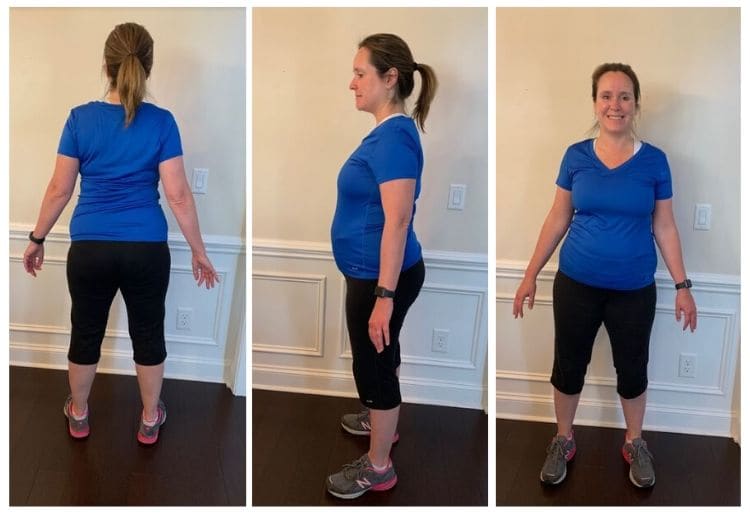 Check back here for regular updates to see how things are going.

Noom Try Noom
My Experience with Noom: Update After 2 Weeks
It's been about two weeks since I started using Noom, with a goal of losing 10 pounds over the next 10 weeks. It has been going amazing so far, and I am two pounds down!
Because of Noom, I have been pretty regularly tracking my calories and doing a ton of exercise. I recently joined a boot camp style workout. I am looking closely at many of my "triggers" and trying to come up with better ways of managing my stress.
I am loving the psychology aspect of the program. Over the last two weeks my daily Noom articles have discussed tips for creating healthier habits and lots of information about maintaining motivation.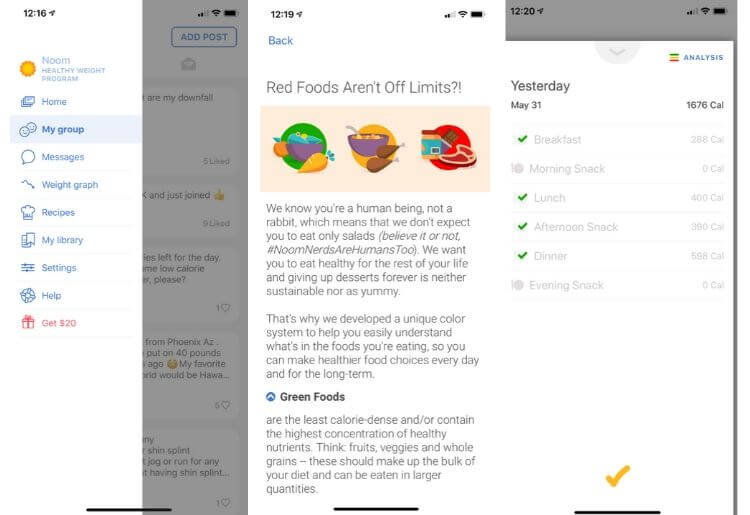 The program walks you through behavioral change by breaking down how to create new habits into small, bite-sized nuggets. This means making changes is extremely manageable. I look forward to reading my Noom articles every morning.
This week, after 2 weeks on the program, I was introduced to my "group." This group is composed of other Noom users who have been on the program for the same amount of time. It is also moderated by a group leader. I am really enjoying the support aspect of my group and know they will be the key to my success moving forward.
I hope to report even more progress in two weeks!
My Experience with Noom: Update After 4 Weeks
I've been on Noom for about a month now, and other than the initial two pounds I lost, I've not lost any more weight. I've been dedicated to reading the daily articles, participating in the group chat, and continuing to work on my mindset around food. I am looking at food choices differently and looking for opportunities where I can make better choices, instead of frequently just indulging.
I did join an intense bootcamp style workout two weeks ago, so my body may be still trying to adjust to all the changes.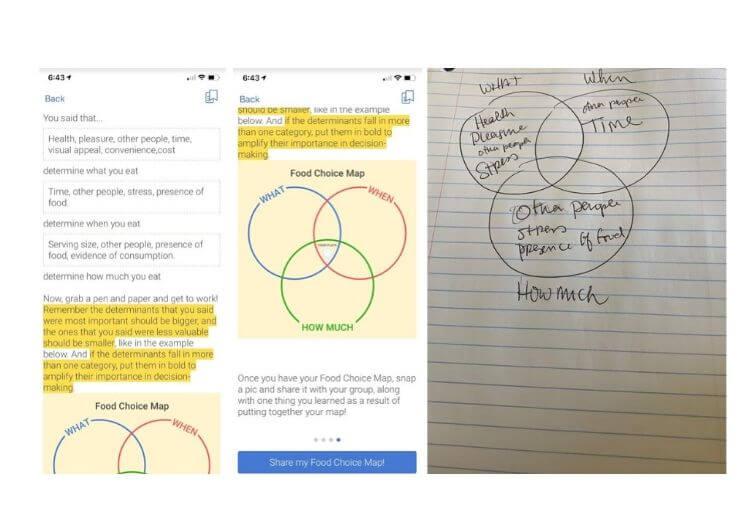 This week the exercises involved evaluating all the reasons you eat, other than hunger. In thinking through this exercise, I realized that I very rarely eat out of hunger, but more frequently because it's time to eat, food is available, or others are eating. Changing this pattern will be a bit challenging because I am a mom and we tend to eat as a family. But, this was valuable information to identify nonetheless.
I've stepped away from tracking my food in Noom and started using a different tracking app. I didn't feel the green, yellow, and red categories used by Noom were super helpful. I understand the rationale behind these categories, but categorizing healthy foods like nuts or avocados as red doesn't make sense to me.
Also I haven't found much support in the personalized coach offered by Noom, as she takes days to respond to my comments and by then the struggle has passed. I have found more support in the group of other subscribers.
Hopefully next time I will have more success to report. The changes are slow, but I am enjoying the increased activity and learning more about my eating habits daily.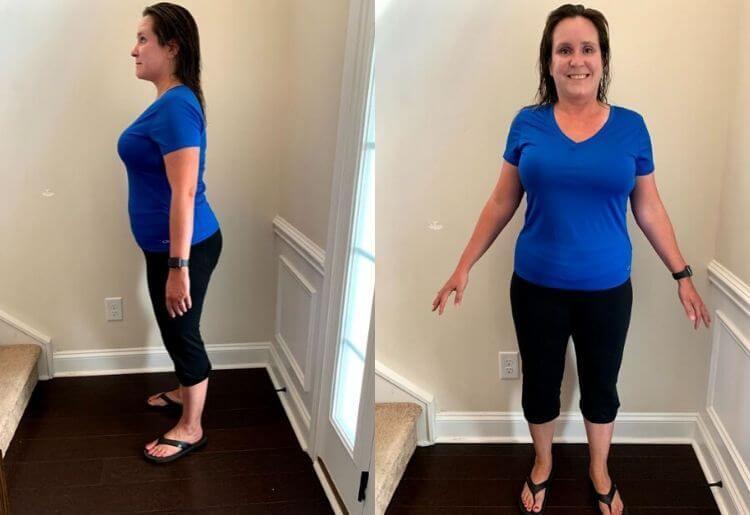 My Experience with Noom: Update After 6 Weeks
I have been on the Noom weight loss plan for 6 weeks now. I still log in daily and continue to enjoy the articles. I have not lost any weight. I did go on vacation during this time period and have not gone back to tracking my calories since I returned. I know that if I don't track, I won't lose anything even if I eat healthy. I plan on trying to focus these last 2 weeks.
Lately, the app has been focusing a lot on the other pillars of health that influence weight other than diet: exercise, sleep, and stress.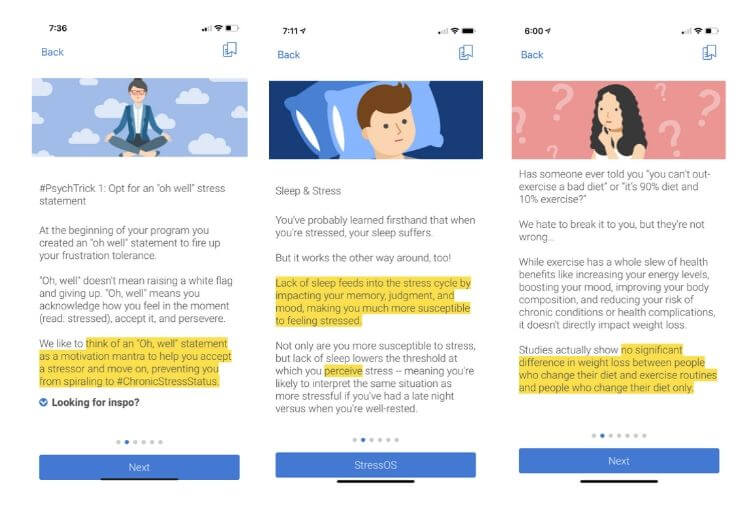 Exercise has never been a problem for me—It is one of the easiest health habits for me to do. This week the app went into great detail about why exercise alone isn't a great way to lose weight. I think this is useful information for people who think that they need to exercise more to achieve their weight loss goals. Really, you just need to work harder on your diet.
The sleep and stress connection is critical as well. The less you sleep, the more stressed you are, and the harder it is to make healthy choices because your body increases cravings for carbs. I know that sleep needs to be a priority for me or everything else falls apart.
Overall, I am still enjoying the app, but life can get in the way of achieving your goals if you are not 100% focused.
My Experience with Noom: Final Thoughts After 10 Weeks
This week marks the end of my 10-week trial of Noom. I have lost 3 pounds in 10 weeks. I will be honest: After a few weeks, once the novelty of the program wore off, it turned into just another calorie-tracking program. These don't work that well for me personally because I don't want to track my food.
I would like the calorie tracker offered by Noom more if it allowed me to customize my calorie number. You can only use a slider to set it to a "turtle," "rabbit," or "cheetah" speed. The fastest weight loss option cuts your calories quite low.
I was assigned around 1,300 calories per day. As a dietitian, for someone of my weight and height, I would recommend they consume around 1,700 calories per day to lose weight.
The education Noom provides around the psychology of weight loss is interesting, but eventually for me the articles got fairly repetitive. Overall, if you are willing to track your calories, Noom could help you identify barriers that might be holding you back from reaching your goals. But they are still based on the same principles of almost every other weight loss program—eat fewer calories than you burn. This was a challenge for me personally, and therefore I didn't lose as much weight as I would have liked.
After using the app for 10 weeks, here are my "After" pictures: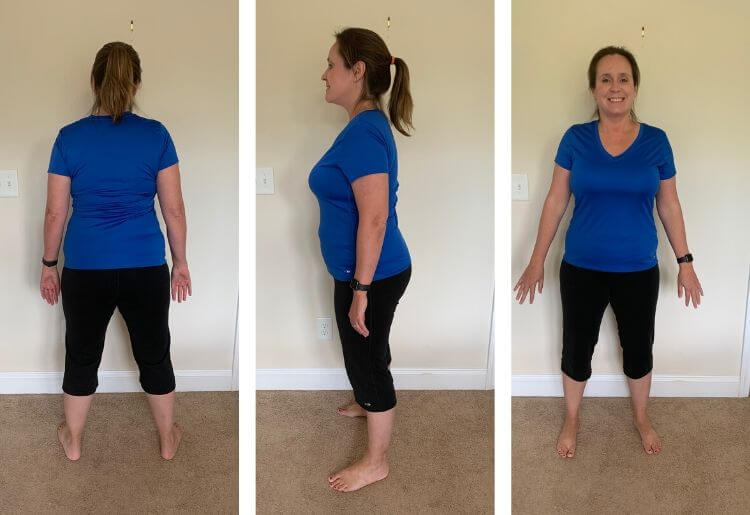 Tips on How to Get the Best Out of Noom
The Noom app is very easy and simple to use. Almost anyone could easily learn how to use it and follow the program. Based on my personal experience using the app, as well as my professional knowledge, here are some useful tips that anyone can use to make the most of the Noom weight loss app:
Follow the program
Engage with the app regularly
Complete all the thought exercises provided
Develop awareness around your eating habits
Ask questions and participate in your Noom group
Track your calories daily, which also means measuring your food intake
Try the healthy recipes provided in the app
Weigh yourself daily and log your weight

Noom Try Now
You may also like: