In a Nutshell
Noom focuses on the mindset issues and psychology behind weight loss, instead of just diet or exercise. The goal is to help you establish new, lasting habits around diet and exercise so the weight stays off for good. Noom does not require any pills, shakes, or expensive bars. The program uses technology to track your progress, and keeps you motivated with fun incentives and unique challenges.
pros
Totally comprehensive mobile app with loads of features
Personal diet specialists for hands-on/tailored diet plans
Statistically-proven results
cons
Need to log meals
So many features can be overwhelming at first
No phone support

Noom Visit Site
Noom - a holistic, mindset-focused approach to dieting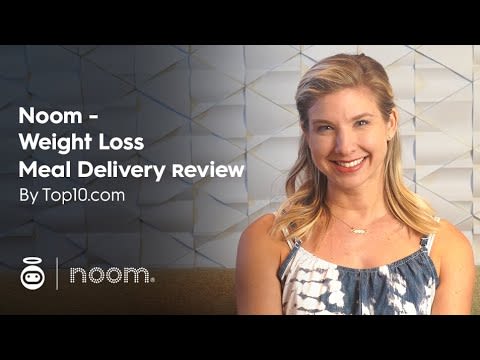 Anyone serious about losing weight for good
What's Unique About Noom?
Reviewing Noom was a real experience for us mainly because it offered so much more than we were used to from a diet app. It felt as though this company took a deep dive into the real inner workings of dieting and weight-loss and created a program that would really work for anyone. Here are a few standout details about Noom:
Perfect symbiosis
Noom blends 2 seemingly opposite characteristics, personalization and technology, for the best of all worlds. To begin with, the technology is cutting edge, using a well-designed smartphone app, syncing, and auto-updates to keep the whole process as efficient as possible. At the same time though, Noom also keeps things personal by providing a diet specialist to each member that personally handles your case, helps you set individual goals, and keeps constant tabs on your progress, stumbling blocks, and hang-ups. It seems like Noom has really struck the perfect balance in using technology to help people lose weight.
Questionnaire
The unique on-boarding questionnaire sets Noom apart from other online diet plans. You'll be asked about your weight loss goals, your current activity level, lifestyle, height, weight, typical meal (it's also cute that Noom throws in real-user quotes during the questionnaire for inspiration and motivation). Then Noom goes even further, asking about your neighborhood, the frequency and type of meals you eat, and any specific medical issues you have.
Noom also asks you to set personal goals. This is excellent for 2 reasons:
It helps you make your goals and your achievements more concrete. If you set a vague goal of losing weight, there really isn't much substance to the journey. By giving a concrete goal, you have a path, markers to measure progress, and an end victory in mind to keep you motivated.
This gives you additional motivation because you're striving for something even beyond weight loss. Goals can be to feel healthier, have more energy, run a marathon, etc. These are all things that contribute even more to your life and your health, adding more value to your diet plan.
Group coaching and specialists
Another major difference between Noom and other diet plans is the support and guidance you receive from this service. The program was created by professionals who hold PhDs and M.D.s from Harvard, Yale, Oxford, and have combined decades of experience. Noom assigns a team of coaches to each user that will help you along every step of your weight-loss journey. From setting goals to creating a healthy and maintainable plan, dealing with obstacles and setbacks, and health concerns, your coach provides assistance, support, and practical guidance, so you stay on track and reach your goals.
In addition to a group coach and specialists, after three weeks on the program, Noom members are assigned a group to be a part of. This makes the entire journey a social experience, so you can reach out to other members for help, answers, and motivation when the going gets tough. Noom encourages members to be in contact with one another because losing weight and creating healthy habits is easier when done together with other like-minded individuals.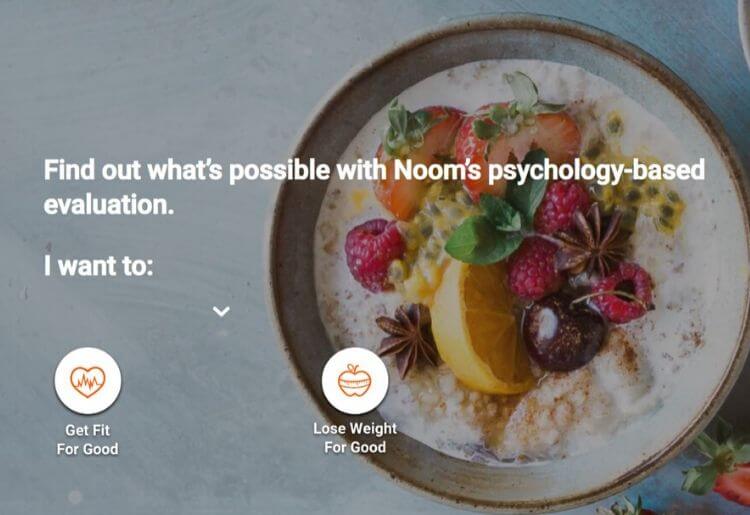 Dieters Are Raving
Here's what real Noom users have to say about their experience with the program:
"I love Noom; the app is easy to use. My coach and group are super engaged. If you are serious about change and are willing to read and do, this really works. I'm on 9 weeks right now, and I just cleaned out my closet of shirts that are too big." - Paul V
"Noom is the first holistic diet I have tried that makes the experience fun and interactive. I also love the daily articles that explain the why's and the science behind it all." - Jill S
"Noom is not a diet, it really is a change of lifestyle. It makes sense, there are no "off-limit" foods, and this is the first time I've been able to stick with something and see results!" - Danielle F
Registered Dietitian Expert Review
"Noom is one of the few diet programs that truly addresses the reasons why it's so hard to lose weight and keep it off. As a Registered Dietitian, I know how pointless it is to hand someone a list of foods to eat or even a meal plan and send them on their way. This does not help anyone change their habits.
If you want to maintain a healthy weight, you have to work on your mind first. This might include how you manage stress, your social life, and your thinking around food and diet. Your diet and lifestyle needs to match your personal preferences and life circumstances. Noom walks you through this process a little at a time, by helping you identify negative thinking patterns that hold you back from achieving your goals. It truly is a revolutionary way to approach weight loss that doesn't just focus on black and white thinking about food and diet. I highly recommend Noom as an affordable way to get incredible weight loss support."
- Ana Reisdorf, MS, RD
How it Works
Noom is a bit more involved than some online diet plans. This is a plus or minus depending on your personality and lifestyle. For those who don't have time or patience to update logs, they're not going to enjoy this diet plan. But if you have the resilience to keep up to date, Noom is a genuinely results-driven program that will definitely help you lose the weight you want. Plus, with all the apps that sync with Noom, keeping logs updated isn't nearly as time-consuming as you'd think it is. With Noom, you can log food, exercise, and weight loss, and you'll get access to group chats, searchable recipes, goal coaches, and reading materials.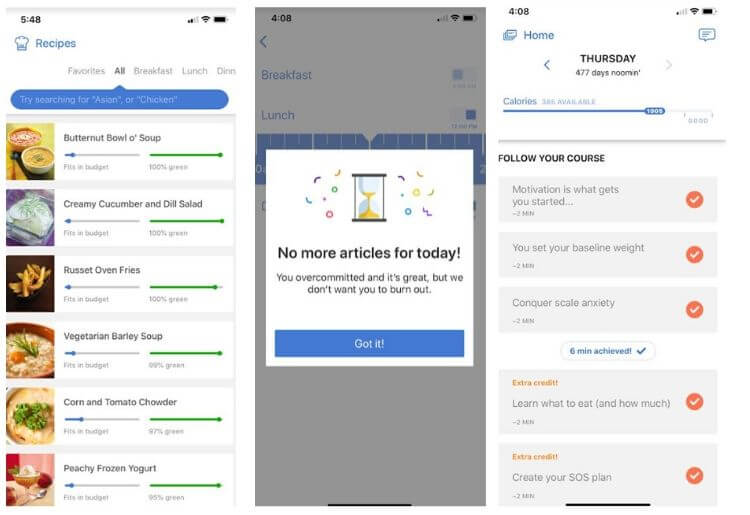 Here's how it works:
Go on Noom and fill out the questionnaire. It takes about 30 seconds.
Sign up for the 14-day trial for just $0.50 to test drive the app.
Sign up for the plan that works best for you.
Log in to your account, and start playing around with the app. There's so much to do here, you'll have a lot of fun.
After signing up for an account, there are a few things that you can do with the app including:
Log meals on a daily basis
Log weight daily
Log exercises
Read daily articles that are sent to help you stay on target, be in touch with your goal specialist
Get involved in your group after you have been on Noom for 3 weeks
Browse through menus
And a lot more. Basically, take a little time to really look through the app, so you can get the most out of it.
What You'll Eat
Noom is not one of these restrictive diet plans trying to sell you energy bars. Instead, it wants you to work with the everyday foods you're used to, so you can maintain your weight-loss for the long-haul. Obviously, Noom encourages eating healthier foods to stay healthy, but as long as you stay within your color categories, you're pretty much free to do as you please.
Noom uses color categories the way other diet programs use points or calories. Here's the color breakdown:
Green: fruits, veggies, whole grains
Yellow: lean meats, starches, eggs, yogurt
Red: red meats, desserts, snacks
Noom will show you how much of each color you should eat each day, gives you recipes for your color scheme, and even serves up fun challenges to keep you motivated.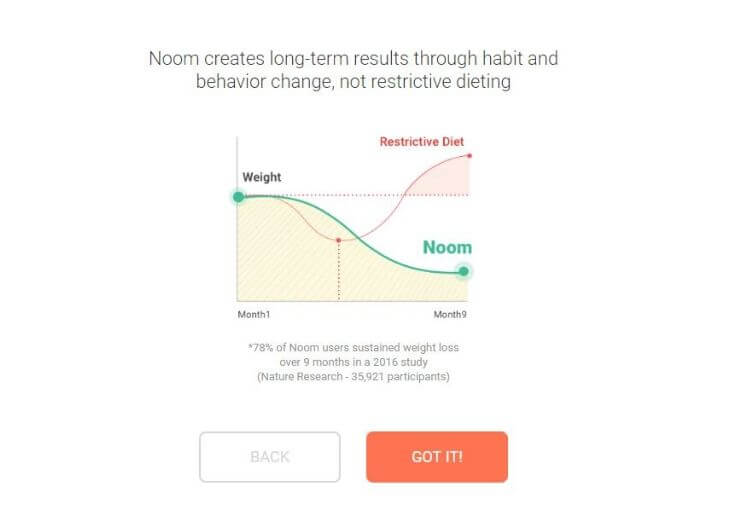 Mobile App
Noom is a mobile app, and all of your diet plans, goals, and achievements are run through the app. Noom has created an amazing and thorough mobile platform that makes logging, tracking, and updating info a breeze. It also makes dieting a lot easier than it ever was before. Some of the best features of the app include:
Loads of recipes that are all healthy!
You can browse a huge library, and mark your favorites for easy access in the future. Noom recipes come with detailed instructions, nutrition facts, and colorful photos, so you can see what you're preparing. The search functionality is really smooth. You can type in a keyword (carrot ginger soup, for example) or search by category to find the meal you're looking for. What's also cool is that you can log your meal automatically through the recipe index. This means if you decide you want the grilled chicken with cucumber watermelon salsa for lunch, you just pull up the recipe for instructions and click on the big blue "Log this recipe" button. Presto, your meal is logged onto your diet log without any effort. This is a great feature that makes meal tracking a lot easier for dieters.
Sync for auto-logging
Additionally, the Noom app syncs with several other health apps, so you can get all your various details automatically logged onto your Noom log. You can see a full list of apps that can sync with Noom, but some of the common ones are:
Fitbit
Movable
iHealth
Microsoft
YOO
Polar
Runkeeper
Sony Lifelog
And a bunch more. This makes keeping your logs up to date a lot easier and less time-consuming.
How Much Does Noom Cost?
Noom has a pricing structure that decreases in amount as the timeframe increases. You'll pay less per month for a 2-month subscription than you would for a single month. The prices are pretty reasonable considering the personalized assistance you are receiving. Plus, Noom offers a 14-day trial for just $0.50. This is plenty of time to get to know the program and see if it's a good fit. Pricing plans are as follows:

Noom Visit Site
All plans are auto-recurring, but you can cancel at any time. Noom offers a Refer-a-Friend discount too. You'll receive a $20 Amazon gift card when a friend signs up using your referral link. Plus, your friend will get a 20% discount.
Help & Support
Noom doesn't have too many support options. There is an email contact form online, so if you have any questions, you can send it in. There's also a detailed FAQ section you can browse. The real support you get from Noom is through the coaching team and group chats.
Here you can ask any question, get answers, and really find the motivation, encouragement, and experienced responses that'll help you stay on target.
Here's the Skinny
Noom is the real deal. In a study from the University of Sydney's Medical Center, Noom was ranked #1 out of 800 various weight loss programs assessed. That's because it takes a holistic, mindset-focused approach to dieting. The goal is to help you make a true lifestyle-based attitude change that really delivers results. With top-of-the-line technology, coupled with personalized coaching, Noom cuts away all the excuses, forces you to take accountability for your health, and ultimately hands you the kind of results you could never achieve before.