This is where meal delivery services for kids come in. With the flexibility and convenience of choosing what meals your kids get and when they arrive, you can be sure the nutritional needs and taste preferences of your children are met with the click of a button. We tested and reviewed the top 10 best meal delivery services for kids to help you choose the right one for you.
Our Best Kids' Meal Delivery Services in 2023:
A Closer Look into the Best Kid-Friendly Meals in 2023 - Quick Reviews:
1. Nurture Life
Best meal delivery service for kids overall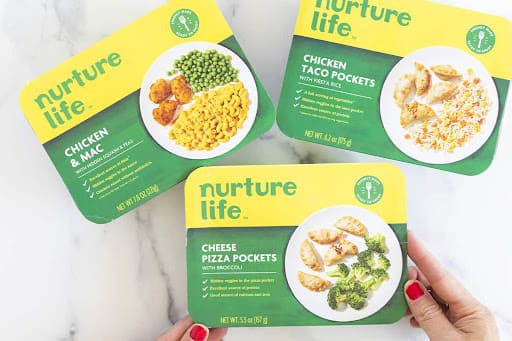 Best for: Picky eaters
Price per meal: $6.89-$7.99
Delivery cost: Free for orders over $60
Minimum delivery amount: Six meals per week
Nurture Life's meals are great for picky eaters. Vegetables are cleverly hidden in classic kids' meals in creative ways, so your child won't even know they are eating their greens! I particularly loved the superfood smoothies, which deliver three servings of fruit and vegetables with no added sugar but all the fruity flavor.
Nurture Life offers complete kid-friendly meals as well as finger food meals for toddlers, so there is an option for nearly every child older than 10 months. For busy moms, the best part about Nurture Life is that every single meal can be ready in one minute or less, leaving parents with way more time on their hands.
Why we chose Nurture Life: For the selection of superfood smoothies, hidden vegetables, and toddler-friendly menus.
Pros:
Offers fruit and vegetable smoothies

Delivers to the entire continental US

Finger food menu for toddlers
Cons:
Limited snack menu

No free delivery in standard plans
Nurture Life Visit Site
2. HelloFresh
Plenty of options and customizable menus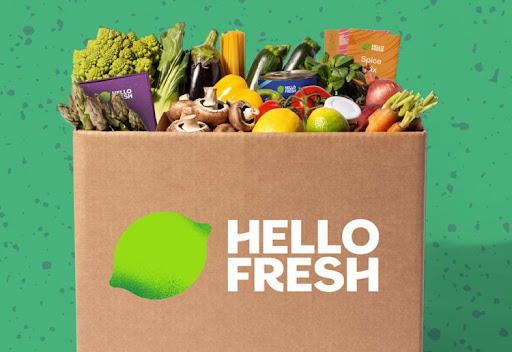 Best for: Sustainability and minimal waste
Special menus: Family-friendly, low-calorie, vegetarian, pescatarian
Price per meal: From $7.49
Minimum delivery amount: Four meals per week
HelloFresh is committed to sustainable food packaging and lower food waste, which is something to consider if you're feeding multiple children.
While HelloFresh doesn't have a kids' menu, I love its family-friendly menu, designed to appeal to both kids and adults. With 23 new offerings each week, your kids will never get bored with the options, and the easy-to-follow cooking instructions will take you from cooking in the kitchen to playing with your little ones in no time.
Why we chose HelloFresh: For its large variety of family-friendly menu options and its commitment to being environmentally friendly.
Pros:
Easily recyclable packaging

Mobile app available

A large variety of menu options
Cons:
Meals not ready-to-eat

No designated kids' menu
Read the full HelloFresh review

HelloFresh Visit Site
3. The Good Kitchen
Humanely raised animal protein and allergen-safe kitchens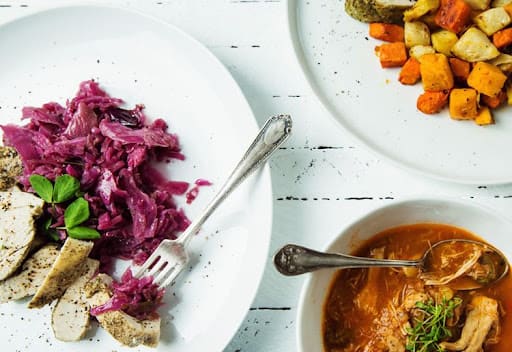 Best for: Kids with allergies
Price per meal: $11.50-$15
Minimum delivery: Six meals per week
Special menus: Whole30, primal, paleo, low-fat, keto, certified diabetic
Despite the lack of a kids' menu, you're sure to find something for your little one with The Good Kitchen's variety of kid-friendly meals, from elaborate to super simple. Although meals are never frozen, they are freezer-friendly, which means you can freeze them for up to one month if you fall behind schedule.
I really like how The Good Kitchen enables you to filter menus by allergen and adversities, which is great for kids who just don't like non-allergen foods like garlic or onions. Plus, all menus are 100% gluten-, peanut- and soy-free, and the kitchen is under strict inspection by the USDA. So, moms of kids with severe allergies can rest easy.
Why we chose The Good Kitchen: For its allergen-safe, high-quality, chef-prepared meals.
Pros:
Freezer-friendly meals

Rewards program discounts

Humanely sourced protein
Cons:
No free shipping

No designated kids' menu

The Good Kitchen Visit Site
4. Little Spoon
Baby food made with fresh organic ingredients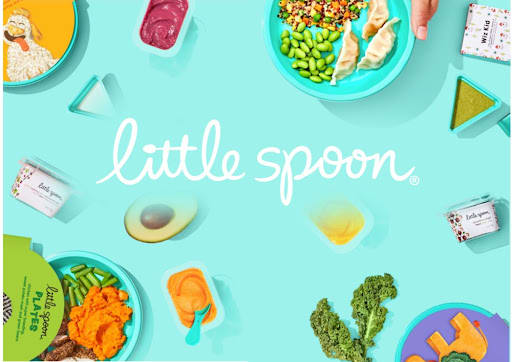 Best for: Introducing babies to veggies
Price per meal: From $5.99
Delivery cost: $6
Minimum delivery amount: Four meals per week
Little Spoon was started by parents who were frustrated with the lack of organic and fresh ingredients in their baby food options.
Little Spoon's ever-rotating menu uses over 100 ingredients, so even the pickiest kid can find something they love. I really like how Little Spoon prides itself on hiding vegetables in creative recipes like pasta with kale pesto and blueberry oat balls made with purple carrots.
You also have the ability to filter your menu choices by your child's eating stage with early, intermediate, and advanced options. Little Spoon offers solid food for kids and baby food blends for infants, so you can provide nutritious options through all stages of your child's development.
Why we chose Little Spoon: For its fresh and organic ingredients and hidden vegetables in every meal and the fact it's a dedicated kids meal delivery service.
Pros:
Organic baby food blends

Ships anywhere in the continental US

More affordable than similar services
Cons:
Many meals contain common allergens

No baby snacks
Little Spoon Visit Site
5. Home Chef
Wide selection of weekly recipes, yummy desserts, and healthy snacks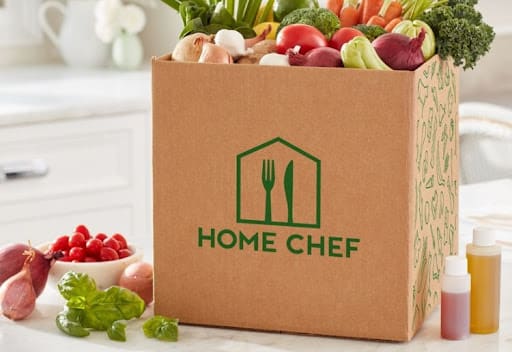 Best for: Healthy snacks and desserts
Price per meal: $7-$18
Delivery cost: $10.99
Minimum delivery amount: Four meals per week
Though many meals offered by Home Chef are more gourmet than most kids are used to, this service enables you to order a la carte proteins and sides to build simple kid-friendly meals. And what about mom and dad? You can enjoy fancier meals, such as steaks or grilled mahi-mahi, if you check out its Culinary Collection.
I particularly liked Home Chef's desserts, such as the chocolate chip cookie skillet that you can bake with your little one, and healthier snacks like strawberry mini granola bites with oats that you can pack in your child's lunch box.
Why we chose Home Chef: For its sophisticated menu options and for being the number one meal delivery service for customer satisfaction.
Pros:
Easy-to-follow instructions

Wide variety of recipes

A la carte items available
Cons:
Unpredictable delivery times

Meals may be too complex for kids
Read the full Home Chef review

Home Chef Visit Site
6. EveryPlate
A meal kit service providing elevated meals for the whole family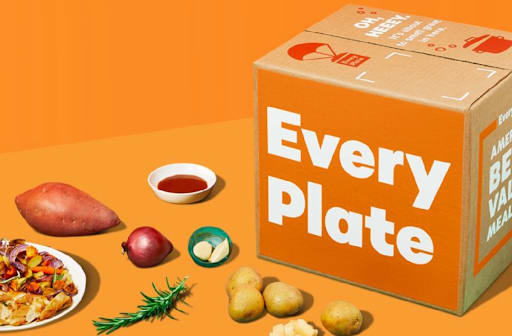 Best for: Making homemade meals with your family
Price per meal: From $4.99
Minimum delivery amount: Five meals per week
Delivery cost: $9.99
A service that delivers weekly kits of pre-prepped and pre-portioned ingredients. I like how EveryPlate is great for parents who may want to involve their children in the kitchen.
Though the fixed weekly shipping fee of $9.99 is higher than most, the price per meal is lower than other meal delivery services. In 30 minutes or less, you can have chef-quality, kid-friendly meals like creamy peppercorn salmon with lemony asparagus and roasted potato wedges, which can be a great way to introduce your child to different foods.
Why we chose EveryPlate: For encouraging the practice of nutritious home cooking with your child.
Pros:
Generous portion sizes

30-minute homemade meals

16 weekly recipes to choose from
Cons:
No menus for kids or special diets

Above average shipping costs
Read the full EveryPlate review

EveryPlate Visit Site
7. Daily Harvest
Wholesome, fresh, and nutritious meals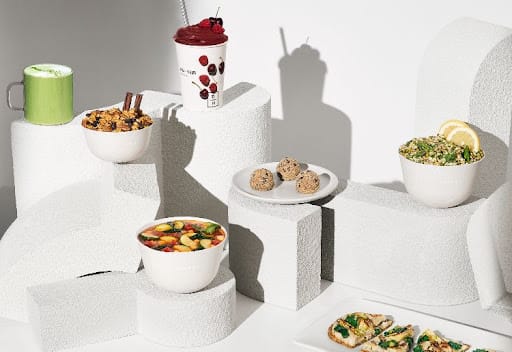 Best for: Plant-based options
Price per meal: $5.99-$11.99
Delivery cost: Free shipping on all orders
Minimum Delivery: Nine items
The variety of kid-friendly choices offered by Daily Harvest, along with the availability of a mobile app you can use to customize your orders, makes this one of the most flexible services of its kind in my opinion.
Daily Harvest offers smoothies, flatbreads, and snack bites, all packed with fresh ingredients to keep your child satisfied. We particularly like how Daily Harvest enables you to filter nutrition content by choosing options with less than 500mg of sodium or less than 15g of sugar.
Why we chose Daily Harvest: For its flexible options for families who follow a plant-based diet.
Pros:
Free shipping

Large variety of meal types

Great for vegetarian and vegan families
Cons:
Some meals come frozen

Equipment required for select options
Read the full Daily Harvest review

Daily Harvest Visit Site
8. Serenity Kids
High-rated, quality baby food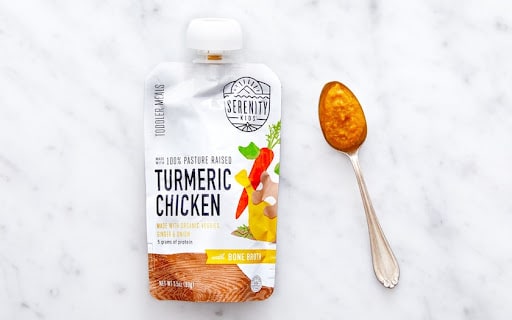 Best for: Nutritious baby food
Delivery cost: Free US shipping
Minimum delivery amount: Six pouches per order
Price per serving: $21.95-$29.95
Serenity Kids was started by a husband and wife team, Joe and Delia, the latter of whom experienced sickness as a baby due to being fed low-quality food. Thus, they started a company that now boasts some of the highest-rated baby food on the market.
This company's baby food offers the same ratio of macronutrients as those found in breast milk, making the recipes ideal for babies over six months old. They contain only organic ingredients and are free from additives, preservatives, sugar, and allergens.
I liked how all the baby food comes in pouches instead of jars. Switching what can be the messy experience of spoon-feeding your baby for a portable, squeezable pouch can be a lifesaver for busy parents.
Why we chose Serenity Kids: For its strong commitment to clean and additive- and allergen-free baby food.
Pros:
Meats sourced from small, local farms

All products are allergen-friendly

100-day money-back guarantee
Cons:
Pricier than similar products

Must buy six pouches of each flavor
9. Green Chef
Organic, freshly made meals for older children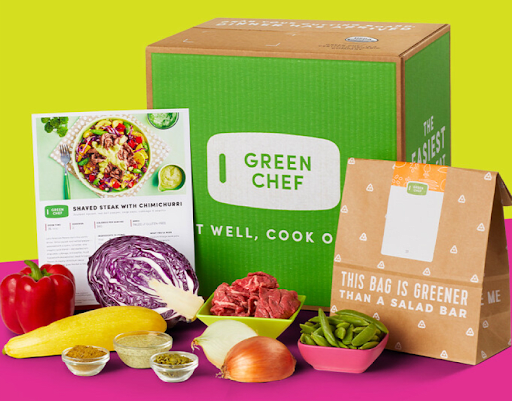 Best for: Organic eating
Special diets: Keto, paleo, vegan, gluten-free
Minimum delivery amount: Four meals per week
Price per meal: $11.99-$13.49
With the meal kits offered by Green Chef, you can have organic, kid-friendly meals tailored to nearly any lifestyle diet ready in 30 minutes or less.
One thing we really like about Green Chef is its gluten-free menu. If you have a child with celiac disease or a gluten sensitivity, it can be challenging to find meals that are both safe and delicious for them. Thanks to Green Chef, preparing special meals like these is a breeze.
Why we chose Green Chef: For its gluten-free menu and organic meals that focus on promoting a healthy lifestyle for your kids.
Pros:
Locally sourced ingredients

Eco-friendly packaging

More special diet menus than similar meal kits
Cons:
Not suitable for severe food allergies

Premium pricing for organic quality
Read the full Green Chef review

Green Chef Visit Site
10. Blue Apron
Family- and kid-friendly recipes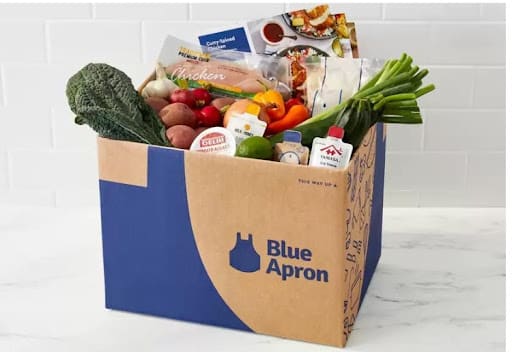 Best for: Family meals
Menus offered: Wellness, family-friendly, chef's favorites, veggies, fast and easy
Minimum delivery amount: Four meals per week
Price per meal: From $7.99
Meal kits from Blue Apron are hardly distinguishable from fine dining restaurants once assembled, just with family-sized portions. Though it doesn't offer a specific kids' menu, Blue Apron is one of few meal kit delivery services that have plans tailored to feed an entire family.
Its vegetarian and wellness meals for two are great for single parents. And its signature "for four" plan would be perfect for parents with two children. What we liked best of all was the ability to customize recipes to suit your child's taste by swapping ingredients and adding additions.
Why we chose Blue Apron: For its customization options and exciting recipes for those with cooking experience.
Pros:
Humanely farmed protein

Menus tailored to families

Restaurant-quality meals
Cons:
Not suitable for dietary restrictions

Meals can be complex to assemble
Read the full Blue Apron review

Blue Apron Visit Site
Our Methodology: How Did We Choose the Best Meal Delivery for Kids?
Our carefully curated list of meal delivery services for kids was chosen based on a number of factors that are critical to parents and the well-being of their children.
In addition, we also anticipated what would be important for busy moms and dads with time constraints who still want a healthy diet for their families. So, we considered the following:
Convenience

Quality ingredients

Variety

Flexibility

Menus for special diets

Allergen-friendly

Good value for money
What Is Kids' Meal Delivery and Why Should You Consider Using It?
Kids' meal delivery is a service that delivers ready-to-eat meals or meal kits with easy-to-follow cooking instructions right to your door. Every parent knows those extra 15 minutes to themselves in the morning or evening can make a big difference.
When you use a kids' meal delivery service, you know a nutritious meal for your child is on its way, meaning you have one less thing to worry about when you get the question, "What's for dinner?"
In other words, you will spend less time worrying about whether your child is getting enough nutrition, less time in the grocery store, and less time in the kitchen.
How to Choose the Best Kids' Meal Delivery Service for Your Needs
Nutritional value
Arguably, the most critical time for optimal nutrition is during childhood. From infancy to early adulthood, the body grows at a rapid rate, and getting all of your essential nutrients is vital for optimal growth and preventing disease.
It's easy to forget how children grow much faster than you can keep up, so having their meal prep and planning taken care of by a meal delivery service can be a lifesaver.
Allergies
Parents of children with food allergies are required to be hypervigilant at restaurants and when eating outside the home to be sure their child doesn't get a reaction to a hidden allergen.
For peace of mind, parents have turned to making meals at home for their allergen-sensitive kids. However, this is not a realistic practice for most parents, and subscribing to a meal delivery service for kids that serves allergen-friendly meals can make life much easier.
Convenience
Don't worry about being obligated to order three meals a day, seven days a week, through your chosen service. One of the best things about meal delivery services is the convenience of being able to pick and choose which meals you get delivered. Essentially, your chosen meal delivery service can fill in any gaps for the meals you struggle to prepare for your kids.
How Much Do Kids' Meal Delivery Services Cost?
The cost of meal delivery services for kids depends on the quality you want. The plans we reviewed range from $4.99 to $11.99 per serving. You may also be able to cut down on costs by buying more meals, increasing your frequency, and joining company rewards programs and e-mail lists.
Services with organic ingredients or special diet menus will likely be on the higher end of the price range. However, if you're just looking for a time-saving service with nutritious ingredients for your children, it is worth shopping around to find a service that suits your budget. If you have multiple children to feed or very active and hungry kiddos, this may result in higher costs.
Bottom Line
Parents have their hands full with kids not eating their veggies or just being picky eaters. When you factor in food allergies, meal times can be an all-out warzone. Even so, children still need good nutrition during their growing years.
With a meal delivery service for kids, you can have the flexibility of knowing when and what your kids will be eating. This ensures your kids are well-nourished and safe from allergic reactions. In short, this time-saving system will give you peace of mind and more spare time for yourself and your family.