In a Nutshell
In the market for a certified organic meal kit with plenty of options? Green Chef may be the perfect match. This meal-delivery service uses sustainable, delicious ingredients to help you create simple, healthy dinners fit for the whole family in approximately 30 minutes. Plus, if you're a first responder, teacher, nurse, medical provider, or military veteran, Green Chef offers special discounted meal kit plans for these groups.
pros
Sustainably-sourced ingredients
Certified organic produce
Menu options change weekly
cons
More expensive than non-organic kits
No add-ons and limited menu choices

Green Chef UK Visit Site
Green Chef Video Review

Best For
Households with specific dietary preferences
Individuals looking for eco-friendly, mostly organic ingredients
Meals with satisfying portion sizes
Green Chef Meal Plans
Green Chef offers six main plans: Keto + Paleo, Vegetarian, Mediterranean, Fast & Fit, Vegan, and Gluten-Free.
You will first choose one of these when building your delivery plan. Once you choose the category that best meets your needs and preferences, you can choose how many recipes you'd like to receive on a weekly basis.
This includes either 3 or 4 recipes per week, designed to feed either 2, 4, or 6 people in a household.
Green Chef Dietary Options and Programs
The six dietary options offered by Green Chef include the following:
Keto + Paleo - This option includes recipes fit for individuals looking for carb-conscious, high-protein recipes that don't contain legumes, soy, grains, and gluten.
Vegetarian - This category of meatless recipes is made with a focus on predominantly plant-based ingredients, though may contain some dairy or egg products.
Mediterranean - This preference is full of recipes that highlight Mediterranean flavors, including healthy fats and plenty of vegetables.
Fast & Fit - This category is designed to provide convenient, calorie-conscious recipes using fresh ingredients emphasizing keto and veggie options that can be made in approximately 25 minutes.
Vegan - For those who want to take it one step further from a vegetarian diet, these recipes are fully vegan, using a wide range of plant-based proteins, grains, and vegetables, while free from animal-derived products.
Gluten-Free - This preference will deliver healthy, wholesome recipes that are flavorful and don't contain soy or gluten.
Our Favorite Green Chef Meals
I tried Green Chef for one week, and chose to receive meals from both the Vegan and Vegetarian preferences as I was curious about how much dairy was included in the latter.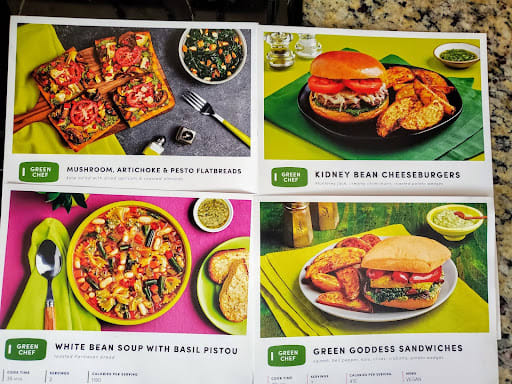 Below are three of the meals we received and my opinion of each.
1. White Bean Soup with Basil Pistou
This was a tasty vegetarian recipe with white beans, farafalle pasta, and lightly cooked green beans and tomatoes, with a basil pistou sauce on top. It was easy to make and even my kids enjoyed it. I chose to add the full package of farfalle, even though it called for half, to make it more of a pasta dish than a soup.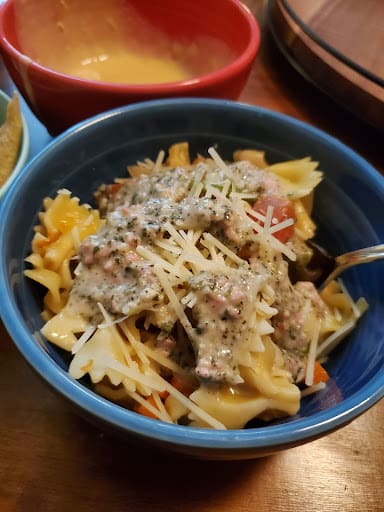 2. Kidney Bean Cheeseburgers
These included a super easy homemade veggie burger patty, made with kidney beans, onions, and breadcrumbs, held together with cornstarch and chia seed vegan "eggs", and cooked in oil in a skillet. They came with a side of potatoes to roast into seasoned fries.
I found this recipe flavorful and the burgers were a nice texture. I chose to slather some hummus on these, in addition to the green chimichurri sauce they came with, and substituted the dairy cheese with non-dairy cheese I had on hand. My kids really liked these as well.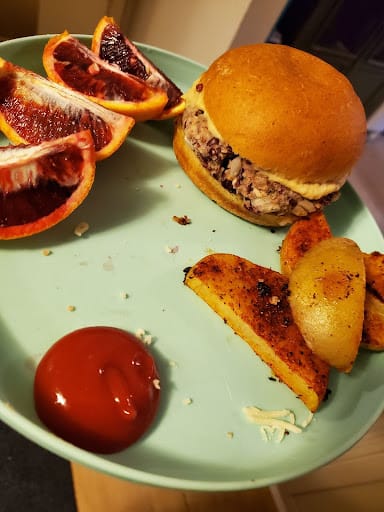 3. Mushroom, Artichoke & Pesto Flatbreads
I loved this recipe. The basil & garlic pesto for the flatbreads was dairy-free and delicious. I chose to add some leftover black olives I had to this recipe. It came with kale to make a massaged kale salad, which was nicely flavored with a balsamic dressing, dried apricots, and crushed roasted almonds. As someone who doesn't usually enjoy kale, this simple recipe showed me how easy and delicious it can be. Plus, you just feel good eating it!
All of these meals required under 30 minutes of prep time and provided a nice variety of foods that we haven't eaten lately. I liked that I was also able to make some slight changes or additions to them based on my own preferences, and they still turned out well.
One note I do have is that all of the recipes frequently call for the addition of salt and pepper for flavoring, and I chose to use less than indicated. You can easily adjust the seasoning for all of the recipes I received. Every recipe also included its own unique blend of seasoning, without salt and pepper, which were perfectly paired with the meals.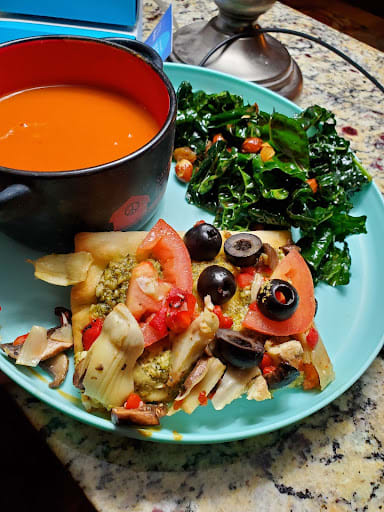 How Much Does Green Chef Cost?
Green Chef offers a number of cost options depending on which meal subscription you choose.
You can pick from three recipes per week to serve two people up to four recipes per week to feed six people. There are around 30 recipes to choose from each week if you don't have dietary restrictions. If you're vegetarian, there are 9 recipes to choose from each week that don't contain meat or fish proteins. Pricing ranges from $13.49 per serving (for dinner for 2, 3 meals a week) to $11.99 per serving (for dinner for 6, 4 meals a week).
Dinner for 2: 3 meals per week
Dinner for 2: 4 meals per week
Dinner for 4: 2 meals per week
Dinner for 4: 3 meals per week
Dinner for 4: 4 meals per week
Dinner for 6: 3 meals per week
Dinner for 6: 4 meals per week
How Does Green Chef Work?
The process for setting up your Green Chef subscription and choosing your preferences and delivery schedule is very straightforward.
All you have to do is decide which meal preference category is most important to you, and then choose the number of people you're feeding and how many recipes you'd like to receive for the week.
You can also edit your box to fit multiple preferences once you reach this step. For instance, if you want to receive some vegan meals and some vegetarian meals, you can edit the recipes coming in your box for the week.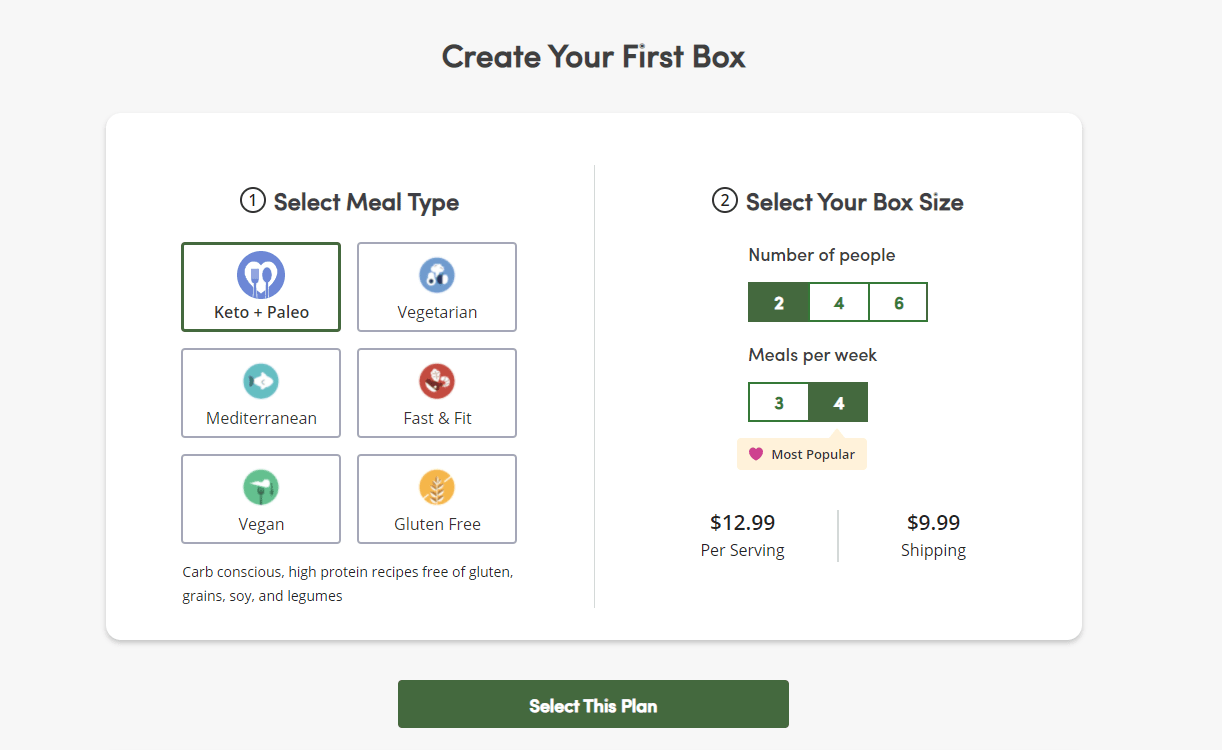 Once you choose your preferences and how many recipes you'd like in your subscription, you will create a log-in account for Green Chef, including a username and password.
After that, you input your shipping address and payment information for your subscription. Your credit card will be charged 7 days prior to your delivery. The website notes that completing your checkout confirms that you're entering into a subscription service plan with Green Chef, but you can make changes and skip weeks as needed.
Lastly, your upcoming box will be pre-packed with recipes for the week that fit your preference requests, and you can make edits as you wish. You can even look several weeks ahead to start planning your future delivery menus, or scheduling skipped weeks in advance to prevent being charged for them.

How to Choose Meals with Green Chef
Green Chef focuses on 6 main dietary patterns: Keto/paleo, Mediterranean, vegan, vegetarian, gluten-free, and Fast and Fit. This allows you to use Green Chef, no matter what type of diet you follow. You can also search for specific ingredients when selecting your meals, so you can truly customize your weekly menu.
That's all there is to it, and you will then receive a confirmation email of your order and when to expect delivery (which you can also edit as you pack your box for the week ahead).
Does Green Chef Come With Cooking Instructions?
A great thing about Green Chef is that every delivery box contains individually packaged recipes, which include all of the pre-measured ingredients needed to prepare the meal (with the exception of olive oil, salt, pepper, and butter) and a detailed recipe card. The recipe card lists the ingredients and amounts, has a photo of the finished product, and step-by-step directions for how to make the meal.
What Makes Green Chef Stand Out?
Green Chef is similar to HelloFresh, but with a bigger emphasis on catering to specific dietary patterns, like vegan or keto. You'll find a wide variety of recipes that can meet your dietary needs and take less than an hour to prepare.
How Are Green Chef Meals Packaged and Shipped?
The Green Chef delivery box arrived on a Sunday afternoon and was left on my front porch for a no-contact delivery. It was medium in size and easy for me to carry into my house. The ingredients inside were neatly packaged in their own individual brown paper bags, encased in recyclable, leak-proof materials.
Each recipe bag was clearly labeled, with the recipe cards stacked on top. Each recipe card has a photo of the meal, ingredients, the recipe itself, and information regarding calories per serving and cook time. I arranged the four recipe bags in my refrigerator for the week and was able to easily dispose of the packing materials.
Although I ordered the option for 4 meals to feed 2 people each, I ended up with plenty of leftovers for the next day to feed myself and my children lunch.
Is There a Green Chef App?
Green Chef is an app that can replace the website if you prefer to use it on your phone. However, from reading the reviews on the Google Play store, it appears that many users feel like it could be made easier if you could use the app to pause or cancel a delivery. Some reviews also say that there's not as much information about the full menu, or available menu options, on the app as they have access to on the website.
How to Contact Green Chef Customer Service
There is a lot of information on the Help Center & FAQs page on the Green Chef website, regarding the company itself, recipes and ingredients, shipping and delivery, billing, and managing your subscription.
You can participate in an online chat with customer service on Monday through Sunday between 9 am and 7 pm EST.
You can also speak to someone on the phone on Monday through Friday between 6 am - 11 pm EST, or Saturday and Sunday between 7 am - 7 pm EST.
How to request a refund is not clearly detailed in the FAQs, however, it does seem like their customer care team is eager to assist with any concerns you may have regarding your delivery.
How to Pause or Cancel Your Green Chef Account
Green Chef is easy to make adjustments to, as long as you do it well ahead of time to prevent being charged. You can skip weeks or cancel your subscription up to 7 days prior to your next delivery.
You can also make changes to things like your plan size, delivery date, frequency of delivery, and other account information but again, anything related to your upcoming order has to be done a week in advance.
How Green Chef Compares to Other Meal Delivery Services
Green Chef has a lot of positives to offer. Let's take a look at how it compares to a few other similar, popular meal delivery services.
Keto, paleo, Mediterranean, vegan, vegetarian, gluten-free
Plant-based, gluten-free, dairy-free, low-carb, low-calorie, peanut-free
Vegetarian, pescatarian, low carb
Most packaging is recyclable
All packaging is recyclable
Some packaging is recyclable
Partially recycled cardboard
Green Chef vs HelloFresh
Green Chef is owned by HelloFresh. Both place fresh, healthy options at the forefront of their services, but Green Chef is at a higher price point and is also certified organic. One of the biggest differences between the two services is that Green Chef offers fully vegan options, whereas HelloFresh does not.
Green Chef vs Freshly
Freshly is designed to feed one person with pre-made meals that only require being heated up. Green Chef doesn't offer pre-made meals, only meal kits with ingredients that require a small amount of prep work and cooking. Green Chef and Freshly both offer a number of options as far as dietary preferences go, though Freshly has a lower price point and is not certified organic. Additionally, the maximum amount of recipes offered with Green Chef is 4, whereas a single individual can receive up to 12 meals a week with Freshly.
Green Chef vs Purple Carrot
While Green Chef offers a number of vegetarian and vegan options, Purple Carrot is a 100% vegan meal kit service. Purple Carrot emphasizes sustainability and eating more plant foods (and fewer animal products), whereas Green Chef emphasizes overall eating well with multiple options that encourage eating healthy plant foods.
Is Green Chef Worth It?
Green Chef is a great meal kit service option for people looking for healthy meals with minimal prep, and can align with either keto, paleo, or plant-based dietary preferences. This certified organic meal delivery service is an ideal fit for individuals or families who seeking plant-forward, easy-to-prepare recipes that align with healthy lifestyles.
Personally, Green Chef has been a refreshing fit for my household as we follow a plant-based lifestyle, and have appreciated the variety delivered. Depending on your budget, Green Chef may be a good match on a regular basis or to replace conventional cooking on occasion.