While cooking at home can save money and be a healthy and even therapeutic exercise, it's not without its hassles. Creating wonderful organic meals for your family can involve multiple pricey trips to the grocery store. It's also not always easy to come up with new organic meal ideas.
This is where healthy organic meal kit delivery services have your back. If you're trying to build a diet of organic, homemade food, signing up with one of the best 10 meal delivery services can make it easier than ever. You'll be sent a revolving set of fresh ingredients and recipes that you can make on your own. Making brilliant organic meals at home has never been easier.
If you're looking for fresh, organic and healthy food shipped directly to your doorstep, take a look at our picks for the top 10 organic meal delivery services.
Our Top 10 Best Organic Meal Delivery Services in 2023:
Our Picks for The Top 10 Best Organic Meal delivery Kits - Reviews:
1. HelloFresh
Eco-friendly emphasis on environmental sustainability.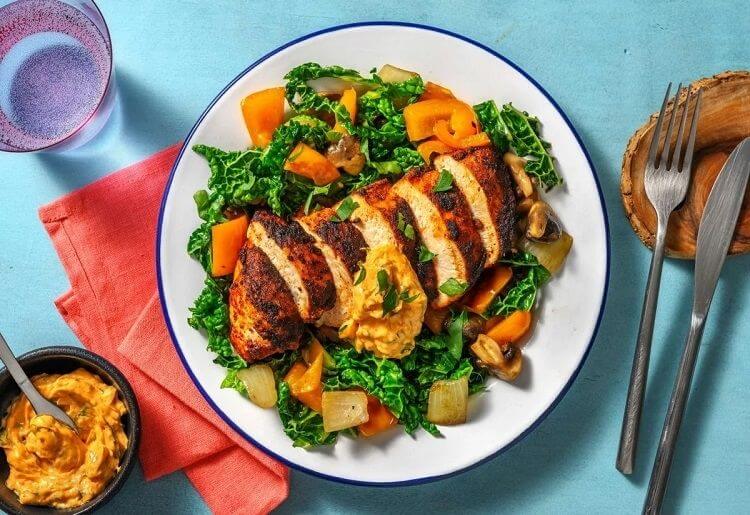 In HelloFresh's words, "some, but not all, of our ingredients are organic." While some of the suppliers HelloFresh works with may provide certified organic ingredients, you cannot create an exclusively organic meal plan with HelloFresh.
If environmental sustainability is a reason you're eating organic products, though, then HelloFresh is taking the right steps to move in the right direction. Their sustainability efforts emphasize completely recyclable packaging, supporting cleaner transportation systems, and working towards more humane animal practices.
Why we chose HelloFresh: You never have to get sick of eating the same old chicken breast and vegetables. HelloFresh ensures high-quality, flavorful meals with organic options in their diverse and an ever-changing menu that updates on a weekly basis.
Price: $3.99 - $5.98 per serving
Shipping: Free
Pros
Organic options are available
Partner with Annie's, maker of organic baked goods
Cons
No entirely organic meal plan
Hard to identify organic ingredietns
Read our HelloFresh review here

HelloFresh View Plans
2. Home Chef
Sustainable meals with organic chicken.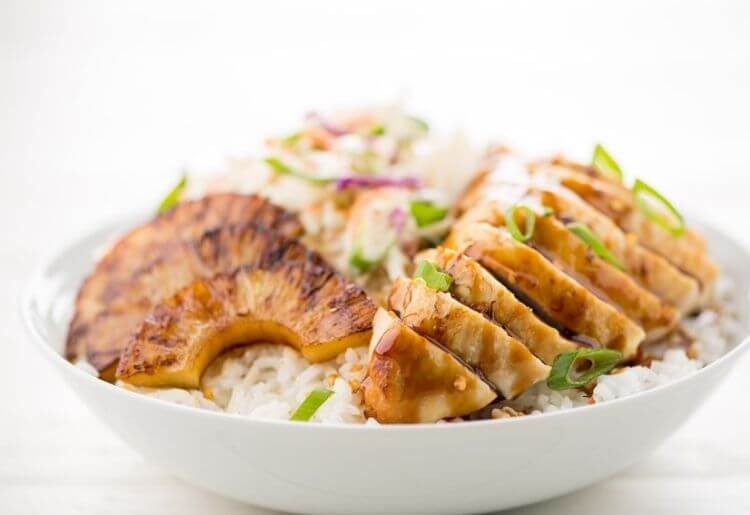 When it comes down to it, Home Chef does not have an organic meal plan, although they sometimes get their poultry from sources that are moving in a more sustainable direction. Home Chef also isn't able to guarantee the use of organic ingredients or produce. For some dishes, you can however use the "Customize It" feature to switch your protein to boneless skinless organic chicken breasts.
Why we chose Home Chef: We selected Home Chef for their customizable meal plans, which include Meals Under 30 Minutes and premium organic ingredients, making healthy and natural cooking feasible for busy individuals.
Price: $1.49 - $9.94 per serving
Shipping: $7.99 - $13.99
Pros:
Can sometimes get organic or antibiotic-free chicken
Recyclable packaging and heat-to-eat gourment options
Cons:
No organic options besides chicken breasts
No sustainability certifications
Read our Home Chef review here

Home Chef View Plans
3. Fresh and Easy Organic Meal Plan
A decent selection of dishes with organic or antibiotic-free chicken.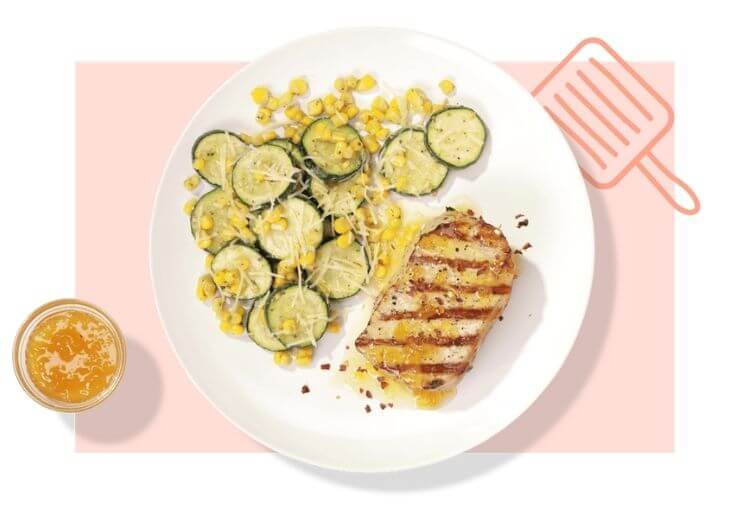 Fresh and Easy is a meal delivery service created by Home Chef that emphasizes convenience by providing delicious, pre-prepared meals. While Fresh and Easy offers healthy, flavorful meal options, it does not specifically focus on organic ingredients. It is a sister brand of Home Chef aimed at providing a time-saving experience.
If you are looking for organic offerings, it would be best to explore Home Chef's customization options for a more tailored experience that includes organic ingredients where available.
Why we chose Fresh and Easy: Though Fresh and Easy isn't explicit about its organic offerings, it's fully prepped and portioned meals provide no-mess, healthy, and fresh food.
Price: $1.49 - $9.94 per serving
Shipping: $7.99 - $13.99 per serving
Pros:
Can request organic instead of regular chicken
Recyclable packaging
Cons:
No organic options besides chicken breasts
Read our Fresh and Easy review here

Fresh and Easy View Plans
4. Green Chef
The original organic meal delivery kit.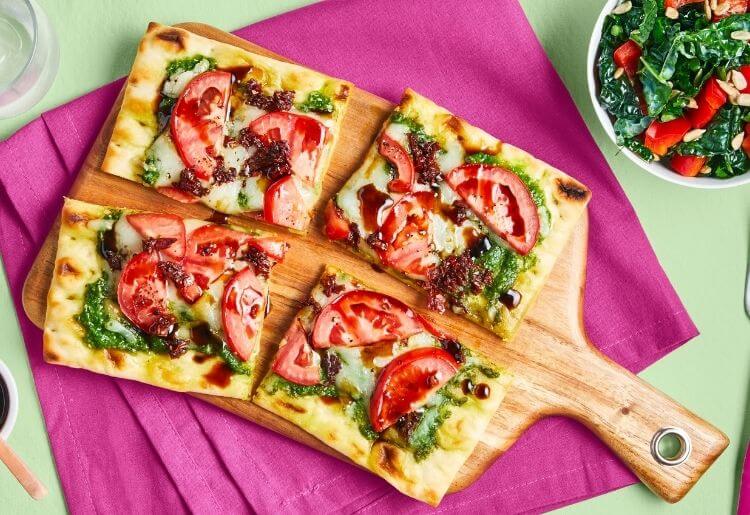 All of the produce and eggs Green Chef delivers are certified organic by the USDA and/or the California Certified Organic Farmers (CCOF). When it's not possible to get organic ingredients — such as with wild-caught seafood — Green prefers to source from more sustainable options.
It is unclear whether Green Chef's animal products are certified organic, but all of their proteins are raised with high animal welfare standards. Aside from a heavy emphasis on sourcing high-quality, sustainable ingredients, Green Chef also delivers every meal in a completely recyclable kit whenever possible.
Green Chef checks most of the boxes for an organic meal kit delivery service, and they're constantly setting the standard for eco-friendly options.
Why we chose Green Chef: Green Chef's dedication to certified organic ingredients and eco-friendly practices makes it an ideal choice for customers seeking environmentally responsible meal kit solutions.
Price: $11.49 - $12.99
Shipping: $7.99 per box (free shipping on first order)
Pros:
Exclusively organic eggs and produce
Almost completely recyclable packaging
Cons:
Can't customize orders based on food allergies/intolerances
Read our Green Chef review here

Green Chef View Plans
5. EveryPlate
A great option for reducing food waste.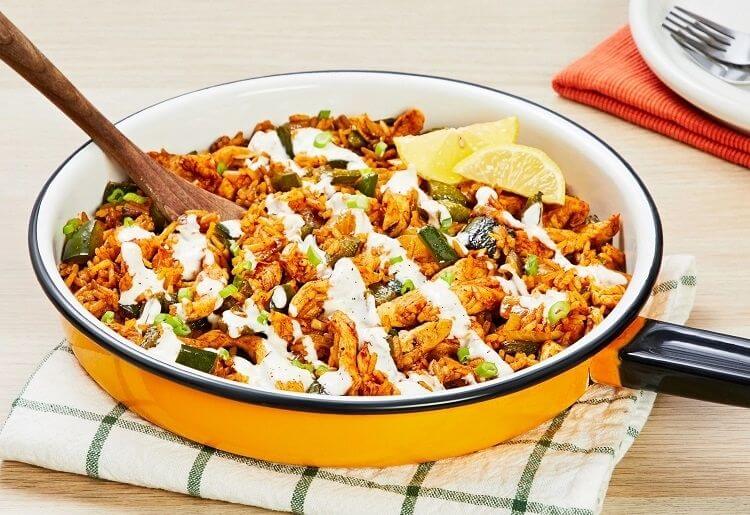 EveryPlate focuses on convenience and affordability, at the cost of a wide selection of organic meal kit options. As with any meal kit delivery service, just by trying it out you may end up with less food waste. On the other hand, only some of the packaging is recyclable. Plus EveryPlate makes no other sustainability claims, so we can assume that having organic options is not on the top of EveryPlate's to-do list.
Why we chose EveryPlate: EveryPlate ensures that conscious eating is accessible to a wide range of budgets with affordable and nutritious organic meal options.
Price: $4.99 per serving
Shipping: $9.99 per week
Pros:
Emphasizes convenience, flavor and affordability
Some packaging is recyclable
Cons:
Organic options difficult to find
Read our EveryPlate review here

EveryPlate View Plans
6. Nutrisystem
Meal plans tailored for individual caloric needs.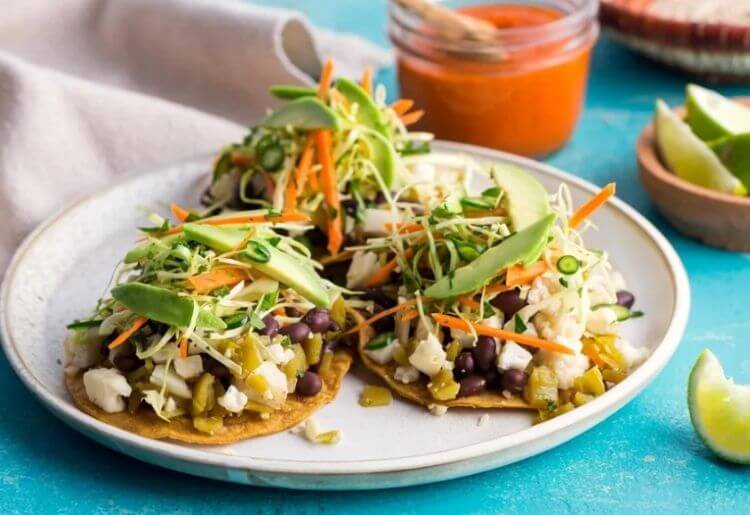 Nutrisystem's approach to food has recently shown an interest in moving towards a more sustainable model, with recyclable packaging options and clean food choices.
With a predominantly whole foods menu that couldn't make weight loss more simple, Nutrisystem has got a few things right. Ultimately, Nutrisystem isn't suitable for someone looking for a fully organic premade meal delivery service.
Why we chose Nutrisystem: Despite the fact that there are no completely organic options, Nutrisystem's complete line excludes all artificial ingredients like flavors, sweeteners, and trans fats.
Price: $3.24 - $5.48 per meal + snack
Shipping: Free
Pros:
Uses organic sugar in some shakes and snacks
Partially recyclable shipping materials
Cons:
Read our Nutrisystem review here

Nutrisystem View Plans
7. Purple Carrot
Clean-eating to promote a healthy lifestyle.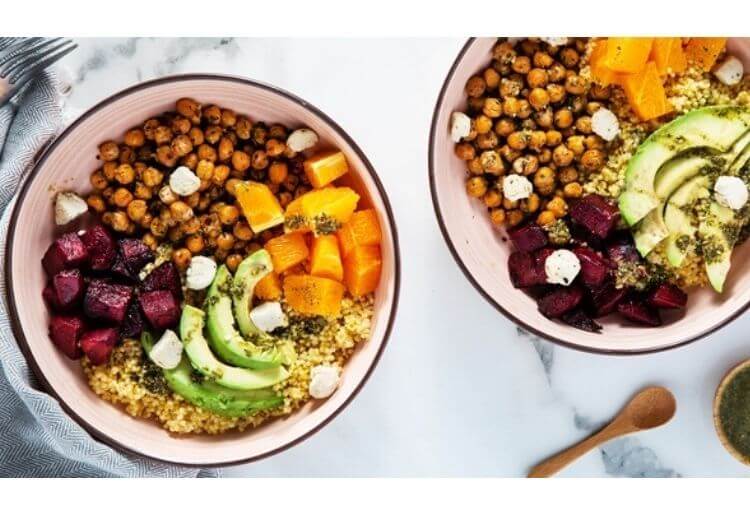 Purple Carrot is one of the only 100% plant-based meal delivery services available. It abides by a clean-eating philosophy that aims to eliminate unhealthy additives and promote healthier lifestyles and a greener planet.
Unlike other meal delivery options, Purple Carrot's meals are never frozen. This means they take about 30 minutes to prepare, but the freshness pays off in dividends. You can also take advantage of healthy snacks such as bundles of oat chocolate bars and bulk protein bites.
Why we chose Purple Carrot: We love Purple Carrot for their 100% plant-based organic meal kits, and direct appeal to vegans and vegetarians who prioritize clean, environmentally-friendly meal choices.
Price: From $4.30 per meal
Shipping: Free
Pros:
Always fresh, never frozen meals
Plenty of healthy snacks
Cons:
Takes time to prepare meals (avg. 30 minutes)
Read our full Purple Carrot review here

Purple Carrot View Plans
8. Freshology
Get support from a team of health professionals.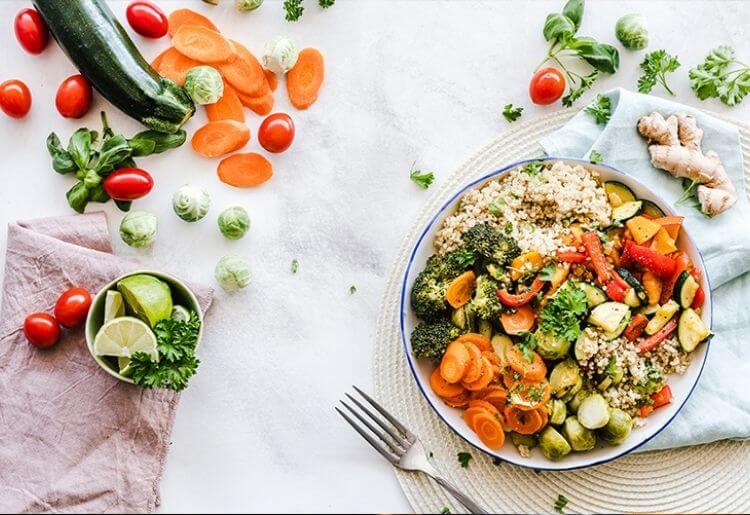 Freshology claims to "use organic ingredients whenever possible" in their Diet-to-Go meal kits. However, according to their website, their stance on organic ingredients is somewhere in the "middle ground". Freshology may be right for someone looking for a meal delivery service that partially emphasizes sustainability while always offering quality.
Why we chose Freshology: Freshology is committed to wellness as the organic meal plans prioritize clean ingredients to achieve optimal health without compromising taste.
Price: $10.14 - $14.36 per serving
Shipping: $19.98 per order (weekly)
Pros:
Support from health professionals
Access to Diet-to-Go community
A 5-week rotating menu
Cons:
Not an exclusively organic meal service
Read our Freshology review here

Freshology View Plans
9. Sunbasket
99% USDA-certified organic produce.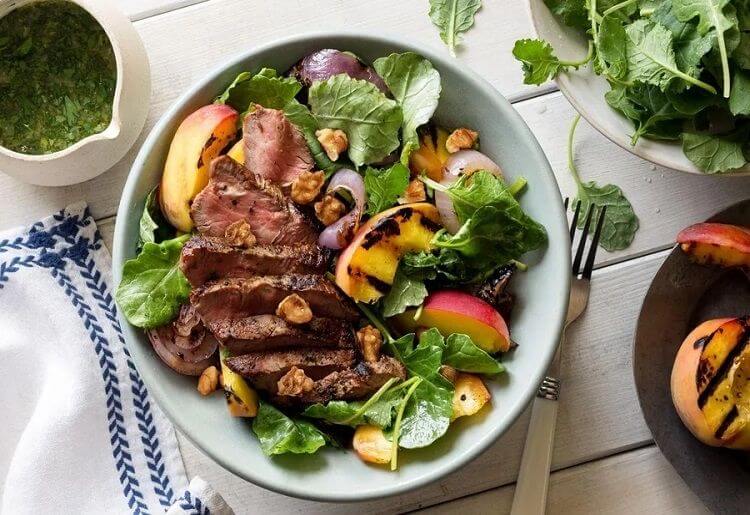 When it comes to meat, poultry, and fish, Sunbasket continues to deliver on their organic promise. All meat is organic, and they up the ante by providing grass-fed, grass-finished beef.
Sunbasket aims to get a minimum of 99% of their fresh produce, eggs, milk, and yogurt from USDA-certified organic sources. On the rare occasion that a non-organic item has to be included in your delivery box, Sunbasket lets you know so that you can make an informed choice of what you eat.
Why we chose Sunbasket: Beyond just the USDA-certified organic food Sunbasket offers, all of the seafood they provide is wild-caught or sustainably raised, as recommended by the Monterey Bay Aquarium Seafood Watch ® program.
Price: $4.32 - $8.99 per serving
Shipping: $5.99 - $7.99
Pros
As close to completely organic as possible
Wild caught or sustainably raised fish
Cons
No single-serving options
Read our Sunbasket review here

Sunbasket View Plans
10. Eat Clean To Go
Fresh and organic chef-prepared meals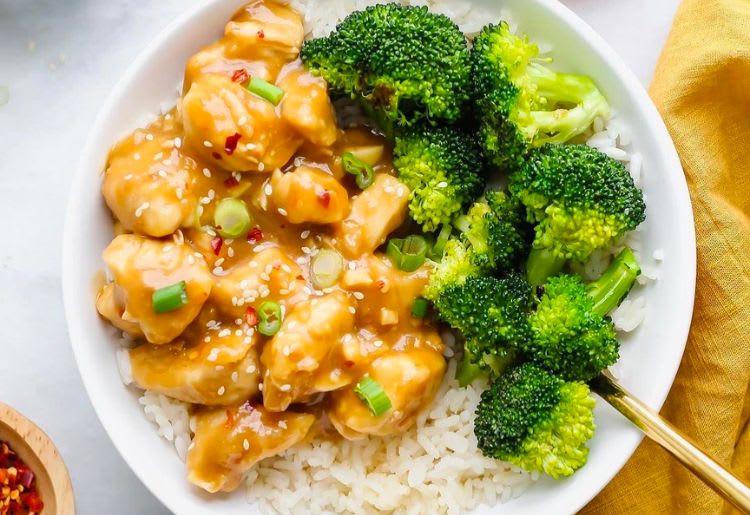 Price: From $4.30 per meal
Shipping: Depends on location
Eat Clean To Go's meals are made with fresh, organic ingredients that have no added preservatives and are locally sourced whenever possible. All produce is non-GMO and organic while other ingredients such as meat, eggs and dairy products come from responsible farms that use ethical animal husbandry practices. This makes it easier for users to stick to a healthy lifestyle without having to worry about potential toxins in their food or unsavory farming practices.
Why we chose Eat Clean To Go: Eat Clean To Go sources organic ingredients from regional farmers, ensuring fresh, wholesome meals with reduced transportation emissions.
Pros:
Meals change every week
Weekly membership plans
Locally-sourced foods
Cons:
Contract-free delivery only in Florida
Read our Eat Clean To Go review here

Eat Clean To Go View Plans
Why Eat Organic Food?
Organic food has gotten so popular that it's almost hard to imagine that just a few years ago it was seen as something of a niche market. These days you can hardly walk down a supermarket aisle without finding an organic version of something, be it avocados, floor cleaner, or even dog food.
Eating organic food is a great way to cut out potentially harmful pesticides and herbicides that are used on commercial agriculture, and to avoid food from animals that have been given growth hormones and antibiotics. These chemical additives make their way to consumers through the food we eat, and with organic food you can steer clear.
Genetically modified organisms (GMOs) are plants and animals that have been put through genetic engineering in order to make them more resistant to pests and weather, and more productive. Research has found that GMOs have the potential to harm us when we consume them, and by cutting them out you can avoid any health risks they may pose. In addition, studies have found that organic foods are healthier and more nutritious - and most of us can agree, more flavorful.
Also, if you're concerned about conservation, the farming methods used for organic crops are more earth friendly and responsible.
Nonetheless, even with the wide acceptance and mainstream popularity, buying organic produce can still be costly, and not every grocery store really delivers the goods.
Eating Organic with Meal Kit Delivery
The meal kit delivery industry realizes how important organic food is to consumers, and most companies put their organic food front and center as a main selling point. Sun Basket has taken this principle all the way, and is a USDA-certified organic handler with over 99% organic produce.
While few companies have purely organic ingredients, most offer a wide range of USDA certified organic food and GMO-free ingredients. Companies also put a big emphasis on conservation, with Blue Apron, for instance, touting their support of sustainable fishing through their partnership with Monterey Bay Aquarium's Seafood Watch.
Why Use Meal Kit Delivery for Organic Food?
Save money
Buying organic produce can be pricey at times, but partly that's because it's hard to know how much to buy and the fresh fruit and veggies can go bad before you figure out what you want to make. With meal kit delivery, all of the ingredients are shipped according to precise portions so you don't have to worry about waste or overspending.
Spare yourself the headache
There's no shame in admitting it - it's hard to think of recipes or new dinner ideas every night. You may have no clue which extra ingredient can really take a dish to the next level, or which root vegetable you've never heard of goes perfect with that wine you like.

With home meal kit delivery services, you don't have to take a refresher course on organic ingredients or wait for a sudden stroke of inspiration. The company provides the recipes and the ingredients, you just have to put it together.
Home meal kits also save you the hassle of having to go out and shop for the ingredients, which in the case of organic foods can be more difficult than just popping down to the convenience store.
Live An Organic Life
Our picks for the top 10 best organic meal kit delivery services are HelloFresh, Home Chef, Fresh and Easy, Green Chef, EveryPlate, NutriSystem, Purple Carrot, Freshology, Sunbasket and Eat Clean To Go.
Organic food is more mainstream than ever and the benefits to the organic lifestyle have never been clearer.

The home meal kit delivery industry has taken note, and if you'd like to incorporate more organic food into your healthy diet, there's a clear way.

So take some time to look at the options and what your household needs, and trust us - you'll never look back.