In a Nutshell
Freshology is a meal-delivery service that offers great dishes in terms of flavor, nutritional value, and portion size. Flexible ordering and delivery plans with no commitment are a plus, as well as the large variety of meals to choose from. Freshology can be an effective meal service for people interested in losing weight, but it's a very expensive option that may not be best for all budgets.
pros
Over 500 meal choices
Has both delivery and pickup options
Nutritionally balanced and well-portioned
cons
Meals are expensive
Meals may be delivered thawed

Freshology Visit Site
Freshology Video Review - Weight Loss Diets Made Easy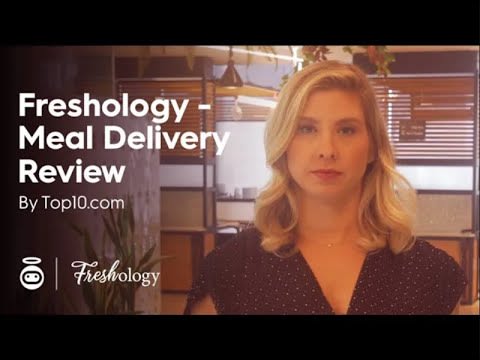 Best For
People looking to lose weight
Carb-controlled and heart-healthy options
Convenient and varied one-person meals
Freshology Meal Plans
Freshology offers four main menus that cater to different dietary requirements – Balance, Balance-Diabetes, Keto-Carb30, and Vegetarian.
Each menu comes with breakfast, lunch, and dinner meals (though you can choose to exclude breakfast) that are offered on a 5-week meal rotation schedule. You can choose between getting meals for 5 days a week, or a full 7-day week.
Freshology Dietary Options and Programs
Freshology can be an appropriate meal delivery service for some people with dietary restrictions. Built into their main meal plans are options appropriate for people on keto and low-carb diets, vegetarians, people who avoid seafood-free options, and people with diabetes or high cholesterol.
You can check for allergens on individual menu items by choosing food on the website and looking at their ingredient list. At this time, Freshology does not offer gluten-free meals, kosher meal plans, or vegan meal plans. There are four main menus offered by Freshology:
Balance
The Balance menu is Freshology's most popular option and was rated #1 for taste by Epicurious. It has the largest selection of recipes, most variety, and offers vegetarian and seafood-free meals. It's a nice choice if you're interested in losing or maintaining your weight, and it's great for people with prediabetes.
All Balance meals are dietitian-approved, balanced for nutrition, and portion-controlled. Foods on this menu are also heart-healthy and controlled for sodium, carbs, fat, and cholesterol. This way, you don't get too much of the stuff that's not good for you and can load up on healthy, delicious meals instead.
Balance-Diabetes
The Balance-Diabetes menu is designed to help you keep your blood sugar at a healthy level naturally. Like the original Balance plan, all meals on the Balance-Diabetes menu are calorie-controlled, nutritionally balanced, and heart-healthy.
Keto-Carb30
The Keto-Carb30 menu is a carb-restricted menu with meals designed to help you stay full and lose weight. It is an Atkins-style menu that is also keto-friendly. Carbohydrates are swapped with healthy fats, providing you with only 30g of net carbohydrates each day (net carbs are total grams of carbohydrates minus fiber).
Vegetarian
Finally, the vegetarian menu is a great option if you want to eat healthy without having meat on the menu. Protein sources include things like eggs, beans, and dairy, with a little soy thrown in occasionally.
Our Favorite Freshology Meals
Some of our favorite options from the Balance menu include Szechuan turkey burgers, chicken pesto salad, and scrambled egg rancheros. On the diabetes specific menu you can find a delicious salmon burger with refreshing mango salsa.
The Keto-Carb30 plan offers protein-rich meats (like the appetizing chicken parmesan over ratatouille). And if you're looking for something vegetarian, the quinoa egg bites or the black bean chili won't disappoint you.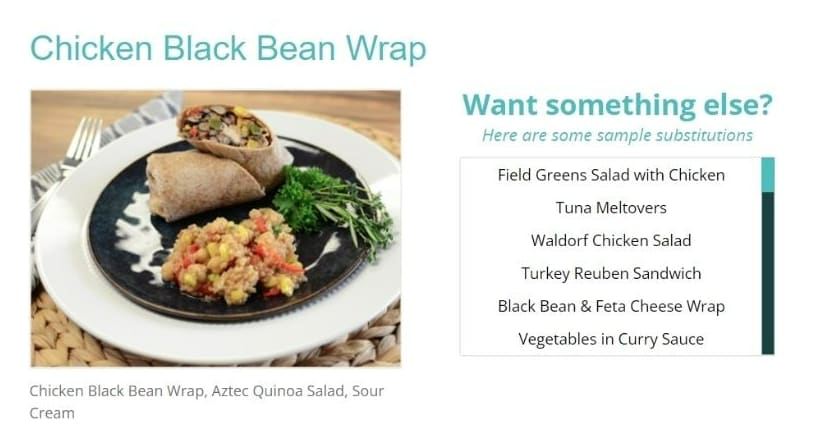 How Much Does Freshology Cost?
The cost of Freshology depends on the type of meal plan. Most of the meal plans (Balance, Balance-Diabetes, and Vegetarian) cost between $25-$31 per day ($9.19-$13.09/meal), and the KetoCarb30 costs between $28-$35 daily ($10.46-$14.99/meal).
All home deliveries have a cost of $9.99 to $19.98 per delivery, depending on your area code.
Balance for Women, Diabetic, Vegetarian
The FAQ on the Freshology website has a lower price range for their daily costs, but this calculation is based on plans without any discounts added.
How Does Freshology Work?
Freshology provides portion-controlled, chef-prepared, nutritious, and flavorful meals to your door. It has a pretty simple ordering process.
Placing an Order With Freshology
First, put in your zip code to view your delivery options. Freshology delivers all over the continental US and offers pickup options depending on where you live.
Next, you can choose your preferred meal plan (Balance, Balance-Diabetes, KetoCarb30, or Vegetarian). Each plan can be customized for factors including gender (for calorie recommendations), frequency of meals per day, and days per week (5 or 7).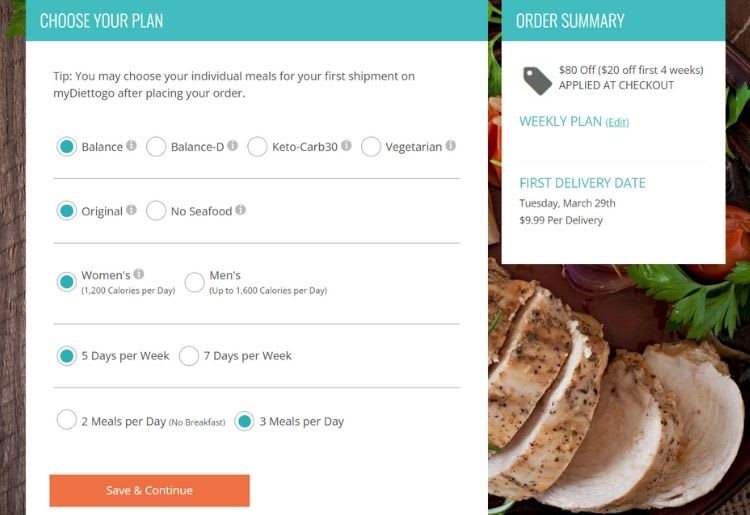 If you need a little help figuring out what kind of meal plan to choose, Freshology has a quick diet analysis that considers your BMI, activity level, gender, and desire to follow a keto or diabetic diet. Freshology will recommend which plan you should
Freshology will recommend a meal plan that may work for you. For additional follow-up, you can call the Customer Support line to speak to a health coach about your diet analysis results.
Proceed to checkout and choose how you want to pay for your meals. Once your order is finished you may personalize your menu and pick meals that you think look delicious.
It's a pretty fast and easy process. We didn't like that you have to pick, plan, and pay before you get to choose your meals. However, if you're ordering from the service anyway, it doesn't really matter when you pay and when you pick.
How to Choose Meals with Freshology
Freshology gives you the option to customize your menu for meal preferences after you place your order. Click on any meal to reveal a dropdown menu of substitutions available.
The four meal plan options by Freshology include Balance, Balance-Diabetes, KetoCarb30, and vegetarian. Each meal plan has food items for breakfast, lunch, dinner, and sides.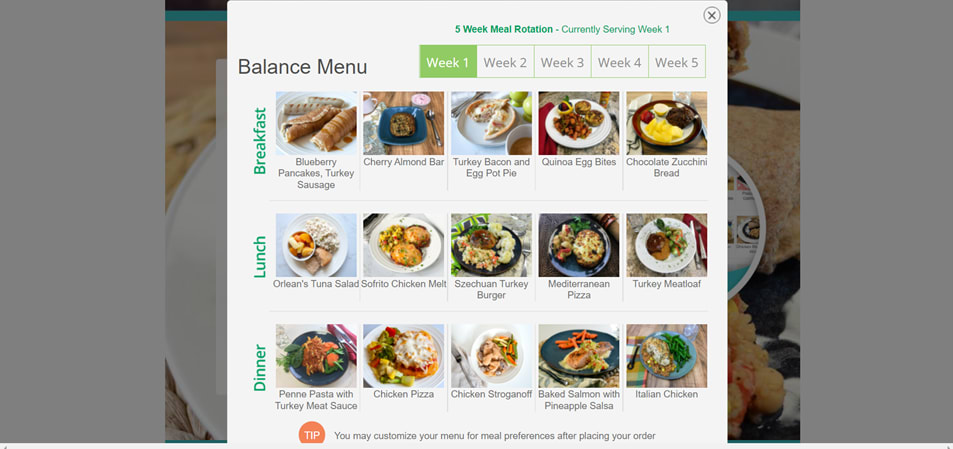 No matter what meal plan you choose, you're guaranteed to experience a variety of flavors from American and international cuisines. Of course, if a meal on your chosen meal plan doesn't suit your tastes, Freshology is committed to helping you find foods that do.
Excluding a single meal or adding an additional meal is only available to local pickup customers by special request.
Does Freshology Come With Cooking Instructions?
Because Freshology meals are fully cooked and pre-portioned, they are easy to prepare. All you need to do is follow the directions on the package and reheat in the microwave or oven for the recommended time.
What Makes Freshology Stand Out?
Freshology stands out by having chef-prepared and dietitian-approved meals that offer flexibility in cuisine and personal tastes.
Unlike some other meal delivery services, Freshology is 100% heat-and-eat, with perfect portion sizes. This is great for people who don't have a lot of time to cook or don't like eating leftovers.
How Are Freshology Meals Packaged and Shipped?
Freshology meals are available for both home delivery and pickup, depending on where you live. There are 200+ pickup locations throughout Washington DC, the Baltimore area, New Jersey, and Los Angeles.
The frequency of your delivery may depend on how close your home address is to one of Freshology's commercial kitchens. For closer areas, the home delivery schedule is every Tuesday and Friday. Areas that are further from their facilities will have their orders shipped once weekly on Mondays.
Packaging
Meals that are delivered in areas closest to Freshology facilities are delivered fresh in insulated boxes with cold packs. Meals that are shipped further are first flash-frozen to preserve freshness, packed on dry ice, and shipped in special coolers for no-contact delivery.
Freshology doesn't use the most eco-friendly packaging. Their meal trays are made of plastic and can be recycled, but their coolers are made of Styrofoam and may not be recyclable depending on where you live.
Receiving meals from Freshology
According to the Freshology website, it is normal if customers receive their meals thawed. The packaging is meant to preserve the freshness of meals during their shipping journey.
When you receive your meals at home, be sure to properly refrigerate them as soon as possible to avoid having spoiled food. This may be an issue for people with unusual schedules.
Is There a Freshology App?
Freshology currently does not have a mobile app and must be accessed through their official website.
How to Contact Freshology Customer Service
Freshology offers several ways to get in touch with their Customer Support team. You can contact them by phone, email, or the form available on their website.
Phone
Call 800-743-7546 in order to reach Freshology's Customer Support team.
Phone lines are open on Monday – Friday from 8AM to 5PM Eastern Time, and Saturdays from 9AM to 12PM Eastern Time.
Email and Contact Form
You may use Freshology's contact form here to send a message or send an email to service@diettogo.com.
Refunds
Freshology has a generous policy for refunds and meal plan credits.
Freshology provides credit for food items or meals that are damaged, spoiled, or impaired in any way as a direct result of shipping or delivery. They cannot accept any returned food items.
If you're unhappy with one of the meals in your order, Freshology will give you credit for that meal and work with you to figure out a suitable substitution. Freshology will refund the cost of your most recent delivery (including shipping and delivery) if you are dissatisfied with the meal service and want to cancel your subscription.
FAQ
Freshology has an FAQ page available on their website to answer common questions about the Freshology and Diet-to-Go service. Categories of questions answered include those about delivery, special dietary needs, menus, and pre-purpose questions.
Additional Reading
For additional resources on health and nutrition, Freshology's website features the Diet-to-Go blog. This blog features content on nutrition and wellness, recipes, weight loss tips, dieting success stories, and more.
How to Pause or Cancel Your Freshology Account
Canceling your Freshology plan is very simple. You can call Freshology at their customer service line at 800-743-7546 during business hours or send an email to service@diettogo.com at any time.
All order cancellations must be submitted by the Order Change Deadline. There are separate deadlines for mail-order customers and local pickup customers.
Mail-order customers must cancel their orders by Friday, 12:00 PM Eastern Time, while local pickup customers must cancel orders by Monday, 12:00 PM Eastern Time (applies for both Tuesday and Friday pickups).
How Freshology Compares to Other Meal Delivery Services
What makes Freshology different from other meal kit services?
Men, women, keto/low carb, vegetarian
Vegetarian, diabetes, keto/low carb
Gluten-free, low carb, low calorie, vegetarian, vegan, dairy-free, allergies
Vegetarian,
Vegan, low carb, heart-healthy, low sodium, dairy-free
Styrofoam and recyclable plastic
Styrofoam and recyclable plastic
Recyclable denim, cardboard, and plastic; gel ice packs
Insulated boxes made with recyclable materials
Freshology vs Diet-To-Go
Freshology is a meal service that is under the Diet-To-Go brand. The meal plans offered by each service are exactly the same. There may be some additional discounts available for meals through Diet-To-Go that aren't available on Freshology's website.
Freshology vs Freshly
Freshology has the advantage over Freshly by having dedicated meal plans based on dietary restrictions. While you can sort through Freshly meals for foods that are low-carb, gluten-free, or high-protein, there are no specific dietary plans. Freshly scores by using recyclable materials in their packaging, cheaper prices, and has an app for their service.
Freshology vs BistroMD
Freshology and BistroMD both offer meal plans that can target different health issues like diabetes and heart disease. BistroMD has better professional support for its customers. Not only are their meals created by a doctor specializing in weight loss, but registered dietitians are also freely available for additional health coaching. BistroMD also has more options for dietary restrictions.
Is Freshology Worth It?
Freshology is an excellent delivery service that will send healthy, delicious, and pre-portioned meals straight to your door anywhere in the continental US. Freshology isn't cheap, but if you are into eating healthy and losing weight, this is a great option.