In a Nutshell
If you're looking for an affordable meal kit service that requires minimal cooking skills and caters to certain dietary preferences, Dinnerly may be the right fit for you. Dinnerly provides 6 menu options per week, but it's priced at under $6 per serving. Customers like the unique recipes, the easy-to-follow cooking instructions, and that each meal is simple to cook. This service is a good value for the price.
pros
$6.00 per portion
Easy six-ingredient recipes
Simple recipes great for kids and adults
cons
Limited menu options
Not available in all of the US

Dinnerly View Plans

Best For
Beginner cooks looking for easy-to-follow recipes
Dinnerly Meal Plans
Dinnerly's meal plans are pretty limited, since you can only choose between the Two-Person Box and the Family Box. You can, however, choose to get between three to six meals a week in each box.
The Dinnerly Two-Person meals have enough ingredients to feed two people, and it's a great option for couples, roommates, or even singles who enjoy enjoy leftovers. The Family Plan meals from Dinnerly feed four people per recipe.
Dinnerly Dietary and Meal Options
Dinnerly menu items change every week, with plenty of options that meat a whole range of dietary needs. Each recipe is tagged with the nutritional needs met (for example, vegetarian, low-calorie, no added gluten), whether the recipe is kid friendly, or if the recipe can be prepared in under 30 minutes. It would be nice if you could filter for these things though, but unfortunately you'll just need to scroll through all the options for the week and pick the recipes that suit you best.
Low-calorie recipes have less than 650 calories per serving and may be a part of a weight loss plan. Low carb recipes have less than 40 grams of carbohydrates per serving and may help with blood sugar control for people with diabetes, whereas keto-friendly recipes have less than 20 grams of carbohydrates.
Vegetarian dishes don't have any meat, fish, or broth made from animal sources, and vegan dishes don't include any ingredients derived from animal sources including eggs, rennet, gelatin, and honey.
Recipes labeled "No Added Gluten" do not include ingredients with wheat, rye, and barley, making them good for people with Celiac disease or gluten sensitivities. No Added Dairy recipes do not include milk or milk products, which works for people with milk or dairy allergies and intolerance.
Nutritious Dinnerly recipes contain high-fiber vegetables, fewer processed grains, and lean proteins.
Our Favorite Dinnerly Meals
Dinnerly offers a very nice selection of dishes that are both easy to make and appetizing. Their creamy tortellini with broccoli, which takes under 30 minutes to make, is perfect as a comforting and delicious dinner. It's also a great way of getting kids eat broccoli.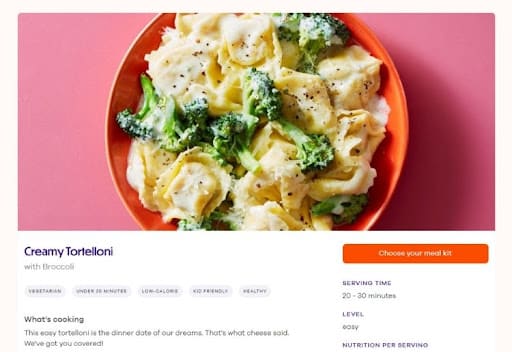 How Much Does Dinnerly Cost?
Dinnerly's meals are among the most affordable on the market. You will still have to pay for shipping, which should be considered in the cost. Prices range from $5.89 per serving (for 2 people, 3 meals a week) and as low as $4.96 for a family box (4 people, 6 meals a week).
Two-Person Box
(3 recipes/week)
Two-Person Box
(4 recipes/week)
Two-Person Box
(5 recipes/week)
Two-Person Box
(6 recipes/week)
Family Box
(3 recipes/week)
Family Box
(4 recipes/week)
Family Box
(5 recipes/week)
Family Box
(6 recipes/week)
How Does Dinnerly Work?
Dinnerly can cater to nine different dietary needs or preferences. These include low-calorie, low-carb, keto-friendly, vegetarian, vegan, kid-friendly, no added gluten, no added dairy, and nutritious categories.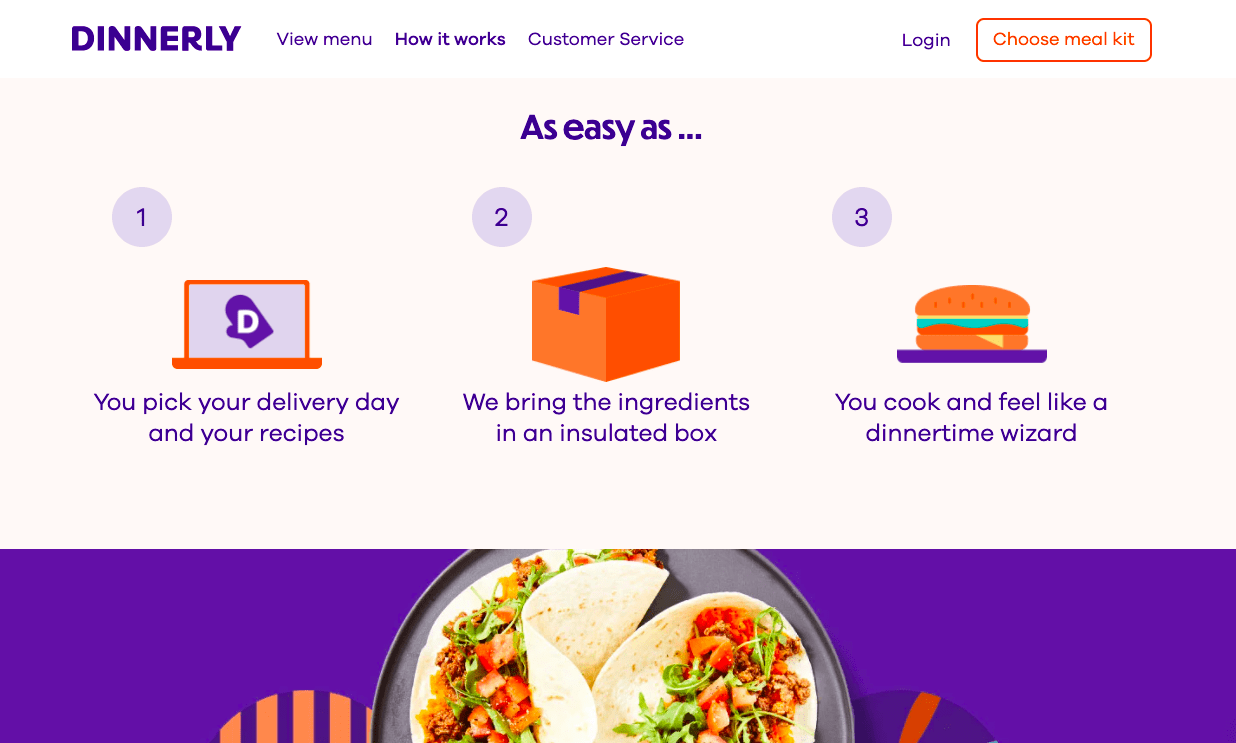 Placing an Order With Dinnerly
Signing up for Dinnerly is easy; simply fill out your details online, select your Dinnerly meal options and you should be on your way in no time. You can sign up for either a Two-Person Box or a Family Box. Both subscriptions allow you to choose between three to six meals per week.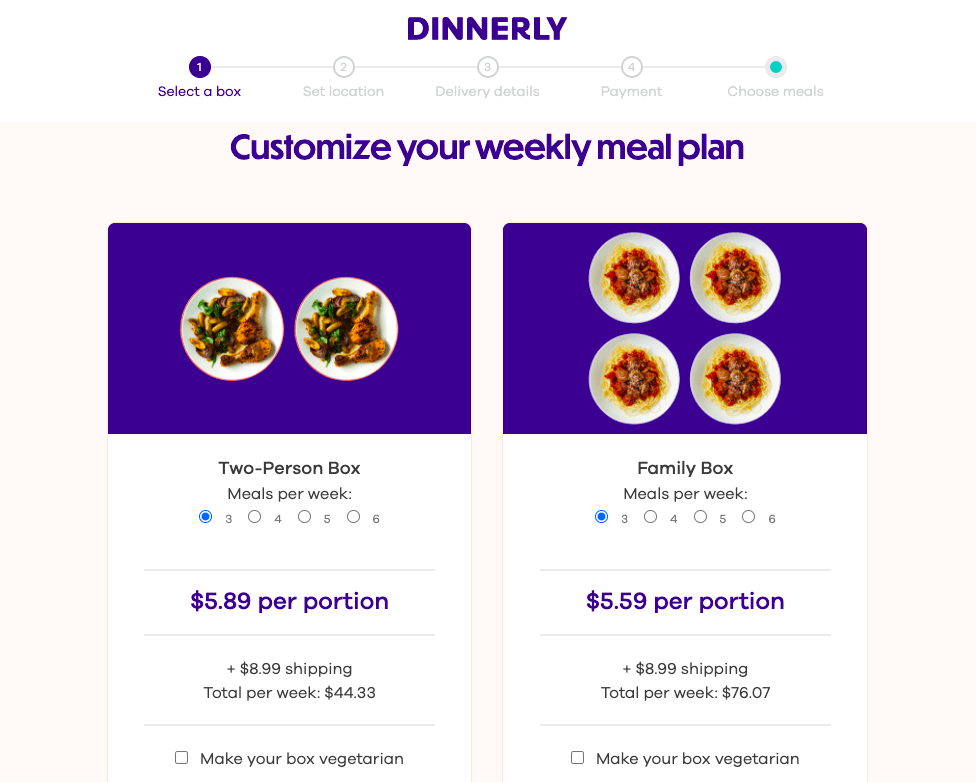 How to Choose Meals With Dinnerly
Once you choose your plan, you'll get to pick your recipes each week from a total of 6 options. You can also choose if you'd like a vegetarian option when you select a subscription service. Dinnerly does not currently offer breakfasts, lunches, or desserts except on some holidays.
Does Dinnerly Come With Cooking Instructions?
In order to save paper, step-by-step cooking instructions can be found electronically on Dinnerly's website and app instead of on printed recipe cards.
You won't feel overwhelmed with extensive ingredient lists and instructions. What's different about Dinnerly's approach is that each recipe can be prepared in less than 6 steps. You'll also find fewer ingredients in each Dinnerly box than other meal kits. Fewer ingredients saves time with less time chopping and measuring, and more time enjoying your meal.
Dinnerly sends you the foundational elements of your meal such as the meat, vegetables, grains and key ingredients. You may need to provide additional ingredients commonly found in home kitchens such as olive oil, butter, and salt.
How Are Dinnerly Meals Packaged and Shipped?
Ingredients for your Dinnerly meals arrive in insulated boxes with ice packs to keep things fresh. Boxes and separators are made from cardboard derived from sustainably managed forests. All of the cardboard can be recycled.
Dinnerly uses a variety of delivery services to reach you including FedEx, Lasership, UPS, UDS, Ontrac, Axelhire, and Veho, depending on where you live. One thing to keep in mind though—delivery is not available everywhere in the US. Dinnerly currently ships to most of CA, WA, OR, NV, UT, ID, TX, IL, IA, WI, GA, CO, OK, LA, AR, IN, KY, TN, NC, VA, NY, MD, CT, NJ, MA, RI, PN, DC, and FL.
Is There a Dinnerly App?
Dinnerly has an app called Dinnerly: Meal Kit, which is available for download on Apple iTunes and Google Play. You can easily navigate the app to manage orders, pick your meal plan, change account settings, rate your dinners, and view recipes conveniently.
Dinnerly Customer Service
Customers have a number of convenient ways to contact Dinnerly's customer service. You can reach out by way of the toll-free number or send an email. Dinnerly also has an interactive chat feature to help answer common questions or direct you to a customer service representative.
There is also an online form where you can fill out a message and receive an answer from a company representative.
In addition, the company's website includes a very extensive knowledge base and FAQ section where you find answers to most of your questions. Dinnerly's blog features additional cooking tips and recipe suggestions.
How to Cancel or Pause Dinnerly
Dinnerly is a subscription service, but you do have the flexibility to pause at any time or cancel as needed.
Log into your account on the app or website to cancel or pause your account. You can pause your deliveries for up to 4 weeks.
If you want to skip a delivery, be sure to log into your account to do so at least 6 days before your next delivery day.
For example, Tuesday deliveries can be changed up until 11:59pm the Wednesday before.
Friday deliveries can be changed up until 11:59 pm the Saturday before. Monday deliveries can be changed up until 11:59 pm the Wednesday before.
How Dinnerly Compares to Other Meal Delivery Services
Dinnerly has 6-ingredient meals that are quick and simple to prepareand start at only $5 per serving.
Number of dietary restrictions available
Amount of prep work required
Cardboard sourced from sustainably managed forests and recyclable plastic
Partially recycled cardboard
Recyclable cardboard and plastic
Delivers on promises (e.g., 15 minutes to cook)
Yes, but cooking times can take longer
Dinnerly vs HelloFresh
Dinnerly and HelloFresh are meal kit delivery services with positive reviews for taste but appeal to different audiences. HelloFresh recipes contain numerous ingredients, may require more prep work and longer cooking times. Dinnerly is the preferred option for cooks wanting simple, easy-to-follow recipes that feature 6 ingredients or less.
Dinnerly vs Everyplate
Dinnerly and Everyplate are affordable meal kit delivery services, similar in design with a few key differences. Everyplate offers more meal options per week than Dinnerly, but has fewer options to customize meal kits for dietary needs like low carb. Dinnerly also has an app for individuals looking to access their account anytime, while Everyplate does not.
Dinnerly vs Home Chef
Dinnerly and Home Chef are both meal kit delivery subscription services. Home Chef does offer double the number of meal options per week than Dinnerly. However, if you have a specific dietary restriction such as gluten free, Dinnerly has more meal options than Home Chef.
Bottom Line:
Dinnerly is the easy and affordable meal kit delivery subscription that is perfect for cooks of all skill levels looking for quick dinner solutions. Make dinner feel easy with Dinnerly's simple and savory meals for just $5 per serving.