It's not uncommon for working moms to have too little time and energy to prepare meals every day, especially if their kids are picky eaters. And if you have a child with food restrictions, it becomes an everyday challenge to come up with tasty recipes that can be made quickly (1).
If you're a busy mom with picky eaters, we have listed 10 gluten-free recipes just for you. These recipes are easy to whip up, and your child will love every bite.
1. Shrimp Risotto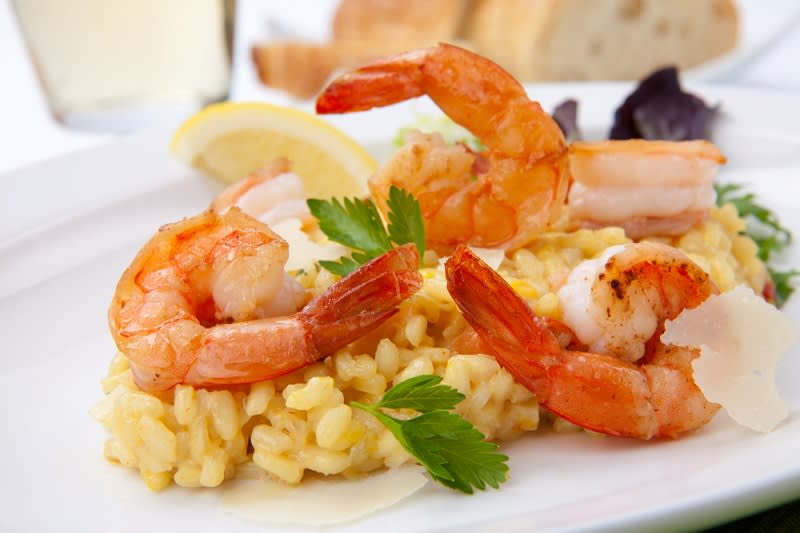 This recipe is made using arborio rice cooked in a flavored broth. It consists of shrimp, butter, onion, garlic, and parmesan cheese. It takes about 20-30 minutes to cook, and the result is a restaurant-quality dish that your little one will find irresistible.
Recipe
Cook the shrimp with the seasoning of your choice. Once cooked, take it out and sauté the onions and garlic in the same pan. Add the rice, mix well, and add in the broth. Cook until the rice is done, stirring occasionally. Add in the shrimp and parmesan cheese. Garnish with fresh parsley.
2. Corn Tacos
Tacos are tortillas filled with meat cooked with taco seasoning, salsa, and guacamole topped with sour cream. For a healthier gluten-free version, go for corn tortillas (2).
You can make the tortillas beforehand or buy them from the store. You can also find most of the fillings, spices, veggies, and sauces there too. You can use ground beef, chicken, or fish for this recipe. This meal is ready within 15-20 minutes.
One of the best parenting hacks to get your kids to eat healthier is to get your little one to help with cooking, so have them help you assemble the tacos.
Recipe
Cook the meat with olive oil, garlic, red onions, and taco seasoning. Next, it's time to assemble your tacos. Put in the lettuce, red cabbage, meat, assorted chopped bell peppers, jalapeno, olives, and grated cheese. Garnish with salsa, guacamole, and sour cream.
3. Shepherd's Pie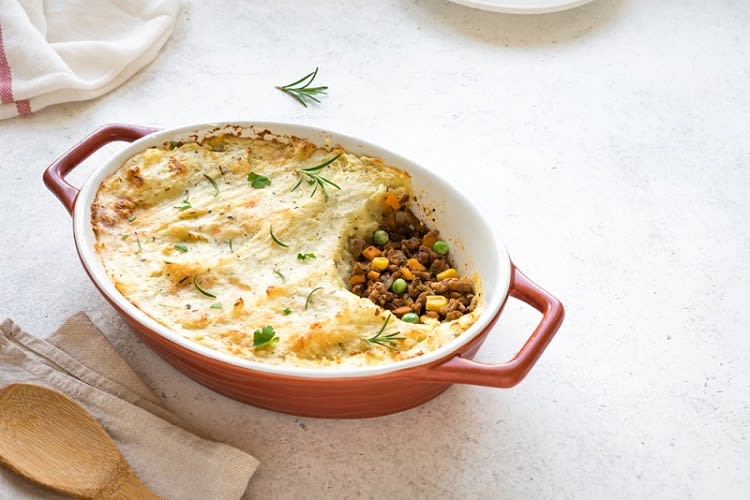 You can't go wrong with this traditional English dish. Healthy vegetables are mixed with delicious ground beef and hidden under a bed of mashed potatoes and cheese, making it easy to get some much-needed vitamins into your little one's tummy. This dish can be made in just 20 minutes.
Recipe
Boil and mash potatoes. Mix with some butter and milk to make it silky smooth. Cook the lean ground beef with seasonings. In another pan, combine gravy mix and water. Add vegetables and bring to a boil.
In a baking dish, layer the vegetables, ground beef, and gravy. Top it with mashed potatoes and cheese of your choice. Bake in a preheated oven at 400 degrees for 10-15 minutes.
4. Kebabs
Kebabs are skewered marinated meat (lamb or beef) cooked over fire. There are many different kids, but we'll make a simple tandoori chicken kebab that is easy to make and tastes divine. Tandoori masalas are easily available in Indian grocery stores and have a long shelf life.
Recipe
Marinate the chicken with lime juice, plain yogurt, salt, ginger-garlic paste, and tandoori chicken masala for at least an hour or two. Thread chicken pieces onto a skewer and grill or cook them in a skillet. Baste both sides of the chicken generously during the cooking process.
If you'd like, you can add your little one's favorite veggies to your kebabs. Bell peppers, zucchini, yellow squash, and carrots are great for extra flavor and added nutrients.
5. Lettuce Wraps
Lettuce wraps are a great way of having gluten-free burgers. It increases the nutritional value without compromising on taste. This gluten-free meal is a hot favorite among kids and hardly takes time to prepare.
Recipe
Cook the meat of your choice. You can use ground chicken, turkey, or beef. Place the meat in a fresh, crispy piece of lettuce and top with gluten-free sauces. Enjoy it as an appetizer or a main dish. You can also add cheese if you'd like.
6. Gluten-Free Mac and Cheese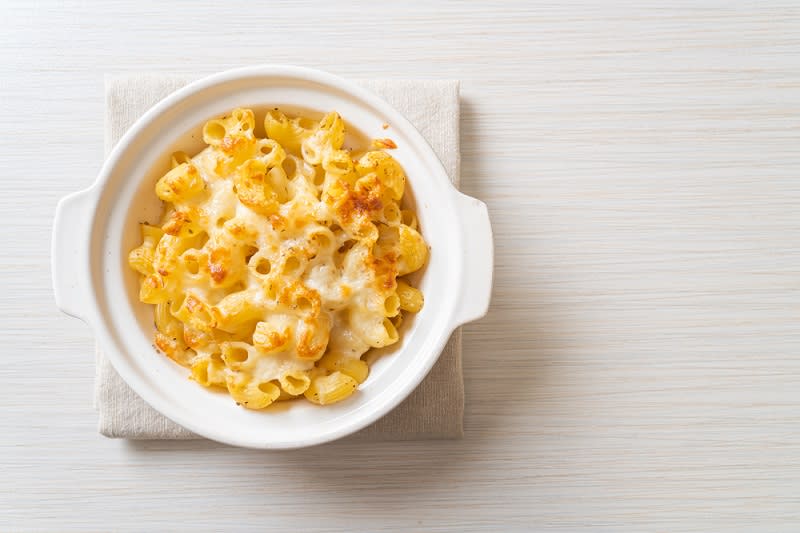 Mac and cheese is probably the most popular comfort food—especially with kids! You can make your own gluten-free version using gluten-free pasta. It takes less than 20 minutes and uses very few ingredients.
Recipe
Make the sauce with butter, gluten-free flour, milk, salt, and pepper. Add in the boiled gluten-free pasta, cheddar, and parmesan cheese.
7. Pad Thai
Pad thai is a Thai delicacy made using rice noodles. It also contains chicken, shrimp, tofu (optional), scrambled eggs, fresh vegetables, and peanuts. For a busy mom, it is a perfect 30-minute meal. You can make the pad thai sauce beforehand or buy it from the grocery store. Even though traditional pad thai includes fish sauce, you can skip that step.
Recipe
Cook the rice noodles. Sauté the protein using the oil of your choice and add in some garlic. Cook till the meat is done. Add in the vegetables, let it cook, and toss in the sauce and noodles. Top with scrambled eggs, peanuts, and cilantro.
8. Gluten-Free Sausage and Egg Muffins
This recipe is gluten-free, cheesy, healthy, and delicious. It'll only take 20-30 minutes to prepare and is guaranteed to satisfy even the pickiest eater.
Recipe
Cook onion and pepper in butter. Grease the muffin pan and add the veggies, cheese, and cut sausages. Pour the eggs over the veggies and let it bake for 20 minutes.
The best part of this recipe is it can be made beforehand and stored. You just have to microwave it for a few seconds and serve.
9. Mixed Fried Rice
Who can say no to a delicious plate of fried rice? It's the perfect meal for a picky child, and you'll love it too. You can use leftover rice and chicken for a quicker version.
Recipe
In a hot skillet with oil, sauté some onions and add your choice of protein. Once it is cooked, add in the veggies and rice. Mix well. You can add gluten-free soy sauce for extra flavor.
10. Gluten-Free Chicken Enchiladas
This kid-friendly recipe is always a hit. You will need shredded chicken, cream cheese, gluten-free enchilada sauce, salsa, corn tortillas, and Mexican blend cheese.
Recipe
In a pan, add half of the enchilada sauce. Wrap chicken in the tortillas and place on top of the sauce. Cover with the rest of the sauce. Top it with cheese and bake. Enjoy it with salsa, sour cream, and herbs.
Cooking for Your Picky Eaters Doesn't Have to Be Complicated
These 10 gluten-free recipes will please even the pickiest eaters, so make sure to try them all. They are quick and easy and don't require a bunch of different ingredients—perfect for busy moms! Your picky children will not be able to resist, and neither will you.
You can also try gluten-free meal delivery services from Home Chef or Blue Apron for a more convenient option.
» Want your kids to eat healthier? Here are the best parenting hacks for how to get your picky kids to eat healthier.
References