Statistics reveal that most kids do not eat enough fruits and vegetables to meet their recommended intakes (1). Even though this can be difficult, there are plenty of meal delivery services to take the stress out of acquiring the food yourself.
Rather than forcing them to eat what they don't want, here are 10 parenting hacks to get your kids to eat healthier.
1. Replace the Snacking
Kids, if allowed, tend to snack frequently on biscuits, cookies, cakes, chips, and sodas. Most of this is just refined flour, trans fats, and sugar which are extremely harmful to health. Snacking fills them up and prevents them from eating wholesome foods during meal times.
You can cut short on frequent snacking by ensuring they eat well at mealtimes. If the three-big-meals ideology is too much for their little tummies, simply reduce the number or break it into smaller meals served more frequently.
Meals rich in protein and healthy fats not only look and taste delicious, but they also offer satiety and keep them feeling full for longer. Adequate protein intake is extremely important for a child's growth, while fat is essential for healthy brain development.
Serve your child avocado and chicken in a wholewheat wrap to meet those requirements without jeopardizing their health.
2. Change the Chips
Preventing frequent snacking is one thing, but there are plenty of occasions when snacks are needed—so make sure to have some healthy options on hand.
For example, instead of potato chips, try making air-fried kale or sweet potato chips. While potato hardly provides any nutritional value, kale and sweet potato are brimming with essential nutrients.
Kale is rich in vitamin A, vital for ensuring healthy eyesight in kids, and vitamins C and K, helping to strengthen their immune systems.
3. Have Fun With Sauces and Dips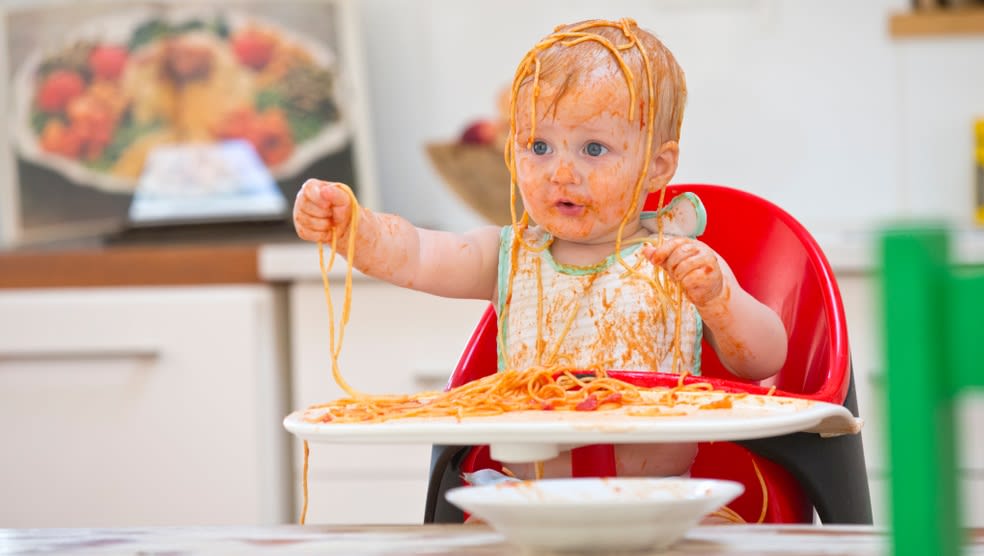 "Mess" and "kids" definitely go hand in hand! A kid with tomato sauce smeared all over their mouth, finger, and even T-shirt may not seem that amusing to the one who has to clean them up, but it's evident the kid is enjoying their food. Using healthier versions of popular dips can be a great way to introduce healthier foods to your kids in a familiar way.
For example, yogurt, hummus, or sugar-free applesauce.
If you want them hooked on the kale chips, then try serving with a cheesy dip or homemade sugar-free tomato sauce.
4. Say "Yes" to Chocolate
Chocolate is good for health and can be given to your child—but you have to pay attention to the kind of chocolate you buy. Avoid high-sugar candy bars with corn syrup, food coloring, and other additives. Dark chocolate containing at least 50% cocoa is a good choice for kids as it is packed with minerals such as magnesium, iron, phosphorus, zinc, potassium, selenium, and copper, all of which are high in antioxidants. The flavonoids and theobromines in chocolates stimulate the hippocampus and improve brain function (2), essential for growing kids.
You can even sneak in a puree of pumpkins or zucchini into your wholewheat sugar-free chocolate muffins to add more nutritive value.
Even diabetic kids can have chocolate that's low in sugar. Meal delivery for diabetic children is a great way to find versatile and delicious food options.
5. Experiment With Food Recipes
You do not always have to go the traditional side. Some healthy tweaks here and there, and your child won't even notice the difference.
For example, replace your white-flour pasta with zucchini noodles and toss in bacon or sausages and scrambled eggs. Zucchini is high in manganese, potassium, folic acid, and vitamins A, C, and K. Kids require adequate potassium and folic acid for healthy blood functioning and maintaining the correct balance of fluids.
Check out the best YouTube cooking channels for more food ideas.
6. Make Healthy Foods Tasty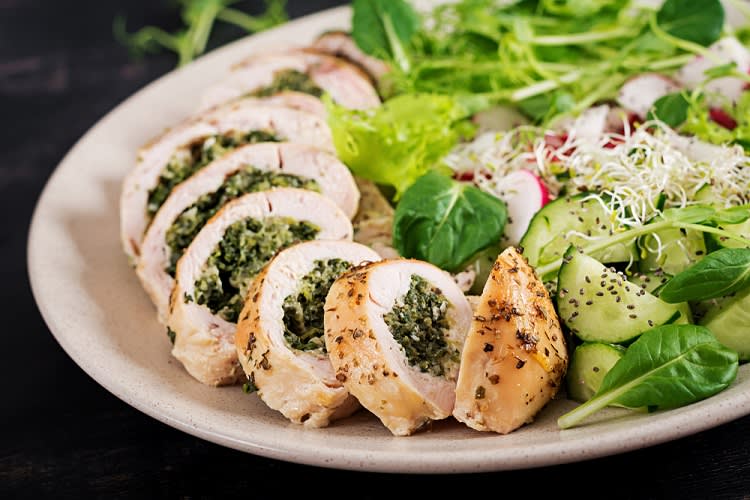 Who said healthy foods can't be tasty?
Take a look at spinach, for example—high in iron, folic acid, potassium, and vitamins A, C, and K. But instead of forcing your kids to eat spinach as a side dish with grilled chicken, try making a chicken roulade stuffed with spinach, mushroom, and cheese. It will be colorful and delicious and have your kids begging for seconds.
If the idea of making such a dish sounds tiresome or difficult, then you need not worry. There are many different meal delivery services that offer meals just like this one, such as Home Chef.
7. Let Them Eat Junk
If your munchkin is hellbent on having a McDonald's burger and french fries for a Friday dinner, let them have it once in a while. However, gently make them understand that they need to have a healthy breakfast the next day to compensate.
Oats cooked in milk with fruits or berries and some nuts of their choice are a great option. The soluble fiber present in oats will not only help clean up the digestive system but also give your child enough nutrients to make up for the day before. Oats are also a great source of protein and healthy carbs, and they offer antioxidants and fibers that relieve inflammation (3).
8. Get Creative With the Presentation
Does your dining area seem like a battleground to both you and the kids? It's time to turn it into a playground! How you present the food to the kids is very important in getting them to eat it happily.
Arrange the food on the plate to form fun and interesting shapes like broccoli trees or even clowns—you can even give them funny names! Try coming up with new ideas and smart hacks that make both you and your kid happy, making them look forward to mealtimes and forging fond memories of happy meals.
9. Quench Their Thirst With Immunity Boosters
You do not always have to fight over food. Offer them choices. For example, if they ask for carbonated drinks or fruit juices that are full of sugar, offer them some flavored drinks with no sugar. For example, a small glass of homemade lemonade with pulp is much better than Coca-Cola. While the former provides your child with a good amount of vitamin C, essential for healthy blood vessels and immune systems, the latter is just sugar, preservatives, food coloring, and dangerous acids.
Additionally, a glass of milk blended with a dash of unsweetened cocoa powder can give your kids plenty of the calcium they need to build strong teeth and bones.
10. Let Them Make Their Own Meals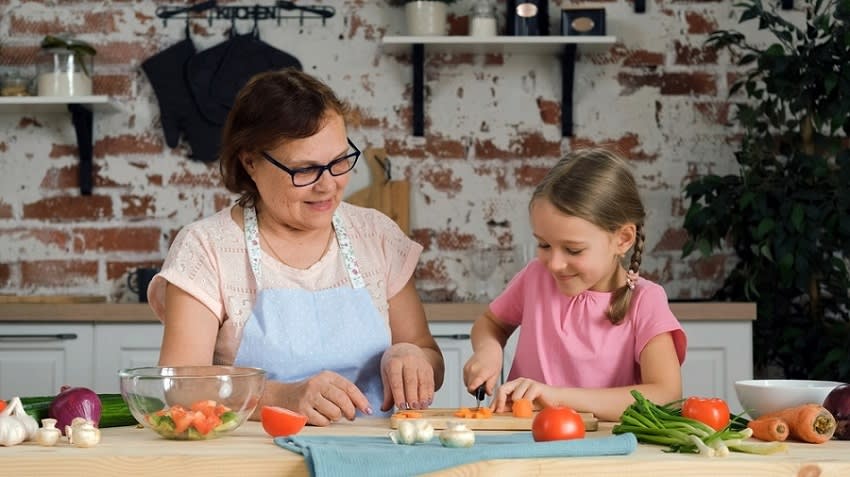 When they make their own meals, chances are that they will eat every morsel of it. Set the counter with some healthy ingredients from Blue Apron or HelloFresh and let the kids have fun making their own meals. Not only are they more likely to eat what they've prepared, but this can also be a fun bonding exercise that teaches your kids about the importance of home cooking over takeout.
The Final Note
Getting your kids to eat healthier doesn't need to be difficult. A simple sugar-free peanut butter and banana sandwich along with a glass of milk is a nutritious and healthy meal for a child (4). Allow them to have treats and junk foods in moderation and only when you do, so they can learn about the importance of balance and nutrition.
If you are feeling frazzled, reduce the stress by ordering nutritious food and getting it delivered home. Look for non-vegetarian or vegetarian meal delivery services, according to your preference.
Kids will never learn to eat healthy if you don't lead by example. No matter what we say, kids are great imitators and tend to do exactly what we do. So, be a good role model for them.
Resources