Meal delivery services like Home Chef make mealtimes healthy, convenient, and affordable for you and the whole family. They offer easy-to-prepare meal kits in the right portion every day, saving you from having to brainstorm a menu every day and visit the supermarket.
If you are gluten intolerant, it becomes more challenging to find the right meal delivery service (1). But Home Chef is here to help. It is one of the best options for gluten-free meal delivery and makes gluten-free eating easy.
These 10 Home Chef recipes are not just gluten-free but simply delicious. Order your favorites and enjoy these delicacies in the comfort of your home.
» Check out our favorite meal delivery services for more quick and easy restaurant-quality meal options.
1. Feta and Herb Crusted Salmon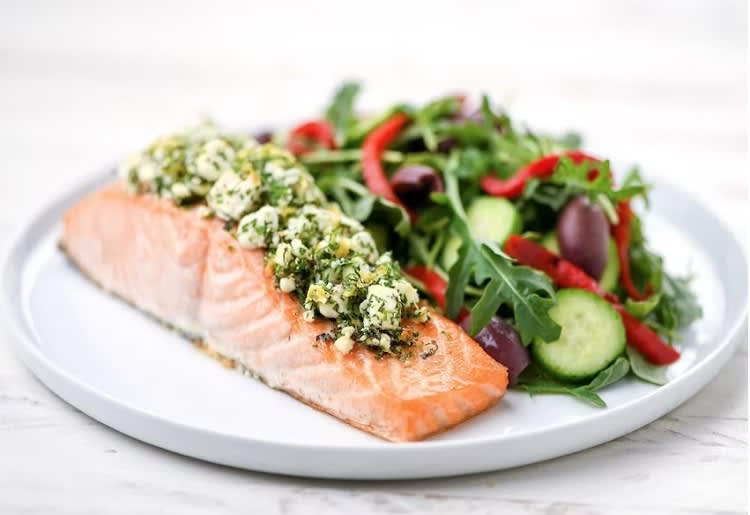 This dish is served with a Greek arugula salad. Salmon is the king of fish in terms of nutrition, taste, and versatility. Apart from being a high source of protein, it contains vitamin B12, Vitamin D, iron, selenium, and potassium.
Ingredients for the crusted salmon include salmon fillets, lemon, feta cheese crumbles, parsley, and dill springs. Ingredients for the salad include baby arugula, roasted red peppers, Persian cucumber, pitted Kalamata olives, sugar, and oregano.
Recipe
Get the herbs ready by coarsely chopping dill, parsley, and oregano. Cut the cucumber, halve the olives, and season the salmon with salt and pepper. Combine dill, feta, parsley, and lemon zest in a bowl. Bake the salmon with the feta-herb mixture in the oven for 13-15 minutes at 400 degrees.
Make the vinaigrette for the salad with lemon juice, sugar, oregano, olive oil, salt, and pepper. Round up this masterpiece by drizzling the vinaigrette over the arugula, roasted red peppers, Kalamata olives, and cucumbers.
2. Southwestern Black Bean & Chicken Salad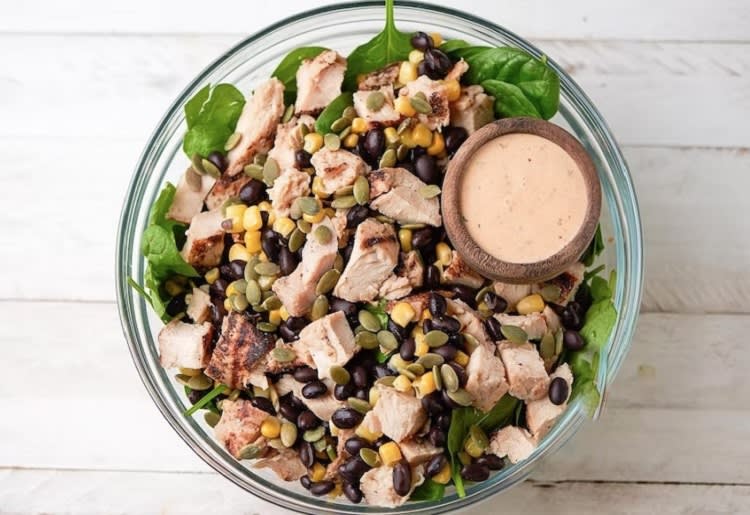 This meal uses fresh ingredients and takes just 5-10 minutes to prepare, with no cooking required. It is deliciously filling and contains plenty of protein. Black beans are a great source of plant protein and essential nutrients, especially polyphenols that have beneficial effects on the postprandial response. That is, it doesn't spike blood sugar levels and helps lower overall blood glucose levels.
The recipe requires black beans, roasted chicken breast, baby spinach, corn kernels, chipotle ranch dressing, and pepitas.
Recipe
Rinse the corn with warm water, and drain the black beans. In a bowl, combine the corn, black beans, spinach, and roasted chicken and toss it all with the salad dressing. Garnish with pepitas, and your meal is ready!
3. Brussels and Brown Butter Risotto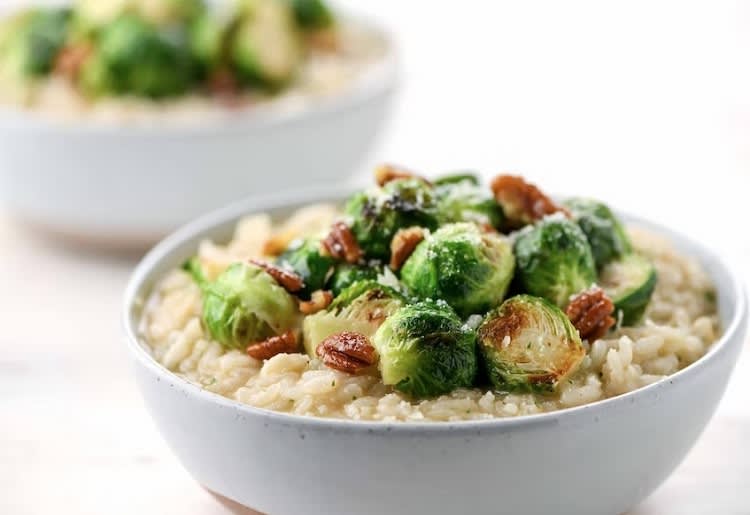 Creamy risotto with the nutty aroma of brown butter is a combo made in heaven. Topped with roasted Brussel sprouts, goat cheese, and pecans, this meal is gluten-free comfort food at its finest (2).
Brussel sprouts are cruciferous vegetables rich in nutrients such as vitamins K and C. They are also rich in antioxidants and fibers. This vegetable is especially good for vegans and vegetarians as it contains omega-3 fatty acids, usually present only in seafood.
Ingredients are Brussel sprouts, one shallot, butter, goat cheese, mirepoix broth concentrate, Arborio rice, grated parmesan, white cooking wine, roasted pecans, and parsley. Cooking time is just over 45 minutes.
Recipe
Prepare the veggies by halving the Brussel sprouts, chopping the parsley, and mincing the shallot. Heat 4 cups of water in a saucepan.
Coat the Brussel sprouts in olive oil, add in some pecans, and place them in the oven to roast for 5-7 minutes at 400 degrees. Now, it's time to start with your risotto.
Brown the butter in a pan and cook shallots for 2 minutes. Add rice and stir until toasted. Add in white wine and stir until absorbed. Add one cup of water and mirepoix base and stir until absorbed. Add half a cup of water and stir until absorbed. Repeat until rice is cooked.
Stir in parmesan cheese, parsley, salt, and pepper. Add in the topping along with goat cheese, and enjoy.
4. Sirloin Steak with Blue Cheese Compound Butter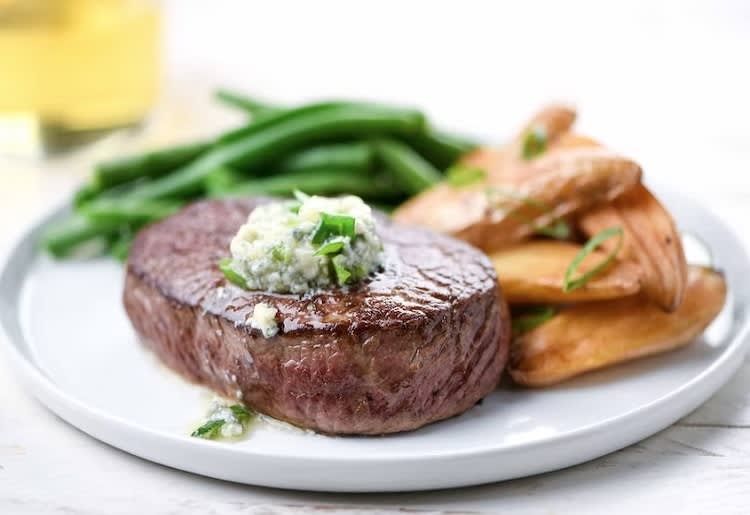 Who doesn't like a succulent and juicy steak? As if it's not enough, this meal is served with green beans and roasted fingerling potatoes. One serving of steak can account for 33% of your daily iron intake. It contains 0 carbs, a good amount of fat, and protein, making it a great choice for those who prefer a low-carb diet or keto.
Ingredients include sirloin steak, green onions, butter, fingerling potatoes, green beans, blue cheese crumbles, garlic, and some seasoning.
Recipe
Start by preparing your veggies. Slice the green onions, halve the potatoes, trim the green beans, and mince the garlic. Oven-roast potatoes tossed in olive oil, salt, and pepper for 18-20 minutes.
Make the blue cheese butter by mixing butter, blue cheese, garlic, and green onions. Place in the refrigerator.
Cook the steak in a hot pan with 1 tsp of olive oil and allow to rest. Cook the greens in the same pan with olive oil and garlic. Top the steaks with blue cheese butter, serve with potatoes and green beans, and enjoy every bite.
» Want more options for gluten-free meal delivery? Check out Top10.com's picks for the best gluten-free meal delivery services, from HelloFresh to Sunbasket.
5. Sesame Sweet Potato and Avocado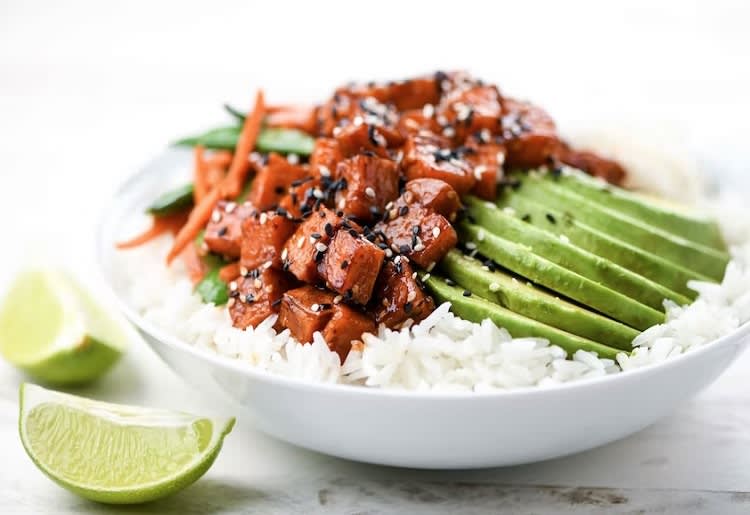 This dish is served with sugar snap peas and jasmine rice. It ticks all boxes in terms of nutrition, taste, and convenience. Sweet potatoes contain beta-carotene—a powerful antioxidant. It is also the precursor of vitamin A, which is extremely important for your eyes and skin. Sweet potato is also full of vitamin C, B vitamins, calcium, magnesium, potassium, and phosphorus.
Ingredients include sweet potato, avocado, snap peas, jasmine rice, lime, garlic sesame sauce, matchstick carrots, sriracha, and toasted sesame seeds.
Recipe
Cook the rice and roast the sweet potatoes for 25-30 minutes at 400 degrees. Cook the carrots and snap peas in a non-stick pan. Combine the garlic sesame sauce with Sriracha to taste and stir into the veggies.
Half the avocado and scoop out the flesh. Glaze the sweet potato with some garlic sesame-Sriracha sauce and finish the dish by layering the rice with the sweet potatoes and avocado.
Plate the dish as shown on the card, and you are all set.
6. Salmon With Brown-Butter Tomato Relish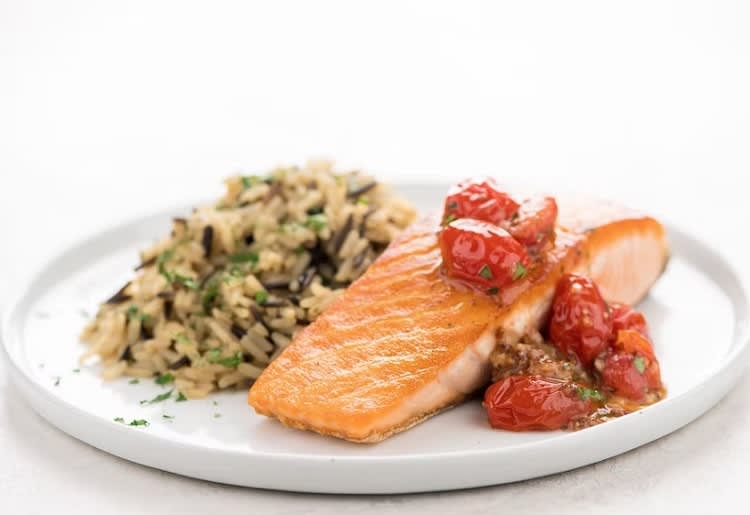 This dish is served with wild rice, making it 100 percent gluten-free and deliciously fragrant. Salmon is a nutritional powerhouse; it is high in omega-3 fatty acids that help reduce the risk of heart diseases. The B vitamins and minerals in salmon make it one of the best seafood protein sources.
Ingredients are salmon fillets, grape tomatoes, seasoned wild rice blend, grained Dijon mustard, butter, parsley, and garlic.
Recipe
Cook the rice in a medium pot with one cup of water. Halve the tomatoes, mince the garlic and parsley, and clean the fish before seasoning it with salt and pepper.
Cook the salmon in olive oil on both sides. Once it is done, remove and set aside.
Next, make your tomato relish. In the same pan as the salmon, cook the butter until it turns golden brown. Add the olive oil, tomatoes, garlic, and parsley. Once the tomatoes start to blister, stir in the mustard and add salt to taste.
Top the cooked salmon with your tomato relish and serve with wild rice.
7. Parisian Bistro Bone-In Chicken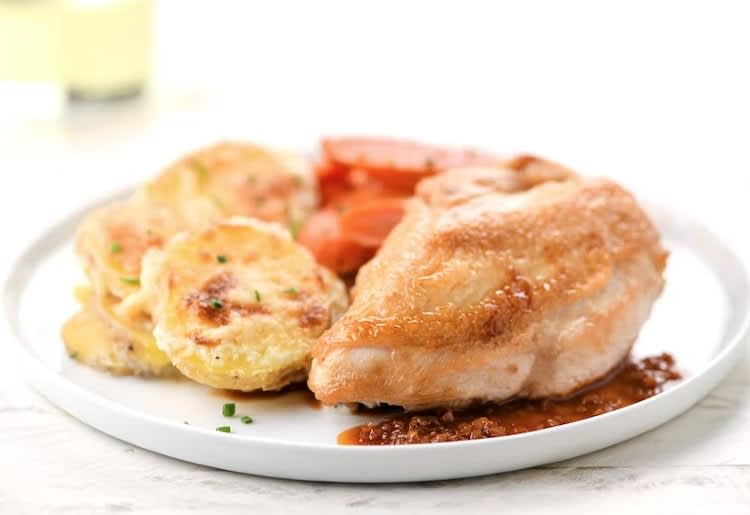 Served with dauphinoise potatoes and Vichy carrots, this bistro chicken will transport you to Paris. Chicken is an excellent source of highly nutritious protein.
The ingredients are chicken breasts, Yukon potatoes, sliced carrots, minced shallots, light cream, grated parmesan, chicken demi-glace concentrate, light brown sugar, butter, and minced chives.
Recipe
Season the chicken with salt and pepper and cook in olive oil in a hot pan for 2-3 minutes until golden brown. Transfer to a baking sheet and roast skin-side up for 24-28 minutes at 165 degrees.
Slice the potatoes and boil them in lightly salted water for 10-12 minutes. Drain and mix with cream, shallot, parmesan, salt, and pepper. Transfer it to a casserole dish and top with more parmesan. Bake it for about 20 minutes at 165 degrees until the cheese browns.
Cook the carrot in water, brown sugar, butter, salt, and pepper until glazed. For the sauce, simmer water, demi-glace, and shallot until it thickens.
Plate the dish with the chicken on the sauce and top potatoes and carrots with chives.
8. Garlic and Lemon-Crusted Salmon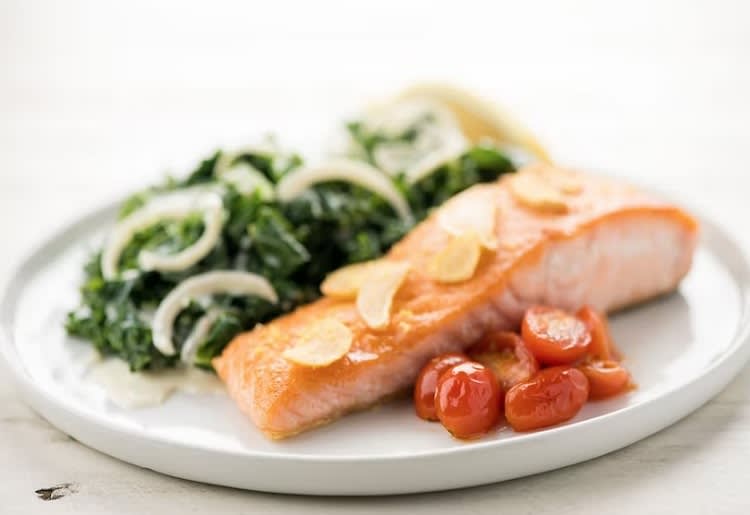 This delicacy is served with creamed kale and charred tomatoes. The garlic and lemon pair perfectly with the salmon. Kale contains essential vitamins, calcium, potassium, copper, manganese, and many more. It helps in maintaining weight and keeps your blood glucose levels under control.
Ingredients include salmon fillets, kale, lemon, grape tomatoes, light cream, shallot, and garlic.
Recipe
To prepare the garlic chips, cook thinly sliced garlic in oil over medium heat until golden brown. Cook the salmon in a non-stick pan in 1 tsp of olive oil. Plate the salmon and sprinkle with lemon zest and crispy garlic slices.
Cream the kale with oil, shallots, salt, cream, and butter. Add salt and pepper to taste. Char the tomatoes in a hot pan, assemble the dish, and enjoy.
9. Maple Cranberry Bone-In Pork Chop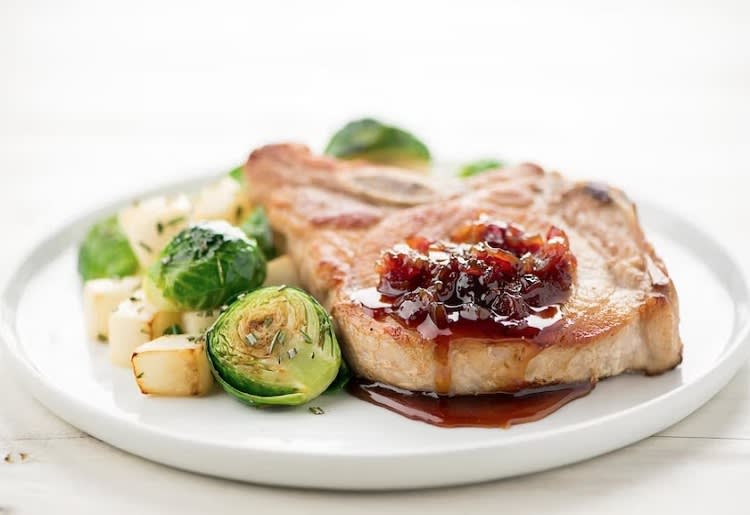 This meal is served with rosemary Brussel sprouts and turnips. Enjoy a seared bone-in pork chop with nutritious root vegetables and delectable cranberry sauce.
When it comes to nutrition, cranberries pack quite the punch. They are full of vitamins C, E, and K1, manganese, and copper. Cranberries help eliminate urinary tract infections and reduce inflammation.
Ingredients include bone-in pork chops, Brussel sprouts, maple syrup, turnip, rosemary, dried cranberries, and a vegetable base.
Recipe
Bake the Brussel sprouts and turnip with olive oil, rosemary, salt, and pepper for 18-20 minutes at 400 degrees. Season the pork chops with salt and pepper and cook them on medium heat until golden brown.
Make the sauce in a pan with cranberries, water, maple syrup, and vegetable base. Add salt and pepper to taste.
Plate and enjoy this heart-warming meal.
10. Tex-Mex Turkey Taco Salad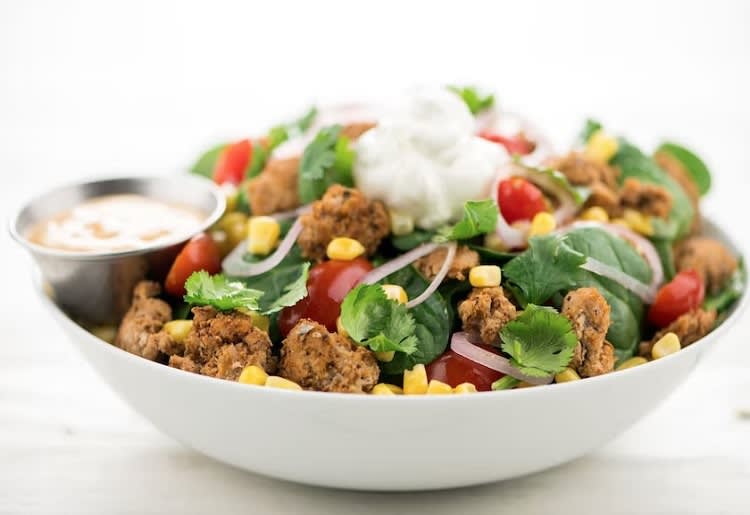 This salad is the king of all salads and hardly needs any introduction. You just can't go wrong with this perfect combination of lettuce, turkey, veggies, and sauces.
This salad contains many essential vitamins and minerals. Spinach is high in vitamins, iron, and potassium. Cherry tomatoes contain strong antioxidants, and turkey is a rich source of protein that helps keep you strong.
Ingredients are ground turkey, baby spinach, grape tomatoes, lime, corn kernels, sour cream, shallot, chipotle ranch dressing, taco seasoning, and cilantro.
Recipe
To pickle the shallots, mix shallot with lime juice and salt. Allow to marinate for 10 minutes. Cook the ground turkey with taco seasoning and stir in corn kernels.
Combine lettuce and tomatoes and toss them with chipotle ranch dressing.
Top salad with cooked turkey. Garnish it with pickled shallots, cilantro, and sour cream.
» Find more turkey and taco recipes on Home Chef
Take Away
Home Chef delivers premium, restaurant-quality convenience to your doorstep. This meal delivery service provides you with weekly easy-to-prepare meal kits that meet your dietary requirements. Its gluten-free range is massive and allows you to enjoy every form of cuisine, whether it's Asian, Mexican, or English.
References