Many people are sensitive or allergic to gluten. Gluten is the protein found in wheat or grains that can cause celiac disease, an inflammatory condition of the gut (1). Thankfully, many options are available for those with a gluten sensitivity, allergy, or celiac disease. For example, many meal delivery services, such as Sunbasket and HelloFresh, offer great gluten-free meal kits, providing the ultimate convenience and saving you time in the kitchen.
To take the stress out of gluten-free living, it is important to plan your menu ahead of time. Here are 10 yummy gluten-free dinner ideas. If your kids are particularly picky eaters, try these recipes!
1. Spaghetti Squash With Bolognese Sauce
Spaghetti squash is one of the best gluten-free dinners. It is a power-house of nutrients, low FODMAP, dairy free, and very tasty. Paired with bolognese sauce, it's a combo made in heaven.
Ingredients
Spaghetti squash, garlic, avocado oil, carrot, celery, ground beef, marinara sauce, and coconut milk. Season with sea salt, black pepper, oregano, and fresh parsley.
Method
Cut the squash and scoop out the seeds. Spray with some avocado oil and sprinkle with salt and pepper. Roast it cut-side down at 400 degrees for about 20-25 minutes.
Once cooled, scrape into strands with a fork and season to taste.
Add marinara sauce to a saucepan with oil and garlic and cook for 5-7 minutes. Add carrots, celery, and ground beef. Allow sauce to simmer until ground beef is cooked through.
Add coconut milk to your marinara sauce and season it with salt and pepper. Pour sauce on the spaghetti squash and garnish it with parsley and fresh herbs.
Tips: While preparing the squash for baking, don't add too much salt or oil. Adding too much can cause your squash to become watery.
2. Garlic Butter Shrimp
What's better than a rich and creamy garlic butter with fresh parsley? This decadent combination can make anything taste divine—especially juicy shrimp!
Shrimp is high in protein, low in calories, and full of niacin, zinc, and vitamin B12 (2). Butter contains vitamin D and calcium, which are very important in maintaining bone growth and development. Combined with the goodness of greens, this combo is healthy and tasty.
Ingredients
Butter, shrimp, garlic, and chicken stock. Season with kosher salt, lemon, salt, and chopped fresh parsley leaves.
Method
Heat some butter in a saucepan. Add shrimp seasoned with salt and pepper and sauté with garlic until fragrant.
Pour in chicken stock and lemon juice and cook until the liquid is reduced.
Garnish with chopped parsley.
Tip: Sauté vegetables of your choice with some butter to have as a side dish.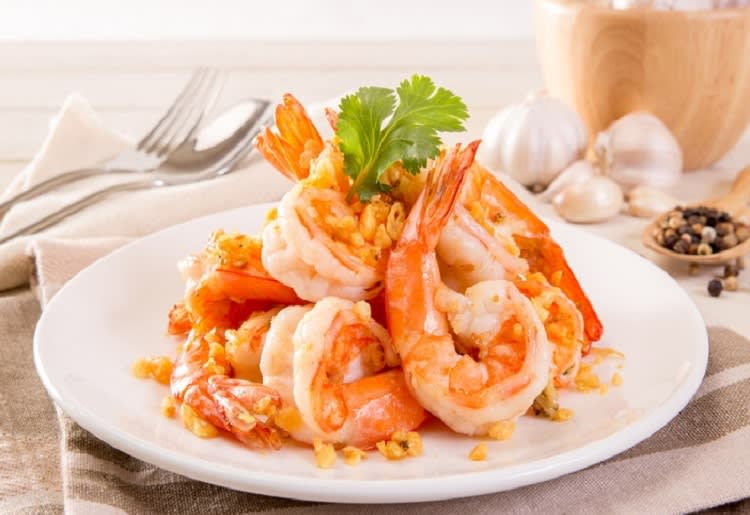 3. Southwest Chicken Quinoa Bean Salad
This salad is delicious and filling. It has a cilantro lime and southwest dressing with yogurt and sour cream. It contains a good amount of healthy fat, potassium, fibers, Vitamin A, Vitamin C, calcium, and iron.
Ingredients
Lettuce, cooked quinoa, roasted corn, black beans, cherry tomatoes, chicken breasts, salad dressing, cilantro, and olive oil.
Method
Make the southwest salad dressing and use a small portion to marinate the chicken for half an hour.
Cook the chicken breasts on both sides and cut into bite-sized pieces.
Cook the quinoa in water with a liquid ratio of 1:2 till soft and fluffy. Then, cook the beans and roast the corn.
Transfer all the salad ingredients to a bowl and toss with the dressing.
Tip: Pour the dressing before serving to keep your salad from getting soggy.
4. Grilled Chicken
You can never go wrong with juicy, succulent chicken—especially if it's served with your favorite sides. This dinner is rich in protein and high in vitamins, minerals, and essential fibers.
Ingredients
Boneless chicken thighs, asparagus, garlic butter, sweet potatoes. For the marinade, you'll need olive oil, garlic, dried thyme, oregano, black pepper, and lemon zest.
Method
Marinate the chicken and let it sit for at least 4 hours or overnight.
Cook the chicken on a grill with sweet potatoes and sauté asparagus with garlic butter.
Transfer the chicken to a plate and serve with garlic butter asparagus and chargrilled sweet potatoes.
5. Ground Beef Taco Salad
This protein-rich salad is a power-house of nutrients with the goodness of avocado, fresh tomatoes, and beef—perfect for Taco Tuesdays!
Ingredients
Ground beef, taco seasoning, avocado, avocado oil, romaine lettuce, grape tomatoes, shredded cheese, onions, and sour cream.
Method
Cook the beef and stir in the taco seasoning. Add a little water and let it cook for a few minutes.
In another bowl, toss the lettuce, avocado, and cheese. Top with beef mixture, drizzle with a dressing of your choice, and toss to combine.
6. Pork Chops With Gravy
This scrumptious recipe is an all-time favorite. Plus, it's super good for you! Pork is high in protein and good fats (3) and rich in vitamins and minerals.
Ingredients
Pork chops, black pepper, dried marjoram, dried thyme, dried rubbed sage, cornstarch (or gluten-free flour of your choice), low-fat milk, and vegetables of your choice.
Method
Mix the flour with all the dry ingredients and coat the pork chops in this mixture.
Add the pork to a pan with oil and cook on both sides.
In the same pan, add the cornstarch and milk and stir continuously. Let it thicken, and add salt to taste.
Serve chops and gravy with mashed potatoes.
Tip: Add your favorite grilled veggies to make this dish even more nutritious. The more colorful the vegetables, the more nutritious they are.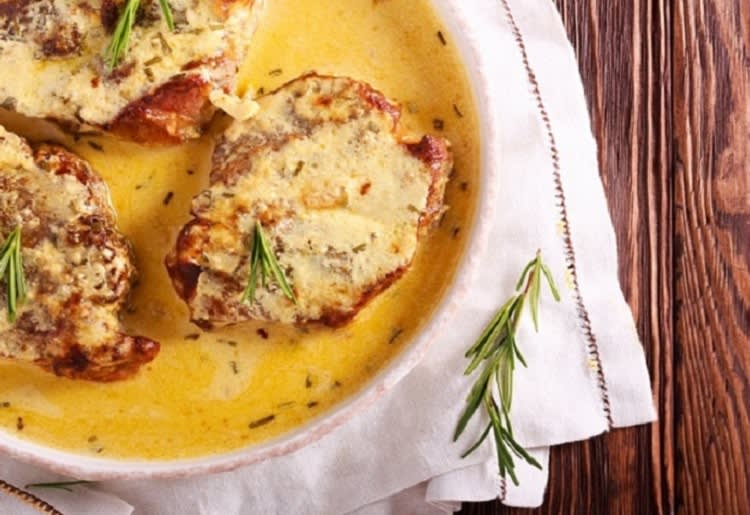 7. Broiled Salmon With Grilled Veggies
Salmon is a great source of protein and essential fatty acids. It contains vitamin B12, potassium, iron, and vitamin D. Combined with grilled vegetables, this is one of the most nutritious gluten-free dinners you could make.
Ingredients
Salmon, olive oil, brown sugar, soy sauce, lemon zest and juice, parsley, thyme, salt, pepper, garlic, and veggies of your choice.
Method
Whisk together oil, brown sugar, soy sauce, lemon zest and juice, parsley, thyme, salt, pepper, and garlic.
Coat the salmon with the sauce and broil on a sheet pan at 500 degrees for 10-15 minutes.
Garnish with chopped parsley and lemon wedges and serve with grilled vegetables of your choice.
8. Honey Sesame Shirataki Noodle
Shirataki noodles are made of starch from konjac roots. They are a gluten-free, low-calorie, low carbohydrate replacement for other starchy foods.
Ingredients
Shirataki noodles, egg, chicken breast, green onions, ginger, toasted white sesame seeds, sake, and rice vinegar. Use rice bran oil for cooking and coriander for garnishing.
Method
Add salt, water, and sake to a pot and bring it to a boil. Add green onions and ginger to infuse as much flavor as possible. Then, add sliced chicken breast and cook for 15 minutes.
Remove the chicken and allow it to cool slightly.
In another pot of boiling water, cook the shirataki noodles for 2 minutes. Drain and rinse it with cold water.
To serve, put the noodles in a bowl with the chicken and toppings of your choice.
Tip: To elevate this dish, add a honey sesame sauce. Simply mix equal parts honey and soy sauce with a tablespoon of sesame oil, rice wine vinegar, and brown sugar.
9. Egg Salad
Egg salad is the perfect gluten-free dinner option. It's easy to make and takes almost no time at all.
Ingredients
Chopped hard-boiled eggs, mayonnaise, celery, parsley, Dijon mustard, lemon zest, kosher salt, and black pepper.
Method
Simply mix all the ingredients in a large bowl.
Serve as is or use as filling for lettuce cups.
Tip: To make this dish even healthier, use Greek yogurt instead of mayonnaise.
10. Omurice (Japanese Omelet Rice)
This is a Japanese classic, popular amongst kids and adults alike. It is chicken fried rice bundled in a thin, fluffy omelet and flavored with ketchup.
Ingredients
Chicken, onion, oil, short-grain rice, eggs, milk, cheese, ketchup, and soy sauce.
Method
Prepare the fried rice with chicken, onion, soy sauce, salt, and pepper.
For the omelet, whisk eggs and milk in a bowl. Coat the pan with 1-2 tablespoons of the egg mixture, sprinkle with cheese, and add the fried rice.
Using a spatula, fold the omelet so that the rice is hidden inside the omelet. Top with ketchup and serve with salad greens.
Tip: Add some vegetables of your choice for extra nutrients.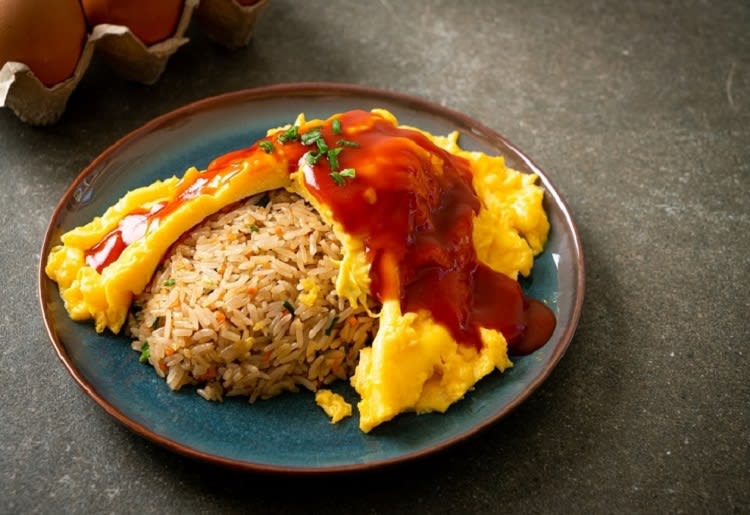 Take Away
You can add any (or all!) of these gluten-free dinner ideas to your meal plan. To maintain a gluten-free lifestyle with ease and convenience, you can also try out gluten-free meal delivery. These delicious meal kits are designed by chefs and come with pre-prepared and pre-cooked ingredients. That way, you can whip up gourmet dinners in no time, irrespective of your skill levels.
References