With easy-to-prepare and affordable meal kits, EveryPlate is quite popular among those looking for delicious, budget-friendly meals. However, with their emphasis on keeping prices low, they do not cater to special diets such as low-carb, low-calorie, keto, or gluten-free. Another concern is that there are no options for those with food allergies.
For better allergy-friendly options and more, check out our top picks for the 5 best EveryPlate alternatives for busy families on a budget.
A Quick Look at the Best EveryPlate Alternatives
Dinnerly - Best for simple recipes at low prices
Home Chef - Best for a wide range of budget-friendly recipes
HelloFresh - Best healthy meal plans for families
Green Chef - Best for certified organic ingredients
Sunbasket - Best for working parents
» Want more options? Check out our top picks for the best meal delivery services.
Our Top Picks for the Best EveryPlate Alternatives in 2023
1. Dinnerly
A meal delivery service that offers a wide variety of foolproof recipes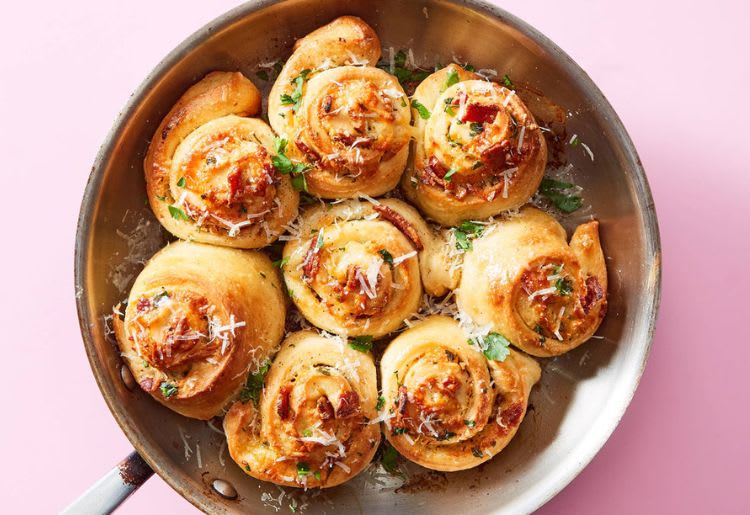 Best for: Budget-friendly meals for any skill level
Starting price: From $4.99 per meal serving
Dinnerly offers budget-friendly meals by reducing costs without compromising on quality. Small families can opt for a two-person meal box, while their family box caters to four people. You can take your pick from a weekly rotating menu of over 40 meal choices, including vegetarian and pescatarian meals. You can order between three to six meals every week.
They use digital recipe cards you can check online before placing your order to view details such as prep time and potential allergens. Dinnerly uses fewer ingredients per dish compared to other meal delivery services. They also use minimal packaging, which helps them maintain competitive pricing.
» Trying to keep your family healthy? Here's how meal kits can help.
Pros:
Easy-to-follow recipes
40+ meal options every week
Recyclable packaging
Cons:
Meal kits may not contain pantry staples such as oil and seasonings
Not available in the US
Three meals per week minimum

Dinnerly See Menu
2. Home Chef
A meal delivery service that offers affordable meals to families who are low on time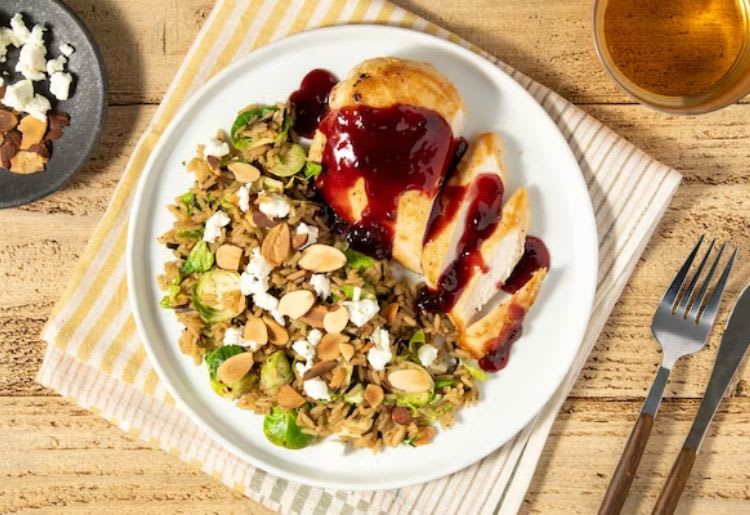 Best for: Prep-free heat-and-eat meals
Starting price: From $3.60 per serving
If you're short on time, Home Chef has several delicious prep-free meal kits. You just need to pop them in the microwave or oven as instructed to enjoy a warm, delicious meal or dessert with your family.
Home Chef allows you to tailor your meals to your family's specific requirements with plenty of customization options. You can set your preferences to avoid allergens such as peanuts or dairy. Filter easily through low-calorie, low-carb, vegetarian, or gluten-free menus to create your own meal boxes. You can also order two to six meals weekly for up to six people.
» Try these delicious gluten-free Home Chef recipes.
Pros:
20+ recipes in rotating weekly menus
Customizable protein preferences
Affordable meal plans for large families
Cons:
May not be suitable for those on sodium-restricted diets
Limited vegan options

Home Chef See Menu
3. HelloFresh
A meal delivery service for restaurant-quality meals in 30 minutes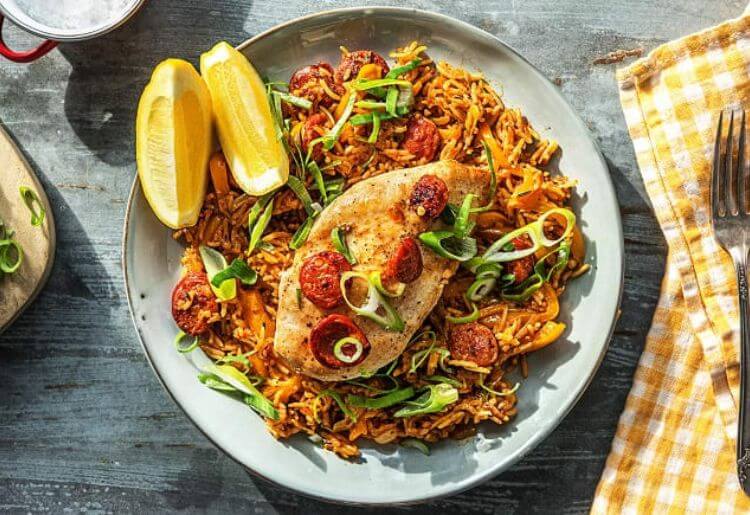 Best for: A wide array of meals in good quantities
Starting price: From $7.99 per serving
HelloFresh has been gaining popularity in the US for its extensive selection of meal kits. With generous portion sizes to satisfy your cravings, HelloFresh is ideal for busy families looking for nutritious meals. From Keto and Calorie Smart to Carb Smart and Easy Prep, HelloFresh has plenty of meal customization options. Even if you're a beginner, you can prepare gourmet meals within 30 minutes with HelloFresh's simple recipe instructions.
You can also order fresh produce, breakfast, snacks, beverages, and side dishes from their HelloFresh Market. While this may be more expensive than buying groceries, most would agree that the convenience and time saved are worth the price.
» Check out our Home Chef vs. HelloFresh comparison to pick the best option for your family.
Pros:
Groceries and meal kits delivered to your doorstep
Plenty of dietary options
Cons:
Not suitable for those with allergies
High shipping costs

HelloFresh See Menu
4. Green Chef
A meal delivery service for families who want healthy, home-cooked meals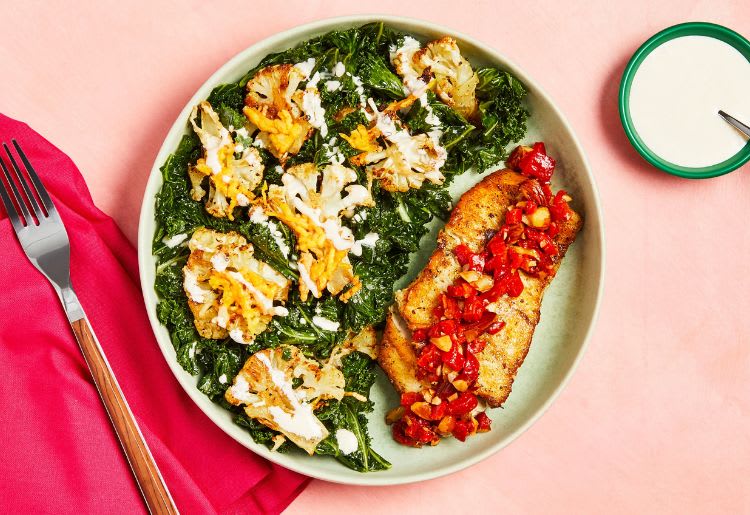 Best for: Health-conscious consumers who want to eat organic
Starting price: From $11.99 per serving
Green Chef uses the freshest organic ingredients to bring you highly nutritious meals. Unless labeled otherwise, all their ingredients are certified organic.
Green Chef is sought after by health-conscious families with specific diets such as paleo, keto, or vegan. Plus, they have certified gluten-free plans that can be safely consumed by those with celiac disease (1). They offer six-serving meal options, making them a great choice for large families.
» Can't get your kids to enjoy gluten-free eating? These gluten-free recipes for busy moms with picky children can help!
Pros:
Certified organic ingredients
Suitable for those with dietary restrictions
Cons:
Expensive compared to similar meal delivery services
Additional shipping charges

Green Chef See Menu
5. Sunbasket
A meal delivery service for busy families with dietary restrictions
Best for: Busy professionals and families
Starting price: From $9.99 per serving
Although Sunbasket is more expensive compared to other meal delivery services, they offer nutritious meal kits that contain high-quality organic ingredients. Even their ready-to-eat meals are fresh and flavorful!
You can customize and personalize your weekly menu with any recipe of your choice. Pescatarian, Mediterranean, Paleo, or carb-conscious, Sunbasket has numerous meal plans for you to choose from. However, those with food allergies may find it difficult to find suitable dishes. Other than meal kits, add-ons are available for breakfast and snacks. You can also add protein according to your needs.
» Try these hacks to get your kids to eat healthier.
Pros:
Organic ingredients
Add-ons for protein, snacks, and breakfast
Cons:
Not suitable for those with food allergies
Extra shipping charges

Sunbasket See Menu
Why Choose These Alternatives Over EveryPlate?
EveryPlate definitely has its share of ardent followers, especially for the budget-friendly classic comfort foods they offer. However, due to their focus on keeping prices low, they miss out on a few key points. Here are some reasons an alternative to EveryPlate might be better for your family.
For Add-Ons
If you are looking for add-ons such as beverages, side dishes, or even breakfast, most meal delivery services will disappoint you. Sunbasket and HelloFresh offer a massive selection of add-ons, including protein, fresh produce, and snacks.
For Free Shipping
If you include shipping charges, you may be surprised to find that some 'cheaper' meal delivery services (including EveryPlate) are actually more expensive. Luckily, HomeChef offers free shipping for boxes over $40.
For Allergy-Safe Meal Options
EveryPlate offers limited gluten- or dairy-free recipes, making it difficult for those with food allergies or other dietary restrictions to find what they need. HomeChef is a great alternative as you can set your meal preferences to avoid allergens.
» Check out our top picks for the best gluten-free meal delivery services.
For High-Quality Organic Ingredients
Being a low-budget meal delivery service, EveryPlate does not claim to use organic ingredients. Sunbasket and GreenChef use certified organic ingredients and are two of the best meal delivery services for health-conscious families.
Bottom Line: The Best EveryPlate Alternatives for Busy Families on a Budget
Dinnerly, Home Chef, HelloFresh, Green Chef, and Sunbasket are the perfect EveryPlate alternatives for families on a budget who are short on time. When we are short on time, we often struggle to prepare healthy meals for our families. Thankfully, you can stay healthy with meal kits. Researchers have even noted that "home-delivered meals improve the well-being of older adults, specifically by reducing feelings of loneliness" (2).
» Try one of our top picks for the best oven-ready prepared meal delivery services.
References