Home Chef and HelloFresh are well-known meal delivery services that offer a wide variety of delicious meals to millions of consumers. They both provide five-star recipes and have high customer ratings, so which one should you choose?
In this post, we'll compare everything from meal variety and customization to shipping and packaging to help you choose the best meal delivery service. But first, let's take a closer look at meal kits and how they work.
What Is a Meal Delivery Service?
A meal kit is a subscription-based food service that delivers pre-prepared ingredients with recipes to your doorstep. Meal kits are a great way to prepare restaurant-quality meals in your own kitchen with minimal prep and food waste. Most importantly, they save you the stress and hassle of buying special ingredients you'll only use once when trying out a new recipe.
You can get meal kits from meal delivery services. They promise convenient, easy-to-follow recipes and customizable meal plans to suit any dietary need, budget, and lifestyle.
Home Chef vs. Hello Fresh Comparison at a Glance
Standard and Fresh and Easy meal plans
Fully customizable meal plans
Medium-sized, recyclable, leak-proof materials
Insulated boxes with cooling packs
15% off every box for a year and free shipping on first box
$116 off subscription, $30 off first 3 boxes, and $26 off your fourth
50% off first box and 10% off boxes for a year
50% off first box (up to $60) and 10% off future orders
Home Chef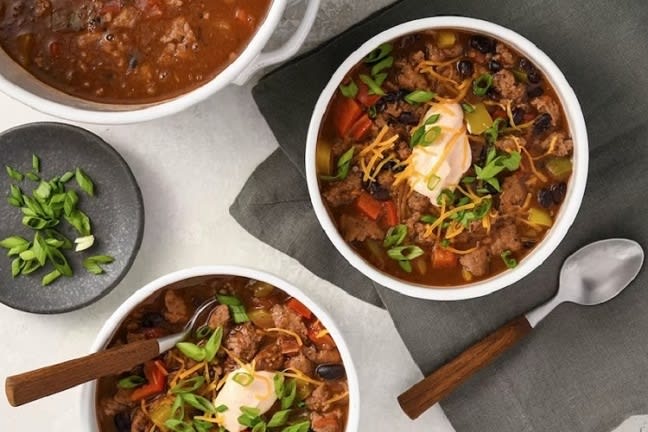 Home Chef offers weekly meal plans consisting of customizable oven-ready, grill-ready, or fast and fresh meal kits. You can swap or double up on your favorite protein or choose from the mouth-watering plant-based options, like the Sesame Teriyaki Impossible Burger. You can cancel or pause your orders by Friday at 12 p.m. CT, a week before the scheduled delivery, making for a flexible experience.
Their meal kits contain clear recipe instructions along with pre-portioned and partially prepared ingredients for you to craft nutritious meals in the comfort of your own home. Home Chef's prep-free Fresh and Easy meals are completely pre-prepared, pre-cooked, and packaged—Simply heat and serve!
Meal kits are available in three variations: standard, calorie-conscious, and carb-conscious. And there's an added bonus! Home Chef is part of the Kroger Family, which means their products can be bought from a Kroger store near you.
Pros
Calorie-conscious and carb-conscious meal plans
Dairy-free, nut-free, and gluten-free options
Insulated boxes with cooling packs
Fresh and Easy meal plan is prep-free
Cons
High sodium content
More expensive than HelloFresh
Home Chef has fully customizable meals and plenty of options for people with dietary restrictions and food allergies.

Try Now
HelloFresh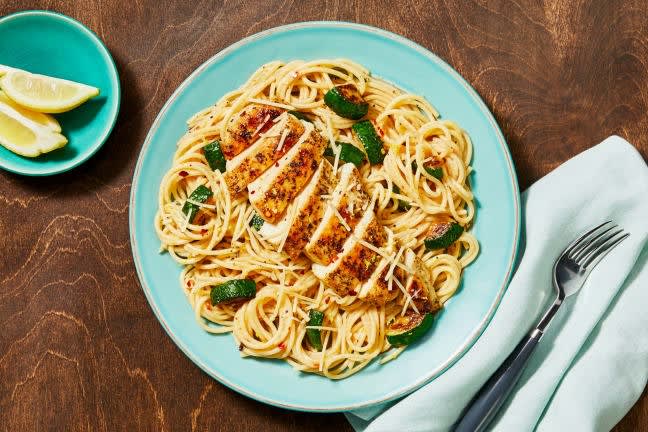 With fresh, pre-portioned ingredients and detailed recipe cards, HelloFresh delivers delicious meal kits right to your doorstep. Easily order the meals you like—between 4 and 24 servings per week—and customize your choices. For example, you can order two recipes per week for two people or six recipes per week for four people.
Meal prep is an important part of weight loss (1). HelloFresh's Fit & Wholesome meals are ideal for those counting calories, while the Family Friendly plan offers plenty of kid-tested recipes for picky eaters.
Low-carb, pescatarian, and vegetarian meal delivery options are also available. However, those who only eat gluten- or dairy-free will have to check the recipes by themselves before ordering, as options are limited for those with dietary restrictions.
Pros
Budget-friendly
No commitment or contracts
Meal plans for the whole family
Order up to 6 recipes per week
Cons
Limited dietary options
Does not offer dairy-free, nut-free, or gluten-free options
HelloFresh offers a wide variety of menu options per week, including kid-friendly dishes, that make dinnertime both easy and affordable.

Try Now
Home Chef vs. HelloFresh: Meal Variety and Customization
With HelloFresh, you can customize your meal plan for 2-4 people with 2-6 recipes per week by choosing from over 30 recipes. You can select one or more preferences from 6 categories: Meat & Veggies, Veggie, Family Friendly, Fit & Wholesome, Quick and Easy, and Pescatarian. You can also swap proteins and sides to create the perfect combos.
Home Chef offers meal kits according to their standard, calorie-conscious, or carb-conscious plans. These plans all come with over 20 options for you to create your own menu for the week. Upgrade, swap, or double up on your favorite protein using the customization tool on the app.
Winner: HelloFresh
Home Chef vs. HelloFresh: Dietary Needs
Food allergies and restrictions can be difficult to manage (2). With Home Chef, you can set your preferences to foods free from allergens like shellfish, mushrooms, tree nuts, peanuts, etc.
HelloFresh has limited dietary options. They offer meals for vegetarians and pescatarians, but not for those with dietary restrictions who are dairy-free, nut-free, or gluten-free. You'll have to check each recipe to see if it meets your dietary restrictions and needs, which can be time-consuming.
Winner: Home Chef
Home Chef vs. HelloFresh: Pricing and Shipping Charges
HelloFresh meal kits cost between $7.99 and $11.99 per serving, depending on your plan size. The more meals you order, the less you pay per serving. For example, two meals for two people cost $11.99 per serving, while six meals for four people cost $7.99 per serving. Their average shipping rate is $9.99 ($2 more than Home Chef), but this depends on your location.
Home Chef's prices start at $8.99 per serving, which is $1 more than HelloFresh. In addition, they offer fruit and smoothie add-ons for $4.95 each and premium, special occasion meals that are slightly more expensive per serving. Shipping costs $7.99 for orders under $45, and you get free shipping for orders over $45—something not offered by HelloFresh.
Winner: HelloFresh
Home Chef vs. HelloFresh: Prep Work
Meal kits come with ingredients that have already been prepared, cooked, and packaged according to specific recipes and required servings, making your job much easier. All you have to do is follow the recipe instructions to whip up high-quality dishes in very little time.
HelloFresh's meal kits aren't too labor-intensive and only need about 30 minutes of prep time. They also offer a wide variety of quick and easy meals as part of their new Easy Eats category. You can get prep-free, oven-ready meals that can be prepared in under 10 minutes. With delectable options like Gametime Turkey Chili With Basmati Rice, who says heat-and-eat meals have to be boring?
Home Chef meal kits take about 20-30 minutes to prepare. Home Chef's prep-free Fresh and Easy meals also just need to be warmed up before serving—perfect for when you're short on time. However, their options aren't as diverse when compared to HelloFresh.
Winner: HelloFresh
Home Chef vs. HelloFresh: Packaging
HelloFresh meal kits are packaged using medium-sized, recyclable, leak-proof materials. The ingredients are divided and packed into separate brown paper bags with clear labels, making it really easy to follow the recipe cards provided.
Home Chef meal kits come in insulated boxes with cooling packs to keep perishable ingredients fresh and healthy. Proteins for the week are placed in a different package with extra cooling packs, and most of the packaging is made from recyclable cardboard.
Winner: It's a tie!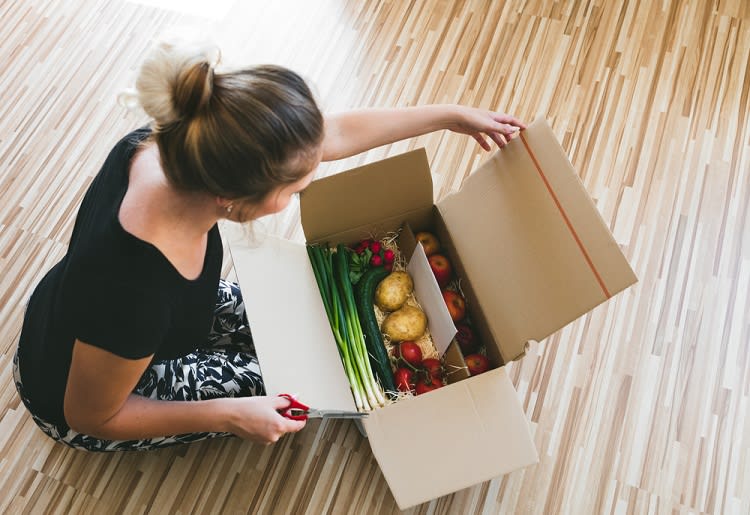 Final Verdict: Which Meal Delivery Service Is Better?
Although Home Chef and HelloFresh both offer affordable and easy-to-use high-quality meal kits, it all comes down to customizability, making HelloFresh the overall winner. Home Chef may offer better options for those with dietary restrictions, but the variety and customizability of HelloFresh's meal kits put them a step ahead of Home Chef.
With HelloFresh, you can set your meal kit preferences and minimize prep work. Their packaging is also fully recyclable. Not to mention, HelloFresh's meal kits are slightly more cost-effective.
Overall Winner: HelloFresh
References