For vegans, meal kit delivery programs are a relatively new and dynamic way to add some new recipes to your arsenal, make sure you're getting enough protein and nutrients, and keep things fun and fresh around the house. Without further delay, let's take a look at the top 4 meal kit companies for vegans.
1. Sun Basket
Pros
Vegan meal plans available
Vegan recipes developed by chefs and nutritionists
100% organic produce
100% recyclable and compostable packaging
Cons
No delivery to New Mexico and Alaska
Shipping not included
Sun Basket launched a series of "plant-focused meal plans" earlier this year that can meet the demands of even the most discerning vegan. The meal plans use organic and non-GMO tofu and Omega-3 and healthy fats derived from olive oil, avocado, nuts and seeds.
Sun Basket offers a rotating array of menu items, though the wider options in this healthy eating category also include vegetarian and pescaterian options.
Some examples of tasty vegan options are vietnamese garlic noodles with warm eggplant salad, velvety mushroom bucatini with kale and marcona almond salad, and moroccan root vegetable and chickpea taginewith roasted almonds and golden raisins.
The price per serving on these vegan dishes comes out to $6.16 per serving, or $6.62 per serving if ordering a family meal plan.
Get $80 off—$35 off 1st box, $25 off 2nd box, $20 off 3rd box
Favorite Vegan Dish:
Moroccan Root Vegetable and Chickpea Tagine with Roasted Almonds and Golden Raisins
Prep time: 35-50 minutes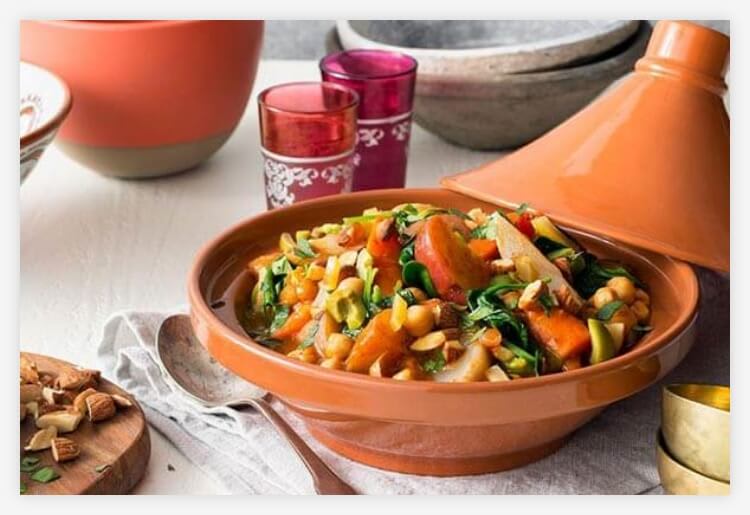 Sunbasket Visit Site
2. Veestro
Pros
100% plant based
Dinner on the table in 5 minutes
Over 50 meals available
Cons
Shipping costs on 1-time orders
Orders take 2 days to arrive
Veestro is a vegan meal subscription kit with options for everyone, including gluten-free, soy-free, kosher, nut free, high-protein, and low-calorie meals, making it a great choice for anyone with special dietary needs. It's about feeding your body with delicious, healthy, organic and sustainable foods that are fully prepared and ready to eat in 5 minutes or less. The philosophy? The more plants, the better, even if you aren't into an all-out vegan diet.
Veestro suggests that with an increase of plants in your diet, you can lower the risk of Alzheimer's, female-specific cancers, heart disease, and type 2 diabetes. Plus, it's good for your immunity in general.
These heat-and-love meals come in chef's choice, weight loss plans, and a la carte meals. You'll enjoy red curry with tofu, country fried chick'n, soba noodles in peanut sauce, baked mac & cheez dinner, and much more.
The more meals you subscribe for, the cheaper the cost per meal. You'll receive 10 meals for as low as $11.70, 20 meals for as low as $10.80, and 30 meals for as low as $9.90.
Get 25% off any purchase! Enter code Fall25
Favorite Vegan Dish:
Soba noodles in peanut sauce
Prep time: 5 minutes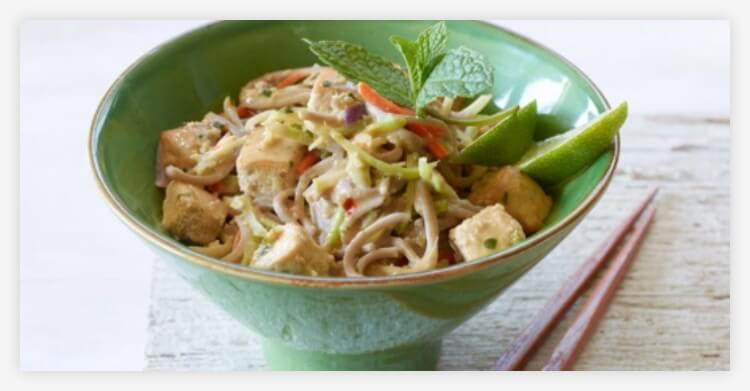 Veestro Visit Site
3. HelloFresh
Pros
Easy to make vegan recipes
Tasty vegan meals in under 30 minutes
Flexible plans, easy to cancel or pause
Cons
Not strictly vegan, though veggie plan can be altered
No desserts
With HelloFresh you pick a plan that reflects your dietary preferences, household size, and the day of the week you want it delivered (shipping included). And unlike some other meal kit companies, you can pause or cancel your subscription at any time.
The company has 3 meal plans - veggie, classic, and family. Each week there is a revolving cycle of 8 meals, and altogether the company offers 35 vegan meal options, ranging from mushroom lo joes.
There are far more extensive options in the vegetarian meal plan, and the company says that many of these options are fully vegan or can be made fully vegan by taking out certain ingredients like cheese or yogurt.
If you opt to alter the veggie plan, it comes out to $9.99 per serving, with shipping included.
Get $80 off—$20 off your first 4 boxes
Favorite Vegan Dish:
Sweet Potato Chickpea Curry with Baby Spinach over Basmati Rice
Prep time: 30 minutes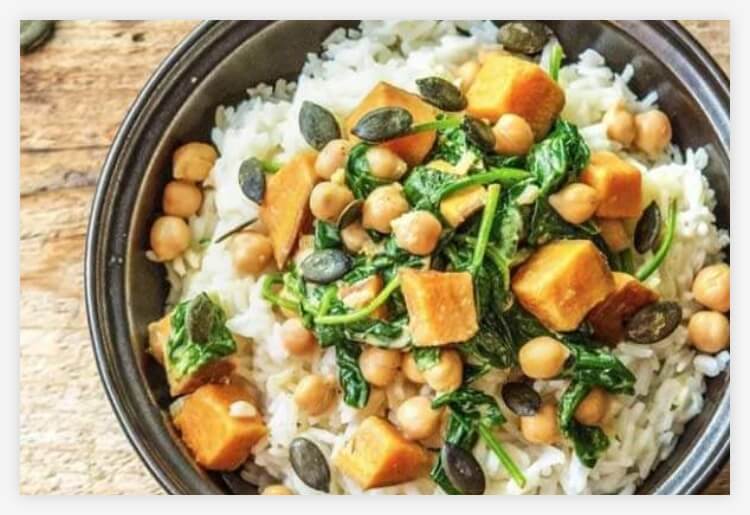 HelloFresh Visit Site
4. Martha & Marley Spoon
Pros
Vegan recipes in 6 steps or less
Pre-measured ingredients reduce waste
Vegan dishes from the kitchen of Martha Stewart
Cons
Not many vegan options, though veggie meals can be altered
No breakfast, lunch or dinner
Martha Stewart's meal kit delivery plan is fun and easy to use, with easy vegan recipes that you can order and plan weeks in advance. The company also makes a commitment to reduce waste and makes packaging recyclable.
Martha & Marley Spoon's vegan options don't make up the majority of the menu, but they do include appealing options such as creole vegetarian tofu burgers, among others. And like the rest of the menu options, they are designed to take 6 steps or less to prepare.
The pricing depends on what type of plan you order - if its for 2 people or 4 people and if it's 2 or 4 meals per week. It breaks down to $48 per week for 2 meals for a 2-person box, or $76 per week for 4 meals a week for 2 people. A 4-person box with 2 meals each is $76 per week or $139.20 for 4 meals.
Favorite Vegan Dish:
Mushroom and Spinach Furikake and Fried Garlic
Prep time: 20-30 minutes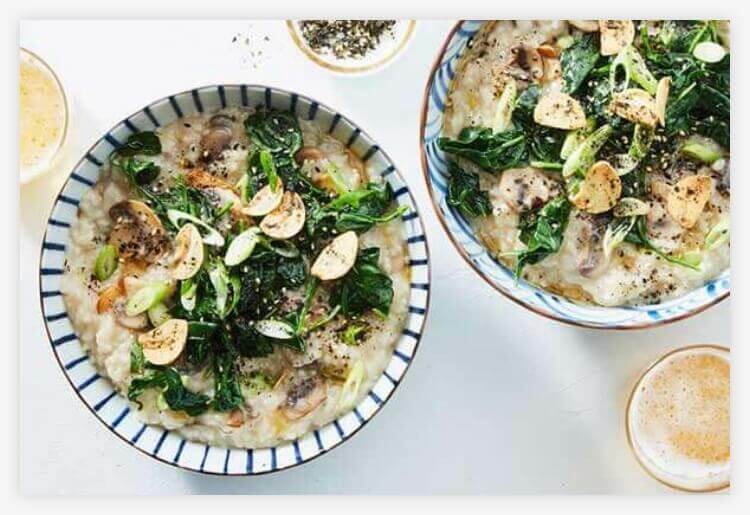 Martha & Marley Spoon Visit Site
5. Green Chef
Pros
Vegan meal plans available
3 new vegan dishes to choose from every week
Cons
Green Chef's meal delivery service brings you healthy, tasty food, that suits your personal preferences. The meals are easy to make and deliveries are flexible—change or cancel an order anytime.
Green Chef offers vegans a fully vegan meal plan, with 3 new recipes to pick from each week. Vegan dishes include tasty options like the Seitan and Veggie Stir-Fry, Bavarian Super Grain Bowl, and Vegan.
Vegan dishes cost $11.99 per meal or $10.99 per meal for the family plan.
Get $40 off your first order with Green Chef
Favorite Vegan Dish:
Sweet Potato Enchiladas with Cabbage-Carrot Slaw and Cashew Crema
Prep time: under 40 minutes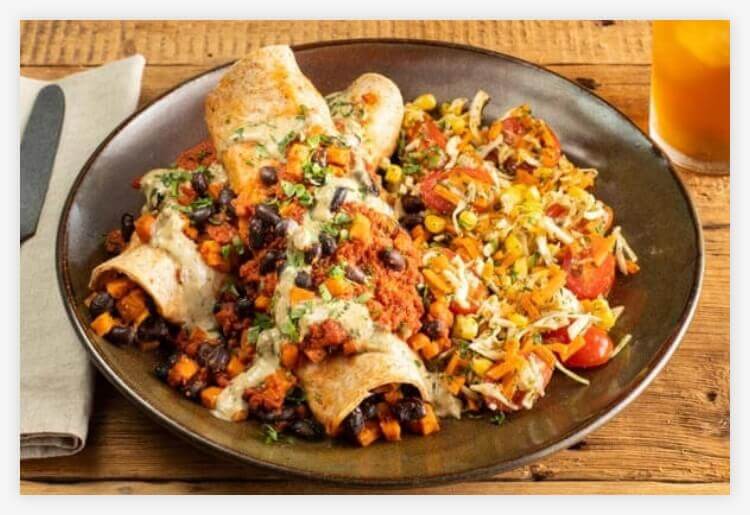 Green Chef Visit Site
Vegan Delicious
Living a vegan lifestyle often requires planning ahead. Figuring out how to get fresh produce you trust in order to make nutritious, satisfying meals can at times be something of a hassle - not to mention having to explain to your family at Thanksgiving that you no longer eat animal products.
With home meal kit delivery services, vegans can enjoy what so many other consumers have already discovered - the convenience of having ingredients and meals that you believe in shipped directly to your front door. You can keep things fresh and healthy with inspired recipes, and it's all only a few clicks away.