In a Nutshell
If you've ever considered going vegan or eating a vegetable diet, you know how hard it can be to maintain. The shopping, prepping, and cooking involved in this kind of lifestyle is tremendous, which is why many people quit after a short time. Veestro offers healthy eaters a better option: affordable, home-cooked, healthy, and delicious meals delivered to your doorstep. Oh, and totally plant-based as well. Intrigued? Let's see how this works.
pros
Totally plant-based meals
Accommodates for wide variety of dietary restrictions
Heat and eat in 5 minutes
cons
Meals come frozen
No meat, fish, dairy, eggs—not good for carnivore-based diets
Uses dry ice, which can be harmful if touched
Veestro Visit Site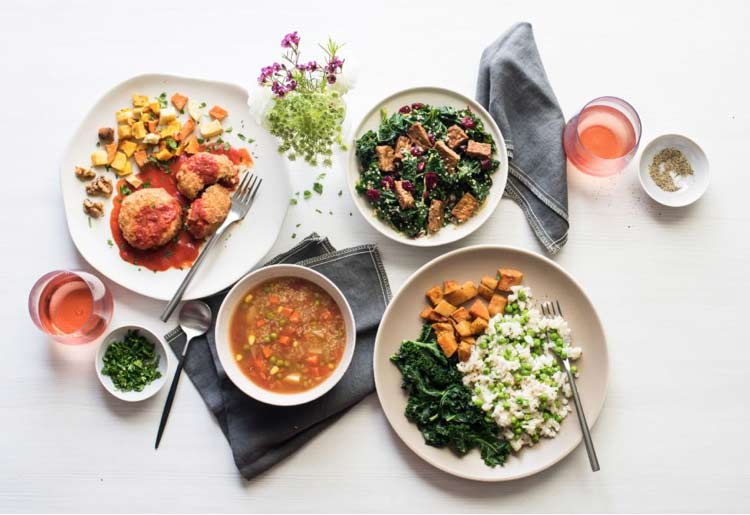 Ideal For
Vegetarians, vegans, and beegans
People looking to lose weight or get healthy
Busy people who don't have time to cook
What's Unique About Veestro?
There are a few things that set Veestro apart from the competition, but the most glaringly obvious one is the style of food you'll be receiving. As a totally plant-based diet, you won't find any meat, chicken, fish, eggs, honey, or dairy on this menu.
Another aspect that makes Veestro really unique is the commitment to quality. The company embraces a lifestyle known as "Pura Vida," which is translated as pure or simple life. Like Hakuna Matata, it's an all-encompassing phrase that symbolizes everything is great in life. Veestro infuses this mentality into its meals, using nothing but the healthiest, freshest, and most delicious ingredients that are carefully selected for both their flavors and nutritional value.
How It Works
We were happy with how easy it was to work with Veestro. To order your meals, you'll go to the website, choose a plan that works for you, and pick out your meals. Veestro has 3 plans including a totally à la carte option that lets you decide how much and which meals you want.
Once you've chosen your meals, you'll select auto-delivery, which comes with a discount and free shipping, or single order, which has a shipping fee of $9.99 per order. Orders are shipped Tuesday through Friday, and take 1-3 days depending on when you place the order and your location.
Veestro meals come in an insulated box with dry ice to keep them frozen. We don't love that the company uses dry ice because it can be harmful if someone isn't careful, but Veestro writes on its website that the dry ice usually evaporates by the time you open your box. So, it's not generally an issue. Your food comes frozen, and it takes just 5 minutes in the microwave or oven to heat up. From package to plate, it's only a few minutes, and the meal quality is top-notch.
Meal Options
For such a niche service, Veestro offers a tremendous variety of menu options. You'll find delectable breakfast, lunch, and dinner options in abundance, and since these meals are all vegetable-based, you can really eat them whenever you want. There are approximately 50 meals you can choose from, so there's enough variety to fuel your eating habits for a while.
In terms of quality, Veestro cannot be beat. It uses the freshest organic ingredients in every dish. And it is simply amazing how Veestro manages to pack so much flavor into vegetables.
Favorite Veestro Meals
While we were skeptical to try an all vegetable and legume-based diet, we have to admit that Veestro meals turned out to be absolutely delicious. Even more surprising, we were full at the end of these meals too. Not every meal we taste-tested was a big hit, but here are a few of the best dishes we tried:
1. Tortilla Chili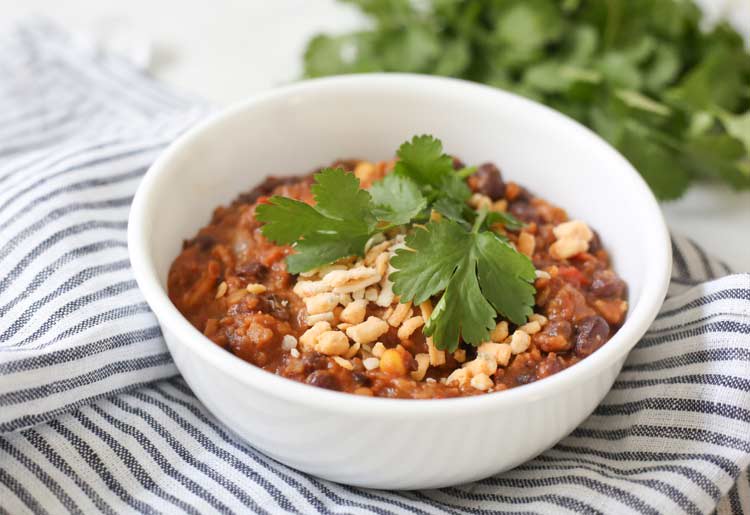 Cost per serving: Varies based on order amount
Prep & cook time: 5 minutes
Difficulty level: Easy
Calories per serving: 250
Other available info: Tortilla chili is a great dish for beefing up your protein intake. With red lentils, black beans, adzuki beans, and a slew of vegetables, including yellow corn, jalapeno pepper, yellow onion, and red bell pepper, this makes a hearty meal that is spiced just right.
2. Mushroom Stroganoff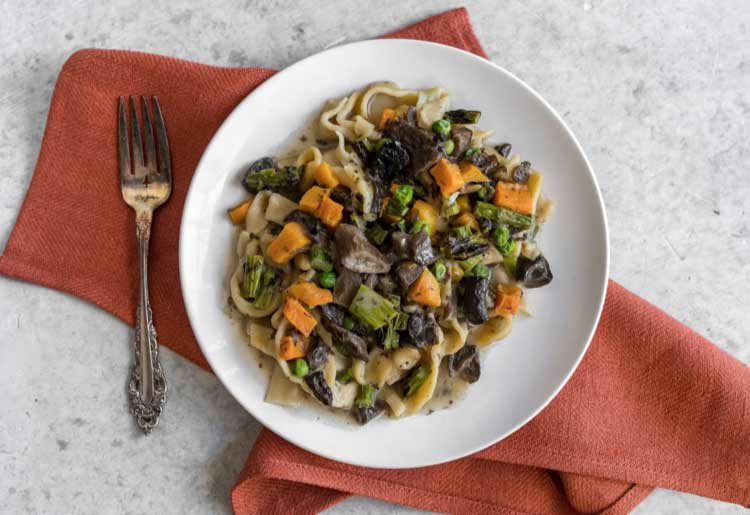 Cost per serving:Varies based on order amount
Prep & cook time:5 minutes
Difficulty level:Easy
Calories per serving:400
Other available info: If you enjoy mushrooms, you're going to love this dish. It's so flavorful with the combination of cremini, oyster, portobello, and porcini mushrooms. Plus, you get butternut squash, asparagus, spinach, white wine shallots, chipotle peppers, and more, all combined in a yummy coconut milk sauce.
3. Pad Thai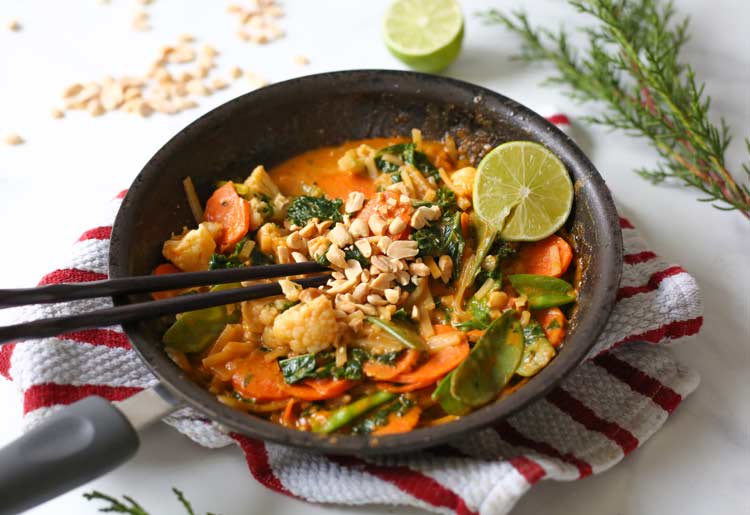 Cost per serving: Varies based on order amount
Prep & cook time: 5 minutes to heat
Difficulty level: Easy
Calories per serving: 520
Other available info: A delicious meal containing Pad Thai rice noodles, seaweed, and vegan fish, combined with a medley of vegetables including carrots, cauliflower, snow peas, and shallots, bathed in a tangy sauce of tamari, rice vinegar, pineapple juice, wasabi, and more.
Pricing
Veestro has 3 pricing plans: a Weight Loss plan tailored to keeping your daily caloric intake under 1200 calories, a Chef's Choice plan that selects the meals for you, and an à la carte plan that gives you free rein. The Weight Loss plan is a good option if you're trying to lose weight or get in shape, while the Chef's Choice is a better choice if you just want to eat healthier and don't have the time or interest in picking out individual meals every week.
Pricing is definitely competitive, especially for the meal delivery service industry. And if you'd go out to eat, you'd end up spending more than Veestro charges per meal (and you'd probably be eating junk that's not good for you). Here's a pricing table for the first 2 plans:
$175.50/5 days, 3 meals a week
$226.80/7 days, 3 meals a week
There is also an à la carte ordering option that lets you pick and choose how many portions you want, along with which meals you wish to receive. This is a nice option if you're looking for maximum flexibility.
In terms of the auto-delivery option, we think it's a nice added touch. It offers you a decent discount that will help as your meal bill adds up, and you can pause or cancel at any time. So, there's no commitment, just a nice savings.
Veestro Visit Site
Help & Support
Like everything else on the site, Veestro customer support is friendly, helpful, and accommodating. You can use the online contact form to send in a question, and they will get back to you within 24 hours Monday-Friday. You can also call them during their normal business hours of Monday-Friday 8am to 5pm PT.
Bottom Line
We are happy to say that Veestro was a surprisingly pleasant meal delivery service to review. The food was delicious, the service was easy to use and fast, and the pricing was affordable. Add to that the fact that all ingredients are organic and meals are crafted to stay within a healthy balanced weight loss plan, and Veestro wins top marks.