In a Nutshell
Most meal delivery services offer a handful of vegetarian options, but they aren't always vegan-friendly and the meal choices are usually limited. Veestro solves this problem by bringing fully prepared, 100% vegan meals to your doorstep. They offer a large menu of meals that are free of all animal ingredients. The food can be heated in the microwave, oven, or stovetop quickly so you can enjoy convenient "fast food" that fits your lifestyle.
pros
Heat and eat meals with no prep
100% vegan with mostly organic ingredients
Meals work for several dietary restrictions
cons
Frozen meals only
Cannot remove or customize ingredients

Veestro Visit Site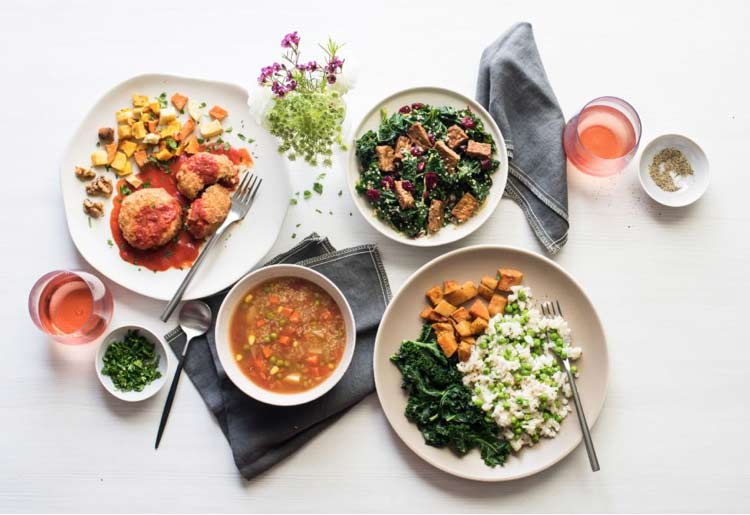 Best For
Chef crafted, plant-based meals
People trying to lose weight or looking to eat healthier
Veestro Meal Plans
A La Carte
The a la carte plan is Veestro's basic meal plan. You can sign up for weekly delivery or just order a single box, which is a nice option if you want to sample the food before committing to a subscription. Each a la carte delivery includes your choice of 10, 20, or 30 meals.
The a la carte menu features a large selection of over 50 savory lunch and dinner-style meals. Many cuisines are featured on the menu, including American, Italian, Indian, and Mexican dishes. Seasonal items may be added to the menu, but otherwise, the menu is the same week to week. The menu also includes 7 breakfast meals.
Nutrition information for each meal is available when ordering and the calories are provided on each menu image. Most meals provide roughly 300-450 calories per serving, but there is a handful in the 500-600 calorie range.
Weight Loss
The weight loss plan is only available as a subscription. You can choose to receive either 15 or 21 meals per week, which is enough food for 5 or 7 days. The weight loss meal plan includes the "low calorie" meals from the a la carte plan. There are 6 breakfast items and 38 savory lunch or dinner options.
If you eat Veestro meals for breakfast, lunch, and dinner, you'll get roughly 1200 calories per day. This is on the low end, which can help you lose weight, but most people will still feel hungry eating so few calories.
Veestro Dietary Options
Both meal plans are 100% vegan, so they do not contain any meat, poultry, fish, dairy, egg, or honey. These plant-based meals are a good option for anyone following a vegan or vegetarian lifestyle, or if you just want to add plant-based foods to your diet. Eating more plant-based foods, like vegetables and lentils, is associated with higher fiber intake and increased satiety - which can support weight loss and heart health.
The Veestro site claims over 96% of the ingredients they use are organic. This means that most of the ingredients have been grown without being treated with chemical pesticides, herbicides, or fertilizer.
If food intolerances or allergies are a concern, you can filter the Veestro menu to show gluten-free, nut-free, and soy-free options. Some meals contain gluten, nuts, and/or soy so you must carefully read the ingredient lists and look for icons on each menu item to see if it's appropriate for specific dietary restrictions.
Because the meals are already assembled and cooked, you cannot remove or customize the ingredients. You can also add protein to the meals, but that would increase the cost of each meal and defeat the convenience of heat-and-eat meals.
Our Favorite Veestro Meals
On the A La Carte plan, you'll find meatless versions of traditional dinner entrees like Herb Crusted Turk'y Dinner, Crab Cakes, and Country Fried Chick'n.
There are also traditional plant-based meals like Golden Chickpea Stew, Kale & Quinoa Salad, and Mushroom Risotto, which are all tasty options. If you're looking for kid-friendly options, you can find items like Chik'n Nuggets and Baked Mac & Cheez Dinner that kids will love.
On the Weight Loss plan, menu selections include a beautiful Enchilada Casserole, and a delicious Red Curry with Tofu.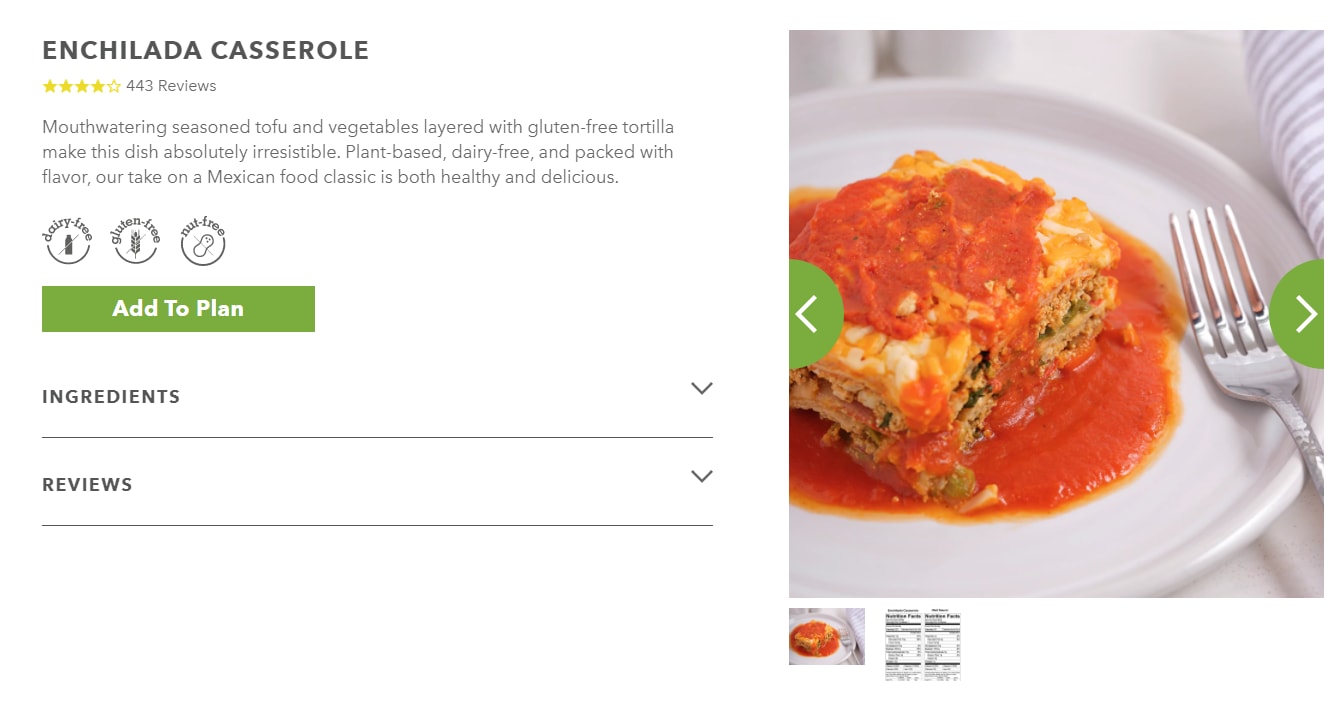 How Much Does Veestro Cost?
The price of your Veestro delivery will depend on the plan you choose and whether you sign up for a subscription. Meals range from $11.93 to $14.25 apiece.
The a la carte plan is available for one-time purchase or weekly auto-delivery with a subscription. If you choose a weight loss plan, you'll automatically be enrolled in weekly auto-delivery. Subscribing to the a la carte plan will save you 10% off the regular price and includes free shipping. One-time orders will be charged a $9.99 shipping fee.
A La Carte Subscription, 10 meals
A La Carte Subscription, 20 meals
A La Carte Subscription, 30 meals
How Does Veestro Work?
Placing an Order With Veestro
Ordering your Veestro meals is fast and easy. To get your first box, you'll go to the website, click on either the A La Carte or Weight Loss plan, and choose how many meals you want in your delivery.
Once you've filled your first box with meals, you'll be prompted to choose between auto-delivery, which comes with a 10% discount and free shipping, or a one-time order, which has a shipping fee of $9.99.
If you sign up for auto-delivery, you can change the meals you receive in each box. You can access your delivery schedule and edit your future orders under your account on the Veestro website.
How to Choose Meals with Veestro
You can pick all of your meals. The full menu is always available to choose your meals. There are no customizing or preferences to select.
Meals can be filtered by the following categories:
High-protein
Gluten-free
Low-calorie
Nut-free
Soy-free
Kosher
Seasonal favorites
Veestro offers a tremendous variety of menu options. There are approximately 50 meals you can choose from, which is enough variety to keep you from getting bored.
Before you can add new meals to your next box, you need to remove the meals you previously received. Then, you'll be able to add new meals. Detailed instructions on how to do this can be found under Veestro's FAQs section on their website.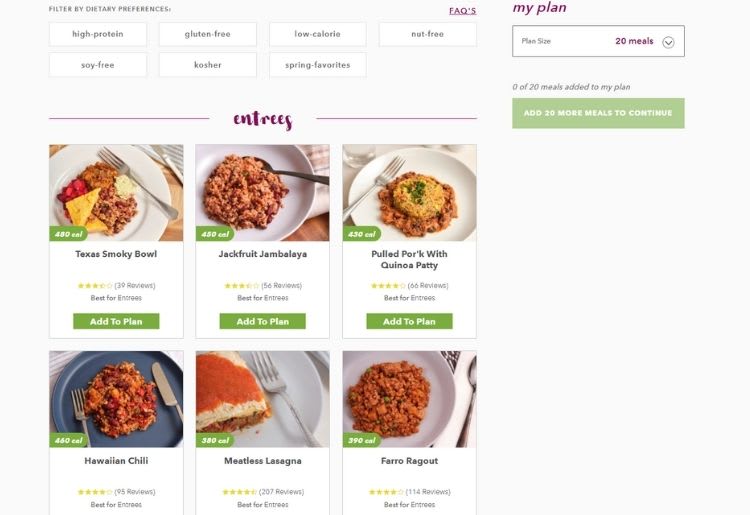 Does Veestro Come With Cooking Instructions?
Each meal has reheating instructions printed right on the packaging. Instructions are provided for the oven, stovetop, and microwave. Nutrition information is printed on the packaging of each meal and is also available on the Veestro website.
What Makes Veestro Stand Out?
Veestro doesn't just offer traditional plant-based dishes. They have a great variety of meals with substitutes for beef, chicken, and pork from different cuisines. With such a huge selection, you'll neve get bored with these chef-made meals. Veestro puts an emphasis on healthy eating, so most ingredients are also organic.
How Are Veestro Meals Packaged and Shipped?
Veestro ships orders to physical addresses in the 48 contiguous United States via FedEx, OnTrack, and CDL. You don't need to be present to receive your order. However, you will be provided tracking information and a delivery estimate so you can plan to place your meals into cold storage as soon as possible.
Veestro meals are packed frozen in an insulated box with dry ice to keep them cold. Dry ice can be harmful if you aren't careful, but Veestro says the dry ice usually evaporates by the time you receive your box. Your meals arrive frozen in 100% recyclable carton trays or BPA-free plastic pouches. The insulation is made from starch and can be dissolved in water. The cardboard shipping box can be recycled.
Meals should be stored in their original packaging in the freezer or refrigerator. Meals are preservative-free so they have a short shelf-life, and will only last 8 weeks in the freezer and 3-5 days in the fridge.
Is There a Veestro App?
Veestro does not have an app at this time, but you can make your order on their website.
How to Contact Veestro Customer Service
Like everything else on the site, Veestro customer support is friendly, helpful, and accommodating.
Email or Contact Form
You can use the online contact form to send in a question, and they will get back to you within 24 hours Monday-Friday. You can also email them at info@veestro.com.
Phone
They can also be reached at 855-434-8988 during their normal business hours of Monday-Friday 8 AM to 5 PM PST.
Refunds
Veestro does not offer a satisfaction guarantee or accept returns. However, a replacement credit is available if your delivery arrives damaged or spoiled.
Blog & FAQ
The Veestro website features a blog with plant-based eating tips and news. There's also a FAQ section that answers questions about ordering, delivery, preparation, ingredients, and more.
How to Pause or Cancel Your Veestro Account
If you sign up for auto-delivery, you can pause or cancel your subscription at any time on the Veestro website.
The deadline to make changes depends on the delivery schedule for where you live. Veestro emails you a reminder 3 days before they charge you for your next shipment. If you need to make any changes, skip, or cancel you have to do it during that 3-day window. Once they charge you for your next box, you can't cancel that delivery.
How Veestro Compares to Other Meal Delivery Services
Veestro is unique because its meals are 100% vegan and made with mostly organic ingredients. Plus, the meals are pre-made and pre-portioned into a single serving so there is zero prep time. Meals simply need to be reheated.
Gluten-free, low-calorie, nut-free, vegan, kosher
Paleo, carb-conscious, gluten-free, vegetarian, pescatarian
Vegetarian, gluten-free, dairy-free, nut-free
Gluten-free, dairy-free vegetarian, vegan, low-calorie, low-carb, keto-friendly
Recyclable carton trays, BPA-free plastic pouches
Compostable trays, recyclable cardboard and containers
Partially recycled cardboard
Recyclable cardboard, paper, and plastic packaging
Veestro vs Sunbasket
Both Veestro and Sun Basket deliver prepared meals made with organic ingredients that only need to be reheated. However, Sunbasket also offers fresh ingredient delivery with recipes to prepare meals from scratch. Veestro's menu is strictly vegan, while Sunbasket offers meat and seafood-based meals as well as several vegan options on each week's menu.
Veestro vs HelloFresh
Hello Fresh delivers fresh ingredients and recipes that enable you to prepare a home-cooked meal with minimal additional ingredients required. Their meals are not strictly vegan, but they do offer a handful of vegetarian options in each weekly menu that can be made vegan by omitting any included animal ingredients. Because Veestro meals are pre-made, they are ready to eat much faster than cooking a HelloFresh meal. However, Veestro meals are single portions and HelloFresh can be customized to feed two to four people.
Bottom Line
Veestro delivers fully-prepared vegan meals to your doorstep. The service is ideal for anyone who is plant-based or trying to lose weight by eating more plants but doesn't have time to spend cooking.