Green Chef's organic meal kits consist of pre-measured and prepped ingredients. And with their easy-to-follow recipe cards, you'll be able to whip up chef-designed meals that are both nutritious and delicious in no time.
Considering that Green Chef uses certified organic produce (1), it's no surprise that they are listed as one of the best organic meal kit delivery services of 2023. But eating organic comes at a price (2), so these meal kits might just be outside your budget.
Here are some Green Chef alternatives to consider for cheaper organic meals.
A Quick Look at Top10's Best Green Chef Alternatives
HelloFresh - Best for reducing meal prep time
Fresh N' Lean - Best for single people
Sunbasket - Best for families
Veestro - Best for eating healthier
Freshly - Best for diverse dietary requirements
» Looking for more options? Check out our top 10 picks for the best meal delivery services and companies.
Our Top Picks for the Best Green Chef Alternatives
1. HelloFresh
A versatile meal delivery service offering chef-designed meal kits and groceries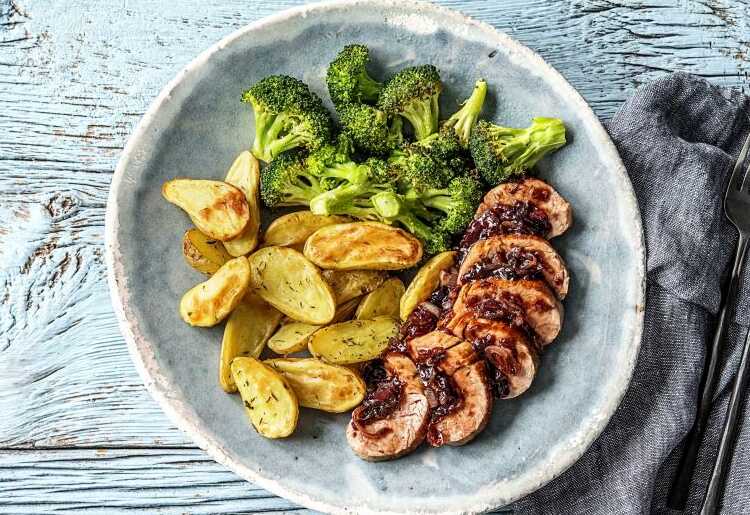 Best for: People who love variety
Starting price: From $7.99 per serving
Unlike other meal delivery services that only offer prepped or ready-made meal kits, HelloFresh also delivers groceries. Apart from main meals, you can order side dishes, snacks, and drinks.
HelloFresh has a variety of meal plans. With customizable options, such as pescatarian, low-calorie, or keto, you can pick recipes that suit your diet preferences.
You can also set filters such as Easy Clean Up, which minimizes waste and clean-up time, or Easy Prep, which ensures that most of the prep is already done for you.
» These HelloFresh paleo-friendly meals will help to fight inflammation.
Pros:
Suitable for people with dietary restrictions
Offers grocery delivery
Cons:
Shipping is costly
No allergen-free meal plans

HelloFresh See Menu
2. Fresh N' Lean
An organic meal kit delivery service that offers precooked and vacuum-sealed meals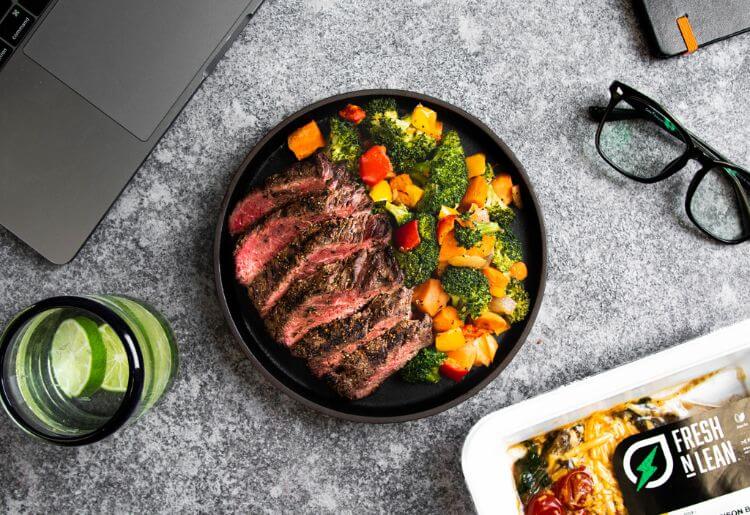 Best for: Ordering ready-to-eat meals
Starting price: From $7.99 per serving
Fresh N' Lean is a great choice for those looking to eat healthy meals without spending a lot of time in the kitchen. This meal subscription service delivers precooked meals in vacuum-sealed packs to your doorstep every week.
When placing your order, you'll need to choose one of seven meal plans, namely Protein+, Keto, Paleo, Plant-Based, Low-Carb, Mediterranean Diet, and Whole30. And pickier eaters will have the option of excluding up to three unwanted ingredients from the plan.
Fresh N' Lean also allows you to include additional meals from their weekly menu and extra add-ons such as snacks in your order.
» Here's how meal delivery services can help to reduce your carbon footprint.
Pros:
Precooked, ready-to-eat meals
Vacuum-sealed packaging
Cons:
Fixed meal plans tend to be more expensive
You have to order for at least five days a week

Fresh N' Lean See Menu
3. Sunbasket
A meal kit delivery service that uses the best quality, certified organic ingredients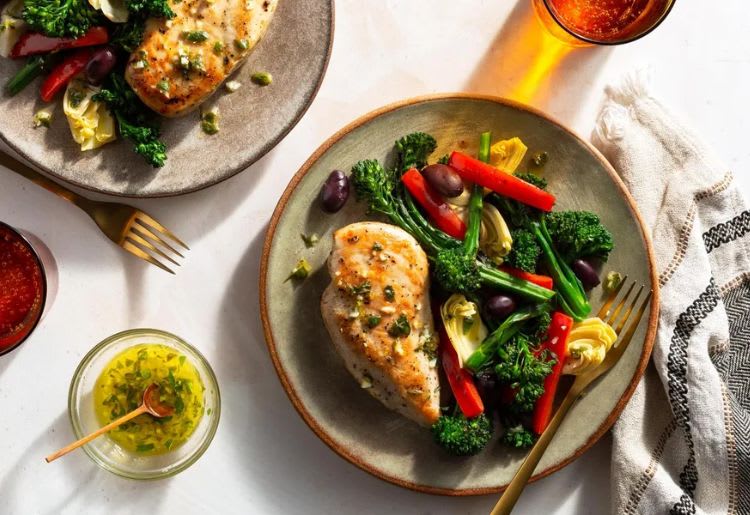 Best for: Simple-to-make recipes
Starting price: From $9.99 per serving
Sunbasket offers plenty of variety with its customizable meal plans. You can filter through recipes for Paleo, Pescatarian, Gluten-Free, Mediterranean, Vegetarian, and Diabetes Friendly. And you can also set your preference for dietary restrictions such as low-carb, soy-free, gluten-free, and more.
Most meal delivery services offer only lunch and dinner options, but Sunbasket delivers breakfast too. They also allow you to add more protein to your meals.
» Ready to take your weekly meal planning to the next level? Give these hacks a try.
Pros:
All meals are approved by an in-house dietitian
Uses certified organic ingredients
Cons:
Costly meal kits due to expensive ingredients
Limited options for specialty diets

Sunbasket See Menu
4. Veestro
A unique meal delivery service that offers frozen, plant-based meals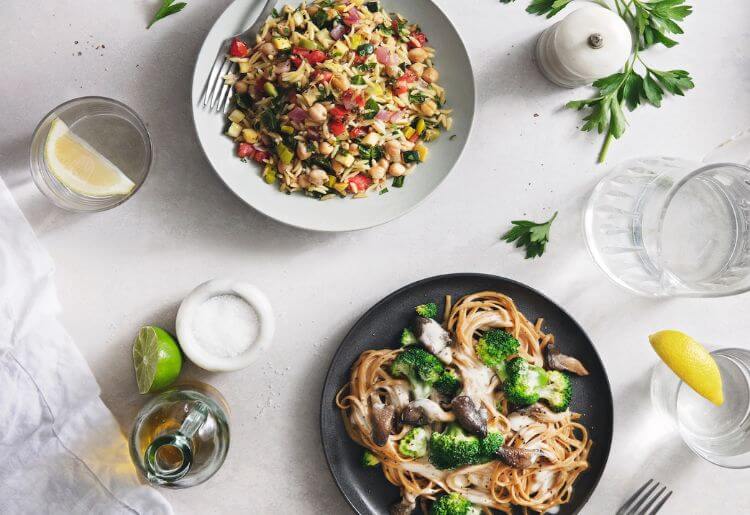 Best for: Purely plant-based eaters
Starting price: From $11.03 per meal
Veestro is quite different from the other meal delivery services mentioned here.
This is not about ordering a meal or two once or twice a week. Veestro delivers 10, 20, or even 30 meals all in one go. And the more you order, the cheaper it gets.
But considering that all the meals are frozen and well packed, they last long and help mitigate the cost. Plus, shipping is free on bulk orders.
You can also set the filter for specific dietary needs to find high-protein or kosher meals.
» Still hungry after eating? Try these filling low-carb foods.
Pros :
Order in bulk
À la carte menu
Cons:
Meals aren't very customizable
Inflexible ordering sizes

Veestro See Menu
5. Freshly
The ideal meal delivery service for people looking for healthy, filling meals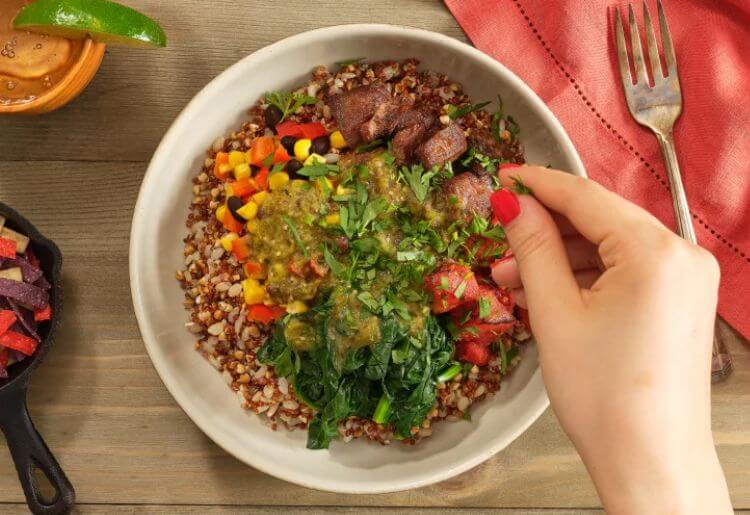 Best for: Health-conscious people on a budget
Starting price: From $8.99 per serving
With a weekly delivery of up to twelve single-serve premade meals, Freshly lives up to its name by using the best and freshest ingredients.
To use their services, you need to order a minimum of four meals per week. But with over 30 unique options every week, choosing just four will be difficult.
If you love cooking and have strong taste preferences, you might find it inconvenient that the meals are prepared in advance. You can customize the menu according to your dietary restrictions, such as low-carb, keto, gluten-free, etc. But you won't be able to change or remove ingredients or adjust spices and herbs.
» Don't know what to make for dinner? You should start meal planning today.
Pros:
Filter to find gluten-free dishes easier
Recyclable packaging
Cons:
No breakfast or side dish options
Limited choices for those with dairy or seafood allergies

Freshly See Menu
Why Choose These Green Chef Alternatives?
Green Chef is ideal for those who want to try clean eating. It is an environment-friendly meal kit delivery service that uses certified organic ingredients to offer you healthy and nutritious meals. But there are some excellent alternatives you should consider.
For More Menu Options
While Green Chef's menu changes weekly, they offer a limited variety of options. Freshly has over 30 unique meals every week that you can customize according to your dietary requirements.
To Order Add-ons
Green Chef uses sustainable, delicious ingredients, but they don't offer an option to add extra sides to your order. With delivery services like Fresh N' Lean and Sunbasket, you can create a custom meal plan that's just right for you. You can even order groceries from services like HelloFresh.
» Meet your daily protein requirements with these plant-based protein sources.
For Lower Shipping Costs
When you factor in shipping costs, many of the seemingly cheaper services actually turn out to be much more expensive. If your budget is tight, you can save on shipping by ordering in bulk from Veestro.
Bottom Line: Our Best Green Chef Alternatives
Meal delivery services are a boon for busy people who want to eat healthier but don't have the time to cook them at home. There are many meal kit services on the market, so knowing which one to use can get confusing.
GreenChef is among the most popular meal delivery services, but it's on the more expensive side. If you're looking for a more affordable meal delivery service, try these budget-friendly alternatives.
» Check out our top picks for the best prepared meal delivery kits.
Resources