If you are not full, it's probably because your food combinations are too low in dietary fat, protein, or fiber. Protein gives you satiety, while fiber absorbs water which helps to keep you full. Fats are the last to leave the digestive tract. Therefore, high-fat diets can keep us full longer.
Here are 10 filling yet low-carb foods to keep those hunger pangs away.
Fresh and Easy offers a variety of low-carb mealsGet your voucher for 16 free meals from Fresh and Easy

See Menu
1. Broccoli and Cheese Stuffed Chicken Breast
This low-carb delicacy contains just enough protein and good fat to keep you full for longer. It contains succulent chicken filled with broccoli and cream cheese. They are seared with olive oil or butter and then baked.
The fiber in broccoli makes it filling, and the high protein in the chicken provides satiety. The olive oil or butter and cream cheese provide good fat that keeps hunger at bay for hours.
The glycemic index (GI) of broccoli is 15, making it a great vegetable choice for diabetics. It also contains plant compounds that help reduce insulin resistance, the root cause of diabetes.
2. Taco Salad
Just because you have diabetes doesn't mean you can't enjoy this Mexican delicacy. All the delicious toppings make it filling and nutritious. As a sugar-free snack idea for diabetics, taco salad is a great choice.
Guacamole, red cabbage, lettuce, cherry tomatoes, olives, red onions, salsa, and sour cream are packed with protein, vitamins, and minerals. Skip the chips and add your choice of lean meat for a complete meal. The fiber from the vegetables, protein from the meat, and the good fats from olives and sour cream keep you full for longer.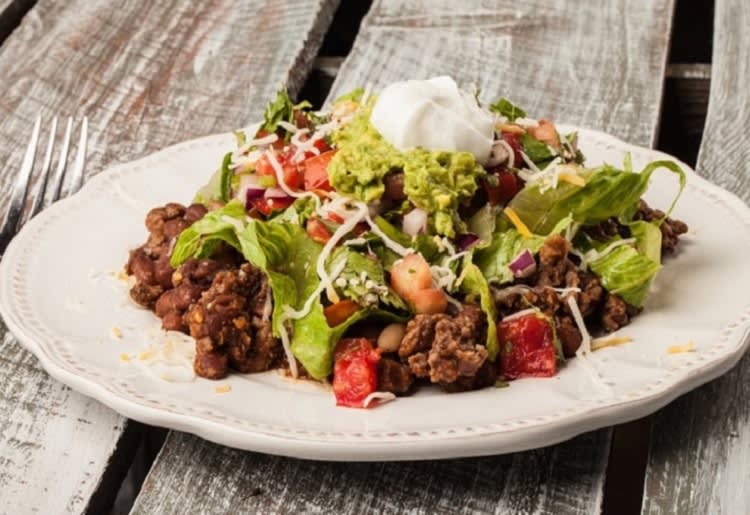 3. Chimichurri With Grilled Steaks
Chimichurri sauce is a popular condiment made of parsley, garlic, chili pepper, red wine vinegar, olive oil, and oregano. The herbs in the sauce are loaded with antioxidants and contain calcium, carotenes, iron, vitamin A, and vitamin C. Olive oil contains monounsaturated fatty acids that help lower your cholesterol levels, control blood sugar levels, and assist with weight loss.
Grilled steak is high in protein and fat-soluble vitamins and good for diabetics in moderation. The protein in the steak help increases the satiety hormone that keeps you full for longer.
4. Kale Sausage Soup
When it comes to the low carb vs. keto debate, it's better to go with keto soups that are low in carbs. Kale is considered a superfood. It is high in vitamins A, K, B6, calcium, and manganese. In addition, it's full of fiber, aiding digestion and making you feel full for longer. The GI of kale is 32, which means it doesn't increase your blood sugar levels.
Italian sausage provides protein and extra deliciousness. Made from sun-dried tomatoes, garlic, chicken stock, and white wine, this low-carb, low-calorie, ultra-delicious soup is heavenly.
5. Keto Reuben in a Bowl
This recipe contains corned beef, rye bread, sauerkraut, coleslaw mix, swiss cheese, and low-carb dressing. Opt for a leaner cut to make it even more diabetic-friendly.
The beef and sauerkraut are high in iron, which helps to prevent anemia (1). Sauerkraut is a nutrient powerhouse and probiotic food. Sauerkraut is rich in vitamins, potassium, copper, and folic acid and very low in calories. Rye bread supports blood sugar control. The oil, olives, and cheese are full of good fats that prevent hunger pangs.
6. Keto Meatloaf With Grilled Veggies
Keto meatloaf contains meat, parmesan, almond flour, spices, and herbs. The glaze is made of unsweetened tomato ketchup. Use extra lean ground beef for this recipe to help improve heart health (2).
This meatloaf can satisfy nearly half of your protein needs. This macronutrient increases the production of gut hormones that keep you full and decreases hunger hormones, keeping you satisfied for longer. Low-carb veggies have a high fiber content, promoting satiety.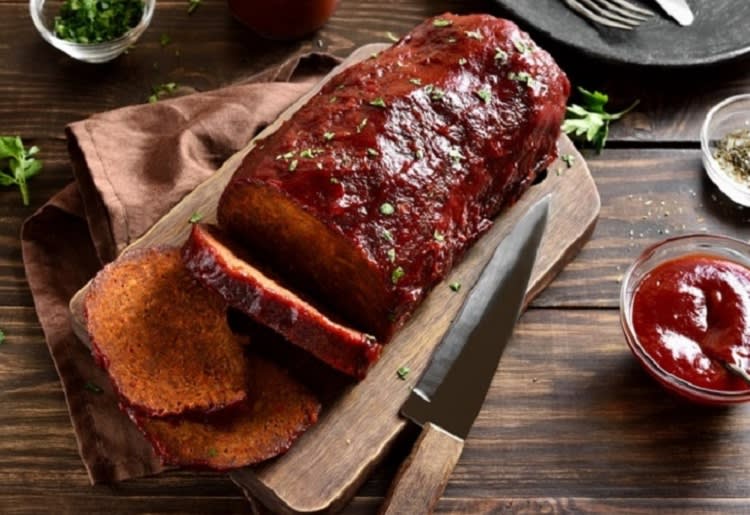 7. Shirataki Noodles With Shrimp
Shirataki noodles are made from the root of the konjac plant. They are carb-free and very low in calories. It contains a special kind of soluble fiber called glucomannan, which can turn into a gel by absorbing around 50 times its weight in water. This slows digestion, prevents blood sugar spikes, and keeps you full for longer.
The shrimp provide the required protein and essential fats, making it a nutritionally balanced meal that can improve your overall health.
8. Cauliflower Pasta With Tomato and Spinach
Cauliflower pasta, baby spinach, tomatoes, herbs, and cheese make this recipe divine.
Spinach is exceptionally good for diabetics. You can consume it in high amounts, and it will hardly spike your blood sugar. It is low in carbs and high in fiber. Cauliflower is another low-carb vegetable rich in vitamins and minerals, and tomatoes are low GI.
These antioxidants, vitamins, and minerals help reduce diabetic complications. Together, these vegetables make a tasty meal that absorbs water and keeps you full for a long time due to their high fiber content.
9. Quinoa Pilaf With Shitake Mushrooms
It contains delicious low-carb veggies, shitake mushrooms, and pecans, making it a healthy delicacy. To make pilaf diabetic-friendly and nutritious, just switch the rice with quinoa. Quinoa is incredibly nutritious with its high protein and fiber content. It has all the essential amino acids, making it a high-quality protein.
In addition, this meal is gluten-free and can be prepared in under 30 minutes. Not only does it keep your blood sugar levels under control, but it helps to prevent diabetic problems. You can also cook the meal in grass-fed butter to provide extra fat for increased satiety. These are good fats that don't allow blood sugar spikes.
10. Spiced Apple Berry Oatmeal
Oatmeal has a very low GI and is great for a diabetic diet.
One serving of oatmeal provides you with 8 g of fiber. These fibers are beta-glucans that help lower blood sugar levels in diabetics. In addition, it helps keep you feeling satisfied for longer.
Combined with the goodness of berries (high in antioxidants) and apples (low-carb, nutritional powerhouse), it can be your breakfast, lunch, dinner, or dessert.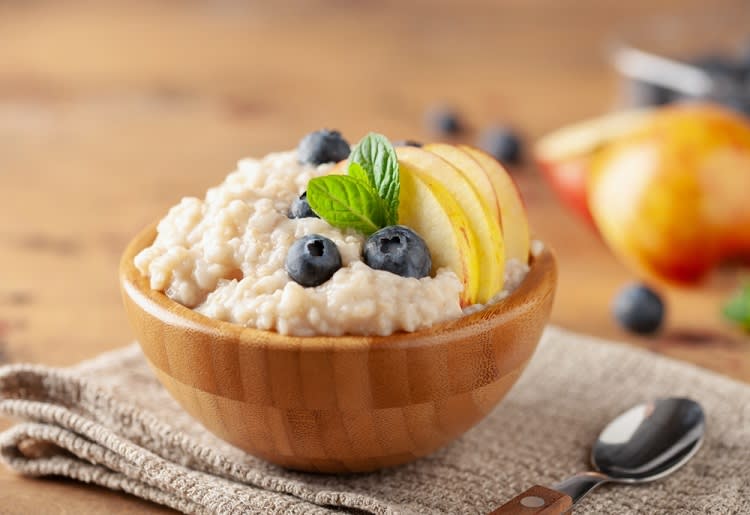 Take Away
To combat hunger amongst diabetics, a low-carb diet containing moderate protein, lots of fiber, and good fat is best. This combination keeps you full, preventing hunger pangs.
To make your life easier, you can use meal delivery services like HelloFresh and Blue Apron that deliver pre-portioned, nutritious meals to your doorstep.
References