Plant-based diets are becoming a favorite among many, including vegetarians, vegans, and even non-vegetarians who want to limit their animal product intake. However, one common concern is whether plant-based diets provide enough protein. With numerous health benefits supporting plant-based diets, one need not be deficient in proteins when choosing plant-based diets.
Choosing the right foods and a variety of plant-based proteins can ensure that your daily meals are fully equipped to provide the right nutrients your body needs for good health.
Meal delivery services are a great way to make plant-based living easy and convenient. You can use the right meal planning apps to have a plant-based meal delivery at your doorstep, such as Blue Apron and Sunbasket. You can also shop for the right plant-based proteins from any online grocery store.
Whatever you choose, make sure to include portions of the following plant-based proteins to avoid protein deficiency.
1. Lentils
Lentils are edible legumes that are a great source of protein. Available in brown, yellow, red, green, and black, lentils contain about 25% protein and are packed with fiber, vitamins, minerals, and other plant nutrients.
Including lentils in your diet every day can help you meet your protein needs. Try to limit your intake to one serving (100 g) as the fiber in lentils takes time to digest. Cooked lentils can provide approximately 9 g of protein per 1/2 cup or 100 g (1).
Incorporate lentils into soups, pasta, burger patties, or curries. Toss sprouted lentils into salads or spaghetti sauces for a fresh, crunchy texture.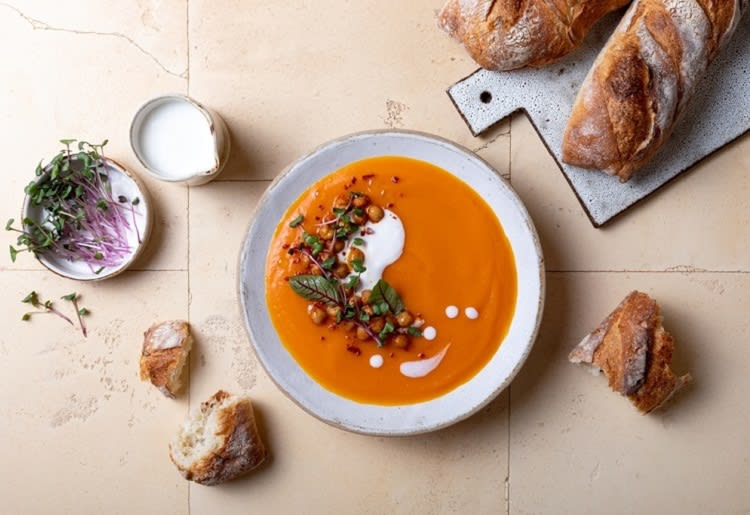 2. Chickpeas
Chickpeas or garbanzo beans are protein-rich legumes that provide 8.86 g of protein for every 100 g. They are a good source of fiber, carbohydrates, B vitamins, iron, and phosphorus. Adding chickpeas to your meals regularly helps with satiety and promotes good health.
Roasted chickpeas make for a healthy snack. You can also soak, grind, and add them to patties and stews, blend them with tahini and lemon juice for a hummus dip, or use it as a flour replacement when baking.
3. Seeds
Seeds are a powerhouse of nutrients and contain everything from protein, fiber, and healthy fats to vitamins, minerals, and antioxidants. Add seeds to your meals to get an effective dose of amino acids, which the body uses for its protein needs.
The protein content of some popular seeds is:
Chia seeds: 28 g provides 4.6 g of protein
Hemp seeds: 30 g provides 9.48 g of protein
Pumpkin seeds: 28 g provides 8.5 g of protein
Flax seeds: 50 g provides 9 g of protein
Tahini (sesame seed paste): 20 g provides 5 g of protein
Sprinkle seeds on yogurt, buttered toast, and smoothies, or add them to salads for a tasty crunch. Sesame seeds turned into tahini act as a delicious spread or dip. Add flax seeds onto oatmeal, and use chia to make yummy puddings.
4. Soy Products
Soybeans are one of the few plant-based foods that is a complete protein, meaning it has all nine essential amino acids. Therefore, edamame and products such as tofu, tempeh, and soy milk are great sources of protein, fiber, omega-3 fatty acids, and antioxidants.
The protein content of some soy products is:
Extra firm tofu made with nigari: 10 g protein per 100 g
Soy milk: 6.34 g of protein per 244 g (1 cup)
Tempeh: 20 g protein per 1100 g
Cooked edamame: 9.2 g protein per 80 g (1/2 cup)
Tofu can be a great meat replacement and suitable for stir-fries, smoothies, and veggie curries. Soy milk can replace milk and is an excellent addition to shakes or other dishes for flavor.
5. Whole Grains
Generally considered a good source of carbohydrates, whole grains are naturally rich in protein, fiber, vitamins, minerals, and amino acids. Ideal for breakfast, lunch, or dinner, whole grains can make daily diets nutritious and healthy.
The protein content in some of the whole grains is:
Quinoa: 8.14 g protein per 185 g (1 cup)
Wild rice: 6.54 g protein per 164 g (1 cup)
Wheat flour: 9.6 g per 100 g
Oats: 7 g protein per 234 g (1 cup)
Buckwheat: 5.68 g protein per 168 g (1 cup)
Make oatmeal into porridge or bake it into cookies with nuts using wheat flour. Keep salads enriched with buckwheat and quinoa. Use cooked wild rice with sautéed mushrooms and herbs for a filling meal.
6. Nuts
Nuts are delicious and contain many nutrients to fulfill your protein needs. A handful of nuts can provide protein, healthy fats, vitamins, and minerals.
The protein content in 28.35 g of nuts is:
Almonds: 5.95 g
Pistachios: 5.73 g
Cashews: 5.16 g (28 g)
Walnuts: 4.3 g
Have them roasted or raw for a crunchy and fulfilling snack. Grate or sprinkle onto smoothies or salads. Grind and add into vegetable curries for added richness and improved taste.
7. Potatoes
This humble vegetable, known for its high starch content, is also a great source of protein, potassium, and vitamin D. One baked potato weighing 156 g contains 3.1 g of protein.
Limit how many potatoes you consume, especially fried, to avoid increased blood sugar and bloating. The more nutritious and safe way to eat potatoes is baked, mashed, roasted, or scalloped in your favorite dishes.
8. Black Beans
Though there are many different types of beans, black beans have a high protein content and are full of other nutrients. One cup or 172 g of cooked black beans contains a whopping 15.2 g of protein. Half a cup of black beans can provide good carbs, fiber, calcium, B vitamins, and other minerals.
Try adding black beans to soups, stews, and bean burgers. Make wholesome dips or add them to tacos.
9. Nutritional Yeast
An inactive yellow-colored yeast with a cheesy umami flavor, nutritional yeast is loaded with nutrients. Two tablespoons or 10 g of nutritional yeast contains 5 g of protein and a good dose of fiber, B vitamins, and antioxidants.
Use nutritional yeast in soups, sauces, and dressings. Toss into popcorn or blend with cashew paste to add a creamy, cheesy taste to pasta or vegetable curries.
10. Peanut Butter
Peanuts are a great source of protein, healthy fats, fiber, carbs, and other micronutrients. Peanut butter made from dry, roasted, and ground peanuts has the same nutrients as raw peanuts. While 56 g of peanuts provides around 13 g of protein, 32 g (two tablespoons) of peanut butter provides 8 g of protein (2).
Peanut butter acts as a delicious spread on sandwiches or serves as a tasty dip, but those with heart issues should limit their peanut butter intake as it has high calories. Individuals with peanut allergies can try other nut kinds of butter like soy or almond butter.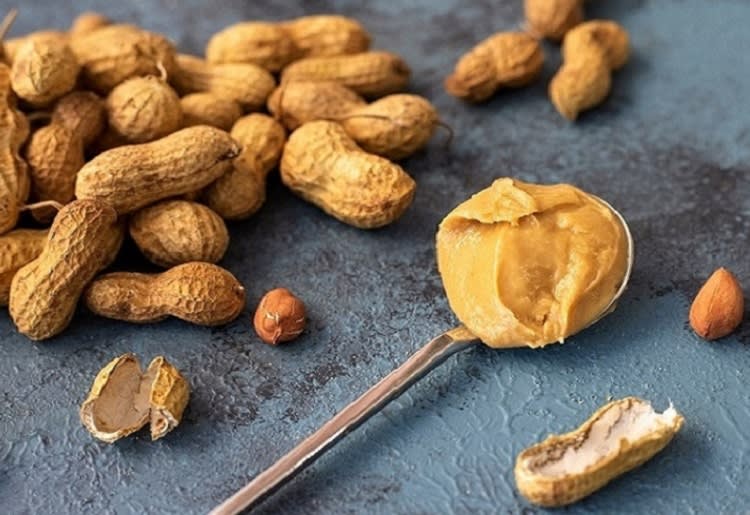 Conclusion
Plant-based diets are capable of providing all nutrients necessary for staying healthy, especially protein.
Choosing the right plant proteins and including a variety of them in appropriate quantities can ensure the overall health and wellbeing of vegans and vegetarians.
Resources