Though the paleo diet is considered a simple, back-to-our-roots diet, meeting its requirements can be harder than it sounds, especially if you're leading a busy lifestyle and need to cook different meals for yourself and for the rest of your family.
Below are our top 10 meal delivery services that make it easy and affordable to follow through with a paleo diet.
Our Top 10 Best Paleo Meal Delivery Services of 2023:
A Closer Look at Our Top 10 Best Paleo Meal Delivery Services:
1. HelloFresh
Some options for the flexi-paleo dieter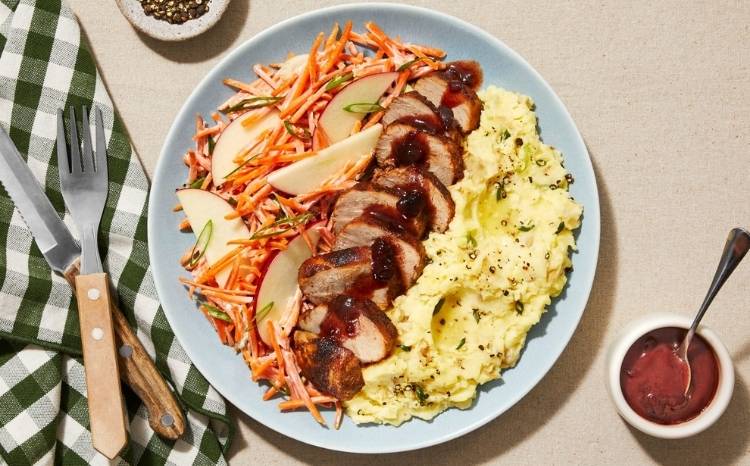 ✓ Price: $3.99–5.98 per serving ($7.99–$1.99 after 6-week promo period ends)
✓ Shipping: Free
Most of the meals delivered by HelloFresh include some sort of grain, which makes them unsuitable for people on a strict diet styled after our paleolithic ancestors. If you follow a paleo diet that allows for root veggies and beans, then options open up a little bit. There are a few homestyle comfort meals that consist of meat, vegetables, and potatoes (or sweet potatoes), plus some of the salads fit into a Paleo-style diet.
Sourcing is important for a paleo lifestyle too, and HelloFresh is moving in the right direction. They emphasize humane and sustainable sourcing of animal products and some organic ingredients too. The bottom line is that HelloFresh does not have a paleo meal plan, but if you're following a flexible Paleo diet then a few options may be suitable for you.
Pros
Emphasizes humanely raised animal products
Whole foods ingredient means less processed foods

Suitable options for a flexible Paleo diet
Cons
No paleo-specific meal plan
Most recipes have some kind of grain
Read the full HelloFresh review

HelloFresh View Plans
2. Green Chef
An organic spin on paleo eating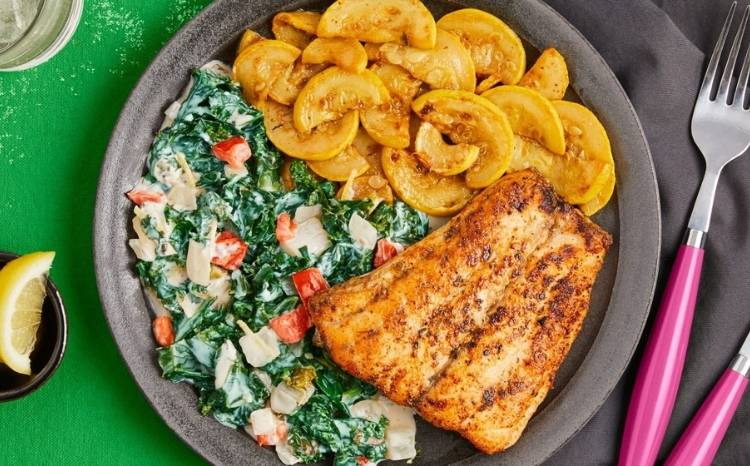 ✓ Price: $9.99-$12.99 per serving
✓ Shipping: $8.99 per box
Green Chef offers several meal plans, one of which is the Paleo diet plan. This menu is chock full of the best items for someone trying to eat this caveman diet cuisine. Most importantly, you won't find any gluten, dairy, soy, or grains, but you will find loads of protein. There are always five meal options to choose from the Paleo diet plan menu, and Green Chef has a new menu each week. Meal kits include organic ingredients that are GMO-, pesticide-, antibiotic-, hormone-, and steroid-free.
Pros
Dedicated paleo meal kits
5 menu options per week
Ingredients are GMO- and hormone-free
Cons
Shipping costs extra
Doesn't deliver to all areas
Read the full Green Chef review

Green Chef View Plans
3. Purple Carrot
Premium paleo options for any type of ancestral diet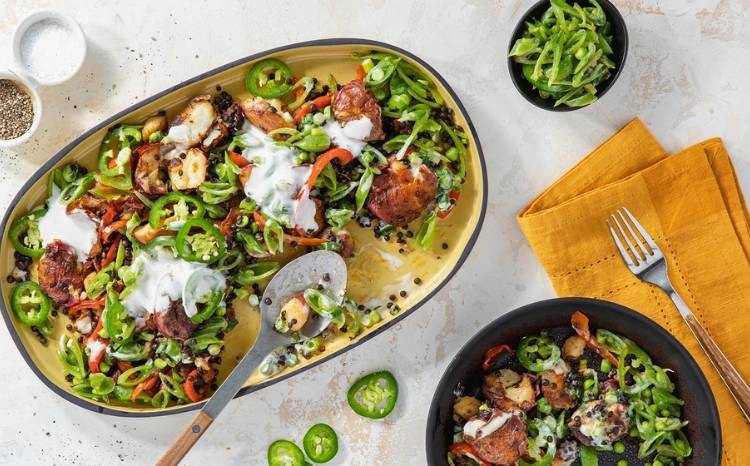 ✓ Price: $8.32-$10.99 per serving
✓ Shipping: Free
With an entire line of keto/paleo meals, Purple Carrot does it right when it comes to pre-prepped, ready to eat paleo options. Although some meals may not fit in a strict paleo diet, all of this plan's meals are lower in carbs and emphasize meat and vegetables, the mainstay of a paleo diet.
The keto/paleo meal plan includes starch substitutes like spiralized noodles, cauliflower rice, and a bed of greens (rather than grains) for many meals. Dairy options are available for people who want them, but they are also easy to avoid for those who don't.
Beyond just the foods, Purple Carrot sources their ingredients organically when possible. When they can't get organic, they opt for high quality ingredients (ie. wild-caught salmon, sustainably sourced nuts and seeds). Purple Carrot makes the paleo friendly diet easy with their keto/paleo meal plan!
Pros
Delectable chef-curated meals
Most ingredients come pre-prepared to make it easy on you
Familiar faves made with paleo-friendly substitutions
Cons
May not be suitable for people who live alone
More fish and seafood options would be nice
Read the full Purple Carrot review

Purple Carrot View Plans
4. Factor_
A hearty sampling of paleo cuisine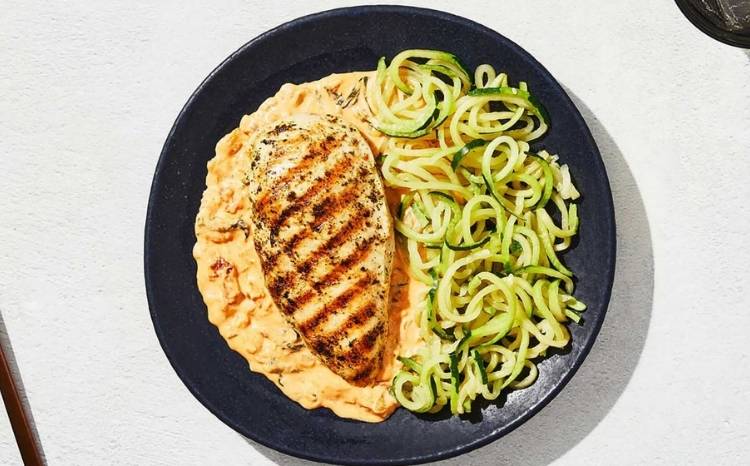 ✓ Price: $5-$8.78 per serving ($11-$15 per serving after introductory offer)
✓ Shipping: $9.99
Factor_ isn't exclusively a paleo meal service, but you'll find paleo meals on every menu. Full-time paleo eaters may not find enough to sustain them for every meal, but if you're interested in diving deeper into the paleo diet, Factor_ has plenty to offer. All the entrees are based on nutritional science and feature a wide range of organic ingredients. The menu rotates every week but you can expect paleo dishes such as BBQ pork tenderloin or turkey ragu butternut lasagna to pop up each week.
Pros
Menu includes hearty, paleo-friendly meals
Based on principles of nutritional science
Meals made from organic ingredients
Cons
No exclusive paleo plan
Not ideal for strict paleo eaters

Factor View Plans
5. EveryPlate
Some options for a flexible paleo diet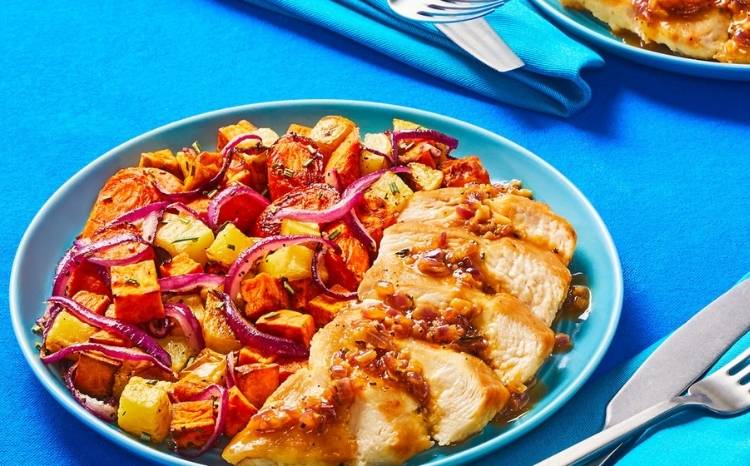 ✓ Price: $1.79-$5.89 per serving
✓ Shipping: $9.99
Paleo options with EveryPlate are limited since grains are included in almost every meal. Although it is possible to only select paleo-friendly meals, EveryPlate does not make it easy. The only purely paleo options are the meat-only protein packs.
If your hunter-gatherer diet includes root veggies, beans, and modest amounts of ancient grains, you'll be working with considerably more options though. Even with a more inclusive paleo diet, options are pretty constrained and the lack of salad options makes EveryPlate even harder.
Overall, every plate cannot be recommended for someone who strictly eats paleo food. Unless you just want meat delivered to your door, or if you're okay with a flexi-paleo diet, other meal delivery kits may be more suitable for you.
Pros
Whole foods ingredient means less processed foods
Suitable options for a flexible paleo diet
Meat-only options for the carnivore in you
Cons
No paleo-specific meal plan
Most recipes have some kind of grain
Very limited number of paleo options
Read the full EveryPlate review

EveryPlate View Plans
6. Home Chef
Tasty paleo options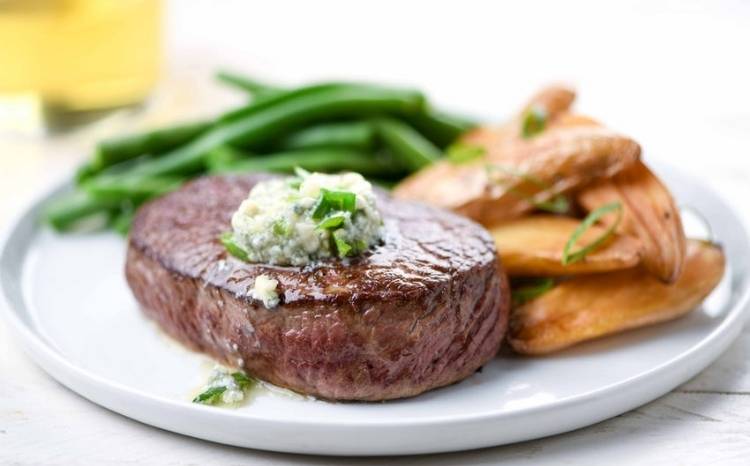 ✓ Price: $1.49–$9.94 per serving
✓ Shipping: $7.99 – 13.99
Although they don't offer a paleo meal plan, Home Chef's convenience-optimized line has just enough variety to make a paleo-style diet work. To make finding paleo recipes a bit easier, limit your options to those on the carb-conscious meal plan. You can also go to the recipe categories page and choose the salad, carb-conscious, or any of the protein-heavy (ie. fish) filters to narrow your search.
To make Home Chef meals more paleo, go for meals with the "customize it" option and double the protein when possible. Either limit yourself to dairy-free recipes or just leave out the cream-based sauces when you prepare your dinner. Home Chef excels at making meals easy, and they have a selection of paleo options. I just wish those options were as easy to find as they are to make!
Pros
Customizable protein options, including the option to double up on protein
A range of preparation from heat-and-serve to gourmet options
Plenty of options, especially for a flexible Paleo diet



Cons
No dedicated paleo meal plan
Many meals are paleo except for a dairy-based sauce
Difficult to identify suitable recipes
Read the full Home Chef review

Home Chef View Plans
7. Fresh and Easy
Easy heat-and-eat meals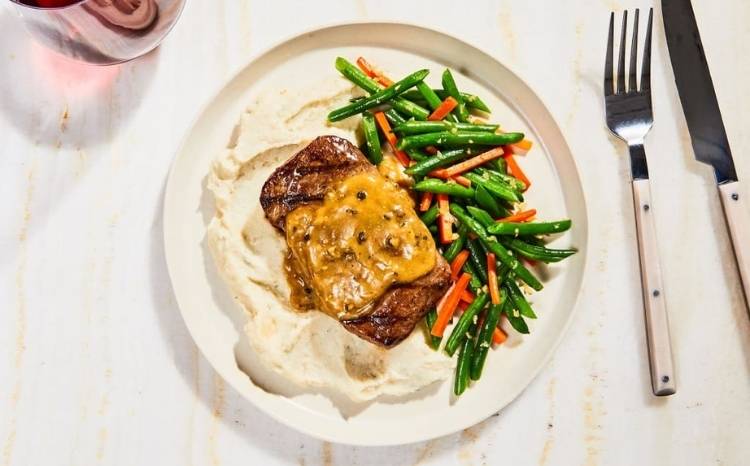 ✓ Price: $1.49–7.99 per serving
✓ Shipping: $7.99–$13.99
Home Chef's dedicated premade line, Fresh and Easy, offers a couple of paleo options, but not enough to fill out a week's meal plan.
To make Fresh and Easy meals more paleo, go for meals with the "customize it" option and double the protein when possible. Either limit yourself to dairy-free recipes or just leave out the cream-based sauces when you heat up your dinner.
When it comes down to it, you can expand your Fresh and Easy horizons with other Home Chef options to make a more complete, and varied, paleo diet. The Fresh and Easy line of meals is dedicated to simplicity, I just wish they didn't leave out most of the paleo options.
Pros
Incredibly easy heat-and-eat meals
Customizable protein options, including the option to double up on protein
Some options are available, especially for a more flexible paleo plan
Cons
Difficult to find what few suitable recipes exist
May need to include other Home Chef options for more variety
Read the full Fresh and Easy review

Fresh and Easy View Plans
8. Nutrisystem
Great for weight loss but limited Paleo options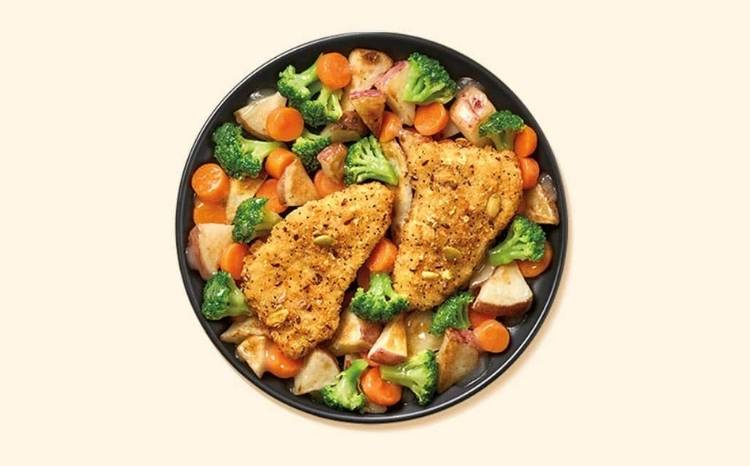 ✓ Price: $3.24–$5.48 per serving
✓ Shipping: Free
Nutrisystem's weight loss audience thrives on the pre-packaged heat-and-serve and grab-and-go meals. Your calories come counted and all you have to do is stick with the plan to make weight loss simple. Despite its long-standing popularity, NutriSystem has not caught on to the paleo movement.
With only a couple of Paleo breakfast, lunch, or snack options and only slightly more suitable dinners, this plan would get old fast if you tried to eat like your hunter-gatherer ancestors. If weight loss is what you're after, then you might find NutriSystem helpful. If a paleo-style diet is right for you, though, then look elsewhere for a better meal delivery service.
Pros
Turnkey weight loss solution that does everything for you
Premade meals make meal prep a thing of the past
Program includes every meal plus snacks for 5 or 7 days a week
Cons
Very few paleo options
Not all paleo options are available at any given time
Read the full Nutrisystem review

Nutrisystem View Plans
9. Sunbasket
Your path to healthy, high-protein meals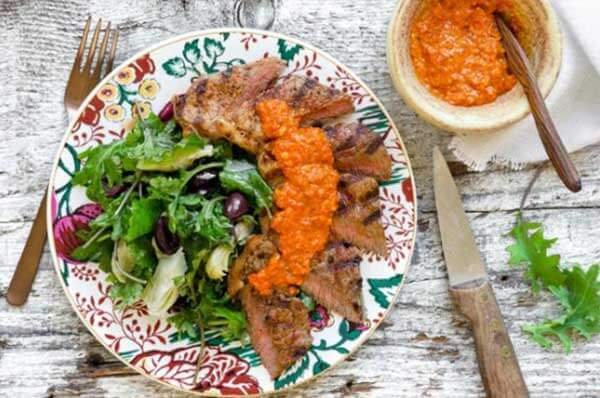 ✓ Price: $11.99 per serving
✓ Shipping: First week free, $6.99 for all subsequent orders
Sunbasket's paleo plan allows you to enjoy high protein recipes fueled with high quality meats, seafood, and fresh veggies while avoiding dairy, gluten, grains, soy, or corn. Sun Basket offers organic produce and sustainably sourced ingredients from trusted suppliers. There are 2 plans available: the Classic menu or the Family menu. The Classic one is the menu that allows you to select paleo as your dietary requirement.
Pros
Organic and sustainable ingredients
Plenty of variety
Dedicated paleo plan
Cons
Shipping costs extra
Doesn't deliver to all areas
Read the full Sunbasket review

Sunbasket View Plans
10. Eat Clean To Go
Paleo meals packed with superfoods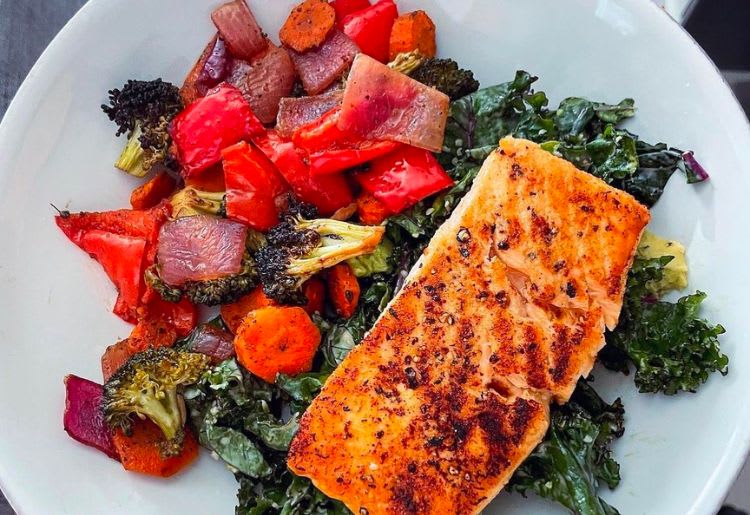 Price: From $4.30 per meal
Shipping: Depends on location
Eat Clean To Go's carefully crafted Paleo meal delivery plans provide plenty of nutritious foods and recipes that adhere to the guidelines of the Paleo diet. All their dishes feature high-quality organic ingredients and superfoods like avocado, almonds, kale and sweet potato that make each meal both delicious and healthful. They focus on grass-fed meat sources as well as fresh fruits and vegetables, so each dish offers great nutritional value while maintaining true Paleo authenticity. Additionally, each recipe uses healthy oils like coconut oil instead of refined oils so users get maximum nutrition in every bite.
Pros:
Chef-cooked meals
Menu changes every week
Meals have very little sodium
Cons:
Limited breakfast and dessert options
Non-refundable
Read the full Eat Clean To Go Review

Eat Clean To Go View Plans
What to Ask Yourself Before Choosing a Paleo Meal Delivery Service
Paleo meal delivery services can differ from one another in a few key areas. Asking yourself a few questions can help you narrow down the choice that's best for you. Here are some things to consider while making your decision:
How many times a week do I want paleo meals?
The number of plans a meal delivery company offers can be a deciding factor in which one is right for you. Whether you're looking for meals for every day of the week, or just to get you through those busy nights at work, you'll want to make sure that the service you choose can accommodate your schedule.
How committed am I to a paleo diet?
If you're already an avowed paleo eater, then a 100% paleo service is probably right for you. If you're experimenting, or simply trying to incorporate more paleo meals into your diet, then you may want to consider a service that offers a selection of paleo- and non-paleo meals.
Do I want dietary and nutritional guidance from a meal delivery service?
Some meal delivery companies simply send you your meals, while others offer supplemental services such as consultations with nutritionists and paleo experts. If you're looking for more personalized service, consider one of the companies that offer resources such as consultations and personalized meal planning.
Do I have any other dietary restrictions?
Whether you prefer all-organic produce, grass-fed beef and meats, or GMO- or hormone-free ingredients, check out the company's standards to make sure the meals will meet your own dietary preferences and needs.
Do I want frozen or fresh meals?
Most paleo meal delivery companies ship their meals flash-frozen, though there are companies that offer fresh meals. There are advantages and disadvantages to both, ranging from flavor and health benefits to storage capabilities. Think about how you'll be consuming your meals and go with the company whose delivery method best meets your schedule.
Tips on Paleo Meal Delivery Services
Price, availability, and menu selection are some obvious factors that can make a meal delivery more or less attractive to you. But there are other considerations to keep in mind. Here are some questions to think about in order to help you decide on a service that suits your own unique needs:
Determine whether you're a full-time, part-time, or "curious" paleo eater
Meal delivery companies approach paleo in different ways. Some, like Pete's Paleo or Paleo on the Go, take an exclusive approach to paleo with 100% paleo menus. These are optimal for those who have already dedicated themselves to following a full-time paleo diet.

However, if you're just dabbling, or curious but not yet committed, you may want to consider a service like Sun Basket, which has paleo- and non-paleo meals and leaves room for you to dabble while still having the benefit of other meals available.
Think about who you'll be feeding
It's a good idea to pay attention to the details of the meal plans offered by a company before deciding. Some offer plans that include up to 18 meals per week, which are ideal for large families. Others offer smaller packages that may be more suitable for singles, couples, or intermittent paleo eaters.
Consider your schedule
If you want your meals to come every week, you have nothing to worry about, as most of the companies above offer weekly recurring plans. If not, however, you still have plenty of options for lunches and dinners. Many of the above companies offer a la carte paleo meals or 1-time bundles that can fill in for the occasional busy week or special circumstance.

Either way, most of the companies let you cancel any time, so even if you opt for a weekly plan and then change your mind, you won't be locked into a commitment.
How Much Do Paleo Meal Delivery Services Cost?
Paleo meal delivery services start at around $8 per meal and may go as high as $15 per meal. The total cost per week will depend on how many meals you include in your plan. Typically, the price per meal goes down with larger orders.

So, for example, a plan including 6 meals (2 meals for 3 day out of the week) will be more expensive than a plan that includes 10 meals (3 meals for 5 days out of the week).
Shipping is another cost to keep in mind when estimating how much you'll spend per week on a paleo meal delivery service. Some companies offer free shipping across the board, others have a flat fee, and others still may charge based on your location.

The table higher up on this page lists the current shipping costs of each company; however, as fees may fluctuate, it's a good idea to visit the site's FAQ or punch in your location to confirm how much you'll be charged.
One good way to save initially on meal delivery services is to check out any special offers the company may be promoting. Most meal delivery services offer promotions when you sign up which may include discounted orders or free shipping for new customers.
Reviewing the Top Paleo Meal Delivery Services: Our Methodology
Top10.com paleo meal delivery service reviews are based on objective facts. Our reviews are based on research via the meal delivery site, trusted 3rd party sites, customer reviews, and use of the product through free trials, or through paid use in some cases.
It is not always possible to use the product through its entire lifecycle. However, reviewers will try the signup process, make customer service queries to check response times and perform any other possible function within the review period.

For the rest of the information, we rely on what the brand says about its own product offering, customer reviews, and complaints, ratings from independent agencies like the BBB, and trusted journalistic publications.
Some of the key features we compared when looking at the paleo meal delivery services on our list were:
Price
Shipping
Delivery areas
Special offers
What's in the box
Paleo Means Plenty Of Options
There are numerous meal delivery kits that will accommodate the dietary needs of a paleo diet, no matter how strict or relaxed you are with the food you choose to eat. This abundance of options means that everyone from first-timers to avowed paleo eaters can find a meal delivery service that satisfies them.

With a range of delicious and creative meals, and fresh, high-quality ingredients, you'll wonder how you coped before meal delivery kits came on the scene!
Our Paleo Meal Delivery Related Articles: