When trying to choose the best meal delivery service, keeping things simple means that you are more likely to avoid pesky preservatives, additives, or chemicals and all the extra fruits, vegetables, oils and nuts carry with them plenty of anti-inflammatory benefits. On top of all this, eating more red meat means more iron and in general you will feel more full because of the increased intake of protein and fats.
The Best Meal Delivery Kits for People Following the Paleo Diet
1. Kettlebell Kitchen
Price: $10.75-$11.95 per meal
Plan: Pure Paleo option includes 1, 2, or 3 meals 6 days a week
Delivery: Kettlebell delivers everywhere in the continental US. Shipping costs vary depending on location but will be waived for any orders delivered to gyms.
Kettlebell Kitchen sees its services as an essential component of a healthy lifestyle. In fact, they even waive shipping fees if you choose to have your meals delivered to your gym.
The Pure Paleo plans offer a thoughtfully chosen array of dishes 6 days a week. If you're a single, and looking for the best meal delivery service for singles, the meals, which include breakfasts, lunches, and dinners, are packed with nutrients and come free from soy, gluten, dairy, and grain. Better yet, all meat is both grass-fed and hormone- and antibiotic-free.
Kettlebell's team of registered dietitians also work to create meal plans that customers can customize to suit their own dietary goals and needs. Customers can even choose to receive a special guidebook with nutritional facts and tips provided especially for them by Kettlebell's team of talented nutritionists.

Kettlebell Kitchen View Plans
2. Eatology
Price: $8.30 - $12.75 per meal
Plans: Paleo-Zone plans include 10, 15, or 21 meals per week
Delivery: Every 15-meal shipment is $25
You won't find any bread, potatoes, or pasta in Eatology's Paleo-Zone meals. You will, however, find Puerto Rican lasagna and apple crumble upside-down cake, which you might just mistake for your comfort food favorites.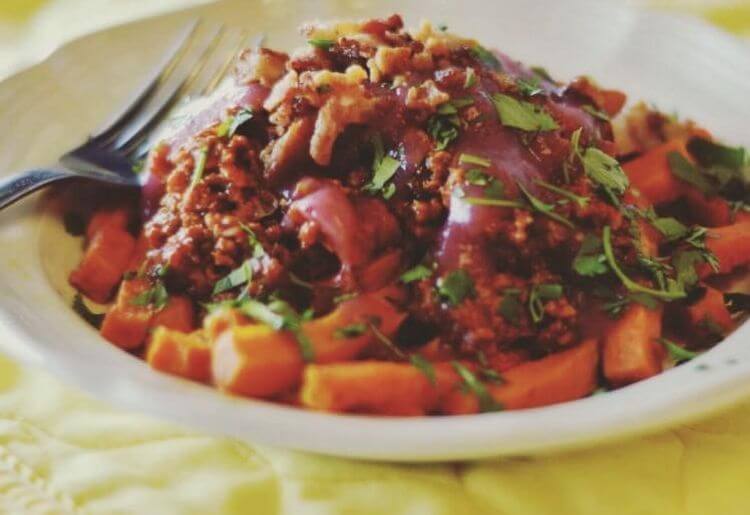 Eatology wants to make you believe you're eating your old favorites while you enjoy all of the benefits associated with the paleo diet. Prepare to eat tamale pies with paleo cornbread, deconstructed cheeseburgers, and Canadian pilgrim poutine. All of their dishes, which are made solely from whole-food ingredients, are completely free of added sugars and preservatives.
You can either place a one-time order or subscribe to plans with 10, 15, or 21 meals per week, all of which can accommodate various dietary needs and lifestyle choices. Subscribers can choose between medium (2B) or large (3B) portions, which are measured with portion-controlled "blocks" that display all relevant nutritional information. Health-conscious college students can even take advantage of semester meal plans, which ship weekly, dorm-room friendly meals.
3. Pete's Paleo
Price: $12.90-$24.60 per serving
Plans: Choose from a vast range of plans to suit your diet and eating goals with 4-week plans for 1, 2, or 4 people, 3 or 5-days a week, a Lite plan, 21-day detox plan, or individual meal orders.
Delivery: All meals are delivered within 1-2 days to maintain freshness, most meals shipped for free.
n case the name didn't give it away, Pete's Paleo is an excellent option if you are on the Paleo Diet, or on any other strict diet for that matter. That's because Pete's Paleo meals are dairy, gluten, and soy-free. So, the menu really caters to a lot of specialty diets (including, of course, the paleo diet).
Pete's Paleo works differently than most meal delivery services you're used to. Rather than preparing the food and then flash freezing it to seal in the freshness, all Pete's Paleo meals come fresh and completely prepared. Aside from the fact that prepared meals are a tremendous time-saver, for those who don't like the idea of frozen dinners, having your food delivered fresh is a big plus.
What's more, every meal is prepared with fresh and locally-sourced ingredients. So, your meals are seasonal and delicious. Each plate consists of grass-fed meats, organically grown produce with no GMO, and sans any of the junk that is usually found in ordered food.

Pete's Paleo View Plans
4. Sun Basket
Price: $11.99 a meal per person
Plans: the Classic menu (with the specific paleo option) is available for 2 or 4 people
Delivery: $6.99 for all orders, except for the first week which is free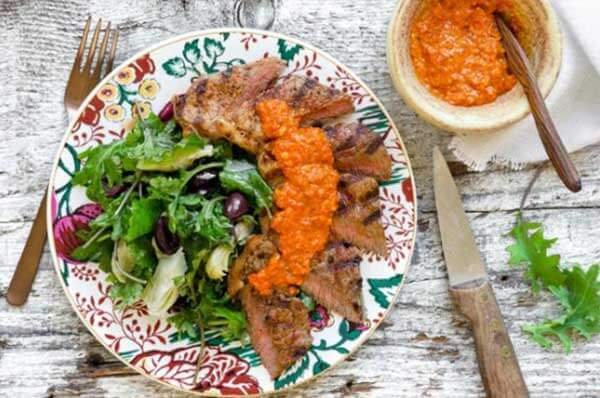 Sun Basket customers can browse new recipes each week, created by Chef Justine, alongside spectacular, drool-worthy photos that will leave you wanting it all! There are 2 plans available: the Classic menu or the Family menu. The Classic one is the menu which allows you to select paleo as your dietary requirement.
The paleo plan allows you to enjoy high protein recipes fueled with high quality meats and seafood, and fresh veggies, while avoiding dairy, gluten, grains, soy, or corn. Sun Basket offers organic produce, and sustainably sourced ingredients from trusted suppliers.
High in protein, and rich in colorful, vitamin loaded veggies. The steak is lean, and a quality cut that offers a wonderful flavor, garnished with a nutritiously scrumptious salad.

Sun Basket View Plans
5. Green Chef
Price: $9.99-$12.99 per serving
Plans: Plan options include keto, paleo, omnivore, plant-powered, gluten-free, pescatarian, weekly, bi-weekly, or monthly plans.
Delivery: Delivery to the majority of areas within the continental United States. Green Chef doesn't deliver to Alaska, Hawaii, and some areas within Louisiana. Shipping and handling cost $6.99 per box. Deliveries arrive Monday through Friday.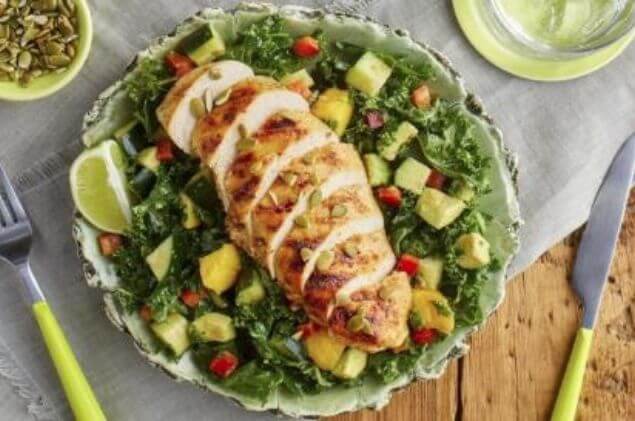 Green Chef offers several meal plans, one of which is the Paleo diet plan. This menu is chock full of the best items for someone trying to eat this caveman-style cuisine. Most importantly, you won't find any gluten, dairy, soy, or grains in these best gluten free meal delivery kit, but you will find loads of protein.
There are always five meal options to choose from the Paleo diet plan menu, and Green Chef has a new menu each week. So, you won't get bored with having the same foods over and over again. Meal kits include the finest organic ingredients that are GMO-, pesticide-, antibiotic-, hormone-, and steroid-free. What people really love about Green Chef is its simplicity. You get interesting and appetizing recipes each time, all the ingredients you need to make your entire meal already measured out and prepped down to the sauces, marinades, and spice blends, and instructions that are simple to follow in less than half an hour.
Best of all, these meal kits provide gourmet, delicious, home-cooked meals that are ready in roughly half an hour. Green Chef makes it easy to manage your orders. You can skip a week, pause your account, or cancel with the click of a button.

Green Chef View Plans
6. Paleo on the Go
Price: $9.50 - $17.50 per meal
Plans: Paleo on the Go is one of the more flexible meal delivery services. You can order individual meals and sides, purchase one-time meal bundles, or opt for a subscription and receive regularly scheduled deliveries.
Delivery: Paleo on the Go delivers all over the US in 3 days or less through FedEx. Delivery costs vary depending on your location.
Paleo on the Go caters to those that follow paleo and autoimmune protocol (AIP) diets with a mouthwatering selection of entrees, soups, and baked goods all prepared in accordance with the needs of those with autoimmune conditions. Menu items such as grass-fed beef tacos, smoked salmon bowls, and organic lemon, garlic, and sage bone broth are made by an in-house chef and strictly adhere to the AIP elimination list, leaving off ingredients like gluten and sugars while packing each meal with nutrients and healthy flavors.

Paleo on the Go View Plans
7. Factor 75
Price: $11 - $15 per meal
Plans: With Factor 75 you can choose from 4, 6, 8, 12, or 18 meals per week.
Delivery: Factor 75 delivers to all 48 states in the contiguous US through FedEx.
Factor 75 isn't exclusively a paleo meal service, but you'll find paleo meals on every menu. Full-time paleo eaters may not find enough to sustain them for every meal, but if you're into healthy eating or diving deeper into the paleo diet, Factor 75 has plenty to offer. All the entrees are based on nutritional science and feature a wide range of organic ingredients. The menu rotates every week but you can expect paleo dishes such as BBQ pork tenderloin or turkey ragu butternut lasagna to pop up each week.

Factor75 View Plans
8. Fresh n' Lean
Price: $11.42 - $15.98 per meal
Plans: The paleo plan comes with the option of 1, 2, or 3 meals per week.
Delivery: All shipping is free of charge and meals are delivered via GLS or FedEx.
Fresh n' Lean offers a healthy alternative to eating out or ordering in with complete paleo plans featuring premium meats and locally grown ingredients. All the food is free of GMOs and antibiotics and incorporate grass-fed beef, cage-free chicken, and local produce into entrees such as herbed chicken with lemon, smoky tomato grass-fed beef with veggies, and hearty breakfasts such as zucchini and bell pepper frittatas. Best of all, Fresh n' Lean ships offers a number of plans and offers free delivery on all orders.

Fresh N View Plans
9. Freshly
Price: $7.99 - $11.50 per meal
Plans: Freshly's plans include 4, 6, 9, or 12 meals per week.
Delivery: Freshly delivers to all 48 states in the continental US, but there may be some areas in those states out of their delivery range. You can enter your zip code into the site to make sure they deliver to your area. Shipping costs vary based on your location and the size of your order.
It's worth noting that Freshly doesn't have designated paleo plans, so strict paleo eaters looking for daily paleo meals may want to look elsewhere. That said, Freshly does offer a wide retinue of gluten-free, nutritionally rich meals to satisfy every appetite and cover plenty of dietary bases. The menu rotates weekly and features high-protein, dairy-free, gluten-free meals with an exotic touch, for example the chicken tikka masala entree or the truffle mushroom steak.

Freshly View Plans
10. Provenance
Price: 3-day programs starting at $198
Plans: Provenance's clean eating program includes plant-based meals, shakes, snacks, and teas for 3 days.
Delivery: Currently, Provenance only offers its clean eating program nationally. Shipping costs vary by location.
Provenance's 100% plant-based, gluten-free meals are part of the company's clean eating programs--3-day packages that include ready-to-eat entrees, shakes, teas, and other carefully chosen foods designed to help customers detox, reenergize, or reset. Unlike other meal delivery services, Provenance doesn't require a subscription and offers short-term programs. In addition to the foods included in the program, Provenance also offers nutritional juices, probiotics, and healthy snacks.
Try One of These Meal Delivery Kits, Today!
There are so many meal delivery kits to choose from, which will accommodate the dietary needs of a paleo diet, no matter how strict or relaxed you are with the food you choose to eat.
With a range of delicious and creative meals, and fresh, high quality ingredients, you'll wonder how you coped before meal delivery kits came on the scene!