Though the paleo diet is considered a simple, back-to-our-roots diet, meeting its requirements can be harder than it sounds. Below are the top 10 meal delivery services that make it easy and affordable to follow through with a paleo diet.
A Closer Look at Our Top 10 Paleo Meal Delivery Services
1. Kettlebell Kitchen
Paleo delights for breakfast, lunch, and dinner
Price: $10.75-$11.95 per meal
Plan: Pure Paleo option includes 1, 2, or 3 meals 6 days a week
Delivery: Kettlebell delivers everywhere in the continental US. Shipping costs vary depending on location but will be waived for any orders delivered to gyms.
Kettlebell Kitchen's Pure Paleo plans offer a thoughtfully chosen array of dishes 6 days a week. The menu includes breakfasts, lunches, and dinners, with all meals free of soy, gluten, dairy, and grain. Furthermore, all of Kettlebell Kitchen's meat is grass-fed and hormone- and antibiotic-free. A team of registered dietitians can also create customizable meal plans to suit specific dietary needs.
Pros
Features a 100% Pure Paleo Plan
Grass-fed and hormone-free meals
No soy, gluten, dairy, or grain
Cons
Shipping costs extra
Meals are on the pricier side
2. Eatology
Comfort foods meet the caveman diet
Price: $8.30 - $12.75 per meal
Plans: Paleo-Zone plans include 10, 15, or 21 meals per week
Delivery: Every 15-meal shipment is $25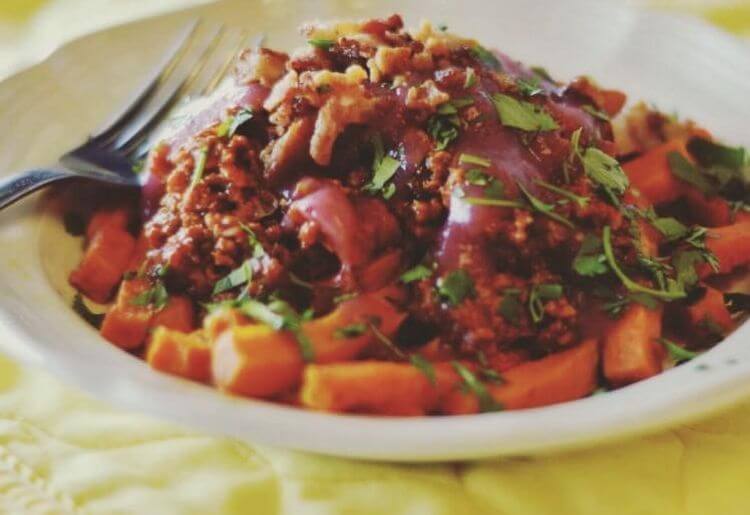 You won't find any bread, potatoes, or pasta in Eatology's Paleo-Zone meals. You will, however, find Puerto Rican lasagna and apple crumble upside-down cake. Eatology wants to make you believe you're eating your old favorites while still enjoying the benefits of the paleo diet. All of their dishes, which are made from whole-food ingredients, are completely free of added sugars and preservatives.
Pros
Easy to follow Paleo-Zone plan
Delicious, homestyle classics on the menu
Choose your portion size
Cons
Expensive shipping fees
Meals can be expensive
3. Pete's Paleo
Fresh, hearty, never-frozen meals
Price: $12.90-$24.60 per serving
Plans: Choose from a vast range of plans to suit your diet and eating goals with 4-week plans for 1, 2, or 4 people, 3 or 5-days a week, a Lite plan, 21-day detox plan, or individual meal orders.
Delivery: All meals are delivered within 1-2 days to maintain freshness, most meals shipped for free.
In case the name didn't give it away, Pete's Paleo is an excellent option if you are on the Paleo Diet. That's because Pete's Paleo meals are dairy, gluten, and soy-free. Rather than preparing the food and flash freezing it to seal in the freshness, all Pete's Paleo meals come fresh and completely prepared. Every meal is made with fresh and locally-sourced ingredients, including grass-fed meats and organically grown produce with no GMO.
Pros
100% paleo-friendly
No gluten, dairy, or soy
Meals are fresh, never frozen
Cons
Possible shipping fees
Meals have shorter storage life
4. Sunbasket
Your path to healthy, high-protein meals
Price: $11.99 a meal per person
Plans: the Classic menu (with the specific paleo option) is available for 2 or 4 people
Delivery: $6.99 for all orders, except for the first week which is free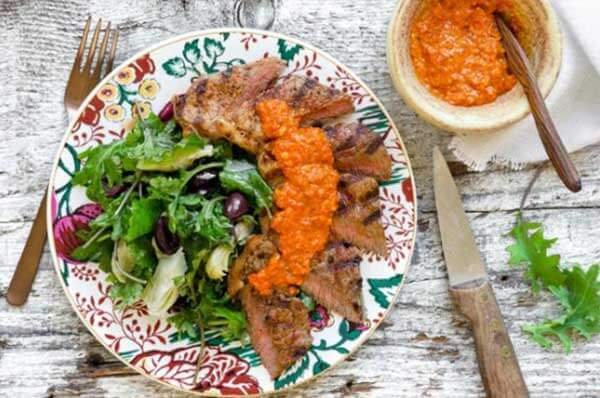 Sunbasket's paleo plan allows you to enjoy high protein recipes fueled with high quality meats, seafood, and fresh veggies while avoiding dairy, gluten, grains, soy, or corn. Sun Basket offers organic produce, and sustainably sourced ingredients from trusted suppliers. There are 2 plans available: the Classic menu or the Family menu. The Classic one is the menu which allows you to select paleo as your dietary requirement.
Pros
Organic and sustainable ingredients
Plenty of variety
Dedicated paleo plan
Cons
Shipping costs extra
Doesn't deliver to all areas
5. Green Chef
An organic spin on paleo eating
Price: $9.99-$12.99 per serving
Plans: Plan options include keto, paleo, omnivore, plant-powered, gluten-free, pescatarian, weekly, bi-weekly, or monthly plans.
Delivery: Delivery to the majority of areas within the continental United States. Green Chef doesn't deliver to Alaska, Hawaii, and some areas within Louisiana. Shipping and handling cost $6.99 per box. Deliveries arrive Monday through Friday.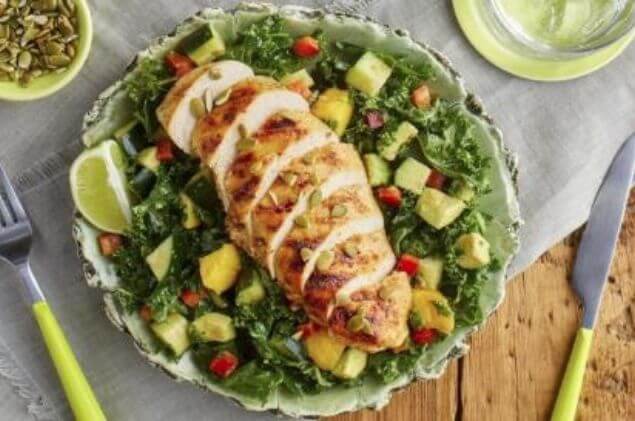 Green Chef offers several meal plans, one of which is the Paleo diet plan. This menu is chock full of the best items for someone trying to eat this caveman-style cuisine. Most importantly, you won't find any gluten, dairy, soy, or grains, but you will find loads of protein. There are always five meal options to choose from the Paleo diet plan menu, and Green Chef has a new menu each week. Meal kits include organic ingredients that are GMO-, pesticide-, antibiotic-, hormone-, and steroid-free.
Pros
Dedicated paleo meal plan
5 menu options per week
Ingredients are GMO- and hormone-free
Cons
Shipping costs extra
Doesn't deliver to all areas
6. Paleo on the Go
Strict paleo meals for the serious eater
Price: $9.50 - $17.50 per meal
Plans: Paleo on the Go is one of the more flexible meal delivery services. You can order individual meals and sides, purchase one-time meal bundles, or opt for a subscription and receive regularly scheduled deliveries.
Delivery: Paleo on the Go delivers all over the US in 3 days or less through FedEx. Delivery costs vary depending on your location.
Paleo on the Go caters to those that follow paleo and autoimmune protocol (AIP) diets with a mouthwatering selection of entrees, soups, and baked goods all prepared in accordance with the needs of those with autoimmune conditions. Menu items such as grass-fed beef tacos, smoked salmon bowls, and organic lemon, garlic, and sage bone broth are made by an in-house chef and strictly adhere to the AIP elimination list, leaving off ingredients like gluten and sugars while packing each meal with nutrients and healthy flavors.
Pros
100% paleo meals
Great for those on autoimmune protocol diets
Menu includes soups, sides, and desserts
Cons
Shipping costs extra
May not be ideal for families
7. Factor_
A hearty sampling of paleo cuisine
Price: $11 - $15 per meal
Plans: With Factor you can choose from 4, 6, 8, 12, or 18 meals per week.
Delivery: Factor delivers to all 48 states in the contiguous US through FedEx
Factor_ isn't exclusively a paleo meal service, but you'll find paleo meals on every menu. Full-time paleo eaters may not find enough to sustain them for every meal, but if you're interested in diving deeper into the paleo diet, Factor_ has plenty to offer. All the entrees are based on nutritional science and feature a wide range of organic ingredients. The menu rotates every week but you can expect paleo dishes such as BBQ pork tenderloin or turkey ragu butternut lasagna to pop up each week.
Pros
Menu includes hearty, paleo-friendly meals
Based on principles of nutritional science
Meals made from organic ingredients
Cons
No exclusive paleo plan
Not ideal for strict paleo eaters
8. Fresh n' Lean
Locally sourced, caveman-approved
Price: $11.42 - $15.98 per meal
Plans: The paleo plan comes with the option of 1, 2, or 3 meals per week.
Delivery: All shipping is free of charge and meals are delivered via GLS or FedEx.
Fresh n' Lean offers complete paleo plans that feature premium meats and locally grown ingredients. All the food is free of GMOs and antibiotics and incorporate grass-fed beef, cage-free chicken, and local produce into entrees such as herbed chicken with lemon, smoky tomato grass-fed beef with veggies, and hearty breakfasts such as zucchini and bell pepper frittatas. Best of all, Fresh n' Lean offers free delivery on all orders.
Pros
Features a 100% paleo plan
Free of GMOs and antibiotics
Free delivery
Cons
On the pricier side
Not ideal for families
9. Freshly
High-protein meals with global flavors
Price: $7.99 - $11.50 per meal
Plans: Freshly's plans include 4, 6, 9, or 12 meals per week.
Delivery: Freshly delivers to all 48 states in the continental US, but there may be some areas in those states out of their delivery range.
Freshly doesn't have designated paleo plans, so strict paleo eaters may want to look elsewhere. That said, Freshly does offer a wide retinue of gluten-free, nutritionally rich meals to satisfy every appetite and cover plenty of dietary bases. The menu rotates weekly and features high-protein, dairy-free, gluten-free meals with an exotic touch, for example the chicken tikka masala entree or the truffle mushroom steak.
Pros
High-protein, gluten-free menu options
Menu covers a wide range of dietary needs
Exotic, globally inspired menu options
Cons
No designated paleo plan
Not ideal for strict paleo eaters
10. Provenance
Detox your system with meals, shakes, and teas
Price: 3-day programs starting at $198
Plans: Provenance's clean eating program includes plant-based meals, shakes, snacks, and teas for 3 days.
Delivery: Currently, Provenance only offers its clean eating program nationally. Shipping costs vary by location.
Provenance's 100% plant-based, gluten-free meals are part of the company's clean eating programs--3-day packages that include ready-to-eat entrees, shakes, teas, and other carefully chosen foods designed to help customers detox, reenergize, or reset. In addition to the foods included in the program, Provenance also offers nutritional juices, probiotics, and healthy snacks.
Pros
Adheres to a strict clean-eating philosophy
Excellent for detoxing and recharging
Get meals, snacks, and shakes in one package
Cons
Only offers 3-day packages
Not designed for week-to-week use
Breaking Down Our Top 10 Choices: Which Is Best For Your Needs?
Kettlebell Kitchen - Best for fitness buffs
Eatology - Best for comfort-food lovers
Pete's Paleo - Best for organic eaters
Sunbasket - Best for couples and parents
Green Chef - Best for busy professionals
Paleo on the Go - Best for those on autoimmune protocol diets
Factor_ - Best for casual paleo eaters
Fresh n' Lean - Best for breakfast lovers
Freshly - Best for first-timers
Provenance - Best for those who need to detox
Paleo Meal Delivery FAQs
What is the best Paleo meal delivery service?
Kettlebell Kitchen or Pete's Paleo are probably the best for strict paleo eaters due to their exclusive paleo menus and paleo resources. Sun Basket, Green Chef, and Eatology may be best for those who are interested in trying out paleo or who have family members who don't keep the diet.
Are there any paleo frozen meals?
Yes. A number of paleo meal delivery services offer flash-frozen meals that 100% conform to the paleo restrictions. These include Paleo on the Go, Eatology, and Green Chef.
Are bananas Paleo?
There are some disputes about whether bananas belong in a pure paleo diet. While bananas are a natural fruit and meet the basic paleo diet requirements, some people recommend avoiding them due to their higher sugar and carb count, or suggest they be eaten in moderation.
Reviewing the Top Paleo Meal Delivery Services: Our Methodology
Top10.com paleo meal delivery service reviews are based on objective facts. Our reviews are based on research via the meal delivery site, trusted 3rd party sites, customer reviews, and use of the product through free trials, or through paid use in some cases.
It is not always possible to use the product through its entire lifecycle. However, reviewers will try the signup process, make customer service queries to check response times and perform any other possible function within the review period. For the rest of the information, we rely on what the brand says about its own product offering, customer reviews, and complaints, ratings from independent agencies like the BBB, and trusted journalistic publications.
Some of the key features we compared when looking at the paleo meal delivery services on our list were:
Price
Shipping
Delivery areas
Special offers
What's in the box
What to Ask Yourself Before Choosing a Paleo Meal Delivery Service
Paleo meal delivery services can differ from one another in a few key areas. Asking yourself a few questions can help you narrow down the choice that's best for you. Here are some things to consider while making your decision:
How many times a week do I want paleo meals?
The number of plans a meal delivery company offers can be a deciding factor in which one is right for you. Whether you're looking for meals for every day of the week, or just to get you through those busy nights at work, you'll want to make sure that the service you choose can accommodate your schedule.
How committed am I to a paleo diet?
If you're already an avowed paleo eater, then a 100% paleo service is probably right for you. If you're experimenting, or simply trying to incorporate more paleo meals into your diet, then you may want to consider a service that offers a selection of paleo- and non-paleo meals.
Do I want dietary and nutritional guidance from a meal delivery service?
Some meal delivery companies simply send you your meals, while others offer supplemental services such as consultations with nutritionists and paleo experts. If you're looking for a more personalized service, consider one of the companies that offers resources such as consultations and personalized meal planning.
Do I have any other dietary restrictions?
Whether you prefer all-organic produce, grass-fed meats, or GMO- or hormone- free ingredients, check out the company's standards to make sure the meals will meet your own dietary preferences and needs.
Do I want frozen or fresh meals?
Most paleo meal delivery companies ship their meals flash-frozen, though there are companies that offer fresh meals. There are advantages and disadvantages to both, ranging from flavor and health benefits to storage capabilities. Think about how you'll be consuming your meals and go with the company whose delivery method best meets your schedule.
How Meal Delivery Works During COVID
Meal delivery services have emerged as a safe alternative to grocery shopping during the COVID pandemic. By delivering everything straight to your door, they limit the need for you to venture out into crowded supermarkets and grocery stores. This is especially helpful for diets such as the paleo diet, whose ingredients and restrictions demand a more specialized shopping experience. Having your meals prepared by paleo experts, and delivered to your door, can help you sustain your goals without making compromises to your diet or exposing yourself to risk.
Tips on Paleo Meal Delivery Services
Price, availability, and menu selection are some obvious factors that can make a meal delivery more or less attractive to you. But there are other considerations to keep in mind. Here are some questions to think about in order to help you decide on a service that suits your own unique needs:
Determine whether you're a full-time, part-time, or "curious" paleo eater
Meal delivery companies approach paleo in different ways. Some, like Pete's Paleo or Paleo on the Go, take an exclusive approach to paleo with 100% paleo menus. These are optimal for those who have already dedicated themselves to following a full-time paleo diet. However, if you're just dabbling, or curious but not yet committed, you may want to consider a service like Sun Basket, which has paleo- and non-paleo meals and leaves room for you to dabble while still having the benefit of other meals available.
Think about who you'll be feeding
It's a good idea to pay attention to the details of the meal plans offered by a company before deciding. Some offer plans that include up to 18 meals per week, which are ideal for large families. Others offer smaller packages that may be more suitable for singles, couples, or intermittent paleo eaters.
Consider your schedule
If you want your meals to come every week, you have nothing to worry about, as most of the companies above offer weekly recurring plans. If not, however, you still have plenty of options. Many of the above companies offer a la carte paleo meals or 1-time bundles that can fill in for the occasional busy week or special circumstance. Either way, most of the companies let you cancel any time, so even if you opt for a weekly plan and then change your mind, you won't be locked into a commitment.
How Much Do Paleo Meal Delivery Services Cost?
Paleo meal delivery services start at around $8 per meal and may go as high as $15 per meal. The total cost per week will depend on how many meals you include in your plan. Typically, the price per meal goes down with larger orders. So, for example, a plan including 6 meals (2 meals for 3 day out of the week) will be more expensive than a plan that includes 10 meals (3 meals for 5 days out of the week).
Shipping is another cost to keep in mind when estimating how much you'll spend per week on a paleo meal delivery service. Some companies offer free shipping across the board, others have a flat fee, and others still may charge based on your location. The table higher up on this page lists the current shipping costs of each company; however, as fees may fluctuate, it's a good idea to visit the site's FAQ or punch in your location to confirm how much you'll be charged.
One good way to save initially on meal delivery services is to check out any special offers the company may be promoting. Most meal delivery services offer promotions when you sign up which may include discounted orders or free shipping for new customers.
Paleo Means Plenty Of Options
There are numerous meal delivery kits that will accommodate the dietary needs of a paleo diet, no matter how strict or relaxed you are with the food you choose to eat. This abundance of options means that everyone from first-timers to avowed paleo eaters can find a meal delivery service that satisfies them. With a range of delicious and creative meals, and fresh, high quality ingredients, you'll wonder how you coped before meal delivery kits came on the scene!