Numerous conflicting dietary trends exist today. However, one common recommendation from health experts is to decrease our intake of heavily processed foods. These foods lack nutritional value and stimulate our brain's dopamine center, which is associated with pleasure, thereby encouraging future cravings. The Paleo diet strives to combat this issue by emphasizing organic, non-processed meals.
According to a survey by the San Francisco School of Medicine, participants on a paleo diet ate more proteins and fewer carbs. This spontaneously reduced their calorie intake by up to 900/day.
To facilitate your transition into this dietary pattern, we have curated a list of Paleo meal delivery services. These services offer convenient, easy-to-prepare dishes composed of food types that our ancestors thrived on.
Our Top 10 Best Paleo Meal Delivery Services of 2023:
A Closer Look at Our Top 10 Best Paleo Meal Delivery Services:
1. HelloFresh
Simplifying paleo eating with fresh ingredients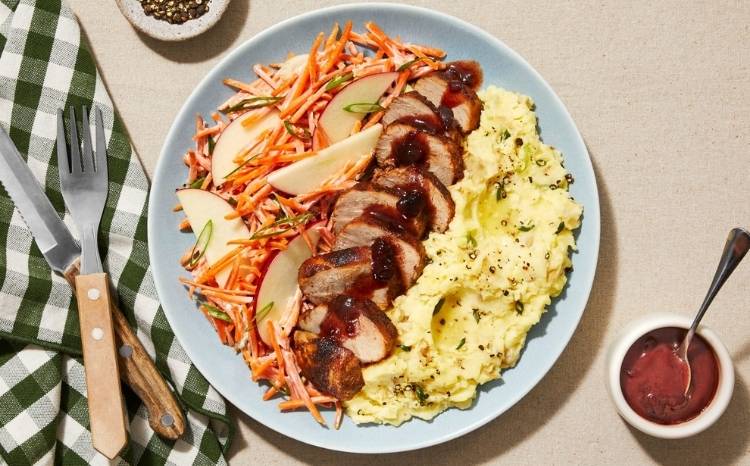 ✓ Price: From $7.49 per serving
✓ Shipping: Free
HelloFresh offers a range of simple-to-make, nutritious, and fresh recipes. Although they don't offer a specific "Paleolithic" meal plan, they feature options with high-quality meats and vegetables, such as balsamic rosemary chicken. They are committed to utilizing organic and sustainable ingredients, including humanely-raised beef and high quality plant-based proteins.
To accommodate various dietary needs and restrictions, HelloFresh provides customizable menus, ensuring suitable options for everyone. The company also prioritizes sustainability by minimizing food waste with precisely portioned ingredients and utilizing recyclable packaging.
Why we chose HelloFresh: HelloFresh simplifies the cooking process and limits food waste by eliminating buying ingredients in bulk. Moreover, it cultivates a community vibe via social media platforms, where subscribers can share their favorite Paleo recipes and tips, fostering an engaging environment.
Our experience: We received a meal kit delivery complete with straightforward, easy-to-follow recipes and pre-prepared ingredients, including nutrient-dense vegetables like sweet potatoes and carrots. Their dedication to using organic and sustainable products in our meals, aligning with Paleo principles, truly stood out to us.
Pros
Detailed recipe cards with clear instructions
Organic and sustainable ingredients
Portioned meals reduce food waste
Cons
No paleo-specific meal plan
Most recipes have some kind of grain like rice or quinoa
Read the full HelloFresh review

HelloFresh View Plans
2. Green Chef
An organic spin on paleo eating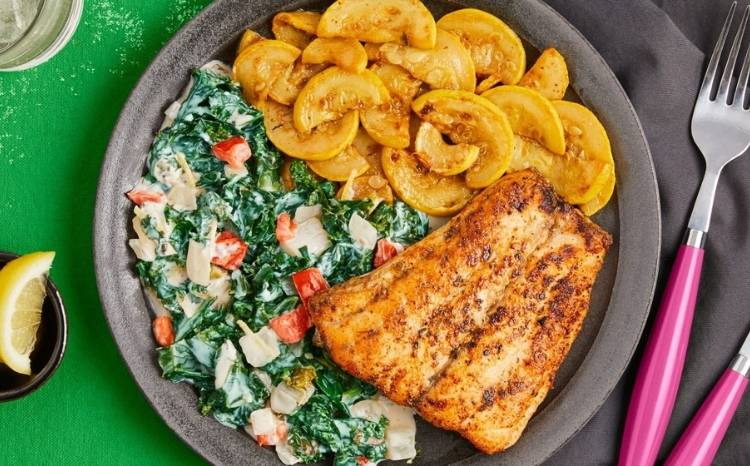 ✓ Price: From $11.99 per serving
✓ Shipping: $8.99 per box
Green Chef is one of the first USDA-certified organic meal delivery services. Although they don't have a specific paleo plan, they alternatively provide a range of compatible keto options—as both diets emphasize the use of unprocessed ingredients.
Green Chef has 36 weekly options with fresh and organic ingredients and sustainable packaging. Their recipes also include a list of ingredients such as dairy products—which aren't paleo—making it easier to follow the diet.
Why we chose Green Chef: Because Green Chef offers a diverse range of protein options for your primal meals, you'll be able to easily enjoy a wide variety of flavors. You can also double your portion sizes and tweak the number of servings/week.
Our experience: We liked that Green Chef is inspired by various paleo-compatible world cuisines like Mediterranean or Middle Eastern, allowing us to explore new flavors and experiment with different seasonings. They also provided helpful details like estimated cooking time, calories, and allergen information.
Pros
Chef-curated dishes
36 meal options/week
Ingredients are hormone and GMO-free
Cons
No dedicated paleo plan
Doesn't deliver to Alaska and Hawaii
Read the full Green Chef review

Green Chef View Plans
3. Purple Carrot
Paleo meals with a plant-based twist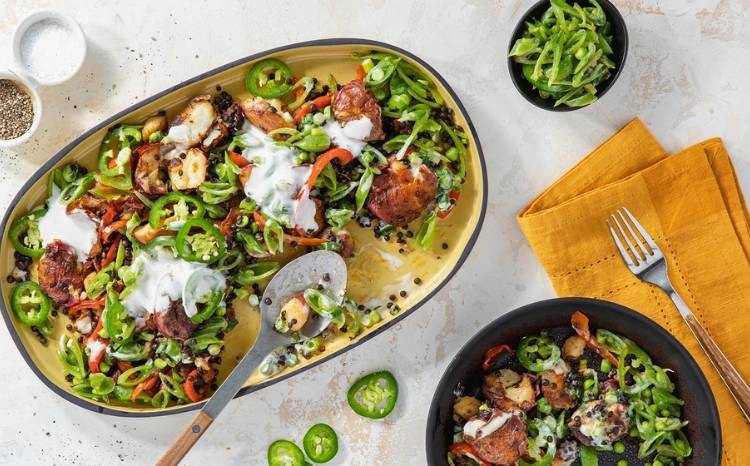 ✓ Price: From $11 per serving
✓ Shipping: $10 per box, first one is free
Purple Carrot is a gluten-free meal delivery service that allows you to experience the benefits of a plant-based lifestyle with the convenience and innovation of their customizable kits. While some meals may not align with a strict Paleo diet, all options in this plan are lower in carbohydrates and focus on meats and vegetables, the foundation of a "Stone Age" diet.
The Paleo meal plan includes starch substitutes such as spiralized noodles, cauliflower rice, and a base of greens for many dishes. Furthermore, Purple Carrot sources their ingredients organically whenever possible. If organic options are unavailable, they opt for high-quality ingredients like wild-caught salmon and sustainably sourced nuts and seeds.
Why we chose Purple Carrot: Purple Carrot provides an array of recipes that offer convenient and nutritious plant-based alternatives for Paleo enthusiasts. Additionally, their meals require fewer preparation steps, facilitating the cooking of delicious and satisfying dishes with ease.
Our experience: We were struck by the diverse range of high-protein vegan and vegetarian recipes offered by Purple Carrot. Their innovative use of vegetables to create flavorful and savory dishes impressed us, demonstrating that plant-based meals can indeed be both nutritious and satisfying.
Pros
Delicious, chef-curated caveman meals
Great options for vegetarians or vegans
Detailed nutritional information for each meal
Cons
Most expensive option on this list
Not ideal for a strict paleo diet
Read the full Purple Carrot review

Purple Carrot View Plans
4. Factor_
Hassle-free paleo meals delivered to your door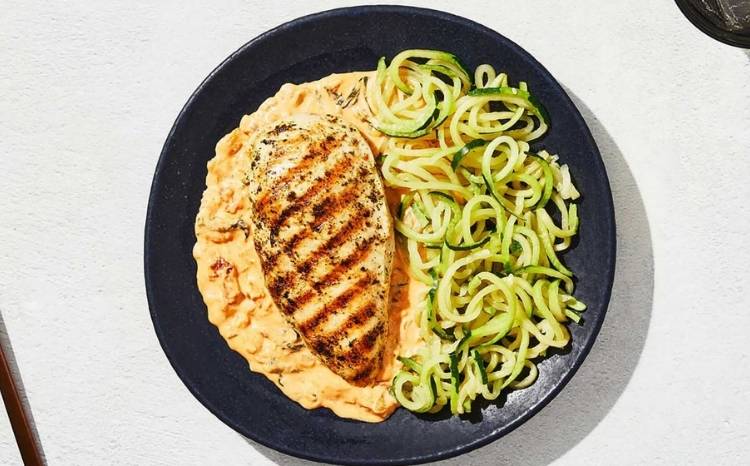 ✓ Price: From $10.99 per serving
✓ Shipping: $10.99 per box
Factor_ is an organic meal delivery service that doesn't list a specific paleo plan, but offers a wide range of dishes made with non-GMO ingredients.
Their plans are dietitian-approved and prepared by chefs, with meals made from grass-fed beef such as stroganoff-style beef burgers, grilled chicken, and poblano-cauli mash. Additionally, they use only fresh ingredients, ensuring a crisp flavor in every delivered dish.
Why we chose Factor_: Factor_ understands the time constraints of busy individuals following a paleo diet, so they offer microwave and oven-ready whole-food meals. By incorporating fresh produce, they also contribute to a well-balanced and nutritious diet.
Our experience: We appreciated the option to consult with Factor's dietitians or nutritionists before fully committing to the service. This can be highly beneficial, as they can show you how best to follow a paleo diet, especially if you're new to it and aren't sure what foods you should and shouldn't eat.
Pros
Microwave- and oven-ready whole-food prepared meals
You can consult their dietitians or nutritionists
Meals are made from organic ingredients
Cons
No paleo-specific plan
No recipe cards for those that want to cook

Factor View Plans
5. EveryPlate
Delicious paleo meals that won't break the bank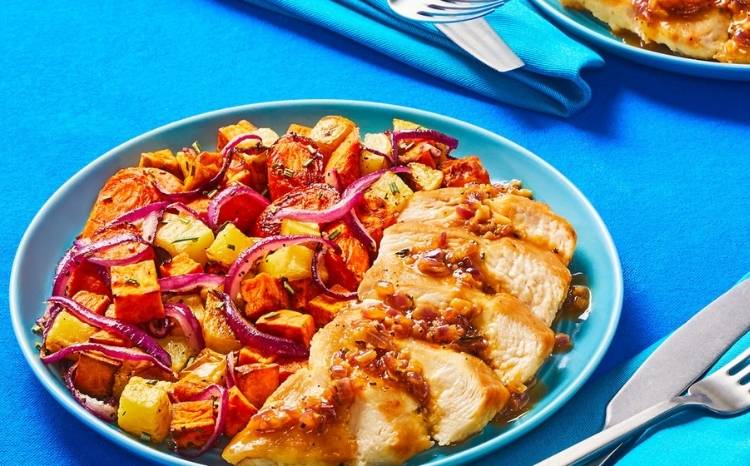 ✓ Price: From $4.99 per serving
✓ Shipping: $10.99 per box
EveryPlate is a budget-friendly whole-food meal delivery service offering simple and delicious recipes. If your hunter-gatherer diet includes root veggies, beans, and modest amounts of ancient grains, you'll have considerably more options to choose from.
EveryPlate collaborates with nationally recognized suppliers such as The Better Fish, Wonderful Citrus, and Colavita, known for their commitment to sourcing high-quality and fresh ingredients. Additionally, they keep your costs down by listing more simple recipes with fewer ingredients.
Why we chose EveryPlate: It's one of the more affordable clean-eating meal delivery services offering custom recipes, which can be helpful for paleo dieters. Additionally, you have the flexibility to cancel your subscription anytime if you find that their menu options don't meet your preferences.
Our experience: While EveryPlate offers only a few paleo-friendly options, their emphasis on simplicity, speed, and minimizing food waste impressed us. The dishes are designed for quick and easy preparation while including strategies that reduce food waste, such as using sustainable ingredients and minimizing excess packaging.
Pros
Most affordable meal kits on this list
Sustainable packaging
Easy and quick recipes
Cons
The portion sizes are relatively small
Limited recipe variety
Read the full EveryPlate review

EveryPlate View Plans
6. Home Chef
Tasty paleo options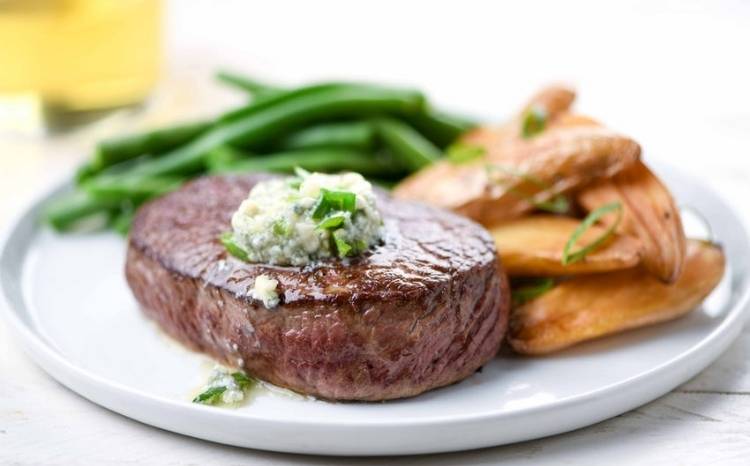 ✓ Price: From $9.99 per serving
✓ Shipping: $10.99 per box
Featuring an expansive weekly menu with over 30 non-processed meals, Home Chef is a clean-eating meal delivery service that ensures there's something to satisfy every palate. Their user-friendly web page also lets you quickly filter out recipes containing ingredients that aren't paleo-compatible, like dairy, grains, and legumes.
While they don't have paleo-exclusive meals, they offer many choices in their carb and calorie-conscious plans. Dishes like mango miso chicken or chimichurri steak with potatoes align with your dietary goals without compromising on taste. Additionally, you can skip a meal delivery and customize your subscription to include bi-weekly or monthly payments.
Why we chose Home Chef: Home Chef offers a diverse selection of meals crafted with high-quality ingredients. They're thoughtfully designed to incorporate lean proteins, abundant vegetables, and nourishing healthy fats, ensuring a wholesome and nutritious dining experience.
Our experience: We enjoyed customizing the Stone Age meals to suit our preferences, and took advantage of options like swapping one protein source for another or doubling our portion size. We also like that we could further customize our meals with a small additional cost.
Pros
You can swap or increase your protein sources
A variety of heat-and-serve or gourmet preparation choices
Plenty of meal options, especially for those on a flexible paleo diet
Cons
Not all meals use organic ingredients
Many dishes could be paleo-friendly, but have a dairy-based sauce
Read the full Home Chef review

Home Chef View Plans
7. Fresh and Easy
Easy heat-and-eat paleo meals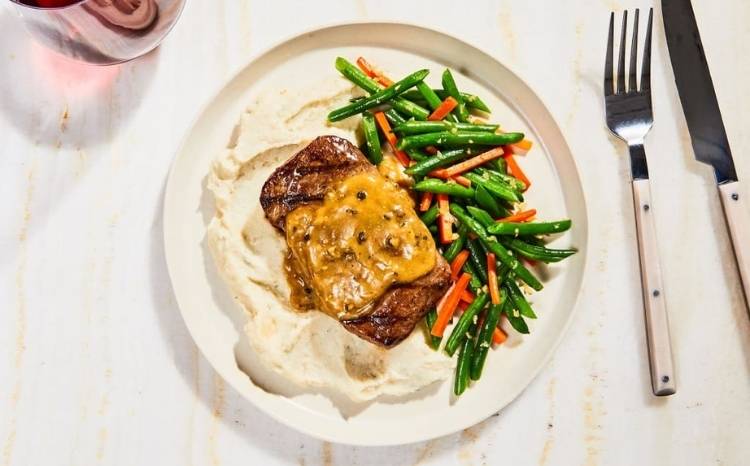 ✓ Price: From 7.99 per serving
✓ Shipping: $10.99 per box
Fresh and Easy, a specialized line from Home Chef, is a whole-food meal delivery service that features a range of pre-made dishes, such as hot-honey glazed chicken and turkey primavera stuffed peppers. By providing recipes with few steps and pre-prepared ingredients, they streamline the cooking process to save you time.
They allow you to swap or increase proteins to suit your preferences, which can be good for a paleo diet. Additionally, Fresh and Easy frequently updates its menu with new ingredients and recipes.
Why we chose Fresh and Easy: Fresh and Easy matches Home Chef's commitment to high quality while also distinguishing itself by offering convenient, heat-and-eat meals. This feature can be beneficial since the paleo diet emphasizes the consumption of unprocessed food that typically requires extensive preparation and cooking.
Our experience: We liked Fresh and Easy's convenient packaging. The meals were pre-portioned and cleverly placed in grillable bags and heatable pans, which can be particularly beneficial for new dieters.
Pros
Easy and heatable paleo dishes
You can find a variety of meals at Kroger family stores
The ingredients are measured before packaging, saving you time
Cons
A limited selection of paleo-specific meals
Some dishes have high levels of sodium or saturated fat
Read the full Fresh and Easy review

Fresh and Easy View Plans
8. Nutrisystem
Personalized paleo meals for a balanced lifestyle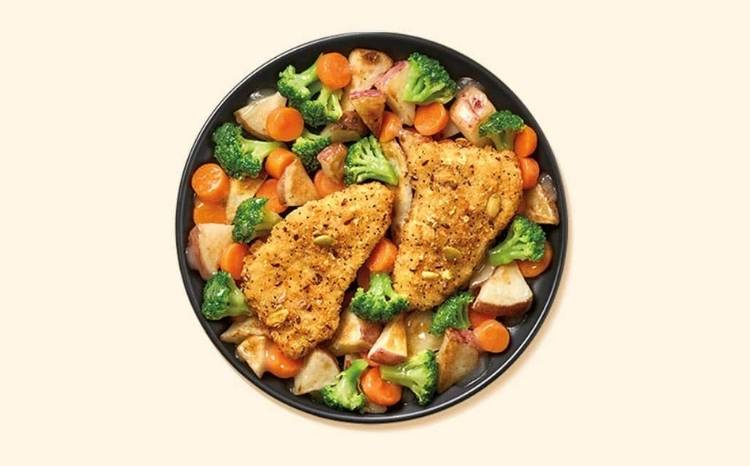 ✓ Price: From $10.71 per day
✓ Shipping: From $7.99 per box
Nutrisystem specializes in individually portioned dishes, delivering six daily high-protein recipes carefully designed by dietitians.
Although they have a limited selection of paleo meal recipes, they provide decent options if you want to lose weight. Their app helps you to track your weight loss progress by entering your weight and measurements.
Nutrisystem also offers a referral program that allows you to embark on the diet journey with friends or family members.
Why we chose Nutrisystem: Nutrisystem offers customized weight loss and dietary programs for men, women, and seniors. For example, meals designed for individuals with diabetes contain lower amounts of carbohydrates, while the ones for couples come with larger portions, making them ideal for sharing.
Our experience: We liked that Nutrisystem's ready-to-eat dishes were based on our gender and dietary needs, but the small selection of paleo meals made it difficult to follow the diet. Additionally, we could modify our plan until 6 pm (ET) on the day before processing, which was convenient.
Pros
Customizable weight loss programs
You can change your plan one day before processing
Every meal plan includes snacks for five to seven days/week
Cons
Not all paleo meals are available at all times
Some foods like the double chocolate muffins are high calories
Read the full Nutrisystem review

Nutrisystem View Plans
9. Sunbasket
Your path to healthy, high-protein meals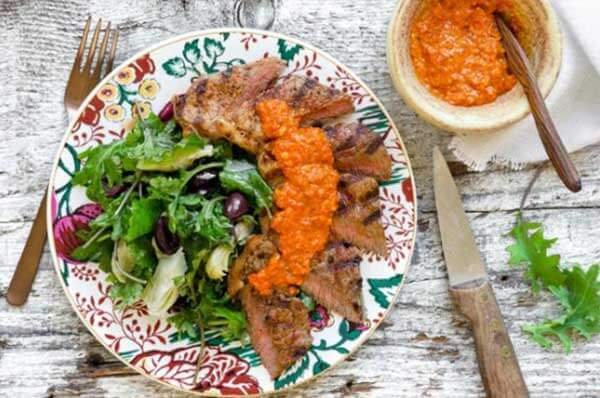 ✓ Price: From $9.99 per serving
✓ Shipping: First week free, $9.99 for all subsequent orders
Sunbasket is a gluten-free meal delivery service with a dedicated paleo plan serving dishes like Thai turkey lettuce cups. The portions are available in sizes for two or four people, and you can also select up to five dinners/week. They're also dedicated to environmental responsibility and animal welfare by providing meat from humanely raised cattle and by using sustainable packaging.
Although they don't offer nationwide delivery, they provide a high level of meal customization through their website. You can choose to avoid certain meats like poultry or fish, and cut down on carbs, sugar, and sodium.
Why we chose Sunbasket: Sunbasket collaborates with local farmers that produce fresh and seasonal ingredients. This commitment enables them to provide a range of gluten-free meals with high-quality components like wild-caught seafood and free-range eggs.
Our experience: We liked that dietitians approved all Sunbasket's Stone Age meals by considering portion sizes and nutrient distribution. The inclusion of seasonal ingredients also provided fresher, more nutritious dishes.
Pros
Locally-sourced ingredients
Plenty of variety in meal selection
A dedicated paleo plan
Cons
May not be suitable for those with severe food allergies
Doesn't deliver to all areas
Read the full Sunbasket review

Sunbasket View Plans
10. Eat Clean To Go
Paleo meals packed with superfoods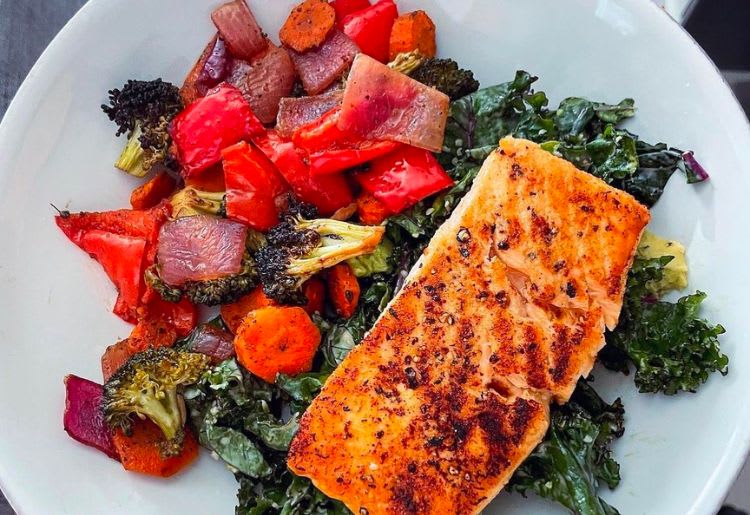 Price: From $9.60 per meal
Shipping: From $9.99 per box
Eat Clean To Go's carefully crafted organic meals use high-quality superfoods such as avocado, almonds, and sweet potato while reducing your exposure to harmful chemicals like pesticides. They use meat from grass-fed livestock, and fresh fruits and vegetables in their dishes to ensure they're nutritious and stay true to paleo principles.
Additionally, each recipe uses healthy oils like the ones made from coconut, aligning with the principles of a paleo diet. Unfortunately, Eat Clean To Go doesn't deliver nationwide.
Why we chose Eat Clean To Go: Eat Clean To Go's high-protein paleo meals provide excellent nutritional value while avoiding harmful chemicals. They also have the option to increase your portion size if you find the standard ones too small.
Our experience: We liked that they serve ready-to-eat low-carb meals that fit a paleo diet. Although their menu offered a diverse and delicious dining experience, with recipes such as shrimp jambalaya and BBQ pulled pork with plantain mash, there could've been more options for desserts.
Pros
Chef-curated meals
The menu updates per week
Their meals are low in sodium
Cons
Limited breakfast and dessert options
They don't offer refunds
Read the full Eat Clean To Go Review

Eat Clean To Go View Plans
Compare the Best Paleo Meal Delivery Services:
Paleo Meal Delivery Service
Simplifying paleo eating with fresh ingredients
Customizable menus, community via social media platforms
An organic spin on paleo eating
Paleo-compatible world cuisines, detailed cooking and allergen info
Paleo meals with a plant-based twist
$10 per box (first one is free)
Plant-based, high-protein vegan and vegetarian recipes
Hassle-free paleo meals delivered to your door
$10.99 per box (first one is free)
Organic, dietitian-approved plans, fresh ingredients, meals made from grass-fed beef, and microwave and oven-ready meals.
Delicious paleo meals that won't break the bank
Budget-friendly, collaborates with nationally recognized suppliers, and offers simple recipes with fewer ingredients.
Quality suppliers, diverse menu, subscription flexibility.
Easy heat-and-eat paleo meals
Pre-made dishes, protein customization, evolving menu.
Personalized paleo meals for a balanced lifestyle
Customized plans, diet tracking app, referral program.
Your path to healthy, high-protein meals
First week free, $9.99 for all subsequent orders
Collaborates with local farmers, uses sustainable packaging, offers meal customization on the website.
Paleo meals packed with superfoods
Organic, avoids harmful chemicals, uses healthy oils like coconut.
How We Reviewed the Best Paleo Meal Delivery Services - Our Methodology
To find the top paleo food delivery services, we conducted extensive research on company websites and apps.
We considered essential factors such as taste, quality, and variety. The valuable insights provided by customer reviews and feedback also played a crucial role in our research process, offering firsthand experiences regarding portion sizes, delivery experience, and overall satisfaction.
We rated and evaluated the best paleo meal delivery service based on the following criteria:
Adherence to paleo diet
Variety of paleo meals
Option for customized meals
Quality of ingredients
Complexity of prep and cooking
Sustainable packaging
Reasonable pricing
Delivery areas
Benefits of Using Paleo Meal Delivery Services
With paleo meal delivery services, you can find appropriate meals that fit with the diet so you don't have to spend time in the grocery store finding the right ingredients. Beyond this, they also help you to incorporate a wide range of vegetables, quality proteins, and healthy fats into your diet, ensuring you receive a diverse range of essential nutrients.
Time-saver: Paleo meal kits provide a valuable solution for busy individuals or those who lack extensive cooking skills. They offer the convenience of ready-to-eat, wild-caught meals, or ones that require minimal preparation.
Find new meal alternatives: With professionally curated menus tailored and pre-portioned ingredients tailored to the paleo diet, these delivery services make it easy to explore innovative hunter-gatherer meal recipes and flavors.
Better adherence to the paleo diet: Paleo meal delivery services provide dishes that seamlessly align with the principles of this diet. You won't need to plan your whole-food meals and source your ingredients, making it incredibly convenient to adhere to the diet.
Meal size control: Many paleo meal kits offer pre-portioned gluten-free meals, making it easier to avoid overeating. This can be particularly beneficial if you're seeking to manage your weight by maintaining a specific caloric intake.
Healthier options: Paleo meal delivery services provide balanced primal meals that meet your dietary needs. They also ensure that the recipes are well-rounded, providing whole-food, gluten-free, and low-carb dishes.
How to Choose the Best Paleo Meal Delivery Service for You
Consider whether you can customize your dishes when choosing a paleo meal delivery service. This may involve choosing specific ingredients, adjusting portion size, or accommodating allergies and intolerances.
Also, it's important that you:
Check if the service offers high-quality, fresh, and organic food by prioritizing sustainably raised meats and minimally processed ingredients.
Compare the prices with the portion sizes and ingredient quality to ensure the best service for your budget.
Read the customer reviews about the service to find out about the meal quality, customer service, and how the delivery process works.
Find out which meal service offers the most diverse paleo dishes, so you can experience different flavors and have a varied diet.
How Much Do Paleo Meal Kits Cost?
Paleo delivery services typically offer meals starting at $4.99/serving. As a general trend, the price per meal tends to decrease with larger orders, offering potential cost savings. For example, a plan delivering six servings will be more expensive than one that includes 10.
Different companies may have varying policies, including free shipping, flat fees, or charges based on your location. When comparing the prices, visit the service's FAQ section or input your location on the website to confirm the precise amount you'll be charged.
Another effective way to save money is to take advantage of special offers. When signing up, explore any available promotions that may be offered to new customers. These can include discounted orders, free shipping, or other incentives.
Summary - Paleo Means Plenty of Options
Studies have shown that the paleo diet may reduce the effects of diabetes because it lowers your carb intake. The abundance of options ensures that newcomers and committed dieters can discover a delivery service that perfectly satisfies their preferences.
With a diverse range of delicious and creative caveman dishes crafted from fresh, high-quality ingredients, you'll easily start to live like how our ancestors did for most of our species' existence.

Our picks for the top 10 best paleo meal delivery services are HelloFresh, Green Chef, Purple Carrot, Factor_, EveryPlate, Home Chef, Fresh and Easy, Nutrisystem, Sunbasket, and Eat Clean To Go.
Our Paleo Meal Kit Delivery Related Articles: