The Paleo diet is a dietary plan that mimics the food eaten by our ancestors in the Paleolithic era (1). It is made up of food available to eat during that time through hunting and gathering. This includes meat, fish, fruits, vegetables, nuts, and seeds (2).
In general, the Paleo diet restricts processed foods that emerged after farming practices came to be. Most desserts are made using processed ingredients like refined sugar and dairy, making it difficult to enjoy desserts on a Paleo diet.
However, you can enjoy a nice meal, and even dessert, on the Paleo diet. You can either make them at home or try a meal delivery service like Sunbasket or Hello Fresh, as long as you are aware of the finer details of a Paleo diet.
Here are 10 Paleo desserts you can enjoy without feeling guilty.
1. Dark Chocolate Mousse
This mousse is made from very simple ingredients. To make this Paleo chocolate mousse, you will need dark chocolate and eggs. You might want to add a bit of honey for some extra sweetness.
Preparation
Place chocolate with a little water in a saucepan and let it melt over medium heat. Separate egg yolks and egg whites and place into separate bowls. Mix honey into the egg yolks, and beat the egg whites to soft peaks. Slowly pour the egg yolks into the cooled melted chocolate. Gently fold the egg whites into the mixture.
Once combined, gently pour the mixture into a serving bowl and refrigerate for two hours. You can have your mousse with coconut milk or some fresh fruit.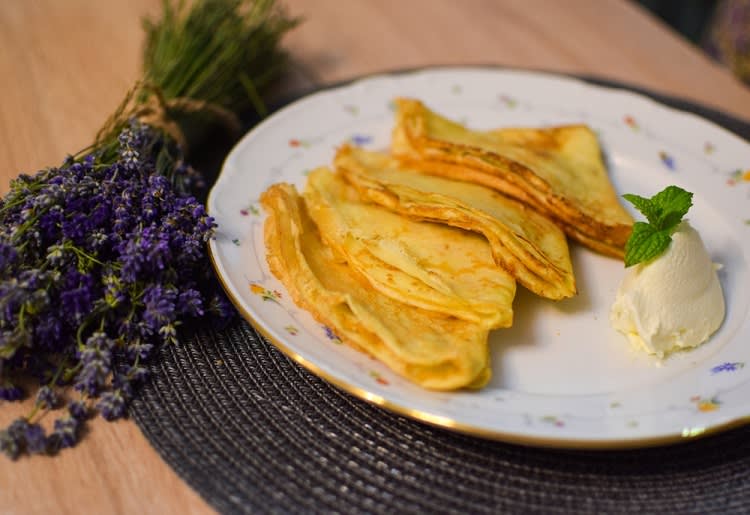 2. Crepes with Warm Apple Compote
Paleo-friendly crepes are delicious, healthy, and very easy to make. They are gluten-free, sugar-free, and super easy to whip up. You'll need almond flour, arrowroot starch, eggs, almond milk, and coconut oil. You can add vanilla extract and coconut sugar for the extra flavor and sweetness if you'd like.
Preparation
Combine all the ingredients and give them a thorough mix until smooth. Let the batter rest a little in the refrigerator.
In a non-stick pan, drizzle some coconut oil, pour a thin layer of batter, and spread the batter with a circular motion so that it evenly coats the surface. Cook for 2-3 minutes on both sides.
For the filling, dice the apples evenly and put them in a pan over a medium flame. Add some ground cinnamon, nutmeg, and ginger if you want. Add some water and lemon juice and bring it to a boil. Once the apples are cooked, allow them to cool, mash them, and use them as a filling.
3. Paleo Lemon Cream Pie
This pie is creamy, smooth, and delicious. It is a big hit amongst Paleo lovers. It has a flaky crust, smooth lemon crème, and dairy-free whipping cream.
Preparation
Combine coconut oil, raw honey, almond flour, coconut flour, and salt in a bowl. The mixture should be coarse. Use your hands to push the dough into the bottom of the pie dish and bake it.
Add lemon zest, lemon juice, and coconut milk to a saucepan. Sprinkle in unflavored gelatin and set aside. Next, blend vanilla extract, honey, full-fat coconut milk, and cashews in a blender until smooth and creamy.
Heat the lemon mixture and stir slowly until the gelatin dissolves completely. Pour this mixture into the blender and mix them once again. Let it cool, then pour it on the crust. Refrigerate for at least 6 hours.
For the topping, mix coconut cream, honey, and gelatin well. Add on top of your refrigerated pie and enjoy.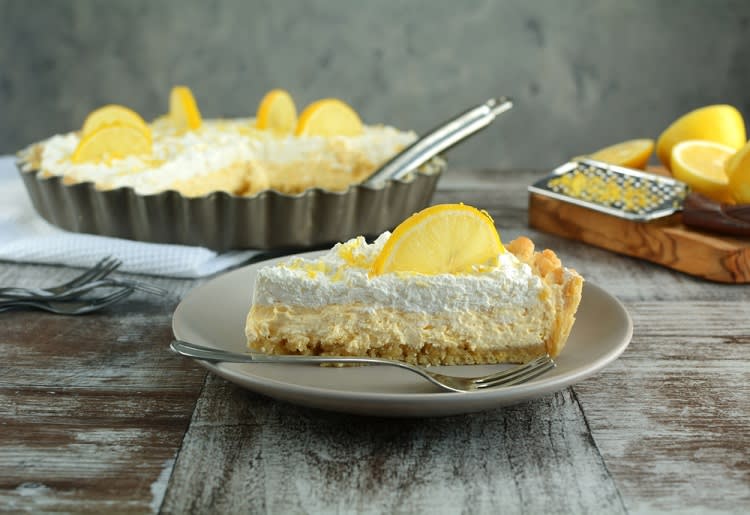 4. Paleo Strawberry Shortcake
This Paleo version is as delectable as the original. It uses blanched almond flour, arrowroot flour, coconut flour, baking powder, baking soda, coconut oil, honey, full-fat coconut milk, egg, and lemon juice. Use fresh strawberries and coconut sugar for the filling.
Preparation
Mix all the dry ingredients with coconut oil. Make a well in the center for the egg, coconut milk, and lemon juice. Combine them to make a dough. Divide the dough into eight pieces and roll into a disc shape. Bake them till golden brown, and your shortcakes are ready.
For the whipped cream, whip chilled coconut cream and honey. Assemble the shortcake by placing the shortcakes into the bottom of a jar or bowl, layer whipped cream and finely cut strawberries next, and repeat this process once more.
5. Paleo Mint Choco Fudge
These are made of dates, almond butter, coconut oil, raw cacao powder, peppermint, vanilla extract, and toasted almonds.
Preparation
Mix honey and coconut oil. Add in the cocoa powder, nut butter, and peppermint extract. Pour into a tin and let it set. You can refrigerate it overnight or put it in the freezer to speed up the process. Cut it into pieces and enjoy your guilt-free dessert.
6. Peach Cobbler
This particular recipe is vegan and Paleo-friendly. It is sweetened with coconut sugar and spiced with just a hint of cinnamon. The topping is made of blanched almond flour, arrowroot flour, maple sugar, ground cinnamon, refined coconut oil, unsweetened almond milk, and vanilla extract. The filling is made of peaches, maple sugar, arrowroot flour, sea salt, and cinnamon.
Preparation
Greasing a pie dish with coconut oil. Combine the peaches and other filling ingredients and add them to the greased pie dish.
Mix all the topping ingredients in a large bowl until you get a smooth batter. Pour it over the peaches. Bake until the pastry is golden brown and the filling is bubbly.
Enjoy it with coconut vanilla ice cream or just whipped coconut cream.
7. Paleo Molten Chocolate Lava Cake
This cake is made from cocoa powder, Paleo-approved dark chocolate, coconut oil, honey, eggs, and vanilla extract.
Preparation
Grease ramekins with coconut oil and sprinkle with some cocoa powder to prevent sticking. In a small saucepan, melt dark chocolate and coconut oil and stir until smooth. Remove from the heat, add the eggs, honey, vanilla, and cocoa powder, and mix.
Pour the mixture into the prepared ramekins. Bake and enjoy. You can add berries and drizzle some honey on top.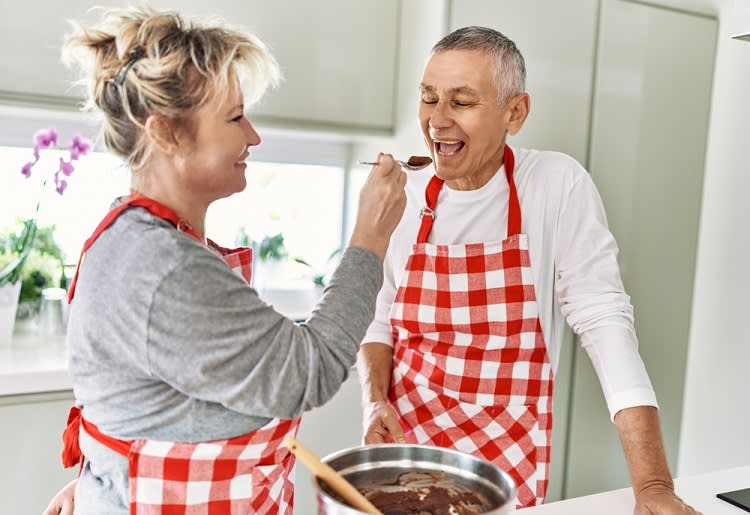 8. Paleo Chocolate Fondue
Who can resist this chocolate-almond combination? It is made of coconut oil, coconut milk, cocoa, honey, and almond butter. Add sea salt and vanilla to taste.
Preparation
Put all the ingredients in a saucepan and heat until creamy. Put this mixture in a fondue dish and enjoy with the fruits of your choice. You can also make fruit kebabs if you prefer.
9. Paleo Almond Butter Blondies
These brownies are crispy on the outside and fudgy in the center. You will need almond butter, almond flour, eggs, baking soda, vanilla extract, and honey. You can use chopped nuts and paleo-approved dark chocolate chips.
Preparation
In a bowl, combine all the ingredients and stir. Pour the batter into a pan and bake it. Once out of the oven, cool it and cut it into pieces. Savor the deliciousness, guilt-free.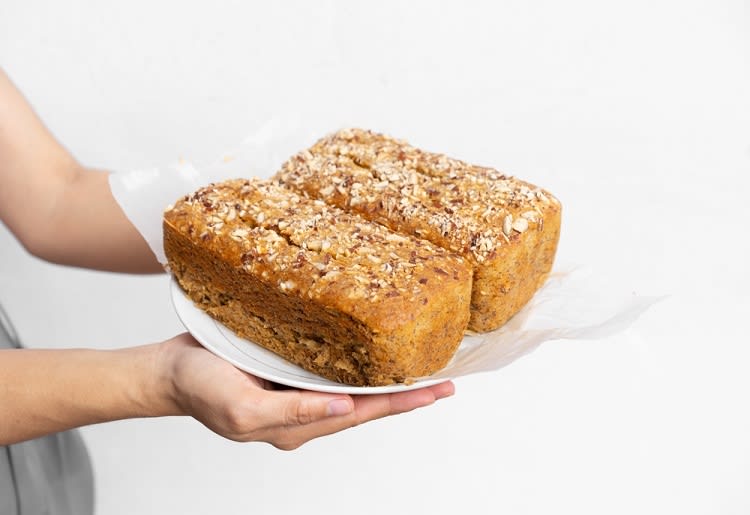 10. Paleo Banana Bread
These are gluten-free, dairy-free, and grain-free. You will need almond flour, flaxseed meal, baking soda, baking powder, chopped nuts, bananas, honey, and eggs. A little cinnamon powder and vanilla extract can be used for flavor.
Preparation
Sift the dry ingredients together and make a well in the middle. Mix the mashed bananas, eggs, honey, and vanilla in a separate bowl. Pour this mixture into the dry ingredients and give it a nice mix. Bake and enjoy it hot. You can have them with almond butter or coconut cream.
Conclusion
Paleo desserts are grain-free, gluten-free, and dairy-free. They usually use almond flour, coconut flour, coconut oil, coconut cream, and almond butter. Make sure you know which paleo diet foods to avoid. All in all, they meet the criterion of a paleo diet and, more importantly, are absolutely irresistible.
References