With the right meal delivery service, you can receive a variety of nutritious, dietitian-designed meals that make building muscle or trimming fat easier. We tested and reviewed the top 10 best bodybuilding meal delivery services to help you choose the right one for you.
Our Best Bodybuilding Meal Delivery in 2023
A Closer Look Into the Best Bodybuilding Meal Prep Delivery in 2023: Our Quick Reviews
Trifecta Nutrition
Healthy meals that suit every lifestyle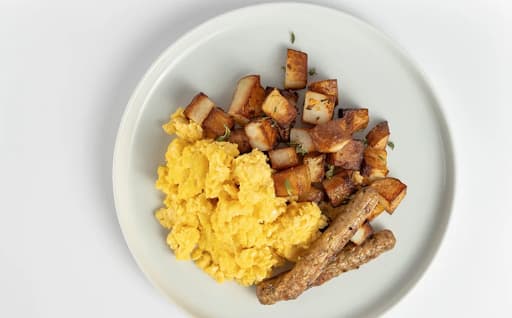 Best bodybuilding meal delivery service overall in 2023
Price: From $7.37 per meal
What's in the box: Five, seven, 10, or 14 entrees and optional breakfasts
Special diets: Keto, paleo, clean, Whole30, vegan, and vegetarian
Trifecta Nutrition offers cooked meals as well as useful resources for bodybuilders like macronutrient calculators, meal prep toolkits, workout plans, and shopping lists. Meals from Trifecta come pre-cooked and only require a few minutes of heating in the microwave or oven, or on the stove. The service accommodates customers on keto, paleo, clean, Whole30, vegan, and vegetarian diets.
I find that Trifecta's meal prep plan is especially great for bodybuilders. It suggests individual dishes you can combine to make meals throughout the week. Additionally, Trifecta has an app you can use to track meals and workouts, and generate personalized macros (macronutrients) to help you reach your goals.
Why we chose Trifecta Nutrition: It comes with a wellness app that can help you set fitness goals and monitor progress.
Pros
Specifically caters to athletes

Nutritionally balanced meals

Flexible subscription—cancel or pause at any time
Cons
Shipping costs $9.99

Slightly pricey

Trifecta Visit Site
Factor
Nutritious meals in five minutes or less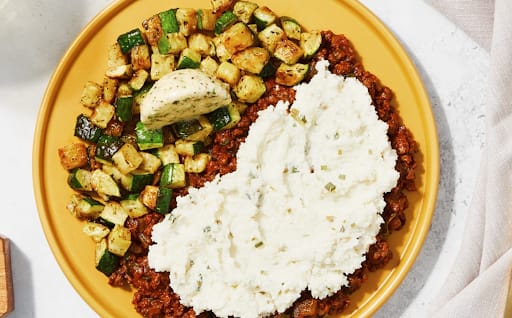 Best for: Cooked meals
Price: From $10.49 per meal
What's in the box: 6-18 meals per week
Special diets: Keto, calorie-smart, high-protein, vegan, and vegetarian
Factor offers dietitian-approved, chef-crafted meals to help bodybuilders maintain a healthy and delicious diet. Meals come pre-cooked and require just a few minutes of heating before they're ready to eat. Factor uses only the highest quality organic ingredients to ensure you're nourishing your body with every meal.
Factor also offers nutrition consultations for those who need help choosing a meal plan. I believe this can be particularly useful for bodybuilders looking to optimize their nutrition for muscle growth and recovery. Factor's team of nutrition experts can help you customize a meal plan that meets your unique needs and goals.
Why we chose Factor: It offers nutrition consultations, which can be helpful to bodybuilders who need guidance on what to eat to reach their goals.
Pros
Five minutes or less of prep required

Nutrition consultations offered

Flexible subscription—pause, skip, or cancel anytime
Cons
Pricey compared to other services

Doesn't cater to those with food allergies

Factor Visit Site
MealPro
Affordable cooked meals for bodybuilders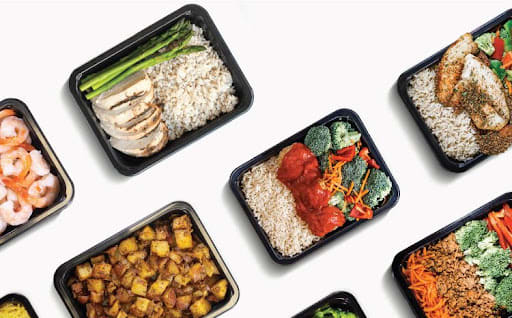 Best for: Extra protein
Price: From $9.99 per meal
What's in the box: 18-20 meals per week
Special diets: Keto and bodybuilding
MealPro is especially useful for bodybuilders since it offers a bodybuilding menu. In case you're not ready to commit, you can get a one-time delivery without a subscription—a feature I appreciate. If you choose to subscribe, you can pause, skip deliveries, or cancel at any time.
Each meal comes individually vacuum-sealed. The containers are microwave-safe, so you can easily warm your meal in five minutes or less. I'm also impressed that for only $0.50 per meal, MealPro also lets you add extra protein or carbs to your meals, which is ideal for bodybuilders.
Why we chose MealPro: It offers the option to add more protein to your meals. This can be useful in your bulking phase, when your protein requirements are at their highest.
Pros
Allows you to add extra protein

No cooking required

Offers a bodybuilding meal plan
Cons
Can't get fewer than 18 meals per week

Doesn't cater to food allergies
MealPro Visit Site
HelloFresh
Healthy, delicious dinners in 30 minutes or less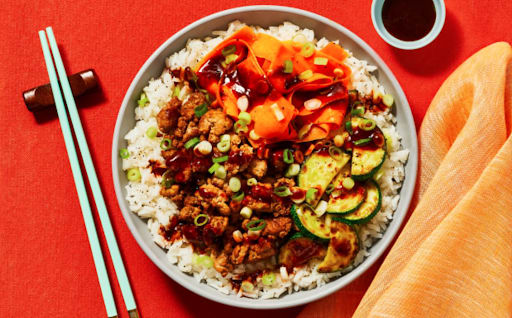 Best for: Bodybuilders who love to cook
Price: From $8.99 per meal
What's in the box: 2-6 meals
Special diets: Vegetarian, pescatarian, and low-carb
HelloFresh is a meal kit delivery service with lots of dietary options. There are up to 60 menu items to choose from every week, which makes it easy to find meals that fit your preferences and nutritional goals. Bodybuilders will particularly like the Fit and Wholesome menu category.
HelloFresh delivers all the ingredients you need for your chosen recipes, along with a recipe card detailing the steps for preparing the meal. While most might opt for pre-cooked meals, I find HelloFresh appealing because you get to enjoy your meals fresh off the pan with minimal effort. Most recipes take 30 minutes or less to cook. This means bodybuilders can still save time on meal prep and planning while focusing on building muscle and recovering from workouts.
Why we chose HelloFresh: It gives you exactly what you need to cook your meals. HelloFresh also puts an emphasis on sustainable packaging and ingredient sourcing.
Pros
Wide variety of menu options each week

Flexible subscription—cancel, pause, or skip at any time

Easy, quick, delicious recipes
Cons
Doesn't cater to common allergies like nuts, gluten, or seafood

Quite pricey considering the food isn't pre-cooked

HelloFresh Visit Site
Fresh N Lean
Delicious, nutritious meals for bodybuilders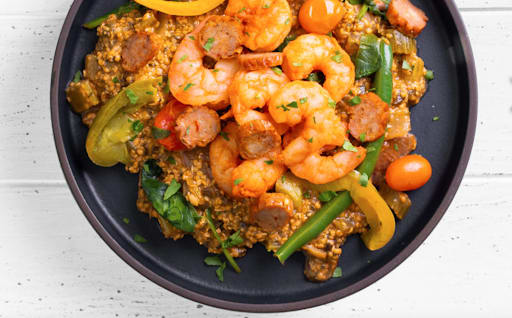 Best for: Bulking
Price: $13.99 per meal
What's in the box: 15-21 meals. Breakfast, lunch, and dinner for five or seven days
Special diets: Bulk, Mediterranean, keto, low-carb, Whole30, paleo, and vegan
Fresh N Lean is a meal delivery company that offers healthy, convenient meals that can help bodybuilders stay on track with their nutrition goals. The company offers different meal plans, such as bulk, keto, low-carb, Whole30, paleo, and vegan. In particular, the Fresh N Lean Bulk plan can help you get the protein and fuel you need to support your bulking-phase workouts and muscle growth as a bodybuilder.
Additionally, I like that Fresh N Lean works with nutrition experts who carefully craft nutritionally balanced meals, so you can be sure you're always meeting your body's needs. Having meals delivered to your door also saves time on meal prep and lets you focus on working out.
Why we chose Fresh N Lean: It's a great option for bodybuilders who follow special diets, want nutritionist-approved meals, or are bulking.
Pros
Specifically made for active people

Over 100 meals to choose from each week

No cooking required
Cons
$85 minimum weekly recurring order

Limited menu options for each special diet category

Fresh N' Lean Visit Site
FlexPro Meals
Affordable meals for bodybuilders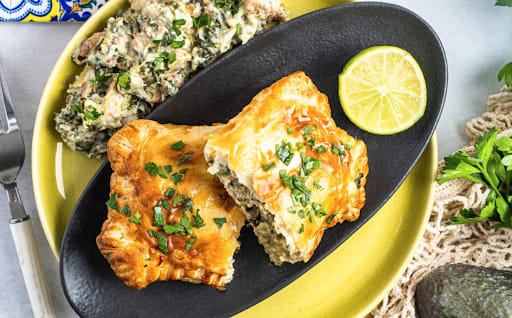 Best budget bodybuilding meal delivery service
Price: From $6.99 per meal
What's in the box: 7-21 meals
Special diets: Keto, high-protein, and low-carb
If you're a bodybuilder wanting to immediately commit to a meal delivery service, consider FlexPro Meals. The service is the same, but there's a Pro Plan with a discounted rate if you commit for four weeks. On the Pro Plan, meals start at just $6.99 per serving.
Another reason I recommend FlexPro Meals is because the meals come in two sizes: Regular and Large, with the latter geared toward bodybuilders who are bulking. FlexPro Meals doesn't cater to many dietary restrictions, so it's ideal for a bodybuilder who eats without restriction.
Why we chose FlexPro Meals: Among the meal delivery services we reviewed, FlexPro Meals had some of the lowest prices, especially with the Pro Plan.
Pros
Accounts for some of the common food allergens

Doesn't offer plant-based meal plans

Has a high-protein search filter suitable for bodybuilders
Cons
Static menu

No dedicated plant-based menu
FlexPro Visit Site
Muscle Meals 2 Go
Complete meals for bulking and trimming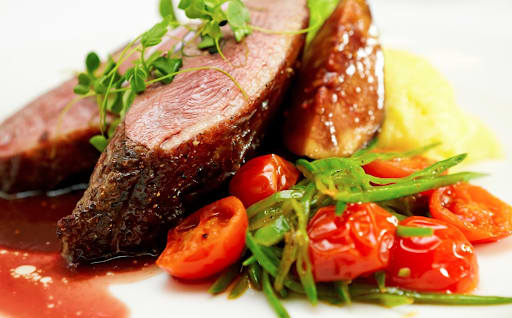 Best for: Large servings
Price: From $12.71 per meal
What's in the box: 10-24 meals
Special diets: Gluten-free, low-carb, and dairy-free
Another meal delivery service I recommend for bodybuilders is Muscle Meals 2 Go. The company specializes in providing healthy, high-protein meals to people wanting to maintain or build muscle mass. Professional chefs prepare the meals using fresh, high-quality ingredients.
Meals are tailored to meet the specific dietary needs of athletes and fitness enthusiasts. Muscle Meals 2 Go offers four meal plans to help you gain muscle, maintain muscle, lose fat, or go keto. You can use the first two meal plans during your bulking phase, and the latter two to help you lose fat in your trimming phase.
The meals are pre-cooked, and I particularly like that you can add instructions for any special meal requirements. The meals are portion-controlled, too, so you can be sure you're getting the right amount of nutrients for your fitness goals.
Why we chose Muscle Meals 2 Go: It has three meal-size options to cater to different appetites. This can be beneficial to bodybuilders, whose appetite or needs fluctuate over time.
Pros
You can customize your meal portions

Flexible subscription

No cooking required
Cons
Can't get fewer than 10 meals

Only caters to three food allergies
Muscle Meals 2 Go Visit Site
Diet to Go
Balanced meals for trimming fat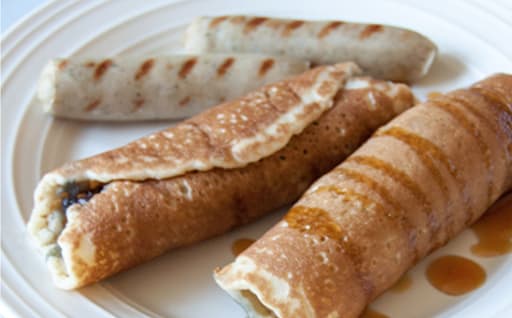 Best for: Keto
Price: From $15.20 per meal
What's in the box: 10-21 meals per week
Special diets: Diabetic, keto, vegetarian, and Mediterranean
Diet to Go offers healthy, hassle-free food that's suitable for a bodybuilding lifestyle. The company works with chefs and dietitians who make its food healthy and tasty. It also adheres to strict Hazard Analysis and Critical Control Point (HACCP) hygiene standards, which means you can relax safe in the knowledge your Diet to Go meals are very high-quality.
There are five main menu types available: Balance, Balance Diabetes, Keto-carb30, vegetarian, and Mediterranean. For bodybuilders, the Keto-carb30 is a great plan. It's rich in protein to help you build muscle, and low in carbs to help you trim fat.
Why we chose Diet to Go: Its meals are focused toward health-conscious customers, and it has strict hygiene standards.
Pros
Fast shipping

Observes strict hygiene standards

High-quality ingredients
Cons
High shipping cost, from $9.99 to $19.98 per delivery

Can't have fewer than 10 meals per week on some meal plans

Diet-to-Go Visit Site
BistroMD
Delicious meals great for fat loss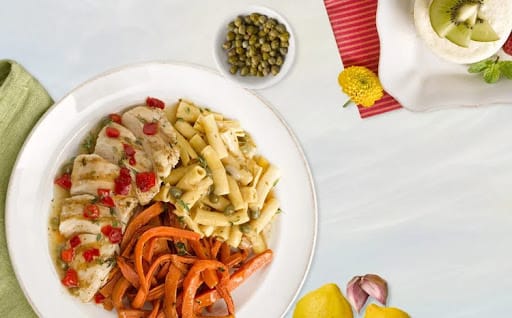 Best for: Trimming fat
Price: From $6.94 per meal
What's in the box: 10-20 meals
Special diets: Gluten-free, heart-healthy, keto, diabetic, and menopausal
BistroMD is a meal delivery service for those who want to eat healthy. For bodybuilders, that might mean bulking up, trimming fat, or generally focusing on health. The company offers about 150 dietitian-designed meals, caters to different dietary restrictions, and has an optional snack service called "Eats." You can choose between receiving meals for five or seven days, with the latter option providing only six meals to allow for a "cheat day".
I like that BistroMD also provides the option for a personalized meal plan, which is great for bodybuilders who need specific nutritional content in their diet. You can request this by contacting customer service.
Why we chose BistroMD: Its meals are designed to help bodybuilders trim fat without compromising on taste and nutrition.
Pros
Supports fat loss

Affordable

Offers healthy snacks
Cons
No plant-based menu

Minimum order quantity of 10 meals

BistroMD Visit Site
Icon Meals
Delicious meals specially made for bodybuilders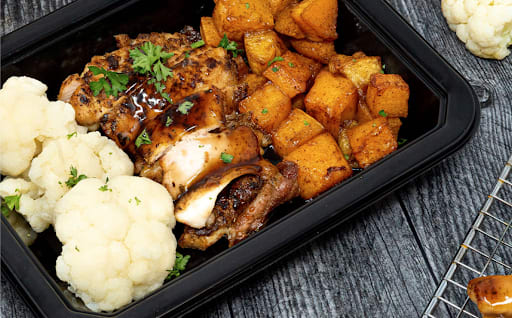 Best for: Dietary restrictions
Price: From $10.50 per meal
What's in the box: 12-24 meals
Special diets: Keto, high-protein, dairy-free, gluten-free, low-calorie, low-fat, and vegetarian
Icon Meals offers tasty meals to help you reach your health goals. The pre-cooked meals are packaged in microwave-safe containers to make your prep faster and easier.
As a bodybuilder, you may want to try Icon Meals' Bulk Box, designed for those looking to build more muscle. Each box comes with 12 or 24 meals. In addition to its Bulk Box, Icon Meals offers Lean, Chef, and Keto Boxes, and custom meals.
Why we chose Icon Meals: Since it caters to all common dietary restrictions, Icon Meals will work for bodybuilders who follow strict diets.
Pros
Varied rotating menu

Offers snacks and condiments, too

Pickup available if you live in or around the Dallas-Fort Worth, Texas area
Cons
Some meals, particularly those with beef, are quite pricey

No vegetarian meals present for some weeks
Icon Meals Visit Site
Our Methodology: How Did We Choose the Best Bodybuilding Meal Delivery Services?
When choosing the best bodybuilding meal delivery options, it's important to keep in mind nutrition without skipping out on taste. We looked at services that offer most or all of the following features:
Healthy and well-balanced meals

Personalized macro plans

Delicious meals that don't skip out on variety

Flexible subscription where you can pause, skip, or cancel anytime

Wide range of meal plans

High-quality ingredients

Easy prep

Accommodation of dietary restrictions

Portion size options
What Is Bodybuilding Meal Prep Delivery and Why Should You Consider Using It?
Bodybuilding meal prep delivery is a service offering prepared meals to individuals interested in building or maintaining muscle mass. Since protein requirements are higher for bodybuilders, many popular bodybuilding meal delivery services emphasize providing meals with the right balance of macros.
Some meal delivery services have low-carb or keto plans for bodybuilders who want to lose fat and gain muscle. This is one of the many reasons a meal delivery service is a great option for bodybuilders. With your meals prepped, you don't have to worry about counting macronutrients like protein, carbohydrates, and fats, or cooking meals that fit them. This way, you have more time to train, recover, and enjoy other activities.
The benefits of using a meal delivery service for bodybuilding
Some of the benefits of using a meal delivery service for bodybuilding include:
Convenience: Meal delivery services offer more convenience than cooking your meals, since they remove the need for shopping, preparing, and, sometimes, cooking.
Time-saving: Bodybuilding meal delivery services save you time. Most meals from delivery services take between five and 30 minutes to prepare.
Consistent portion sizes: Meal delivery service food comes pre-portioned, so you can rest easy knowing you're getting the same amount each time you order. This reduces the need to measure your pre- and post-workout meals, and helps you maintain portion control.
Taste and variety: With a meal delivery service, you can try meals you may otherwise not have considered adding to your diet.
How to Choose the Best Bodybuilding Meal Delivery Service for Your Needs
When choosing a bodybuilding meal delivery service, consider the following factors.
Nutritional value
A quick look at a service's menu can tell you if its meals meet your dietary needs. For ease, consider choosing a meal delivery service with a bodybuilding meal plan.
Taste
While you can't tell how food tastes before eating it, you can read online reviews to see what customers are saying about a particular service's food. This can help you decide if the meal delivery service is right for you.
Variety
Opt for a meal delivery service that offers different meals every week, preferably a rotating menu.
Ease of preparation
If you prefer not to cook, a meal delivery service with pre-cooked meals might be the best option for you. However, if you want to cook, a meal kit delivery service might be better.
Allergies and dietary restrictions
If you have food allergies or dietary restrictions, choose a service that caters to your needs. This way, you won't have to read the ingredients of each meal to make sure you order the right ones.
Bodybuilding Meal Options
Some meal options you get with bodybuilding meal delivery services include vegan, vegetarian, pescatarian, high-protein, keto, Mediterranean, Whole30, and paleo. Some services have allergen-free meals, like gluten-free, dairy-free, and soy-free.
How Much Do Bodybuilding Meal Delivery Services Cost?
From our analysis, bodybuilding meal delivery services cost between $5 and $15 per serving. When choosing a service, don't only consider the price. Look at the value you get from a service and decide whether the price is worth it. For example, meal kits tend to cost less than cooked meals, but they still require preparation at home.
Tips for Success with a Bodybuilding Meal Delivery Service
Plan ahead. Meal delivery services do the prep and planning for you, but you still need to choose the dates, frequency, and meals you would like to receive. This is especially important for days when you don't want to receive meals, as you often need to cancel orders over a week in advance.

Be flexible. Stay open-minded when choosing a service, as there may not be one that ticks all your boxes.

Experiment. Don't be afraid to try out new meals or services. By going out of your comfort zone, you can discover delicious meals that will add variety to your diet.

If possible, try using multiple services. If one service alone doesn't meet your needs, consider subscribing to two.
Other Bodybuilding Meal Delivery Services We Reviewed
Whether you're looking for the most affordable, convenient, or the most nutritious meal delivery service, explore the all the ins and outs of meal delivery services and get a better picture of your options through these reviews:
Couldn't find what you were looking for? We have plenty of other reviews for you here.
We Thought You Might Find These Articles Interesting
Bottom Line
Meal delivery services can help provide good bodybuilding nutrition, while saving time and even money in the long run. With these services, bodybuilders can dedicate more time to training without worrying about shopping, preparing, cooking, and portioning meals.
The meals are both nutritious and delicious, making it easier for you to stick to your diet. If you'd rather not cook, opt for pre-cooked options, but if you don't mind spending up to 30 minutes in the kitchen, meal kits will do just fine.