There are plenty of plant-based protein sources, most of which are lower in calories compared to most animal proteins. While quinoa and soybeans are complete proteins with all nine essential amino acids, most plant protein sources are missing one or more. Therefore, it's vital to use meal combinations to compensate for the loss.
Here are 10 protein-rich, muscle-building foods for vegan bodybuilders.
» Want to save time in the kitchen? Check out our top picks for the best meal kit delivery services and companies for prep-free, foolproof meals.
1. Lentils
Lentils are among the cheapest protein sources to build lean muscle on your frame. Lentils are a great meat alternative as they are made up of over 25% protein, and just half a cup of cooked lentils contains about 9 grams of protein (1).
Lentils are easy to cook. Rinse them well and boil them with some salt until they are cooked to your preference. Add spices such as turmeric, chili powder, and some sautéed veggies to make vegetable dal.
2. Chickpeas
Chickpeas contain all essential amino acids except sulfur-containing ones, and a cup of cooked chickpeas or garbanzo beans offers you about 15 grams of protein. There are so many ways to include chickpeas in your diet. Add them to gravies, roast them with spices in the oven, or make Indian chaats with yogurt and green chutney.
To help build muscle, have a high-protein post-workout smoothie within an hour or so after your workout. Blend some chickpeas with banana, chia seeds, pumpkin seeds, and almond milk. Add some cocoa powder for a delicious chocolate version.
» Check out our top tips for building muscles on a vegan diet for extra insights.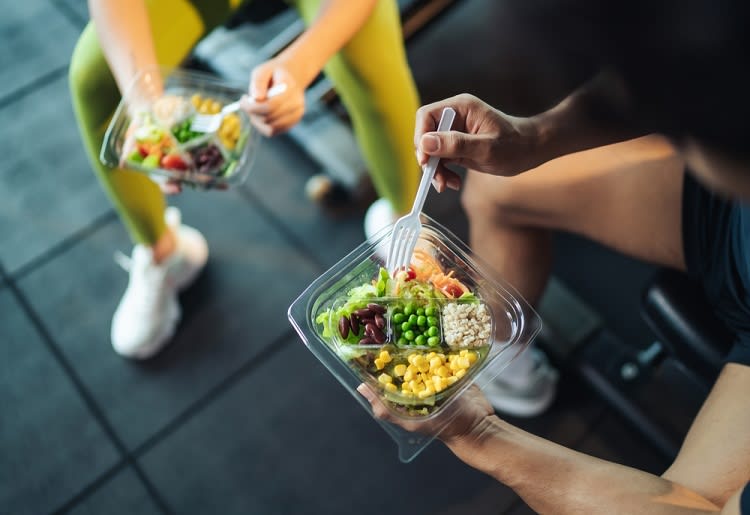 3. Soy Products
Soy products such as tofu, edamame, and tempeh are said to be the richest protein sources in a vegan diet. These are complete plant protein sources, meaning they offer you all the nine essential amino acids needed to build strong muscles.
You get 10 grams of protein in just half a cup of tofu, and half a cup of tempeh offers you 15 grams of protein. These also contain calcium and iron, so they make good dairy substitutes.
4. Quinoa
Quinoa is also a complete protein source with a multitude of nutrients, such as iron, magnesium, manganese, and plenty of dietary fiber. Every cup of cooked quinoa contains 8 grams of protein.
For one cup of quinoa, use two cups of water. Make sure to soak and rinse the quinoa first to eliminate the slightly bitter flavor of its protective coating. Once drained, roast them lightly before adding water and some salt to taste. Cover and cook until tender.
» Struggling to bulk as a vegan? Here are 10 ways to gain weight on a vegan diet.
5. Oats
Oats are an easy way to get the protein you need to build muscle. They contain zinc, phosphorus, magnesium, and folate (2). It also contains soluble fibers called beta-glucans that act as prebiotics and improve your gut health.
Oats only contains eight out of the nine essential amino acids. Pair it with lysine-rich foods such as cauliflower, carrots, watermelon, and cranberries to complete the protein profile. You can sprinkle a teaspoon of nutritional yeast on your oats, as this is also a good source of protein with a high lysine content.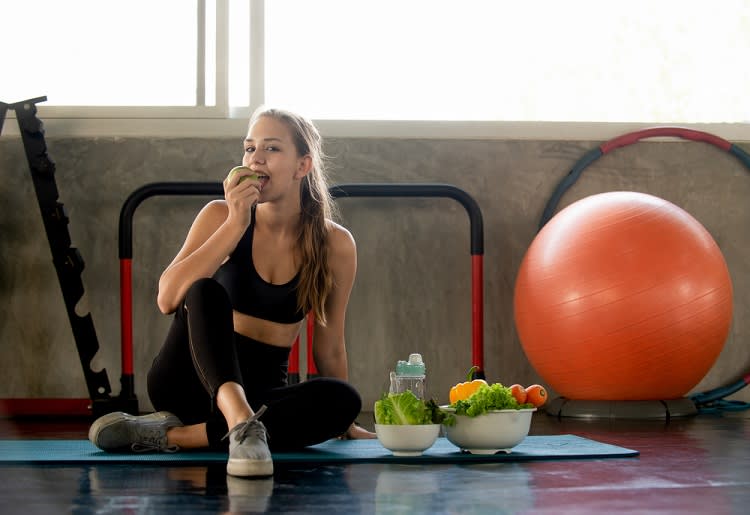 6. Almond Milk
You get 16.5 grams of protein from half a cup of almonds, but you need more than just protein to build muscle. Almond milk is a popular vegan substitute for dairy and can be used to make post- or pre-workout smoothies.
Almonds are a source of vitamin E in the form of alpha-tocopherol. This type of vitamin E is used by our bodies to prevent free-radical damage after intense workout sessions. Eating antioxidant-rich foods like almonds after a workout significantly decreases free radicals, leading to faster recovery and improved muscle gains.
» Try one of our favorite vegan diet meal delivery services.
7. Peanut Butter
Peanut butter is quite popular in the fitness world for its delicious creamy taste and versatility. A tablespoon of peanut butter offers you about 3.6 grams of protein. Peanuts have plenty of other nutrients, including magnesium, copper, manganese, iron, zinc, and potassium.
Use peanut butter as a dip for apples and bananas, or make a smoothie with almond milk, bananas, and peanut butter.
8. Chia Seeds
Most seeds are good sources of protein, fiber, and omega-3 fatty acids, especially chia seeds. Just two tablespoons of chia seeds give you 4 grams of protein and tons of calcium, magnesium, and iron. You can also meet 38% of fiber requirements for the day.
Magnesium is necessary for energy production, muscle contraction, and protein synthesis. This mineral is also vital for good sleep, impacting your gym gains. Iron is required to bring oxygen-rich blood to your muscles. It metabolizes fats and protein for repairing, strengthening, and building muscle tissue.
Chia seeds should be soaked in water or almond milk. Then, you can add them to smoothies and overnight oats or make chia seed pudding.
» Eat these oxygen- and iron-rich foods to improve your circulation.
9. Spirulina
Spirulina is a blue or green-colored alga sold in the form of powder or capsule supplements. You can get about 4 grams of protein from a tablespoon of dried spirulina.
Spirulina contains plenty of B vitamins, iron, potassium, and manganese. Phycocyanin, the blue pigment compound in spirulina, has antioxidant and anti-inflammatory properties, so make sure to add some spirulina to your post-workout meals.
The easiest way to take spirulina is in capsule form. If you choose powdered spirulina, you can add a tablespoon or two to smoothies or fruit juice.
10 Green Veggies
Vegetables are well known for their fiber, mineral, and phytochemical content. Brussels sprouts, kale, spinach, beets, asparagus, artichokes, and broccoli also contain notable amounts of protein. When considering protein as a percentage of calories, spinach has 57% protein, kale has 43%, and broccoli and cauliflower have 36%.
Have plenty of salads with the vegetables mentioned above, and add spinach or kale to your smoothies. Cauliflower is quite versatile and can be used to make cauliflower rice, soups, pizza bases, and more. Broccoli tastes delicious when sautéed in butter with some garlic.
» Looking for delicious vegan meal kits? Check out Sunbasket and HomeChef.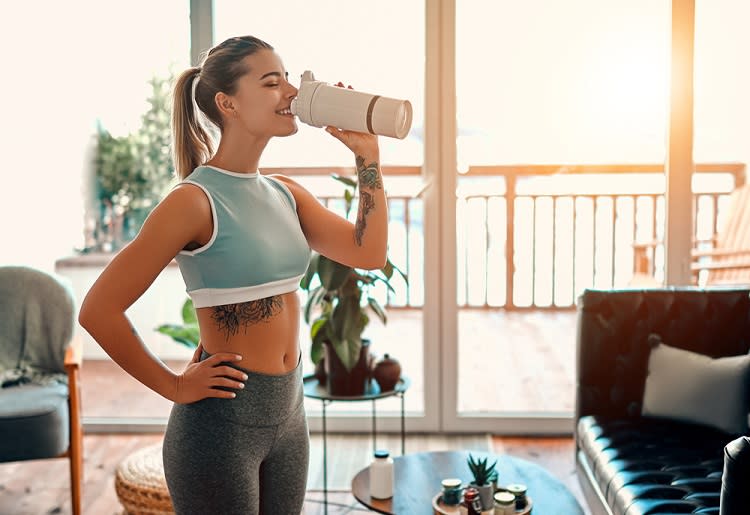 Take Away
Wondering how to gain muscle on a vegan diet? When it comes to muscle-building foods for vegan bodybuilders, it is important to prepare meals with ingredients that help create a complete protein profile. Chickpeas with bread and beans with rice are some examples.
Adding a variety of high-protein, plant-based foods to your diet is key to providing your body with the nutrients it needs to build, repair, and maintain your muscles.
» Learn more about the nutrients vegans might be lacking and how to get them.
References