The thing is though, just because you're living single doesn't mean you need to subsist off fast food, pizza, and chinese take-out. With a meal kit delivery service you can get new, creative, and exotic recipes every week—and you never have to wait for inspiration to strike. And since all of the ingredients are pre-portioned, you never have too little or too much, or have to try to figure out what exactly to buy at the store.
Now, you're probably thinking, most of these meal kit companies only offer recipes for 2 people or more. This is true, but for a single person this is a great way to plan out your meals for the week—giving you recipes that'll cook up a great dinner and a solid, home-cooked meal for work the next day.
And besides, who says you won't have company? So what are the best meal delivery companies for singles? Let's take a look at the top options.
1. Home Chef
"Effortlessly create and plate delicious meals in no time!"
Why Home Chef is great for singles: The sheer variety of options means even someone with highly specific preferences can find something.
With meals that are designed to take around 30 minutes tops, Home Chef makes it easier than ever to make delicious meals at home.
The company features 18 meal options per week, with dishes including vegetarian, low-carb, and low-calorie options. Home Chef also offers smoothies and fruit baskets, so you can pair that meal with something sweet.
If you're looking for top-flight ingredients and variety in your meal options, then Home Chef may be the right box for you.
May we recommend:
Italian Sausage and Peppers Rigatoni with Spinach and Parmesan
Prep & cook time: 30-40 minutes

2, 4, or 6 serving meals (no single serving meals)

Difficulty level: Easy

$7.99-$9.95 per serving

Calories 767, carbohydrates 84 grams, fat 35 grams, protein 37 grams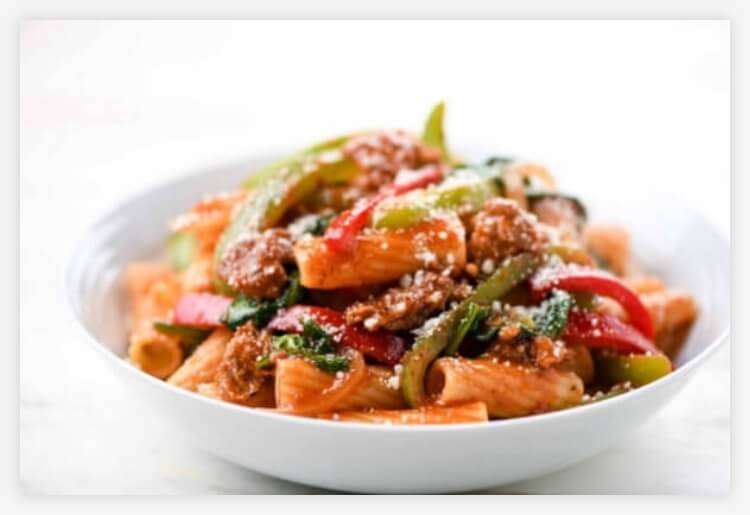 With fresh bell pepper, spinach, garlic, and grated parmesan, this is a great meal for one—even before you put in the italian pork sausage links. With a mildly spicy kick and fresh ingredients that really pop, this is a meal that's easy to make and should be even easier to take to work the next day for lunch too.

Home Chef Visit Site
2. Sun Basket
"Get dinner on the table with even less time & effort."
Why Sun Basket is great for singles: Quick and Easy meals keep things simple when you're cooking for one.
Sometimes it seems like every other item in the grocery store—from apples to chicken to detergent—is listed as organic, written in big letters you can't miss. With Sun Basket though, this is more than just a label, it's at the very core of the company.
Sun Basket is almost entirely 100% certified organic and every recipe is crafted by award-winning chef, Justine Kelly. The recipes are a cinch to whip up in the kitchen, and even a cooking novice should be able to sit down and dig in within 30-45 minutes tops.
Among its other specialty meal plans, Sun Basket offers a "Quick and Easy" meal plan. With "Quick and Easy," you can get dinner on the table in 20 minutes. The plan includes recipes that require minimum prep and effort, one-pan dishes, and food that can be prepared on the grill for even less cleanup.
May we recommend:
Spicy Thai-Style Beef with Broccoli and Basmati Rice
Prep & cook time: 20-35 minutes

2 or 4 serving meals (no single serving meals)

Difficulty level: Easy

$11.99 per serving

Calories 810, carbohydrates 76 grams, fat 37 grams, protein 43 grams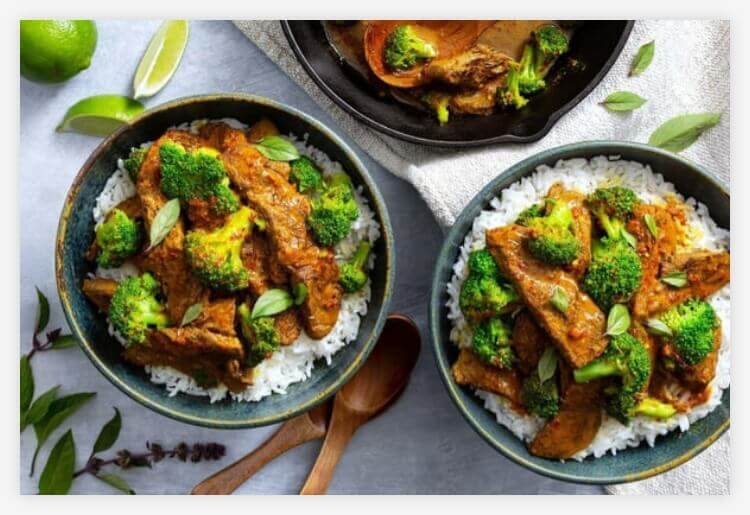 Thinly-sliced top sirloin pan-fried with broccoli is about as surefire as you can get. This recipe goes the extra mile by adding a coconut curry base, organic lime, and some fluffy basmati rice cooked up just right. This is also the type of meal that travels well, so the 2 servings you ordered should last till the next night, unless you want to give your co-workers lunch envy at the office.

Sunbasket Visit Site
3. HelloFresh
"Say hello to easy home cooking."
Why Hello Fresh is great for singles: Only 6 steps and 30 minutes - perfect for busy singles.
One of the main obstacles to cooking at home is the hassle, and if you're cooking for one—it's easy to just reach for the pizza delivery magnet on the fridge instead.
HelloFresh knows that the struggle is real, and offers 6-step recipes that take only 30 minutes to prepare. When it's this easy, you'll be sitting down—and digging in—in no time.
And what's on the menu? With HelloFresh you get to pick from 12 meals per week on the classic plan and 3 on the veggie plan. You can also choose one breakfast option and one premium meal per week if you'd like.
May we recommend:
Cauliflower Pancetta Mac 'n Cheese
Prep & cook time: 45 minutes

2 or 4 serving meals (no single serving meals)

Difficulty level: Easy

$9.99 per serving

Calories 700, carbohydrates 84 grams, fat 28 grams, protein 29 grams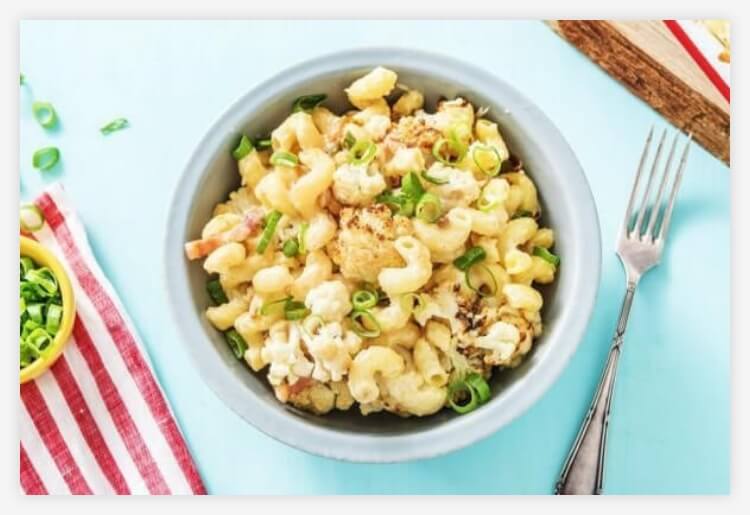 HelloFresh took the humble Mac 'n Cheese and gave it an upgrade. And while this Mac'n Cheese does come in a box, that's where the similarities stop. HelloFresh gives you premium pancetta, fine italian cheeses, scallions, and cauliflower to take you somewhere that the kid in you never saw Mac 'n Cheese taking you.

HelloFresh Visit Site
4. Martha & Marley Spoon
"You can enjoy something new and delicious any night night of the week."
Why Martha & Marley Spoon is great for singles: With access to an entire library of recipes, any single can get some immediate backup in the kitchen.
Sometimes when you get that little bit of inspiration in the kitchen, you can almost feel like you have a real pro leaning over your shoulder giving you tips. With Martha & Marley Spoon, you can have that sensation all the time with the help of celebrity lifestyle icon, Martha Stewart.
You get 10 meals to choose from every week, with options including customer favorites, one pot meals, and meals ready in under 30 minutes. Martha & Marley Spoon can also accommodate specialty diets such as gluten-free, dairy-free, vegetarian, low-calorie, and low-carb. You also have the freedom to book your recipes a month ahead of time and can customize the ingredients in the recipes.
And if the mood strikes, you can even narrate your cooking in Martha's calming monotone voice, but that's up to you.
May we recommend:
One-Pan Harissa Chicken with Potatoes and Lemon-Garlic Sauce
Prep & cook time: 20-30 minutes

2, 3, and 4 serving meals (no single serving meals)

Difficulty level: Easy

$10.25 per serving

Calories 760, carbohydrates 53.5 grams, fat 40.5 grams, protein 46 grams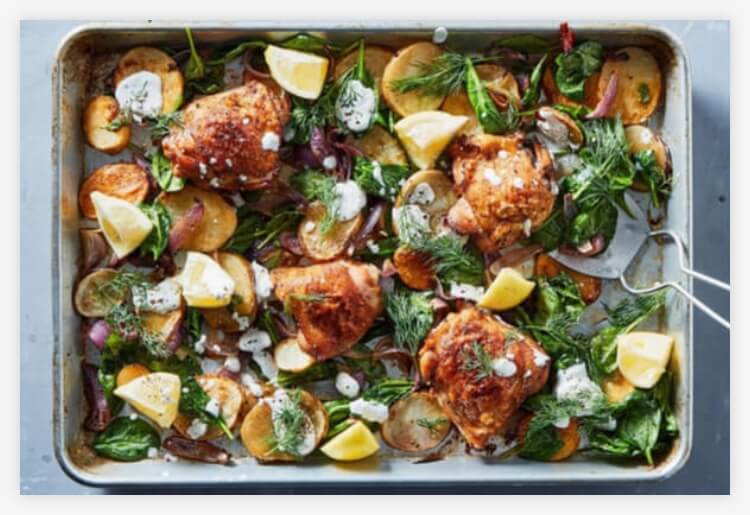 If you don't know about harissa by now, then you should make up for lost time with this North African hot chili paste that can put a little bit of Morocco in any dish.
This one comes with chicken thighs rubbed with harissa and potatoes covered in a sumptuous lemon-garlic sauce.
When you're cooking at home for one, keeping it simple can really make a difference. And with one pan meals like this, not only is it simple, but you also get all the ingredients in one spot, cooking together in their own little house party that enhances all the flavors.

Martha Stewart and Marley Spoon Visit Site
Let's Fire up the Kitchen
Having your own place is a joy all its own. It's your own little corner set up just the way you like it—but if you really want to make that house feel like a home—the key is in the kitchen.
Cooking for one can be tough, but as we've shown you, a meal kit delivery service can make things easier than ever. You always order exactly what you need so there's no waste or having to run out to the store because you forgot one little thing. And while each meal kit delivery company's recipes are for a minimum of 2 servings, this just means leftovers—which can be like a great sequel if the meal is good enough.
It's all really a matter of taste, so take a look at these meal kit companies and find the one with the recipes and the ingredients that really speak to you.
Bon Appetit!