However, in recent years, a number of competitors have burst onto the scene, challenging Blue Apron in both food quality, selection and pricing.

How do these competitors stack up, and should you stick with Blue Apron just because it was first? Let's take a look.
What Does Blue Apron Offer?
Blue Apron delivers fresh ingredients to your door so that you can cook 2 or 4 person meals at about $10 per serving. Blue Apron's focus is on delivering delicious, sustainable food in environmentally-friendly packaging. The company has options for vegetarians, but does not have special meals for other restricted diets, and it only provides 4 options weekly for subscribers to its 4-person family plan.
Blue Apron in a nutshell:
Free shipping and no hidden costs

Subscription can be paused, skipped or canceled at any time

Recipes rotate each week and are seasonal

Sustainable, healthy and fresh ingredients
Our Top 10 Best Blue Apron Alternatives & Competitors:
Here Are the Best Meal Delivery Services Like Blue Apron - Reviews:
1. HelloFresh
HelloFresh is an alternative that offers a nice variety of food for individuals or couples, and good value for families, while vowing to keep it simple with 30-minute recipes that have just 6 steps each. While the Classic Plan is the standard $10 per serving you'll find at Blue Apron, the Family Plan's cost per serving drops to just $8.74 per serving, which can be a welcome discount when every dollar counts.
HelloFresh's Classic Plan can be further customized into a Fit option, with balanced, low-calorie meals, a Quick option, which consists of the simplest recipes, and a Variety option, for people who want to learn about exotic ingredients and techniques.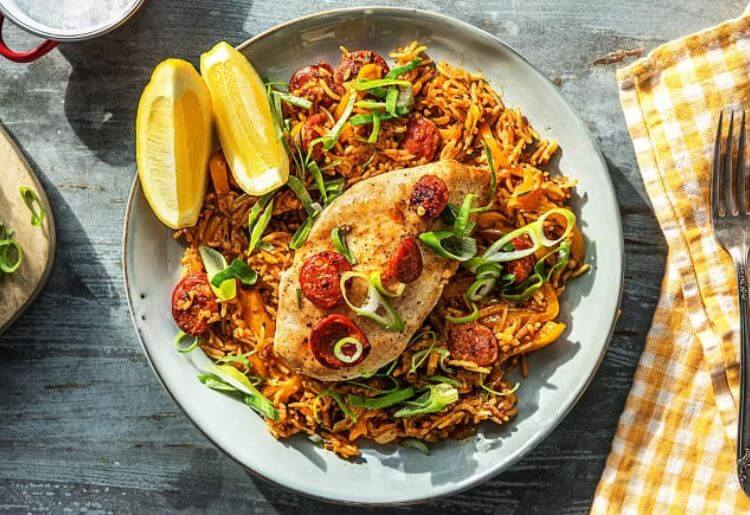 How does HelloFresh compare to Blue Apron?
HelloFresh far surpasses Blue Apron's variety with 15 recipes each week, plus the customizable Fit, Quick and Variety plans

Features vegetarian, gluten-free, nut-free and vegan options

Customers receive one premium meal a week with a handpicked selection of superior ingredients

Offers one breakfast option per week, which is great for weekend mornings
Read the full HelloFresh review

HelloFresh Get Cooking
2. Home Chef
Home Chef focuses on simple-to-follow and quick recipes with more variety than Blue Apron, lots of options for those with dietary restrictions, and meals for 2, 4 or 6 people. Dinner is about $10 per serving, with a $10 shipping charge for orders under $45, but there are cheaper lunch and snack options as well.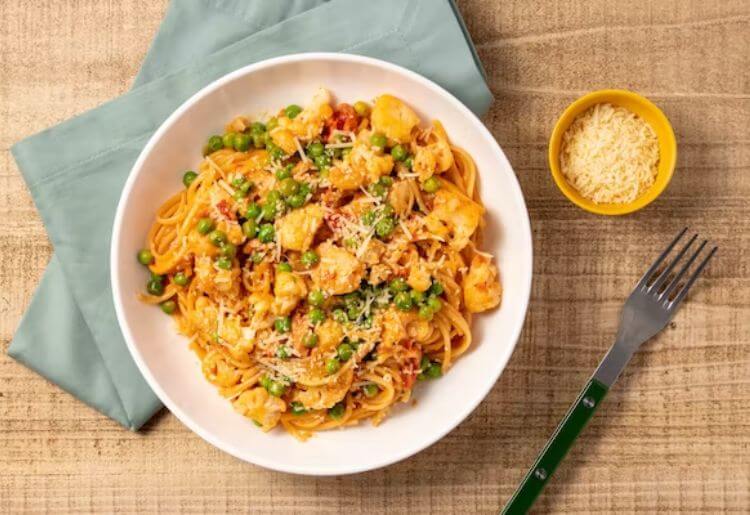 How does Home Chef compare to Blue Apron?
Offers 18 meal options every week, much more than Blue Apron's 6 weekly options for couples, and 4 for families

Specialty meal plans include gluten-free, vegetarian, dairy-free, low-calorie, low-carb, and more

Smoothies or seasonal fruit baskets available for $4.95, as well as 5-minute lunches for $7.99

Premium meals available for special occasions
Read the full Home Chef review

Home Chef Get Cooking
3. Sunbasket
Sun Basket is the go-to meal delivery service for health-conscious people who appreciate organic ingredients. It offers a family plan, with the best prepared meal delivery service that will appeal to kids—even though they're healthy—for about $10 per serving, and a classic menu, ideal for couples and singles, with meal delivery service for one or more, for a bit more money.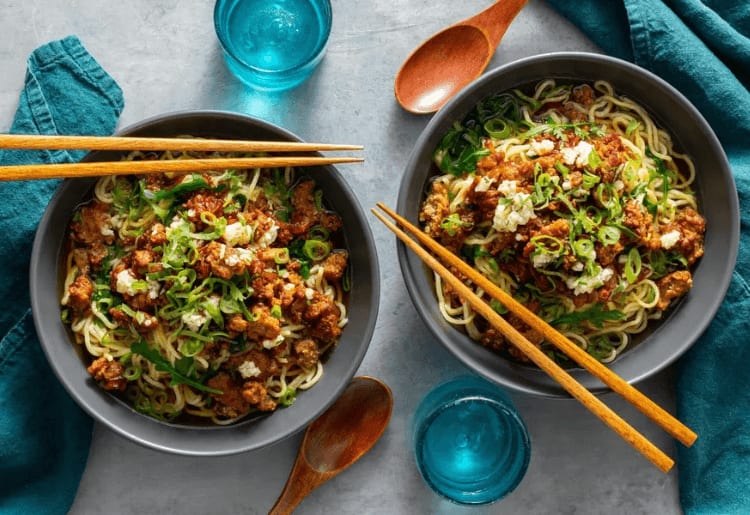 How does Sun Basket compare to Blue Apron?
All of Sun Basket's produce is organic and non-GMO, whereas only some of Blue Apron's ingredients are certified organic

Offers meals for paleo, gluten-free and vegetarian diets

All recipes are developed by an award-winning chef, Justine Kelly, and are nutritionist-approved

Shipping is $6.99, but the first week is free
Read the full Sun Basket review

Sunbasket Get Cooking
4. Martha & Marley Spoon
While Martha Stewart is known for creating elegant dishes that seem like they must be complicated, recipes from Martha & Marley Spoon are actually simple to make at home. You can choose either a 2 or 4 person meal plan, to be delivered anywhere from 2 to 4 times per week. If you have plans to go out of town, or just eat out a lot during a particular period, you can skip a week anytime you choose.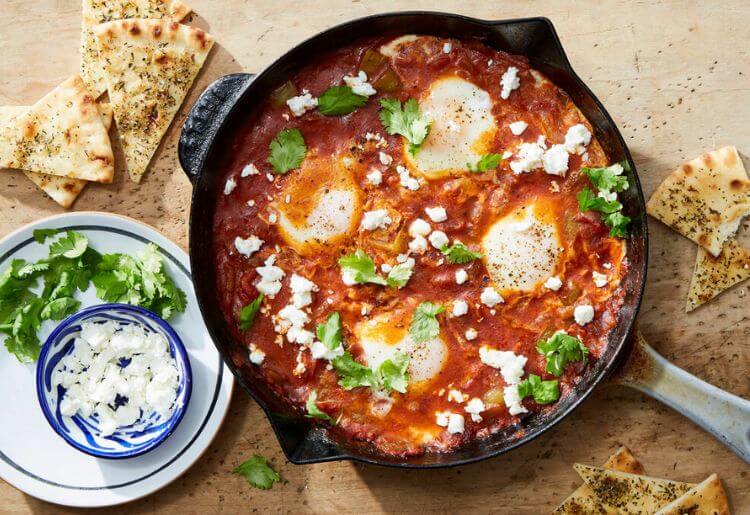 How does Martha & Marley Spoon compare to Blue Apron?
Meals are more affordable than Blue Apron—from $8.70-$9.50 per serving—with free delivery

Offers 10 recipes to choose from each week, all of which require 6 steps or less

After your third order, you can send a free box to a friend

Gluten-free, vegetarian and vegan options
Read the full Martha & Marley Spoon review

Martha & Marley Spoon Get Cooking
5. Green Chef
Green Chef sets itself apart among Blue Apron competitors by providing the first USDA-certified organic meal kits, with an overall focus on sustainability and health. Offering healthy meals for a wide range of special diets, this company even ensures that its packaging and delivery doesn't impact the environment negatively.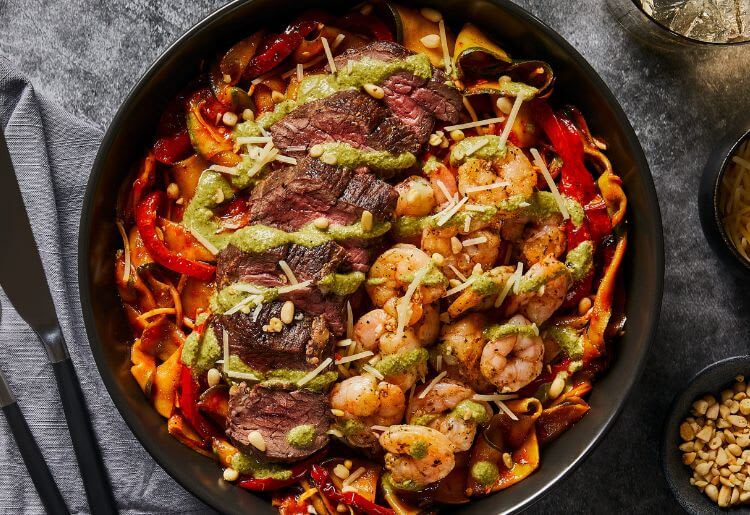 How does Green Chef compare to Blue Apron?
100% of the plastic packaging and carbon emissions produced by Green Chef's deliveries are offset

Vegan, keto, paleo, pescatarian, gluten-free and Mediterranean diets are catered to, options that Blue Apron doesn't currently include

Although Blue Apron's ingredients are all non-GMO, Green Chef offers this plus a promise of pesticide- and antibiotic-free food

Green Chef is generally more expensive: four meals per week for two people cost $12.99 per serving, compared to $9.49 with Blue Apron
Read the full Green Chef review

Green Chef Get Cooking
6. Freshly
Freshly is a completely gluten-free meal delivery service, making it a great Blue Apron alternative if you or a family member is allergic or intolerant to gluten. While gluten-free food is sometimes lower in fiber and higher in sugar than its counterparts with gluten, Freshly's meals are designed by nutritionists to ensure that they're healthy and balanced.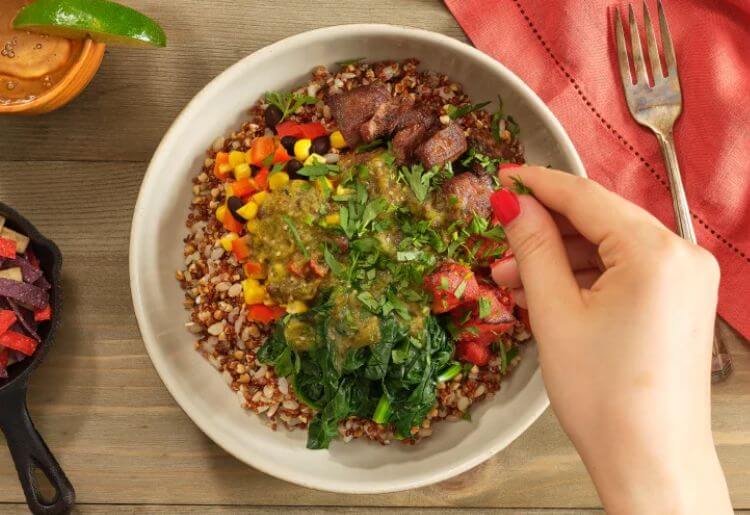 How does Freshly compare to Blue Apron?
Freshly offers fully cooked meals which heat up in three minutes, which differs from the recipe kits from Blue Apron, which you usually need to cook

Freshly's menu is certified by the Gluten Intolerance Group

All of the recipes provided by Freshly follow the FDA's voluntary sodium reduction guidelines

Freshly also offers dairy-free and plant-based meals

Freshly's meals cost less when you order more servings, starting at $9.98 per meal when you order 12 meals per week

Freshly Get Cooking
7. Dinnerly
For those new to cooking or looking to save time in the kitchen, Dinnerly is a great meal kit delivery service. It's one of the most budget-friendly Blue Apron alternatives and focuses on simple recipes involving just five steps from start to finish. These meals are also great for families and picky eaters, as the ingredients are uncomplicated and familiar.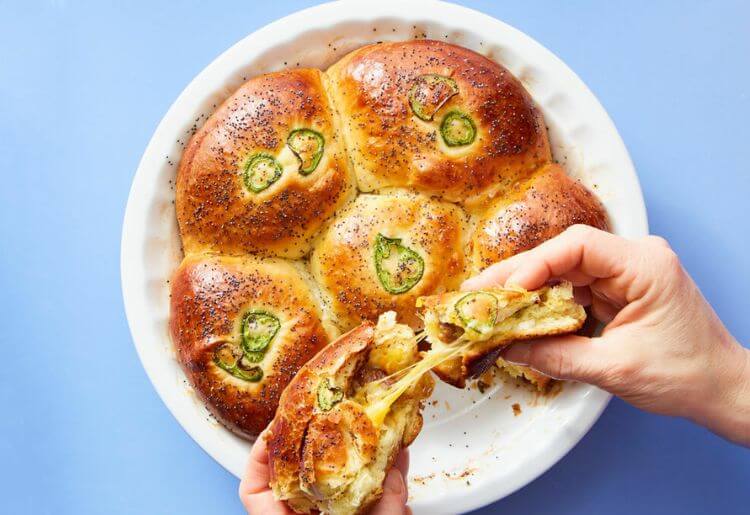 How does Dinnerly compare to Blue Apron?
Dinnerly's meals contain fewer ingredients than Blue Apron's, so they can often be prepared in under 30 minutes

This subscription is one of the most affordable: their cheapest plan is just $4.99 per portion

Dinnerly's menu includes a "kid friendly" tag for those shopping for the whole family

Although many of Dinnerly's meals are low in calories or carbs, they aren't Weight-Watchers-recommended like Blue Apron's lighter meals

Dinnerly Get Cooking
8. Veestro
Offering a 100% vegan meal kit delivery service, Veestro is an excellent Blue Apron alternative for those who follow a plant-based diet. This company is especially attractive if you're vegan for environmental reasons, as its ingredients are 96% organic. It also has a separate weight-loss plan, where three meals per day are provided for a hassle-free low-calorie diet.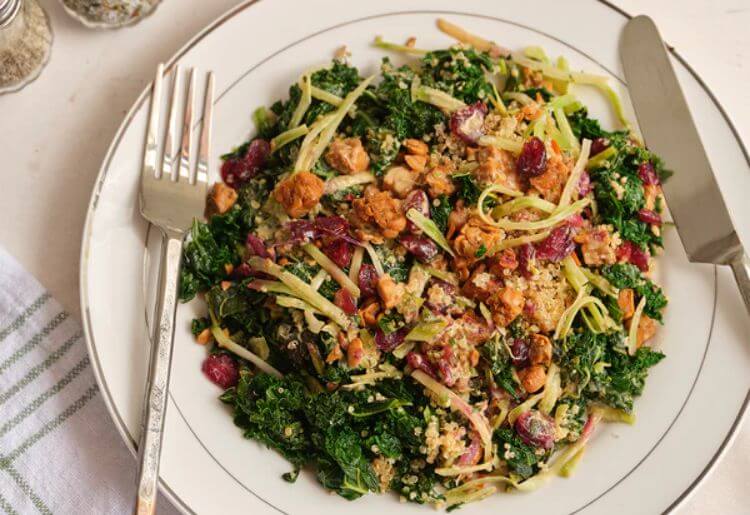 How does Veestro compare to Blue Apron?
Caters to vegan, kosher and nut-free diets, which aren't currently included in Blue Apron's plans

Packaging is completely recyclable

Subscription plans are slightly more limited than Blue Apron's, with three options: 10, 20 or 30 meals per week

Veestro's meals cost more than Blue Apron's, starting at $11.03 per meal

Veestro Get Cooking
9. Gobble
Gobble is a Blue-Apron-like service, with the main difference being their focus on quick prep and easy cleanup. These meal kits are super quick to cook, but you'll still get the satisfaction of making a meal from scratch. This company creates recipes that can be cooked in only one pan without compromising on choice or flavor.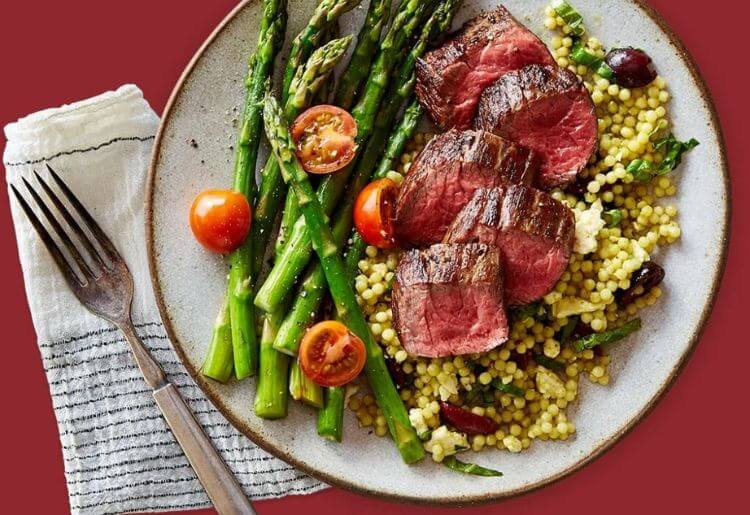 How does Gobble compare to Blue Apron?
Chefs chop and par-cook your ingredients for you, cutting down on dishes to wash

Meals are ready in 15 minutes, which is shorter than Blue Apron's prep time, typically 25-50 minutes

Gobble has larger breakfast and dessert menus than Blue Apron

Gobble's subscriptions cost more: two meals per week for two people cost $16.99 per serving, while the equivalent plan with Blue Apron costs $11.99 per serving

Gobble Get Cooking
10. Factor_
Factor_ (formerly known as Factor 75) provides chef-designed and dietitian-tested meals for a wide variety of diets, delivered fresh and ready-to-eat. Meals are carefully balanced to be nutritious, delicious, and promote a healthy lifestyle. It's especially beneficial for paleo, ketogenic, or other carb-conscious diets.
Their recipes are made from high-quality, organic ingredients and they do not require any preparation at all. These dishes do not contain soy or gluten, but note that they're not approved for Celiac sufferers.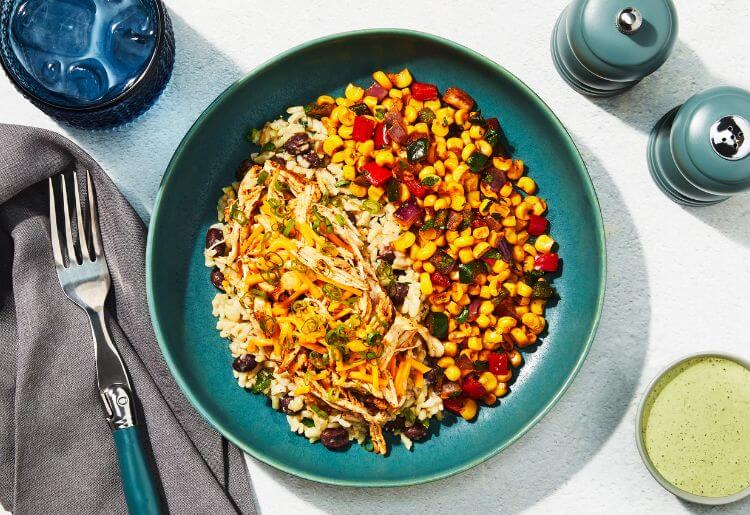 How does Factor_ compare to Blue Apron?
Caters to special diets, including keto, paleo, and soy-free - but isn't approved for people with Celiac
Meals are ready to eat with no prep required
Prices are higher than Blue Apron, starting at $11 per portion
Dishes are designed and approved by nutritionists

Factor Get Cooking
Is Blue Apron the Cheapest Meal Delivery Service?
The price points of companies like Blue Apron depend on the number and quality of the ingredients, the amount of prep work done before delivery, and many other factors. Green Chef is on the higher end with kits starting at $11.99 per serving, likely due to their certified organic ingredients.
Blue Apron's meals start at $7.99 per serving, making it a less expensive meal kit than many, but not all competitors. We found that the cheapest meal kit delivery company is Dinnerly–with prices starting at just $4.99–because of its simple ingredients and minimal packaging.
Start Saving Money and Eating Healthy with No Hassle
Whether you opt for the tried and true Blue Apron, or go for one of its competitors that offers better menu selections and more options for restricted diets, these meal delivery services will change the way you eat. Treating yourself and your family to healthier and more interesting meals has never been easier or more affordable.

If you want a completely hassle-free dinnertime for your family, opt for the the best prepared meal delivery services and save even more time in the kitchen.