In a Nutshell
Gobble is ideal for anyone who wants homemade meals without the hassle of grocery shopping or ingredient prep. With Classic, Vegetarian, and Lean & Clean meal plans to choose from, the meals work for a variety of eating styles and there is plenty of mouth-watering variety to choose from. The meals are pricier than some competitors, but they're some of the fastest to cook which is a big advantage if saving time is your top priority.
pros
Only 15 minutes to cook
No prep work involved
Wide variety of chef-created meals
cons
Non-organic ingredients
Shipping costs extra

Gobble Visit Site
Best For
Parents who want a time-saving option for their family
People interesting in heat-and-eat meals with no prep
Gobble Meal Plans
All of Gobble's meal plans can be selected to feed either 2 people or 4 people and are available with 2, 3, 4, or 5 meals per delivery. Extra meals can be added to each box for an extra cost.
Gobble offers the following 3 meal plans to choose from:
Classic
This plan has meals with traditional proteins and sides as well as pasta, tacos, and burgers. Most of the classic dinners provide 700-900 calories per serving. These meals may include beef, poultry, fish, and shellfish.
Vegetarian
Vegetarian meals do not include any meat, poultry, or seafood. Instead, protein sources may include eggs, tofu, soy, beans, meat substitutes, and more. At least three vegetarian meals are included on each weekly menu.
Lean & Clean
These meals include lean proteins, healthy omega-3 fats, and are low in carbohydrates. The meals are also grain-free, which may make this plan a good choice if you're following a low-carb, low-sugar, or Paleo diet.
These meals may also support weight loss since they contain 600 calories or less per serving. At least three Lean & Clean meals are included on each weekly menu.
Gobble Dietary Options and Programs
Although Gobble offers some vegetarian options, they do not offer vegan meals. If you're following a vegan diet, the vegetarian plan is not a good substitute since meals can still contain some animal products like eggs and cheese.
Common allergens, including milk, wheat, soy, tree nuts, and shellfish are listed on each meal. This can help you quickly identify meals that may or may not fit with your dietary needs while ordering. Some dairy-free, nut-free, and gluten-free meal choices are available each week.
Gobble is not able to remove certain ingredients from the dinner kits. However, each ingredient is packed separately within a meal kit so cross-contamination is minimized.
Our Favorite Gobble Meals
The menu includes plenty to choose from with both traditional American and European fare as well as flavors from international cuisines.
You'll find classic comfort meals like a mojito lime shrimp bowl served with cilantro rice and a tropical salsa, or a delicious cheeseburger with Swiss cheese and balsamic red onions.
Vegetarian meals also have some great options, like the Mediterranean Falafel Wraps, served with Feta and refreshing Tzatziki.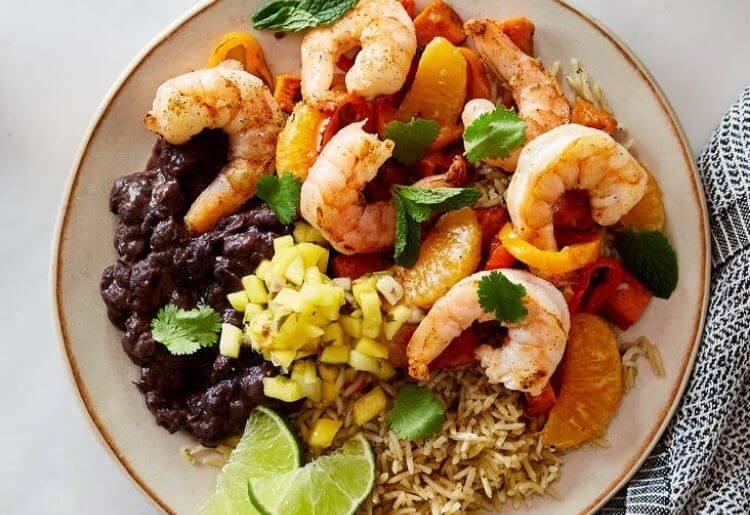 How Much Does Gobble Cost?
The price per meal ranges from $23.98 to $51.96 and the price per serving ranges from $11.99 to $15.99. The cost depends on the number of meals and the number of people you're ordering for each week.
The total price per week can vary depending on if you select any add-ons, like breakfast or dessert, to your weekly delivery.
Gobble offers free shipping on your first delivery. All deliveries after that cost $6.99 per box. There is no membership fee on top of the price of your meals.
Price Per Week (+Shipping)
2-person plan, 2 meals/week
2-person plan, 3 meals/week
2-person plan, 4 meals/week
2-person plan, 5 meals/week
4-person plan, 2 meals/week
4-person plan, 3 meals/week
4-person plan, 4 meals/week
4-person plan, 5 meals/week
How Does Gobble Work?
Gobble is very simple to get started with - just pick your plan, select your meals, and Gobble's chefs will prepare it for you. Once you get your meal, it should take about 15 minutes to get it on the table.
You can choose whether to use all of the ingredients supplied with the meals, or leave some out. It's also important to note that some meals may require additional ingredients, like butter, cooking oil, or salt and pepper.
Placing an Order With Gobble
Ordering with Gobble is super simple. To get started with your first Gobble delivery, you'll need to select between the Classic, Vegetarian, and Lean & Clean plans. If you select the Classic plan, you have the option to check which animal proteins you prefer. These include poultry, pork, beef, lamb, fish, or shellfish.
Don't worry too much about which plan to choose, since you'll still be able to select meals from all three plans once you've signed up. Your plan choice simply will help Gobble show you the meal options they think you'll like best.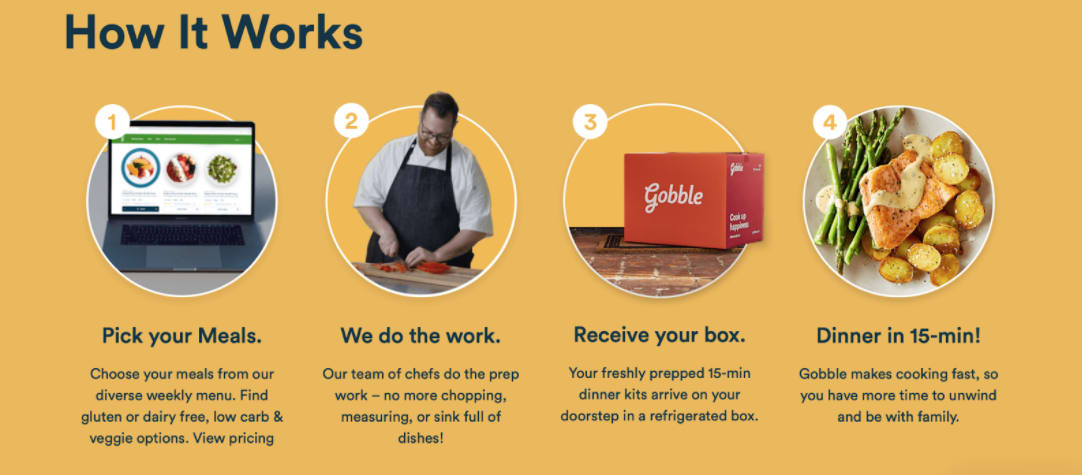 There is nowhere on the sign-up to enter any dietary or flavor preferences and/or restrictions.
You'll then need to choose between the 2-Person Plan, which includes 2 servings per meal, and the 4-Person Plan, which includes 4 servings per meal.
You'll also decide how many dinners per week you'd like to receive and which week to receive your first delivery. Gobble allows you to choose 2, 3, 4, or 5 dinners per week.
You'll provide your delivery and billing information and that's it-you're signed up.
How to Choose Meals with Gobble
Once you're signed up, you can access your Meal Delivery settings. Gobble automatically assigns your meals each week based on your plan, but you can easily change them. Each week you can choose the meals you like to create your personalized menu.
Your meals for each week must be selected by 11:59 PM on the Wednesday before your scheduled delivery. If you forget to choose your meals, you'll receive the preselected options.
There's very little room for customizing your meals once they're selected. Customization is limited to swapping or upgrading proteins. For example, you may be able to replace beef with shrimp or upgrade conventional chicken for organic chicken. However, these changes can result in additional charges.
The menu changes weekly and you can select your choices up to 4 weeks in advance. Each week there are roughly 12 to 15 meals to choose from in total.
Meals are categorized as bestsellers, customer favorites, quick & easy, family-friendly, or global flavors, and spicy dishes have a mild, medium, or hot spice rating.
Does Gobble Come With Cooking Instructions?
Each meal includes a printed recipe card with a meal description, ingredient list, allergy list, cooking instructions, and process photos. The step-by-step images make it easy to follow the instructions regardless of cooking skill level.
The recipes are also available on the Gobble website if you prefer a digital version.
What Makes Gobble Stand Out?
Gobble is all about ease, with no ingredient prepping required to assemble the meals. We think it's great that you don't have to be home to receive the meals, thanks to their cold-preserving packaging.
Aside from traditional meals, Gobble offers tasty add-ons that you can order separately. These are great if you want to add a little more to make a meal more filling.
You can order premium meals that feature proteins like scallops and rib-eye steaks. You can also add salads, soups, side-dishes (like garlic bread and Mac and Cheese), and breakfast items. Gobble even offers desserts, such as cheesecake and chocolate lava cake.
How Are Gobble Meals Packaged and Shipped?
Packaging
Gobble packs their meals in cardboard boxes with insulated liners and ice packs so they stay fresh and cold for up to 72 hours during shipping and delivery.
The ingredients for each meal are packed together in plastic bags. Meat and seafood are packaged separately and placed close to the ice packs.
All cardboard packaging can be recycled. The gel ice packs can be reused or thawed and then cut open and poured into the trash. The plastic bags can be recycled, but may not be accepted at all recycling facilities. Gobble recommends dropping the plastic packaging off at plastic-bag collection bins.
Shipping
New customers get free shipping on their first box. After that, each delivery costs $6.99 to ship.
Delivery
You don't need to be home to receive your delivery. Meals are boxed with special packaging that ensures your food will stay cold for several hours after being delivered.
If you have special instructions for where to leave a delivery, you can add it to your account information on Gobble's website or contact customer service so they can put a note on your account.
Is There a Gobble App?
Gobble does not have an app at this time, but you can make your orders on their website.
How to Contact Gobble Customer Service
There is no satisfaction guarantee or refund information available on the Gobble website.
For questions, concerns, and refunds, contact customer service. They can be reached via:
Phone at (888) 405-7481
Text at (656) 600-7776
Submitting a request through the form on their website
You can reach customer service via telephone during these hours: Monday to Friday from 5AM to 8PM PST and Saturday to Sunday from 5AM to 1PM PST.
There is no satisfaction guarantee or refund information available on the Gobble website. If you have a concern, contact customer service.
Gobble publishes interesting articles about healthy eating and cooking hacks on their blog. There is also a Help Center on their website that covers everything from FAQs to general account management.
How to Cancel or Pause Gobble
You won't have to jump through hoops, call up an agent that will try to convince you not to cancel, or even send an email to cancel your Gobble subscription. You can cancel your order directly on the website through the My Account feature. You'll receive a confirmation email when your account has been deactivated.
Gobble allows users to skip deliveries up to 4 weeks in advance. There is no other way to pause your subscription.
To skip a delivery, locate your Delivery Calendar on the website and select "Manage Delivery" for the week you'd like to skip. You'll receive a confirmation email when you skip a delivery.
The deadline to skip or cancel a delivery is 11:59 PM on the Wednesday before your scheduled delivery. You can reach out to customer service for help after the deadline.
How Gobble Compares to Other Meal Delivery Services
Gobble stands out from the competition because everything is mostly prepared so all you have to do is toss it into a single pan or baking dish. Meals are ready in 15 minutes and without any peeling, cutting, measuring, or seasoning—unless you like your own seasoning, of course. Even the sauces that make your meal extra delicious are pre-made, pre-measured, and packaged ready to be poured onto your dish.
Partially recycled cardboard and plastic
Go-Green plastic containers
Partially recycled cardboard
Gobble vs Home Chef
Both Gobble and Home Chef deliver fresh ingredients and recipes to prepare fresh meals. Home Chef offers over 20 meals to choose from each week, while Gobble typically offers around 12 choices. Home Chef is also priced less than Gobble and can accommodate more dietary restrictions.
Gobble vs Freshly
Both services offer chef-crafted meals. While Gobble delivers prepped ingredients that still need to be cooked, Freshly delivers pre-cooked frozen meals that just need to be reheated. Gobble meals don't take long to cook, but Freshly meals are ready to eat even faster.
Gobble vs HelloFresh
Like Gobble, HelloFresh delivers fresh groceries and recipes to make a selected number of meals per week. HelloFresh ingredients are not prepared ahead of time, so they tend to take longer to get on the table than Gobble's meals. Both services offer add-ons, like breakfast items, soups, and baked goods. HelloFresh currently has a more extensive selection of add-ons.
Is Gobble Worth It?
Gobble is a solid option for singles or families who want to save time in the kitchen. Gobble's meals are pricier than similar services, but since they do the bulk of prep work for you the cost may be worth it for busy home cooks.