In a Nutshell
Gobble is an ideal solution for anyone who wants healthier, homemade meals without the hassle of grocery shopping and meal prep. It's one of the fastest and simplest meal delivery services on the market, and the dishes are mouth-watering.
pros
Home-cooked meals in 15 minutes
Prep work done for you
Accommodates wide range of dietary needs and restrictions
cons
Site lacks detailed nutrition information
Recipes not available online

Gobble Visit Site

Ideal For
Parents who want a healthy, time-saving option
Career-minded folks looking to cut down on prep time
Singles who want home-cooked food with minimum meal prep
What's Unique About Gobble?
With a huge variety of meal options including choices for specific dietary restrictions, flexible ordering policies, and a nice $30 off your first box, it's no wonder Gobble was rated #1 meal delivery service by Parents Magazine.
Offering members the chance to delight in delicious and healthy meals in under 15 minutes, Gobble is bringing homemade cooking back to the world in a wonderfully convenient way. Get dinner on the table for yourself, your family, or your friends, and leave all the headache to Gobble.

Gobble has won the Parents Magazine award for best meal kit service for good reason. The food is downright delicious, the menus are varied and exciting, and the service itself is a pleasure to work with. But what really sets Gobble apart from the rest of the competition are these points:
Speed & Convenience
Since everything is already prepared, all you have to do is toss it into a pan. Your food will be ready in under 15 minutes and without any peeling, cutting, measuring, or seasoning—unless you like your own seasoning, of course.
Even the sauces that make your Gobble meal delicious are pre-made, pre-measured, and packaged in zip lock bags ready to be poured onto your dish. The best part is that Gobble meal kits can be made in a single pan or pot. That means very little clean up!
Organization
Another reason Gobble really outshines the competition is its organization. We mentioned that speed and convenience were two of its major advantages, and Gobble takes these themes all the way. You'll receive all of your ingredients neatly organized according to meals, so there's no guesswork about which ingredients need to be used for which meal.

How It Works
Ordering with Gobble is super simple. Start by marking your food preferences—no shellfish, vegetarian, etc. Then, you'll be given a variety of meal options based on your preferences. Choose the meals you like to create your own personalized menu.
Now, here's the really fun part. Once you've ordered your meals, the chefs at Gobble get to work. They'll peel, chop, marinate, and prepare all of the food items on your list. That way, when your box arrives, all you'll have to do is toss everything into a pan and you'll have a delicious meal in no time at all.
Gobble makes ordering and canceling orders really simple. You won't have to jump through hoops, call up an agent that will try to convince you not to cancel, or even send an email. You can cancel your order directly on the website. The deadline to skip or cancel a delivery is the Wednesday before your scheduled delivery, though you can reach out to customer service for help after the deadline.
Meal Options
While you won't find as much variety each week as you will with some other meal delivery services, we were really impressed by how diverse the Gobble menu options were. In fact, if you have a restrictive diet, this could be the best solution for you, whether it's gluten-free, dairy-free, vegetarian, or something else. Gobble even has a few kid menu options, so if you have a finicky eater, you'll still be able to accommodate their tastes.
In addition to dinner meals, Gobble offers tasty add-ons that you can order separately. These are great if you want to add a little more to make the meal more filling or to replace a meal with a quicker option once in a while. These extras include:
Salads
Soups
Drink Mixes
Desserts
Favorite Gobble Meals
1. Roasted Garlic Crusted Bistro Filet with Brussels Sprouts & Root Vegetable Purée
15-minute dinner | Kid friendly | Contains: milk and wheat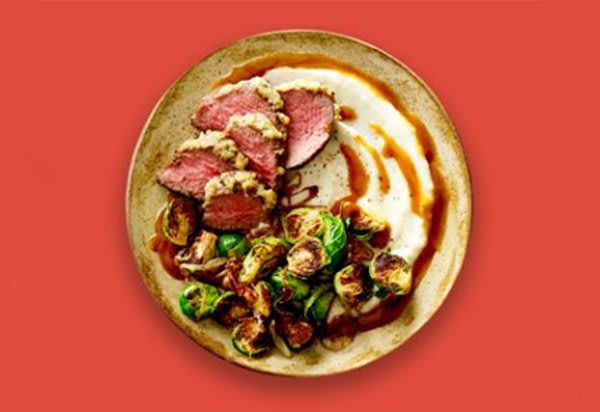 2. Pan-Roasted Salmon with Leek Patties, Sauteed Greens & Salsa Verde
15-minute dinner | Contains: Wheat, Milk, Eggs, Fish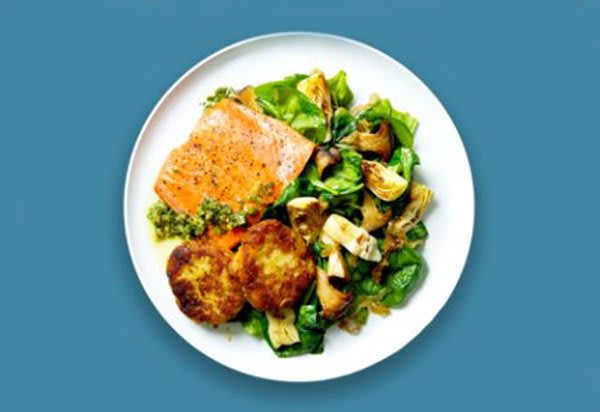 3. General Tso's Cauliflower with Asian Stir-Fry Vegetables & Brown Rice
15-minute dinner | Kid friendly | Contains: Eggs, Wheat, Soy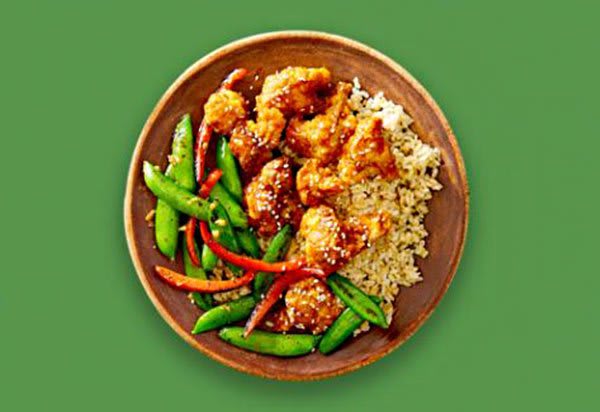 Pricing
Gobble meals cost between $11.99 - $13.99 per meal. Shipping costs an additional $6.99. Here's a quick look at the pricing:
Gobble structures its pricing based on the number of people who will be eating with you. There are meal plans for singles, couples or families. Here's what you get with each plan:
2-person plan: 6 meals per week, 3 meals for 2 people.
4-person plan: 12 meals per week, 3 meals for 4 people.
1-person plan: 2 meals per week
You can order the 1-person plan with just 2 meal kits, but it'll bump the price up from $11.99 to $13.99. Additionally, you have the option to add servings to your meal order. That way if you want a meal to last longer, or if you have more people in your family or friends coming over, you can easily order enough food for everyone. This is a handy feature that makes Gobble stand out from the competition.

Gobble Visit Site
Help & Support
Gobble has friendly customer support options in case you need any help. You can reach a rep via telephone during these hours:
Monday - Friday, 8AM - 8PM PST
Saturday & Sunday, 8AM - 4PM PST
Otherwise, you can send an email via the online contact form. There is also an in-depth help center that covers everything from FAQs to general account management.
Gobble—It's What's for Dinner
Gobble is an ideal service for anyone looking to save time and effort on meal prep. The order and delivery processes are easy, the cooking takes under 15 minutes, and even the clean up is fast. With a variety of tasty options to meet an array of dietary preferences, you should get started cooking with Gobble, today.