♦ 8 min read ♦
Home meal kit delivery companies provide a service that can definitely make things easier for seniors who want to make healthy food at home. You don't have to go to the grocery store or spend hours researching recipes—you simply pick out your meals online and they're shipped directly to you.
Even better, the meals are designed to be easy, and even a kitchen novice can whip them up in about a half hour or so. Also, all the recipes come with nutritional information that can help you keep on top of your diet and learn how to use those calories best.
So what do you look for when trying out meal kits? Let's break it down.
Benefits Of Meal Delivery For Seniors
One of the main attractions of meal kits is the convenience of it all. You don't need to run to the grocery store, you don't need to chase down random ingredients across town, you don't even need to come up with any ideas for dinner.
All you do is go online take a look at the week's offerings, and then make your selections. The meals will then come directly to your door without you ever leaving the driveway.
Meal kits can help you live healthier for a number of reasons. One, the kits introduce you to fresh, organic ingredients that you may not have been used to eating, and by encouraging you to cook at home, you're less likely to step out and eat less healthy food outside the house.
In addition, meal kit companies make a point of including the nutritional information on every recipe, so you can see exactly the amount of calories, fat, and vitamins if you're on some sort of diet regimen or you'd just like to keep track of things.
How to Choose the Right Meal Kit
One of the most important things about choosing the right meal kit is simplicity. Most of these companies are designed for people who didn't go to culinary school and probably don't know the difference between a casserole and a cocotte.
One of the best examples of this is HelloFresh, a company that has made its name with healthy, premium ingredients, but also takes simplicity to a new level.
When you order with HelloFresh, the recipes come with all ingredients pre-measured and all recipes take only 6 steps or less, with a preparation time of around 30 minutes.
Home Chef features recipes that are basically foolproof, with step-to-step guides that even show you how to slice vegetables and when to add seasonings.
At the core of their mission, most of these companies hold the belief that getting more people cooking healthy food at home is an end in of itself, and a greater collective achievement to be celebrated.
Blue Apron - one of the industry's biggest names - actually has a series of values, including "lifelong learning" and "empowerment." These values are all about helping customers adopt a life-long love for cooking and the skills and confidence to empower themselves in the kitchen.
What's this mean for seniors? It means it's never too late - you can become a great cook at any age.
One of the most enjoyable things about joining a meal kit service is that you always have new things to try. You never have to think of new recipes on your own, and you can say farewell to the monotonous, repetitive meals of the past.
One of the best companies for variety is Plated, which allows you to pick from 20 different recipes each week, as well as 2 desserts. On HomeChef, you can also toss in a smoothie or a fruit basket if you want to mix it up a bit.
In addition to the number of recipes, you may also be interested in a service that can accommodate specialty diets. On Sun Basket, you can easily find gluten-free, paleo, and vegetarian options, and when searching, you can filter the results to make it easier.
Some companies do a better job than others when it comes to offering vegetarian, Paleo, and other specialty menu items. If you have particular dietary needs, make sure that you order a company that can tailor your menu orders to your needs.
Life never stops being unpredictable and there's no reason to stop living for the day when you get older. With a meal kit plan, it's important that the company allows flexibility for customers. In other words, if you want to skip a week or you're taking a vacation and you'd like to suspend your account, you'll need a company that can accommodate this.
Another comfortable feature of many meal kit companies is that they allow you to be flexible with the contents of your order. There may be an ingredient or two here or there that you don't like, or possibly even you're allergic to.
Look for a company that gives you the flexibility to make these changes.
For the most part, meal kits hover in a price range of about $8.99 - $10.99 per serving. The price tends to drop somewhat when you order more.
Most companies sell their recipes in meal plans either for 2 or 4 servings, so they're best for a couple or a family of 4.
One of the biggest expenses of meal kits is shipping. With some companies shipping can cost $7.99 or more per serving, while other companies include free shipping on any order over a certain amount.
If your budget is tight, try to find one that includes shipping. For instance, with Blue Apron, once you order more than 2 recipes per week, all shipping is free.
The Best Meal Kits for Seniors
Now that you have an idea about what meal kits entail, let's take a closer look at the best meal kits for seniors.
1. Home Chef
($9.95 per serving, shipping is $10 on orders under $45, free if over $45)
Home Chef is a great option for seniors who want to eat healthier at home but maybe aren't wizards in the kitchen.
The company keeps things simple with step-by-step instructions for the 13 meals available per week. And while the selection isn't as broad as on some sites, with Home Chef you can accommodate a number of specialty diets, including vegetarian, nut-free, soy-free, gluten-free, low-carb, and dairy-free.
You'll want seconds: Steak with Tuscan corn saute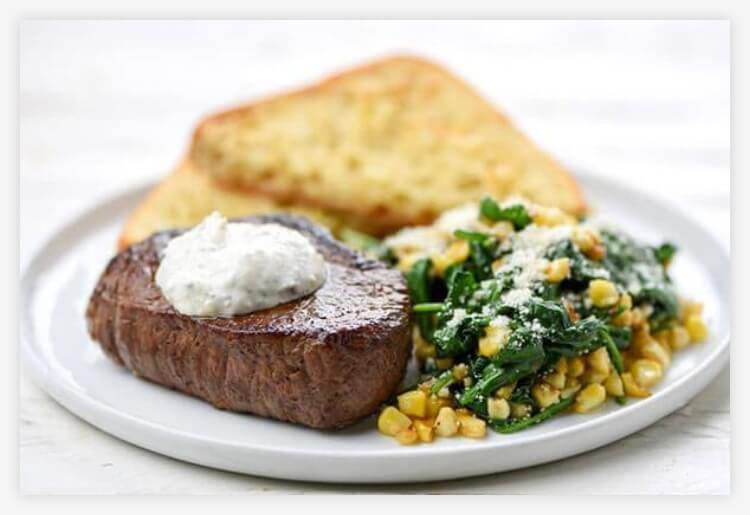 A steak dinner for only $9.99? No there's no catch, just an easy to make sirloin steak with a parmesan oregano sauce and a delicious corn saute. Healthy protein and a great side salad should have you putting this on your speed dial.

Home Chef Visit Site
2. Sun Basket
($11.99 per serving on classic menu, $9.99 per serving on family menu. $6.99 shipping per order)
Sun Basket puts high-quality ingredients front and center with a meal kit plan that is chock full of easy recipes, perfect for seniors.
Sun Basket can also accommodate paleo, gluten-free, and vegetarian diets, and no matter which meals you order, all of the produce is organic. The meals you can order with Sun Basket are as varied as they are delicious—ranging from Vietnamese chicken salad bowls to shrimp risotto and lemon.
You'll want seconds: Blackened chicken breasts with collard greens and sweet potato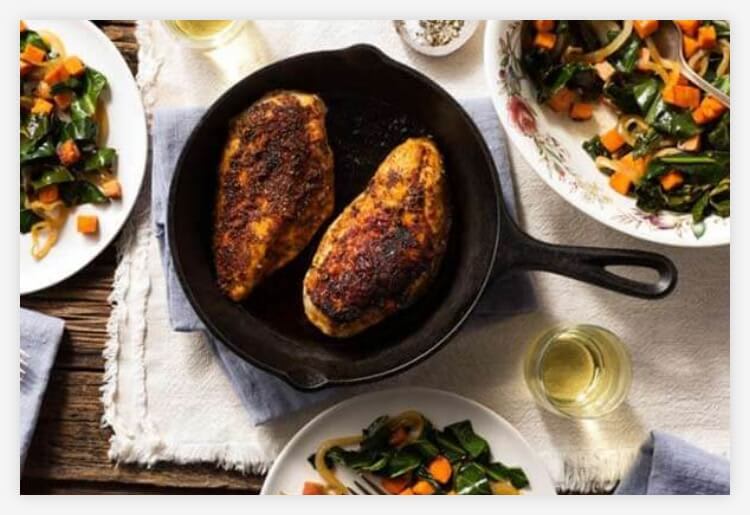 Call it home cooking or soul food if you like, we just know its good. This cajun-inspired chicken dinner is pan seared with molasses and spices which go nicely with the greens and sweet potato salad. Not only that, you should have it ready in only 20 minutes. Pretty hard to go wrong there.

Sunbasket Visit Site
3. HelloFresh
($9.99 per serving for veggie and classic plans, $8.74 per serving for family plan. Shipping is free.)
If you're a senior that's maybe not all that handy in the kitchen, then definitely take a look at HelloFresh. The company features top-quality ingredients and recipes that have no more than 6 steps and take 30 minutes or less to make.
Now, while HelloFresh does take "easy" to a whole new level, there are only 8 meal options per week, which is less than a lot of companies. Nonetheless, the company is highly flexible with its offerings, and also allows you to pick lifestyle preferences, such as menu items that can help you stay fit, or ones that feature new ingredients and techniques.
You'll want seconds: Mediterranean Salmon with creamy dill sauce, green beans and za'atar couscous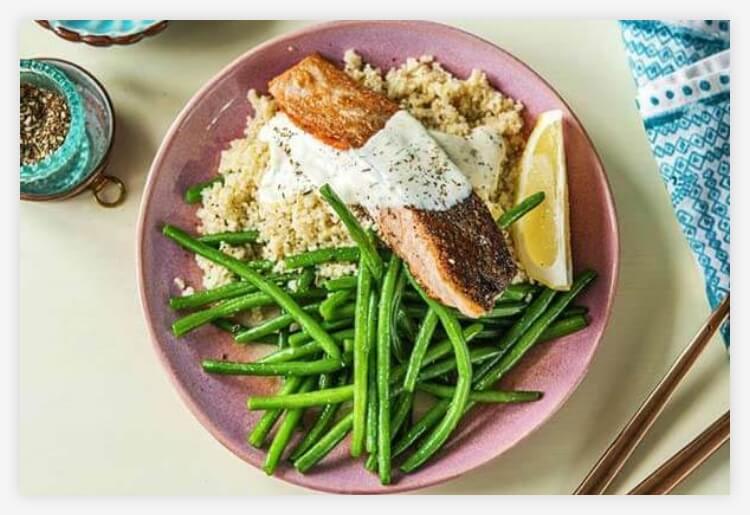 Healthy, juicy salmon drizzled with dill sauce on a bed of couscous and buttered green beans. This dish combines a delicious main protein and great sides as well as za'atar—a Middle Eastern herb and spice blend that you'll want to get to know better. Even better? It only takes 20 minutes to make.

HelloFresh Visit Site
These tender, pan-roasted pork chops and Plated's salsa verde are a match made in heaven. It's a colorful dish that combines a delicious main protein and fresh carrots with a sauce medley of capers, cornichon, parsley, lemon, and garlic. Don't miss this one.
4. Martha & Marley Spoon
($8.70 — $9.50 per serving depending on the plan and number of servings you order.)
A lot of people think that if you want to eat some good home cooking, you really have to work hard and know what you're doing. With Martha & Marley Spoon though, you can cook up something divine without having to put in too much work.
Martha & Marley Spoon features 10 new recipes each week, all carefully selected from Martha Stewart's own recipe collection. You can select 2-4 meals per week and plan deliveries for up to 2 months ahead. The company also gives you some flexibility about what you want in your meals.
Martha & Marley Spoon keeps up with the best in the meal kit industry when it comes to putting premium, seasonal ingredients in every box. And while it's got Martha Stewart in the name, don't get the wrong idea—at only $8.70 to $9.50 per meal with shipping included—this is one of the best deals on the meal kit scene.
You'll want seconds: Crispy Lemon-Parmesan Chicken with Roasted Broccolini
We've all had our fair share of fried chicken cutlets but Martha Stewart is cooking up something extra special here. Thin, boneless chicken breasts are coated in panko crumbs and parmesan cheese, sauteed and browned in the oven and served alongside broccolini and a creamy, lemon sauce. That almost sounds too good to be true.

Martha & Marley Spoon Visit Site
So What's on the Menu?
With meal kits, it's not just about convenience - it's also the opportunity to learn about all types of new spices and recipes and techniques that can change your cooking for good. Not only that, it makes eating healthy easier than ever before—which is no small task when we get a bit older. Once you've decided which meal plan is right for you, then it's time to wait for that first box to arrive and get to cooking.