In a Nutshell
The Good Kitchen is a fantastic meal delivery service with some impressive stats. Touting an outstanding selection of organic ingredients, convenient shipping policies, and recyclable packaging, The Good Kitchen certainly has a lot going for it. And the best part is, these ready-made delicacies go from fridge to fork in just 3 minutes (or less)! That's fast food like you've never seen it before.
pros
Heat and eat meals in 3 minutes
Free shipping within the continental US
Flexible plans
cons
No live chat customer support
Pricier than some meal delivery options
The Good Kitchen Visit Site
Ideal For
People looking to eat healthy who don't have time to cook
Anyone looking for delicious, ready-made food
Singles on the go
What's Unique About The Good Kitchen?
The Good Kitchen has a lot going for it with a wide selection of scrumptious meals and a customer-centric website. Some of the points we were really impressed with are:
Quality
Often, we compromise quality for time, and that's the biggest point that makes The Good Kitchen stand out from its competitors. This meal delivery service offers you ready-made meals that are prepared and ready to eat in just 3 minutes. That's ridiculous! But what's truly amazing is that The Good Kitchen doesn't compromise quality for speed. It maintains the highest level of quality ingredients, procedures, and service, and still gets it done in under 3 minutes.
And we mean quality. We're talking grass-fed, pastured proteins, antibiotic-free, hormone-free, organic produce, and gluten-free grains. Just the sound of it all makes you feel healthier already. Regardless of what you order, you can rest assured that you are getting the best quality products every time.
Shipping Policy
The Good Kitchen has a unique shipping policy too. For starters, this meal delivery service offers free FedEx shipping to all states except Alaska and Hawaii. That's a huge saving, especially considering the fact that many competitors charge a hefty fee for this service. Additionally, The Good Kitchen will let you change your address as often as you want. That means if you are going to be away from home, you won't have to skip a week and you'll get your delicious meals delivered to wherever you are. That's the ultimate in flexibility if you ask us.
100% Product Guarantee
In keeping with the superior quality theme, The Good Kitchen has a 100% product guarantee. This states that if any of the products arrive to you in less than perfect condition, you'll get your money back, with no questions asked.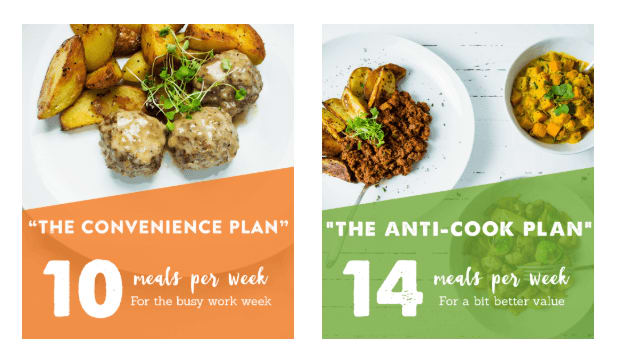 How It Works
Ordering from The Good Kitchen is easy since everything is done online and the meal selection is pretty straightforward.
Start by creating a profile on the website and selecting the subscription plan you want.
Then, choose your meals. How many meals you can choose depends on which plan you sign up for. If you hate making choices, The Good Kitchen has an option to let it do the picking for you.
Your food will arrive according to your shipment schedule.
Like we said, pretty simple. You will get a reminder email to select your meals for the upcoming week. If you don't choose meals, The Good Kitchen will automatically generate a menu for you.
Meal Options
The Good Kitchen has several meal options that are suitable for lunches and dinners (unless you like sitting down to a pepperoni pork with Yukon gold potatoes breakfast). There are also some tasty snacks you can add onto your meal plan.
What's really nice about these meal options is that all The Good Kitchen meals are gluten-, soy-, and peanut-free. All meals also come with clear labels that detail all ingredients in case of other allergies. This information is also displayed on the website, so you don't end up ordering something you can't eat.
Favorite Meals From The Good Kitchen
The Good Kitchen has some mouth-watering selections, so choosing our favorites wasn't easy. With choices like BBQ rubbed salmon with roasted sweet potato wedges, Korean beef skillet, and roasted chicken breast with spinach and fennel saute. Here are some top picks from The Good Kitchen.
1. Fennel Dusted Shrimp Over a Spinach & Fennel Saute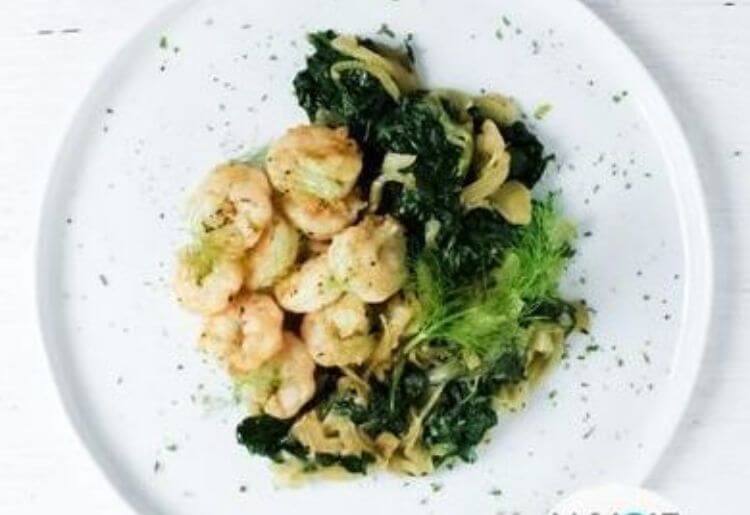 Cost per serving: Inclusive
Prep & cook time: 3 minutes
Difficulty level/calories per serving/other available info:
Easy
419 calories per 12 oz serving
Includes shrimp, fennel bulb, spinach, leek, and sauce ingredients
2. Steak & Eggs (with mixed peppers and onions)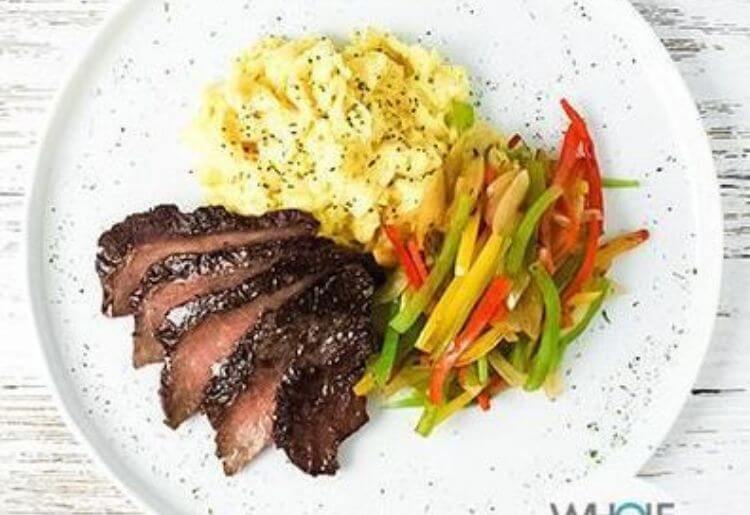 Cost per serving: Inclusive
Prep & cook time: 3 minutes
Difficulty level/calories per serving/other available info:
Easy
302 calories per 12 oz serving
Includes sliced beef, eggs, green, red, and yellow bell pepper, onion, and sauce ingredients
3. Chili Lime Chicken on Rice (with fajita vegetables)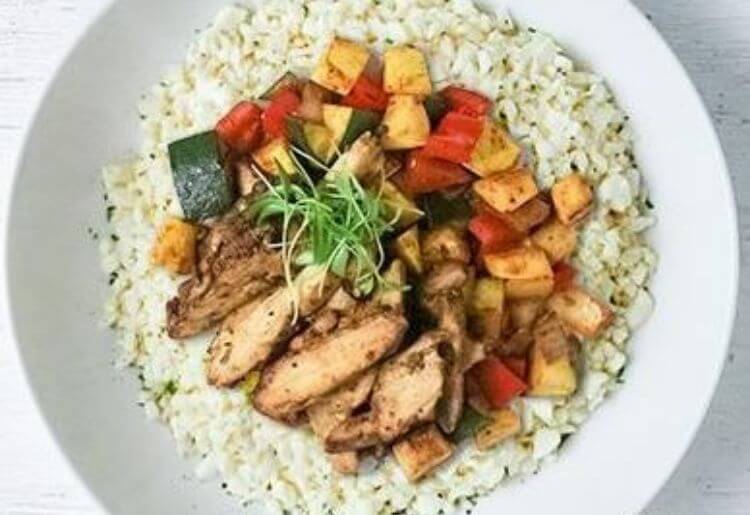 Cost per serving: Inclusive
Prep & cook time: 3 minutes
Difficulty level/calories per serving/other available info:
Easy prep
534 calories per 12 oz serving
Meal comes frozen to increase shelf life. Meal can stay frozen up to 6 months. Meal contains chicken breast, rice, zucchini, yellow squash, red bell pepper, onion, and sauce ingredients.
Pricing
To get started with The Good Kitchen, you'll select the plan that works for you. There are a lot of options to choose from, so you really can get a plan that fits your lifestyle. If you're living alone and don't want to cook at all, you can get the Anti-Cook plan which offers 14 meals each week, enough for lunch and dinner every day. There are also plans that work for couples, people who just want one meal a day, or even families. The Good Kitchen even has a custom plan that lets you pick the frequency you want to order and the number of meals you want from 5 up to 35 meals a week!
One thing we didn't like was the price tag. These meals are on the more expensive side. That being said, you definitely get what you pay for (especially when it comes to food). The price of these meals is indicative of the quality ingredients, preparation, and delivery of the food, so with regards to value for money, it's a real steal.
The Good Kitchen also has some of the most flexible ordering policies out there. There are no commitments; you can pause, cancel, or switch your plans whenever you want. This is a tremendous relief for a lot of people who are afraid to sign up for a meal delivery service because of the commitment factor. No commitments takes a huge weight off your shoulders and allows you to take The Good Kitchen for a test drive without any pressure.
The Good Kitchen Visit Site
Help & Support
The Good Kitchen has email support only, a little bit of a drag. But you're probably not going to have anything too pressing to ask anyway. The Good Kitchen also has a good FAQ section that answers most of the more commonly asked questions people have about signing up, ordering meals, shipping, and eating these meals.
Bottom Line
The Good Kitchen is a real treat for anyone looking to eat healthier without spending a lot of time in the kitchen. The price tag might deter you at first, but once you see that these meals come with organic, premium quality ingredients, are made from scratch, and are delivered to perfection, you won't hesitate at all. Flexible shipping, return, and plan policies are just the cherry on top of this outstanding meal delivery service.