In a Nutshell
Magic Kitchen is designed with health in mind. Their frozen meals are moderately priced considering they are designed to accommodate 11 different dietary restrictions. Providing affordable, nutritious meals to seniors is a focus point for Magic Kitchen and is evident in its dietitian-crafted menus. If you need prepared meals for a specific medical condition or want to send meals to a senior living alone, look no further than Magic Kitchen.
pros
Huge variety of specialized meals
Homestyle cooked meals
Heat and eat, ready in minutes
cons
No vegan options
Shipping starts at $18.95

Magic Kitchen Visit Site
Best For
People with chronic health issues
Quick options for home-cooked meals
Older adults
Magic Kitchen Meal Plans
Magic Kitchen has two main meal options. One is an à la carte menu with entrees, sides, and desserts and the other includes complete meals.
À la Carte Menu:
The à la carte menu plan works best for individuals and families that want the flexibility to choose their own meals and sides. On the à la carte menu, you can select individual entrees, side dishes, snacks, and desserts. You also have the option to order complete meals that include a main dish with two sides.
The Complete Meal Menu:
Complete meal menu options work best for individuals who want the menu planning done for them. Dietitian-designed and chef-prepared complete meals include a main entree and two side dishes.
Meal Bundles:
Meal Bundles are larger packages of complete meals. The team at Magic Kitchen selects menu items for you from the à la carte menu such as entrees, soups, sides, and desserts. Meal bundles can serve from two to six people.
Auto-Ship Program:
The Auto-Ship Meal Program is Magic Kitchen's meal subscription where they will send you meals without you needing to choose your order. Their team will select popular dishes and send them to you. You can choose to receive deliveries weekly, bi-weekly, or monthly.
Magic Kitchen Dietary Options and Programs
Magic Kitchen goes the extra mile to accommodate just about every specialized diet you'd need.
Diabetic Friendly - Diabetic Friendly meals have 20 to 45 grams of carbohydrates for blood sugar control. These meals are a good option for people with prediabetes and Type 2 diabetes.
Portion Controlled - Portion Controlled meals are lower in sodium and smaller portions make them a good choice for weight loss.
Dialysis Friendly - Dialysis Friendly meals have a limited amount of sodium, potassium, and phosphorus, which is essential for people on dialysis.
Renal Diet Meals - Renal Diet (CKD 3 & 4) have specific amounts of sodium, potassium, phosphorus, and restricted protein which is important for people with chronic kidney disease.
Dairy-Free - Dairy-Free meals do not contain milk or dairy-derived ingredients. These meals will be good for anyone with a milk or dairy intolerance.
Gluten-Free - Gluten-Free meals are not certified gluten-free, but dietitians designed these meals without gluten-containing ingredients for people with gluten sensitivity.
Low-Fat - Low-Fat meals have less than 3 grams of fat per 100-gram serving and contain less than 100 grams of cholesterol. Low-fat meals can be a part of a heart-healthy diet.
Low Sodium - Low Sodium meals contain less than 700 mg sodium per serving, though most have less than 500 mg, making them heart-smart choices for high blood pressure.
Low Carb - Low Carb meals have less than 25 grams of net carbohydrates per meal. These meals are right for a person with diabetes or a low carbohydrate lifestyle.
Senior Diet - Senior Diet meals are low in sodium and contain between 300 and 500 calories. These meals are made specifically to cater to seniors' likes, lifestyles, and health requirements. What's even nicer about this option is that kids can order these meals for their aging parents and have the meals delivered directly to them.
Vegetarian - Vegetarian meals do not contain meat, poultry, or fish, but may be made with eggs or dairy products. Anyone following a vegetarian diet can find meal options on this plan. This plan, however, isn't suitable for vegans.
Our Favorite Magic Kitchen Meals
Magic Kitchen has a tremendous variety of food options available through its various programs.
Great items from the breakfast menu are waffles with turkey sausage and cheese omelet and salsa. For lunch, we loved their balsamic glazed chicken with savory roasted potatoes and green beans. They also have tasty dinner options like beef bourguignon with brown rice and broccoli that's delicious as it is satisfying.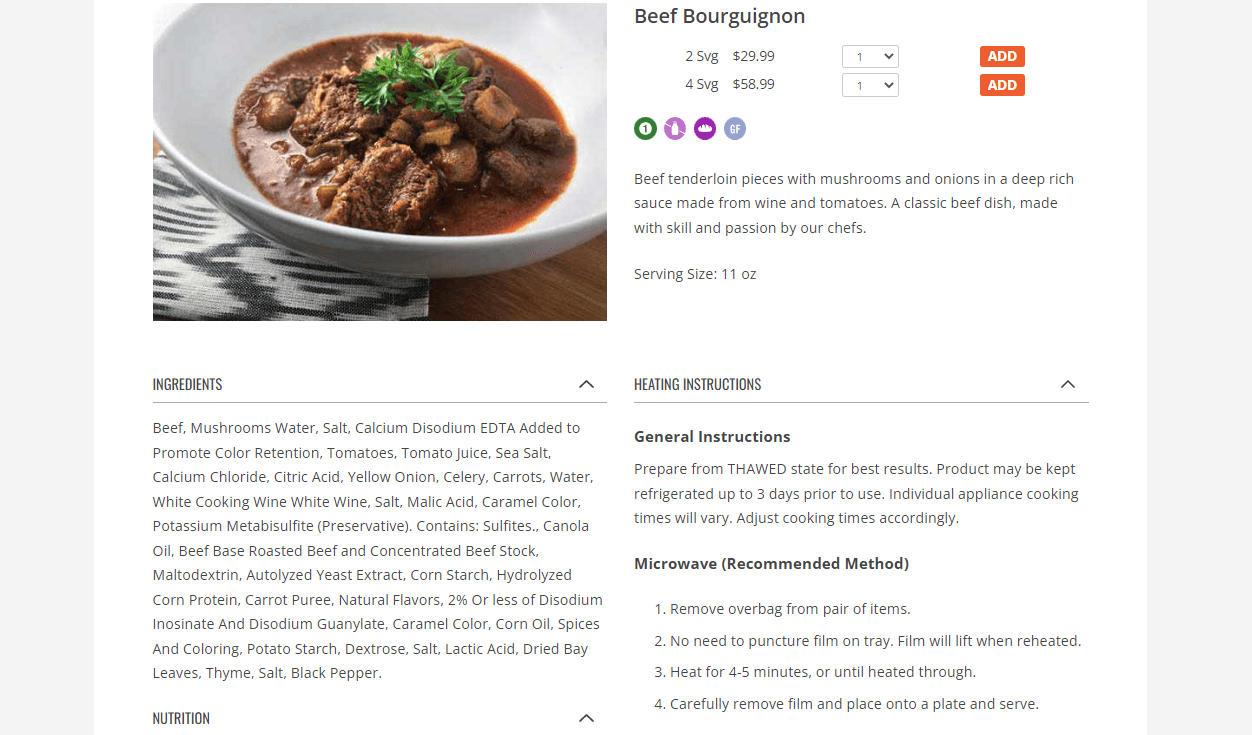 How Much Does Magic Kitchen Cost?
Most meals range from $10-$14, while specialty meals cost between $25 and $60. Discounts include 10% off first order and free delivery for orders over $125. Seniors get $10 off of any order over $80.
The à la carte plan costs between $10 and $14 per entree. Snacks and sides are somewhat less, ranging from $2 and $9.99 for two servings.
There are 1-, 2-, and 3-complete meal per day plans available for customers. All of the plans allow you to select items from the breakfast, lunch, and dinner menus:
One meal per day plan costs $75-85 per week for 7 meals
Two meals per day plan cost $150-165 per week for 14 meals
Three meals per day plan cost $225-250 per week for 21 meals
Shipping is $18.95 per delivery or free for orders over $125.
Price Per Week (including shipping)
Complete Meals, 1 meal/day
Complete Meals, 2 meals/day
Free for orders over $125
Complete Meals, 3 meals/day
Free for orders over $125
How Does Magic Kitchen Work?
Placing an Order With Magic Kitchen
To begin the ordering process, decide whether you want individual meals, meal bundles, or would like to join the auto-ship subscription service. If you want to join the auto-ship service, fill out the brief enrollment form or call customer service directly at 1-877-516-2442 to get started.
If you would like to create a custom order, there are two main options on the home page, the À la Carte Menu, and Menu-Complete Meals. After choosing an option, you'll be able to view the menu and add meals to your cart.
Once you have all the items you'd like in your cart, place your order and expect delivery within a few business days.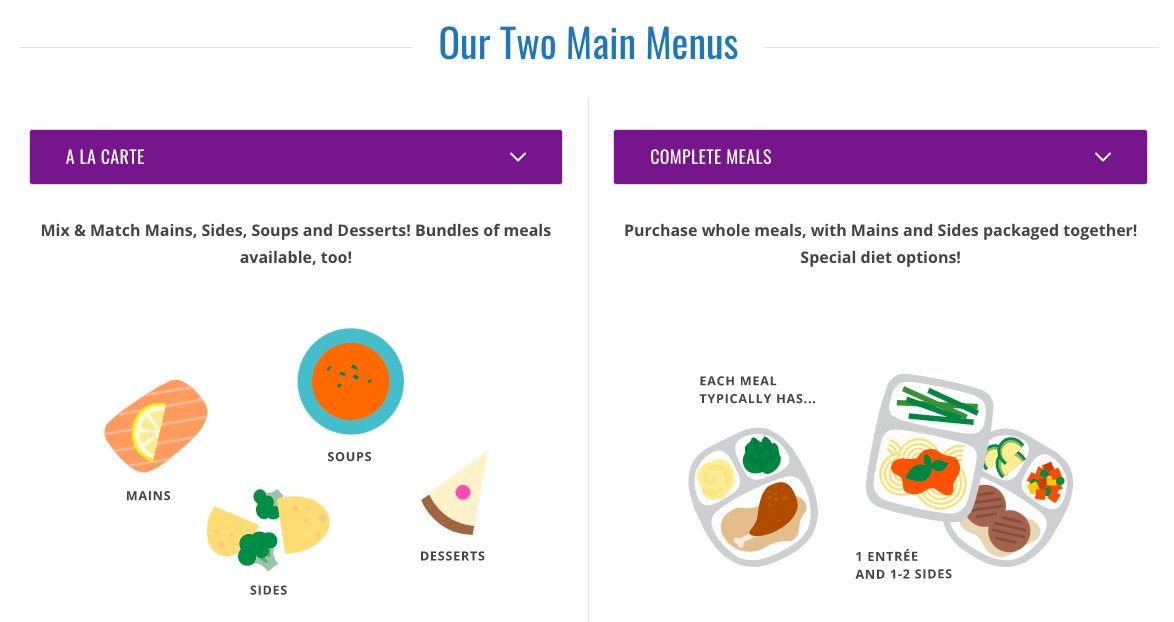 How to Choose Meals with Magic Kitchen
À la Carte Menu:
Ordering à la carte items can be done from the dropdown menu on the homepage. You will find menu items categorized into soups and breads, main courses, side dishes, and desserts.
You can also search for specialized diet menu items like low carb and vegetarian on the à la carte menu. The à la carte menu is home to individual dishes and sides as well as complete meals and meal bundles. There are lots of ways for you to create a custom order that fits your personal needs.
Menu-Complete Meals:
If you are looking for full meals or a specialized diet, there is a tab on the homepage for Menu-Complete Meal. Menu-complete meals include a main dish along with two sides, making as the name suggests, a complete meal. As an example, Balsamic-glazed Chicken with Roasted Potatoes and Green Beans is a complete meal.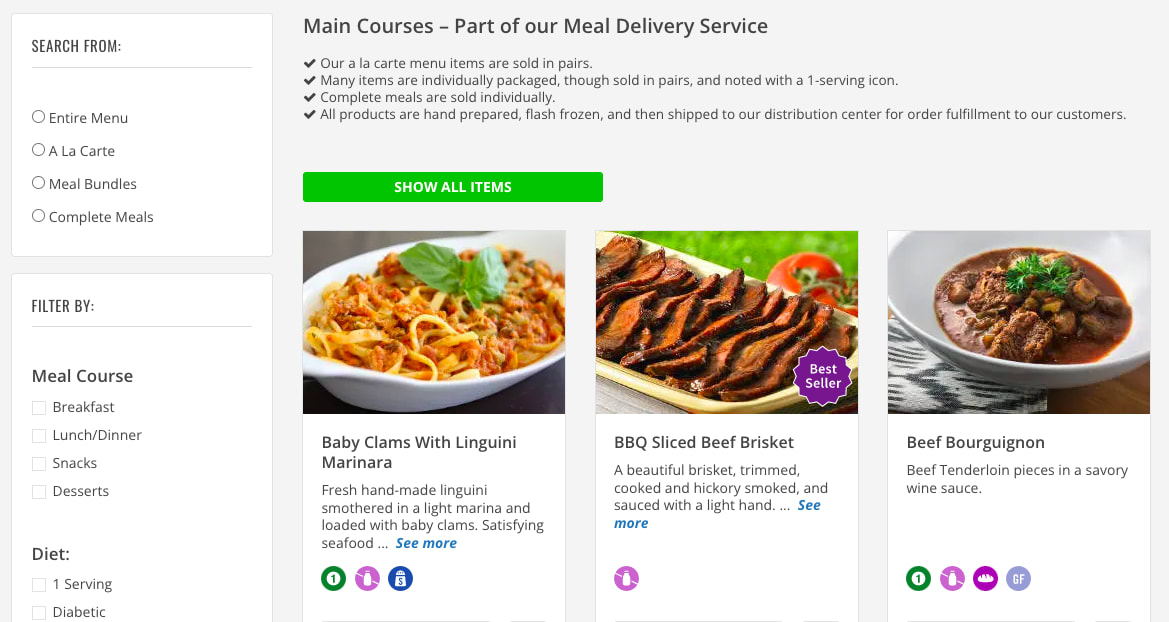 Does Magic Kitchen Come With Cooking Instructions?
Chefs prepare Magic Kitchen meals fresh, then they are flash-frozen to preserve freshness. Cooking instructions are provided with individual meals as the directions will be different for each meal.
Most meals can be heated in the microwave. Some meals require cooking in the oven, but they are clearly marked on the menu. For every menu item, you can view the nutritional information, ingredients and allergens, and easy cooking instructions.
What Makes Magic Kitchen Stand Out?
What makes Magic Kitchen stand out from other meal delivery services is the number of dietary options it caters to, so people with ongoing medical conditions can use it to eat according to their diet.
If you want to help out someone who just had a baby, or a family member who can't cook for themselves, Magic Kitchen's meal bundles are a great way of doing so. Some popular meal bundles include those for Housewarmings, Birthdays, Anniversaries, and the meal bundle for New Parents. You also have the option to purchase a gift certificate for someone needing meals.
Magic Kitchen also offers premium meals perfect for special occasions. Find delectable options such as beef wellington or enjoy a crab cake dinner. These meals do cost more than other menu options, but are an affordable way to deliver a nice meal for a special event.
How Are Magic Kitchen Meals Packaged and Shipped?
Shipping
Magic Kitchen delivers meals anywhere in the continental US. You can select the date that you want your meals to be delivered on your order page, and even get your meals shipped the same day if ordered before 2 PM CT.
Magic Kitchen has 1-day, 2-day, 3-day, and 4-day shipping options. Customers looking for faster delivery can have meals delivered using FedEx air delivery (1- or 2-day delivery) and Saturday delivery, though shipping rates may be higher.
Packaging
Meals typically arrive at your door in 1-3 business days in insulated styrofoam boxes with dry ice via UPS and FedEx. All coolers and boxes are recyclable but check with your local area to see if Styrofoam recycling is available. Magic Kitchen does not use biodegradable packaging to ensure that all food items can reliably stay fresh during their transit time.
Meals are individually wrapped and sealed for freshness, and can be frozen for 6 months or more. However, for the best flavor and experience, you should not freeze your meals for more than 30-45 days.
Is There a Magic Kitchen App?
You can find the Magic Kitchen Inc. app for iOS and Android devices. Order meals anytime, anywhere using the app. Easily access your account information, manage your orders and select your menu items on the app.
How to Contact Magic Kitchen Customer Service
Magic Kitchen has impressive support options. For one thing, they have long hours of operation for a food business.
Phone
You can call 1-877-516-2442 Monday to Friday – 7 am to 9 pm Central time, Saturdays 7:30 am to 3 pm Central and Sundays 8 am to 3 pm Central.
Email
Magic Kitchen support is available 24/7 via contact form or email info@magickitchen.com.
The chat feature on their website connects you with answers to common questions or to a customer service representative.
Refunds
Their commitment to quality service is evident in their refund policy. If any order arrives damaged or spoiled, Magic Kitchen will replace it. Additionally, they have a satisfaction guarantee where any meals that do not meet a customer's satisfaction will be credited or replaced on the next order.
FAQ and Blog
If you have additional questions, Magic Kitchen has an FAQ section where you can find nearly all the answers to your questions on shipping, ordering, nutrition and packaging.
Magic Kitchen's blog is another source of information and helpful hints to help you stay healthy. They frequently post articles about food, lifestyle, and health. Articles you can find on the Magic Kitchen blog include Five Benefits of Working Out with a Partner, Healthy Snack Pairings, and Stress Relieving Foods.
How to Pause or Cancel Your Magic Kitchen Account
With no contracts, you can easily start and stop Magic Kitchen deliveries, including auto-ship plans whenever you need by contacting customer service.
How Magic Kitchen Compares to Other Meal Delivery Services
Magic Kitchen sets itself apart from its competitors in its effort to accommodate multiple dietary restrictions and medical conditions in a seamless way.
Vegetarian, diabetic friendly, dialysis, renal diet, dairy-free, gluten-free, low fat, low sodium, portion-controlled, low carb, senior
Gluten-free, low carb, low calorie, vegetarian, vegan, dairy-free, allergies
Milk-free, carb-conscious, soy-free, wheat-free, nut-free, vegetarian
Vegetarian, vegan, low carb, heart healthy, low sodium, dairy-free
Styrofoam container with dry ice
Go-Green plastic containers
Partially recycled cardboard and plastic
Insulated boxes of recyclable materials
Magic Kitchen vs Freshly
Magic Kitchen and Freshly both deliver frozen individual meals for many dietary needs. If you are looking for a more artisanal menu and sustainable packaging, Freshly has the advantage. However, if you want the flexibility to select menus à la carte and have specific dietary restrictions, Magic Kitchen has more options for you.
Magic Kitchen vs Home Chef
Magic Kitchen and Home Chef's chef-prepared meals are two clear choices for someone with a dietary restriction. However, Magic Kitchen makes meal planning easier than Home Chef by clearly identifying meals and packages for dietary restrictions.
Magic Kitchen vs BistroMD
Chef-prepared meals from Magic Kitchen and BistroMD deliver complete, balanced nutrition. BistroMD is targeted towards weight loss, while Magic Kitchen does have a weight loss option, but also caters to many other health needs.
Is Magic Kitchen Worth It?
Magic Kitchen is a frozen meal delivery service with a home-cooked appeal. Their large selection of specialized menu plans works best for seniors with specific nutrition needs and busy families. The shipping is pricey, but Magic Kitchen's meals can certainly make life easier for people with specific health conditions.