Dinnerly is well-known for its simple meals that are great for kids and adults. You can order three to six meals every week from over 40 recipes on their weekly rotating menu. You can even set your meal preferences to vegetarian, pescatarian, etc., and opt for two-person meal boxes or a family box that packs adequately for four adults.
But maybe you want something different. You may just want to order one or two meals a week, have access to more organic ingredients, or just have your pantry staples (spices, oil, etc.) included.
If you wish to try out other delivery services, here are the top 5 Dinnerly alternatives for affordable and easy-to-prepare meals.
Want a comprehensive breakdown of delivery companies? Check out our top 10 picks for the best meal delivery services.
A Quick Look At Our Best Dinnerly Alternatives for 2023
EveryPlate - Best for classic comfort foods at low prices
Sunbasket - Best for meals with high-quality, organic ingredients
HelloFresh - Best for busy professionals
Home Chef - Best for families on a budget
Green Chef - Best for plant-based meal-kit programs
Our Top Picks for the Best Dinnerly Alternatives
1. EveryPlate
An affordable meal service with quick, simple, and delicious recipes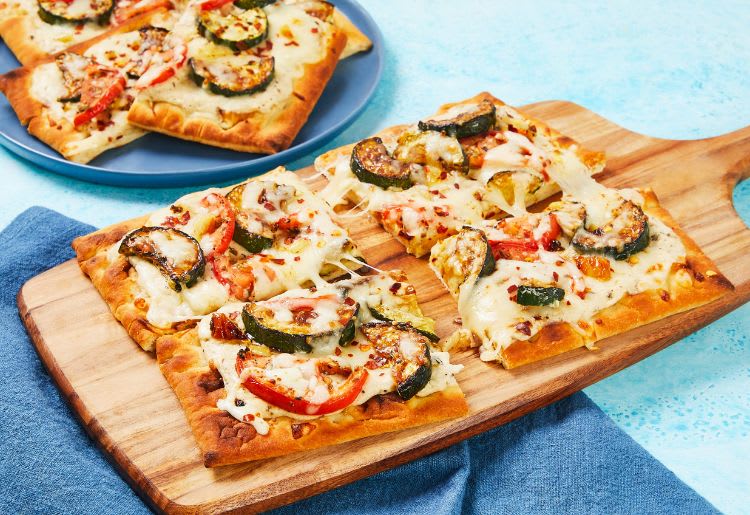 Best for: Easy-to-prepare vegetarian meal kits
Starting price: $4.99 per serving
Special diets: Vegetarian
EveryPlate does not have time-consuming, elaborate, gourmet meals. Instead, their focus is on quick and simple meals with just a few ingredients. Take your pick from 17 dishes on their weekly rotating menu. Their meal kits require just 20 to 45 minutes to prepare even if you choose their meat and veggie service. Other preferences include just Veggie, Family Friendly, as well as, Quick & Easy.
EveryPlate's only special dietary filter is for vegetarian meals, so, unfortunately, you won't find any keto, low-carb, vegan, or gluten-free meals. On the other hand, potential allergens and ingredients are listed for each meal.
Pros
Cheap meals
Potential allergens are listed for each recipe
Cons
Does not cater to keto, low-carb, vegan, or gluten-free diets

EveryPlate Visit Site
2. Sunbasket
A meal service that prioritizes high-quality, organic, and sustainable ingredients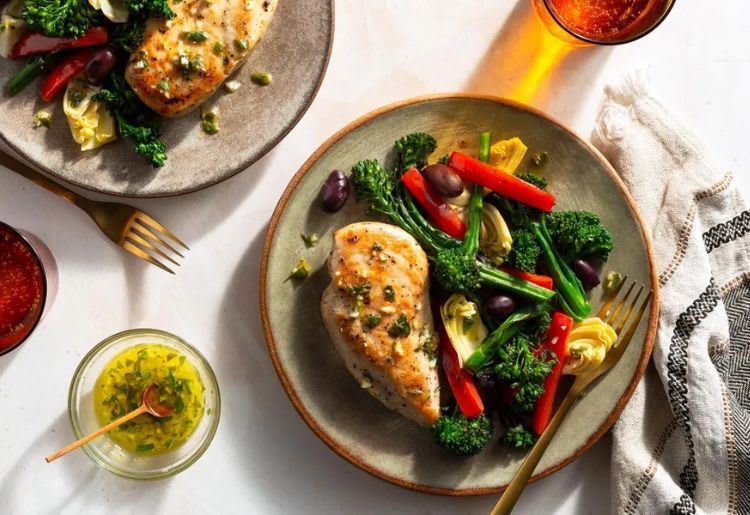 Best for: Health-conscious consumers
Starting price: $9.99 per serving
Special Diets: Paleo, low carb, vegan, etc.
From ready-to-eat snacks and breakfast to gourmet meals, Sunbasket offers you a wide selection of meals. With the US being home to the third highest share of the world's vegans (1), Sunbasket offers dietary choices such as vegan, paleo, and low carb, with certified organic ingredients with detailed instructions and pre-measured ingredients.
There is a variety of meal plans to choose from, including Mediterranean, Pescatarian, and Paleo. And, unlike many of its competitors, Sunbasket offers breakfast and snacks in addition to the main meals. You can even increase the protein as per your needs. Considering that their meals are made with high-quality, organic ingredients, it's no surprise that their prices are on the higher end.
Pros
High-quality, organic ingredients
Offers breakfasts and snacks
Caters to various special diets
Cons
More expensive than other delivery services
» Want to try out meal kits instead of doing groceries? Here's the meal kits vs grocery shopping cost breakdown.

Sunbasket Visit Site
3. HelloFresh
Delivers both groceries and chef-designed meal kits to your doorstep
Best for: Those who enjoy cooking at home
Starting price: $7.49 per serving
Special Diets: Vegetarian, pescatarian, keto, and low-calorie meals
The HelloFresh Market gives this meal service company an edge over its competitors. With the average American spending more than 40 minutes a day on grocery shopping (2), HelloFresh lets you order groceries, drinks, snacks, and side dishes. Their meal kit delivery service is also quite popular as you can easily customize your diet plans.
Other than diet preferences such as vegetarian, pescatarian, or keto, you can also make filter choices based on your style of cooking and opt for Easy Prep or Easy Clean Up. The meal kits come with easy-to-follow instructions that will help you whip up gourmet meals in 20 to 50 minutes depending on your choice of recipe.
Pros
Caters to special diets
Has a cooking style filter
Also delivers groceries
Cons
No specific allergen-free plans

HelloFresh Visit Site
4. Home Chef
A family-friendly meal service with little to no prep meals and desserts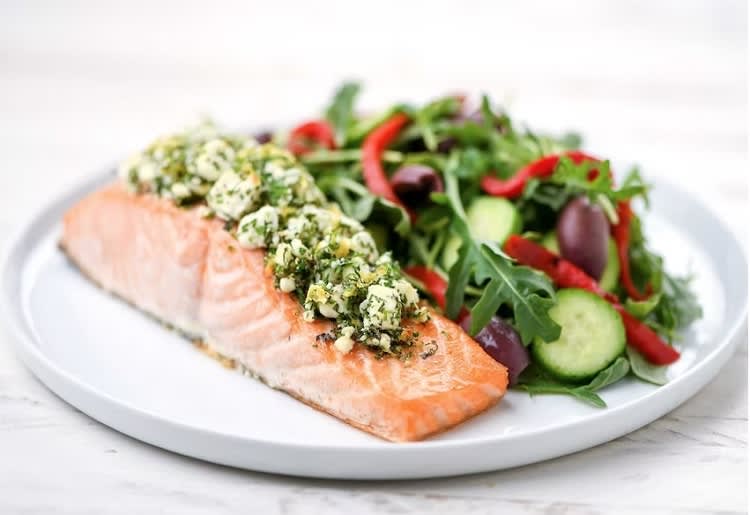 Best for: A wide variety of meal kits
Starting price: $6.99 per serving
Special Diets: Vegetarian, low-calorie, low-carb
HomeChef simplifies home cooking by offering you meal kits with no prep time. To enjoy a warm meal, all you have to do is microwave as instructed. Oven-ready meal kits may need more baking time, but they come in containers that can be kept directly in the oven, minimizing your prep and clean-up time.
HomeChef is ideal for large families. You can order two to six meals weekly for up to 6 people. There are more than 20 recipes in their rotating weekly menu. You can customize your protein preferences in your selected dishes. One of the highlights of HomeChef is its filter for potential allergens such as dairy, gluten, or peanuts. You can also set your menu preferences as vegetarian, low-calorie, low-carb, etc.
Pros
Budget-friendly meal plans for families
Zero prep needed
Filter available for allergens
Cons
Limited options for vegans

Home Chef Visit Site
» Want easy, heat-and-eat meals delivered to your door? Here are the best prepared meal delivery services.
5. Green Chef
Certified organic and environment-friendly meal kit delivery service that offers quick and nutritious meals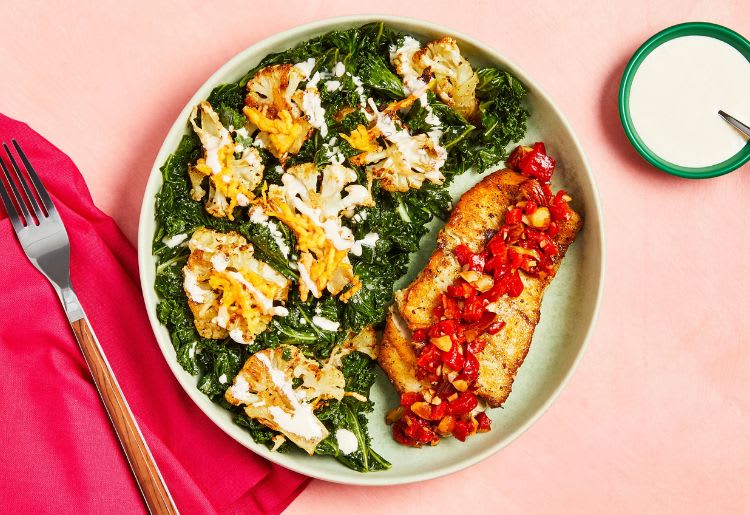 Best for: People with dietary restrictions
Starting price: $11.99 per serving
Special Diets: Vegan, keto, paleo, gluten-free
With the freshest organic produce, Green Chef meal kits are gaining popularity among health-conscious consumers. Rather than cheap heat-and-eat plans, Green Chef offers you pre-measured and prepped ingredients for making fresh, healthy, and delicious home-cooked meals along with colorful, easy-to-follow recipe cards.
You can set for three or four meal deliveries per week, as well as, the number of servings for each meal, to serve two, four, or six people. Green Chef meal plans can be customized easily for those with dietary restrictions such as vegan, keto, paleo, etc. They also offer certified gluten-free plans.
Pros
Certified organic ingredients
Cons
Has the most expensive meals on this list

Green Chef Visit Site
Why Choose These Alternatives Over Dinnerly?
Dinnerly is a very well-rounded meal delivery service with low prices compared to others. Their low-priced single servings are sought after by many, but some of their competitors offer some things that Dinnerly doesn't.
You'll Get More Ingredients In Meal Kits
To reduce the price of their meal kits, Dinnerly tends to cut out pantry staples such as oil and spices. When the point of meal kits is to avoid buying groceries and rather use pre-measured, prepped, and ready-to-cook ingredients, some get frustrated when their pantries aren't fully stocked.
You May Want Recipe Cards Included
Green Chef meal kits come with colorful and detailed recipe cards which makes it a breeze to follow their instructions and whip up a delicious meal. Dinnerly meal kits do not contain recipe cards. You'll have to log in and access digital cards to check recipe instructions.
You Want To Factor In The Extra Shipping Costs
Although Dinnerly prices seem cheap, their additional shipping charges do bring up the final tally, as is the case with EveryPlate, Green Chef, and HelloFresh as well. Out of our top alternative picks on this list, HomeChef wins with their free delivery offer for orders over $40.
You May Want Certified Organic Food
While GreenChef and Sunbasket use high-quality, certified organic ingredients, Dinnerly, unfortunately, does not specify whether or not they use organic ingredients. On the other hand, this does make Dinnerly a cheaper option, but many health-conscious consumers are more than willing to pay the difference.
Something Different
If you're looking for something that Dinnerly doesn't offer (yet), then this list is a good place to start. These 5 alternatives can help simplify your cooking, enabling you to enjoy home-cooked meals with minimum prep and clean-up time.
» Not sure if Blue Apron's meal delivery service is for you? Here are the best Blue Apron alternatives.
References