Apart from cutting out coffee and staying off sushi for 9 months, there's actually a whole world of nutrition specific to pregnant woman and new moms. Nutritionists recommend dairy foods as a good dietary source of calcium, protein and vitamin D, as part of a fresh, balanced diet . All of this might lead to a total revamp in the kitchen and that's a mean feat when you're tired, overworked, possibly nauseous and ravenous at the same time. So what's the solution to this pregnancy conundrum?
How Meal Delivery Kits Make Your Life Easier
Meal delivery kits in general, and the best diet food delivery programs specifically, are a growing trend and can save you time, money and most importantly— your energy. What's really convenient about these kits is you can tailor-design your menu according to your nutritional needs and of course, your cravings. Pregnancy for most women is exhausting. While carrying around all that extra weight you might just want to skip the whole grocery shopping thing, and sitting on the couch waiting for a pre-packaged box to arrive at your door just sounds more tempting. Even if you love to cook and have found a new sudden urge to bake during pregnancy, the best meal delivery service kits have pre-portioned ingredients all ready for you to take directly to the kitchen. Once the stork has arrived and you have your perfect bundle safely at home, this doesn't mark the end of healthy eating. Suddenly, you'll have much less time and energy to cook for yourself and all plans for a nutritious, vitamin-packed diet are likely to get thrown out the window.
This is the time however, that your body needs the nutrients, while breastfeeding for some and the lack of sleep for others — it's even more crucial you keep up your energy. Here are some of the best meal delivery kits for pregnancy and new moms.
1. Home Chef
(Meals are priced at $9.95 per serving)
Home Chef makes it as easy as possible to cook at home. With no recipe taking longer than 30 minutes, you'll be able to focus on the important stuff — you know, like putting your feet up. Pick from a huge selection of recipes and wait for your box to arrive with easy-to-follow recipe cards to fresh, pre-portioned ingredients. You can plan your meals up to 5 weeks in advance so you'll have everything organized when the baby arrives.
Home Chef is also easy on the pocket. Meals are priced at $9.95 per serving, and if you have a big family to feed you can choose your meals in pairs of 2, 4, or 6 servings. All the ingredients are incredibly fresh, and you can even whip up a Strawberry Colada smoothie with coconut milk and honey. Even if you don't necessarily want to start counting calories during pregnancy, it is important to know the nutritional value of the food your eating and with Home Chef, you know exactly what's inside your food.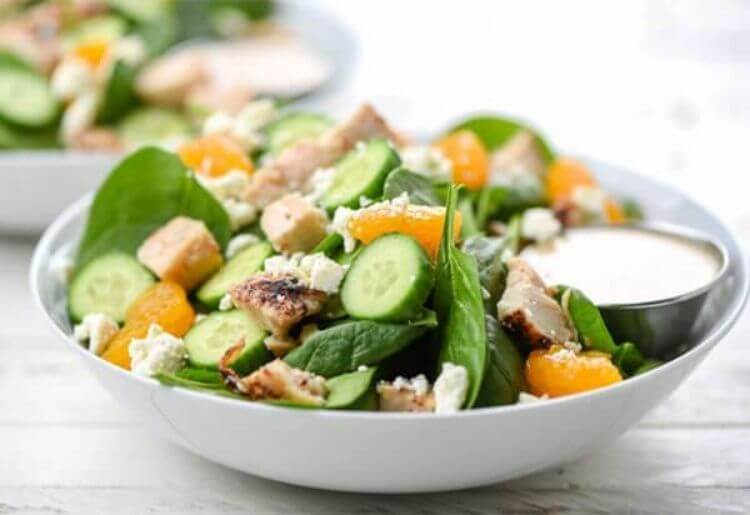 Top meal choice: Citrus-Feta Chicken Salad
Calories: 422
Nutritional info: 11g carbohydrates, 23g protein
Why it's great for pregnant and new moms: For expectant mothers suffering with nausea, citrus is a great food to eat, not to mention the vitamin C essential for a growing baby. The protein in the chicken and the general low calorie salad is a smart food choice for new moms.
Read the full Home Chef review

Home Chef View Plans
2. Sun Basket
(Classic Plan $11.49 per serving, Family Plan at $9.99 per serving)
With Sun Basket you can choose from a total of 9 different meal plans including gluten-free, vegetarian, mediterranean and even diabetes-friendly. With the best vegan meal delivery you can chose to mix and match recipes across the week so you don't need to stick with one meal plan. Sun Basket delivers all your hand-selected ingredients weekly, straight to your door, so you never need to trek to the grocery store.
Sun Basket only use organic produce and antibiotic-and hormone-free meats so you can feel safe you're eating the highest quality food during this precious time. If you have a big family you can pick the 6 family-friendly recipes to make sure you have everyone covered. Just because you'll be eating healthy food doesn't mean you can't indulge your cravings once in awhile. Try the Spinach and Ricotta Gnudi in Porcini Brown Butter with Tomato Salad for instance, a kind of melt-in-your-mouth meal that's safe for mama and the entire family. The Classic Plan works out at $11.49 per serving, or pick the Family Plan at $9.99 per serving.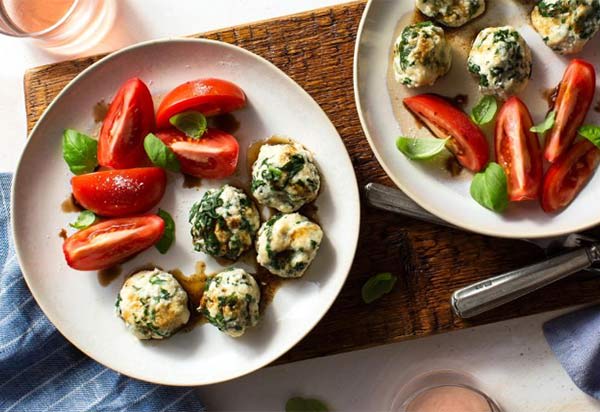 Top meal choice: Spinach and Ricotta Gnudi
Calories: 490
Nutritional info: 26g total fat, 26g protein
Why it's great for pregnant and new moms: Healthy but still indulgent, this vegetarian meal is satisfying for pregnant women. As the baby grows, your stomach shrinks, and the small bites are just the right size to fill you up with calcium-rich nosh.
Read the full Sun Basket review

Sun Basket View Plans
3. Plated
(Basic plans start at $11.95 per serving)
Never wonder what to make for dinner again. With Plated you can personalize your meal plan and select exactly the recipes you want week to week — in any combination, with no limitations (a useful feature for pregnancy cravings). You'll receive a new seasonal menu weekly and 20 original chef-designed recipes. Plated offers flexibility and can adapt according to your ever changing palate.
Another delicious feature is the desserts, a must-have during pregnancy. Try Kouign Amann with Chocolate Drizzle and Toasted Hazelnuts — a specialty from Brittany involving layers of flaky pastry beneath a caramelized sugar topping. This baby has only 420 calories, so you don't really need to feel guilty about indulging; with 42g total fat and 27g total fat. Once you've picked your meals, your pre-packaged box with all of the necessary ingredients will arrive at your doorstep, ready to be prepped and cooked. Plated only use high-quality ingredients, organic produce and antibiotic free proteins. The most basic plan costs $11.95 per serving.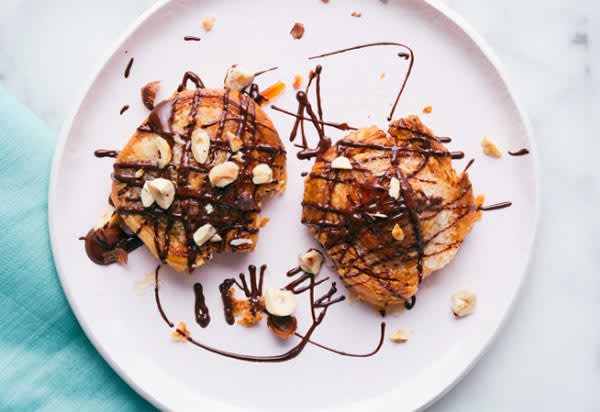 Top meal choice: Kouign Amann
Calories: 420
Nutritional info: 27g total fat, 42g carbohydrate
Why it's great for pregnant and new moms: It's dessert. Need we say more? Healthy doesn't mean you can't treat yourself once in a while; and your body will thank you for it. On the scale of things, this dessert is relatively low calorie so you won't be loading on the pounds.

Plated View Plans
4. Martha & Marley Spoon
(From $8.70 per serving)
Being pregnant and all the difficulties that come with carrying a child can make you feel like you could really use an extra set of hands around the house. With Martha & Marley Spoon, you can enjoy the guidance—and recipes—of lifestyle maven Martha Stewart. Her recipes and techniques are front and center in each of the offerings served up by the company.
Every week you get to choose from 10 different meal options. If you have any sort of dietary restrictions or preferences, the recipes are clearly marked with labels like "vegetarian," "meat," "healthy" and "poultry."
All of the recipes are meant to only take about a half hour to cook up—even if you're moving a little bit slower these days. With Martha & Marley Spoon you also get to be flexible with the meal plans, and you can even plan your deliveries up to a month ahead of time.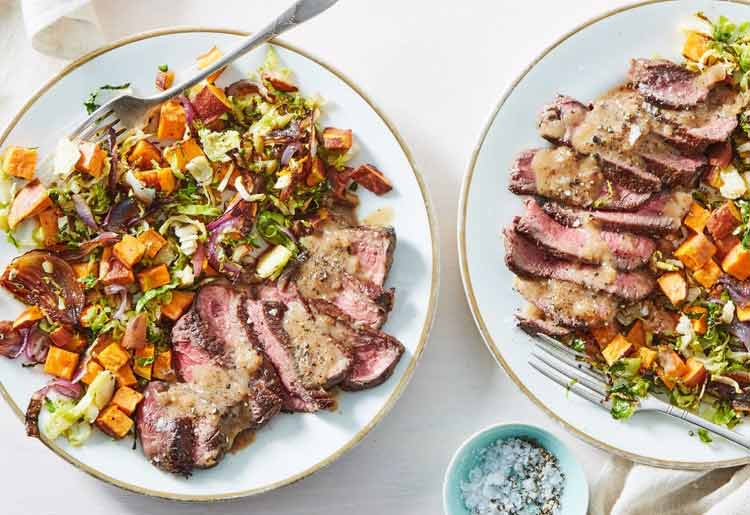 Top meal choice: Seared Steak & Pan Gravy with Brussels and Sweet Potatoes
Calories: 762
Nutritional info: 47g total fat, 51g carbohydrate, 38g protein
Why it's great for pregnant and new moms: If you have a craving for a high-protein, steak-based meal, then look no further. This meal puts seared steak (you can make it well done if you want to avoid bloody meat) front and center with brussel sprouts and sweet potato hash, and then sends it soaring with a miso-and-butter pan gravy. Protein never tasted so good.
Read the full Martha & Marley Spoon review

Plated View Plans
Bottom Line
New moms and moms-to-be have enough on their shoulders. This is not a time to be slaving away in the kitchen —but you still need to get some healthy food from somewhere. Meal delivery kits are a fantastic solution that cut out a huge chunk of time, money and stress. No more shopping lists, grocery trips, and meal planning. Just pick what you want to eat and get everything you need to throw it together, quickly and simply, and most importantly — tastily.
You may also like:
I Wanted to Get Back in Shape After Pregnancy. Turns Out There's an App for That